15% cashback at 400+ stores this week at Ebates
May 8, 2018
*
by Dave
*
2 Comments
Advertiser Disclosure: This site is part of an affiliate sales network and may receive compensation for sending traffic to partner sites. This compensation may impact how and where links appear on this site. This site does not include all financial companies or all available financial offers.
Did you miss a deal? Never again! Apply to join the members-only MilesTalk Facebook group.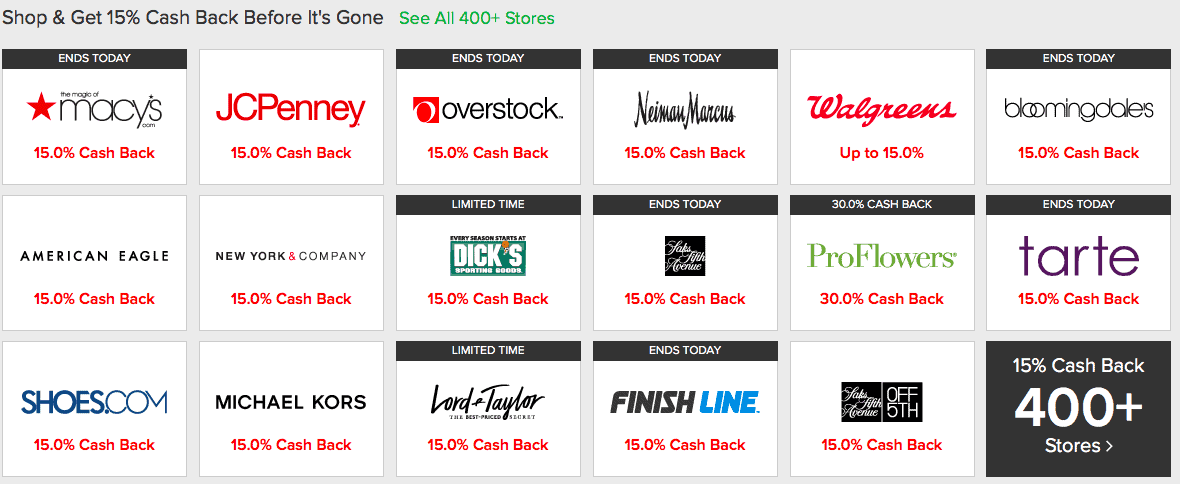 If you have read my book, MilesTalk, you know that I love getting something back for every single purchase I make. I use Cashback Monitor to make sure I know who is paying what for each store.
But I'm not adverse to good old cash back when it is the highest yielding option, and my preference for that has been Ebates, ever since they bought Fatwallet and folded my cashback balance into Ebates. I also have the Ebates toolbar installed so if I'm in a rush, I'll at *least* get the Ebates cash back.
A few times a year, Ebates runs a promotion with much higher than normal cashback. It's on now, for 15% off a range of stores.
My number one reason for loving these bonus weeks is for purchases that aren't normally discountable. That Canada Goose jacket you can't apply any coupons to?  This would mean 15% off at any participating store.  (Actually, I do know a way to get a 20% discount on the Goose… live chat me if I'm online and I'll share privately).
I'm definitely not saying to only use Ebates. But it should be in your arsenal. If you aren't an Ebates member yet, please consider using my referral link to sign up (I'll get $25 and you'll get $10). And then don't forget to refer your friends!