A reminder to always purchase your GoGo Wifi in advance (from 35k feet!)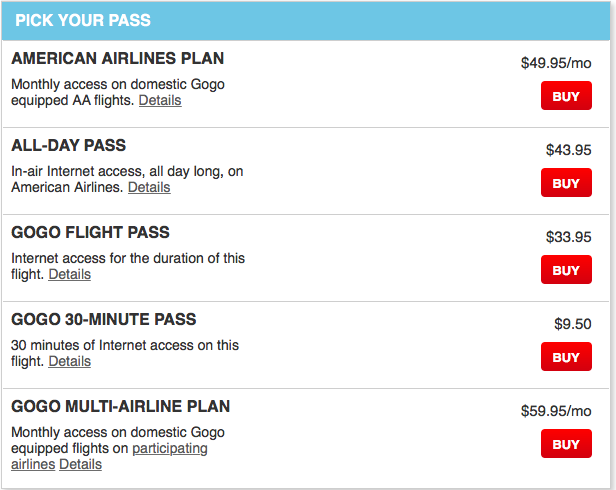 Advertiser Disclosure: This site is part of an affiliate sales network and may receive compensation for sending traffic to partner sites. This compensation may impact how and where links appear on this site. This site does not include all financial companies or all available financial offers.
Did you miss a deal? Never again! Apply to join the members-only MilesTalk Facebook group.
A quick reminder that if you know you'll want to use GoGo WiFi on a given flight (and know your flight has it and not a competing Wifi network or, gasp!, no Wifi at all) you should always buy it before your flight on the Gogo website.
Why? Because the airlines tend to gouge you while on board your flight!
The screen cap above is the flight I'm on right now. American wants $34 for a flight pass or $44 for a day pass (these are just insane prices)! But if I hadn't pre-purchased, I'd be stuck – and they know that!  There's no competition at 35,000 feet. If I don't want to get antsy on this 5 hour flight, I want Wifi. They figure I'm fairly price insensitive at that point and double the price!  For what they want, I can have Wifi on this flight and my return flight and have a few bucks left over!  Note that the in-flight prices are elastic. They change based on length of flight and probably some other factors used to gauge how much you are likely willing to pay.
So even if you are already on the tarmac, take out your smartphone and head over to your Gogo account to pre-purchase a flight pass. Nothing is worse than being up in the air held captive to pay whatever they are asking.