An Open Letter to Loyalty Programs re: Targeted Promotions
Did you miss a deal? Never again! Apply to join the members-only MilesTalk Facebook group
.
Advertiser Disclosure: MilesTalk has partnered with CardRatings for our coverage of credit card products. MilesTalk and CardRatings may receive a commission from card issuers and MilesTalk may also receive compensation for content. This site does not include all financial companies or all available financial offers. The editorial content on this page is not provided by any of the companies mentioned, and have not been reviewed, approved or otherwise endorsed by any of these entities. Opinions expressed here are the author's alone.
---
Dear Loyalty Programs,
We all see those promotions you sent our friends and colleagues….
Sincerely,
A Customer with Other Options
---
OK, OK – it's not actually that cut and dry. Not by a long shot.  But let's start with what sparked this post.
Last night and in to today Marriott Bonvoy began sending out targeted offers to members with a few promotional variations. You can check your own offer here.  Between Twitter and Facebook, etc, it took no more than a few minutes to know these offers were being sent out.
Here is one offer being sent: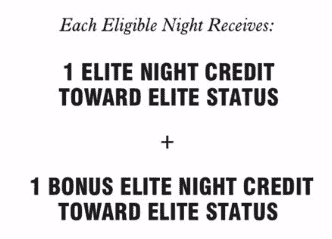 With a number of upcoming Marriott stays, I was hopeful. I'll easily hit Platinum this year. Perhaps by next week. But Titanium will be a challenge and I'm equally split between stopping at 50 nights and focusing on Hilton with paid stays – or planning a few more Marriott stays.
What does my account hold?

?
Other members have received other offers, like 4,500 bonus points after 2 stays (worth about $35 – nothing amazing).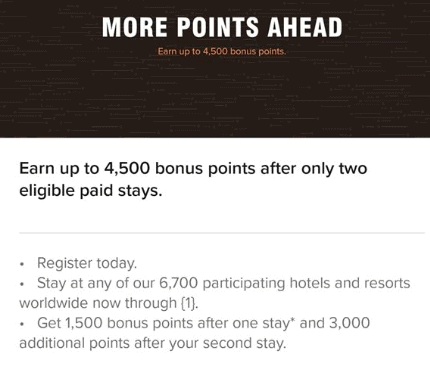 In another example, I used to put heavy business spend on my SPG Business Amex card. When the earning rate got reduced by a third last year, I stopped almost entirely. Others got offered a bonus point per dollar for a few months (bringing the earn rate back to where it was) and recently a few card holders have gotten a rich 100,000 point bonus (worth $700!!) deposited into their account with a thank you. Either of these would have started me using the card again for many thousands a month. Instead it remains in my drawer. Not out of spite, but because it's just not the best I can do with that spend anymore.
In the last round of Marriott Bonvoy offers, early in the year, I did get solicited for double points on stays, which I got to use once based on the timing of it. So I'm not claiming I'm never targeted or any such whine.
But it got me thinking about how loyalty marketing has changed with regards to targeted offers since the old days – and how it hasn't.
Targeted Promos Pre-Internet
Letters or postcards would be sent out. Maybe you'd chat with a friend or co-worker about it, but it was not in your face at all. If I got targeted for triple points and you got nothing, you likely didn't know. If you found out, it wasn't that big of a deal.
Targeted Promos in the early 2000's
Now a mix of mailers and emails, message boards like Flyertalk were how we shared promos. Even at this point, the most rabid miles and points enthusiasts would discuss every single promo. So even then, there were winners and losers in the promo game and even back then, we'd discuss the shortsightedness of a company not offering, at the very least, a watered down "me too" promotion for those calling in to complain.
Targeted Promos Today…
So what's changed between those Flyertalk days and now?
Two main things: 
1) Miles and points have gone mainstream. I certainly don't write the only blog on it. There must be hundreds of blogs related to miles and points, if not more. TPG's audience alone is in the millions of readers. So people that are *far* less engaged in miles and points than the rabid Flyertalk readers of yesteryear are well award of every promotion they get – and don't get.  Even I read other miles and points blogs to stay on top of things, like the venerable Gary Leff's View From the Wing. I like his specifically since he, like me, focuses on the bigger picture of travel loyalty marketing.
2) Social Media. With Facebook, Reddit, Twitter and the rest, it's not just there for you to see – it's in your face.
How Should Brands Evolve with Targeted Promotions?
Please don't misread this article as an intention to say that brands should stop doing targeted promotions. They are super valuable. They have more data analytics than ever before and that is powerful.
For sure, if I have 42 nights already with Marriott and 22 more booked, they are feeling pretty good (well, their data is) – especially since that is ahead of my last year's pace.
But what does it say to me when they are offering everyone else (again, not literally – tons of members of the MilesTalk Facebook group also report getting the proverbial rock) a promotion?
It says to me "I wonder what's happening over at Hilton?"
The point I really want to make here is that the relationship between a brand and a customer is just that – a relationship. And data alone misses the point there sometimes.
It's equally important to show that customer that you value their loyalty.
How frustrated do you get with your cable company when the competition offers that $99 Triple Play and you are paying $150 because you aren't a new customer? Sometimes they'll match it – sometimes they won't. And then some people respond by actually switching and / or cutting the cord. A larger percent, almost certainly, suck it up because of inertia and the pain of waiting at home for a day for the cable technician to install service.
In the airline and hotel loyalty game, though, it's a bit easier to switch if we feel unloved. You can easily match from Marriott to Hilton in a matter of seconds, allowing you to taste their elite benefits and fast track to 1.5 years worth of status. Airlines offer similar fast track statuses.
This all leads me to the action item….
My suggestion for travel loyalty brands
Figure out ways to make sure *all* of your customers feel loved – not just the ones you feel you can get more spend from. It's much more expensive to acquire a new customer than to keep an existing one happy.
Offer a lesser promotion to all that aren't targeted. Even 1,000 bonus points per stay (worth all of 7 bucks) would probably make most non-targeted members feel "loved enough."
Another option is to empower Twitter or phone agents to offer a "me too" offer. Similar to the above but only for those worked up enough to get in contact. I don't like this option as much because some will be annoyed and not bother (so you can lose those despite the "me too" option) and it adds a ton of labor to the process. Still, it would be better than a rock….
What about you?  How do you feel when you know others got a great promotion for a brand that you are loyal to while you got little or nothing?
Let me know here, on Twitter, or in the private MilesTalk Facebook group.
You can find credit cards that best match your spending habits and bonus categories at Your Best Credit Cards. 
New to all of this? My "introduction to miles and points" book, MilesTalk: Live Your Wildest Travel Dreams Using Miles and Points is available now.