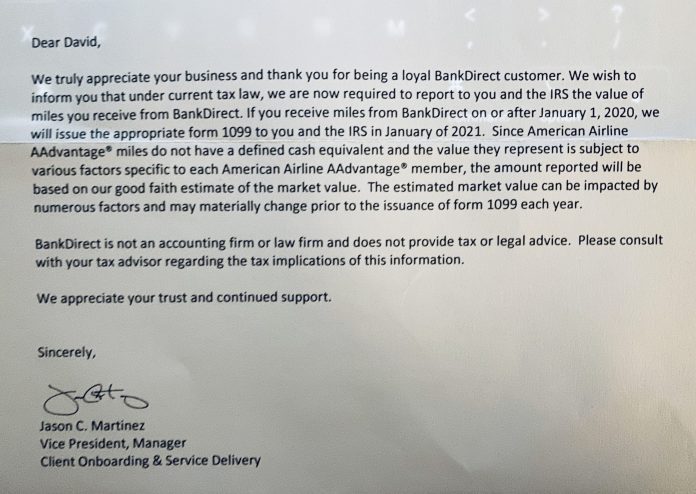 NOTE: This story has subsequently been updated as Bask Bank has set a value for the miles… more here.
---
The BankDirect Back Story
For years, BankDirect, a small Texas bank with a big online presence, was an amazing way to get American Airlines AAdvantage miles.
I have extremely fond memories of opening a number of CDs, savings account, and money market accounts in order to achieve lifetime AA status before the "butt-in-seat" requirements took hold for Million Miler status in 2011.
One of my very first MilesTalk articles was a veritable love letter to BankDirect.
Around that same timeframe in 2011, BankDirect made some changes to limit their liabilities. In a super low interest rate environment people were pouring money in faster than they wanted. Why not earn miles that weren't taxed when your alternative was 1% or less – taxable.
It still made sense to keep at least $50,000 in the account for an easy 5,000 miles a month – tax free.
But today, I opened my mail and it was like the shot heard round the world.
BankDirect Will Issue 1099s for Miles Beginning in Fiscal 2020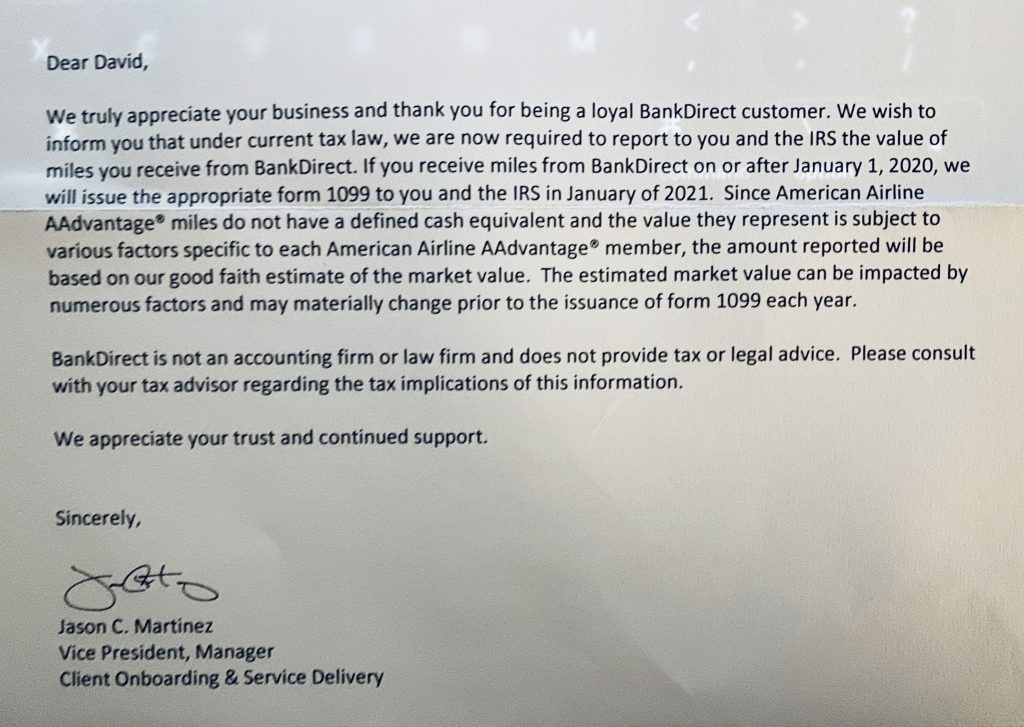 It seems that, like Amex and Chase starting to tax referral bonuses on their cards, BankDirect got some sort of opinion letter on taxing miles earned from banking.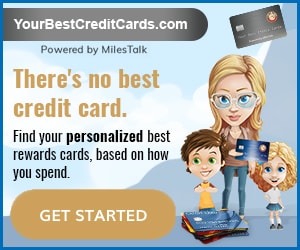 But the worst part is that they won't say what they will issue the 1099s for in terms of value. 
Citi once sent out 1099s valuing AA miles at 2.5 cents a piece – to massive backlash. Not that you can't possibly get 2.5 cents a mile, but taxing on that value meant that after you paid tax, you'd be lucky to break even when you used them. They relented after a while and I believe Citi now uses a 1 cent per mile value when they do issue 1099s for AA mile banking bonuses (they do not currently have any bank accounts that earn AA miles for deposits the way BankDirect does).
BankDirect may well just use a penny per mile, but that would still ruin things… read on for the calculations.
But here's the thing…. at last check these accounts paid almost $0 in actual interest. I think it was 0.05%. So all the interest was miles. And that's now taxable.
It Gets More Confusing: Enter Bask Bank
As I just discovered, BankDirect is shifting the mileage program out of BankDirect entirely and into a subsidiary called Bask Bank. It will just be one savings product.
It appears that all deposits earn 1 mile per dollar invested per year.
Put $100,000 in and earn 100,000 miles per year (over 12 monthly mileage payments).
Interest rates are currently averaging around 1.7%.
So now, with miles being taxed, here's the math in a best case scenario where miles are taxed at a penny each:
$100,000 in a 1.7% account: $1,700 in interest (taxable)
$100,000 in Bask Bank / BankDirect: 100,000 miles. I currently value AA miles pretty high at 1.5 cents, due to the still pretty incredible ways to redeem for 1st and Business Class internationally on partners. But even at this value, which some may think high to begin with, you are getting $1,500 in value – and paying tax on it!
Now, some might still make a case for the miles, because they only and regularly redeem for international First. And I'd agree- except that we don't know this is they value they will use. It could be 2 cents, which would make it twice as bad.
The only chance this becomes viable again would be if interest rates dropped down under 1% again and this account remained the same. That would take it back to a positive yield. I'd reopen it in that scenario. But hopefully, for us savers, that doesn't happen.
Long Story Short? I think the BankDirect Fun is Over
I've greatly enjoyed the last 8 years of earning a boatload of AAdvantage miles from banking with BankDirect. I'm essentially gutted by the news. I just redeemed a ton of AA miles towards my honeymoon and was hoping to replenish those, in part with BankDirect earned miles.
Luckily, there are still plenty of ways to earn American Airlines AAdvantage from credit cards and that might just be the way it has to be going forward.
Were you a BankDirect account holder? How do you feel about this news?
Tell me here, on Twitter, or in the private MilesTalk Facebook group.
You can find credit cards that best match your spending habits and bonus categories at Your Best Credit Cards. 
New to all of this? My "introduction to miles and points" book, MilesTalk: Live Your Wildest Travel Dreams Using Miles and Points is available on Amazon and at major booksellers.