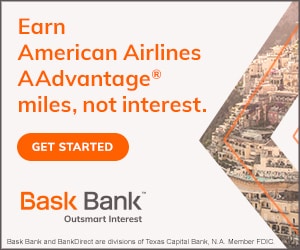 Early this year, Bask Bank launched, offering American Airlines AAdvantage miles on savings balanced along with some fantastic introductory bonus offers.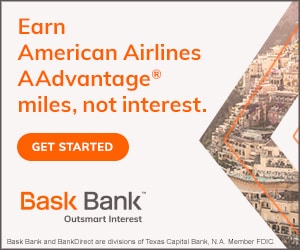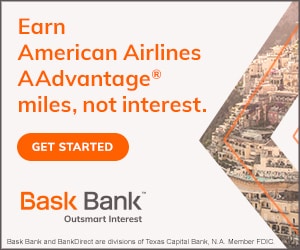 I'm a fan of Bask Bank, as I was of BankDirect for nearly a decade, and while I'm sad to see BankDirect's AAdvantage-earning products go, I think the Bask Bank offering is more compelling and all BankDirect customers will be in good hands.
Here's what's happening.
BankDirect will End Mileage Checking and Savings
Current BankDirect customers are being notified on a rolling basis that their mileage checking and savings accounts will be closed no later than August 31st, 2020. They will have the option of either a) having BankDirect roll their funds into a new Bask Bank savings account (customer service can assist with this) or b) they can open a Bask Savings Account and transfer the funds themselves.
In either case, Bask Bank is offeringa 5,000 American Airlines AAdvantage® miles bonus for current BankDirect
mileage account holders who open a Bask Savings Account through August 31st, 2020 and maintain
a minimum current balance of $5,000 from September1st, 2020 to September15th, 2020. Miles will be awarded within 30 days of the account opening and deposit.
Importantly, BankDirect customers who take no otheraction by August 31st, 2020 will see their account migrated
to a comparable BankDirect interest-bearing product on September 1st, 2020 (which really isn't competitive, so I would advise against letting this happen. If you do, though, rest assured that your account number will not change. This could be important if you use your BankDirect account as a primary checking account.
BankDirect is also Ending Mileage CDs
The BankDirect CD program was always a very interesting one to me. You'd lock up your money for the stated period time in exchange for miles up front. Back when the AAdvantage program was changing lifetime status qualification from "any source" to "butt-in-seat" miles only, I used a few CDs to get over the hump in a hurry.
If you have an AAdvantage-earning CD product, it will be terminated early by August 31st with your funds returned.
Bask Bank Bonus Offers Will Expire June 30th, 2020
The following bonus mileage offer programs will expire on June 30th, 2020:
Balance Bonus
Feedback Bonus
Account Opening Bonus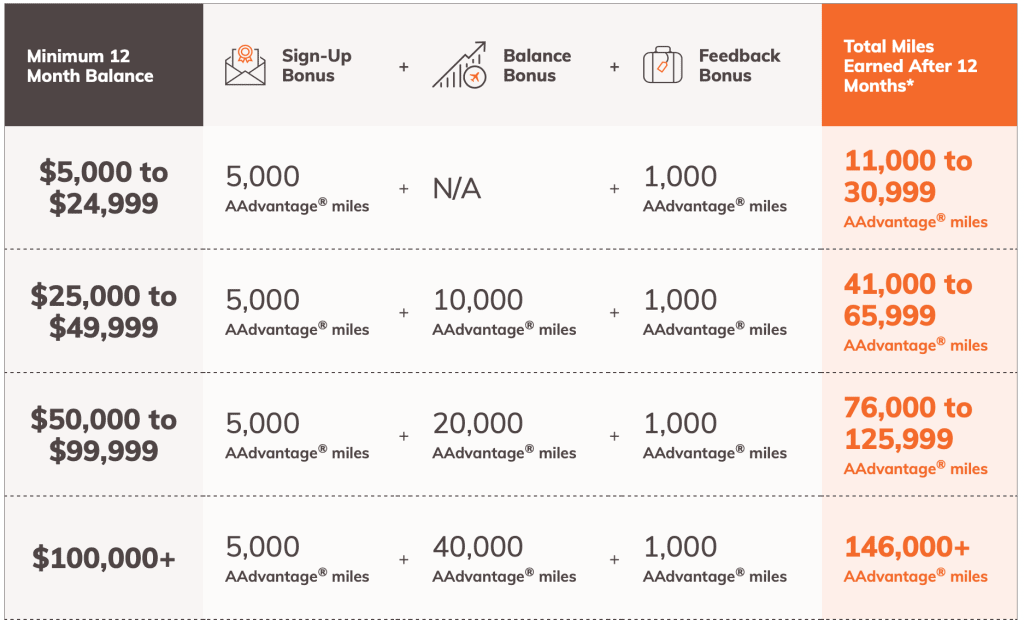 This means that if you have plans to open an account, you really want to open them by June 30th. If you wait beyond then, you'd lose out on the 5,000 mile new account bonus, the 1m000 feedback bonus and the Balance Bonus offer.
On a $100,000 balance held in a new Bask Bank account for one year, you'd earn 146,000 miles if you open it by June 30th vs. just 100,000 miles after.
So, don't delay.
If you need any help during this transition or with a Bask Bank account, let me know
I have a lot of readers on the Bask Bank train and have a direct line of communication with the Bask Bank team, so if you have any issues at all, please let me know. If I can't help directly, I will get the right person there to contact you.
You can open a Bask Savings account here.
Have you opened a Bask Bank account yet?
Let me know here, on Twitter, or in the private MilesTalk Facebook group.
You can find credit cards that best match your spending habits and bonus categories at Your Best Credit Cards. 
New to all of this? My "introduction to miles and points" book, MilesTalk: Live Your Wildest Travel Dreams Using Miles and Points is available on Amazon and at major booksellers.