Chase Hyatt Credit Card Bonus Decreasing: Tips to Decide if it is Right For You [OFFER EXPIRED]
Did you miss a deal? Never again! Apply to join the members-only MilesTalk Facebook group
.
Advertiser Disclosure: MilesTalk has partnered with CardRatings for our coverage of credit card products. MilesTalk and CardRatings may receive a commission from card issuers and MilesTalk may also receive compensation for content. This site does not include all financial companies or all available financial offers. The editorial content on this page is not provided by any of the companies mentioned, and have not been reviewed, approved or otherwise endorsed by any of these entities. Opinions expressed here are the author's alone.
[OFFER EXPIRED]
Currently, the bonus offer on the Chase World of Hyatt Credit Card is 60,000 total World of Hyatt points if you spend $6,000 in your first 6 months.
This has been the offer since July and it makes sense that they would eventually reduce it. Based on emails being sent out by Hyatt, Jan 8th or 9th is the last day for this increased offer.
Perhaps it's because they feel it is too rich or perhaps it is because they sometimes need to lower it so they can raise it again and make a push for new signups with the "increased offer."


I can't tell you which it is, nor if this card is right for you. But if you've been on the fence, now is the time.
One important thing to know that has changed since July:
The card is now subject to the Chase 5/24 rule. This means that if you have opened 5 personal cards (or a Capital One or Discover business card, but not counting any other business credit cards), you won't be approved. No exceptions.
As well, if you are at 4/24, you may want to consider if you want this card to take a slot. I think it's a strong card, but I wouldn't take it over a Chase Sapphire Reserve or the Chase Sapphire Preferred, or even over a Chase Freedom Unlimited for the long term.
If you already have either the Chase Sapphire Reserve or the Chase Sapphire Preferred + the Chase Freedom Unlimited, and have also gotten the Chase business credit cards you want, then you may want to go for this one.
Here are some things to consider when deciding:
Card Benefits:
4 Bonus Points per $1 when you use your card at Hyatt hotels (stacks with the 5 points per dollar you earn at Hyatt)
2 Bonus Points per $1 spent at restaurants, on airlines tickets purchased directly from the airlines, on local transit and commuting and on fitness club and gym memberships
1 Point per dollar on other purchases
Receive 1 free night every year after your cardmember anniversary at any Category 1-4 Hyatt hotel or resort
Earn an extra free night at any Category 1-4 Hyatt hotel or resort if you spend $15,000 during your cardmember anniversary year
Get automatic World of Hyatt Discoverist status for as long as your account is open and 5 qualifying night credits toward your next tier status every year
Earn 2 qualifying night credits towards your next tier status every time you spend $5,000 on your card
Annual fee:
$95 (not waived the first year)
Analysis:
I thought it was going to be hard for me to like this card when it launched or the simple reason that you can simply transfer Chase Ultimate Rewards points into Hyatt at a rate of 1:1. Given that you can earn 50,000 – 80,000 Ultimate Rewards from many Chase signup bonuses, not to mention 3x bonus categories on the Chase Sapphire Reserve (meaning 3x Hyatt points if that's how you want to spend them) opening another Chase card and filling a 5/24 slot just for this bonus wasn't ever going to scream at me. For comparative purposes, I value Hyatt points at around 2 cents a point and think they are one of the best uses of UR points aside from First and Business class award tickets when transferred skillfully to airline partners.
But I think that's the point – this card offers a number of reasons to actually HOLD the card if you stay somewhat frequently at Hyatt or are looking to build up your Hyatt point bank.
The signup bonus is definitely rich. My most common stays are at 12,000 point a night Hyatt properties (and usually when the room rate is around $300-$400 for that night.  This signup bonus equates to 5 free nights at that category level meaning I'd probably get between $1,500 and $2,000 for those points. That's a great bonus!
A free night every year up to Category 4 (15,000 points). This covers your $95 annual fee and then some each year.
A second free night when you spend $15,000 on the card. While some will say that you could just spend 15,000 on a Chase Sapphire Reserve to get the same, that's not true – because spend on the Hyatt card you will get 15,000 points for the spend PLUS the free night cert. However, if you spend just $10,000 on travel and dining on the Reserve, you'd get 30,000 UR points (which would transfer as 30,000 Hyatt points).  Since the Hyatt card earns 2x for dining and airline tickets purchased direct, you will no doubt have a middle break-even point. If you spend a lot on Hyatt hotels anyway, though this becomes a no brainer since you get 4x on Hyatt spend.
World of Hyatt Discoverist status: It's a light status but if you have several Hyatt stays a year, the free premium Internet, bottled water, 2pm checkout (subject to availability), and upgrades to a nicer room are worth something. You can also match this to MGM's MLife Pearl status for some casino perks.
If you are a big spender, you can actually spend your way to Top-Tier World of Hyatt Globalist status just from credit card spend. You need 60 night credits a year for Globalist. You get 5 credits a year just for having the card, so you'd need 55 more. As you earn 2 credits per $5,000 spent, you would need a whopping $140,000 in spend (minus any actual stays) to achieve this, but I know that some most certainly will do this. Globalist includes suite upgrades and lounge access among other benefits at Hyatt.
Reasons to not get this card:
I never advise getting a card just because the signup bonus looks shiny. Do you ever stay at Hyatt? That's worth thinking about before taking a hard pull on your credit and poking the Chase beast.
If you have hundreds of thousands of UR points already and don't stay at Hyatt much, it may not be a worthwhile wallet addition – especially if you have a Chase Sapphire Reserve which earns you 3x on all of your travel and dining purchases already.
What if you already hold the old version of the Chase Hyatt card?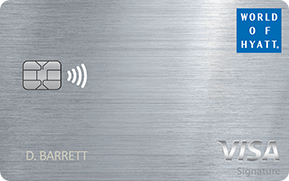 You'd only be eligible for this signup bonus if you got the signup bonus on that card more than 24 months ago and close your existing card. You'd also need to wait 30 days before applying for the new one. And there's the risk that this card becomes subject to 5/24 by then as well.
If you go for it, here's the MilesTalk link to the World of Hyatt Credit Card.
What do you think? What other angles am I missing? How would you advise someone to look at this card yourself? Let me know here, on Twitter, or in the private MilesTalk Facebook group.