Check your Ticketmaster account for free concert tickets and vouchers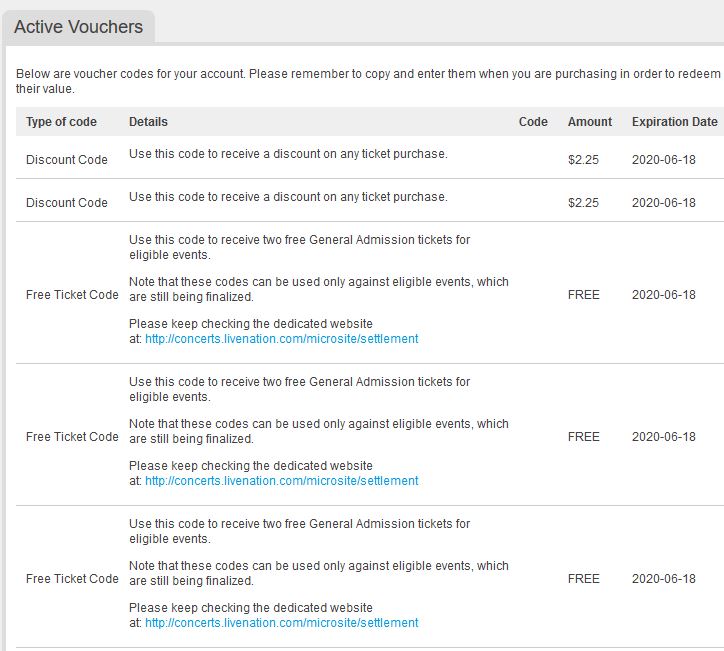 Advertiser Disclosure: This site is part of an affiliate sales network and may receive compensation for sending traffic to partner sites. This compensation may impact how and where links appear on this site. This site does not include all financial companies or all available financial offers.
Did you miss a deal? Never again! Apply to join the members-only MilesTalk Facebook group.
I know this is ever so slightly off the topic of miles and points, but it does concern FREE THINGS, so I'm going to call this "close enough" so nobody misses out.
I never check my Ticketmaster account. I could have been persuaded I didn't even have one. But after seeing someone post on Facebook about a class action suit that was settled, leaving millions of TM customers with free tickets and vouchers, I went to Ticketmaster, logged in after some guesswork on my password, and lo and behold, I have a SLEW of free goodies.
All in all, just by not opting out of a class action suit I had no knowledge of, I now have 6 vouchers good for free concert tickets for two at LiveNation venues (details of exact events these are good for are still being finalized) as well as 8 codes for $2.25 off (hey, that's $10 I didn't have yesterday!).
The details of how and why you may have been allocated more or less codes isn't so interesting, but free stuff is. So, all you need to know is that you should log in to your Ticketmaster account and check your Vouchers to see what you have.
I'd be curious which of you has the most codes!