Check your United promotional offer in NYC: Bonus miles or PQMs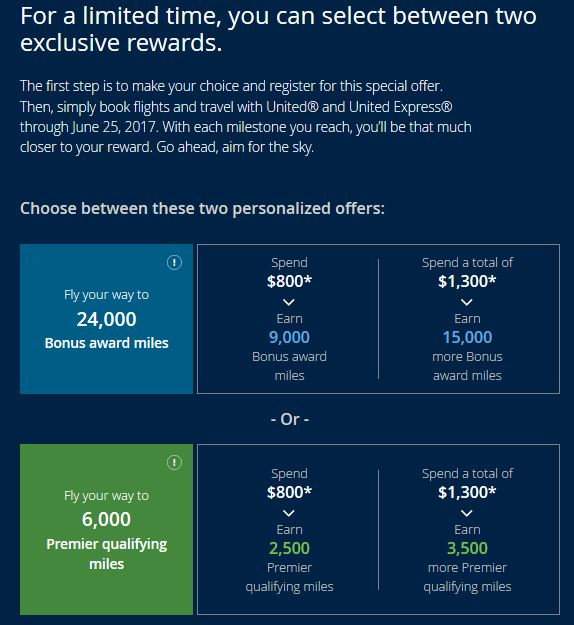 Advertiser Disclosure: This site is part of an affiliate sales network and may receive compensation for sending traffic to partner sites. This compensation may impact how and where links appear on this site. This site does not include all financial companies or all available financial offers.
Did you miss a deal? Never again! Apply to join the members-only MilesTalk Facebook group.
Fresh in my mailbox today:
For a limited time, you can select between two exclusive rewards.
The first step is to make your choice and register for this special offer. Then, simply book flights and travel with United® and United Express® through June 25, 2017. With each milestone you reach, you'll be that much closer to your reward. Go ahead, aim for the sky.
When I visited the promotional website, I was given the choice of two offers – miles or PQMs.
I could choose Premier qualifying miles

Or I could just take some bonus miles.

What would I choose? Well, I'm guessing your offer may well be different than mine. But for my own offer, my thinking goes like this: I don't fly nor particularly care for United. It calls EWR home (making it the least convenient airport for me coming from the East Side of Manhattan) and I'm rarely impressed with its planes or its service. Even their PS hard product from LAX to EWR in business class didn't really impress me. So, I'm never going to hit the 25k PQMs I would need for status.
Given that, I'll be taking the 24,000 miles (which can get me – with 1k miles more – a domestic round trip saver in coach or a one way in business class).  Do I really expect to spend $1,300? No, but I would consider redeeming Chase or Citi points on their portals for a United ticket or two to hit the goal if I am buying a revenue ticket anyway. I value 24,000 United miles at around $300, so it's not a bad bonus at all.
Purchase tickets and travel from March 16, 2017, through June 25, 2017.