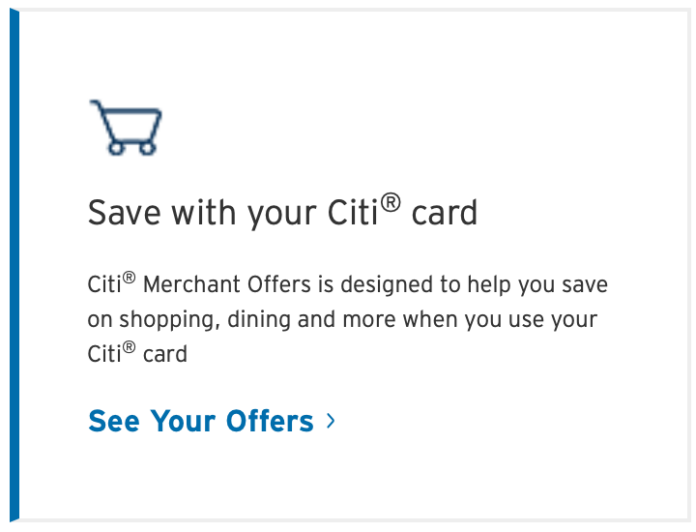 I first wrote about Citi Merchant Offers in December 2020, which are similar to Amex's card linked offers, although quite a bit more hidden in their web and app interfaces.
For the longest time, they only offered the offers on seemingly randomly chosen cards, meaning that you could have two Double Cash cards and be offered them on one, but not the other. It stayed like this until just a few days ago when Doctor of Credit noticed that it now seemed to be showing on all cards.
I finally went in today and discovered that yes, they are finally on all my cards, which is great!
However, I also learned something very interesting. For the dining offers (all but the first two in the screenshot below), they use the same backend system as Rewards Network. For those that don't know, Rewards Network powers all the card-linked dining programs like Mileage Plan Dining, AAdvantage Dining, etc.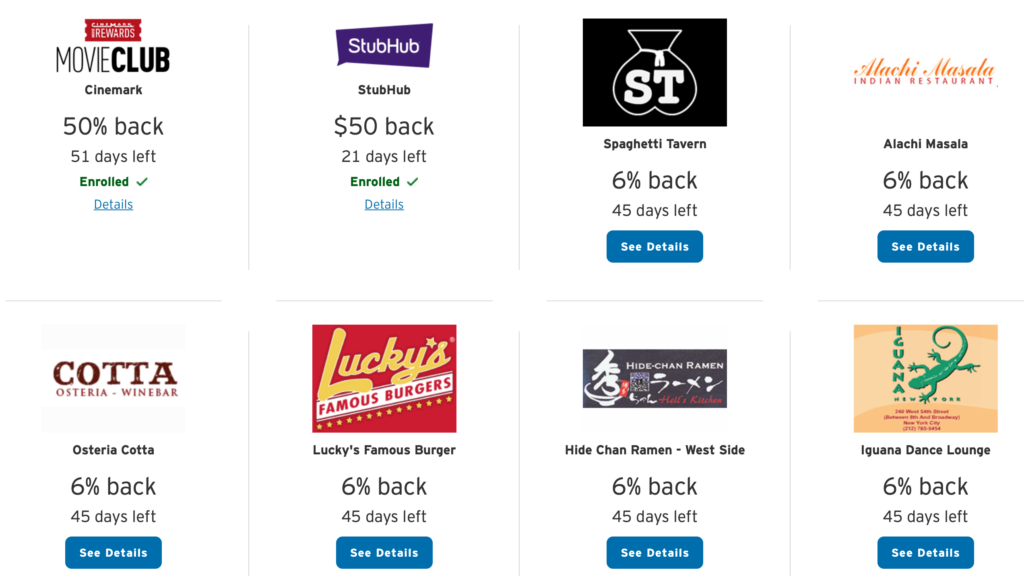 Now as you likely know, you cannot double dip these programs. If you had a card linked to AAdvantage dining and added that same card to Mileage Plan Dining, you would get an email that your card has been automatically removed from Mileage Plan dining.
However, the Citi program *looks* different in that you aren't "linking" your card for ongoing dining. You are selecting one offer at a time, which appears to be like Amex Offers – which does not interfere at all with Rewards Network.
However, Citi's Merchant Offers for dining (and dining only) work on the same back end as Rewards Network.
If you add one single dining offer to your card, and you have that card linked in Rewards Network (any of the airline dining programs) or any similar card linked network, you will have the card automatically removed from the other program.
Now, if the Citi offer was compelling enough, there's no reason you can't link it, use it, and then add the card back to your Rewards Network account after. But it's worth knowing about.
When this first happened to be today, I did a bit of sleuthing and a rep at Rewards Network confirmed to me that they did know that some Citi Merchant Offers do run off the same platform so it made sense to her that this would occur.
Then I ran an additional test, adding several non-dining offers on my Citi card and checking my Rewards Network (Mileage Plan) account. After each non-dining offer, the card remained linked at Rewards Network. The second I selected a local restaurant offer, I refreshed my cards at Mileage Plan Dining and it was gone.
Long story very short – adding a Dining offer (and only a dining offer) through Citi Merchant Offers will result in your card being removed from any other card-linked cash back program you are registered in.
Note that per Frequent Miler, it will not have any adverse effect on SimplyMiles offers, however I cannot confirm if they tested dining offers (perhaps they will comment here 😉 )
Still, I am thrilled that these are now available on all personal Citi cards and I do plan to make more use of them.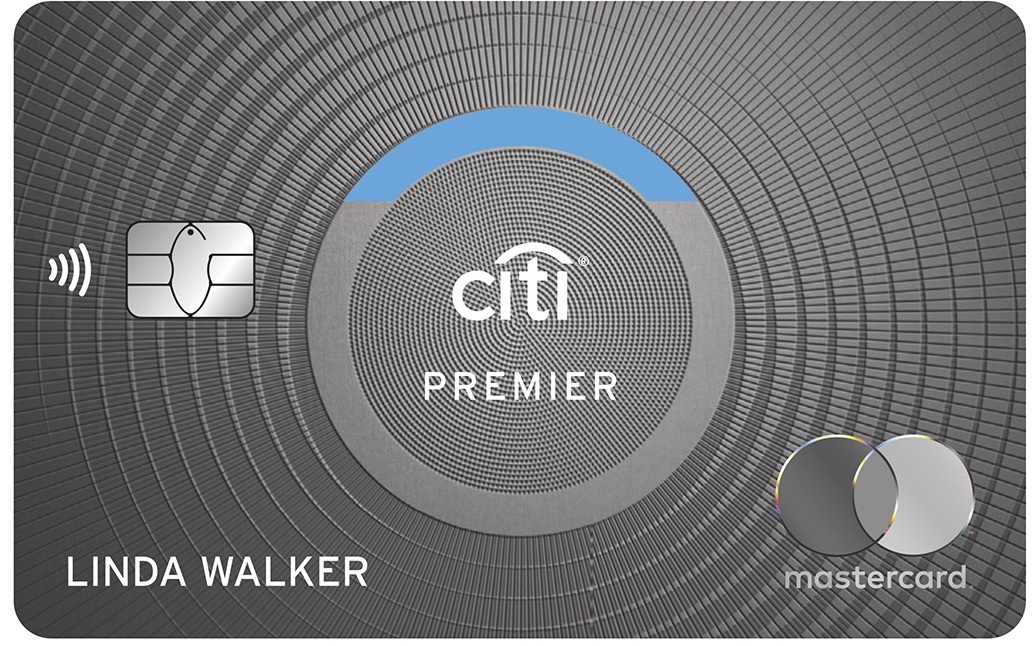 Get 60,000 Citi ThankYou points when you spend $4,000 in 3 months.
Using Turkish as a transfer partner, this could be worth 2 round trip domestic flights in Business Class or 1 flight to Europe in Business Class!
Get This Offer
Questions?
Let me know below in the comments, on Twitter, or in the private MilesTalk Facebook group.
And if this post helped you, please consider sharing it!
You can find credit cards that best match your spending habits and bonus categories at Your Best Credit Cards. 
New to all of this? My "introduction to miles and points" book, MilesTalk: Live Your Wildest Travel Dreams Using Miles and Points is available on Amazon and at major booksellers.