Citi's New "Referral Program" – Need to Know
Did you miss a deal? Never again! Apply to join the members-only MilesTalk Facebook group
.
Advertiser Disclosure: MilesTalk has partnered with CardRatings for our coverage of credit card products. MilesTalk and CardRatings may receive a commission from card issuers and MilesTalk may also receive compensation for content. This site does not include all financial companies or all available financial offers. The editorial content on this page is not provided by any of the companies mentioned, and have not been reviewed, approved or otherwise endorsed by any of these entities. Opinions expressed here are the author's alone.
When I think about developing a credit card referral program, meaning that a credit card issuer incentivizes you to refer a friend by giving you a bonus of cash or points for the referral, a couple of things come to mind.
First, the program should be *simple* to use for both the referrer and referee.
Second, the program must provide your friend with an offer equivalent to what they could reasonably expect to get on their own. It doesn't have to match the best possible offer that requires knowing special tricks. But they shouldn't stumble onto another website later and find a better deal.
That's pretty much it.
Citi is now reportedly offering refer-a-friend offers for three cards: the personal American Airlines AAdvantage card, the Citi Premier card, and the DoubleCash card.
The first "golden rule" above is broken right off the bat. There's been a ton of confusion around how to refer friends. Apparently you cannot simply sign on and send a link nor even sign on and use a form to refer. You must be "targeted" to refer. And you can have all three cards and be targeted to refer on one or more or none at all.
In addition, the referrer must meet spend requirements (in addition to, of course, the person being referred who has to meet minimum spend) in order to get the bonus.
Don't ask me – I have no idea.
As for the second "golden rule," I've only seen offers on two of the cards. On the AAdvantage card, the offer was t earn 50,000 American Airlines AAdvantage® bonus miles after $3,000 in purchases within the first 3 months of account opening. (10,000 for the referrer). Currently the standard offer there is 60,000 but with $6,000 in spend. Still, it's 10,000 less than what someone could get otherwise. That's not cool with me.
Here is the offer my friend received: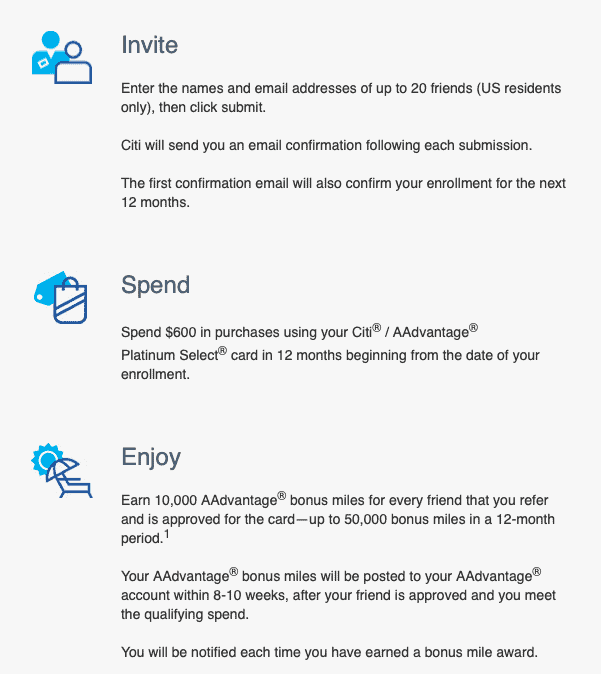 Note that he has to spend $600 after enrolling to refer to be eligible. Talk about making it complicated!
And then my offer (which didn't come by email until almost a day after he referred me):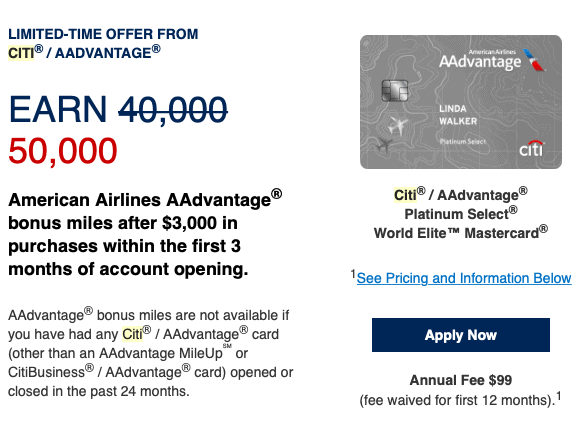 On the Citi Premier, they are send offers for 60,000 ThankYou points for $3,000 in spend. This is 10,000 points better than any currently available offer, so the person receiving the offer is actually getting a good offer. I assume the person referring still has to spend a certain amount to earn the referral commission of 10,000 ThankYou points.
Lastly, I hear the DoubleCash is offering referrals as well. $100 for the person referring. I'm not sure what offer the person receiving the referral is being offered. The DoubleCash is often marketed without any referral bonus, so if you have been targeted and know what the offer is, please let me know in the comments.
Summary:
Both Chase and American Express offer pretty straight-forward programs of this nature. Sending emails used to be required, but in recent years they even provide links you can Tweet and Share. The Citi program requires you to receive an email targeting you, send a referral via their system which takes hours or days to send to the referee, and doesn't provide the best possible offers. It also requires minimum spend from the cardholder to refer, further complicating the process.
Why Citi bothered to launch this in this manner, I have no idea.
Hopefully, it will evolve into a more useable tool in the future.