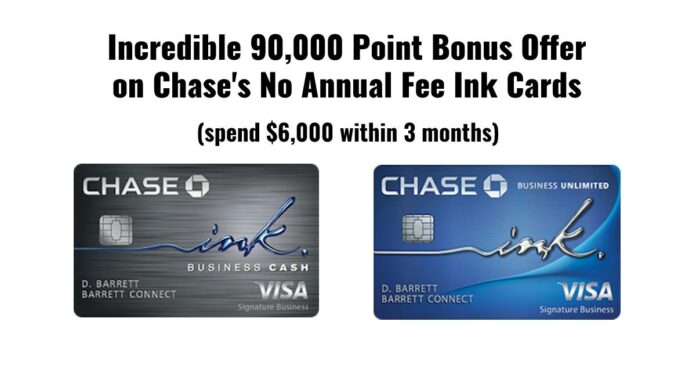 As much as these two offers have indeed been (rightfully) hyped, and I have already written about the 90,000 point bonus offers on both the Ink Cash and Ink Unlimited, I still think this offer is being underrated by many.
The offer: If you apply for either the Chase Ink Cash or Chase Ink Unlimited you'll get 90,000 Chase Ultimate Rewards points when you spend $6,000 in 3 months.
So why do I think these are not getting enough attention?
For one, these are stated by Chase as Limited Time Offers, meaning that they will most likely eventually go back to their standard offer which has both a lower bonus amount (75,000 Ultimate Rewards points vs. 90,000 with the current offer) and a higher spending threshold for the bonus offer ($7,500 within 3 months vs $6,000 with the current offer).
But let's look at how valuable these offers are.
People go crazy for offers for 150,000 Amex points when those offers require an offset of $695 for the annual fee (on the Platinum Cards). Those offers can require up to $15,000 in spend to boot.
With this offer, you are scoring 90,000 Chase Ultimate Rewards points (which I value at 1.75c each) for $6,000 in spend in 3 months on a card (or two cards if you wait 31 days in between applications) and paying an annual fee of $0.
Using a value of an Ultimate Rewards point of just 1.75 cents (it's beyond easy to get 2 cents a piece with transfer partner Hyatt), this bonus is worth $1,575 (provided you also have a Sapphire Preferred, Sapphire Reserve, or Ink Business Preferred card to make the points earned on the Cash and Unlimited transferable – more on that below).
I've already jumped on this for one card and am eyeing a second because it's just too good.
You Don't Need a Formal Business to Apply
True – not everyone can get a business card.
But so many more people are eligible than the average person thinks.
All you need is to have any income that isn't derived from a salary. If you sell on eBay, you have a small business. If you sell on Etsy, you have a small business. If you provide any services or sell anything that you report business income for on a Schedule C on your taxes, you are eligible.
The only difference is that if you don't have a company with its own tax ID number, you need to apply using your own name and Social Security Number as the business name and business tax ID. (Whatever you do, don't make up a business name.)
I outline all the steps for applying for a business credit card without a traditional business here.
A Refresher on the Actual Benefits of Each Card (i.e. Why to Keep Them)
The Chase Ink Business Cash earns 5x Ultimate Rewards points on up to $25,000 annually at office supply stores and on internet, cable, and phone services as well as 5X points on Lyft rides as well as 2x on up to $25,000 annually at gas stations and restaurants. Gift cards purchased at an office supply store counts, so that means 5X Ultimate Rewards towards purchases like Amazon, Starbucks, etc.

Chase Ink Business Cash
The Chase Ink Business Unlimited earns a flat 1.5X Ultimate Rewards points on every purchase. It's a good card to combo with other Chase Ultimate Rewards cards. When there's no bonus category, use the Chase Ink Unlimited.

Chase Ink Business Unlimited
The bottom line is that when these Limited Time Offers end, if you were eligible, you will regret not having applied while the offers were better.
Combine with your Other Chase Cards
I do need to point out that you can only transfer points earned on these no-annual fee Ink cards if you also have a Points are transferrable if you also hold a Chase Sapphire Preferred, Sapphire Reserve, or Ink Business Preferred card.
Most of us do, so that's not an issue, but if you don't, these bonuses would be worth just a flat $900. That said, you could get these cards, save the points, and get a Sapphire Preferred, Sapphire Reserve, or Ink Business Preferred later on. At that point you could transfer your points from the Ink Cash or Ink Unlimited to your Sapphire Preferred, Sapphire Reserve, or Ink Business Preferred, where they can be transferred to Chase airline and hotel partners.
I have info on combining your Ultimate Rewards points across cards and household members here.
The only offer all year I can think of that beat these was the Amex welcome bonus that came with 10x on Shop Small – but those offers are long gone.
If you have any questions at all, please comment below and I'll get back to you as soon as possible.
(Both links support MilesTalk. Thank you!)
If you want to pause and first get more info on the Chase Ultimate Rewards ecosystem and how to use UR points, we have a Chase Ultimate Rewards Guide.
Thoughts?
Let me know below in the comments, on Twitter, or in the private MilesTalk Facebook group.
And if this post helped you, please consider sharing it!
You can find credit cards that best match your spending habits and bonus categories at Your Best Credit Cards. 
New to all of this? My "introduction to miles and points" book, MilesTalk: Live Your Wildest Travel Dreams Using Miles and Points is available on Amazon and at major booksellers.