Get up to 20,500 JetBlue points with WeWork (500 just for a tour!)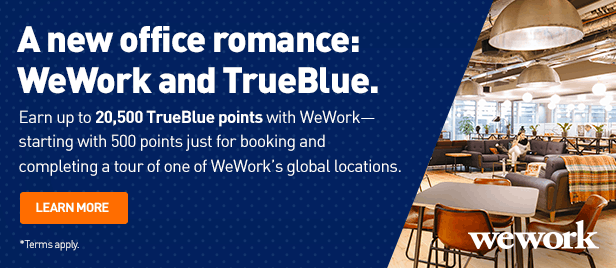 Advertiser Disclosure: This site is part of an affiliate sales network and may receive compensation for sending traffic to partner sites. This compensation may impact how and where links appear on this site. This site does not include all financial companies or all available financial offers.
Did you miss a deal? Never again! Apply to join the members-only MilesTalk Facebook group.
(Updated with info on my 10,000 points posting)
I found out about this a few weeks ago but waited to post until I could share how it actually went.
In short, you'll receive 500 JetBlue TrueBlue points for booking a tour of a WeWork office (they are just about everywhere at this point) and then an additional 10,000 or 20,000 points after 3 months if you actually take office space with them. It's 10,000 for an office space for 1-9 people and 20,000 for 10 or more.
Ironically, I was looking for new space and did a tour as a result of the email. Lo and behold, they had an office that perfectly suited my needs and I signed the agreement. In 3 months, I should have a nice little bonus of 10,000 JetBlue points.
The process is that you submit your tour request through the link provided in the email and include promo code JETBLUE.
Now I went basically the first day and so they weren't very familiar with the offer yet. I emailed the community manager my TrueBlue number after and she figured out how to submit it. I'm happy to report my 500 points for the tour have posted to my TrueBlue account.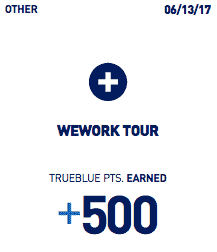 Here are the terms of the offer:
Earn up to 20,500 TrueBlue points as a new WeWork member. Here's how:
500 TrueBlue points will be credited to your account when you book and complete a tour at one of

WeWork

's global locations.
An additional 5,000 TrueBlue points (after three months) when you sign up for a flexible

WeWork

Hot Desk membership.
OR, an additional 10,000 TrueBlue points (after 3 months) when you sign up for a

WeWork

Dedicated Desk membership or private office space for up to 9 people.
OR, an additional 20,000 TrueBlue points (after three months) when you sign up for a private office space of 10+ persons.
Now, of course, you shouldn't choose office space for a few hundred bucks in miles, but you may find what you are looking for. And the 500 just for a tour is a great way to get us mile hungry people in the door.
UPDATE: Sept 22, 2017: I got my 10,000 points for the office space I took automatically. Sweet.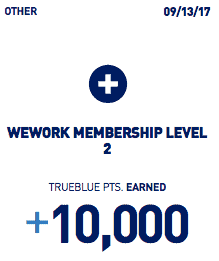 What about you? Will you book a tour because of this? Let me know in the comments or on the MilesTalk Facebook group.