Gov't thwarts DOT efforts for more airline transparency to consumers
Advertiser Disclosure: This site is part of an affiliate sales network and may receive compensation for sending traffic to partner sites. This compensation may impact how and where links appear on this site. This site does not include all financial companies or all available financial offers.
Did you miss a deal? Never again! Apply to join the members-only MilesTalk Facebook group.
Yes, our anti-consumer government is at it again. Remember back in June when I wrote about the 21st Century AIRR Act? It was a bill passed by the House which is still on the calendar to eliminate the requirement for airlines to conspicuously disclose the full price of an airline ticket in ads.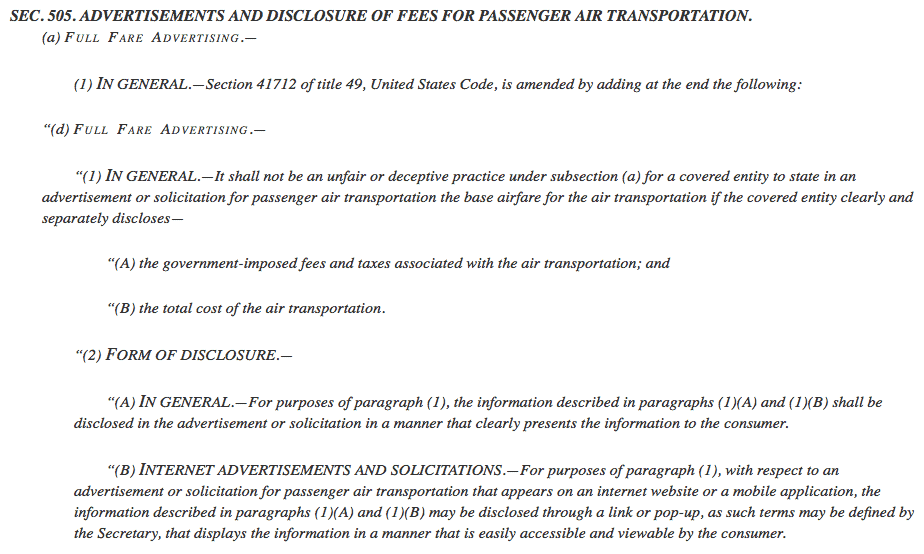 So that seems like it is very much still under consideration, based on the last action. I checked the full text of the bill and the language about it being fine to hide fees is still in there.

But I'm not even writing about that right now.
Today I see that the DOT has given up on attempts to have airlines disclose bag fees at the time of booking. This matters because when you book on some low-cost carriers like Frontier, you may not realize that they will charge you $25 to carry-on a bag.
The rule would have applied to both carry-on and checked bags and Travel Weekly reports that DOT secretary Elaine Chao said that ending the rulemaking process is consistent with a Trump executive order from last January calling for a rollback of regulations and regulatory costs.
So, in effect, the government's efforts to help business in any way possible even when it directly hurts consumers is continuing unabated.
Well, I think this stinks. I am not opposed to cutting government red-tape that is simply red-tape, but our government shouldn't be in the business of making it easier for large corporations to dupe consumers.
What about you? Do you prefer more truth-in-advertising? Or would you prefer your government make it as hard as possible for you to know what is going on when you buy your airline tickets?  Let me know here, on Twitter, or in the private MilesTalk Facebook group.