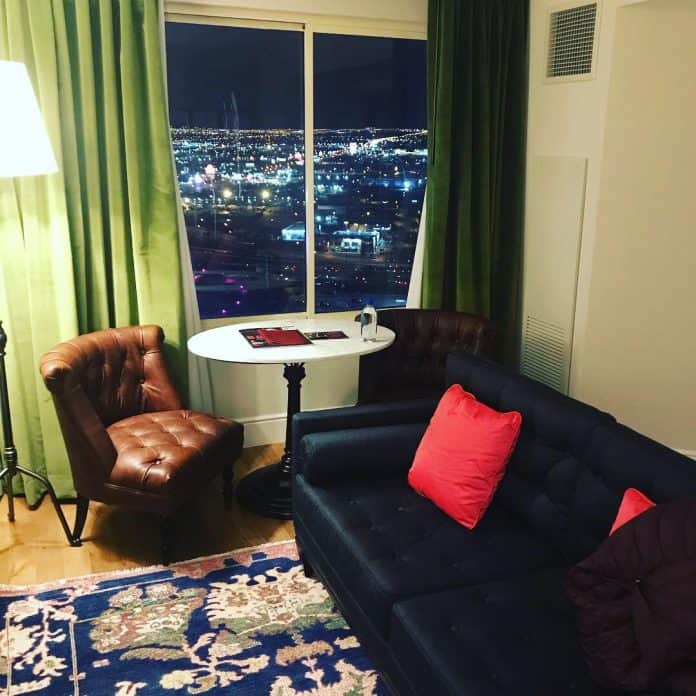 I spent last weekend in Las Vegas and didn't even realize all of the little hacks I'd wind up using would save me so much time and money, so I thought I'd put together a summary of what I was able to take advantage of, so you can too!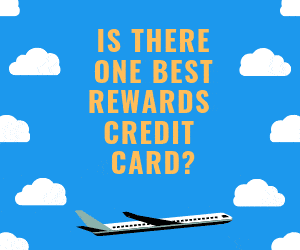 Keep in mind that Caesars Rewards, formerly Total Rewards, has a status match going on where you can bring over an Mlife Gold or higher card to get their Diamond status – which waives resorts fees, gives you a $100 Celebration dinner, and access to the 4 free nights at Atlantis in the Bahamas.
Hopefully you have already been taking advantage of the various status matches. For the last several months, you could have gained access to what I call the Status Match Merry-Go-Round extremely easily.  Just one credit card, such as the Hilton Ascend (Learn More) or Hilton Business Credit Card (Learn More) would get you on this Merry-Go-Round.
As a result of doing this all myself, I have MLife Gold and Caesars Rewards Diamond status. I also have Hilton Gold (via the Hilton Ascend card) and Marriott Titanium (via actual stays).
Free Hotel Rooms
Mlife Gold all by itself won't get you amazing offers on rooms all of the time. But sometimes it will. In an offer that didn't last long in my Milfe account, I was able to book a complimentary room (plus tax and resort fee of about $41 a night) at the brand new NoMad Hotel, which is a hotel within a hotel on the top floors of the new Park MGM that replaced the old Monte Carlo. It also included a $50 F&B credit. All told, when I checked out and saw the comps transferred from the casino to the hotel, they'd comped me $680.  My gambling level certainly did not earn that…. Disclaimer: I do actually gamble. But I probably only averaged 2-3 hours a night while there which is well below the kind of player they target.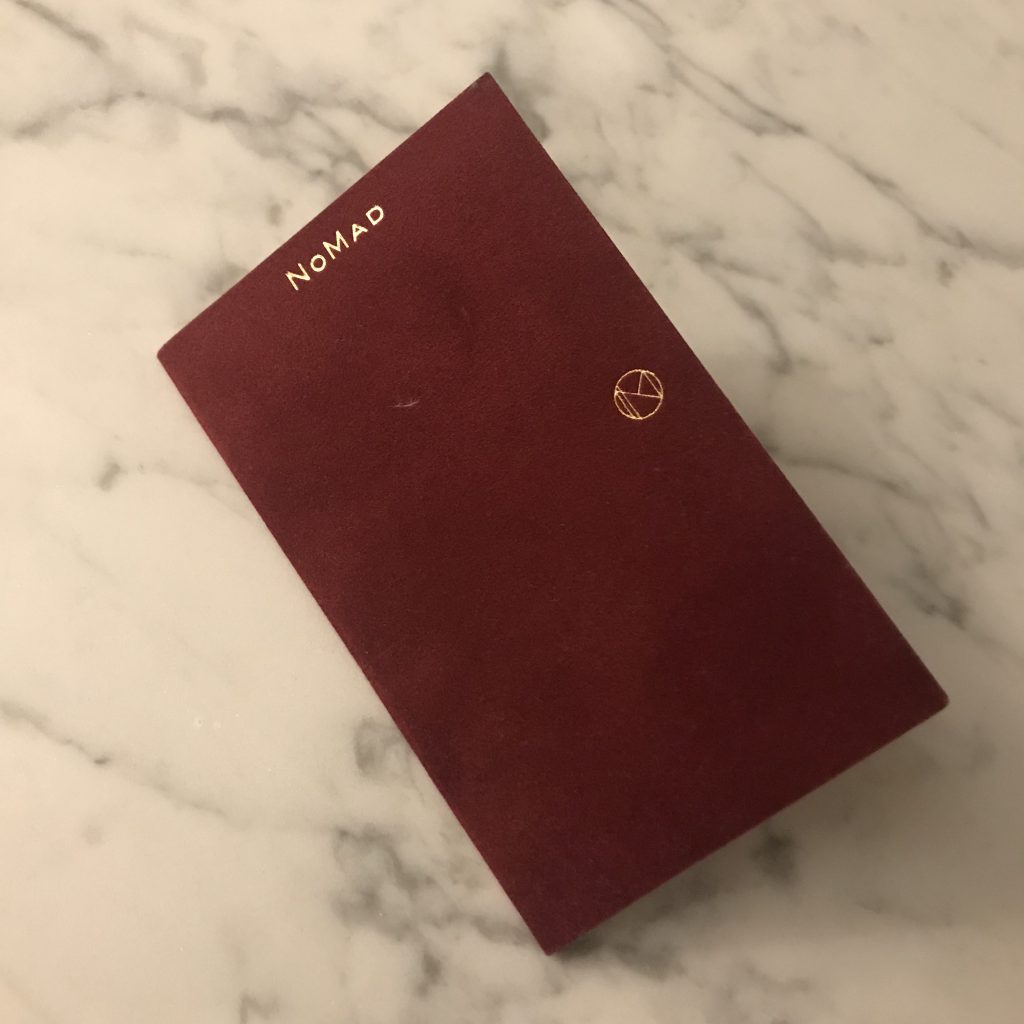 Unfortunately Mlife Gold, in contrast to Caesars Diamond, does not waive resort fees. If you are extremely sensitive to resort fees, you'd want to go for a Caesar's property.
At check-in, possibly due to MLife Gold status, though possibly due to pure luck, we got upgraded to a Grand Suite, which was really nice. We loved the NoMad in general, as they provided 5 star boutique hotel service all the way around, including complimentary bottles of Fiji water on request.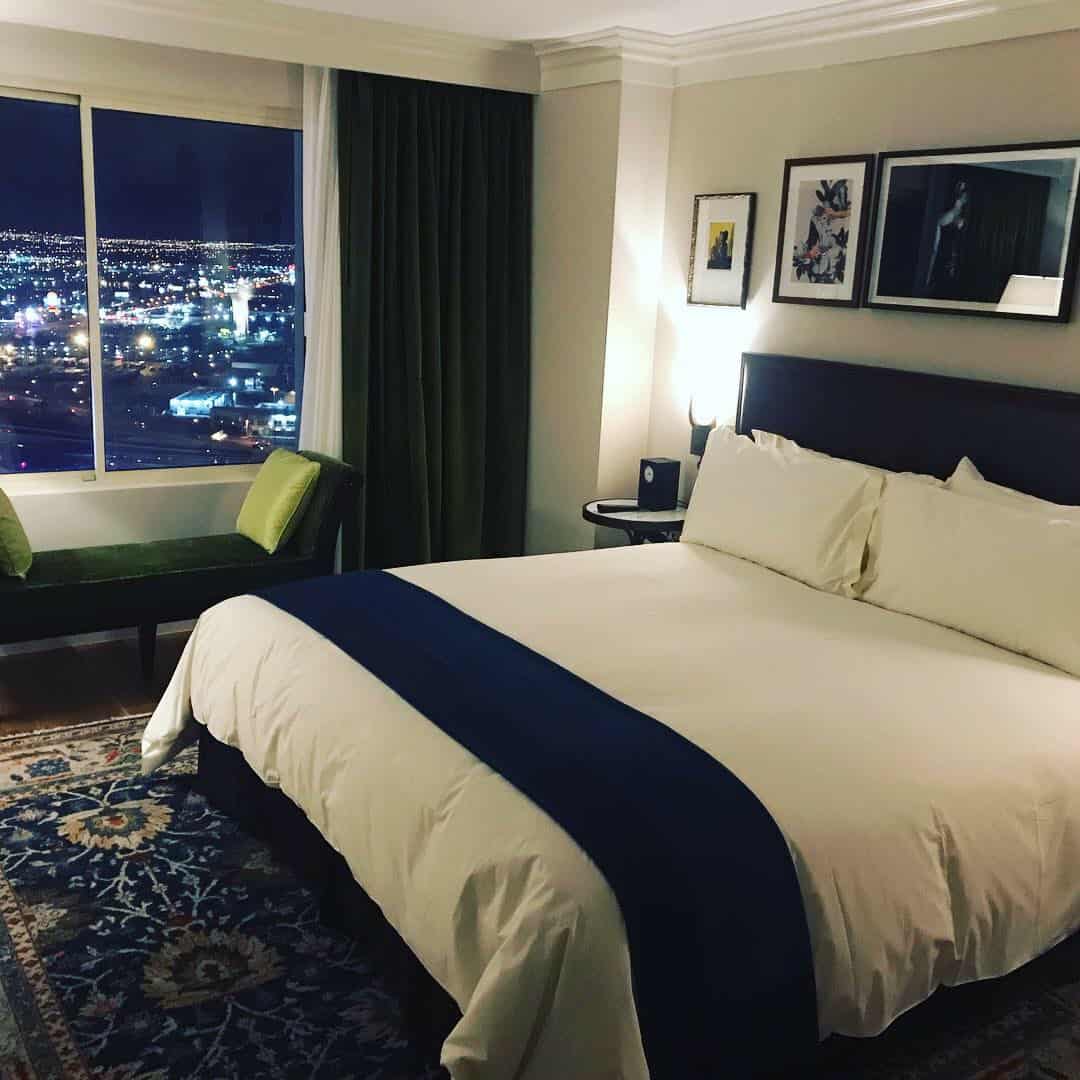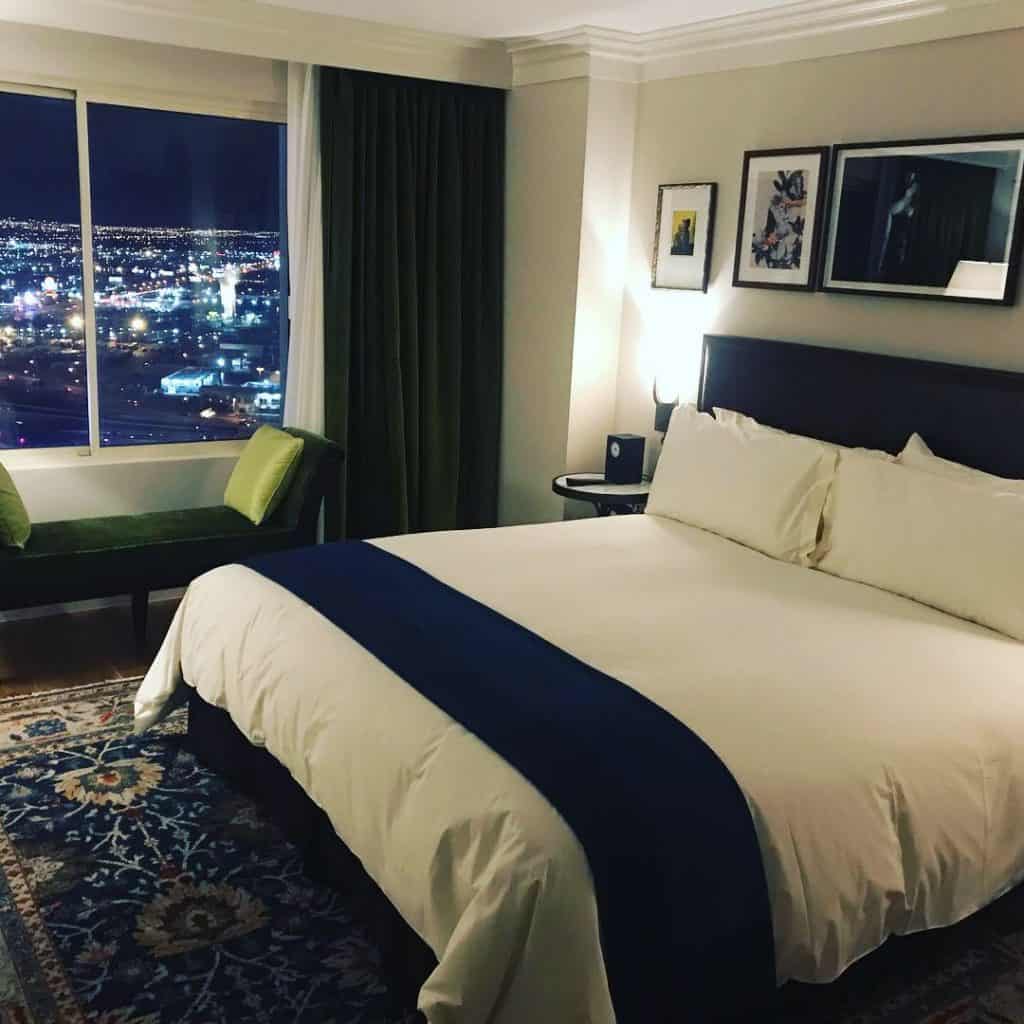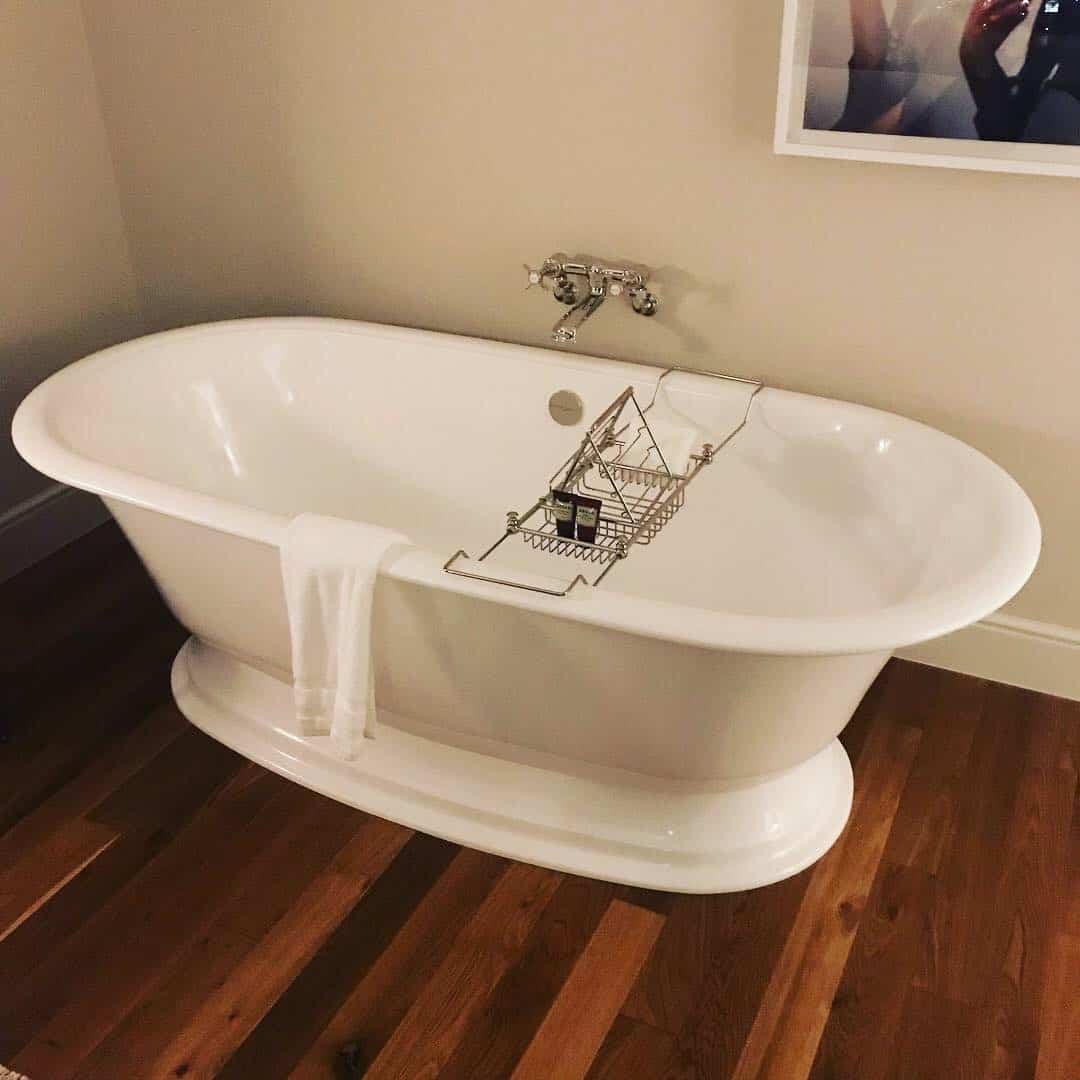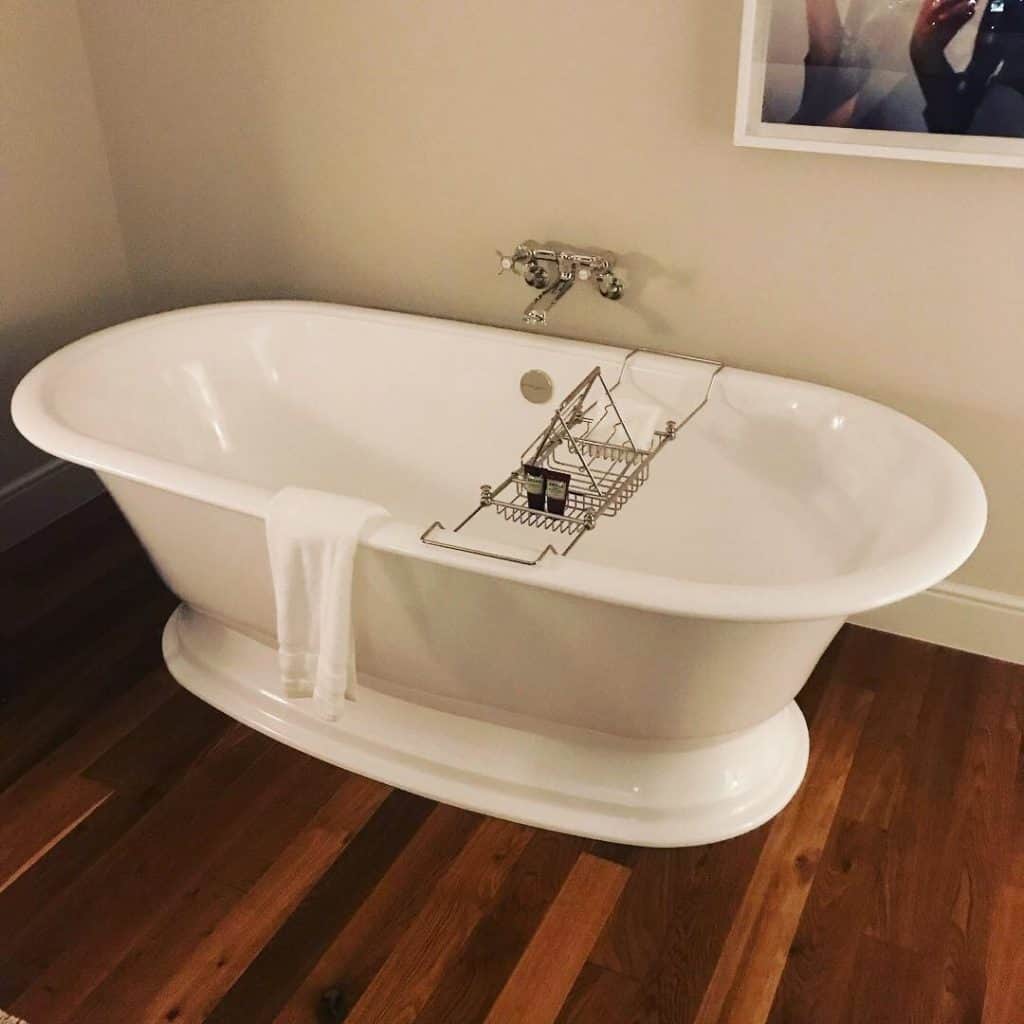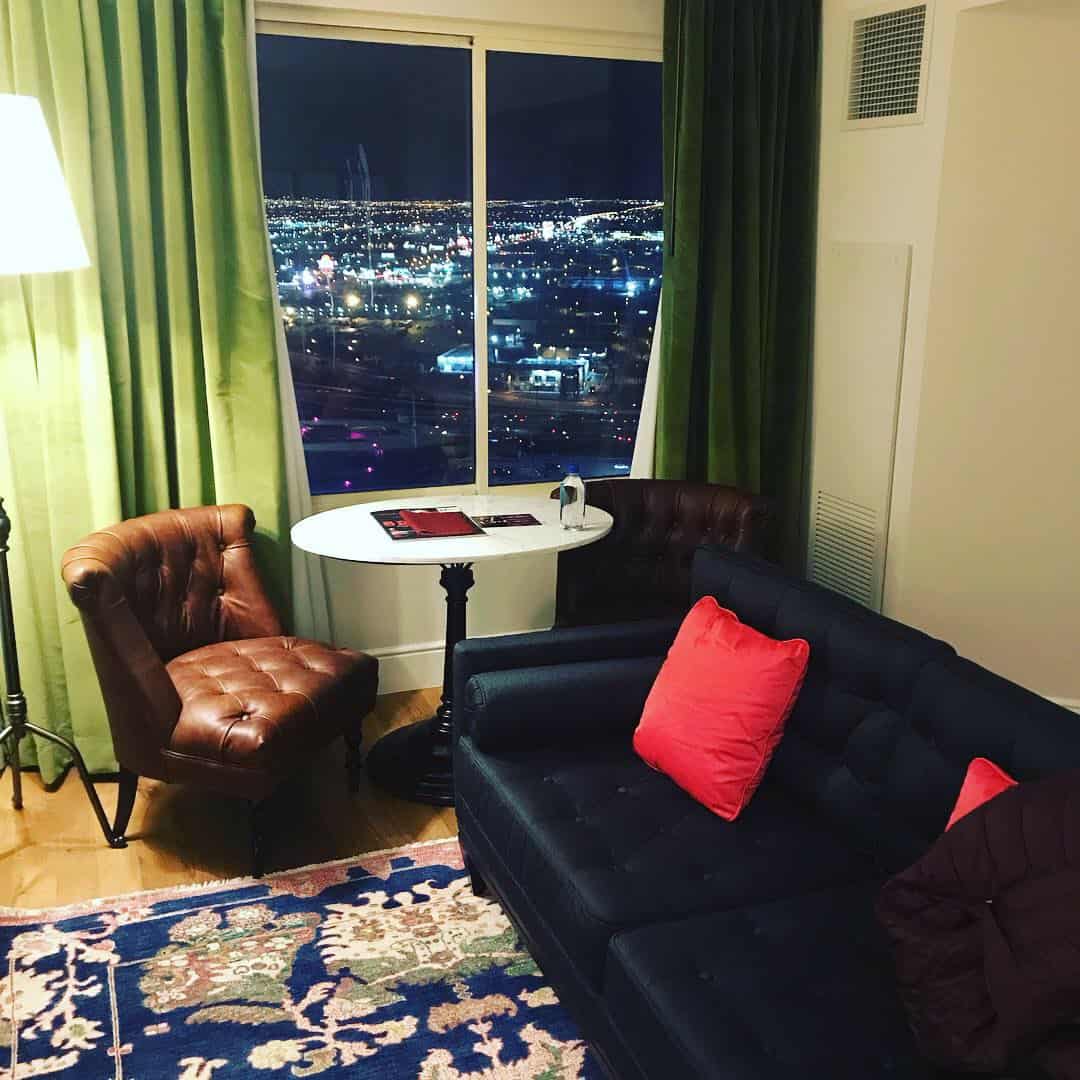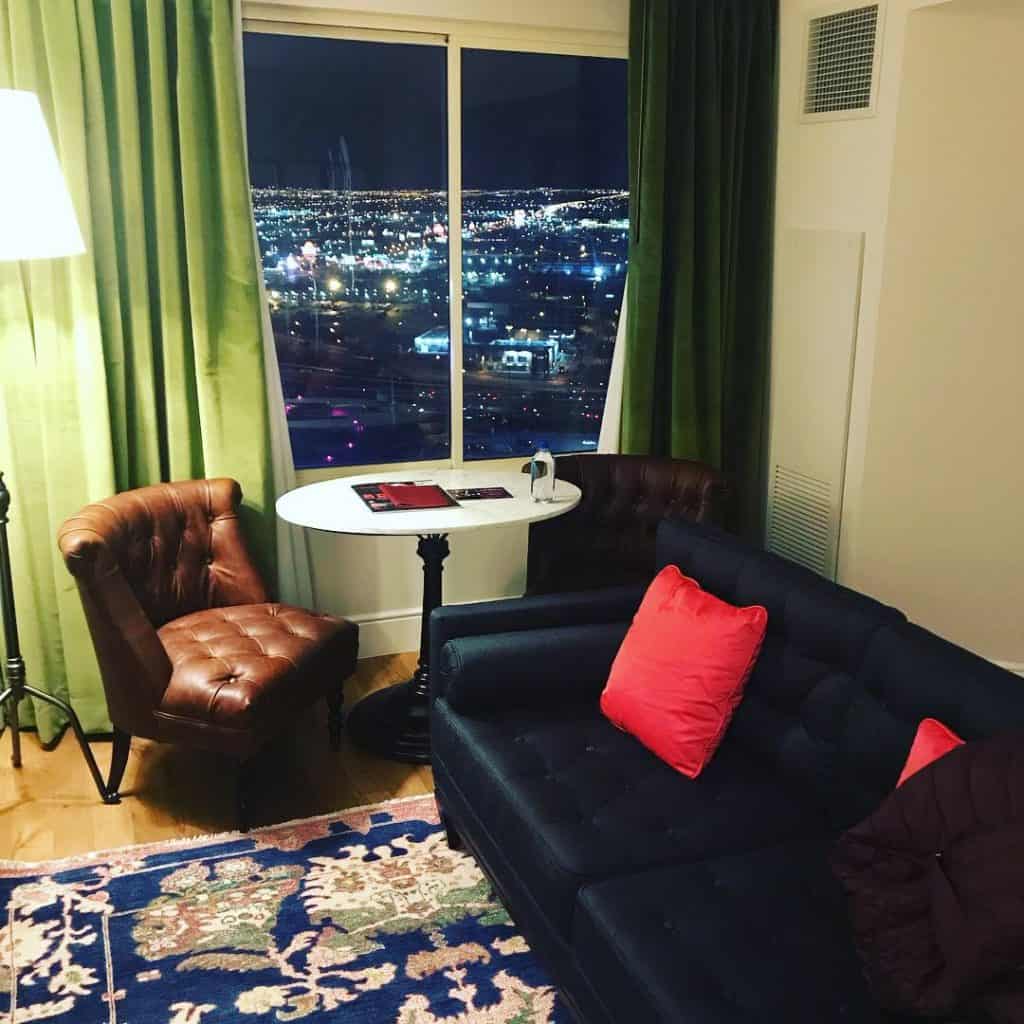 Free Parking
My Mlife Gold card also got me free hotel valet service. While I don't normally even like to valet at all, in Vegas, with parking garages sometimes a really long walk from the hotel, this was really nice.
You can also get free self or valet at all the Caesar's hotels with your Diamond card. Valet is not a bad way to arrive at a casino just for a meal without spending half an hour to and from your car.
However, that wasn't the end of my savings at the NoMad. I also had an Amex Offer on my American Express Blue Business Plus card for $60 off when I spent $300. At checkout, all of my room charges (the resort fees + food and drink) totaled $300.14.  So that went down to $240.14 with the $60 credit.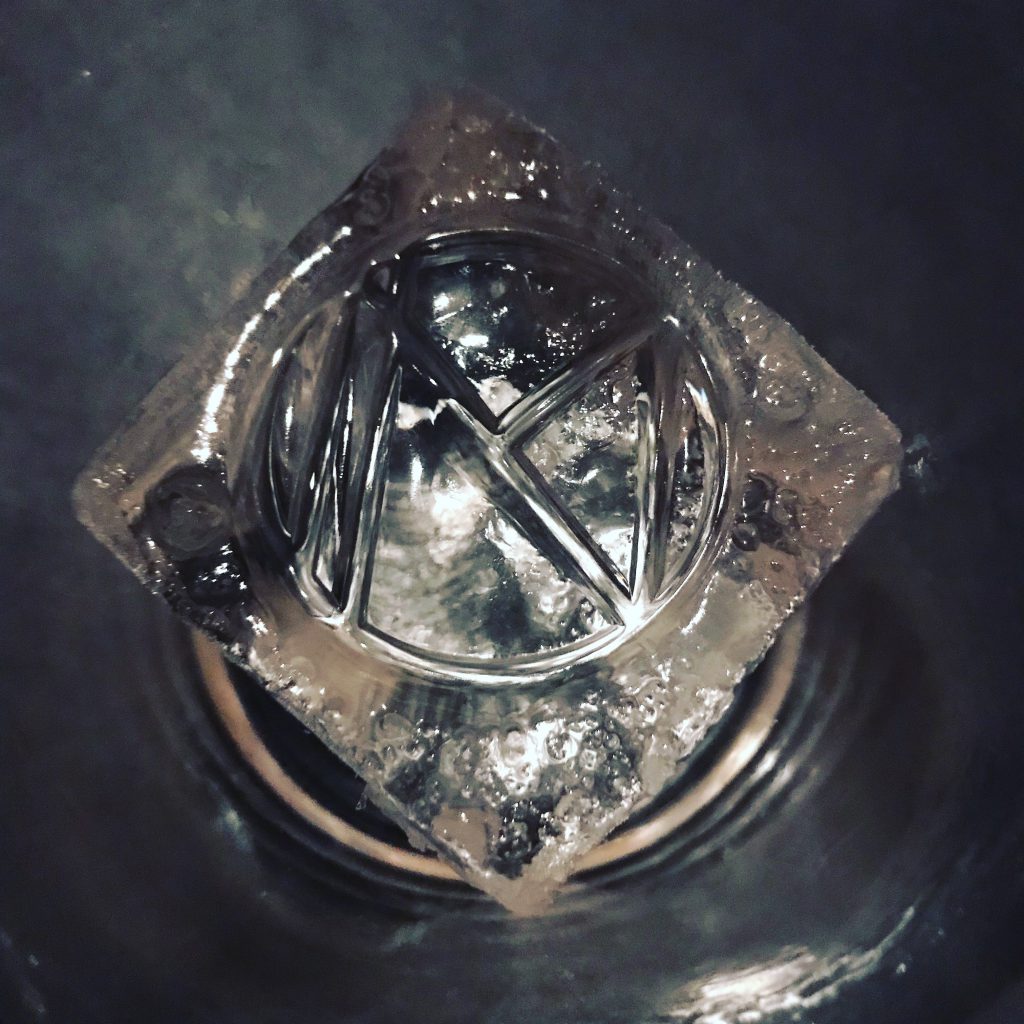 Free Shows + $100 in Free Food
Fancy a free dinner and a free show? As a newly matched Caesars Rewards Diamond member, you'll get both. Each year you qualify for Diamond, you get $100 to spend at a variety of Caesars restaurants. Here's a link to see options in Las Vegas and beyond.
After that, take in a free show! Caesar's Diamond comes with free show tickets for you and one guest each month.  Maybe check out Penn and Teller?  Average show tickets are around $70, so this is worth about $140. Together with dinner you just saved $240. Nice.
Spa Discounts
But maybe now you'd like to book into the Spa at the Cosmopolitan for some massages and a bit of R&R. It's a wonderful and modern facility but it's a bit pricey. If you're Marriott Bonvoy Platinum or higher, you can get 15% off just by showing your card. And don't forget to ether give them your Identity card or bring your receipt down to the Identity Player's Club desk to get comp credit for that spend. If you were really slick, you could have bought Spa Finder giftcards for 10% off, maybe even via Ebates for an extra 4% back.
Meal Discounts
And then it's dinner time. Head over to the Wicked Spoon buffet inside the Cosmo if you are Marriott Bonvoy Platinum or higher for 15% off as well. It will still run you north of $50 per person, but it's well worth it! Once again, be sure to present your Identity card to get points for the meal.
Don't forget to spend those earned Identity points, though worst case you can transfer them to Marriott Bonvoy points at 0.8 Marriott for one Identity point. Not a bad way to cash them out… (The ratio from Bonvoy IN to Identity is much less great, at just 0.4 to 1).
Skip The Lines!
The next day, you may want to dine at one of Caesar's more popular restaurants. Both Gordon Ramsey's Burger in Planet Hollywood and Hash House a Go Go at the Linq offer reasonably priced comfort food.  The catch? Long Lines!!! At each of these we were greeted with lines over an hour long… until I went to the host and flashed my Caesar's Diamond card. In both cases we went from back of the line to next for a table.
Magic!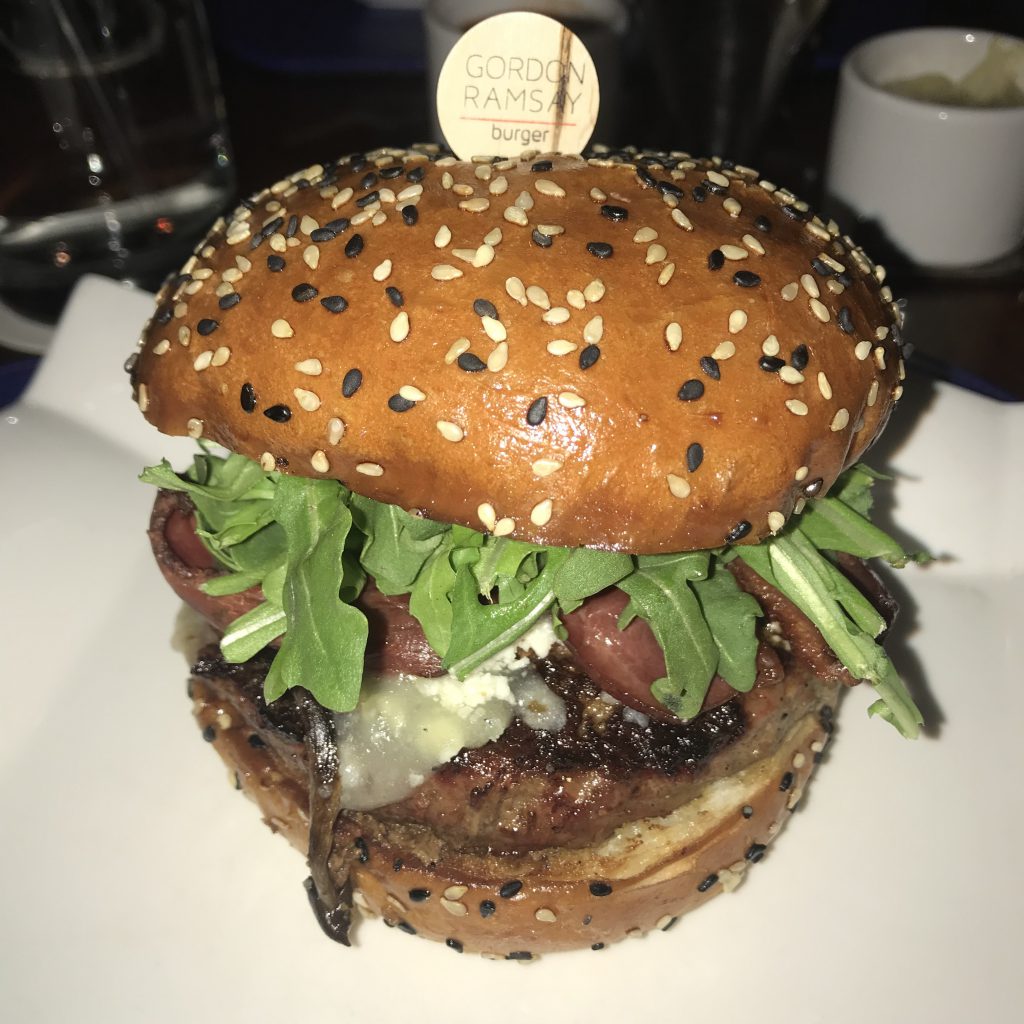 Lastly, you may be needing a room in the first place, if you didn't have any casino offers…
Using Points for Hotel Rooms in Las Vegas
The flashiest place on the prime part of the strip you can get for points would be the Cosmopolitan for 50,000 Marriott points.  Marriott's Grand Chateau is just across the street and 35,000 points, though I've never stayed there. It seems like a decent option if trying to use a credit card certificate, like the ones that come with any of the Marriott branded credit cards, like the Marriott Bonvoy Boundless Credit Card. Note that it doesn't have a casino, however. In fact, right now it's one sale for 32,500 points instead of the usual 35,000. The Westin, just a short walk off the strip, is also available for 35,000 points a night.
Hilton has a range of locations you can spend points on. The Waldorf:Astoria Las Vegas is a new property on the strip next door to the Cosmopolitan. It looks like a gorgeous hotel though I haven't stayed there. There are also a range of Hilton Vacations properties you can redeem points for. Hilton being Hilton, I can't tell you how many points these will cost as it varies. Compare to the best cash prices you can find to determine if you want to use points.
Don't forget you can use your Hyatt points to book Mlife hotels, however, they've got all the nicer on-strip MGM properties in higher award bands, meaning I think it's rare you'll get great value of your Hyatt points here.
And on that note, don't forget to submit your MLife hotel folio to Hyatt for points credit. Writing this post just reminded me to do the same!  If you can't add it during the stay, submit it after to Mlife Membership Services at [email protected].
Have I missed anything? Please share your Las Vegas loyalty hacks and I'll add the best ones to the post.  Share in the comments,  on Twitter, or in the private MilesTalk Facebook group.  
New to all of this? My "introduction to miles and points" book, MilesTalk: Live Your Wildest Travel Dreams Using Miles and Points is available now.