SPG/Marriott Highlights and Sweet Spots: Program Merger Summary
Did you miss a deal? Never again! Apply to join the members-only MilesTalk Facebook group
.
Advertiser Disclosure: MilesTalk has partnered with CardRatings for our coverage of credit card products. MilesTalk and CardRatings may receive a commission from card issuers and MilesTalk may also receive compensation for content. This site does not include all financial companies or all available financial offers. The editorial content on this page is not provided by any of the companies mentioned, and have not been reviewed, approved or otherwise endorsed by any of these entities. Opinions expressed here are the author's alone.
By now, if you are a Marriott / SPG fan, you've read the program announcement and maybe you even watched the Marriott livestream of the announcement. But there was a LOT in the overall announcement, so instead of rushing to blog it the second it happened, I wanted to absorb it all and ask some questions. Following the presentation, I did get to ask a few high ranking Marriott people some questions and so I hope this post will help you understand the good and the bad of the updates. I did not have any advance information on the program, so all of this is new to me since 4:30 Monday afternoon….
Keep in mind that nothing below is instant.
These changes take effect this August, 2018.
So you can look almost anywhere for almost every granular piece of info, but read on for the abridged "What you need to know."  In each major section I'm adding a "The Takeaway" below it with the most important thing to know and/or sweet spot.
Award Chart:  The program will not be going revenue-based or even pseudo-revenue-based.  It will maintain the category structure.  You do need to know that as of August 1st, the only points that will exist will be Marriott points. All existing SPG points at that point will transfer to Marriott at a rate of 3 Marriott for every 1 SPG.  From August 1st on, you'll just earn Marriott points. You'll earn at the rate of 10 points per dollar, plus elite bonuses, at Marriott hotels.  Starting in August, Marriott will revamp to the 7 tiers below. In 2019, an 8th tier will be created along with off-peak and peak dates, meaning there will be a range of redemption prices at each level.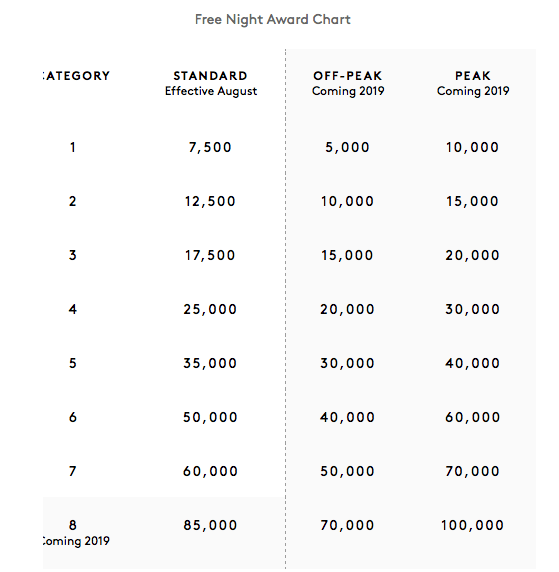 Award Chart: The Takeaway
All SPG hotels will be part of this chart August 1st, 2018 and you can expect them to mostly correlate at a 1: 3 exchange rate, so a 12,000 Category 5 SPG hotel will most likely become a 35,000 point/night Category 5 Marriott hotel.  Even after Category 8 launches, it's Peak level would correlate to just less than a 35,000 a night Category 7 SPG hotel.  Not bad at all!
The Sweet Spot: Part One: Book any SPG hotels you may want to stay in any time soon now. After they recategorize you can always cancel if necessary. Part Two: From Aug 1 – Dec 31, 2018, before Category 8 starts, you'll be able to book the top end properties for 40% off, as they will price at 60,000 rather than 100,000. With 5th night free, you can clean up on aspirational redemptions during this window.
Additional reading: Dan's Deals created a chart showing exactly where all old/new categories map on this page.
Status: 
Many are upset at the new status levels, but those are mostly SPG members that got too used to the gifted Marriott Gold vis SPG Gold. The new levels map more clearly to existing Marriott requirements. You need to know that starting now, you will need to earn your status based on total nights and not stays. "Stays" no longer matter. Let's take a look at how many nights you need for each of the 6 new status tiers.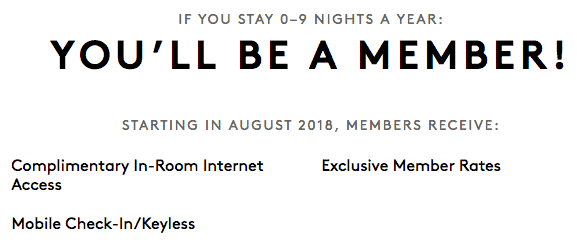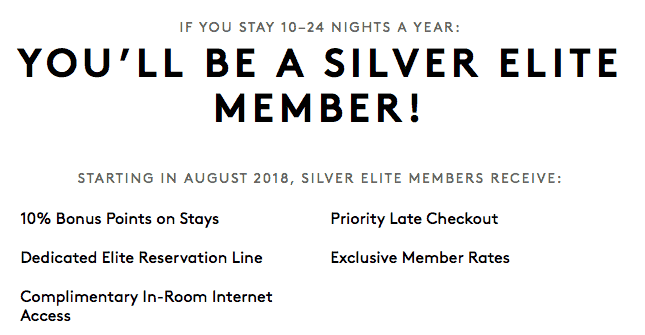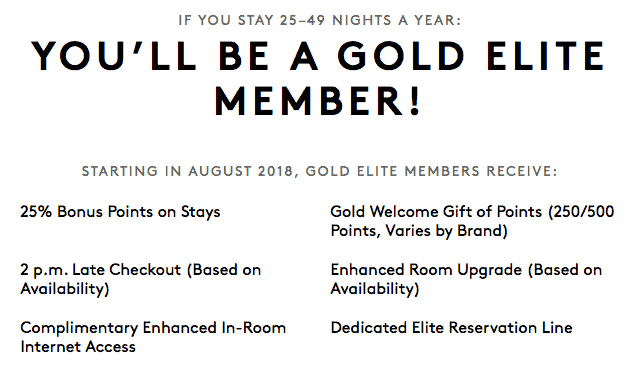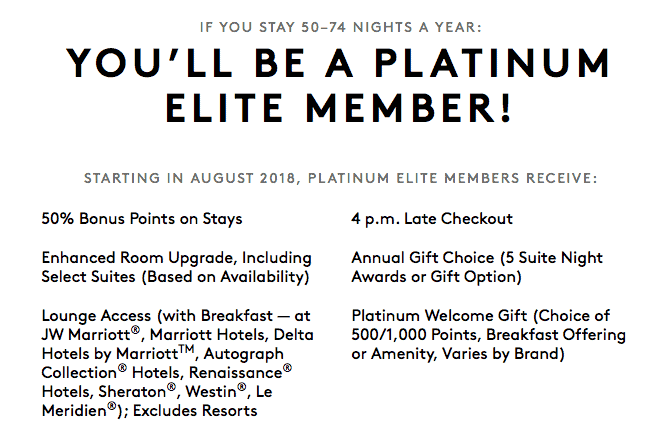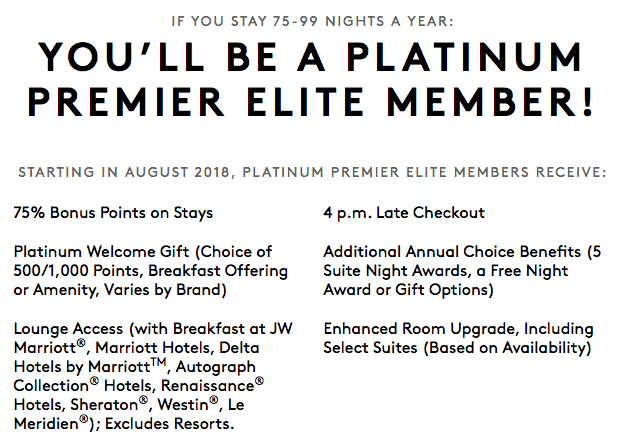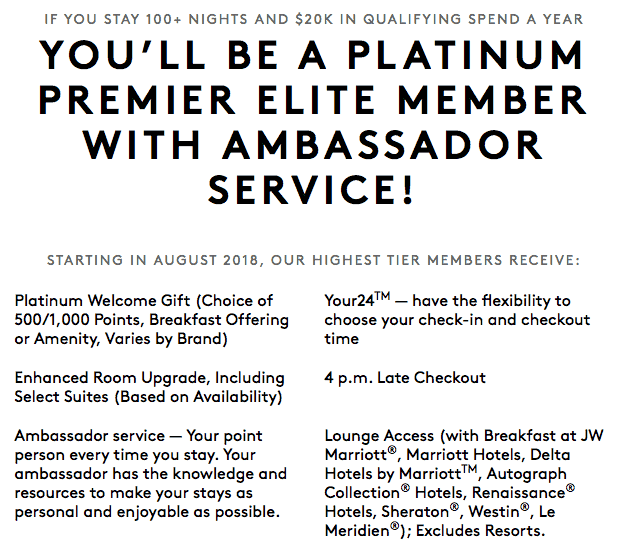 Everyone gets free in-room Internet and Silver is attainable just by having a co-branded credit card, but really only offers a priority reservation line and priority late checkout over a general member. I don't value "priority late checkout" as that tends to mean "whatever the hotel would have given absolutely anyone asking."  Silver does get a 10% bonus on points earned.
You need Gold or higher (25 nights +) for a stated time on the late checkout (2pm) but even there it doesn't use the word "guaranteed." I'm going to need clarification from Marriott on if the 3pm checkout is "guaranteed" for Gold. You'll need Platinum (50 nights) for a guarantee, which is 4pm.
You now will need Platinum (50 nights) or more for lounge access, a previous Gold benefit.
But Platinum (which those who used to qualify with Marriott directly for Gold will now qualify for) sees some benefit boosting over previous benefits for 50 nights. You'll earn 50% more points on stays, and get enhanced room upgrades, including Select Suites (Based on Availability). You'll also get an annual gift of five 1 night suite upgrades or an unnamed gift option. You'll get lounge access, excluding resorts, and breakfast at JW Marriott, Marriott Hotels, Delta Hotels by Marriott, Autograph Collection Hotels, Renaissance Hotels, Sheraton, Westin, and Le Meridien brands.
You can be Platinum Elite as early as August 2018 if you have qualified. Nights transferred from SPG will count. You'll earn a 75% bonus on hotel points earned and an additional gift of 5 more Suite Nights, a free night certificate (category limit unknown), or gift options (TBD).
Ambassador level requires $20k in yearly spend. If attained, you'll have your own personal contact at Marriott for one point of contact. You'll also be able to choose your own checkin and checkout times with what they call Your24.
Platinum and Platinum Elite can choose breakfast at all but 6 brands, including resorts.  While not on the website, TPG reports the 6 excluded brands are Ritz-Carlton, EDITION, Marriott Vacation Club, Gaylord Hotels, Marriott Executive Apartments and Design Hotels.
Status Levels: The Takeaway
The most unhappy comments are coming from SPG Golds matched to Marriott Golds who have tasted the good life but are seeing Gold downgraded. Yet Marriott loyalists are just getting a name change. Those who earned Marriott Gold will now be Marriott Platinum with similar benefits.  The $20k spend requirement for Ambassador will certainly raise some eyebrows, especially since Marriott has a lot of government contracts. But I understand the move towards wanting to know they got a certain level of revenue before assigning their highest tier.
The Sweet Spot:  In my opinion you need Platinum in the new program to be happy.  The sweet spot here is a one year sweet spot, but in 2018, all of your earned nights will count. You could have 4 credit cards right now – SPG Personal and Business and Chase Personal and Business. While all four have annual fees, they also confer nights. Each SPG confers 5 and each Marriott confers 15. With all four cards, you'll have earned 40 nights, which means you need just 10 more nights from either program now to have Platinum for the August – Dec, 2018 and all of 2019. Stay 25 nights on top and you're Platinum Elite.
Note that starting in 2019, you will get a flat 15 nights elite credit per member. Even one personal and one business card will still just get you 15 nights.  But enjoy 2019!
Airline Transfers
Airline transfers get upgraded. You will now be able to transfer to over 40 airlines (I believe 44 or 45) in total. It will be 3 Marriott points per mile with the same bonus scheme as now, so 60,000 Marriott will get you 25,000 airline miles. A few of the airlines like El Al use uncommon pricing schemes and those ratios aren't yet finalized.
I did speak to Marriott about transfer times. SPG's are currently quite slow, especially compared to Amex or Chase. Hopefully that will improve over time, but it didn't appear that was something prioritized initially.
If you want to get deep in the woods, there's a comprehensive TPG piece on all the new partners, comparing valuations against current SPG and/or Marriott transfers.
Air + Hotel Packages
While it means the end of SPG Nights and Flights, the Marriott packages remains exactly as they are for now. Based on my conversations with Marriott execs, these will stay into 2019, but they will be "tweaked." Clearly this means a price increase on some or all of the chart, but I don't have the numbers. I have asked Marriott to provide, which they will if it can be released publicly, though I think that will prove to be confidential for now. I'll update if I learn otherwise.
American Express Credit Cards
The single most important thing to pay attention to is the earning rates.
The current SPG Amex will realign as follows: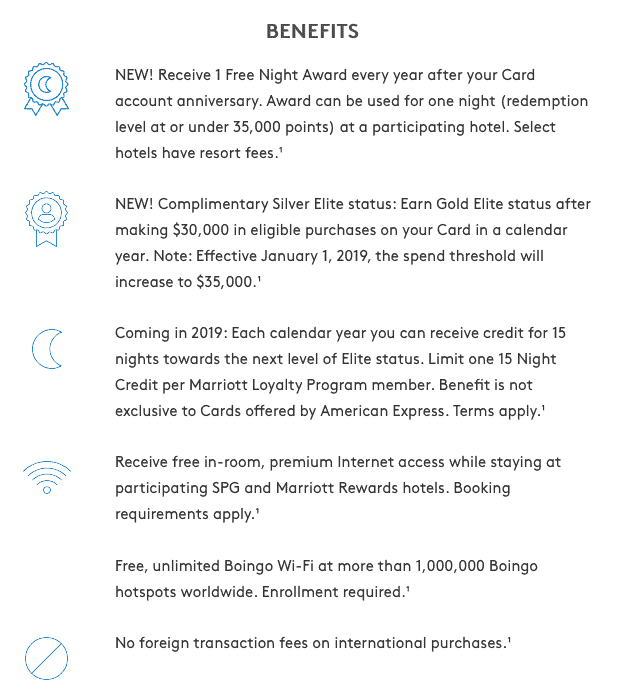 For the personal SPG Amex, when compared with the current card, the earn rate stays the same for Marriott hotel earning, but drops by 1/3 for non-bonus spend. Remember that the 1 point you earn now is 3 Marriott. Come August you'll earn 2 Marriott per dollar spent. The 1/3 drop in earnings is, to me, a huge deal. More on that in a bit.
You'll be granted automatic Silver status and Gold if you spend $35,000. You will also receive one free night per year good for a property up to 35,000 points (Cat 5) which is pretty good. That should be much better than the current Cat 5 certificates issued by Marriott cards.
The SPG Business card gets all the same updates as the personal card, but with one twist: You'll earn 4 points per dollar on small business spend. This means US restaurants, US gas stations, cellular service bills, and shipping. That maps to earning 1.33 SPG points per dollar in those categories if you use today's SPG currency, so you can value that accordingly.
The business card notably loses the current Sheraton Club Lounge benefit, though I'm not sure how often that was used and properties were often unaware of it.
American Express adds a new card, the SPG Luxury Card, available in August. It will carry a $450 annual fee. Its benefits are as follows: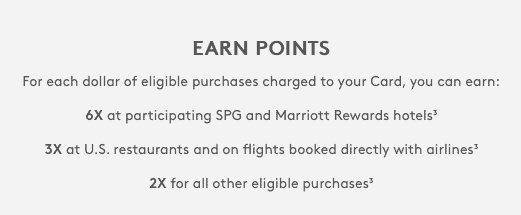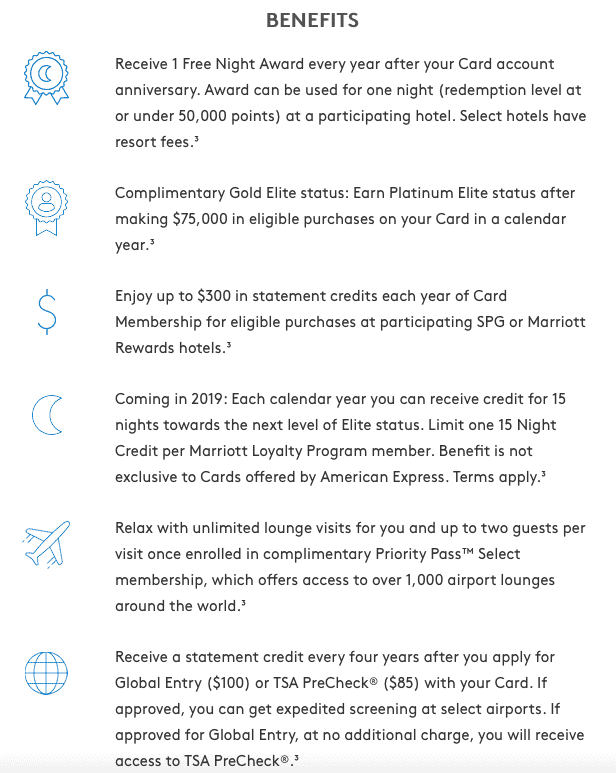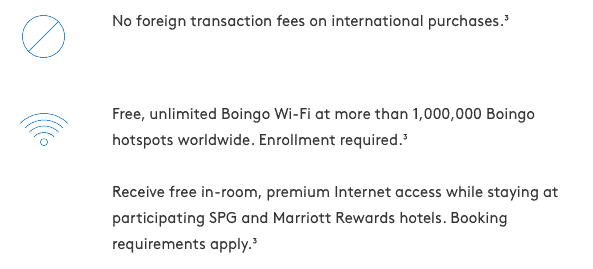 As you can see, the Luxury card will have a net $150 annual fee assuming you would have spent $300 at a Marriott property anyway, as that will be rebated back from the $450 fee. You'll get Gold automatically and Platinum with $75,000 in spend.  It also includes Priority Pass for you and two guests. I was hoping to be a bit more "Wowed" by this card. I thought it might come with Platinum (as the Hilton Aspire gives Diamond) but you'd need to spend $75,000 in a year on the card to get that. It will give 3X on airfare and dining, but that's still just like 1 point per dollar in the current SPG program, so not as exciting as it initially sounds.
Now that you can't stack the yearly elite status nights that come with these cards, there appears to be just one reason to hold both of these products together and that is the anniversary night. If you have a good use for the certificates, it's nice to be able to do a whole weekend, for example, with your two certificates.
Note that the Luxury card also allows the free night to be used on properties that cost up to 50,000 points rather than 35,000 – something that could be worth a couple hundred bucks depending on how you use the certificate.
The takeaway: Credit card earnings are, to me, the biggest negative in the whole program alignment if you spend on an SPG Amex now. You can't earn more than 2 Marriott points per dollar after August 1 on non-bonused spend, whereas you earn the equivalent of 3 now. No matter how you look at it, you're earning 1/3 less points per dollar and we'll all have to do math on that going forward. If you use your points primarily for airline transfers, note that this means you will be spending 50% more for the same amount of miles.  This means that if you do a lot of airline transfers, max out your SPG earnings before August 1st. The pain here will be on the earn side, not the burn side.
So if you earn a majority of your points from SPG credit card spend, as I do, everything is going to cost a fair bit more. It may well be their goal to make that just a bit less lucrative compared with earning points for actually staying in a property.
Chase Credit Cards
The Marriott Rewards Plus will replace the existing personal card. It launches May 3rd. Current cardholders will be allowed to convert, which will make sense. The fee is $10 higher at $95 vs $85, but will earn 2 points per dollar vs 1 with the current card.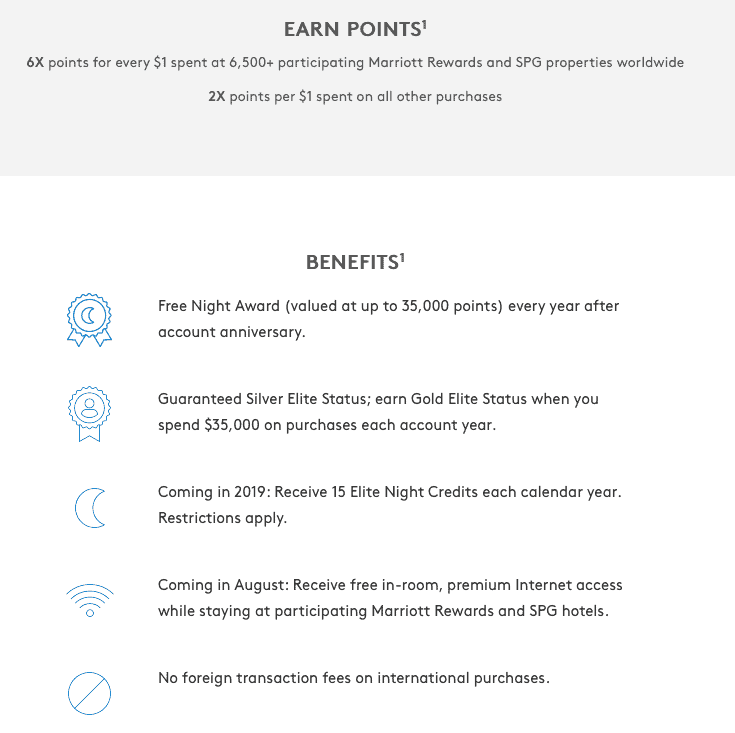 The Marriott Business Card gets a slight refresh: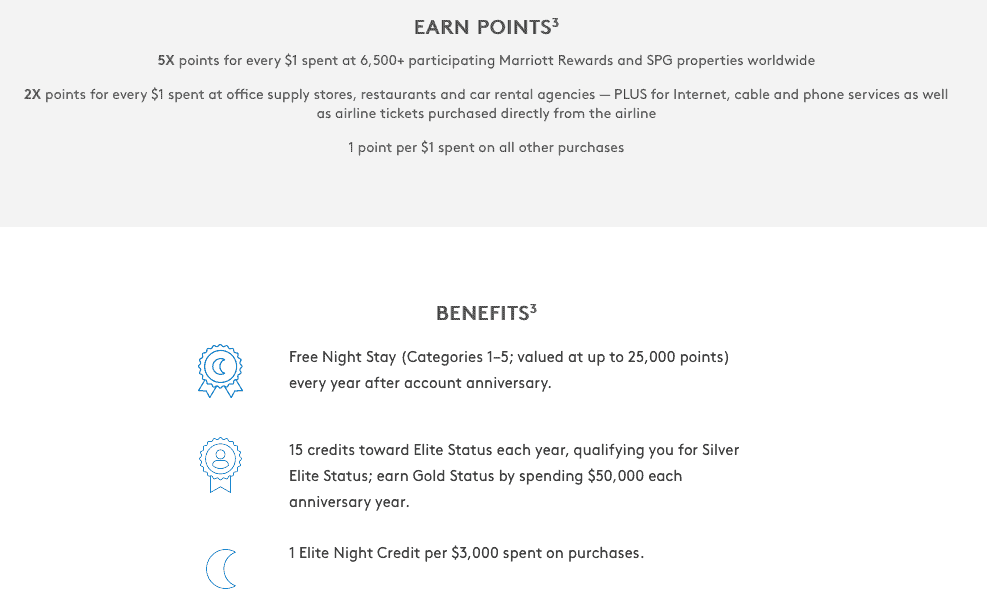 Note that the site is contradictory for the free business card night, as a Category 5 hotel will be 35,000 points. I think this should be up to 35,000 points, but let's wait for that to be amended.
The Marriott Rewards Plus card is at parity with the refreshed SPG Amex, as far as I can tell. You can hold both for the anniversary free nights, but you wouldn't have much reason to actively use both.
The Marriott Business card remains a one trick pony – use for the anniversary free night. No reason to use it for anything else. The SPG Business Amex is a much stronger card if you are choosing one.
The Ritz Carlton card will be refreshed as well, as follows: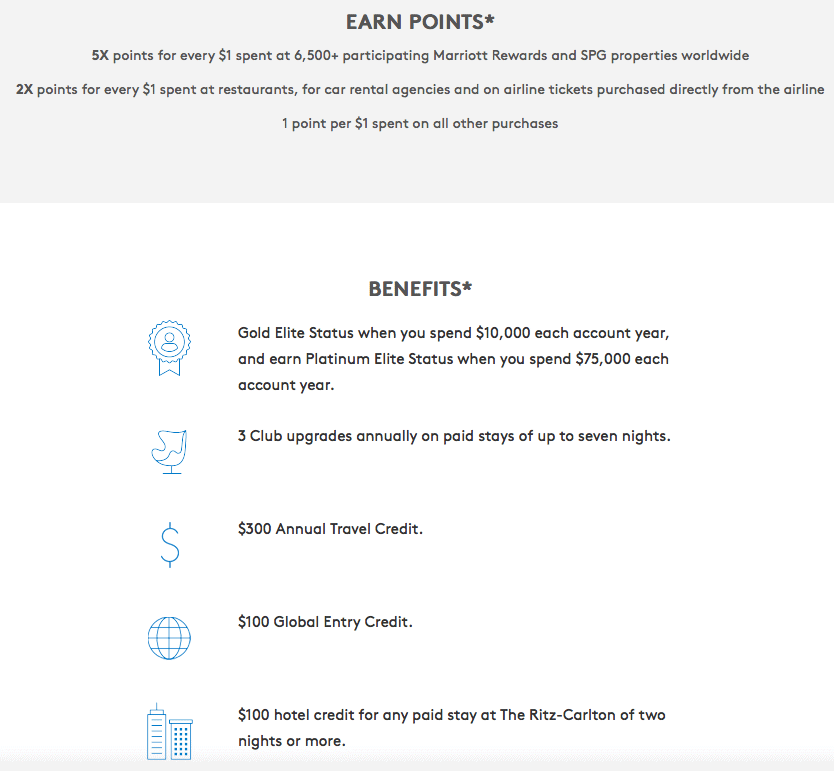 The takeaway: I am not impressed with these Chase cards. Low earning rates do not make me want to spend on these. The Premier Plus is expected to have a 100,000 point signup bonus, though.
Late Checkout Benefits get hammered if you have been primarily SPG loyal. You will now need 25 nights (Gold) for guaranteed 2pm late checkout and 50 nights (Platinum) for 4pm late checkout. For SPG members, this has been a benefit of not just Gold, but even Preferred Plus status which you only needed AAA to attain.
Delta Crossover Rewards will end this July. The China Eastern partnership remains.
United Silver will continue to be granted to Platinum Premier Elites (75 nights).
Lifetime Status
Existing Lifetime Status holders:  If you have lifetime status, it will continue. SPG Lifetime Gold will be matched to Marriott Gold and Platinum to Platinum. Marriott Lifetime Silver will get Gold and Lifetime Gold will get Platinum. Lifetime Marriott Platinums will apparently be given Platinum Premier, but going forward this will not be an attainable lifetime status.
Earning Lifetime Status Now:
Lifetime Silver Elite: 250 Lifetime Nights + 5 Years* Elite Status
Lifetime Gold Elite: 400 Lifetime Nights + 7 Years* Gold Elite Status or Higher
Lifetime Platinum Elite: 600 Lifetime Nights + 10 Years* Platinum Elite Status
The takeaway: If you are close to earning a lifetime tier with SPG and don't have many Marriott stays, hit the gas. 250 nights now with SPG gives you Gold. Once the programs combine, you'll need 400.
Marriott Points as a currency
The new airline partners and continuation of flight + hotel packages makes it an even more formidable currency to spend than SPG was before. But as earning has become 33% more difficult, it remains to be seen how it fares as one of 4 transferable currencies going forward.
While to me, transfers to airlines are most important, a scan of their Redeem page at https://members.marriott.com/redeem/ make it clear that they want you to have more ways to redeem than before. What we don't know is at what rates the non-hotel / airline transfer partners will be priced at. SPG Moments will live on under Marriott, which is great as they can have some really fun and aspirational experiences.
In a chat with Marriott CMO Karin Timpone following the announcement event, she shared with me that there is more to come on the subject of additional uses for Marriott points including at least a few things that haven't been announced yet.
I definitely like the ability to use points for a range of purchases and experiences, though for sure the redemption rate there is key. These types of redemptions rarely surpass the yield you can get with hotel stays and airline transfers.
Summary
On the whole, it definitely wasn't the doomsday scenario we all feared. Some redemptions may actually improve compared to SPG, though Marriott is wisely introducing the new award chart in phases so it won't feel as bad once we do have 100,000 point high-season Category 8 properties.
The biggest thing is definitely the reduced earning power on the Amex cards. On the surface it is a huge blow but it will have to be reconciled against all the redemptions and we don't know all the details on the redemption side just yet (specifically where properties will fall in the new chart and what "new" redemption options may come to pass.
If you made it all the way to the end of this, congratulations – that was a long post!
What do you think of the changes?  Let me know here, on Twitter, or in the private MilesTalk Facebook group.
New to all of this? My new "introduction to miles and points" book, MilesTalk: Live Your Wildest Travel Dreams Using Miles and Points is available now.
PS: I keep links to Hotel Rewards Credit Cards here.