How I got $3,300 worth of 5* hotel nights for $803 during a peak travel time
Did you miss a deal? Never again! Apply to join the members-only MilesTalk Facebook group
.
Advertiser Disclosure: MilesTalk has partnered with CardRatings for our coverage of credit card products. MilesTalk and CardRatings may receive a commission from card issuers and MilesTalk may also receive compensation for content. This site does not include all financial companies or all available financial offers. The editorial content on this page is not provided by any of the companies mentioned, and have not been reviewed, approved or otherwise endorsed by any of these entities. Opinions expressed here are the author's alone.
If you read my post about how my AirBnB host cancelled a reservation I'd made for Dusseldorf (6 months in advance, mind you) for a big trade show less than a week before travel, you know that AirBnB didn't offer very much.  They'd cover as much as 10% of the difference of a new AirBnB stay which didn't work because availability that late was almost zero and what existed was double the price or more.

I knew that I was going to wind up staying in a terrible or far away hotel – and pay more for the privilege – if I didn't find a way to make points work for me.
Nice hotels in the convenient / nice part of Dusseldorf were taking advantage of the trade show and were charging between 500 and 700 Euro a night ($500 – $770)
I started by scanning Dusseldorf for chains that had hotels in convenient areas. The only one truly central was the IHG Intercontinental. Problem was, I had no IHG points and the stay was way too near to get an IHG credit card.  So I looked into buying points. IHG lets you buy up to 60,000 points a year and there are often bonuses – in rare cases up to 100%.  60,000 points go for $11.50 per 1,000.
I Googled for a points sale and there indeed was one. You have to login to see your offer. I was offered an 80% bonus meaning I could buy up to 108,000 points for $690.
Rooms at the Intercontinental in Dusseldorf go for 45,000 points a night or 30,000 + $99 cash and points. You can see immediately that with rates over 500 Euro, this is a great deal.  The only problem is that points purchases are not instant (points.com takes 24-72 hours to post) AND if you have any problems with the purchase, the points can take much longer. In my case, its been over a week and they still haven't fixed the issue sparked by me (like a CRAZY person!) entering my work credit card and work address when IHG had my home address on file.  I'll write another post about Points.com because it is pure madness.  And TL/DR for that coming post: Make sure your address that you enter for billing on points.com matches the address on file for you with the loyalty program!

Once points.com lets me finish the transaction, I'll be buying $506 worth of points for this stay (covering just over 78,000 points). I transferred in 12,000 Chase Ultimate Rewards Points (unlike points.com, these transfer quickly and effortlessly).
I'm staying in the hotel anyway because IHG had graciously "loaned" me 90,000 points to cover the first 3 nights. The reason I had transferred in the 12,000 UR was to "top off" the 108,000 points I was buying to buy 4 cash and points nights total with 120,000 points.
But since my points didn't post, that gave me 90,000 points total to work with which was enough for 3 nights on cash and points.  $506 for the points + $297 for the cash part of the cash and points stay = $803 total (Plus the 12,000 UR).
For all of the last week I assumed points.com would fix the issue (not only were my points rejected due to the address, they locked my account and, when I emailed them, they wrote back a couple days later to let me know my credit card wasn't charged. Except that wasn't what I wrote them about and it's been another 4 days without a further reply from them. Still locked out. And I still owe IHG the points which I'd happily buy for them – if I could.
Since I check out in 2 days, I couldn't wait any longer. So I looked up other chains and found the beautiful looking 5* Hyatt Regency Dusseldorf on the harbor. It's a much less convenient location, but a beautiful and quiet area and a top rated hotel. The best part is that despite a 600 Euro / night rate this week, it's just 12,000 Hyatt points a night.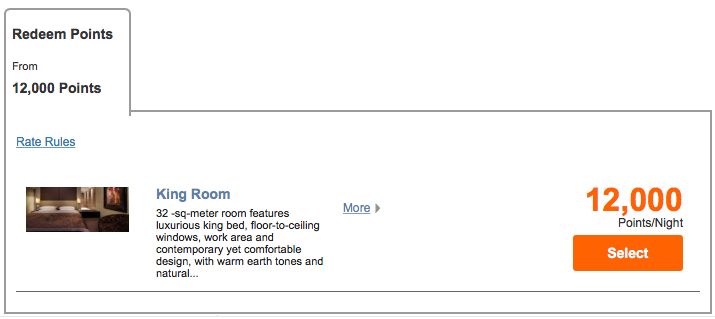 So I transferred in 24,000 Chase Ultimate Rewards and I'm all set.
I actually like the Hyatt quite a bit more, although the location is in the boondocks compared to the very central Intercontinental. I'll review both hotels.
Summary
Original cost of the AirBnB 5 nights:  $1,400
Mad scramble to recover those 5 nights with 3 at the Intercontinental and 2 at the Hyatt: $803 + 36,000 Chase UR points.
Value of the five nights at the two hotels if one was paying cash: Approximately $3,000 Euro ($3,300)
The moral: Even for someone with as much points experience as I have, things can go wrong. It went wrong with AirBnB and when I "saved" it with the IHG reservation, things went wrong again. But with persistence, it all worked out thanks to my knowing a) that you can often buy points even if you don't have for a particular chain – and that can often drastically beat cash prices (but to remember that points purchases aren't instant, and b) having a bank of points across programs – in this case relying on my Chase Ultimate Rewards points to transfer to Hyatt FTW.  And at $803 plus points for five nights with hotels averaging 500 Euro a night, I'm happy I spend the time on this hobby.