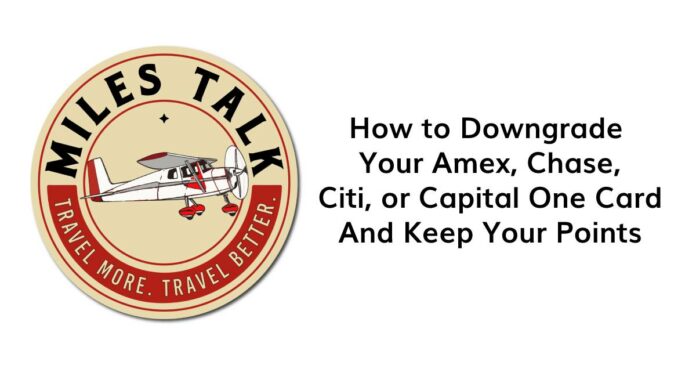 Did Your Annual Fee Hit? Here's How to Downgrade Your Credit Card and Keep Your Points
As much as annual fees on credit cards can be very, very worthwhile in exchange for the perks you get (and you can always use my worksheet to judge for yourself), there are times that you want to downgrade your card to one with a lower annual fee or one with none at all. You can also "product change" in some cases outside of the particular card family, and I'll outline those below.
Note that in all cases, you can only product change from personal to personal or business to business. Also, you'll want to have your account open at least one full year (365 days) before asking to downgrade.
So, let's take a look at the four major banks with transferable points and discuss the downgrade / product change options and the rules around preserving your points in the downgrade.
The rules range from easy to insanely complicated.
Worth noting right upfront so I don't have to say this for each issuer is that airline miles and hotel points from co-branded credit cards, like Delta Air Lines credit cards from Amex or American Airlines AAdvantage credit cards from Citi, are always yours to keep after a statement cycle closes and the miles or points are transferred to your account.
Unlike transferable bank points, which are subject to the issuer's rules, airline miles and hotel points, once moved into your airline or hotel loyalty program's account, are yours to keep no matter what (at least as long as you keep that loyalty account in good standing).
American Express / Amex Rules for Downgrading and Keeping Membership Rewards Points
American Express has very easy rules. Your Membership Rewards points (Guide to Amex Membership Rewards) from all of your Amex cards (business and personal) all accrue to one master Membership Rewards account. This means that you simply need to always have at least one Membership Rewards account open and then no matter what cards you downgrade (or close) your points are safely tied to that one remaining account.
Example: If you only had an Amex Platinum card and wanted to cancel it, you would need a new card (before you closed the Platinum) earning Membership Rewards points in your account, unless you already had a second MR-earning card open.
So you could open, for example, a no-annual fee Amex Blue Business Plus card. Once that was open and linked, you could close the Platinum card and you wouldn't lose a single point. However, if you closed the Platinum card without having a second MR-earning card, they would all be gone….
Downgrade options are always by product "family" and in no case can you ever downgrade a business card to a personal card or vice versa. Unfortunately, the charge-style cards (Platinum/Gold/Green) have no fee-free downgrade path.
You can downgrade a personal Platinum Card to a personal Gold Card or Green Card
You can downgrade a Business Platinum Card to a business Gold Card or Green Card
You can downgrade a personal Gold Card or Rose Gold Card to a personal Green Card
You can downgrade a Business Gold Card to a business Green Card
You can downgrade a Bonvoy Brilliant to a Bonvoy Amex
You can downgrade a Hilton Aspire to a Hilton Surpass or Hilton Amex
You can downgrade a Hilton Surpass to a Hilton Amex
(The Hilton Business Card and Bonvoy Business card have no downgrade or product change path)
You can downgrade a Blue Cash Preferred to a Blue Cash and an Amex Everyday Preferred to an Amex EveryDay
You can downgrade any Delta Amex card to a lower version in the same family (personal or business). So a Delta Reserve can downgrade to a Delta Platinum, Delta Gold or fee-free Delta Blue. A Delta Business Reserve can downgrade to a Delta Business Platinum, or Business Delta Gold. There is no fee free version of the Delta card for a business.
To be clear, you can only product change, up or down, within a product family and you must always have one Membership Rewards card open or you forfeit all points.
Also see:
You can downgrade within a product family, though it's important to know that the Chase Sapphire and Chase Freedom cards are all in the same "family."
So, you can "product change" from a Chase Sapphire Preferred or Sapphire Reserve to a no-fee Chase Freedom Flex or Chase Freedom Unlimited. If you product change from one card to another and that is your only Ultimate Rewards card, they will transfer the points to the new card (never hurts to confirm while on the phone).
If you were going to cancel a card outright, you would need to first transfer the points to another Chase Ultimate Rewards point-earning credit card else you'd lose all your points. Please don't do that.
Otherwise, the points will never expire as long as you have an Ultimate Rewards card open and in good standing and remembered to move your points to another card before closing one.
A few allowable product change examples:
Also see:
Citi Rules for Downgrading and Keeping Citi Thank You Points
Citi has the most complex rules you can imagine for preserving points when you downgrade or close a card. So, if you have a Citi ThankYou earning credit card like a Citi Premier card, listen closely.
If you outright cancel a card that earns ThankYou points, you have just 60 days to transfer or otherwise redeem your points. After that, they are gone forever.
Downgrades: 
It's worth knowing that there is a great downgrade option for that Citi Prestige or Citi Premier card. That's the Citi Rewards+.
The bonus is minimal anyway (so you aren't missing out on a huge windfall of points by product changing into it) and Rewards+ comes with a 10% rebate on spent points up to 10,000 back a year and this includes your linked card accounts, meaning that if you have a Premier and a Rewards+, you can transfer to airlines via that Premier and also get that 10% rebate.
Now, you can't transfer ThankYou points on a Rewards+ on its own to much at all, but it will preserve those points should you later get a new Citi Premier (you can get a fresh bonus every 24 months from the last time you either opened or closed any Citi ThankYou earning card *except* the Custom Cash which plays by its own rules and won't count against you).
Note that the rule is from when you last received a bonus OR closed a ThankYou-earning Citi card. That's a tough one to remember!
To keep it simple, I recommend that if you are downgrading a Citi Prestige or Premier, then product change to the Rewards+ and keep it simple. Your points will be safe and it's a good second card. Of course, long term I am a fan of the Citi Trifecta! A strategy could be downgrading to a Rewards + from a Citi Premier that you'd had a while and then pick up a new Citi Premier (+ bonus). Then add that Double Cash and you're golden.
But I digress.
Beyond that downgrade described above, you can product change most Citi cards into other Citi cards, as long as you don't cross personal to business or vice versa.
One other thing to note is that if you have a spouse (or even a friend) you can transfer your points to them and close your card, however, those points would expire from their account in 90 days if not spent or transferred, so be careful.
Product Changes
Don't want that Citi AAdvantage Platinum credit card anymore? While you could downgrade to a MileUp card, why do that?
You can product change it to nearly any other Citi card that will help you with that Citi Trifecta or even Quadfecta. If you already have a Citi Premier, product change that AAdvantage card into a Double Cash.
This works for nearly all current Citi cards, and a few older ones, but not that two cards you cannot product change into are the ATT Access More and the Sears Thank You card. Sorry!
IMPORTANT NOTE: As HoKo points out in the comments, if you product change from a ThankYou earning card into anything besides a Rewards+ or ThankYou Preferred, you run the risk of a new card number which may reset your 24 month clock on a new ThankYou bonus. So, stick to Rewards+ or ThankYou preferred for your Premier / Prestige downgrades to avoid disappointment.
Also see:
Capital One Rules for Downgrading and Keeping Capital One Miles
Before downgrading a Capital One card, like a Venture card or a Spark Miles card, it's worth asking if t hey might be able to waive your annual fee. Not only might they do so, they may, based on your spend and Capital One profile, even offer to put a permanent fee waiver on. They are the only issuer that will do this "just because" and on an ongoing basis.
If they are not able to do this, though, you can downgrade as follows:
You may also be allowed to convert between cards, like Savor to Venture, but it seems to be a bit dependent on what the system says. Some are able to even change a Quicksilver to a Savor or Venture, while many.most cannot. If you have any card that earns miles, you should only product change to a card that earns miles
You can do a product change with Capital One via chat or by calling.
If you downgrade from one "miles" card to another, you will preserve the points.
Also see: Credit Cards that earn Capital One Miles
Questions?
Let me know below in the comments, on Twitter, or in the private MilesTalk Facebook group.
And if this post helped you, please consider sharing it!
You can find credit cards that best match your spending habits and bonus categories at Your Best Credit Cards. 
New to all of this? My "introduction to miles and points" book, MilesTalk: Live Your Wildest Travel Dreams Using Miles and Points is available on Amazon and at major booksellers.