If you fly Virgin America, JetBlue has up to 75,000 miles for you. Take them!

Advertiser Disclosure: This site is part of an affiliate sales network and may receive compensation for sending traffic to partner sites. This compensation may impact how and where links appear on this site. This site does not include all financial companies or all available financial offers.
Did you miss a deal? Never again! Apply to join the members-only MilesTalk Facebook group.
In the kind of match offer I haven't seen since the Capital One "Match My Miles" offer in 2011, JetBlue will give you up to 75,000 miles based on your current Virgin America balance and all you have to do is fly ONE round trip flight with JetBlue!
In short, once you follow the instructions, send in your Virgin America mileage balance screenshot, and are approved for the match, you'll need to fly one round trip JetBlue itinerary in order to be awarded free JetBlue miles as follows: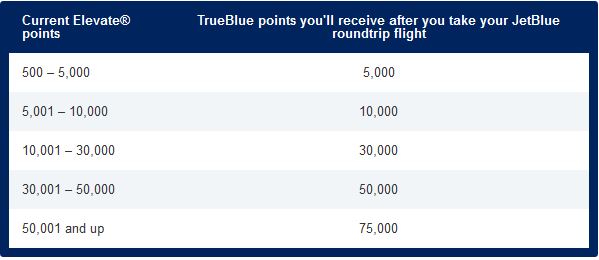 So let's break this down.  If you have a Virgin America account with 50,001 miles, you will be GIFTED 75,000 JetBlue miles. Given that you spend JetBlue points at a fairly fixed rate of around 1.4 cents a mile, that would be worth a bit over $1,000.
Let's assume that you CAN fly the qualifying roundtrip on JetBlue by Aug 31, which would qualify you. If you have 50,001 VA miles already, this is simple. Enjoy your match. But what if you have few or zero VA miles. Well, some of the logic depends on where you live and your ability to easily spend both VA (Virgin America) and B6 (JetBlue) points.  If the answer is that it's easy, then you have some options for transferring (or even buying) the VA miles.
Options:
Transfer in American Express Membership Rewards points (you'll get one VA point for every 2 MR points). 101,000 MR = 50,500 VA
Transfer in Citi Thank You points (hey, I'm giving away 5,000 Citi Thank You points, so that's some help, right? These also transfer at a 1:2 ratio. 101,000 TYP = 50,500 VA
Finally, you can transfer your SPG Starpoints at a 1:1 ratio and even get a 5,000 point bonus if you transfer 20,000. This means you would get 50,000 miles (don't forget that one extra mile for 50,001 !!) for just 40,000 Starpoints.  40,500 SPG = 50,500 VA
Which is the best route? Well, if you have a large stockpile of Starpoints, I'd use them since it's clearly more than twice as valuable in this scenario.
Essentially your 40,000 Starpoints, which I value around $1,000, gets you – in this rare scenario – $1,000 in JetBlue flights AND 50,000 VA points (worth about 2.4 cents making the 50,000 points worth $1,200).
40,000 Starpoints = $1,000 of JetBlue points + $1,200 in Virgin America points = $2,200 in redemption value for 40,000 Starpoints. That's a 5.5 cent per Starpoint redemption!
Will I do this myself? I'm still thinking about it as a) I do NOT have a massive stockpile of SPG right now (I could use my Thank You points, but I have my eyes on Singapore Suites redemptions with those), b) I don't regularly fly either airline, and c) I'd ned to specially book a JetBlue roundtrip just to qualify.
But for anyone that flies either of these airlines a lot and/or already has a trip they can book a JetBlue roundtrip on, the math works a bit easier.
And now the details, straight from the JetBlue promotion page….
Here's how to participate:
Elevate® members must email a screenshot of their account dashboard to [email protected] by 7/4/2016. Screenshots must include first name, last name, and points balance.
Please include your TrueBlue number in the email. If you are not a TrueBlue member yet, sign up now.
Once we assess your balance and eligibility, we'll email you to let you know if you're officially registered for the promotion.
Then book and fly one roundtrip JetBlue flight by 08/31/16.
Enjoy your new TrueBlue points balance – and love for JetBlue!
Terms & Conditions
*This offer is available to new or existing TrueBlue members. To qualify, members must send an email including their TrueBlue number and a picture of their Elevate® account dashboard showing first name, last name, and points balance to [email protected] by 7/4/2016, await receipt of an email to confirm registration for the promotion and then book new roundtrip flights operated by JetBlue and completed all travel by 08/31/2016. Number of points awarded will be based on Elevate® points balance evidenced by submitted proof. Proof is are subject to verification. TrueBlue number must be provided at the time of booking. Offer can only be redeemed one (1) time by any individual. Points awarded in conjunction with this promotion are considered bonus points and do not count towards earning Mosaic status. Offer does not apply to non-revenue travel; is not valid on flights operated by airline partners; is not valid in connection with any Getaways vacation packages, cruises, or any other product or service and may not be combined with other special offers. In the event you cancel your reservation or change your reservation so that it no longer complies with the terms of this offer, you will not receive any of the promotion bonus points. TrueBlue points will be awarded within 4-6 weeks after round-trip flight. Offer can be cancelled or modified at any time. TrueBlue Terms and Conditions apply.