Kimpton Karma (finally) joins IHG Rewards
Did you miss a deal? Never again! Apply to join the members-only MilesTalk Facebook group
.
Advertiser Disclosure: MilesTalk has partnered with CardRatings for our coverage of credit card products. MilesTalk and CardRatings may receive a commission from card issuers and MilesTalk may also receive compensation for content. This site does not include all financial companies or all available financial offers. The editorial content on this page is not provided by any of the companies mentioned, and have not been reviewed, approved or otherwise endorsed by any of these entities. Opinions expressed here are the author's alone.
If you are a loyal Kimpton guest, you will either love this or hate this.
In early 2018, Kimpton will finally join the IHG loyalty program.  On a very high level this means that you will now be able to earn and spend IHG rewards points and contribute those Kimpton nights to your IHG status and Accelerate promotions.  This is exciting for me.  In the current fall Accelerate promotion, I needed a four-night stay at an IHG property to max out the promo and earn over 40,000 bonus points. I did have a four-night stay in September, but the hotel that made sense for that stay was a Kimpton. So despite being owned by IHG, because Kimpton Karma was (and is until early 2018) a separate loyalty program, I got a goose egg from that.  I actually vowed to never stay at Kimpton again because it felt like a waste with my other loyalty allegiances to not get points – and I'd never stay at Kimpton enough to have status. With Kimpton finally joining IHG, I'd be happy to stay there – especially during an Accelerate promotion.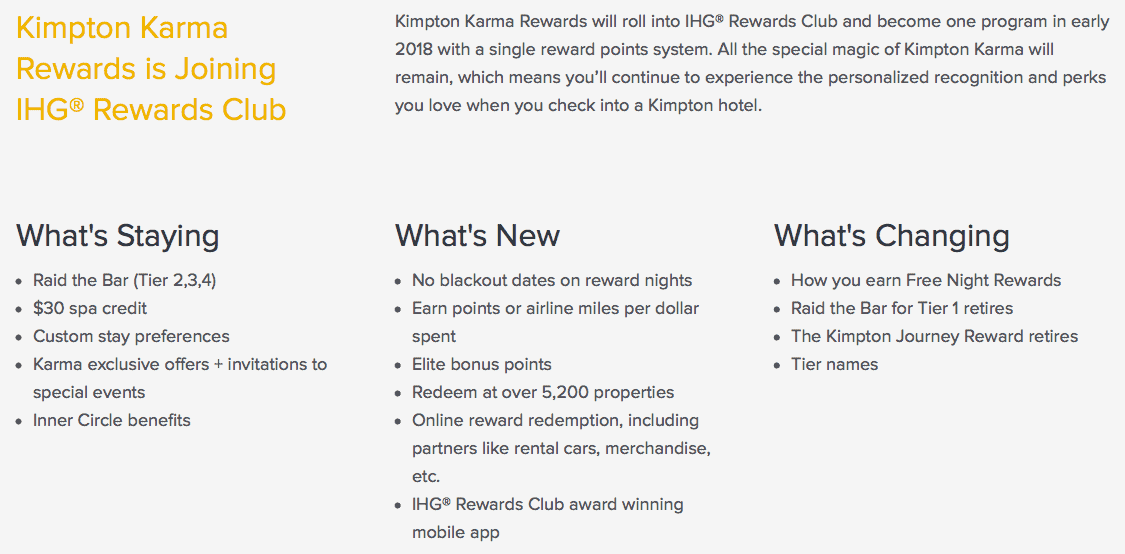 Now, if you are an existing Kimpton Karma elite, you may not be so happy. It's a special kind of boutique loyalty program and, to be sure, IHG elite members do not get the special treatment that Karma elites do. In fact, IHG is kind of known for being super weak with its benefits for even top-tier members. Even Spire Elites do not get suite upgrades, free breakfast, guaranteed late checkout, etc.
In early 2018, your Kimpton Karma will get matched to IHG as follows:

And the benefits at IHG look like this: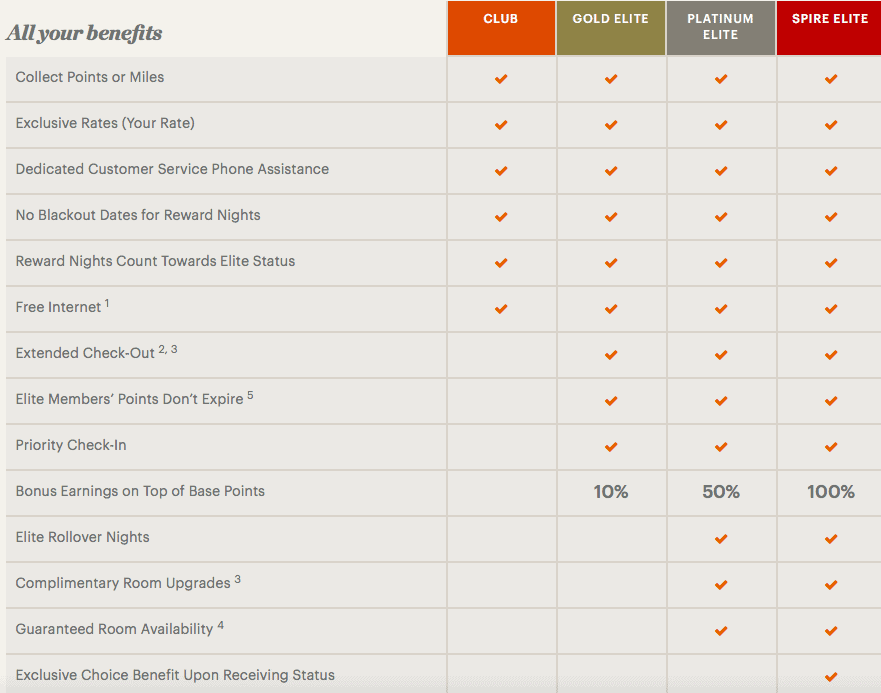 Finally, the folks at Kimpton have put together a pretty exhaustive FAQ about what happens with everything currently unique to Kimpton.
I pasted below a few I found especially important:
What will happen to my valid Karma Free Night Rewards?
Your valid Karma Free Night Rewards will be converted to IHG® Rewards Club Reward Nights and will remain valid in your new IHG® Rewards Club account, with your existing expiration date.
What will happen to my progress toward my next reward night?
Your night progress balance will be automatically converted to IHG® Rewards Club points. When the programs migrate, each of your eligible Kimpton nights accrued will be converted to specific number of points; as follows: * Tier 1 (Club) – 1,000 points per night accrued as of December 31, 2017. * Tiers 2 (Gold Elite), 3 (Platinum Elite), and Inner Circle (Spire Elite) – 2,000 points per night accrued as of December 31, 2017.
Your IHG® Reward Club points can be redeemed at more than 5,200 IHG hotels around the world, as well as hundreds of partners, including airline miles and rental cars and so much more.
What will happen to my Kimpton Karma Tier 2 + Tier 3 one-time rewards (upgrades, welcome amenity)?
They will remain active and can be redeemed at any Kimpton hotel. Note, they will not be visible in your IHG® Rewards Club account. Just call Kimpton Karma Help at (888) 695-4678 to redeem them or to discuss any rewards-related questions.
Will I still be able to redeem my Journey Free Night Reward?
Just like Free Night Rewards, valid Journey Rewards are yours to keep until they expire. They'll be transferred to your new account when the programs merge in early 2018.
Will Raid the Bar still be a benefit when a member stays at Kimpton?
Yes, Raid the Bar will become the welcome amenity for IHG Rewards Club Elite members (Gold Elite, Platinum Elite and Spire Elite). Inner Circle will also continue to receive their personalized welcome amenities. We're also continue to offer all members the $30 Spa credit when staying at a Kimpton hotel.
I earned Inner Circle in 2017 will I retain my status in 2018?
If you qualified for Inner Circle in 2017 with Kimpton, you will be Spire Elite and Inner Circle in 2018.
How will I qualify for Inner Circle going forward, after 2018?
Qualification for Inner Circle in 2019 will be by invitation only to a select group of members who have earned Spire Elite. While the criteria for Inner Circle invitations are unpublished, factors for consideration include the same things we've always looked at – your loyalty. So, things like frequency of qualified Kimpton visits, length of stay, and more, will be considered.
Remember, until the program merger actually happens in early 2018 (date TBD), you continue to have two completely separate programs. In 2018, you'll have any 2018 qualifying activity merged as above.
Another plus is that your free nights form an IHG rewards credit card will be redeemable at Kimpton hotels starting when the merger occurs.
Does this get you excited or sad? Let me know here, on Twitter, or in the private MilesTalk Facebook group.