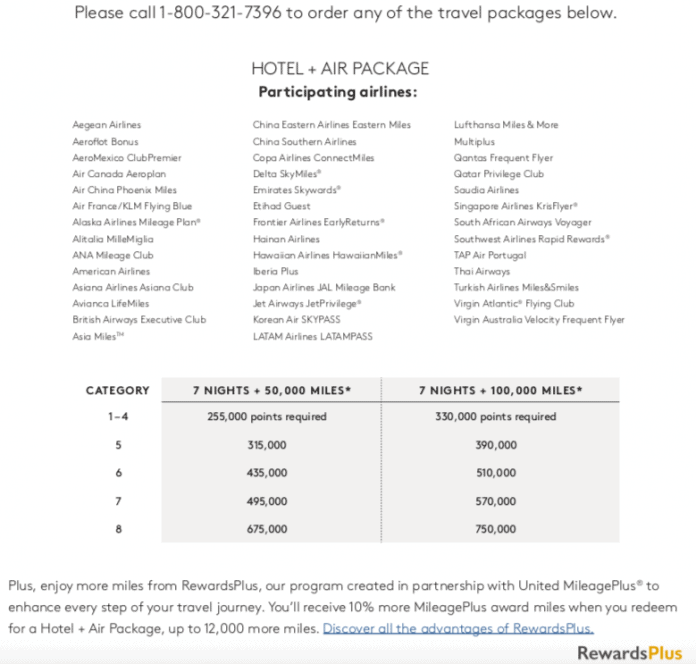 Today, Marriott unleashed their new categories by property in the new combined SPG/Marriott program.
Along with the list of which properties are in each category, they've also released their new cash + points rates, new PointSaver rates (rotating hotels with a small discount on points), and, importantly to all die-hards, the new Air + Hotel package rates.
I'll give you all the details and my thoughts. At the bottom I also have links to several other bloggers / resources that I think did a great job analyzing different parts of this in varying ways.
Let's start with the new category charts.
Click here to see the new categories for each Marriott hotel including ex-SPG hotels.
Heres an excerpt of how a handful of St Regis hotels fit into the new structure: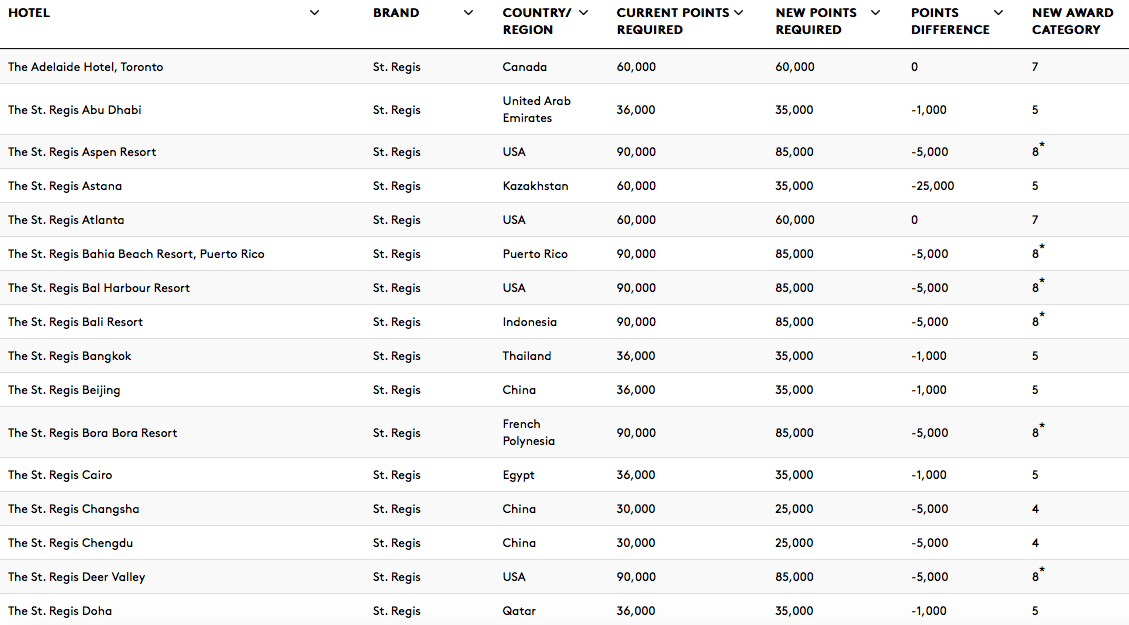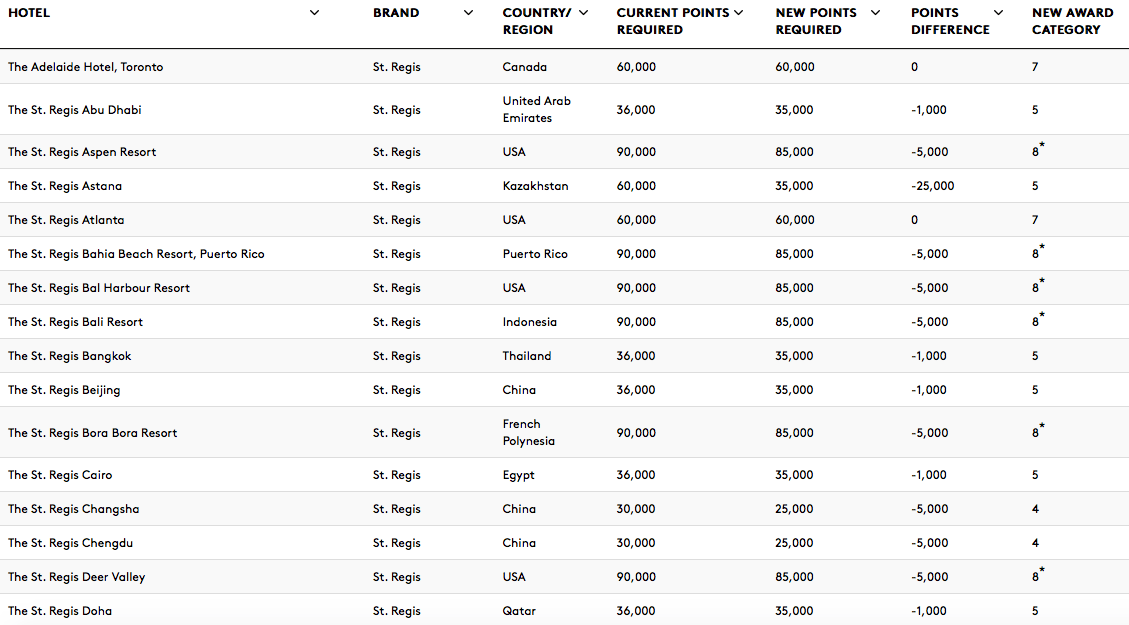 I love the job they did making this chart searchable by brand, hotel, country, or category. Of course, some hotels went up and some down. If you have a hotel booked after Aug 1, see if it's more or less in the new chart. If it goes up, you're golden. If it goes down, call Aug 1 to rebook at the lower rate. That will not happen automatically.
As well, I'd written back in April about how the set of SPG hotels that are currently only bookable for obscene point levels (60,000 – 70,000 Starpoints a night which maps to 180,000 – 210,000 Marriott points per night) would be available from Aug-Dec 2018 for just 60,000 Marriott points a night. I'd gotten the info directly from Marriott and many told me this flat out would not happen. Well, it happened. You CAN indeed book hotels in, for example, the Maldives or Bora Bora or Costa Smeralda for 60,000 points a night Aug-Dec of this year and then 80-100k thereafter.
That said, there seems to be a catch. It appears that Marriott may tweak what counts as a standard room at these properties, meaning fewer awards available for redemption and therefore less chance than ever for nabbing them during peak times.
The best advice I can give here is that if you want to book an aspirational property like a St Regis or W at a top category, book a standard room now using SPG points – if you have the points – to lock it in and then HOPE we can simply get the points refunded in August. Of course, 5 nights at a currently 70k a night resort would require you have 280k SPG or 840k Marriott in hand to hold the spot… meaning many people simply won't have the bankroll to do this. When August comes and that same booking takes just 240k, expect a stampede.
There's a good chance this will be possible. However, there is some speculation this will require *rebooking* rather than just a return of excess points and that your room may not be re-bookable. For this reason, do not make any firm or unchangeable travel plans around such a booking until this plays out come August.
Update: Gary from VFTW says he has written confirmation that we WILL be able to just have the excess points returned – with the caveat that if the applicable standard room type has changed, your revised booking may not be 60,000 points.
Pointsavers
Here's the PointSaver redemption chart
It's up to 20% off and probably won't be too common. And 20% off isn't exactly earth shattering.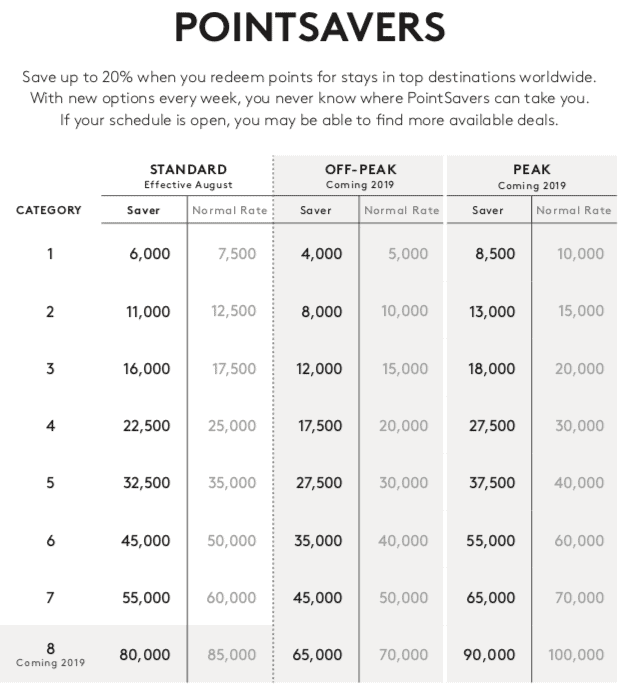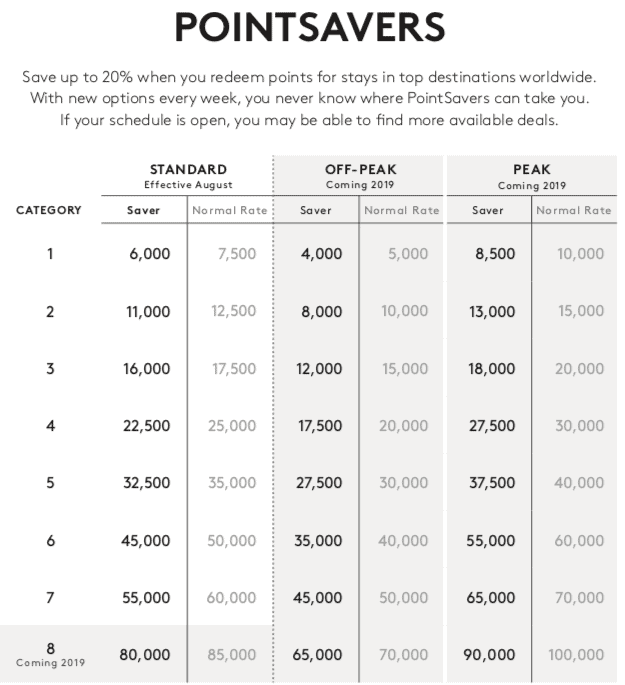 Here's the new Cash + Points chart: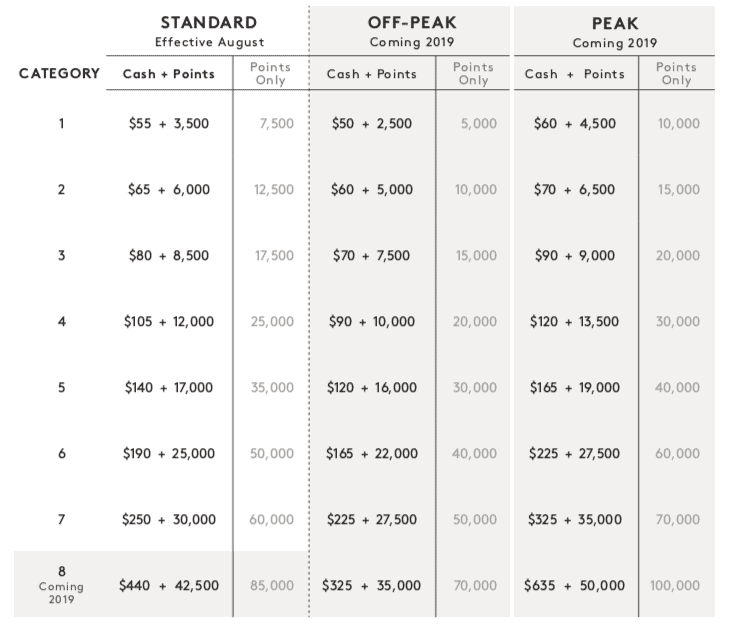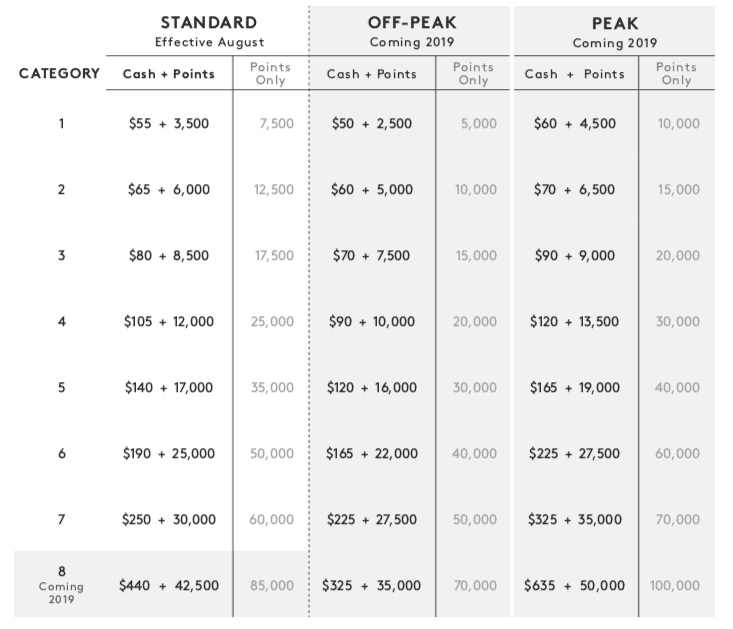 I wonder how often these will actually be available? While common with SPG, I rarely see them offered with Marriott hotels. Even still, you'll need to do some math to determine if they are worth it for you when available.
For a Category 1 at standard pricing you are paying $55 to buy 4,000 points (1.4 cents a point). At Category 7, you are paying $250 for 30,000 points or 0.8 cents a point. In Category 5, you would pay $140 for 18,000 points  or 0.78 cents a point. With Marriott points generally worth somewhere around 0.6 cents a point, you are generally going to overpay for the cash part vs. all points, however, when you are paying under 0.8 cents it may be worthwhile just to conserve points.
In short, as always, do your math.
Travel Packages
The main event for many in this announcement was what would happen with the Air + Hotel Travel Packages. They are currently far and away the best way to spend your Marriott points and involve using point for a combination of airline miles (with the amount varying based on which airline you are taking miles in) and a 7 night hotel stay, priced according to category. If you are a Marriott Vacation Owner you can book a reduced rate 5-night package which most people prefer. Some people have had luck getting an agent to book a 5 night package without being a timeshare owner. I've tried and failed several times but YMMV.
The current Air + Hotel pricing is here
And here is the new Air + Hotel pricing: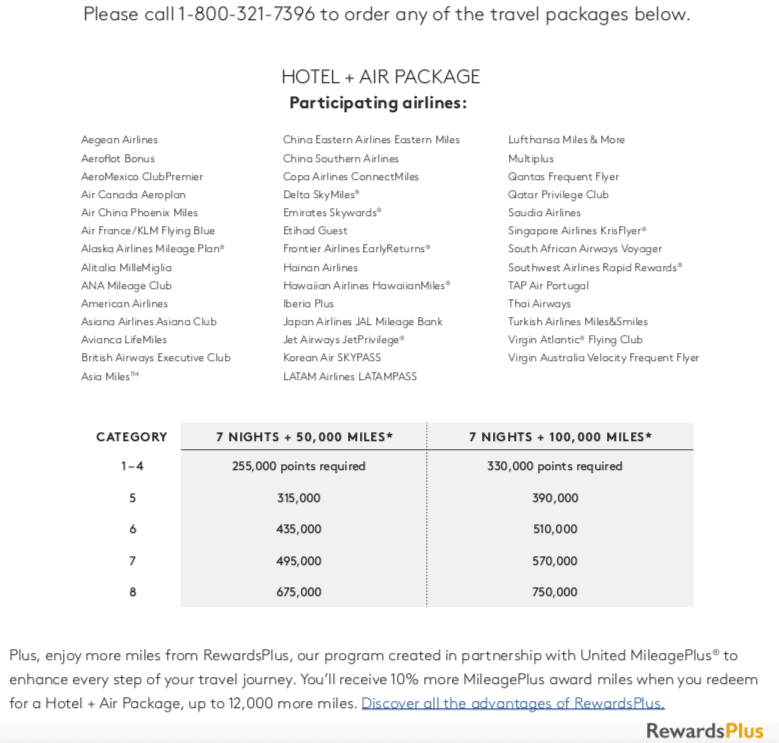 If you click back to the current charts, you'll see that this new and simplified chart represents a fairly big devaluation of the packages. Some people are claiming that Marriott said these wouldn't be devalued. That's not true. They said they wouldn't go away, but tweaks would be made and that is what they've done. I'm not surprised this has happened though the increases at the higher end are more severe than anticipated.  You'll see, if you run some numbers, that the new packages primarily will now only make sense if you would have booked 7 nights anyway at peak pricing – as this new chart does not follow peak/unpeak, but rather just one level per category. And they pretty much map up to a small discount on peak pricing.
There is one huge and unanswered question. If you book a package before August and don't attach the 7 night award certificate to a booking, what will happen to that "floater" certificate. It's been said that these certs will be converted to equivalent points. Some people think that means a bounty of points returned to your account. But it could also mean a reissue of the cert in a new equivalent category. Or something else.
You could, knowing how bad the new version of the Travel Packages are, go ahead and book speculatively now. But personally I have a feeling that at some point before Aug 1, Marriott will reveal their plan to this end and then we can all make informed decisions. There's a risk, though, if their solution is "too good" that they will announce it in conjunction with the end of the old packages being offered and then it's too late. Determine your own risk tolerance, folks.
For some really deep analysis of the new Travel Packages, you can check out the Reddit thread or this Frequent Miler article by Nick Reyes.
Here's Gary Leff on the new sweet spots and how he's been told the available room types may shift in response.
And here's Frequent Miler with a stat-filled article that points out that, while many hotels went down in category, a lot of them just went up in March! So, some fuzzy retailer "sale math" in play…
If you are trying to book any of the massive SPG sweet spots but are lacking in points, you don't have a ton of time to rack up points quickly. For sure, keep spending all you can on the SPG Amex *until Aug 1 only* to collect the equivalent of 3 Marriott Rewards points per dollar (whereas it drops to 2 after July). Sadly there are no SPG Amex signup bonuses at present, but you could signup for the Marriott credit card which is currently offering 100,000 Rewards points as a signup bonus.
Link: Hotel Rewards Credit Cards
You'd need to meet minimum spend quickly, though. Using RoomiPay or Plastiq for some payments would help that along.
Another option would be to buy Starpoints. I've literally never suggested this before because it's really quite an expensive way to get points. And I'm still not saying it's a slam dunk. But they are 30% off at the link below, so 30,000 Starpoints would cost you $682.50 before July 20th. Kind of a last resort but some will certainly find way more value in 30,000 SPG (90,000 Marriott) in the August to December timeframe than $682.50. Always do your own math.
I'm sure you have some thoughts on these changes. Let me know here, on Twitter, or in the private MilesTalk Facebook group.
New to all of this? My new "introduction to miles and points" book, MilesTalk: Live Your Wildest Travel Dreams Using Miles and Points is available now.