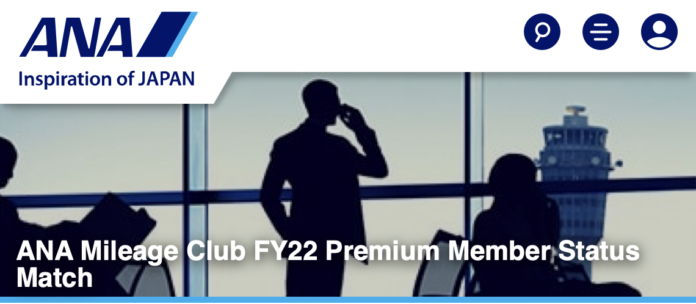 ANA Mileage Club Status Match
If you have mid tier or higher status at an airline that is not United or Air Canada (because they are in the same alliance as ANA), then you should check out this status match.
It specifically invites those with mid tier or higher status with Delta or American Airlines (or Japan Airlines), but also has a spot for "Other Airlines" so take your shot.
There is no charge for this status match, which would be valid through March 31, 2023, and it requires proof of your status and expiration date from either the 2021 or 2022 program year.
The ability to qualify from 2021 status is interesting, although I am not quite sure how you would have saved proof of such status if it wasn't extended into 2022.
The primary reason for doing this status match would be to access the United Club lounges in the US when you are flying domestically. While United's own Gold status would not grant you entry to the United Club, using Star Alliance Gold from an international carrier would indeed grant you access!
My understanding is that you would not even need the ANA number on your reservation, but rather you should be able to have your ANA membership card scanned at the United Club to grant the entry.
ANA is best known in mileage circles as not just an incredible long haul product to Japan, but as the best way to fly around the world in business class (using American Express Membership Rewards).
You'll need an ANA Mileage Club account to do this, so if you don't have one yet, join first, and then grab your 10 digit membership number.
Next, head to the status match form (yes, I know it's odd it's on Survey Monkey, but you can also read the main promotional page first to confirm it's legit).
Terms
Application Period:

March 1, 2022 to September 28, 2022 23:59 <PST>

Membership Eligibility:

Members of select airlines' frequent flyer programs with valid 2021 or 2022 elite status

AMC Premium Member Status:

Bronze or Platinum Member Services
(Status effective as of April 1, 2022 – March 31, 2023)

AMC Premium Member Services Validity:

From date your application is accepted by ANA to March 31, 2023
Airline frequent flyer elite status programs ANA will match* with the applicable AMC status:
| American Airlines | Delta Air Lines | Japan Airlines | Matched with AMC |
| --- | --- | --- | --- |
| Gold | Silver | Crystal | Bronze |
| Platinum | Gold | Sapphire | Platinum |
| Platinum Pro / Executive Platinum | Platinum / Diamond | Diamond / Premier | Platinum |
* Elite status members of other airline frequent flyer programs not listed above may submit an application form. Acceptance of such applications for the AMC Status Match is at ANA's sole discretion. Elite status with another Star Alliance airline's frequent flyer program does not qualify for this Status Match campaign. AMC members already at the equivalent status level are not eligible.
Note that when you submit they simply state that your status will update (or not) within 14 days and they won't actually let you know.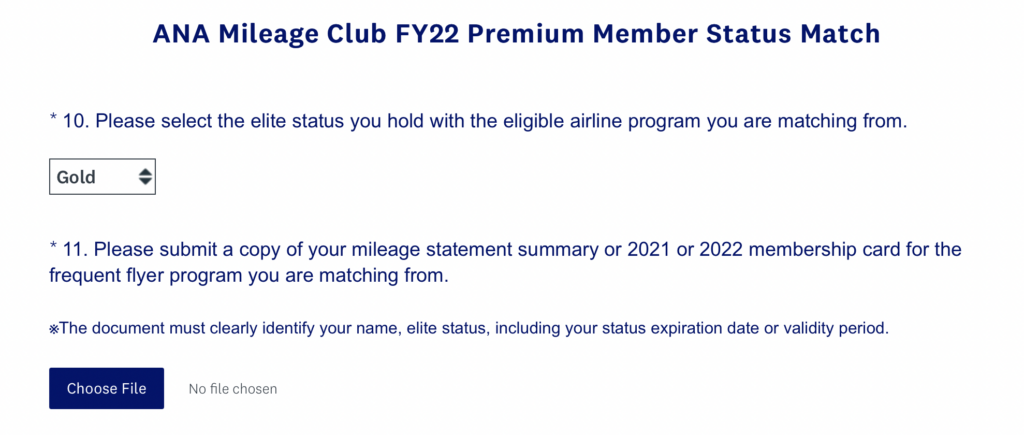 Please note to be eligible for the Status Match campaign, you must:
Be a legal resident of North America (United States of the Americas, Mexico, or Canada; residents of Quebec Canada excluded).
Be a current member of the ANA Mileage Club ("AMC") . AMC membership is free, go to <Enroll to AMC> to find out more and submit an application.
Be a current member in good standing of an eligible airline's frequent flyer program with an eligible elite status level valid for 2021 or 2022, such as the airlines listed in the chart above, or another airline acceptable to ANA ("Eligible Program").
Submit a complete Status Match application <Status Match Application> which includes, among other requirements, a copy of your 2021 or 2022 mileage statement summary or status membership card for your Eligible Program. The document must clearly identify your full name, elite status, and your status expiration date or validity period; and provide any other information requested by ANA.
Download the AMC APP (the AMC APP will reflect your new Premium Status within 14 business days after you submitted your application, if accepted). You may also log into your AMC account through the ANA website at fly-ana.com to verify your status. (No confirmation email will be sent).
Status Match application and all required documentation must be submitted no later than September 28, 2022. 23:59 PST. Any application posted after this date will not be considered.
If your Status Match Application is accepted, you will have access to the ANA Mileage Club Premium Services of the status level awarded – Bronze or Platinum (see Terms & Conditions below for certain limitations on Premium Services offered). For more details on the Premium Services offered, go to <ANA Mileage Club Premium Member Services>.
HT: Loyalty Lobby
Thoughts?
Let me know below in the comments, on Twitter, or in the private MilesTalk Facebook group.
And if this post helped you, please consider sharing it!
You can find credit cards that best match your spending habits and bonus categories at Your Best Credit Cards. 
New to all of this? My "introduction to miles and points" book, MilesTalk: Live Your Wildest Travel Dreams Using Miles and Points is available on Amazon and at major booksellers.