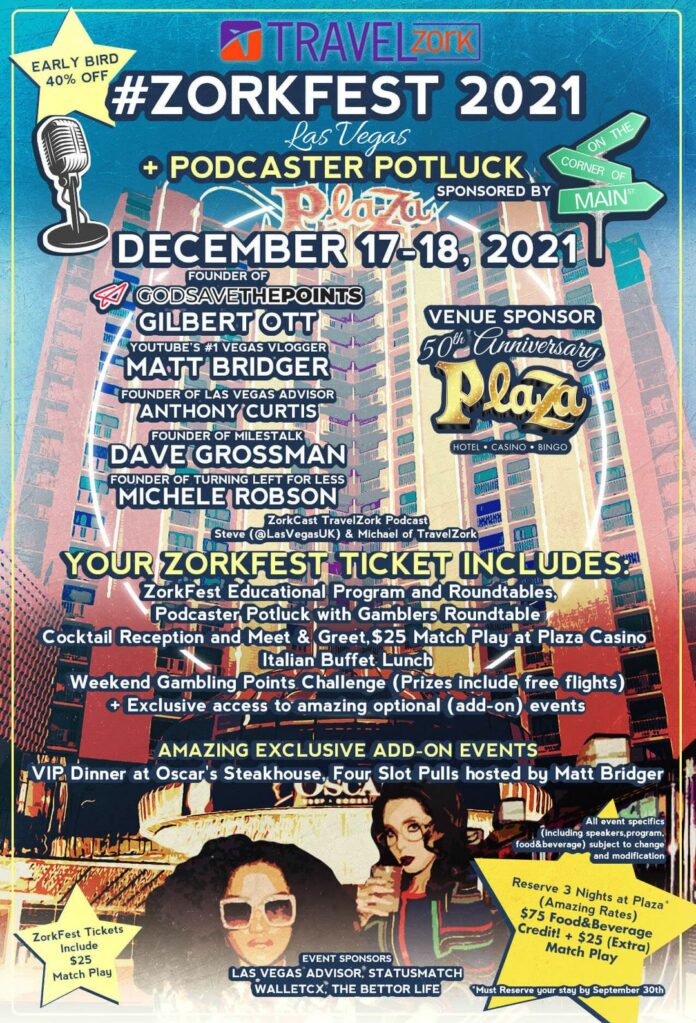 At the end of August, I announced that I'll be both speaking at ZorkFest and hosting a MilesTalk Meetup at ZorkFest this December in Las Vegas.
This conference, ZorkFest, is taking place the weekend of December 17th in Las Vegas and is being put on by the famous Michael Trager – founder of TravelZork.com and an expert on casino loyalty programs. We are also hosting a private MilesTalk Meetup on Saturday.
The Early Bird pricing for this event ended October 15th but now some people are letting me know that they wished they bought at the early bird price but weren't sure if they'd be traveling in December. So I asked Michael if he'd consider letting MilesTalkers in at the Early Bird rate. He agreed, and we now have a promo code for the Late Early Bird Discount. Use promo code milestalk88 for $50 off until Nov 24th (which is also when the room block described below ends). This is on top of the $50 off the TZ Extreme Travel with a different promo code (detailed below).
I attended a previous ZorkFest and had a great time. It's as much about socializing with like-minded folks as it is about the content, but make no mistake – there will be great content!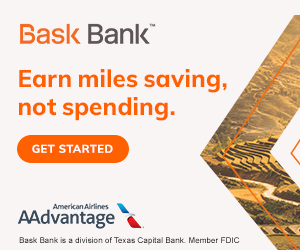 I'll be offering two sessions, both of which I think you'll love. The titles aren't final, but the content is clear:
The Status Match Merry Go Round: Turning One Casino Status into Six Hotel and Casino Status With Free Hotel Nights, a Free Cruise, and Free Play
Maximizing Your Rewards: From Credit Card Intro Bonuses and Bonus Category Spend to Earning Points for Dining or Shopping, Learn How to Fill Those Points Coffers
And that's not all when it comes to great sessions.
Purely on the travel side, you'll also have Gilbert Ott from God Save the Points speaking, as well as Michele Robson of Turning Left for Less.
For those of you that are MilesTalkers because of my casino loyalty stuff, well, you'll find lots more on casino loyalty at ZorkFest! You'll probably learn to work the system better than me!
What Does a ZorkFest Ticket Include?
ZorkFest Educational Program and Roundtables
Podcaster Potluck with Gamblers Roundtable (Live Casino and Travel Podcaster Event!)
Cocktail Reception and Meet & Greet
$25 Match Play at Plaza Casino
Italian Buffet Lunch
Weekend Gambling Points Challenge (Prizes include free flights, hotel stays, and much much more.)
Participation in points multiplier. Guests win various prizes that can multiply their points while they are playing (Top Prize = 10x points)
+ Exclusive access to amazing optional (add-on) events*
New Members of Plaza Rewards Players Club get up to $50 Free Slot Play when they sign-up*****
*Exclusive add-on events
VIP Dinner at Oscar's Steakhouse*** (Meet the speakers, podcasters, and also some surprise guests!) – you can request a seat near me if you register for this add on and want to chat!
Four Slot Pulls hosted by Matt Bridger****
ZorkFest Group Gaming (Craps), as available****
The Las Vegas MilesTalk Meetup
On Saturday night, Dec 18th, after the conference, we'll be having our very own MilesTalk Meetup. This will be the first meetup in quite some time and with over 8,200 members in the MilesTalk group, this is a fantastic way to get some in-person time with other group members and, of course, plenty of time to ask me anything….
I'd love to meet you in person!
The Meetup is included with your ZorkFest ticket at no extra charge, but you have to make sure you use the "Access Code" TZ7777 (make sure the T and Z are uppercase) when you are on the ticketing page.
I'll recap the booking process below, step by step.
An Extra Special Discount for MilesTalkers
There will be an additional and optional "ZorkFest Extreme" track for $75 more $25 more for MilesTalk readers!) which includes:
Extra in-depth travel loyalty sessions on Saturday
Runs parallel to the ZorkFest sessions, so you can mix&match sessions from ZorkFest and TZ Extreme Travel
Topics will include maximizing award redemptions and manufactured spend
Panel Sessions, Experts, and a Moderator, the audience can ask questions
Private cocktail reception and debrief directly following ZorkFest Educational Sessions on Saturday
Highly Limited Space, to ensure everyone can interact and ask questions
That's right – I wanted more for MilesTalkers, so Michael agreed to discount this add-on from $75 to $25 ($50 off) if you enter the promo code MTEARLYBIRD when checking out  by November 24th, 2021. However, You'll need to check out for this separately as I'll explain below (to use two different promo codes).
And I want to be clear – not only don't I make a dime off ticket sales, I am also not being paid to speak. This is all for the love of miles and points and spending time with you all in a super fun location at a great conference.
How to Buy Tickets – Step by Step
($199 with Late Early Bird discount milestalk88 until November 24th, $249 thereafter).
Head to the ticketing website.
Enter Access Code TZ7777 before you do anything else. This will "unlock" the hidden MilesTalk Meetup.
If you'll want to add the TZ Extreme Add-On for $25 more, select that option now (it will say $75 at this point)
Also select any other optional add-ons you want, like the Friday Night Steak Dinner at Oscar's or the Matt Bridger Slot Pulls.
IMPORTANT: When you get to the bottom, before clicking Next, you should see the MilesTalk Meetup so be sure to add the ticket for that (no charge).  If you don't see it, scroll back to the top and add that TZ7777 access code. We currently have just 13 spaces remaining for the Meetup.
Click Next
Fill out the rest and submit!
Next, if you want to register for the TZ Extreme Track for just $25 (instead of $75), go back and register again, registering only for the Extreme Travel
Add the TZ extreme to your empty cart on it's own. It will state it's $75. On the checkout page, before you type in your details, click on Do you have a promo code? and enter MTEARLYBIRD. This will drop the Extreme add-on from $75 to $25.
Where to Stay In Vegas for ZorkFest
Of course, Michael secured a deal at the host hotel, Plaza, which is in downtown Las Vegas.
Bonus: Get up to $75 in Food and Beverage Credits! + Extra $25 Match Play

Purchase a ZorkFest Ticket and Reserve 3 Nights At Plaza, get:
$50 Food and Beverage Credit
Receive an ADDITIONAL $25 F&B Credit for a total of $75 Food and Beverage Credit when you reserve your room and book your ZorkFest ticket before September 30th
Late Check-Out (If available, confirmed day of departure, latest check-out 2 pm)
Early Check-In (If available, confirmed day of arrival, earliest check-in is 10 am)
Free Parking
When you book 3 nights or more, you also get:
Additional $25 Match Play at Plaza Casino
Deluxe King Pricing
Wednesday $30.00++
Thursday $32.00++
Friday $57.00++
Saturday $57.00++
Sunday $30.00++
Upgrade to a Mini-Suite (King) for an additional $38 to $40 (per night)
Room Rate Includes Free Self Parking
Room block expires Nov 24th!
In Short
We are just weeks away from the event so if you are coming, get in at the Late Early Bird price and before the MilesTalk Meetup slots are all gone. Why pay more later? The conference will be a casual affair full of learning and socializing (and some gambling!) that will be a ton of fun and will offer the opportunity to meet me, fellow MilesTalkers, and some of the MilesTalk group moderators as well.
Join us!
Questions?
Let me know below in the comments, on Twitter, or in the private MilesTalk Facebook group.
And if this post helped you, please consider sharing it!
You can find credit cards that best match your spending habits and bonus categories at Your Best Credit Cards. 
New to all of this? My "introduction to miles and points" book, MilesTalk: Live Your Wildest Travel Dreams Using Miles and Points is available on Amazon and at major booksellers.