Pay rent with a credit card FEE FREE again *today*
March 13, 2018
*
by Dave
*
3 Comments
Advertiser Disclosure: This site is part of an affiliate sales network and may receive compensation for sending traffic to partner sites. This compensation may impact how and where links appear on this site. This site does not include all financial companies or all available financial offers.
Did you miss a deal? Never again! Apply to join the members-only MilesTalk Facebook group.
For the last three months, we have partnered with Roomi to offer MilesTalk readers the opportunity to pay their rent with a credit card fee-free. Roomi mails the landlord a check and you earn miles for the rent amount.
This deal dies rather quickly each month – especially now that it has caught on in the blogosphere and gets shared SUPER quickly around the Interwebs.
---
The offer is back today.
But we are doing things a bit differently. 
There will be a public link and a MilesTalk link.  The public link…. good luck getting in on that! 50 fee-free uses for the whole world.
The MilesTalk link will be going live today in the next couple of hours.  I will ONLY be sharing the MilesTalk link on the private MilesTalk Facebook Group. Nowhere else.  
Update: all free payments have been used for March  – 2% now at https://roomi.formstack.com/forms/roomipay_mt_35t0087ahg_pntz
Fee structure:
It begins at 0% for the first 50 users
Then 2% for 150 users, then 2.5% for 100 users, and then 3% until it officially closes on the 22nd of the month
Also: make sure you are signed up for the MilesTalk newsletter and follow on Twitter @MilesTalk so you know when and how this is happening next month.
And now, if you are a newcomer to this, here are the details:

Use the link provided to submit your landlord's payment info. I did this myself last month and the charge on my American Express coded as "Merchandise and Supplies – Computer Supplies." Apparently, that is NOT coding on the Amex BRG as 3x for computer supplies, though –  I guess because Roomi isn't a recognized vendor for it.
I put the charge on my American Express Blue Business Plus card to earn 2x Membership Rewards points.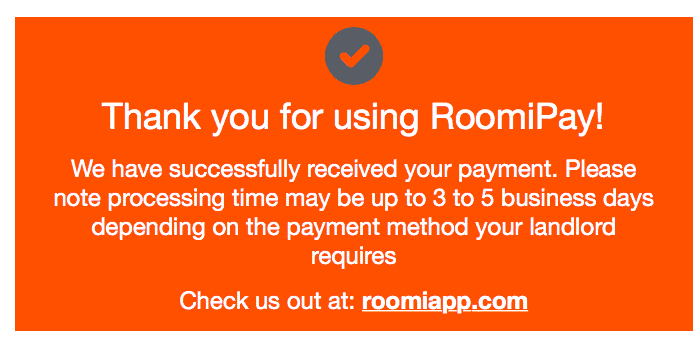 After I submitted my payment, I got a confirmation email: Thanks again for using RoomiPay! We wanted to confirm that your submission was received and your payment was accepted. You will receive another e-mail once your payment has been deposited by your landlord.  And I did get that confirmation about 9 days later.
Please note: There have been reports of a few finicky landlords not liking a check from a third party. It's *usually* fine, but be aware they could possibly reject it.
This is a fantastic way to meet minimum spend on a new credit card, so it's a great time for a new one (or two!).  I've already done this on two cards now.
Maybe you also want to think about a new credit card to use on this for next month…. Here are some current Sign-Up Bonuses.
---
Will you try this to earn points or miles for paying your rent? Let me know here, on Twitter, or in the private MilesTalk Facebook group.
New to all of this? My new "introduction to miles and points" book, MilesTalk: Live Your Wildest Travel Dreams Using Miles and Points is available now.
---