Review: Cervo Hotel – Costa Smeralda, Sardinia, Italy
Advertiser Disclosure: MilesTalk has partnered with CardRatings for our coverage of credit card products. MilesTalk and CardRatings may receive a commission from card issuers. This site does not include all financial companies or all available financial offers.
Did you miss a deal? Never again! Apply to join the members-only MilesTalk Facebook group.
Find your personalized best credit card at YourBestCreditCards.com, powered by MilesTalk. We analyze your spending and calculate exactly how much you'd earn in rewards on over 70 credit cards.
From my early days with the SPG program, I was aware of and allured by a small family of SPG owned hotels in a small and luxurious area on the island of Sardinia, which is part of Italy, though geographically separated.
Three of the properties are part of The Luxury Collection. 
Hotel Pitrizza, a Luxury Collection Hotel, Costa Smeralda
Hotel Cala di Volpe, a Luxury Collection Hotel, Costa Smeralda
Hotel Romazzino, a Luxury Collection Hotel, Costa Smeralda
And then there's one Sheraton: the Cervo Hotel
The reason for the allure?
All three of the Luxury Collection hotels are fantastically expensive. At high season, you're looking at around 700+ Euro a night. The Cervo Hotel, by comparison, is around 350 Euro.
The big difference is that the three Luxury Collection properties are full blown resorts, while the Cervo Hotel sits directly in town on the port of Cervo.
Before actually being there, I'd always imagined that the resorts (the Pitrizza especially appealed) would be where I'd stay. They had always been ridiculously expensive using Starpoints (70k a night! – equal to 210,000 Marriott points per night) but under the new Marriott rewards program, they'd be just 60,000 Marriott a night for this season only – and that was the plan. At least until the program merger complications meant it was impossible to book using points in time.
So we changed course and paid cash for the Cervo Hotel and hoped we might get upgraded as Platinum from the less than 200 sq ft classic room we booked for 322 Euro a night.
At first, I wasn't sure what the right call was. After all, it's often hard to know until you are already at the location you're visiting and can see for yourself. But having now been, I can say that it was perfect – because the hotel's location directly on the port and in the middle of the town of Cervo – meant that we didn't have to worry about getting around. The other 3 hotels, while I'm sure fantastic, would have been removed from everything except the resort itself. Which is probably perfect for a visiting local (Italian or French visitor) but perhaps less so for an American in to explore.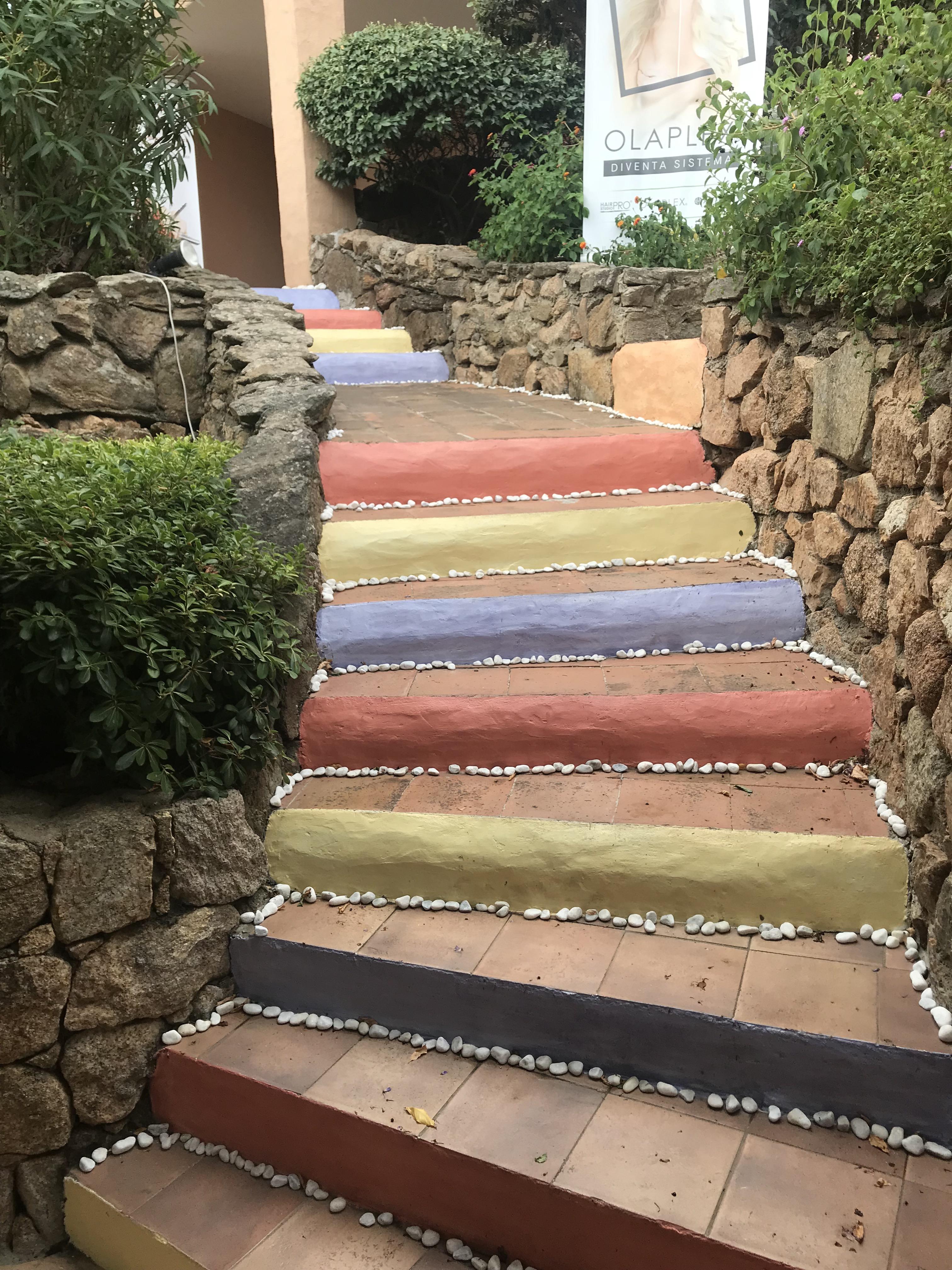 We'd had some questions ahead of our arrival about getting to the hotel from the ferry terminal almost an hour away, so I'd already been in touch with the lovely Antonella and Sara from the reservations department of the hotel. When we arrived, they both came out to say hi and we soon learned of their big surprise – a Platinum Premier upgrade to a Premium Suite on the top floor!  This was especially welcome, since I'd been trying to use my Suite Night Awards – but none of the standard suites had become available. So in a huge stroke of luck we both saved the SNAs for another time and got upgraded to an even nicer suite!
And the entrance to this palatial suite was not bad either: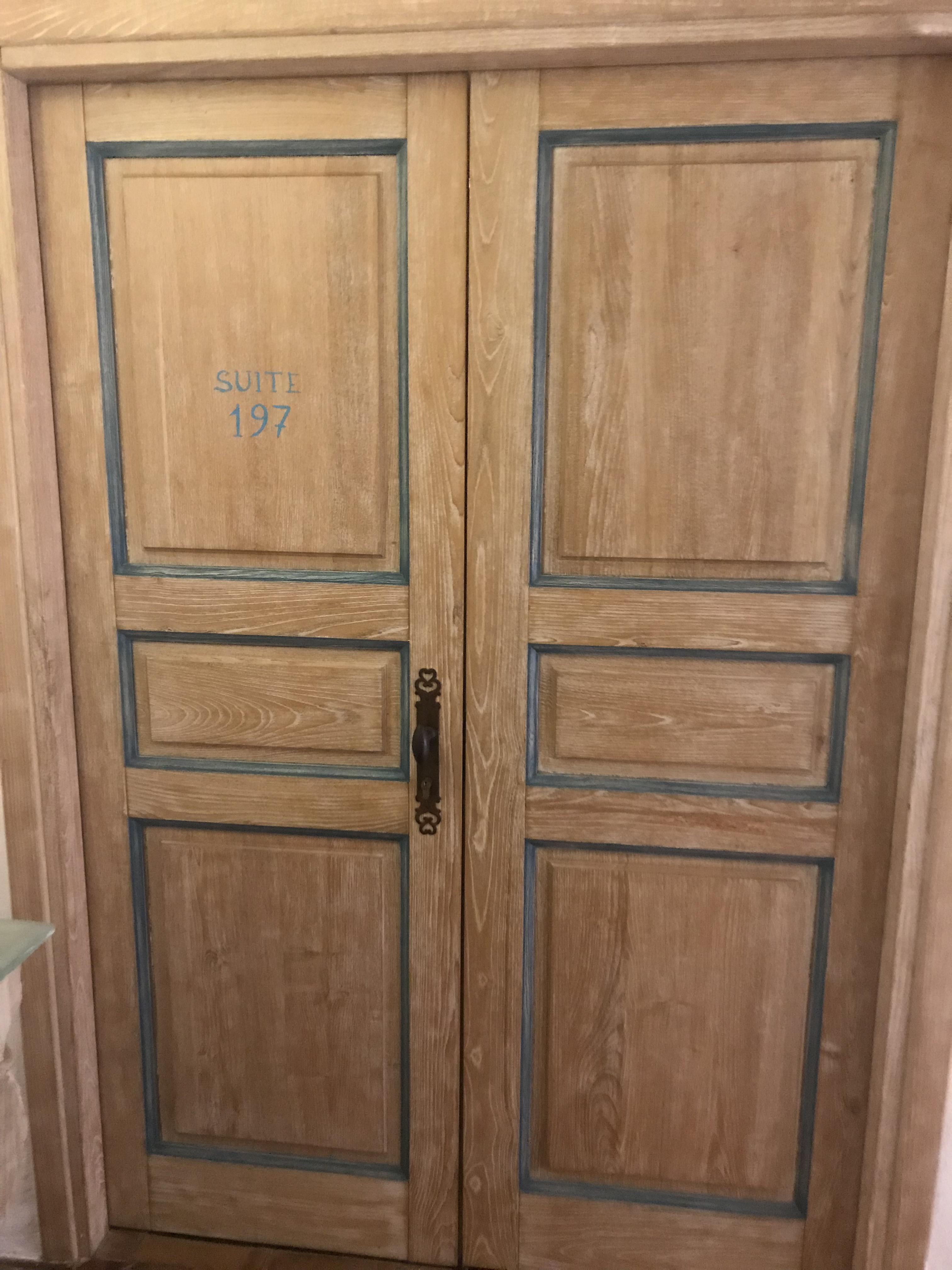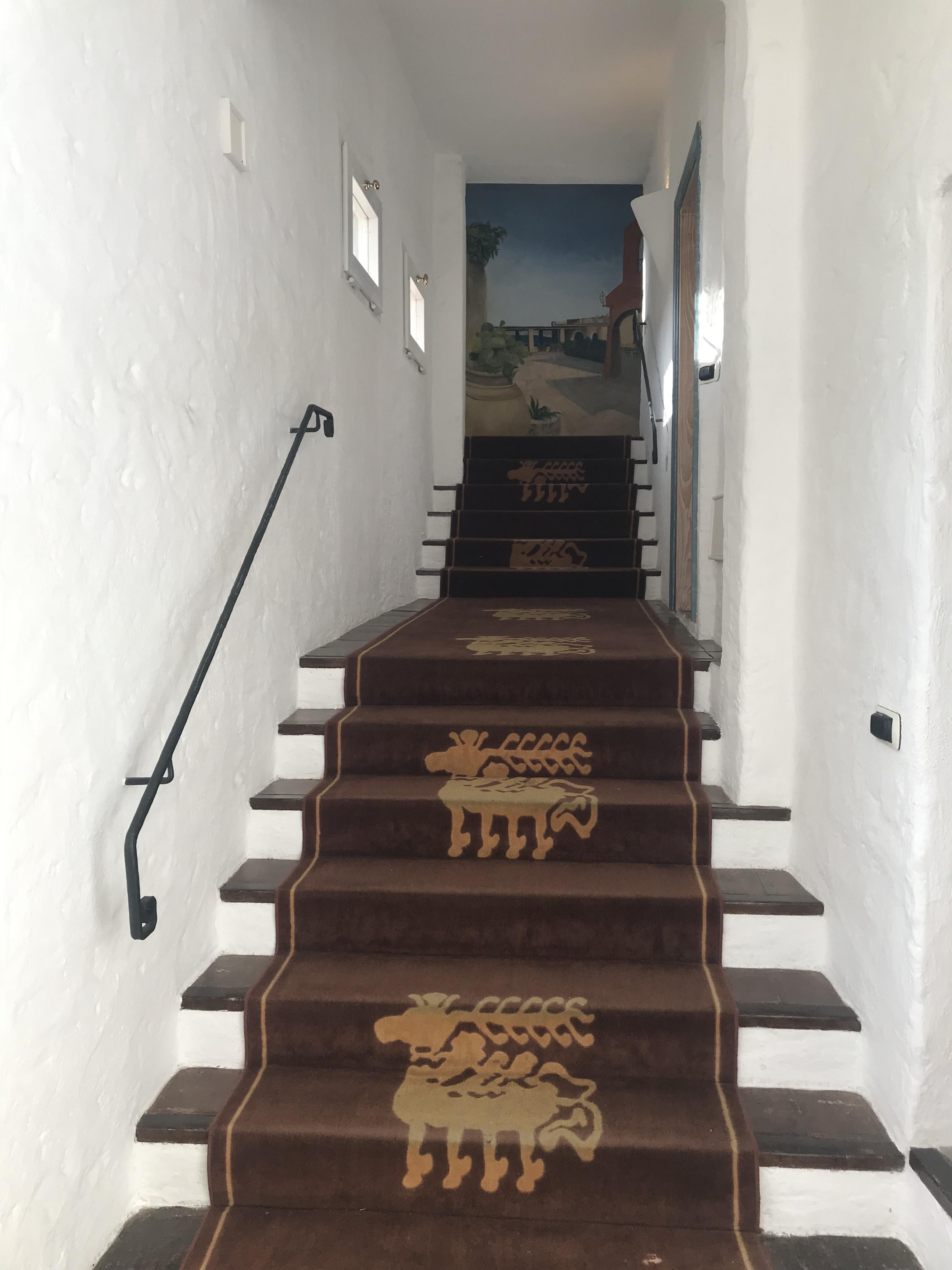 We were asked if we'd like the Platinum Amenity of 1,000 points (worth about $5) or the local gift. The gift, of course!
In terms of amenities, you can see the first picture in this post shows the pool area. Plenty of lounge chairs and the pool, while it didn't seem heated, was perfect in the hot sun.
Additionally, the Cervo has its own private beach to which they will shuttle you by boat from the hotel.
Pros and cons here: a private beach is fantastic. And we felt like the rich and famous both on the boat there and at the beach. But the beach is not sandy. Rather, it's full of lots of small rocks of all sizes, making it a bit tough to wade around. While it worked for our short 1.5 day stay, if you are staying longer I suggest asking for advice on the sandy beaches, which do exist nearby.
Breakfast at the hotel was included in our rate (and would have been anyway as Platinum, but you can only eat one breakfast!)
The spread was really nice, including a whole made-to-order egg and pancake section, a million breads, meats and cheeses, fruits, and local specialties.  There was also the obligatory "food for Americans" with scrambled eggs and somewhat soggy bacon. Just stick to the non-American section and you'll really enjoy it…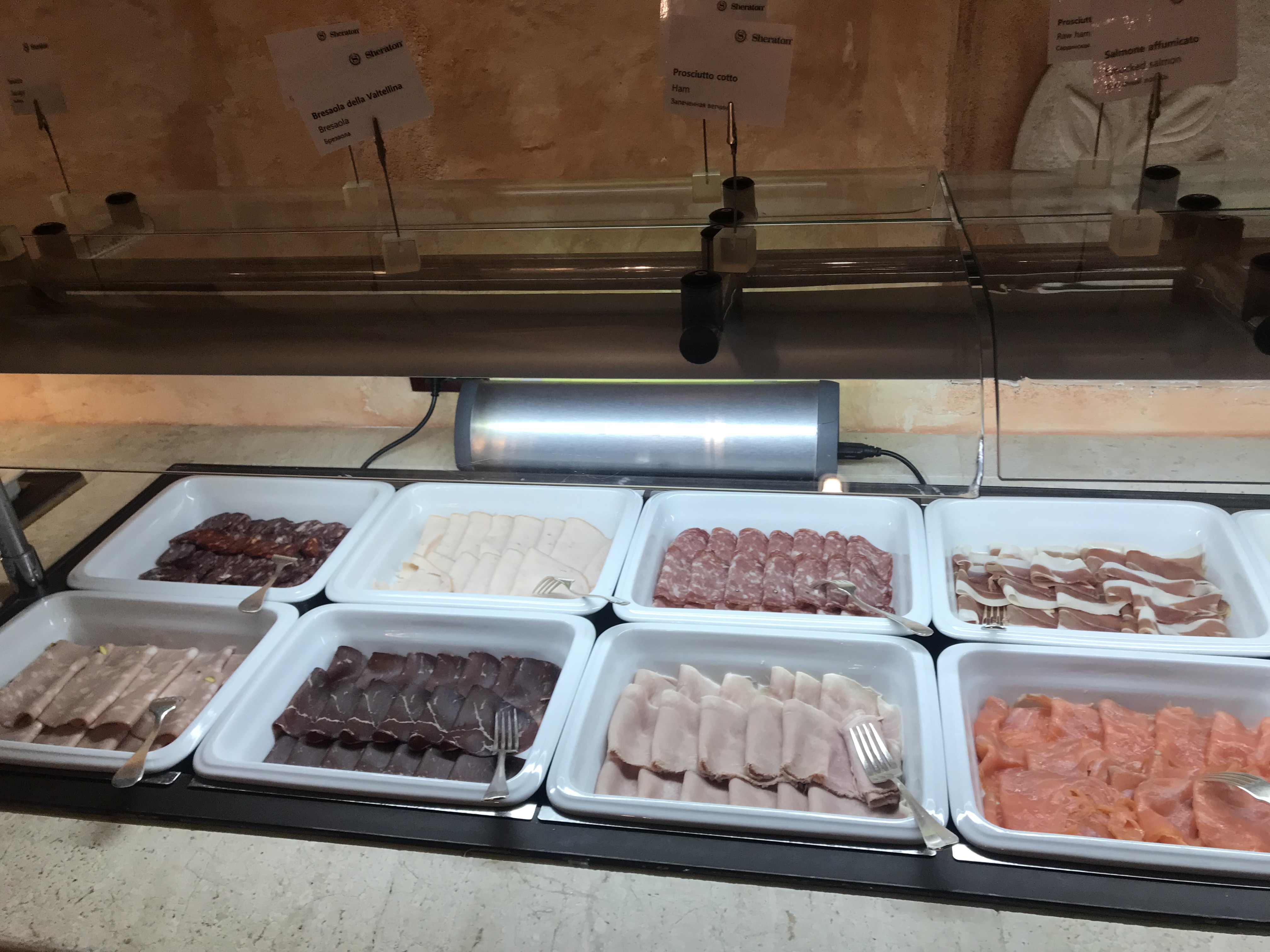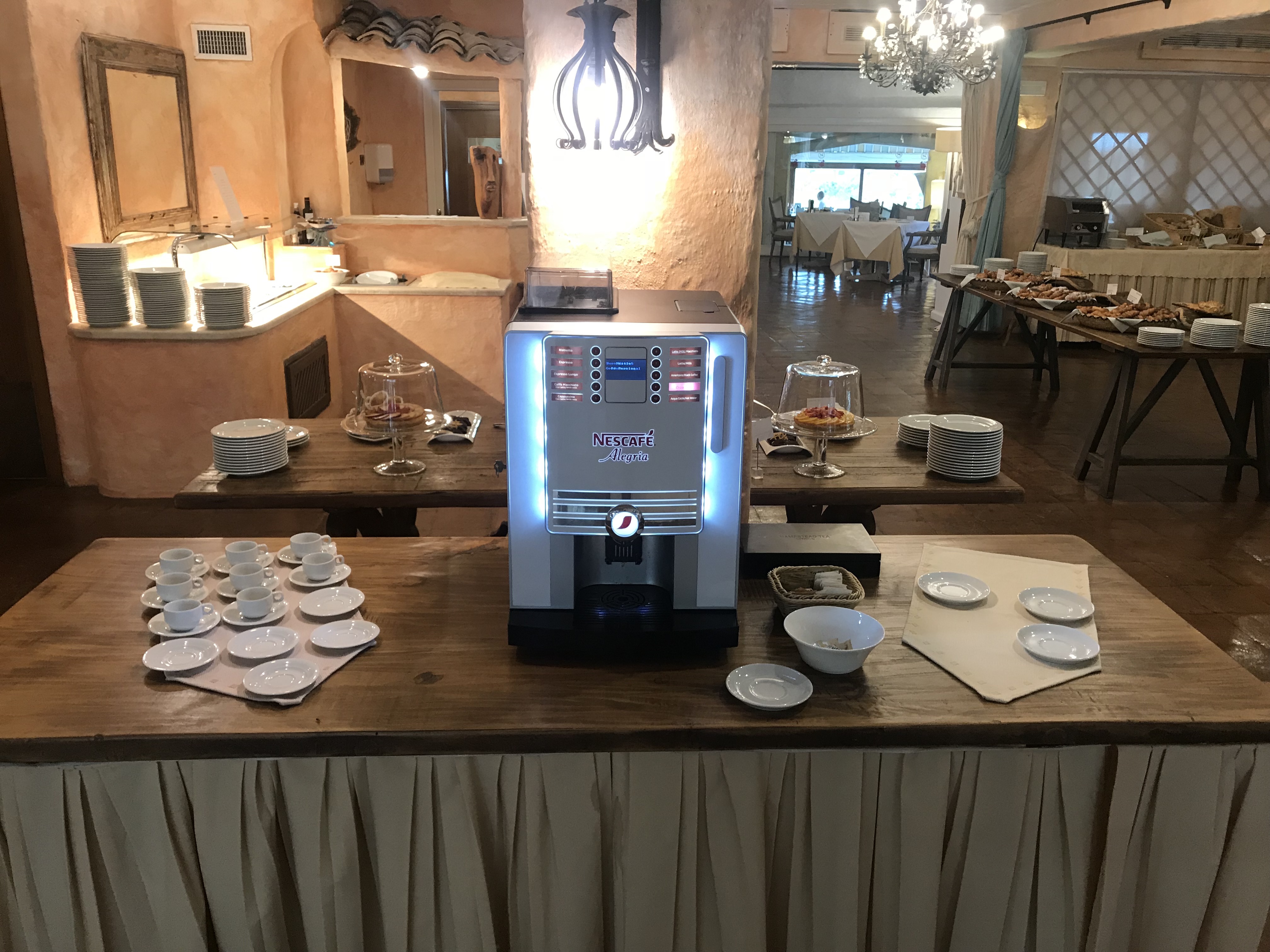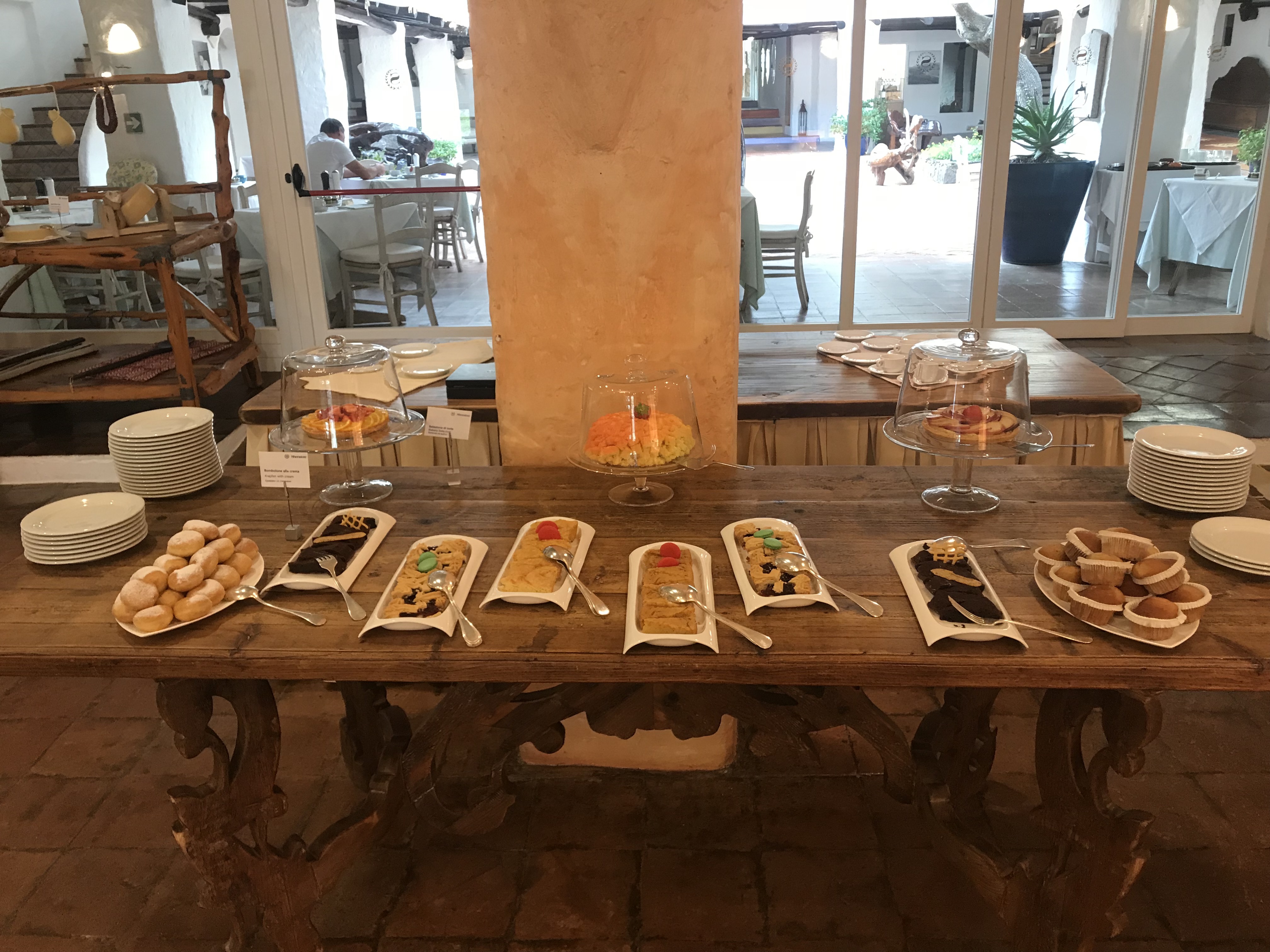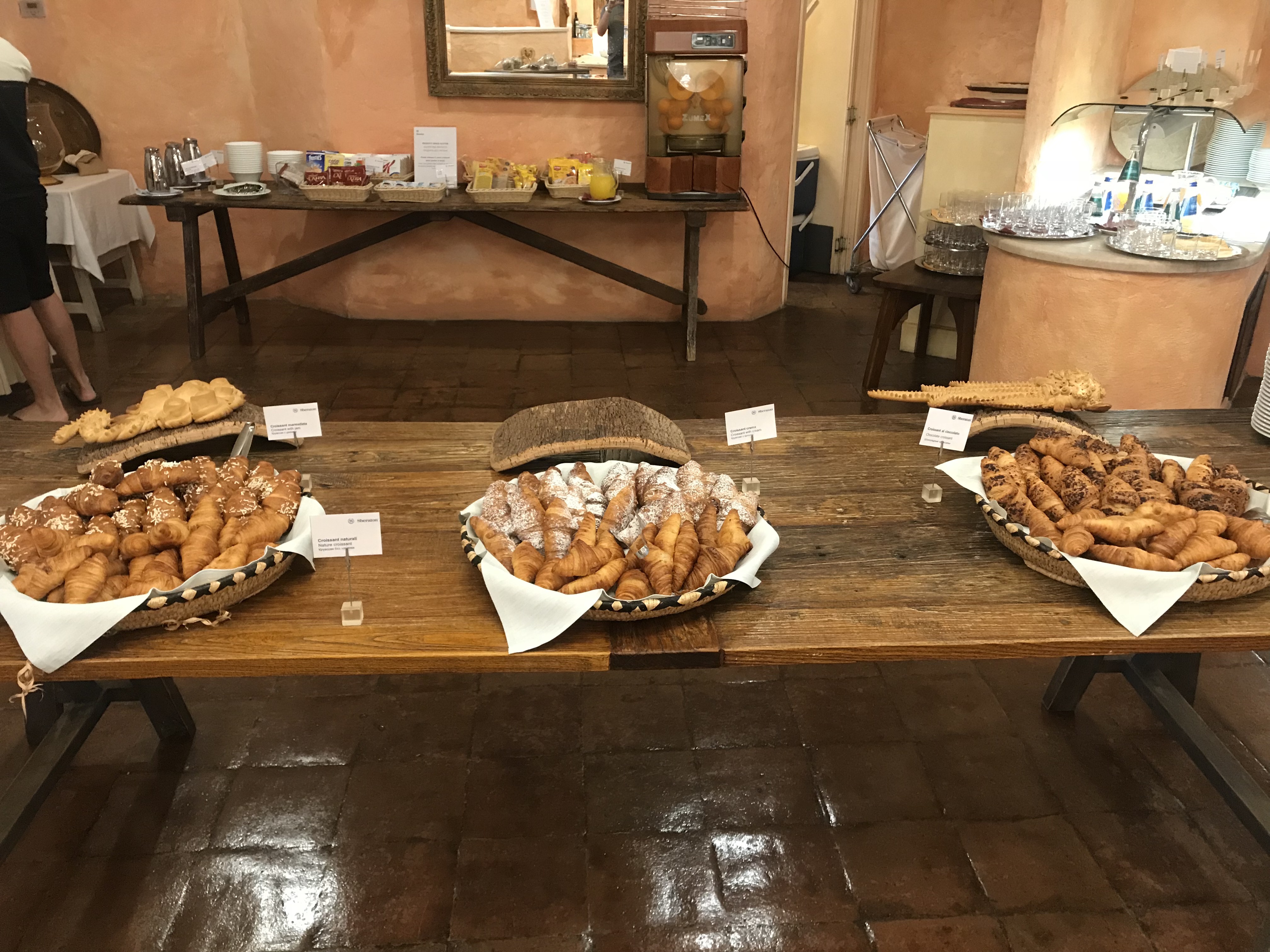 The hotel was also coordinating test drives with the local Maserati dealership. No charge and no obligation, so if you like to drive, take one out! The best car choices are, of course, the most in demand so book on arrival.
Lastly, a few local dining suggestions. The area is known for exorbitantly priced food that is not quite at the quality of the price.
We really enjoyed our two dinners, both off-property but just a short walk away, so I hope this will help you choose a good meal or two.
The first was at Renato Pedrinelli. Local Italian family with solid ingredients at reasonable prices.
The second was much more upscale (and expensive) but well worth it at Fior d'Acqua.
And one "stay away" was casual spot Pizzeria Myrto. They added ridiculous charges on our meal (like 3 Euro for a bit of milk to put in a 3 Euro coffee and 5 Euro for a cup of cold sauce after a miscommunication about the pizza having sauce). The owner went nuts on me for asserting that we should have been told before the check and showed quite clearly that he thinks tourists are his bitch. At least I'm saving you, dear Internet reader.
All in all, we were super happy with our stay at the Cervo.
You can book the Cervo Hotel for 60,000 Marriott points until December (for next high season, perhaps) and you should be able to book any of the luxurious Costa Smeralda resorts for the same.
Let me know if you do! Tell me here, on Twitter, or in the private MilesTalk Facebook group.
Need Marriott points? Apply for Hotel Rewards Credit Cards here.
New to all of this? My new "introduction to miles and points" book, MilesTalk: Live Your Wildest Travel Dreams Using Miles and Points is available now.