RoomiPay goes live at 1:30: ACH only this month
Advertiser Disclosure: This site is part of an affiliate sales network and may receive compensation for sending traffic to partner sites. This compensation may impact how and where links appear on this site. This site does not include all financial companies or all available financial offers.
Did you miss a deal? Never again! Apply to join the members-only MilesTalk Facebook group.
For those that know what this is, a way to pay your rent with a credit card at little to no fee and earn miles and points, I'll get right to it. At 1:30 Eastern Time, everyone will be able to use the public link: https://roomi.formstack.com/forms/roomipay
I will also have a separate link in the MilesTalk Facebook group.
This private link, with its smaller audience, will obviously last longer. Probably 10-20 minutes longer at least.
Remember, this is a MilesTalk exclusive offer. We have our own allotment of fee-free slots separate from the general public.
Fee breakdown for this month:
0% – 50 users
2% – 125 users
2.5% – 125 users
3% – until close on the 22nd
Again, you'll need your landlord's ACH info: Bank account number and Routing number. Certainly not all landlords will provide this but some will.
And now, if you are a newcomer to this, here are the details:

Use the link provided to submit your landlord's payment info. I did this myself last month and the charge on my American Express coded as "Merchandise and Supplies – Computer Supplies." Apparently, that is NOT coding on the Amex BRG as 3x for computer supplies, though –  I guess because Roomi isn't a recognized vendor for it.
I put the charge on my American Express Blue Business Plus card to earn 2x Membership Rewards points.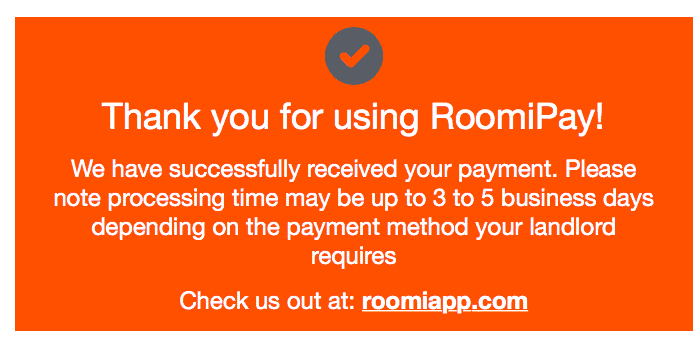 After I submitted my payment, I got a confirmation email: Thanks again for using RoomiPay! We wanted to confirm that your submission was received and your payment was accepted.