RoomiPay is a site that allows you to make rent payments to your landlord using a credit card. You must have your landlord's ACH info to be able to participate.


This month's deal is twofold.
1) The promo rate is 1.9% This will be while supplies last only and only via this link.  It will rise to 2.9% after the 75 slots are gone.
2) The charges will code as Travel Agencies and Tour Operators, since Roomi is technically a company that books accommodation. I've been working with Roomi for some time to make this happen. It's a gift for my readers 🙂
So, these charges will (for now!) earn 3x points on cards that earn 3x for the Travel category, such as the Chase Sapphire Reserve and Cit Prestige / Citi Premier. This is from my CSR: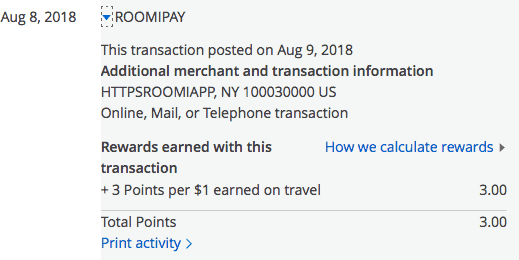 If the 1.9% deal is dead already, know that first notification of this deal went to the private MilesTalk Facebook group, so if you aren't already in, you may want to apply to join and catch the deal next time.
I know, it's not free. But it is the best deal on the market (unless your landlord is cool with a boatload of $250 checks from Plastiq – no question that is a better deal)
If you're not already registered with Roomi, here's what you need to do *before* using the MilesTalk 1.9% link:
2. Once logged in, go to your profile
3. Click on "Get Verified."
Then use the link above to pay.
Why use this deal?
1) To meet minimum spend for a signup bonus on a new card.
2) To get 3x points on the charge.
Why not use this deal?
1) If you can't get your landlord's ACH info
2) If you have a way to get a lower rate. i.e. perhaps you have a bunch of Fee Free Dollars with Plastiq.
Keep in mind, at any time a card processor could decide to stop counting the rewards at 3x if they so choose. That just happened Aug 16th with Plastiq. No guarantees how long this will code this way.
Need a new credit card to use this to meet a signup bonus? Luckily I have just the link for you 😉  Apply for Travel Rewards Credit Cards  (applications made via this link support future deals like this at MilesTalk).