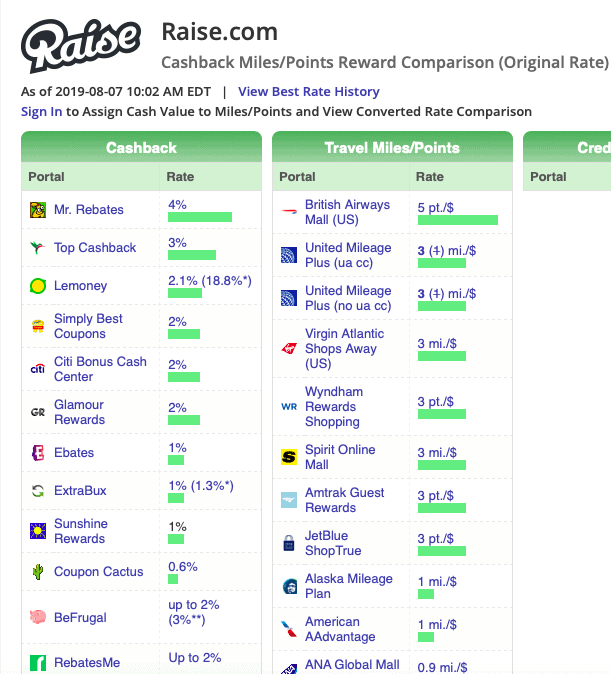 I don't buy a ton of flights… mostly because I'm usually using miles.
But *sometimes* I do have to buy flights and when I do, I still want to get a deal.
When I last needed to buy flights on American Airlines, I tried to wrap my head around the best plan to pay less and not burn, for example, Chase Ultimate Rewards points to do it.
Stacking Gift Cards and Portals to Save Around 10% on Flights
What I discovered is that by stacking both gift card discounts with portal rebates from buying those discounted gift cards, I could net 10% or more in effective rewards between outright savings and miles/points earned.
I use cashbackmonitor.com to keep track of portal rebates. Not long ago, I got turned onto raise.com (<– this is my affiliate link. We each get $5 if you use it and I'd be writing this post with or without this link) for buying gift cards because I noticed Alaska Airlines MileagePlan was offering something like 8 miles per dollar. I bought a bunch of Starbucks gift cards at around 5% off and enjoyed a ton of miles.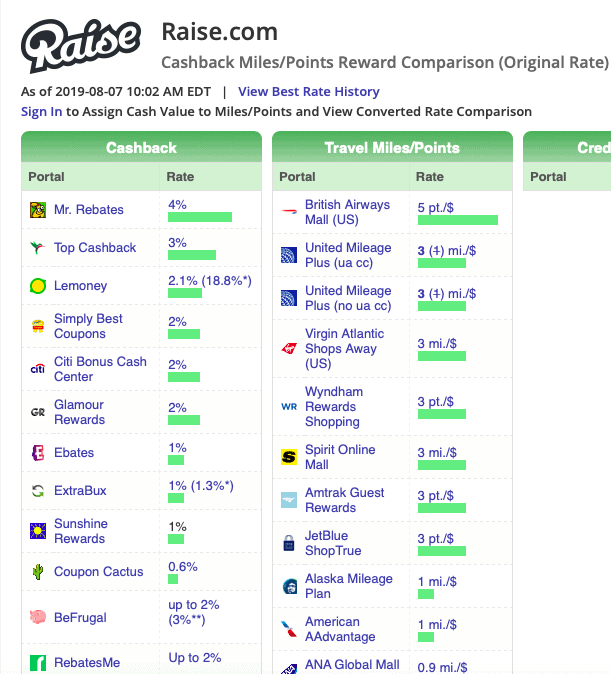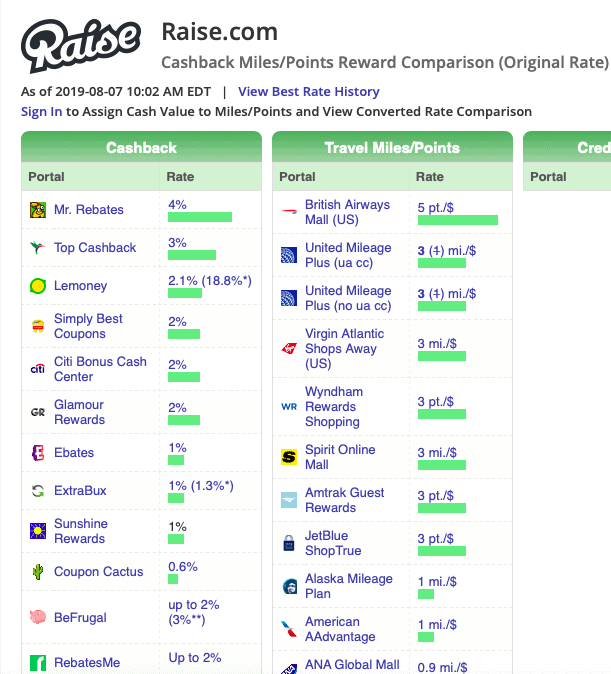 When I needed my AA flight, I realized that not only could I buy discounted AA gift cards, but that I could also use one of the *many* coupons raise.com sends out on a regular basis.
I needed to buy AA tickets for $305. I had a $10 off $100+ coupon from Raise as well.
I bought 3 gift cards from Raise for American Airlines – one for $100 and one for $200.
American

Airlines –
Electronic Delivery
$100.00
$99.00
American

Airlines –
Electronic Delivery
$200.00
$197.00
As you can see, I paid a total of $286 for the $300 in gift cards. I put the remaining $5 on my Chase Sapphire Reserve since just that $5 (or any token amount) would confer all trip insurance benefits provided by the Reserve.
That was about 4.7% off.
Portal Hacking and Stacking
But I also got 5 British Airways Avios which I value at about 1.25 cents apiece. That's 1,430 miles worth about $17.88.
Using that valuation (slightly subjective of course), I paid $286 for $300 worth of AA flights + received back (let's round it) $18 worth of Avios. In the end that is $268 net for $300 of flights for a total discount of 10.7%.
Gift card availability varies by the day. I see some now for AA and Delta as well as Southwest. (No United as far as I can tell right now). Prices change wildly. You should be able to get at least 4% on average although you may need to check back a few times. While typing this, I saw several AA cads for 4.7% but right this second it's 2%. It will replenish.
Also note that each airline has rules about how many gift cards you can use towards one reservation. AA allows 8 online which is amazingly easy to use. Delta and Southwest both limit to 3.
Again, if you are new to raise.com, this link will give us each $5 credit. And again, I'd have written this post identically without it. I don't need $5 that badly…
Have you flight hacked like this?
Let me know here, on Twitter, or in the private MilesTalk Facebook group.
You can find credit cards that best match your spending habits and bonus categories at Your Best Credit Cards. 
New to all of this? My "introduction to miles and points" book, MilesTalk: Live Your Wildest Travel Dreams Using Miles and Points is available on Amazon and at major booksellers.