Shop small and Earn 2x points with American Express: Small Business Saturday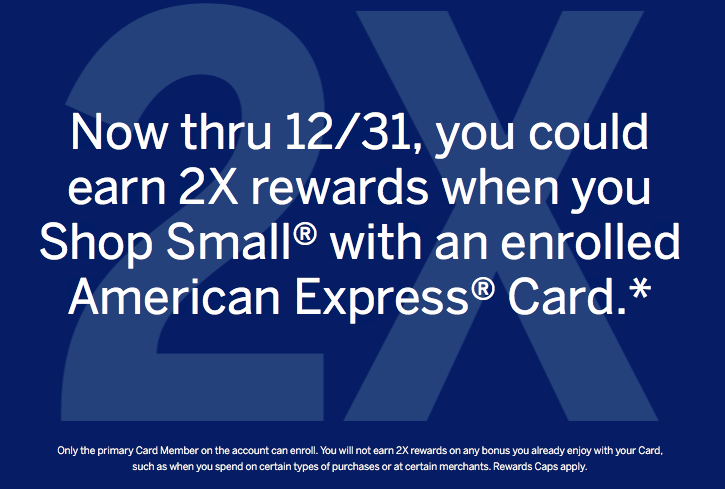 Advertiser Disclosure: This site is part of an affiliate sales network and may receive compensation for sending traffic to partner sites. This compensation may impact how and where links appear on this site. This site does not include all financial companies or all available financial offers.
Did you miss a deal? Never again! Apply to join the members-only MilesTalk Facebook group.
This is bigger than you might realize.
To celebrate Small Business Saturday this year, American Express has launched an offer that will give you 2x points on just about every card you can have with them through the end of 2016. This includes Membership Rewards cards, SPG, Delta, Hilton HHonors and many more. There are some notable exclusions like the Plum card, but these are listed on the page. To register your card, head to the Amex Shop Small registration page.
You'll have to find your card, login, register, and repeat for each card. It seems annoying (and unnecessary) but really it took me 2 minutes to register all four of my cards.
The limit on extra points you can get is very high – an SPG Amex card wouldn't top out until you spent $250,000! Think your limit is too low to take advantage properly? Don't forget you can prepay mid-cycle to spend more.
Now, I don't deal in manufactured spend, so if you are looking to truly game this, my post is not the post for you.
But I will tell you that there may be some expenses you haven't thought about that qualify for this.
The full list of qualifying merchants is in the form of a searchable map.
The obvious ones are dining and entertainment, local (non-chain) groceries, and various small things. The meals may actually add up if you dine out enough. But what else?
I live in NYC which means I pay quite a bit just to park my car. My parking garage is there – and that will net me a few hundred bonus points a month.
Do you need a medical procedure? Hopefully not, but if you do, the doctor or facility you are seeing may take your Amex. Radiology (imaging) offices are in here, as are specialists in orthopedics, cardiology, physical therapy, and pretty much anything you might need. Medical expenses can be huge – so if you need any, get 2x points!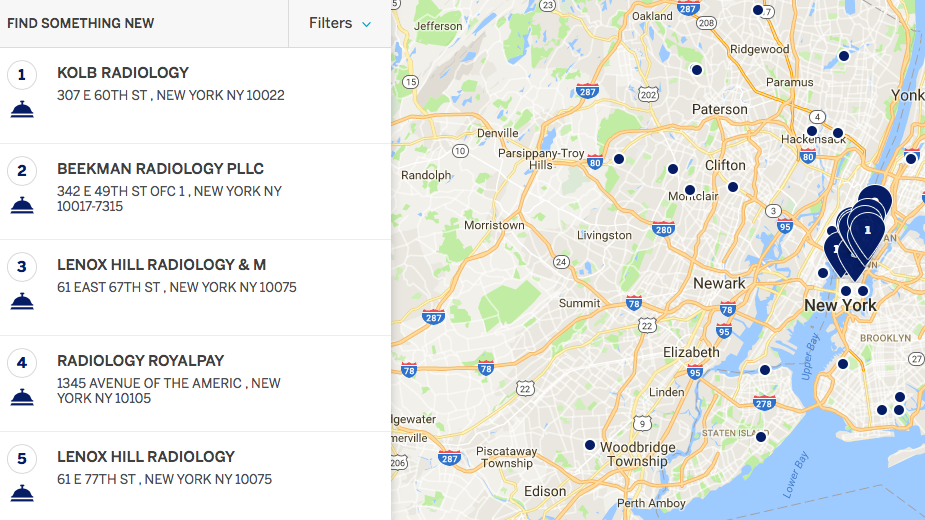 Need a car? I see many dealerships in here. They likely won't take the full amount, but when I bought my Volkswagen, I did put about $7k on my SPG Amex.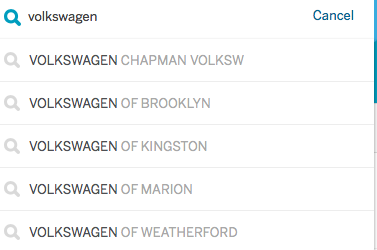 Online businesses qualify, and here is where you may see some opportunities you hadn't thought of. You can spend $100 and change for a year subscription to Expert Flyer, which is what I use to quickly find fare class availability (and get double points).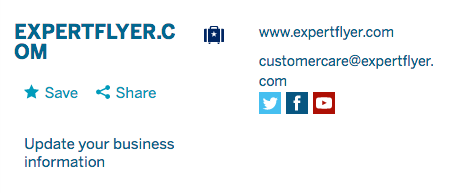 Tons of hotels and car services are in the list.
There are also lots of Business Services companies (like for web design, pay per click ads, logos, etc) that qualify.
And then there are the rest – I'm talking nearly everything. Heck, there is a Bail Bonds site in there! I also see a moving company, law offices, landscapers, printing companies….

So, a few tips:
Register all your Amex cards right away.
If you have any major purchases coming up, search for the company you are buying from. If they aren't there, maybe a competitor is.
Check for online stores. It's not just local.
If you can prepay 2017 expenses in 2016, do that and earn 2x points.
Get ready to be surprised – inevitably some companies you won't expect to be there will be.
What else have you found to max this out? Let me know in the comments.