SPG and Marriott to stay separate in 2018 (2019 unclear)
Advertiser Disclosure: This site is part of an affiliate sales network and may receive compensation for sending traffic to partner sites. This compensation may impact how and where links appear on this site. This site does not include all financial companies or all available financial offers.
Did you miss a deal? Never again! Apply to join the members-only MilesTalk Facebook group.
Ever since Marriott and Starwood Preferred Guest (SPG) announced their merger, I've been nervous about the coming day of reckoning. I love SPG. Marriott, less. I did write about some ways you can arbitrage the two programs now, but I am afraid of what the combined entity's program will be.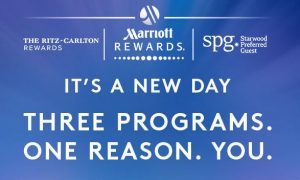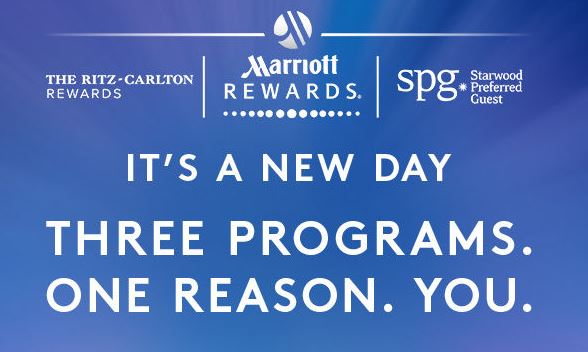 An email today sent out to Marriott Elites clarified that this won't play out in 2018. They are introducing new Hertz benefits for Platinum members on both sides and eliminating rollover nights (a current Marriott only benefit) after 2018.
But these appear to be the only major 2018 changes, signaling a move towards a 2019 program combo.
In the meantime, remember that you can link your SPG and Marriott accounts, sharing status (SPG Gold equates to the much richer Marriott Gold level, for instance) and transferring points (3 Marriott point = 1 SPG and vv).
Also remember that credit card offers on both sides are likely to dry up sometime in 2018, assuming a new combined card launches.
I'd get the cards / bonuses now (especially if we see bonus elevated offers) since a new card will be a new bonus opportunity and your points will all merge anyway.
The complete text of the email is below.
Thoughts on this? Let me know here, on Twitter, or in the private MilesTalk Facebook group.
---
STAY IN THE KNOW. Marriott Rewards®, The Ritz-Carlton Rewards® and SPG® will remain separate programs. While we continue to work with SPG to create a combined program, you can continue booking at the properties you love and earning points like you have been doing. We want you to be the first to know as we make updates, so here a are few updates for 2018:
Introducing new Hertz benefits
It's time to hit the open road! Beginning in early 2018, Platinum members can register to receive Hertz Gold Plus Rewards® Five Star® Status, and Platinum Premier members can register to receive Hertz Gold Plus Rewards® President's Circle® Status. Learn more about these exclusive benefits, including car upgrades, additional points and more.
Final year for Rollover Nights and status Buy Back
2017 is the last year members can earn Elite Rollover nights. This means any 2017 nights earned in excess of Elite requirements will roll over toward 2018 status, but excess nights earned in 2018 will not roll over toward 2019 status. Your next big trip is waiting, so make sure you continue to take advantage of exclusive benefits:
Link. Link your Marriott Rewards and SPG accounts to get Elite Status Match, transfer points and discover more than 6,000 hotels across 30 brands in 125 countries. Explore more brands in more destinations.
Explore. Use points to enjoy once-in-a-lifetime experiences with Marriott Rewards Moments™ and SPG Moments™.
It's been another year of new adventures and inspiring travel for our loyal members, and we hope that you'll continue to take advantage of the benefits of linked accounts and status match.
As we make more updates, we will keep you updated every step of the way!