Updated: The changes coming to Citi's Prestige card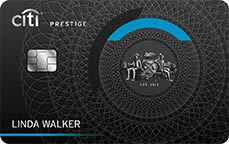 Did you miss a deal? Never again! Apply to join the members-only MilesTalk Facebook group
.
Find your personalized best credit card at YourBestCreditCards.com, powered by MilesTalk. We analyze your spending and calculate exactly how much you'd earn in rewards on over 70 credit cards.
Advertiser Disclosure: MilesTalk has partnered with CardRatings for our coverage of credit card products. MilesTalk and CardRatings may receive a commission from card issuers. This site does not include all financial companies or all available financial offers. The editorial content on this page is not provided by any of the companies mentioned, and have not been reviewed, approved or otherwise endorsed by any of these entities. Opinions expressed here are the author's alone.
UPDATE 7/18/16 7:25 PM: It's now being reported that The Prestige card will no longer have Admiral's Club access. Current card holders will maintain through next June.
UPDATE: 7/18/16 4:34PM: Doctor of Credit seems to have a scoop pointing to the elimination of 2x dining on new apps after tomorrow and an increase from$3,000 to $5,000 for initial spend to earn the 50,000 point bonus.
UPDATE 2:42 PM – It now appears that I was given a 2013 brochure in the branch today and that the benefits that appear to be next week's changes are in fact the benefits of the Citi Prestige from 2013 when the Chairman's card became Prestige. Looks like one heck of a false alarm. How my RM was given this brochure just this past week as new is beyond me….
UPDATE 2:12 PM – There is some evidence that (mind blowingly) the rep at Citibank may have shown me a brochure from 2013 that she somehow was just given last week and that looked as shiny and hot off the press as can be. I am trying to confirm if I have, in fact, been shown a brochure from 2013. Crazier things have happened. Stay tuned.
————————————————————————————————————————————-
I feel like a reporter that just uncovered the big secret everyone's been looking for. And to dispel any doubts I'm "pumping" this card, I have no affiliate link and make nothing from this post – whether you apply or not. But I'm grateful if you share this post.
You see, I finally decided I wanted the Citi Prestige card for myself. You save $100 off the annual fee (which makes it $350)  if you have a CitiGold account and apply in-branch, so I did just that this morning. And in the process I discovered all the changes that will apply beginning (I believe) July 20, 2016.
Many changes are great, but there are a few downgrades as well.
What I don't know – the new signup bonus
Right now the blogosphere is pushing the card very hard, pointing out that the 50,000 point signup bonus is ending next Tuesday. This is most likely true but I do not know the new bonus – if any. I feel it is more likely than not that the bonus will go down or go away altogether, but that is a hunch based on my conversation and not on fact.
The Annual Fee
This appears to remain the same at $450, or $350 if opened in branch and you have CitiGold. You should be grandfathered in at $350 even past November when most CitiGold customers will lose CitiGold and drop to whatever program they are using for current CitiGold customers that don't keep $200k with Citi.
The IMPROVED benefits
Flight Points are BACK! You'll once again earn Thank You Flight points based on distance flown.These DO NOT appear to need to be matched to spend like in the old flight point system.  It's very exciting as for anyone that flies regularly it will mean a TON of extra ThankYou points.  To refresh your memory, if you fly JFK-HKG on a $300 fare, you'd only earn 900 points for the spend (3x on travel) but you'd earn 16144 flight points based on distance flown. It appears from the T&Cs here that you DO NOT even have to match with spend. This is MASSIVE.
You now get one free companion ticket per year – which appears to be for international airfare (I'm not clear if it is ANY ticket including international or international only). My hunch is the latter. Downside is it has to be booked through their Spirit Incentives partner, but it appears to not have any restrictions except a 4 day advance purchase so you should be able to call and ask for any flight you want with two seats.  That can easily pay off your annual fee each year – and both tickets should earn miles!
You can apparently also book tickets anytime for a 15% discount, also through Spirit Incentives.
The relationship bonus for annual bonus points is changing based on your balance rather than tier. This could be a + or – for you.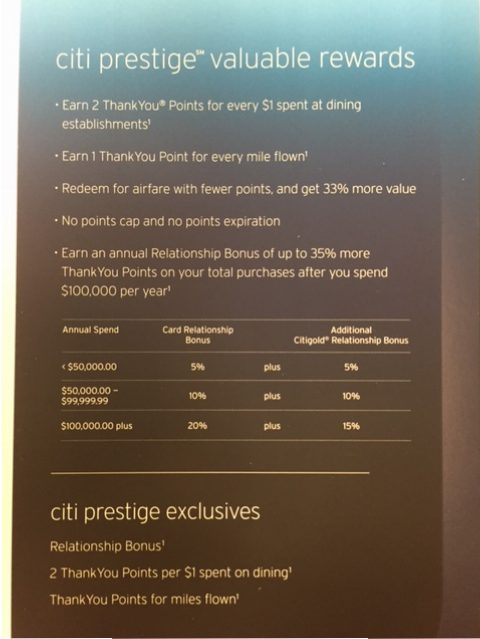 The DECREASED benefits
I'm not exactly sure how this will work if you have the card now, because it is a clear decrease in benefits. Right now you get a $250 travel credit on airline fees – which means anything you spend with an airline – each year. In the NEW program, you only get $200 a year, and it appears you have to pre-register an airline you are using AND it is limited to $100 per charge. So that $150 airline award redeposit fee? You'll only get a $100 credit. At least that is how I read the new T&Cs there.
There's a change to the hotel benefit. The current card gives you a fourth night free anywhere you stay as long as Citi books it for you. The new version of this card takes that away and replaces it such that you can now only use this benefit twice per year and only at World Elite Hotels and Resorts properties. This actually includes Starwood hotels. Who knew?! I would have used it for my recent week long stay at the W Hollywood! And it appears that booking these hotels through the program also offers free breakfast, upgrades, extra amenities, early check-in and late checkout, and more. Very curious to try it.  BUT, it's definitely a new limitation if you regularly take advantage of this benefit.
SUMMARY:
I'd say based on flight points alone, if you fly, this is going to be a KILLER card. If you fly a lot that will turn into mega Thank You points.  The international companion ticket can easily be worth over $1,000 as well, though it's a shame it is limited to economy class tickets.
And now, the proof. See below for pictures from the new brochure: