This App Will Get You Off of a Boeing 737 MAX Flight
Did you miss a deal? Never again! Apply to join the members-only MilesTalk Facebook group
.
Advertiser Disclosure: MilesTalk has partnered with CardRatings for our coverage of credit card products. MilesTalk and CardRatings may receive a commission from card issuers and MilesTalk may also receive compensation for content. This site does not include all financial companies or all available financial offers. The editorial content on this page is not provided by any of the companies mentioned, and have not been reviewed, approved or otherwise endorsed by any of these entities. Opinions expressed here are the author's alone.
Following two separate plane crashes involving the Boeing 737 MAX 8 aircraft, you are most likely aware that the plane is currently grounded globally.
Boeing MAX 8 Crashes in Indonesia and Ethiopia: Plane is Grounded Globally
In October 2018, a Lion Air flight crashed in Jakarta, Indonesia, killing all onboard.
In March 2019, an Ethiopian Airlines plane crashed shortly after take off from Addis Ababa, again killing all aboard. All told, 346 souls were lost in these tragedies.
On March 12th and 13th, the MAX 8 got grounded globally. Most countries grounded it March 12th while the US was last to take action, grounding the MAX 8 on March 13th, 2019.
Cause of Boeing's 737 MAX 8 Failures
We know now the faults were related to software called MCAS (Maneuvering Characteristics Augmentation System), which is an automated program used in the aircraft to prevent stalls. An MCAS malfunction is said to have cased both crashes.
But even since that revelation, there have been new issues that have cropped up, with the MAX's autopilot and a microprocessor chip that could cause the plane to become unresponsive in an emergency.
That second article says that it looks like the Boeing 737 MAX is unlikely to even be recertified by the FAA in 2019. If that's the case, then what I'm about to share won't be relevant for some time. However, there is likely to be a time when the aircraft is flying again and you, as a passenger, wind up booked on one either because you didn't notice that it's already on the schedule later in the year (and it is… I nearly and accidentally booked one on American in September).
For what it's worth, I'm not opining on whether or not I think the MAX will be safe to fly when it is recertified. One would assume it will be. And I'm a miles and points expert – not an aviation expert – so I won't, at any point, be suggesting what one do in this case. I can tell you that I'll be inclined to avoid it, though.
Free Rebooking from the DoNotPay app
The DoNotPay app is an app that wants to "be the Netflix of consumer rights," according to CEO Joshua Browder. The app works to automate many governmental processes and customer service issues as well as democratize legal issues for everyone. For just $3 a month and no other fees, you can have it handle it handle paperwork with the DMV, FCC, or TSA, fight a parking, speeding, or other local traffic fine, and even generate legal demand letters and/or court filings.
Notably, it will even negotiate with a credit bureau on your behalf if your data was compromised in a breach. (I have no idea what they have recovered to date.)
Their latest feature lets you voice concerns about being on a 737 MAX 8 to the airline you are booked with. You'll find it under the Customer Service section of their app.
I confirmed with Mr. Browder that this feature is currently live on the app and available to all DoNotPay users.
I went ahead and tried it to see where the bot took things, although I didn't go as far as submission since I don't have an active MAX booking.
You can see the sequence of questions and answers below. It cross-references your flight data against flights to see if you are likely to be on a MAX aircraft.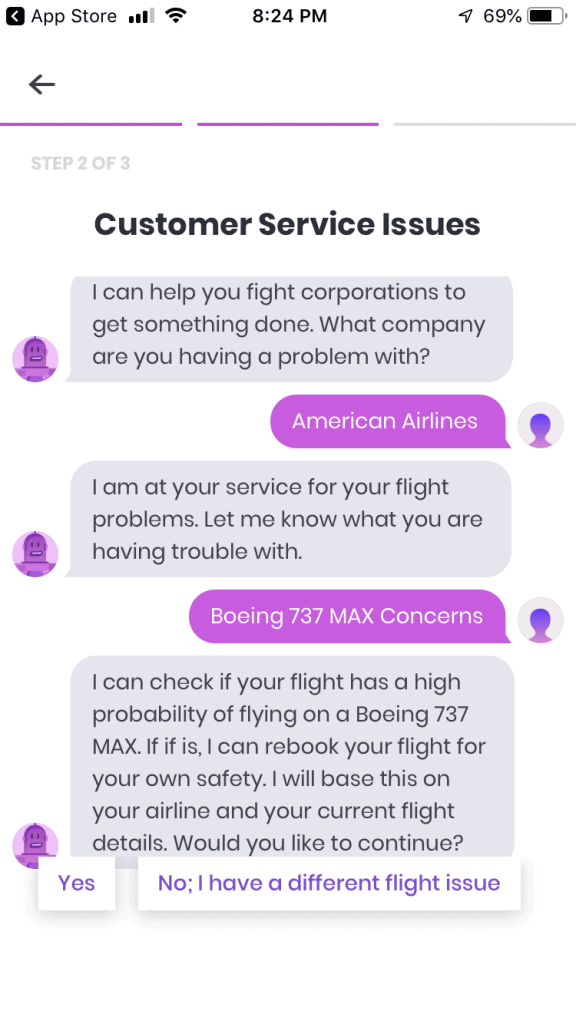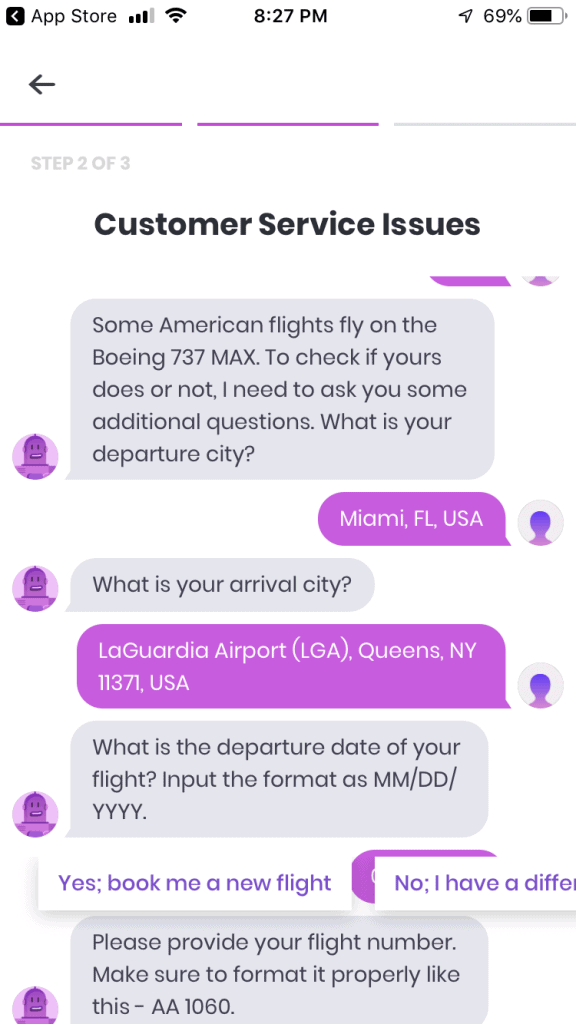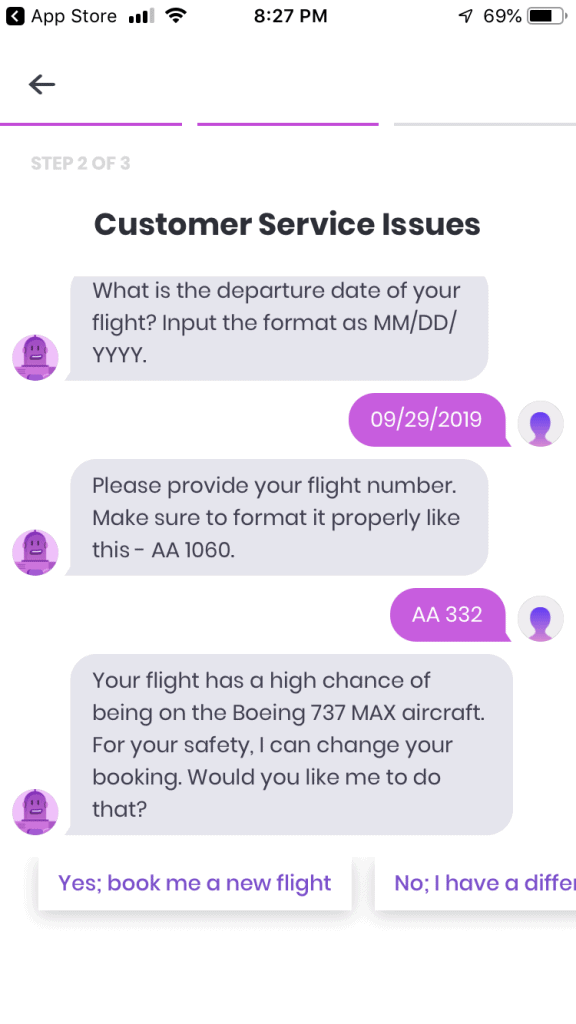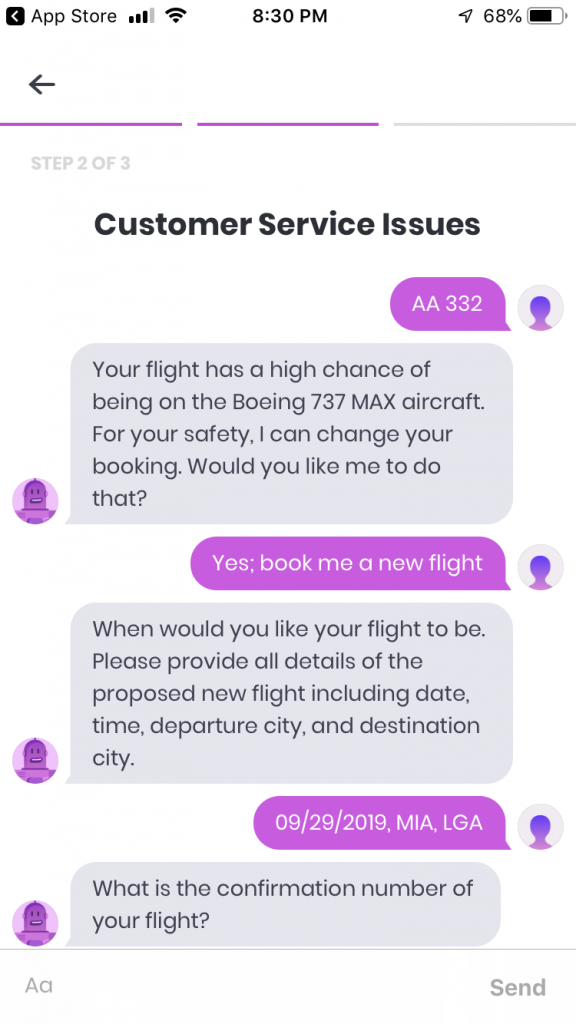 You're probably wondering what happens next – as I did.
Browder tells me "in all cases it starts out amicably as customer service" but, I asked, what happens if a company doesn't make it that easy?
If "that fails, we have an established escalation procedure including demand letters, chargebacks and even small claims court. DoNotPay is entirely on the consumer's side and currently has no partnerships with any of the companies we help fight."
Interesting, indeed.
Your First Move or Last Move?
I'll go on the record that your first stop should *not* be this app. Your first stop, if you are booked on a MAX flight and want off is to phone the airline directly (or Tweet to them in DM) and ask politely.
But if, for whatever reason, they were to insist on a change fee to switch off of the MAX, then this seems like a solid next step.
I'll also note that the app does require you to connect a bank account via Plaid to use the service (I wish there were another way to pay the $3 a month contribution) but, that said, this is some pretty amazing tech for $3 a month. Update: After my discussion with Mr. Browder on my issue with having to give my bank info to Plaid, he let me know that they agree and you will be soon able to simply connect a bank account rather than give Plaid your login/password. In fact, they expect this feature live by the end of the week.
I also asked Mr. Browder if this was an entry point into being able to charge on a % basis for recovered fees, like many services do when trying to get you EC / EU 261 compensation for flight delays to/from the European Union. I was surprised to hear that's not the plan. DoNotPay isn't a fly by night company either. Last week, they announced that they raised $4.6 million in seed funding led by Felicis Ventures, with additional funds from Index Ventures, Founders Fund, and Highland Capital.
Would you fly the MAX when it returns? Would you use this app to get your flight changed?
Let me know here, on Twitter, or in the private MilesTalk Facebook group.
You can find credit cards that best match your spending habits and bonus categories at Your Best Credit Cards. 
New to all of this? My "introduction to miles and points" book, MilesTalk: Live Your Wildest Travel Dreams Using Miles and Points is available on Amazon and at major booksellers.