Top 6 ways to profit from the SPG/Marriott merger

Advertiser Disclosure: This site is part of an affiliate sales network and may receive compensation for sending traffic to partner sites. This compensation may impact how and where links appear on this site. This site does not include all financial companies or all available financial offers.
Did you miss a deal? Never again! Apply to join the members-only MilesTalk Facebook group.
By profit, of course, I mean "get the best value from your points".
I already wrote a high level analysis of the Starwood SPG / Marriott Rewards merger.
To a casual member of these programs, it's easy to be happy you got a status match and be intrigued that, with the 3:1 point conversion ratio, you have lots more properties to work with when redeeming points.
But if you want to delve a bit deeper, here are 5 great ways to take advantage of the tie up, from either side of the membership fence.
1)  SPG members can now Transfer to United Airlines (and other airlines): SPG members now have access to Marriott's Hotel + Air packages which offer far greater value than Starwood's airline partner redemptions – if one of the participating airlines is attractive to you. This page on Marriott's site has all the details. United is the best option – as a) Starwood hasn't had a 1:1 transfer in many years and b) their partnership with United means a BETTER than standard ratio.
270,000 Marriott points will get you 7 nights in a category 1-5 hotel PLUS 132,000 miles.   With the 3:1 SPG to Marriott conversion ratio, you are spending only 90,000 points for 132,000 miles AND getting a 7 night stay included.
Even if you didn't use the hotel stay, you are getting nearly 1.5 United miles per SPG point (the best ratio in a straight SPG airline transfer is 1.25 and didn't include United). Once you add the hotel stay in, this is a bonkers redemption if you have a stockpile of SPG points.You can also pay incrementally more to get a higher category hotel.
Here's the chart for United:

Many bloggers speculate this redemption is too good to last and they may well be right so if this catches your eye, you may want to jump on it. That said, 90,000 SPG is no small amount if you don't have 100,000+ SPG points sitting around.
Prefer an airline other than United? That's available too, just at lower ratios: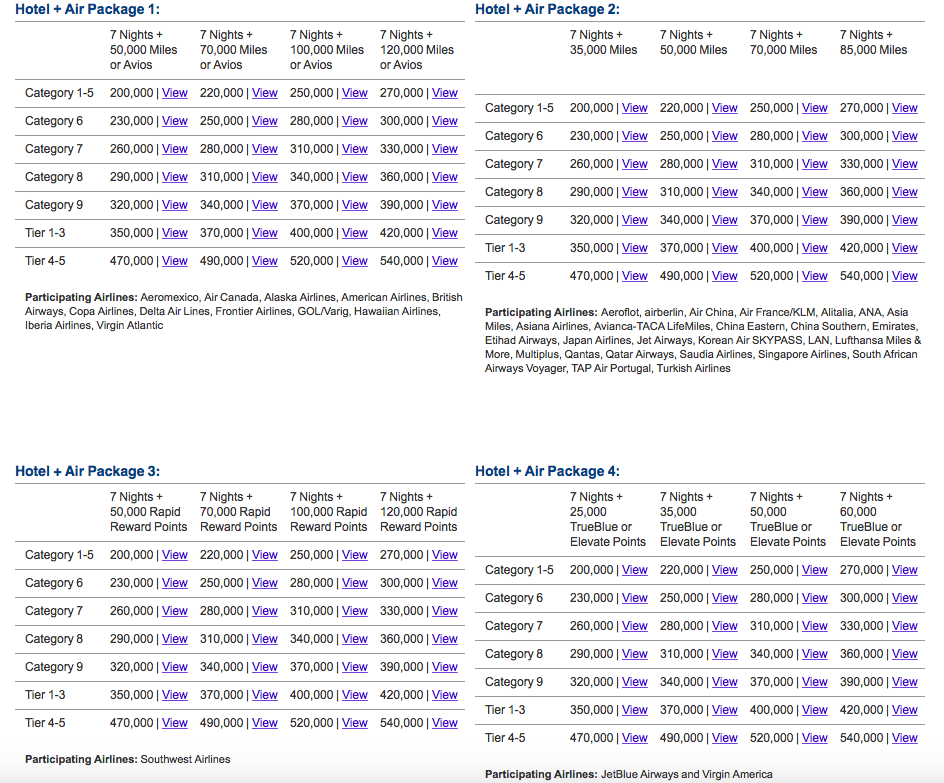 2) SPG members can now Get a Southwest Rapid Rewards Companion Pass
I've written before about how you can use two credit card signups to get two years of Southwest's Companion Pass for free.
But see "Hotel + Air package # 3" above?  90,000 SPG points will now get you 120,000 Rapid Rewards points. Sure, it's great to have those to spend on your Southwest flights and sure, it comes with a free 7 night hotel, but perhaps more importantly this is all you need to get the Companion Pass. And if you wait until January to do this, you'll have the Companion pass for nearly 2 full years. Just make sure that, by then, Southwest hasn't banned hotel transfers from counting for the Companion Pass as there has speculation they might.
Notice a theme? Really good deals often die because the operator of the deal doesn't realize what it is costing them until a wave of bloggers expose the deal and the Internet crushes it – forcing the operator to see blood on their balance sheets. It is then often swiftly and unceremoniously pulled.
The above is now dead. Hotel transfers no longer count towards a Companion Pass.
3) Marriott members now have access to SPG Moments.

SPG Moments is a program Starwood created to sell and auction off some amazing experiences – like box seats in concerts and sporting events, Meet the Chef events, US Open suite and field level tickets, and much more. I love it. The "deals" vary – as it has become more popular, auctions can bid up quite high. But right this second you could spend 15,000 points on two seats in an SPG luxury suite at the Staples Center for a Lakers game or bid (north of 50,000 points) for a private dinner with Chef Tom Colicchio of Craft in NYC.  Sure the 1:3 doesn't make it the cheapest redemption in town, but they are "treat yourself" experiences that sometimes only feel like they make sense when you are spending points rather than cold, hard cash. It feels like a reward.
4) Marriott members now have access to some AMAZING hotels – and can redeem for upgraded rooms like Jr Suites for pennies on the dollar.
This one may or may not go without saying, but SPG has some amazing and aspirational brands in its portfolio and Marriott has said they are all staying in the combined portfolio.
Think St Regis hotels, Luxury Collection hotels, and some W hotels. And SPG members can book upgraded room types, like Jr Suites, for just a handful more points. Just ask an agent on the phone about "Specialty Select" awards. I've used this to bump up from regular room to jr. suites with included butlers twice – once at the Le Meridien in Monte Carlo and once at the St. Regis in NYC – for just 1,500 – 2,500 points per night.  Suites are often available at twice the daily award rate, so a Category 4, for example, would be 20,000 points a night for a suite. These awards aren't published on the SPG site and you must call, and each hotel decides if they will offer it or not – AND it is subject to availability – but it's a fantastic deal when it is available and the upgraded rooms are truly worth it.
My advice is, if this is a special stay, call SPG and simply enquire about the availability of Specialty Select awards and, if available, have the agent read you the complete room description of the upgraded room to see if it is worth the extra points. When I was in Monte Carlo, the 1,500 point upgrade gave me not just a butler, but also free valet parking and free breakfast – worth over $100 a night alone.
Here's how a confirmation for a Specialty Select upgrade at a Category 7 St Regis would look.

In this case it did afford a butler but did not include any other real amenities. The room was bigger than a standard room, however.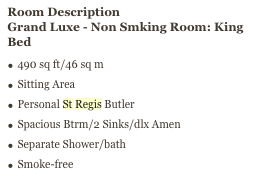 5) For SPG members, you are getting better elite benefits in most cases and more ways to get status. Much to the chagrin of Marriott members, SPG members are getting the better end of the status transfer stick.
Marriott Basic –> Starwood Preferred Guest Preferred
Marriott Silver –> Starwood Preferred Guest Preferred Plus
Marriott Gold –> Starwood Preferred Guest Gold
Marriott Platinum –> Starwood Preferred Guest Platinum
I have SPG Gold. I need to stay 10 times or 25 nights for this status (or spend $30,000 on the co-branded credit card or achieve via American Express's Platinum card). I got matched to Marriott Gold, which requires 50 nights. It comes with better room upgrades, lounge access, and free breakfast (technically you get lounge access with breakfast in the lounge OR breakfast if the lounge is closed – and is only valid at JW Marriott, Autograph Collection, Renaissance Hotels and Marriott Hotels branded properties).
SPG Platinum requires 25 stays or 50 nights and matches to Marriott Rewards Platinum which requires 75 nights.
The complimentary upgrades for SPG Gold are clearly limited to a better room in the same category of room – not that you can't get lucky – but generally only include corner rooms or a higher floor.
Marriott's benefits allow more flexibility to higher room categories:
Complimentary Room Upgrade: Based on room availability at check-in and limited to a Member's personal guestroom. Upgrades may include rooms with desirable views, rooms on high floors, corner rooms, rooms with special amenities, rooms on Executive Floors, or suites.  All upgrades are granted on a space-available basis, as determined at the time of check-in. Upgrades are subject to availability and identified by each hotel. Not available at Marriott Vacation Club.
Platinum upgrades should be similar with both programs.
Also, as I eluded to above, Marriott members with the American Express Platinum card can now get Marriott Gold. They can simply ask Amex for their complimentary SPG Gold and then match it online.
6) For Marriott Rewards members, you can now earn free SPG points just by linking your Delta or Emirates account as well as your Uber account.
You'll get 1 Delta Skymile for every $1 spent at SPG. Details of Delta Crossover Rewards
SPG Platinum members (so now Marriott Platinum as well) get additional benefits.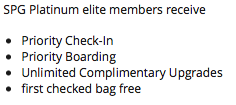 Same for Emirates.  Details of Emirates program.
1 mile per dollar spent and additional benefits for SPG Platinum

Finally – by linking your Uber account to your SPG account, you'll get free SPG points to the tune of 1 SPG point for every dollar spent with Uber, up to $10,000 a year, plus bonus points when staying at SPG. Link your accounts here.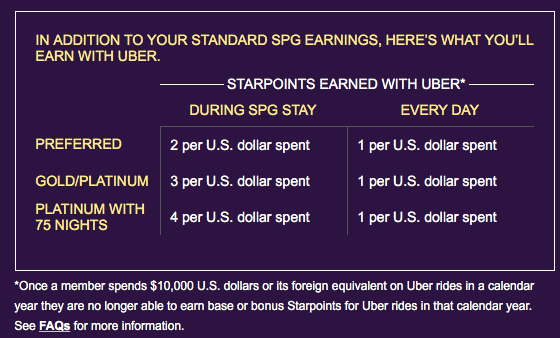 This merger might not be so bad after all!