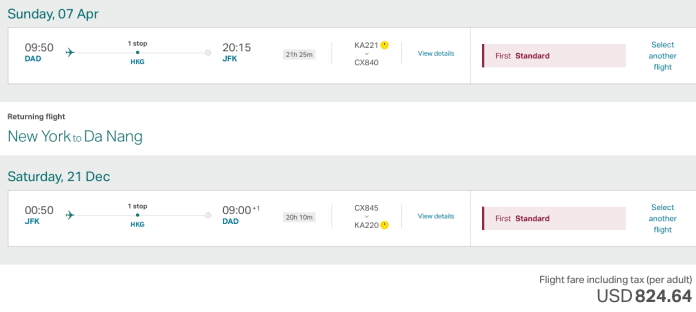 On Friday, Cathay Pacific fat-fingered a fare from Vietnam to the US, with Business Class round trips departing Vietnam (Da Nang, Hani, Ho Chi Minh) to the US. You could book a round trip on pretty much any date you pleased through the end of 2019 in Business Class for around $650 or in their amazing First Class for around $850.
I only posted about the deal in the MilesTalk Facebook group because I expected the deal to last for minutes to maybe an hour and I didn't want to delay getting the word out to MilesTalkers while playing around with WordPress.
I myself lined up (but, sadly, did not book) this fare: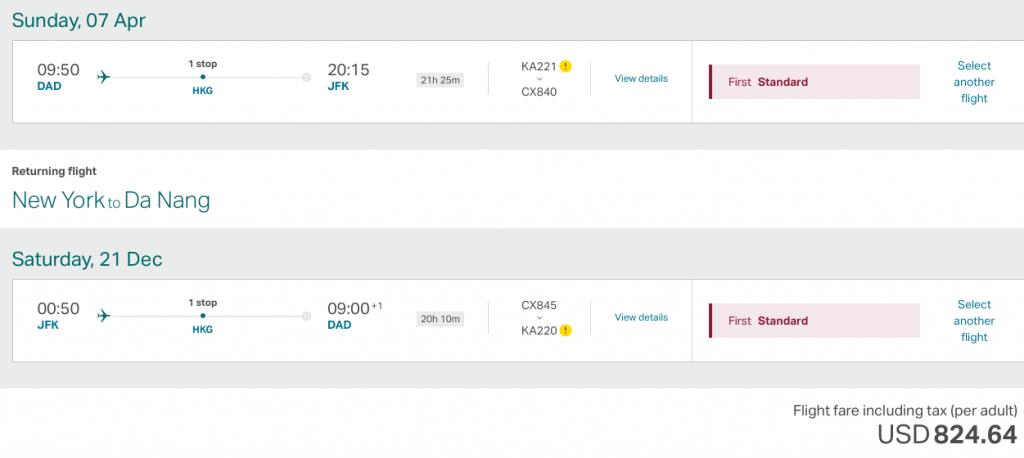 This flight would now price out north of THIRTY THOUSAND DOLLARS.
Two crazy things:
1) The deal lasted way longer than it should have. Many hours. In fact, while Cathay ultimately zeroed out all availability for any first and business class tickets while they refiled the fare, the biggest problem for most people was that First and Business class seats were simply getting sold out on many dates!
2) While Cathay Pacific did not HAVE to honor this deal (and these types of fares are tricky situations, as they *could* be sale fares and an average traveler may not know that $850 for a First Class ticket is a mistake – although almost anyone that reads MilesTalk would know) they very publicly announced this morning that they will, in fact, honor all purchased tickets.
Happy 2019 all, and to those who bought our good – VERY good surprise 'special' on New Year's Day, yes – we made a mistake but we look forward to welcoming you on board with your ticket issued. Hope this will make your 2019 'special' too!
.#promisemadepromisekept #lessonlearnt

— Cathay Pacific (@cathaypacific) January 2, 2019
Good for them!
Hong Kong Airlines made a similar mistake this year and also honored it, seeing it as an opportunity for good will and positive PR rather than the opposite. They have had many bloggers cover their new Business Class product as a result and I think it probably netted out ahead for them.
I'll admit, I publicly stated (on Twitter) that I did not think this deal would be honored. That was simply because of the length it was available, the publicity it got, and the sheer volume of seats that appeared to have been filled at 2-3% of the actual fare.
But I'm happy for all that got in. Cathay Pacific has an excellent premium class product and those that were lucky enough to book First will be in for quite a treat.
Two things to know if you're booked:
1) Same day turns in Vietnam are not allowed. Meaning that if you are coming in from HKG and are planning to get back on a plane back via HKG, you will be denied at immigration in Vietnam. Read this post from Stefan at Rapid Travel Chai for more details and to avoid a huge potential headache.
2) Do not miss this opportunity to maximize your miles and, as well, your status miles!
To get a feel for where you may want to credit this, use the website "Where To Credit" and enter your fare class from the confirmation (i.e. Business is likely a "D" fare).
Where would I credit this myself? Alaska Airlines. I value their miles at 1.9 cents a piece and you can use them later for another trip back to Asia up front with a free stopover along the way.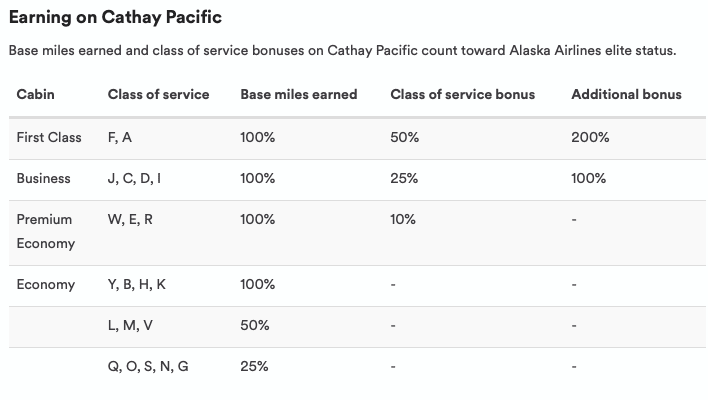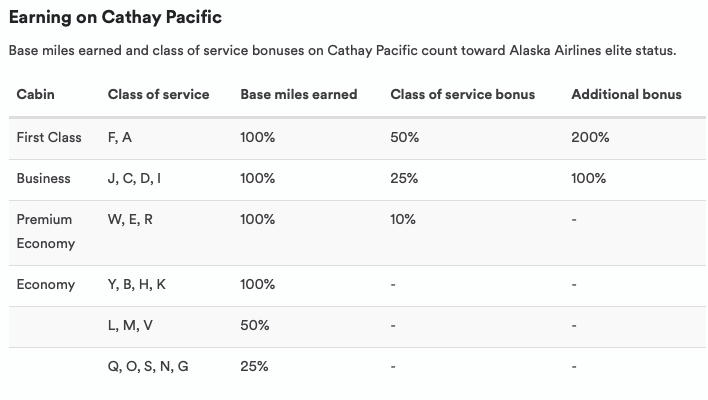 A round trip to NYC would be about 17,000 flown miles. Even if you currently have no status with Alaska, you would earn 59,500 Alaska miles. You can redeem these on American Airlines if that is who you fly anyway, but it opens up a range of redemption opportunities on Alaska's partners.
You would also earn mid-tier MVP Gold status in one go, which allows not just complimentary upgrades but also the ability to cancel tickets (paid and award) fee-free.
If you are not into that idea, the fare would earn 150% flown miles on American.
As an aside, if you need to cancel, you've missed the 24 hour fee-free cancellation window, but the fares I saw had reasonable cancellation fees of $300/ticket.
So, who got in on this deal?? Let me know here, in the comments, on Twitter, or in the private MilesTalk Facebook group.
New to all of this? My new "introduction to miles and points" book, MilesTalk: Live Your Wildest Travel Dreams Using Miles and Points is available now.