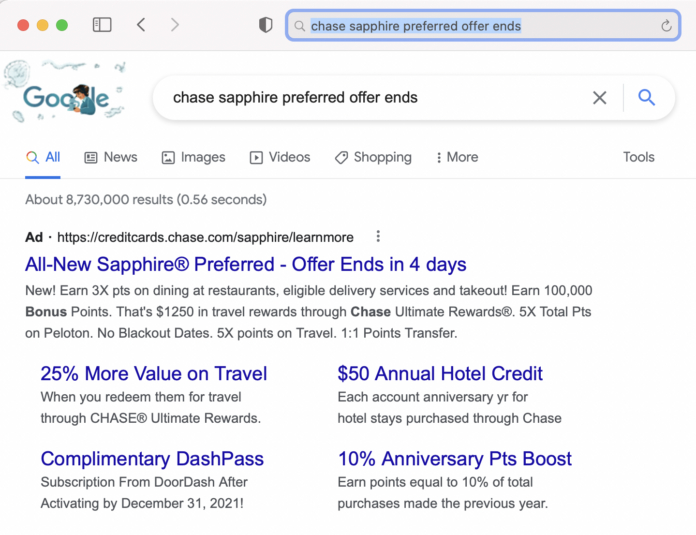 Update: It ended. Bonus is now 60,000 points for the same spend. 
For the last few months, Chase has been offering 100,000 Chase Ultimate Rewards points when you spend $4,000 within 3 months (see offer).
This is easily the best credit card signup bonus on the market right now, worth a minimum of $1,250, and nobody really expected it to last for more than 4-6 weeks.  I have also explained why I think the Chase Sapphire Preferred is the Best Starter Card in Miles and Points.
We've been looking for signs of an end date for this 100,000 point offer. Before it was 100,000 points, it was 80,000 for a couple of months and, before that, was 60,000 points for a long time.
Just a couple of days ago, even Time.com tried to speculate on an end date. They wrote a fairly long article that basically just says that nobody knows. We have no official word one way or another.
However, a couple of eagle eyed MilesTalk Facebook group moderators (A.R. and Sarah) noticed that some Chase Google ads for the Sapphire Preferred indicate that there are only a few days left (four to be precise) on this offer. If true, that would put the end date around Wednesday.
To see for yourself, head to Google and type "chase sapphire preferred offer ends" and hit Search.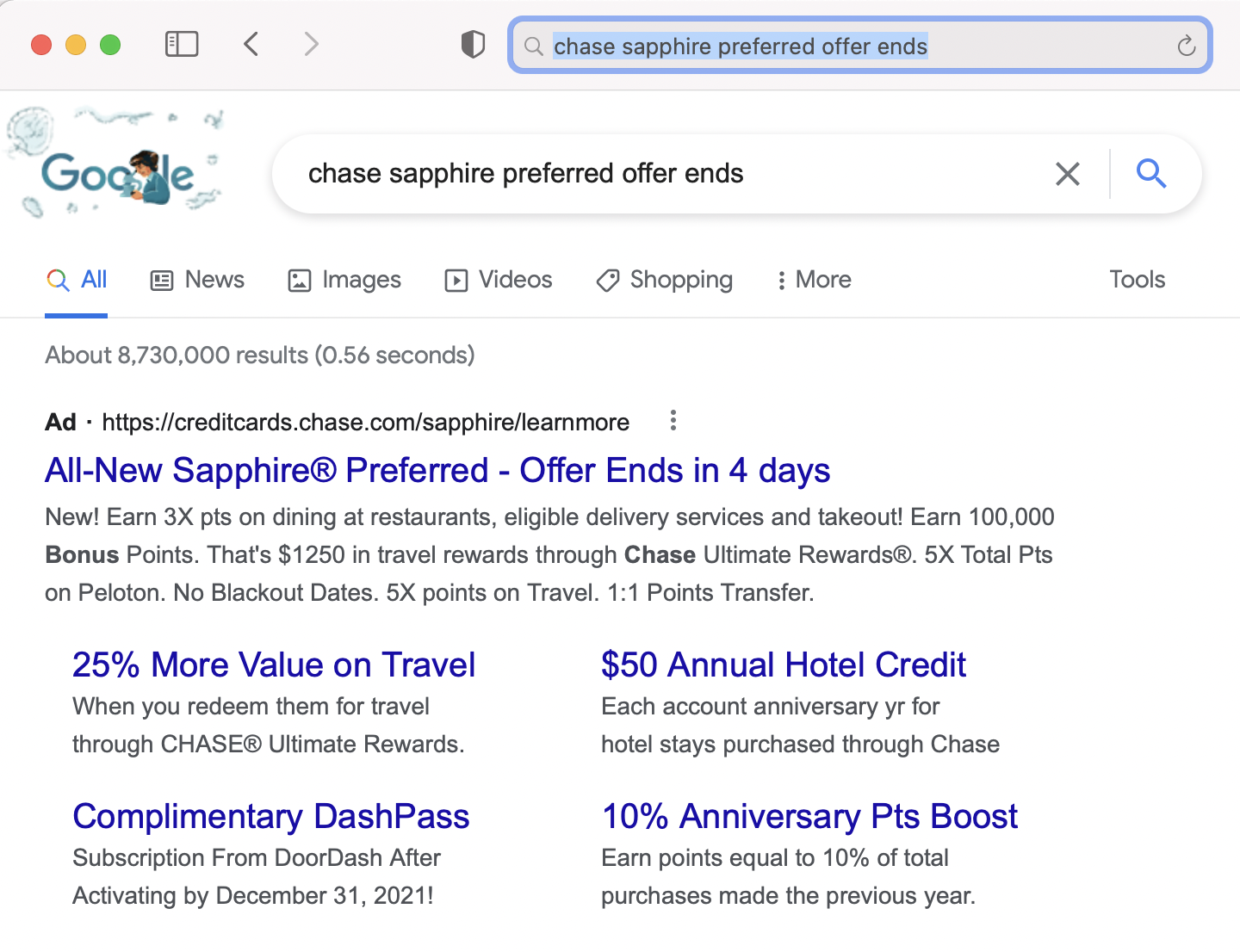 However, "Offer ends in 4 days" could be a marketing tactic. It could be referring to something other than the bonus offer. It could be anything.
UPDATE Oct 4th. I ran the search again today on Google. It now shows 3 days left (vs. 4 yesterday). So….. it's sure looking real.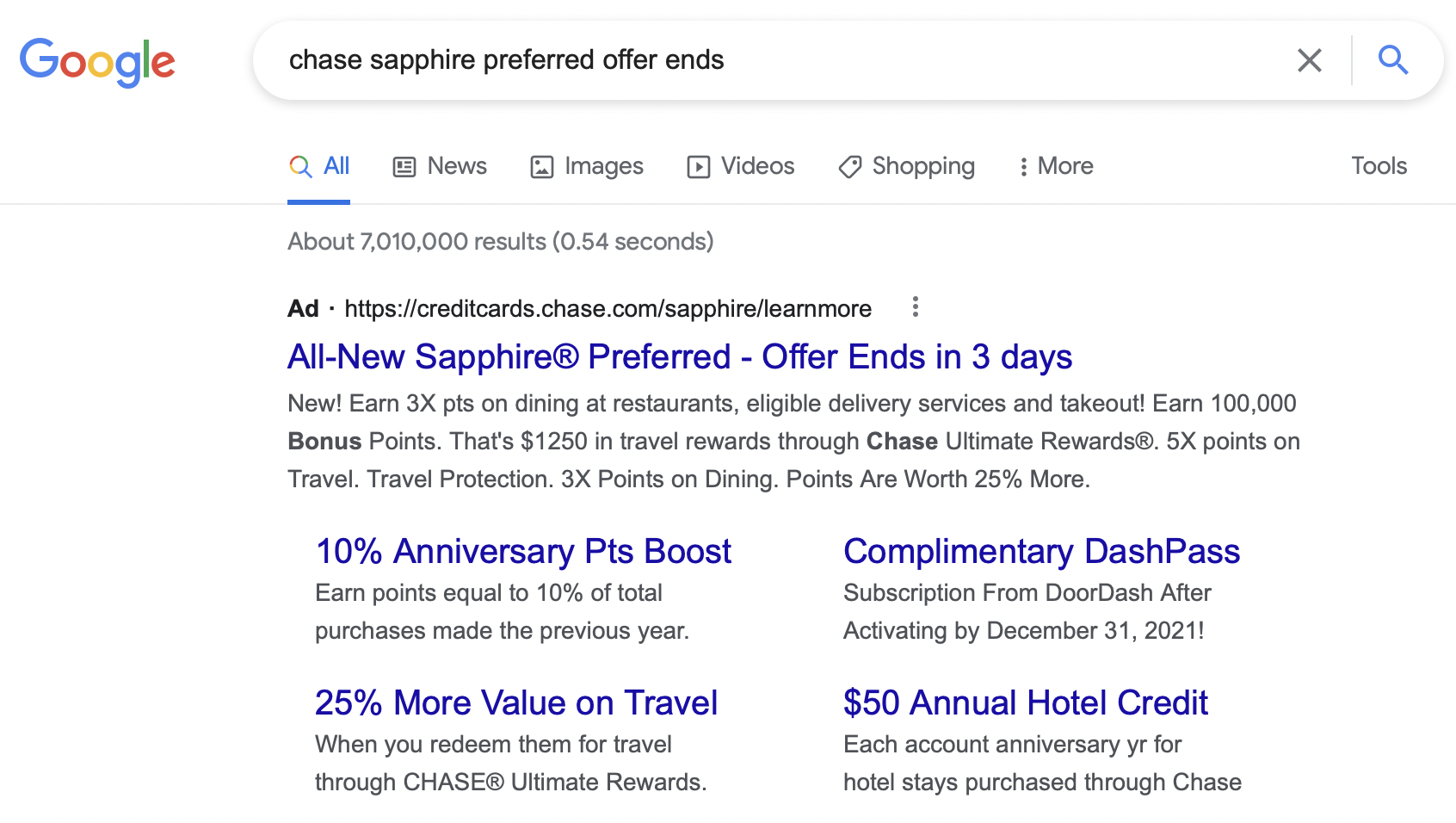 I will point out that I dissected the URL going from Google to the landing page and to me (and I do work in digital marketing, so I have a clue…) the URL and UTM tracking parameters seem legit. I cannot find an affiliate tracking code in it. (And if an affiliate tried such an ad, they would be banned on sight anyway, so it's hard to imagine any taking the risk.)
The tracking code seems like how I would expect it to look on an authentic Chase ad.
Still, I am not specifically saying to hurry up and act on this intel, because it's unofficial speculation and also is not indicated in the actual Chase offer page (and Chase often, but not always, puts in an end date for an offer near the end date)
But this seemed newsworthy enough to drop here and advise you just in case. It's clearly and very possibly real.
Remember that you can only apply for this offer if you do not currently hold a Chase Sapphire Preferred or Sapphire Reserve card and haven't received the bonus in the last 48 months.
If you plan to apply, please consider using our links to support MilesTalk.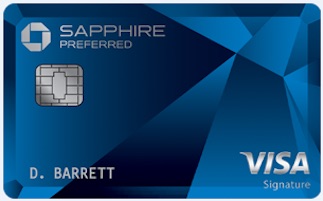 Chase Sapphire Preferred Earn 60,000 bonus Ultimate Rewards points (worth up to $750 or more!) when you spend $4,000 in 3 months. How to apply for this offer.
Thoughts?
Let me know below in the comments, on Twitter, or in the private MilesTalk Facebook group.
And if this post helped you, please consider sharing it!
You can find credit cards that best match your spending habits and bonus categories at Your Best Credit Cards. 
New to all of this? My "introduction to miles and points" book, MilesTalk: Live Your Wildest Travel Dreams Using Miles and Points is available on Amazon and at major booksellers.