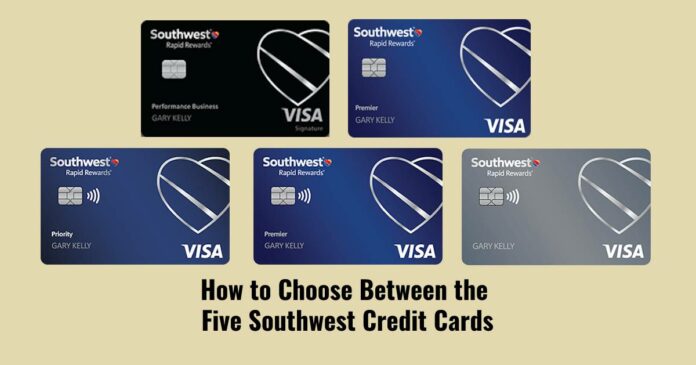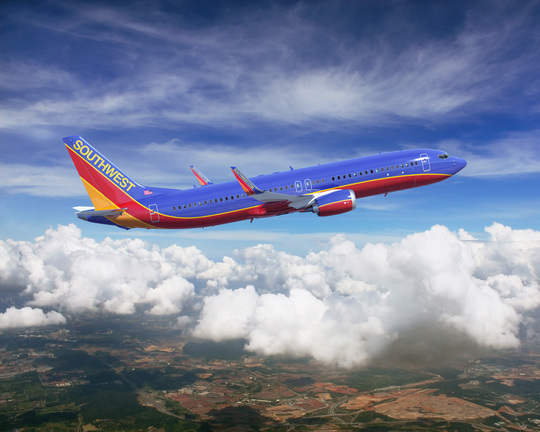 Southwest Airlines is one of the largest domestic carriers in the United States. If you're looking to build up Southwest Airlines Rapid Rewards points, a quick way to do it would be with a Southwest credit card. But with five Southwest credit cards to choose from, picking the right one may seem to be an intimidating process. Don't worry, we're here to help!
But first, a quick review of the program…
How Much Is A Rapid Rewards Point Worth?
Southwest Rapid Rewards points are worth approximately 1.3- 1.4 cents each when used for their "Wanna Get Away" fares, the most popular award class. Rapid Rewards was the first of the "variable cost" airline rewards programs. It does not have an award chart that varies by geographic zone. Rather, the cost of a ticket in points rises and falls with the price you would pay if you bought it with cash (or your Southwest credit card). But unlike Delta and United, where the value of a point can vary widely. Southwest Rapid Rewards points rarely stray too much from the 1.3 – 1.4 cent value. Note that with certain international tickets, you need to pay attention to taxes and fees to do the math correctly and we sometimes see yields on these tickets to get be closer to 2 cents in value! Domestic segments only have the $5.60 security surcharge.
The Southwest Companion Pass: The Most Valuable Perk In The Airline Industry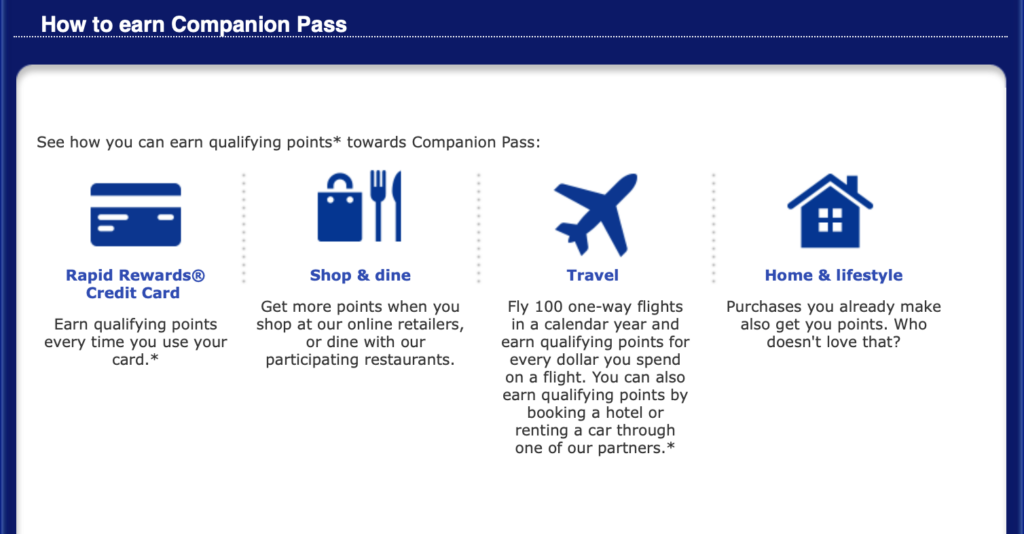 How would you feel about bringing somebody for free with you on every Southwest Airlines flight that you take, paying only the taxes? The Southwest Companion Pass allows you to do that.
If you earn 125,000 Southwest Rapid Rewards points in a year (or fly 100 qualifying one-way flights in a year), the airline will reward you with its Companion Pass. Whenever you purchase a ticket on Southwest, you'll get to bring along a designated companion for free, paying only the 9/11 security fee.
Note: You have to designate a companion in advance but, if you find somebody that you like better, you can change up to three times per year.
And Southwest makes it easy for you. With only a few exceptions, the airline will count points that you earn anywhere toward your Southwest Companion Pass, not just points that you earn from flying. That includes any sign-up bonuses that you get from a Southwest credit card, not to mention all of the spending that you do on the card. Once you cross 125,000 total qualifying points in a year, the Pass is yours for the rest of that year, as well as the entire following calendar year.
According to Southwest, only the following do not count as Southwest Companion Pass qualifying points: purchased points; points transferred between Members; points converted from hotel and car loyalty programs, e-Rewards®, Valued Opinions, and Diners Club®; points earned from Rapid Rewards program enrollment; tier bonus points; flight bonus points; and partner bonus points (with the exception of the Rapid Rewards Credit Cards from Chase).
You may want to consider getting multiple cards to help yourself along. You can get two Southwest business credit cards, or you can get one personal credit card and one business credit card. You cannot, however, get or hold two personal cards.
Southwest Airlines Elite Status Tiers
Rapid Rewards offers two tiers of elite status. Without upgrades, these statuses aren't quite as powerful as their peers on the network carriers, but they're certainly useful for frequent flyers.
Note: Unlike the Companion Pass, elite tiers can only be earned with flight miles or spending thresholds on certain Southwest credit cards.
A-List Status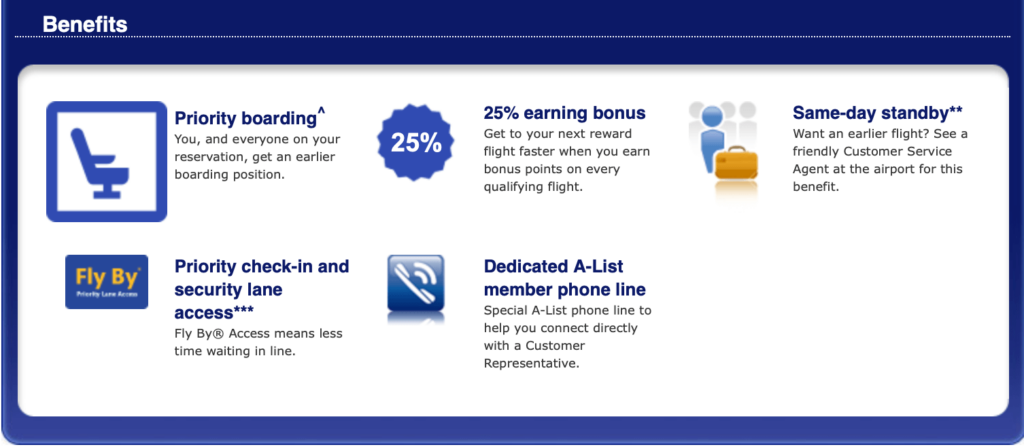 You can earn A-List status by flying 25 qualifying one-way flights or earning 35,000 tier qualifying points in a calendar year. The benefits include:
Priority boarding for you and your traveling companions.
A 25% Rapid Rewards point bonus on all qualifying flights.
Complimentary same-day standby, although you may have additional government taxes or fees.
Priority check-in and security line access, although you're still probably better off with TSA PreCheck.
A special A-List phone number
A-List Preferred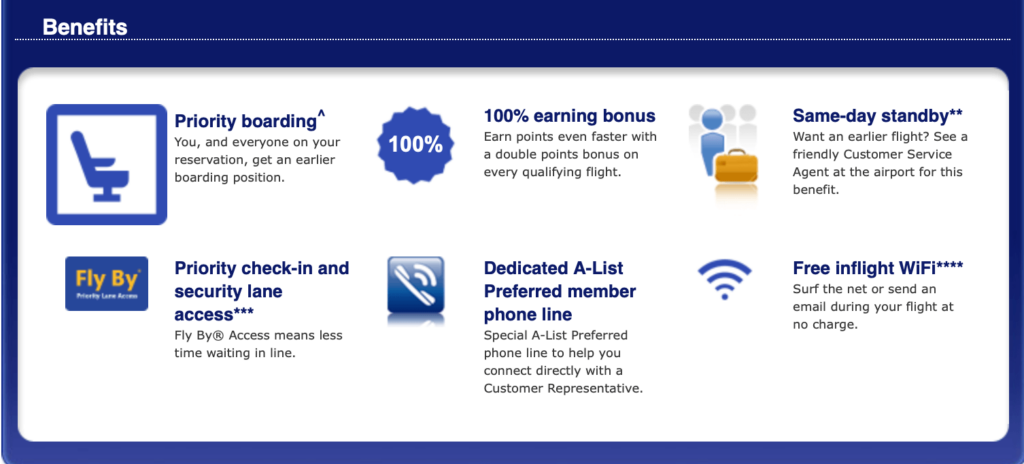 Fly 50 qualifying one-way flights in a year or earn 70,000 tier qualifying points, and you'll be promoted to A-List Preferred. You'll receive the benefits from A-List, plus the following:
Double points bonus on all qualifying flights
Free inflight WiFi
Southwest Rapid Rewards Personal Credit Cards

Southwest Airlines offers three personal credit cards, although only two of them stand out to us as particularly good offers.
All cards earn you one point per dollar spent, with the following bonus categories:
3X for dining. Dining includes restaurants, take-out and eligible delivery services. Note: This benefit is only for your first year as a cardholder.
2X on Southwest purchases, as well as Rapid Rewards hotel and car rental purchases.
1X on all other qualifying purchases
One very important factor to keep in mind: Choose your card based on the value that it offers you, not simply on the annual fee. In the case of Southwest, the Plus card is the lowest annual fee but actually offers the least total value for Southwest travelers.
If you know that you are going to be flying Southwest, even once or twice in the next year, the Southwest Priority Credit Card is the clear winner. Despite the $149 annual fee, you'll realize that Chase Bank is, in fact, actually paying you to own this card, when you combine the travel credit and anniversary bonus. In addition to the multiplier bonuses above and a generous sign-up bonus, you'll get:
7,500 Rapid Rewards points each year on your card anniversary. Based on our 1.4 cent value, those points along are worth $105 toward Southwest Airlines flights.
A $75 annual Southwest travel credit. Just charge your Southwest flight to your credit card and Chase will automatically reimburse you. The credit renews every year after your card anniversary date.
1,500 Tier qualifying points for every $10,000 that you spend on the card, up to a maximum of $100,000 (i.e., 15,000 tier qualifying points). That will give you a healthy start toward your Southwest elite status. Note that Southwest has an unusual definition of qualifying year for this benefit: "Annually" means the year beginning with your account open date through the first December statement date of that same year, and each 12 billing cycles starting after your December statement date through the following December statement date.
4 Upgraded Boardings per year. Southwest is a first-come, first-served system for boarding. The earlier you check in, the better your boarding position. But upgraded boardings allow you to skip the cattle car process, automatically giving you an A1-A15 position. Normally, you need to pay for these boarding spots, but the card will reimburse you for the first four that you purchase.
No foreign transaction fees. You won't pay any foreign transaction fees when you use the card to make purchases abroad.
20% back on all inflight purchases. That includes WiFi, as well.
This card may come with a high annual fee, but it's easy to see that the benefits more than offset the cost of the card. Even if you only fly Southwest Airlines once or twice per year, this card is a must-have. And if you fly Southwest frequently, the added onboard and check-in benefits will allow you to beat the rush at a much lower cost.
The tier qualifying points are also particularly interesting, since elite status facilitates what is arguably the most frustrating part of the Southwest experience, the boarding process.
Other Options
The Southwest Premier credit card is a bit of an in-betweener. Not quite as basic as the Plus card, but not as many benefits as the Priority credit card. As such, its benefits rarely make it the best card for anyone.
The Premier Card carries a $99 annual fee, but has few benefits above those that are offered with the Plus card. In particular, you'll receive tier qualifying points based on your spending, similar to the Priority card above. The card will also waive foreign transaction fees when you make purchases with it internationally. But that's about it. You do receive an anniversary bonus, but it's only 6,000 points ($84 in value). Your net card cost is $15.
While you could make the argument that the card is useful for people who want to accumulate tier qualifying points, if you're flying Southwest at all, you might as well get the Priority card, which not only has a lower net cost but also superior benefits.
The entry level Southwest Plus Credit Card is an excellent choice for those who rarely travel on Southwest or are looking to rack up Rapid Rewards points.
The Plus card is a good card if you are only looking to add to your Southwest Rapid Rewards points accounts balance. Because all Southwest credit cards come with the same earning multipliers, there's no reason to pay up for the most expensive card when the $69 version will get the job done. But if you aren't flying Southwest at all, there's little reason to collect Rapid Rewards points.
The card comes with a sign-up bonus and also gives you 3,000 bonus Rapid Rewards points each year upon renewal. At 1.4 cents per point, that's $42 against your annual fee of $69. Your net cost is $25, with few additional benefits.
All three cards are available if you do not currently have a personal card and have not received a new member bonus within the past 24 months. Also, be aware of the Chase 5/24 rule.
Finally, it's important to note that the best reasons to acquire these cards, generally, is when the bonuses will help you qualify for Companion Pass and for the benefits described above. You could generally earn the same 2X points with a Chase Sapphire Preferred (with an even bigger signup bonus to boot!), earn those bonus points on ALL travel (not just Southwest) and have the option to transfer them back to Southwest 1:1 – or to any other transfer partner.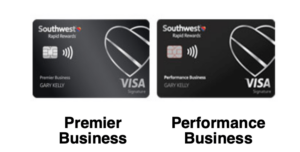 Don't skip this section just because you don't think you own a business. You might be surprised what qualifies you to apply for and get a business credit card. That article will not only guide you through the requirements but also give you some suggestions if you don't find a Southwest credit card that you like.
Unlike the personal cards, though, where there is an obvious choice, neither of these cards stands out as the clear winner for everyone. Thus, it's more important that you pay attention to your spending needs.
If you want to max out your miles, you can get both cards. Be aware, though, that you will not be able to get a Southwest business credit card if you have that particular card or received a sign-up bonus for it within the past 24 months.
Do you do all, or almost all, of your travel with Southwest Airlines? If so, the Southwest Performance Credit Card is likely the better option for you. The card offers not only better bonus multipliers for spending but also great inflight benefits. The annual fee is $199 but, for the frequent Southwest Airlines traveler, the perks more than offset the fee.
Bonus multipliers on purchases are strong. Although you normally earn 1 point per dollar spent, there are plenty of bonus opportunities in business-friendly categories:

3X points on Southwest purchases, as well as  purchases made with Rapid Rewards hotels and car rental partners.
2X points on search engine and social media spending.
2X points on internet, phone and cable purchases

An anniversary bonus of 9,000 Southwest Rapid Rewards points. That bonus is worth $126 at our standard rate of 1.4 cents per point.
Global Entry or TSA PreCheck fee reimbursement. Don't feel like waiting around at security or immigration? Apply for Global Entry ($100) or TSA PreCheck ($85) and Chase will reimburse your fee once every four years (which is how long your status is good for). Consider that a savings of up to $25 per year.
4 Upgraded boardings per year. Don't feel like being the last to board and ending up with the middle seat in the back row? No problem. Chase will reimburse you for up to 4 upgrading boarding charges per year which, when available, will put you in the A1-A15 boarding group.
Inflight WiFi credits. You'll be reimbursed for up to 365 credits ($8 each) per year. Don't feel like flying every day? Don't worry, the credits carry over to employee cards.
No foreign transaction fees. No worries if you are traveling abroad. You won't have any foreign transaction fees on your card.
Tier qualifying points. For every $10,000 that you spend, you'll receive 1,500 qualifying points toward your tier status. That's good on up to $100,000 in spending per year. Just like with the personal cards above, the rules on the tier qualifying year can be complicated.
This card has a ton of benefits and is a fantastic option for those whose lives revolve around their travel on Southwest. It's also got a massive signup bonus.
But what if you are an occasional, but not frequent, Southwest flyer? Try the Southwest Premier Business card…
The Southwest Premier Business Card is a great option for those travelers who want to take advantage of the card's benefits but only use Southwest as one of many airlines in their travel. The card has fewer benefits, but only comes with a $99 annual fee, so even if you use the card only infrequently, you'll still get value out of it.
2X points multiplier on Southwest purchases, as well as Southwest hotel and car rental partner purchases.
6,000 bonus points on your card anniversary. That's worth $84, so you're almost covering the entire annual fee on the card.
No foreign transaction fees. Flying internationally? Use your Southwest Premier Business card for purchases and you won't have to pay a foreign transaction fee.
Tier qualifying points. This card will also get you on your way toward Southwest tier status. For every $10,000 points that you spend, you'll receive 1,500 tier qualifying points. This card also maxes out at $100,000 in annual spending.
Frequently Asked Questions - Chase Southwest Credit Cards
Do I Need a Southwest Airlines Credit Card?
That depends, but if you fly Southwest several times per year, it's likely that one of the Southwest credit cards will be valuable for you. Frequent Southwest flyers will get more value from the higher annual fee cards, which offer significant benefits. But you could generally earn the same 2X points with a Chase Sapphire Preferred (with an even bigger signup bonus to boot!), earn those bonus points on ALL travel (not just Southwest) and have the option to transfer them back to Southwest 1:1 - or to any other transfer partner.
Which Bank Issues the Southwest Credit Cards?
Chase is the credit card issuer for your Southwest credit card.
Do I Need to Pay My Southwest Credit Card Bill Every Month?
Absolutely. One of the ways that banks pay for all of those rewards is by charging higher-than-average interest rates on balances that you carrier over from month to month. Even if you carry only a small balance, you'll still pay more in interest charges than you would earn in rewards.
If you don't pay your bill in full every month, forget about the rewards and get a low or no-annual fee card. Southwest Rapid Rewards points are valuable, but they're not that valuable.
Can I Transfer Southwest Rapid Rewards Points to Somebody Else?
Well, yes, but there's a charge to do so, so you're better off just buying a ticket for that person with your miles.
Your credit card points can only be deposited into your account.
How Do I Get My TSA PreCheck or Global Entry Credit from the Southwest Performance Business card?
Charge the fee to the Southwest Performance Business card and Chase will reimburse the fee automatically. Remember, you can only get the refund once every four years, but you shouldn't need to pay for it more often than that, anyway.
Can I Add an Authorized User to My Southwest Credit Card Account?
Yes, you can, and you will earn Southwest Rapid Rewards points for all of their purchases, as well.
Is there a Charge for Southwest Business Credit Card Employee Cards?
No, there isn't. You'll earn points on their cards but, like an authorized user on a personal card, you'll be responsible for any purchases charged by the business.
Am I Eligible for a Business Credit Card?
You may be, even if you don't think you are. Read through this article to see.
How Long Does it Take for Credit Card Miles to Get Credited to My Southwest Rapid Rewards Account?
In general, your points should post after the statement closes in the credit card billing cycle in which you earned them.
Is There a Limit on the Number of Rapid Rewards Points that You Can Earn from Credit Cards?
Nope. The number of points that you can earn is based on amount of spending that you do. More spending, more points.
Do Southwest Credit Cards Offer Free Bags?
No, but that's because Southwest doesn't charge for your first or second checked bag.
Conclusion
With 5 Southwest credit cards to choose from, the task of picking the right one can be daunting. But it's actually not as complicated as it seems.
For personal cards, the choice is pretty easy. Presumably, if you're getting a Southwest credit card, you actually fly on the airline, so you'll use the $75 credit that comes with the Priority credit card. And given the anniversary points that you'll rack up every year, this card is the best value.
Business cards are a little trickier, but the essential question is this: How much of your travel involves Southwest? If you're flying on Southwest all the time, or almost all of the time, you should definitely go with the Performance Business Card. But the Premier Card still has excellent benefits for people who fly Southwest Airlines only occasionally.
Questions?
Let me know below in the comments, on Twitter, or in the private MilesTalk Facebook group.
And if this post helped you, please consider sharing it!
You can find credit cards that best match your spending habits and bonus categories at Your Best Credit Cards. 
New to all of this? My "introduction to miles and points" book, MilesTalk: Live Your Wildest Travel Dreams Using Miles and Points is available on Amazon and at major booksellers.