Why Chase Sapphire Travel Insurance Trounces Citi's
Did you miss a deal? Never again! Apply to join the members-only MilesTalk Facebook group
.
Advertiser Disclosure: MilesTalk has partnered with CardRatings for our coverage of credit card products. MilesTalk and CardRatings may receive a commission from card issuers. This site does not include all financial companies or all available financial offers. The editorial content on this page is not provided by any of the companies mentioned, and have not been reviewed, approved or otherwise endorsed by any of these entities. Opinions expressed here are the author's alone.
Sometimes, it's not until you actually need a specific coverage for your own trip that you really dig and and notice things you hadn't during more cursory research. When I published the blog post "Travel Insurance Showdown: Chase Sapphire Preferred vs. Citi Premier" I originally thought that both provided similar overall coverage with small differences that could benefit one person's needs or the another person's needs depending on those needs.
But recently I found myself in a peculiar situation. I have some reservations using Marriott points at some very high end resorts. The cancelation penalties are SEVERE. One lists a penalty of $16,125 if I cancel inside 30 days. But it also offers the option of just losing my rewards points. Problem is, 340,00 Marriott points is still a whopper, easily worth north of $3,000! Not only that, traditional travel insurance that one can purchase will not insure points at all. And coverage for $16,125 would run over $1,000. Not only that, it's a bit dubious whether a cancellation "penalty" is ever covered – as opposed to a lost prepaid rate.
So I dove back into the insurance policies.
I discovered two things that really tip the scales towards Chase.
First, if you have to cancel for a covered reason,  Chase will cover up to $10,000 per person or $20,000 total as long as you have paid any common carrier charges (i.e. plane tickets) on your Chase Sapphire Reserve or Chase Sapphire Preferred card.
Meanwhile, over at Citi:
If a Trip is cancelled, interrupted or extended for a covered reason (See What's Covered), you may be reimbursed up to $5,000 per Covered Traveler per Trip.
To be eligible for coverage under this benefit, your Citi card and/or ThankYou® Points must be used to purchase at least a portion of the Trip. In the event of partial payment, we will only reimburse the lesser of the actual amount paid for with your Citi card (including ThankYou® Points) or the maximum coverage per Trip.
That's a pretty huge difference!
I can pay the taxes on an award ticket with Chase and have full coverage. With Citi, it's only $5,000 per traveler up to the max of what was paid with that card.
And then there is the rewards points coverage. I was actually *stunned* to find this in the coverage terms: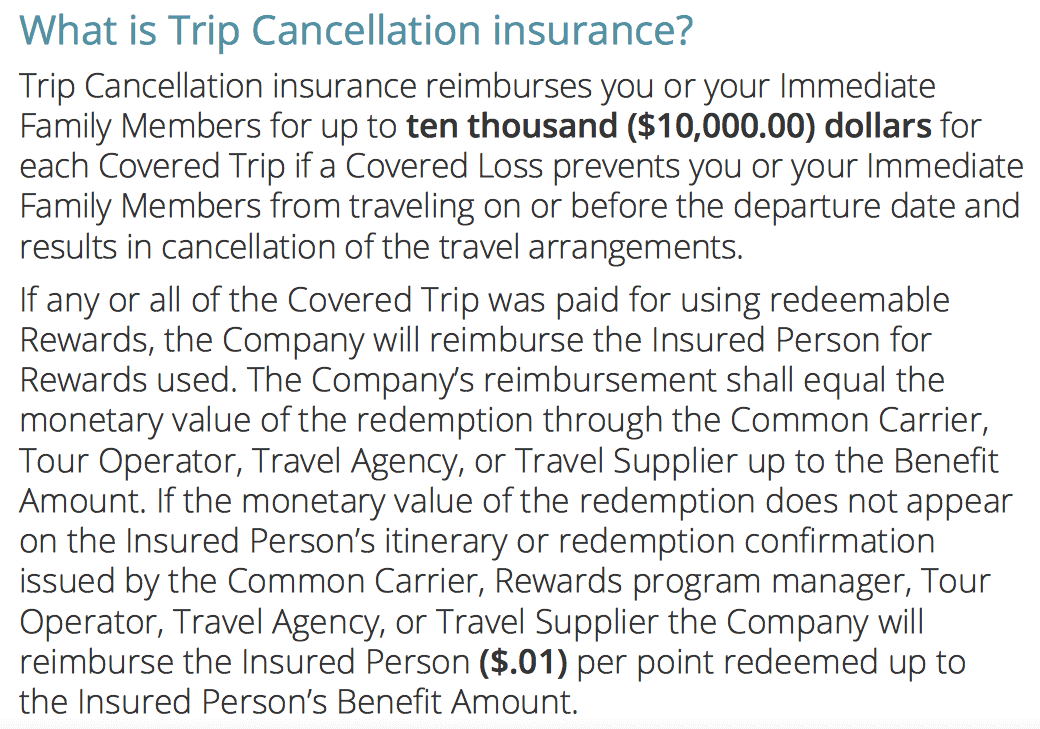 This says that they will insure you against lost rewards points and, if they don't have an assigned value, consider them worth a penny each. That's more than fair.
Now, I called about this and there was a bit of discrepancy if this covers only Chase points or any points, but (and "I Am Not A Lawyer") it reads to me as covering any points. That's because they would know how their own points are valued and they mention methods of redeeming that don't correspond to Chase products. It simply says "Redeemable Rewards."
I really hope I never find out personally about this coverage, but I'm hoping some MilesTalker has had a reason to use this benefit and can vouch for the process. Many of us book trips all the time using points as a primary payment method and they aren't always refundable in an emergency. Delta, for example, won't let you cancel a trip and get the miles back within 72 hours of the travel time.
Summary:
While my original comparison article had these insurances neck and neck, I now think that the Chase coverage is head and shoulders above Citi.  You would find the Chase coverage on both the Chase Sapphire Reserve and the Chase Sapphire Preferred.
Do you have personal experiences with either of these items?  Let me know here, on Twitter, or in the private MilesTalk Facebook group.
New to all of this? My new "introduction to miles and points" book, MilesTalk: Live Your Wildest Travel Dreams Using Miles and Points is available now.