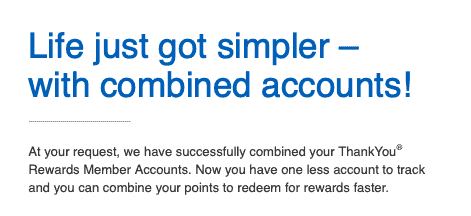 The day has arrived and you now indeed have ability to transfer your Citi Double Cash credit card dollars to Thank You points and then send them over to airlines as long as you also have a Citi Premier, Citi Prestige, or legacy Citi Chairman's credit card.
Also See:
– Citi Double Cash Points WILL Be Transferable to Airlines [CONFIRMED]
– Will the "Citi Trifecta / Quadfecta" be a thing come Sept 23?
As with any brand new IT implementation, it may not be straightforward nor seamless, but I can assure you that it does work as I've now done this myself.
First, how it SHOULD work is as follows:
When logged into your Citi Double Cash account, look for the area (bottom right of the following image) that says Convert to Points. Click and follow the prompts.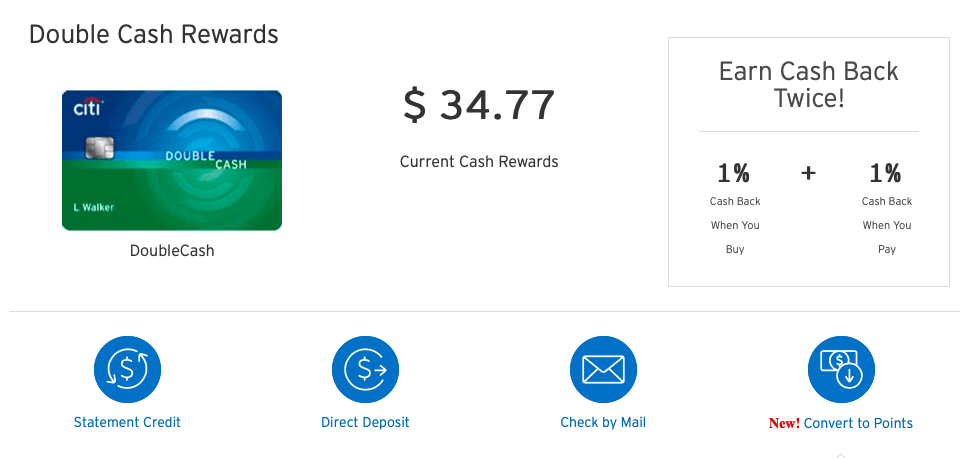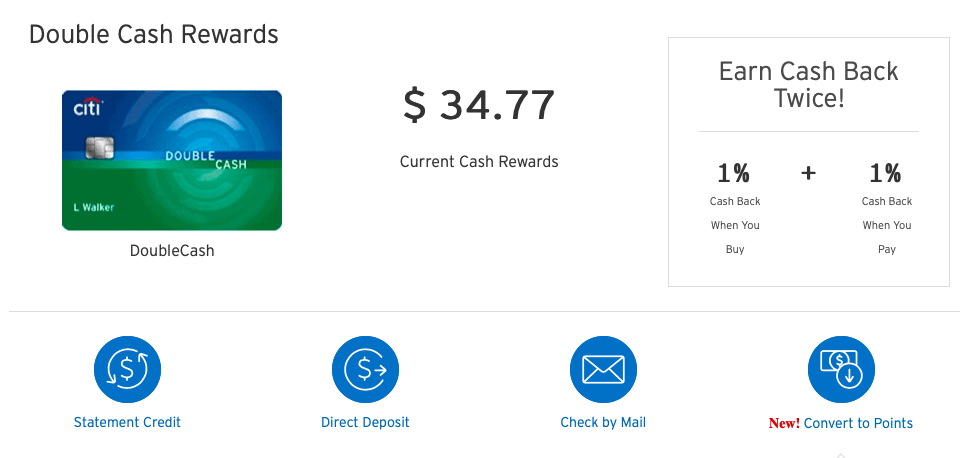 Now what SHOULD happen here is that it creates a new ThankYou member account number for you. You will need to combine accounts next to take advantage of the full features available to you.
Citi Cards Give You the Best of All of Your Card Features
With Citi cards (also see: credit cards that earn Citi ThankYou points), the way it works is that you get the best features and benefits of all cards. The reason I'm now talking about the "Citi Trifecta / Quadfecta" is because you can take advantage of earning 2% on Double Cash and then combine with your other Citi cards. If you have the Citi Premier, this means the option to spend at 1.25 cents a point in the travel portal and transfer to all partner airlines. If you have the Citi Prestige, you can transfer to all airlines and spend the points towards a 4th night free booking. And if you also have the Citi Rewards+, you'll get 10% rebated in points for the first 100,000 spent a year.
You should not transfer from one account to another, where odd expiration policies may apply. You should have all your accounts combined.
Ideally, when you go to Combine Accounts inside thankyou.com, you would see your Double Cash in the top part below: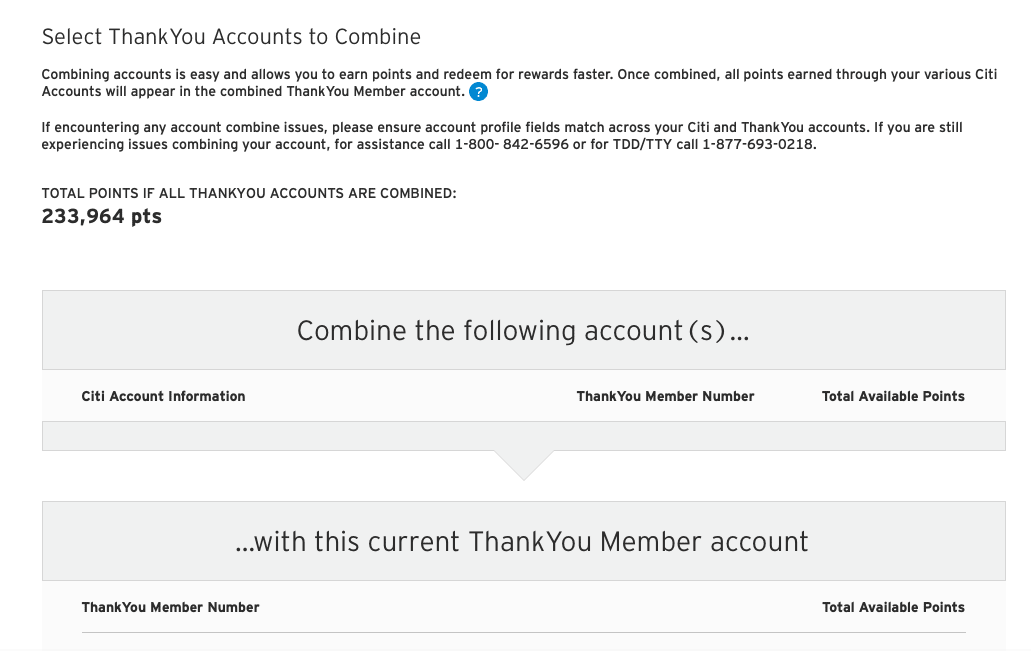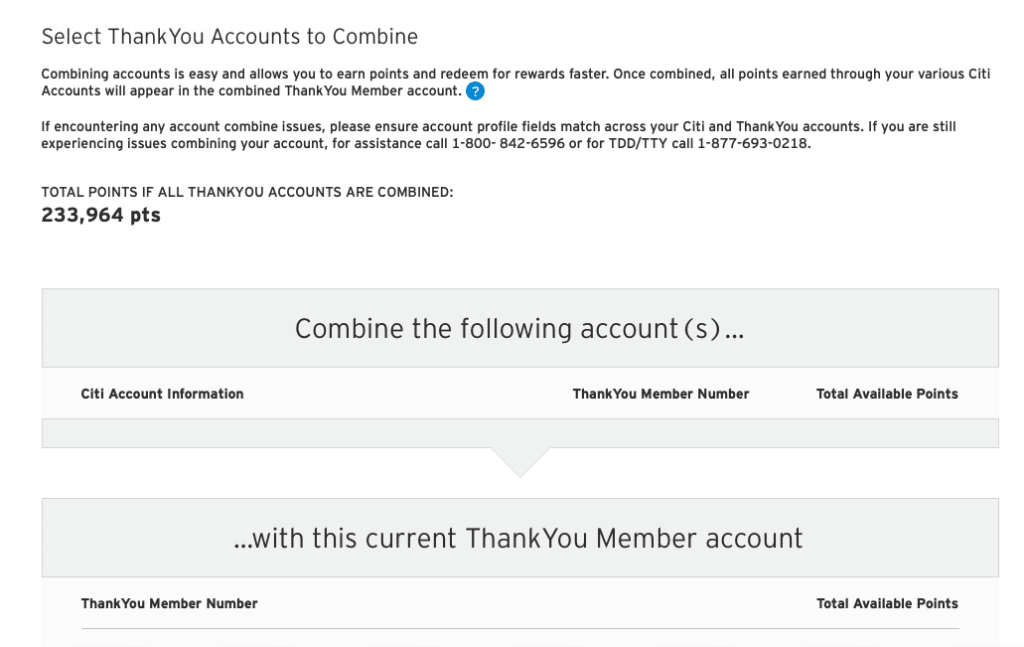 Now, I did not so I had to call.
Long story short, I have my accounts combined AND was able to transfer $10 to 1,000 points (confirming that 1:1 ratio!) into my pool of points. Before combining, my Double Cash account was showing as separate and with only the ability to move to JetBlue and Sears.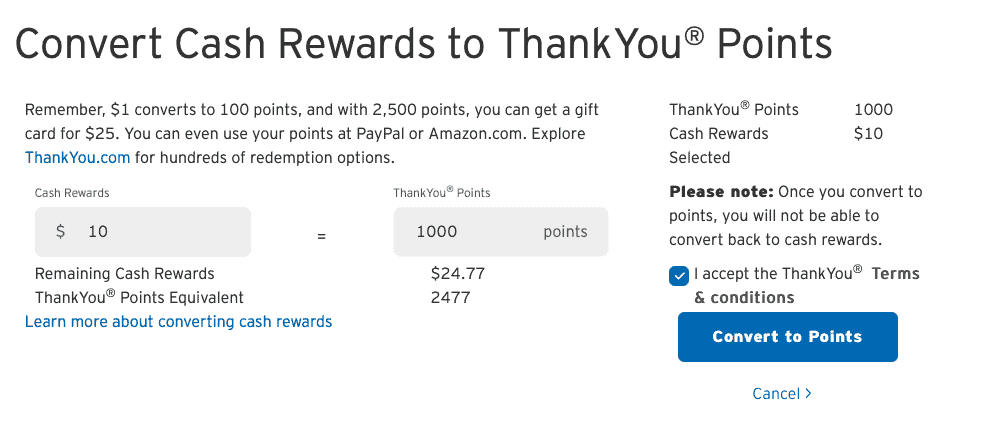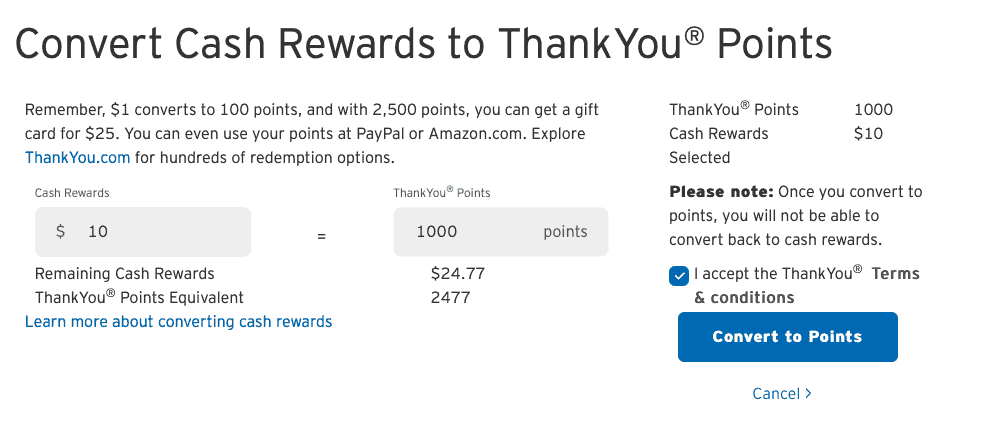 Now, because Citi ThankYou accounts combine and bank points can't be transferred, it's not simple to confirm that these are fully transferable. To confirm this for you, I did the following:
Before converting any ThankYou points from Citi Double Cash, I looked at how many points were available to transfer to an airline. I picked Avianca.  You can see here I had 233,964 total points available – but you need to know that if you also earn Thank You points from banking, then that's not your total available for transfer.


Now, what is my new total ThankYou balance available for transfer?
As you can see below, 214,190. The remaining almost 20,000 points were earned by banking. All I can do with those is spend in the portal at 1.25 cents per point (thanks to my Premier card).


After getting my Citi Double Cash points moved, I go back to make the same transfer. As you can see, I have 1,000 more available.


This confirms that the additional 1,000 points, converted from my Double Cash, are both transferred at a 1:1 ratio and are transferable to airline partners other than just JetBlue.
Be aware that unexpected errors may also occur. In fact, after my accounts got properly linked, I can no longer (until the issue gets resolved) transfer at all from Double Cash. I'm still waiting for this to get resolved.


With this all confirmed, I'm going to create an FAQ about this and also will do a Facebook Live with Q&A. I'll announce the time on Twitter and in the MilesTalk Facebook group.
Do you have the Citi Double Cash? Will you get it now that you can transfer to ThankYou points?
Let me know here, on Twitter, or in the private MilesTalk Facebook group.
You can find credit cards that best match your spending habits and bonus categories at Your Best Credit Cards. 
New to all of this? The MilesTalk "introduction to miles and points" book, MilesTalk: Live Your Wildest Travel Dreams Using Miles and Points is available on Amazon and at major booksellers.