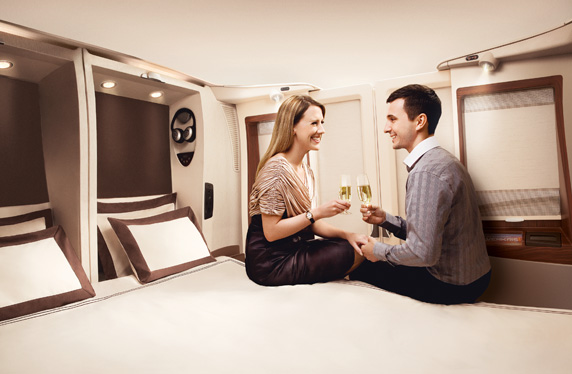 One of my favorite "aspirational" awards is a suite on Singapore Airlines.  With closing doors and the opportunity to get two beds side by side, it's an amazing product.
Via PointMeToThePlane, I've learned that Singapore Airlines is doing the following as of March 23rd, 2017:
Increasing the price of some 1st class awards. JFK-FRA-SIN for example is technically going from 110,000 KrisFlyer miles to 120,000. But because there is currently an online booking discount, the current 110,000 miles is really only 93,500. Which leads to the next devaluation:
The online booking bonus is going away. So in practice, that award just jumped from 93,500 miles to 120,000 🙁  Also remember that Singapore 1st class can ONLY be booked with KrisFlyer miles – not any Star Alliance miles.
One enhancement: They are dropping fuel surcharges. It is meaningful for sure, saving you $295 on a JFK-SIN booking. But I'd rather have 26,500 more miles in my pocket than the $295
So you have 3 weeks to get your flight at current levels. Remember that both Citi ThankYou points and Chase Ultimate Rewards points transfer to Singapore Airlines at a 1:1 ratio.