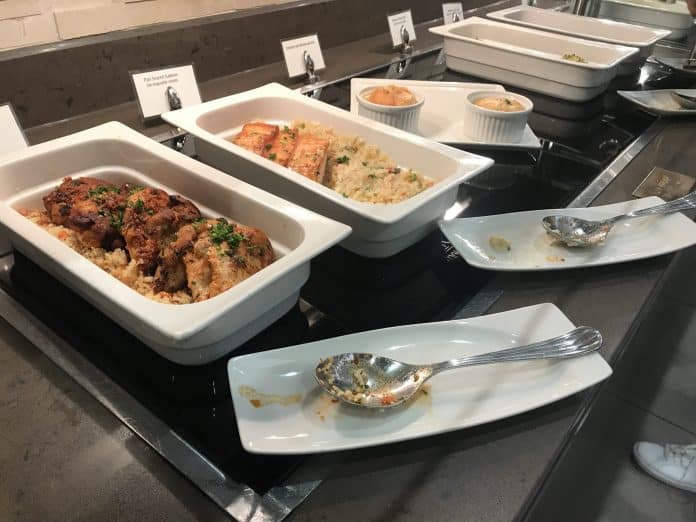 The Emirates A380 in First Class
Last year I had the great pleasure of reviewing Etihad's First Class Apartment, from Abu Dhabi to NYC. We wound up with two days on the plane, thanks to the great "Bomb Cyclone" of January 2018 and a diversion to and overnight in Washington DC.
This past week, I was booked to fly in Emirates Business Class from New York to Dubai en route to the Maldives.  Because the ticket had been originally booked for last year's Christmas holiday time and because I needed a one way ticket with a stop in Dubai, the only availability was via Emirates' own Skywards program at a cost of 117,500 Miles + USD 874.50.  That included an onward flight to Male in Business Class 6 days later.There was no availability using partner miles, such as with Alaska, JAL or Qantas miles.
However, this ticket (due to being booked via Skywards and in the Flex award inventory) did allow for a completely free and easy change to flights this March when life got in the way in December and came with free chauffeur server from Manhattan to JFK, Dubai's airport to our hotel, and from Al Maha to the Airport. The chauffeur service saved us about $200 between the three trips.
Our trip to JFK from the Upper West Side of Manhattan was covered by the ticket and Emirates sent a nice large GMC Yukon for us.
Fast forward to arrival at JFK and we enquired about upgrades to First. I'd been stalking upgrade inventory on Expert Flyer, but at no point had two seats been available. At check in the agent advised there were in fact 3 empty seats in First and we could upgrade for 54,000 Skywards miles or $900 cash each. We had him hold the seats while we transferred from American Express to Skywards (one of those times when it's handy to know that's an instant transfer!)
So the total cost all-in was 161,500 miles + a $874.50 cash surcharge to fly NYC to Dubai in First and Dubai to Male in Business. No question, this was not cheap in cash or miles, however, a one way ticket in First on the JFK-DXB route alone currently sells for $18,800 while a Business Class seat from DXB to MLE would run just under $2,000. With that in perspective, it's still a pretty nice deal!
I'm going to review the Emirates First Class experience we had in this post and then write a second post comparing and contrasting the Emirates First Class experience with the Etihad First Class Apartment experience. Call it the Battle of the First Class Showers.
Pre-Flight
After sailing through security, we headed straight for the Emirates lounge. The lounge is spacious but was surprisingly crowded. We managed to secure two empty seats by the window for some planespotting and late night snacks before our 11:45pm departure. We knew it would be a tricky flight for jetlag, leaving just before midnight and arriving in Dubai the next night with just 12-13 hours in the air, owing to the 8 hour time difference between New York and Dubai.
There was plenty to eat, but no table service (like at the Etihad lounges in Sydney and Abu Dhabi) and the food wasn't quite special. There were also no lounge services, such as massages or spa treatments, so we snacked and relaxed until boarding.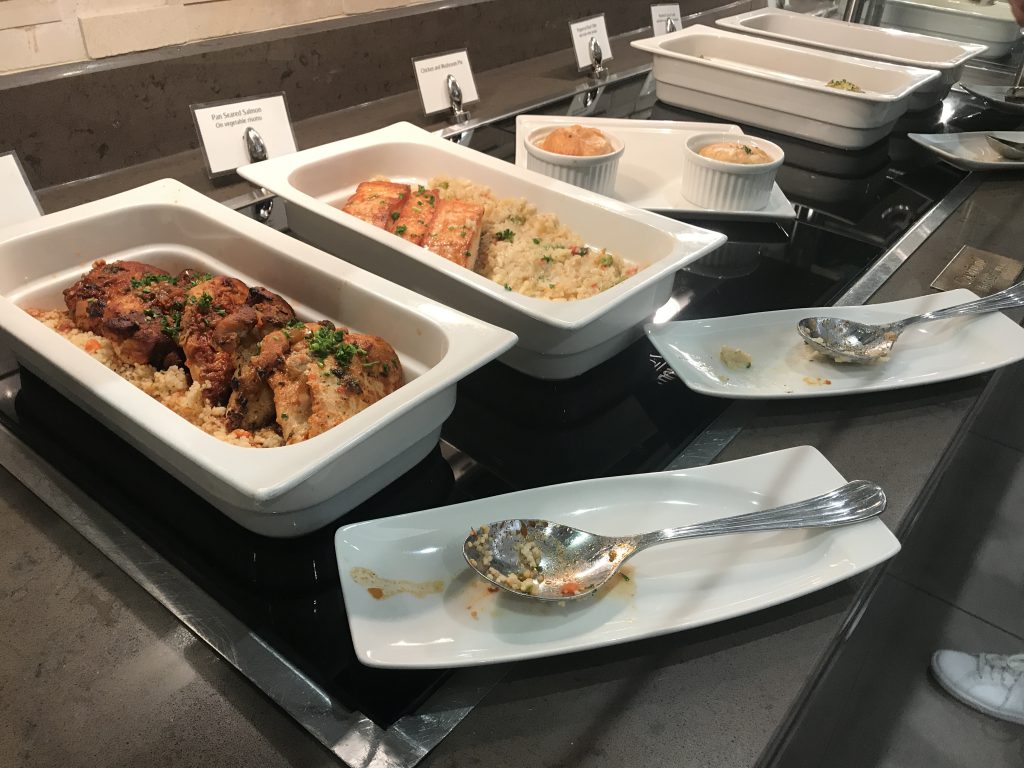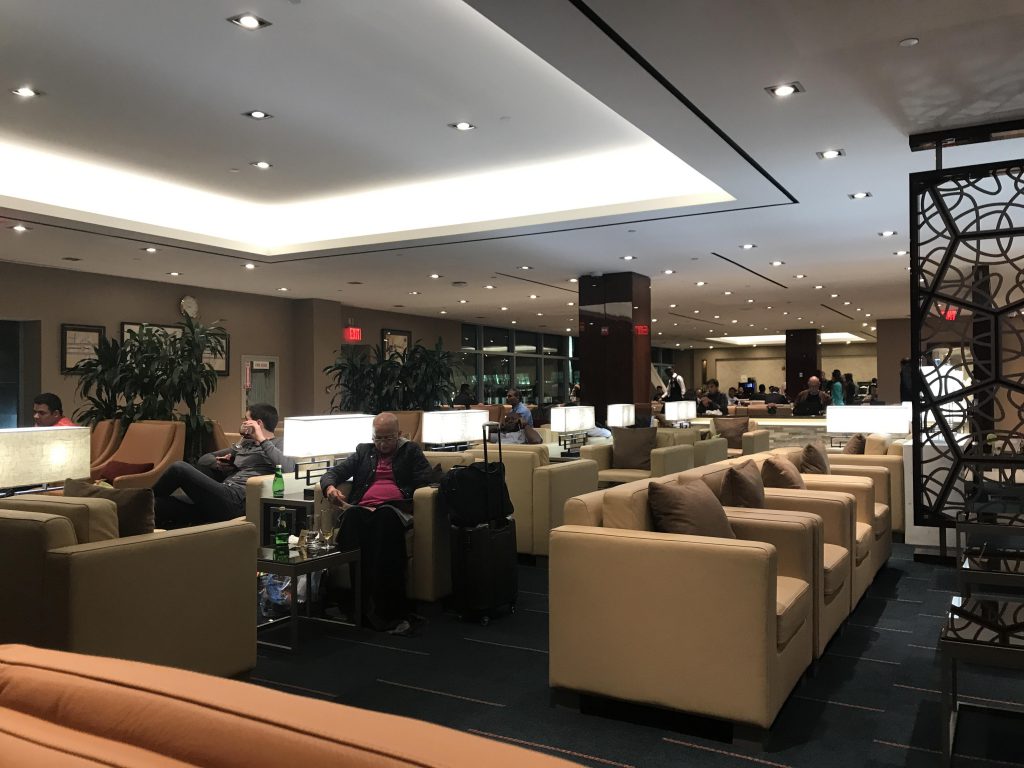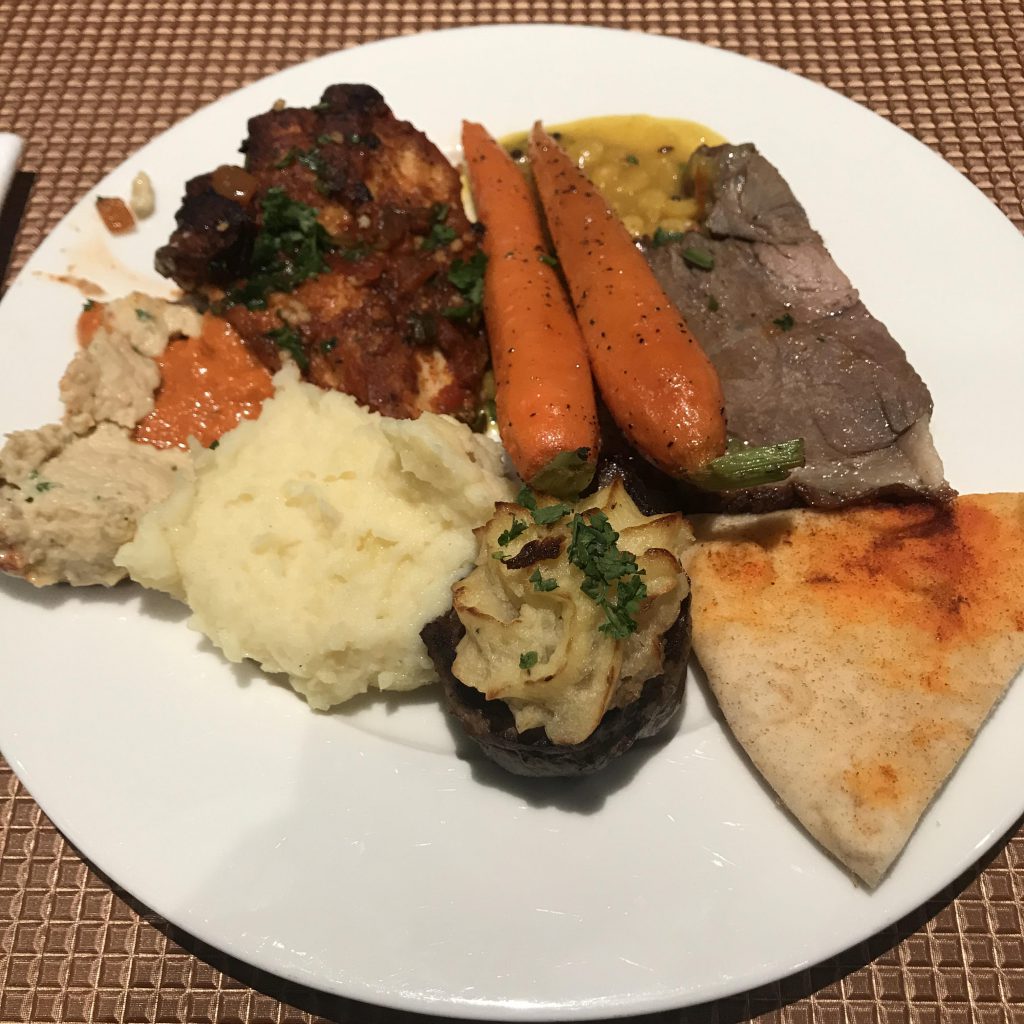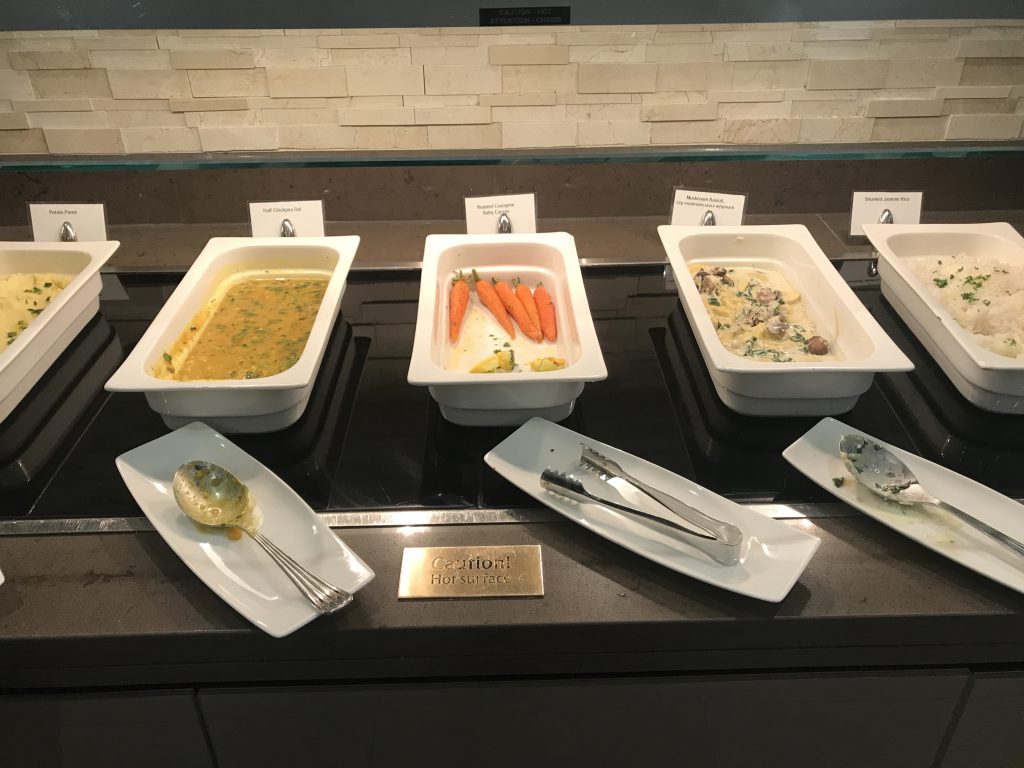 There is a direct jetway from the lounge to the upper deck of the Airbus A380, however we learned that the late night JFK-DXB non-stop and the JFK-MXP-DXB "direct" flight alternate each night which gets the jetbridge. We were there on the wrong night for our flight, so we walked back downstairs and boarded at the regular gate.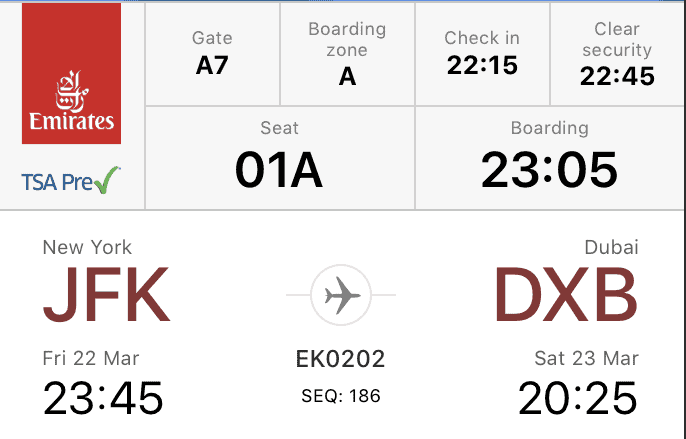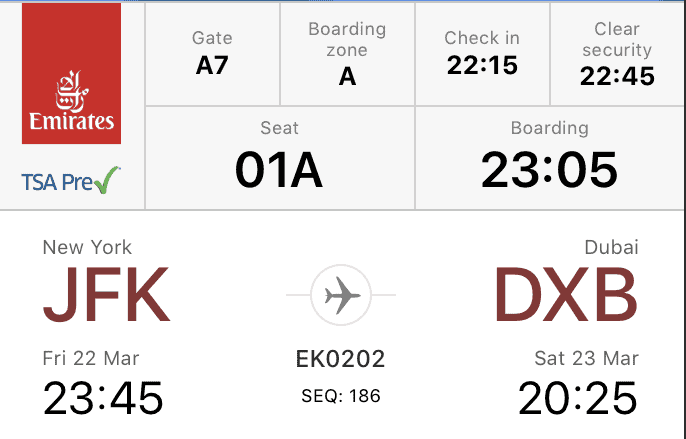 On-Board
We were greeted and offered some champagne while we got acquainted with our suites. We were given a "tour" of the suite, starting with safety instructions and then on how to use the seat controls, door controls and in-fight entertainment.  As a fully enclosed seat, just one button on the control panel would close the suite for total privacy. We were also given a nice tote bag containing the amenity kit and pajamas. The pajamas were super soft and fit perfectly. I'd later change into them in the gigantic first class bathroom.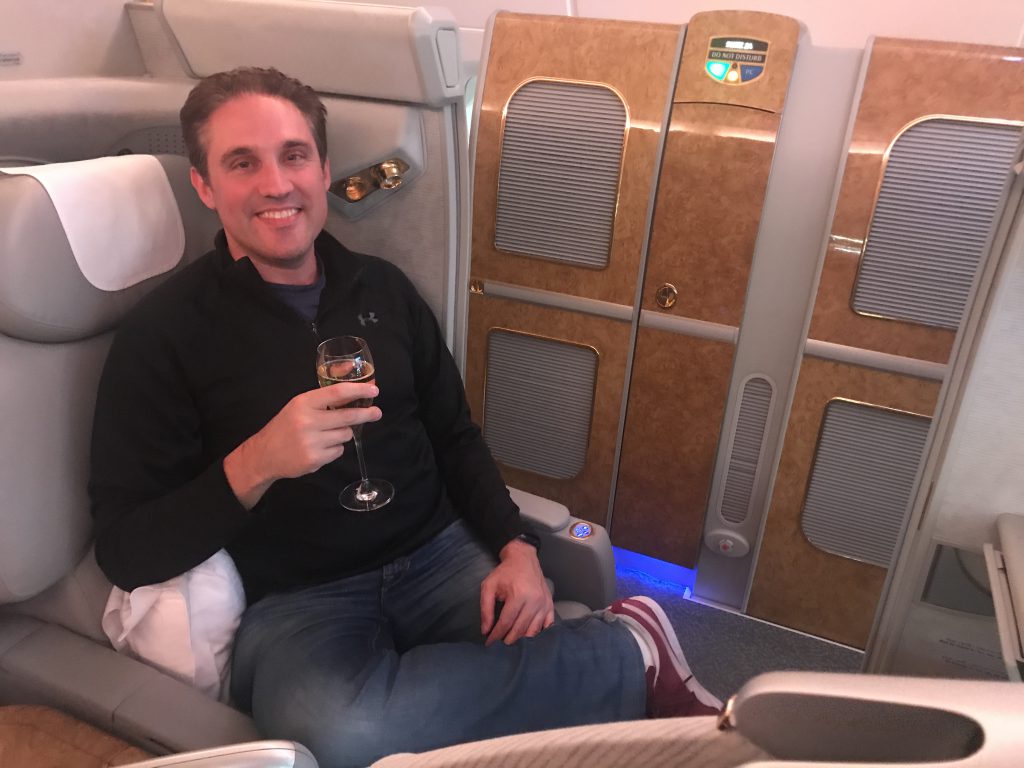 The Seat
I'd imagine that if I hadn't previously enjoyed the immense Etihad First Class Apartments or even the Singapore First Class Suites, I'd have been more impressed with the fully enclosed suite.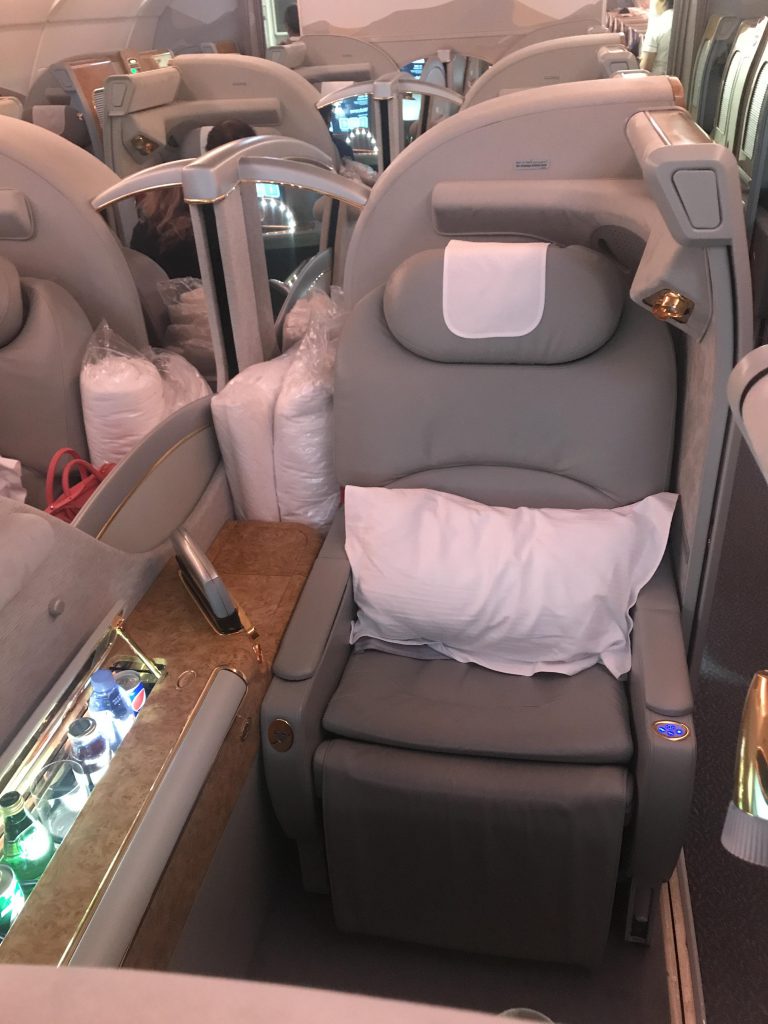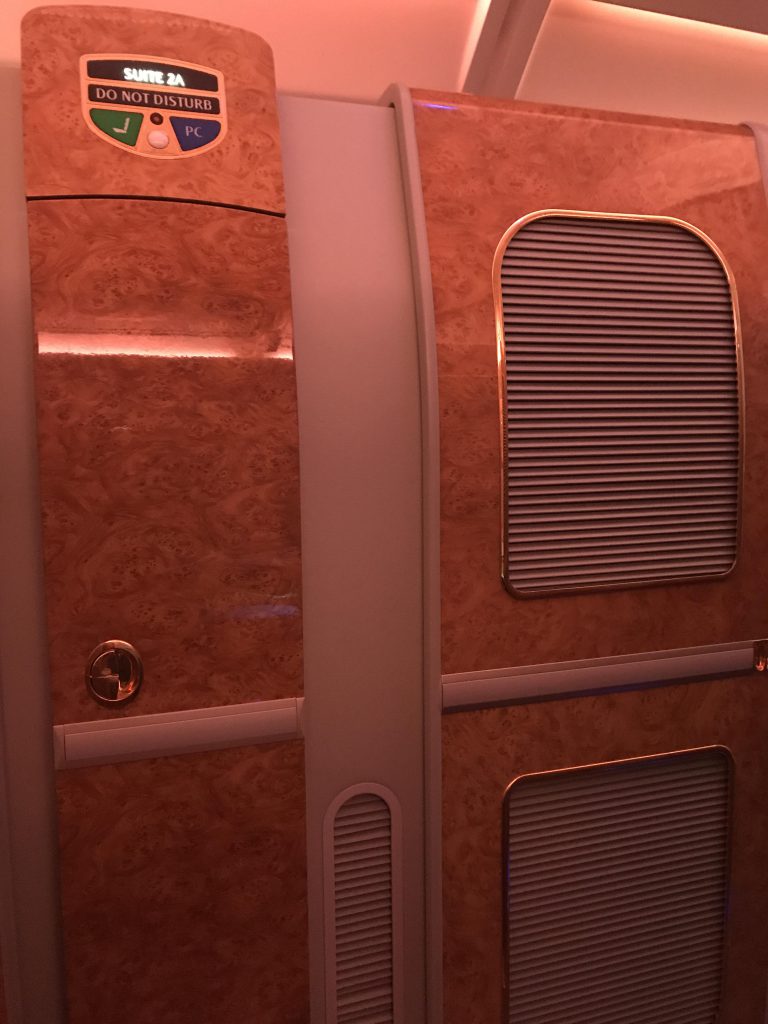 While opulently decorated, it felt a bit dated and I had multiple issues with it – such as the IFE resetting itself mid-show several times and the master control unit had a dead battery, meaning that I could't remove it from its holster.
The total privacy of an enclosed suite is, of course, amazing and when you are ready for bed they will put a mattress on the seat to soften it up.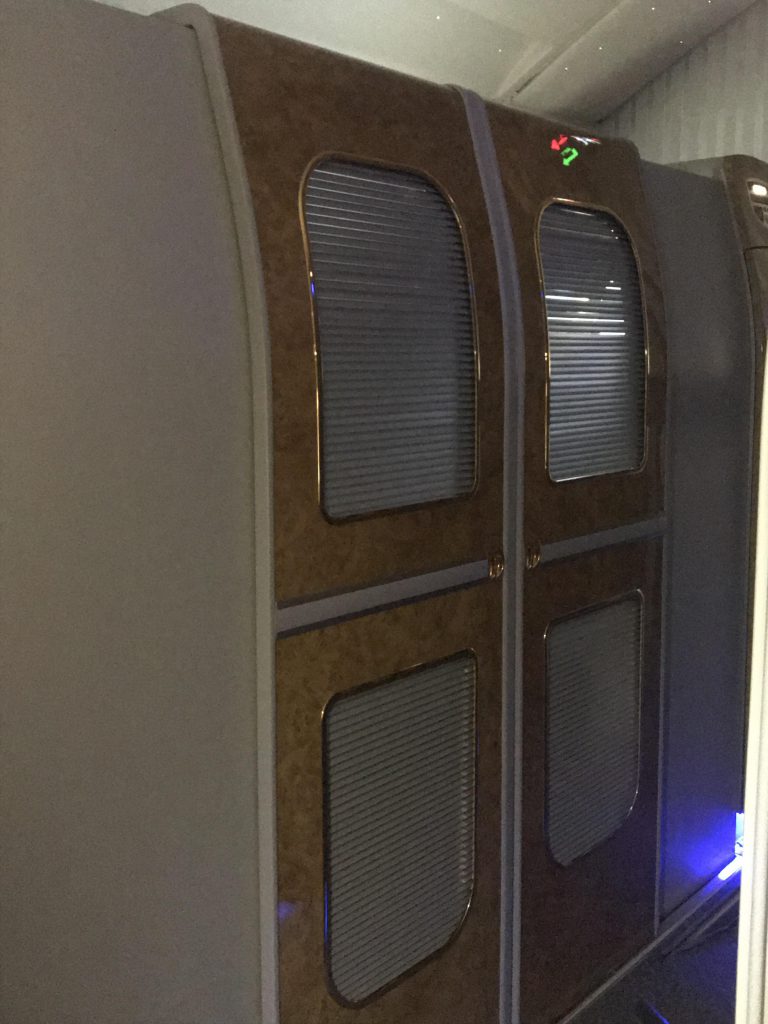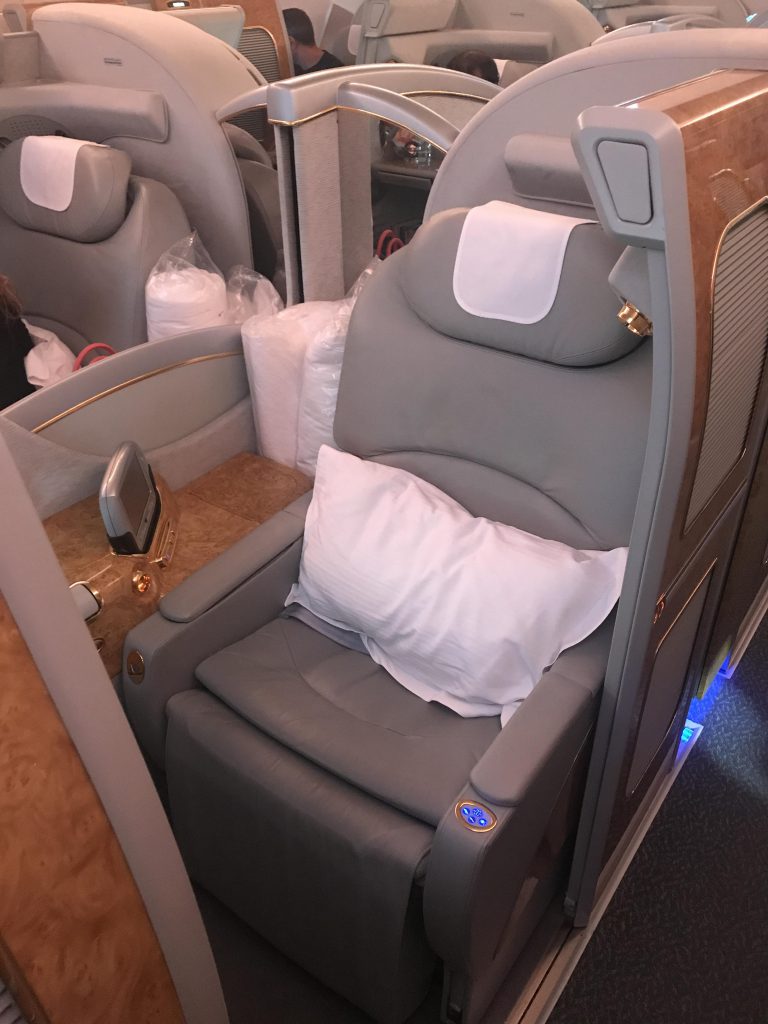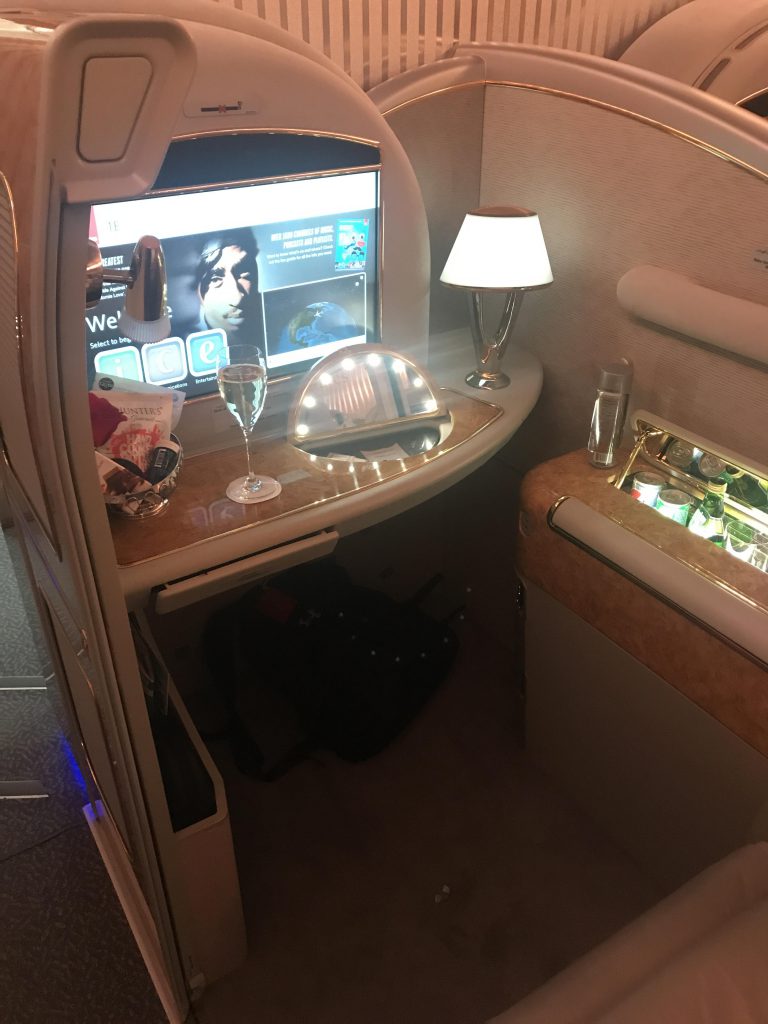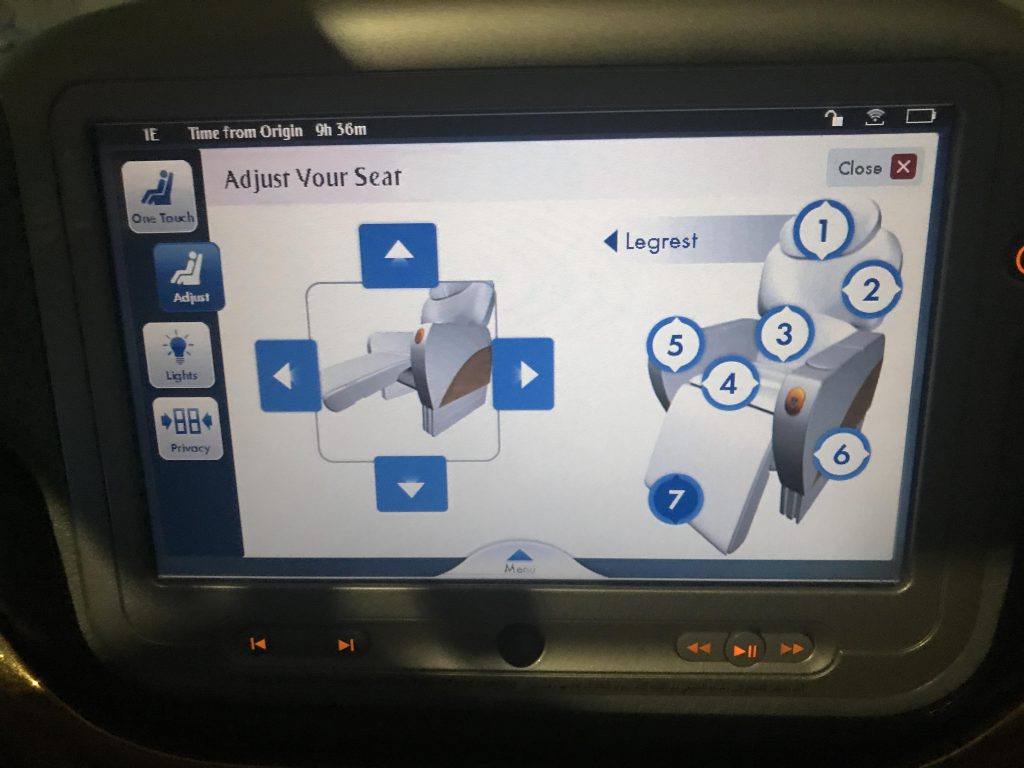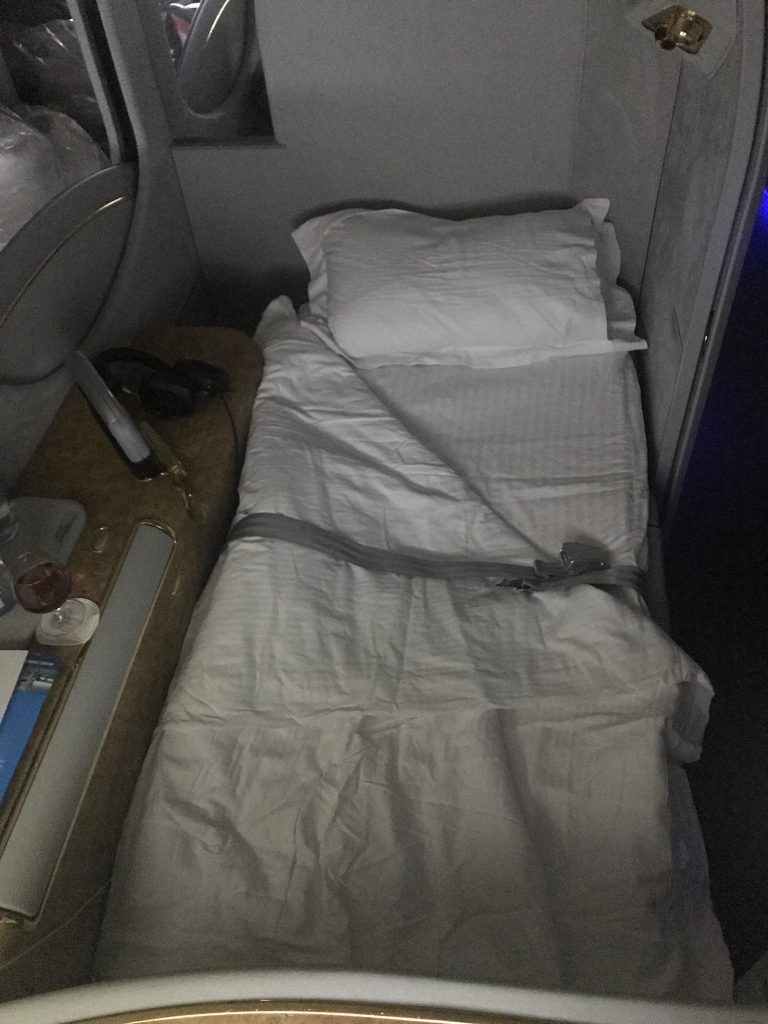 As for the actual comfort of the "bed," I can't say I'd rank it above the bed in Singapore First Class Suites, Qantas First Class, Eithad Apartments, or Japan Airlines First.  It was perfectly "fine."
I know this will be disappointing to some, but that was my experience. I'd very much like to try the "new" Emirates First Class which does look more spacious and modern (in an opulent Emirates sort of way), but I've not had the opportunity. I suspect I'd be more impressed.
There was a snack basket and an array of beverages at each seat.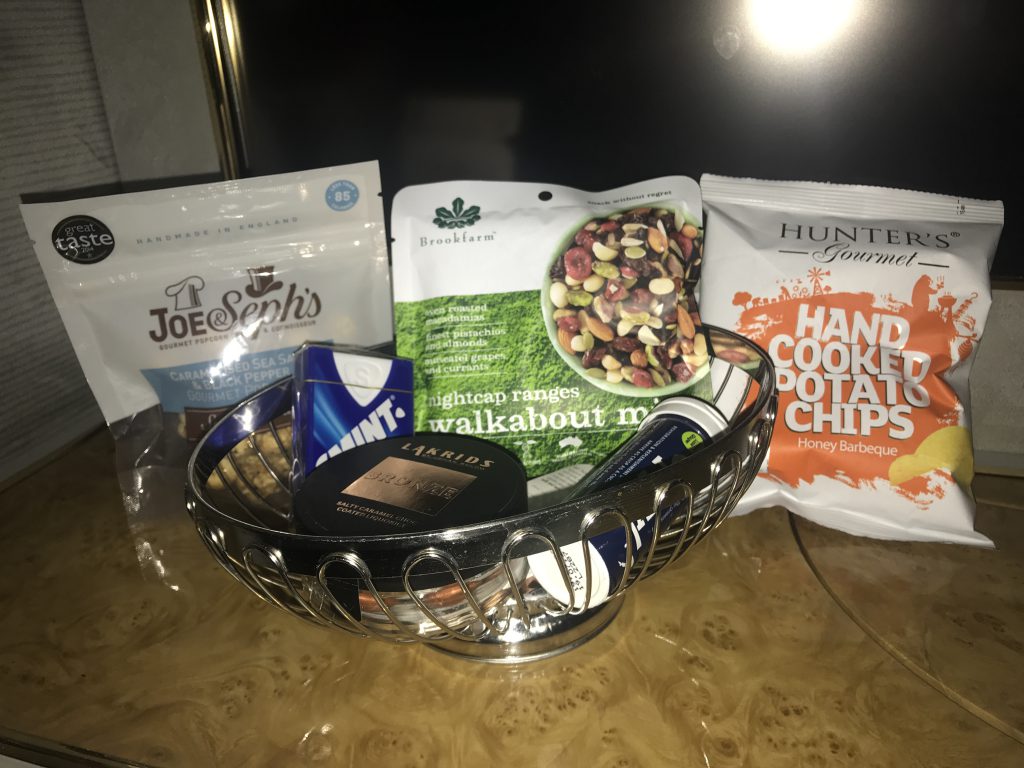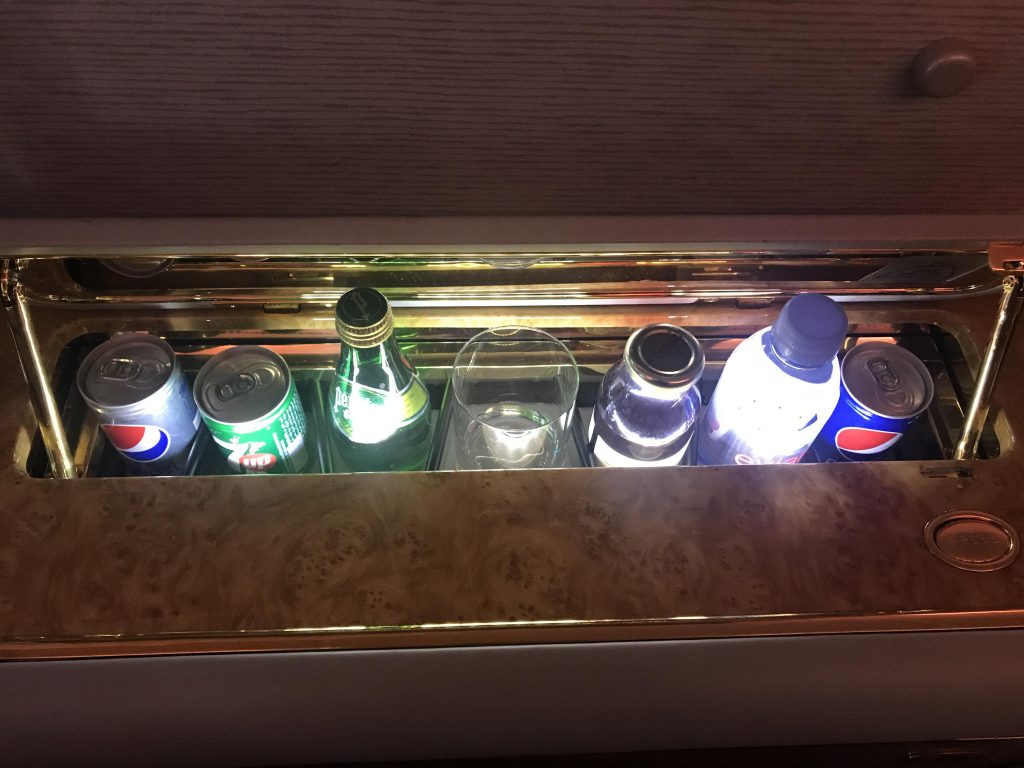 I don't want to give the impression this suite in the sky wasn't fantastic by most counts, but when you have been as fortunate as I have to fly so many international First cabins, it naturally means that some First Class cabins won't live up to what you imagined. Perhaps this is where a product can be a victim of its own hype. For years, especially when Emirates was easy and affordable and surcharge free via Alaska Airlines' miles, every blogger was writing about this product. It seemed like the best there is. And so if I sound disappointed by the size and comfort of the Suite, that's where it comes from.
There's no doubt that if you are traveling solo, the window suites are where you want to be. They will feel more roomy than the connecting middles even though they are technically the same size.
If traveling with a partner, you will probably want to sit together in the middle. The seats are adjacent, though not connecting, so don't expect to sleep side by side.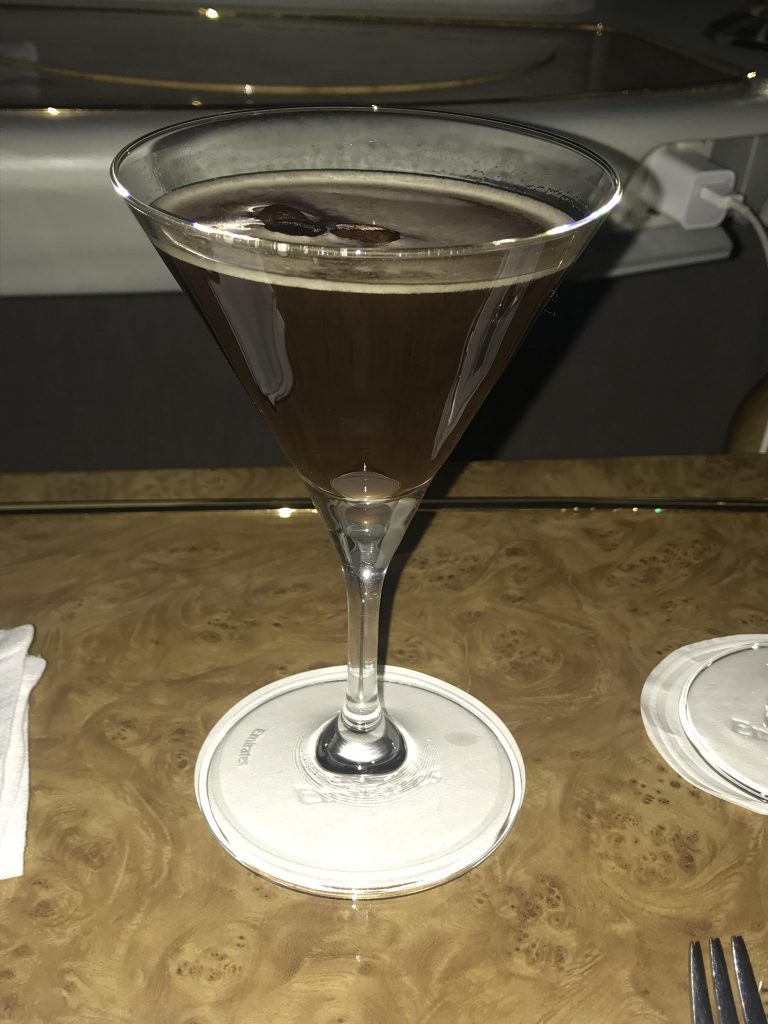 The Food
This was my biggest disappointment with the whole experience. All of the food was pre-prepared and all the crew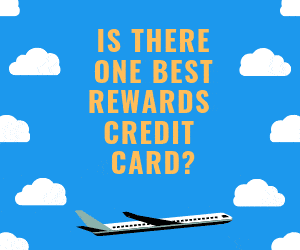 could do was warm up what was in the metal tins. While they didn't run out of items like Etihad did, they also didn't have an onboard chef capable of any custom preparations.
It showed. Nicole wanted her lamb chops rare to medium rare. When they arrived well done, the explanation was that all they can do is press a button that cooks them for a pre-defined period of time. She was not pleased. The chicken madras dish I had was definitely fine, but nothing "First Classy."  And the "french toast" i had for breakfast had some downright awful tasting thing in between each of two slices of bread rendering it inedible.
While on Etihad I wanted to sample all of the delicious food, with Emirates I was content to be full.
Here are photos of the menu: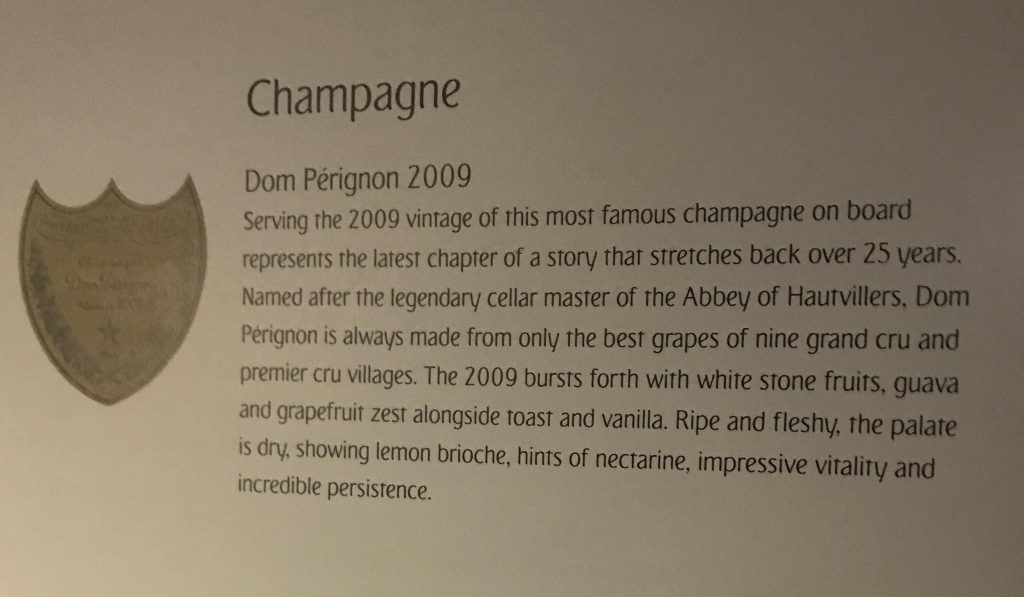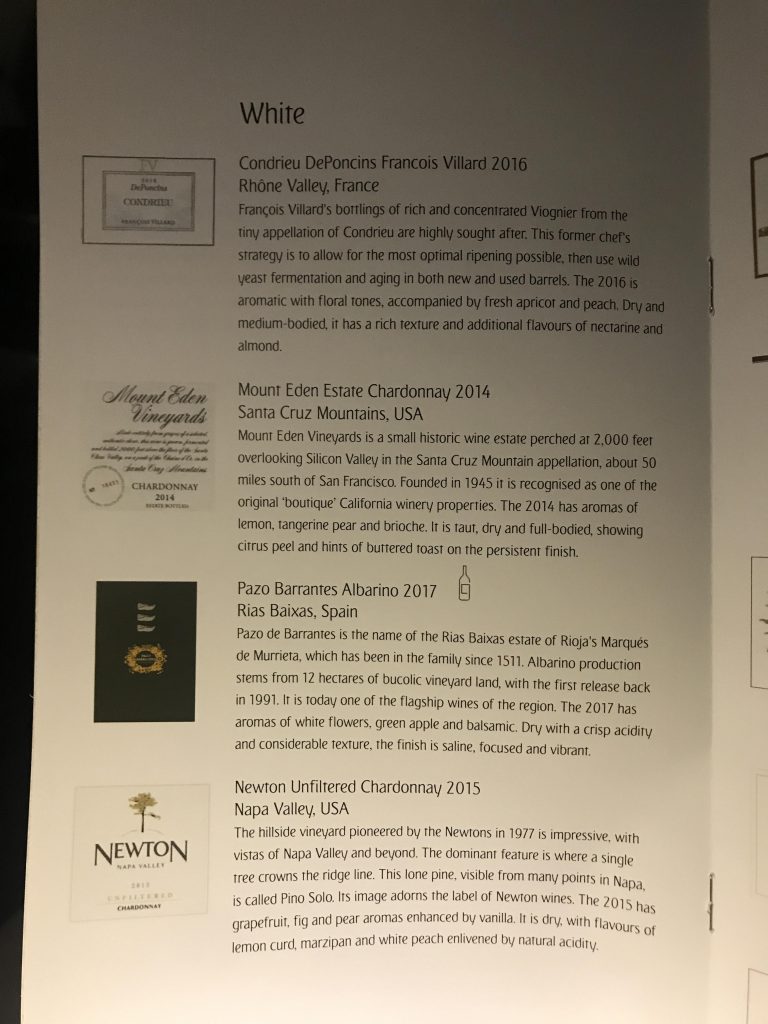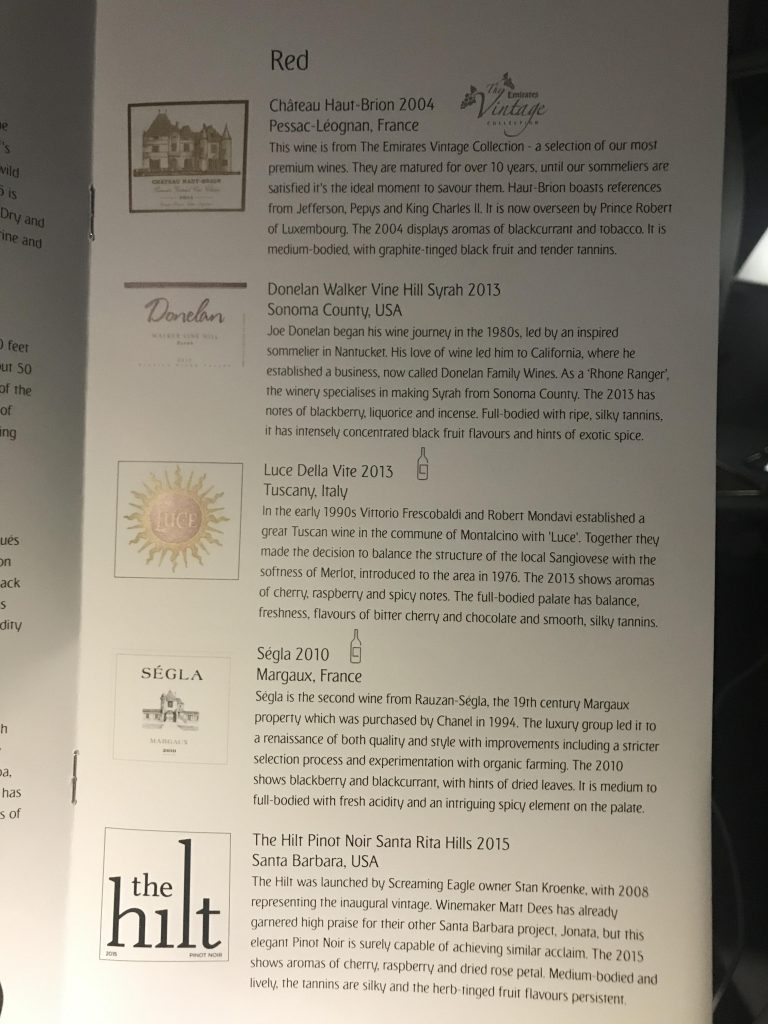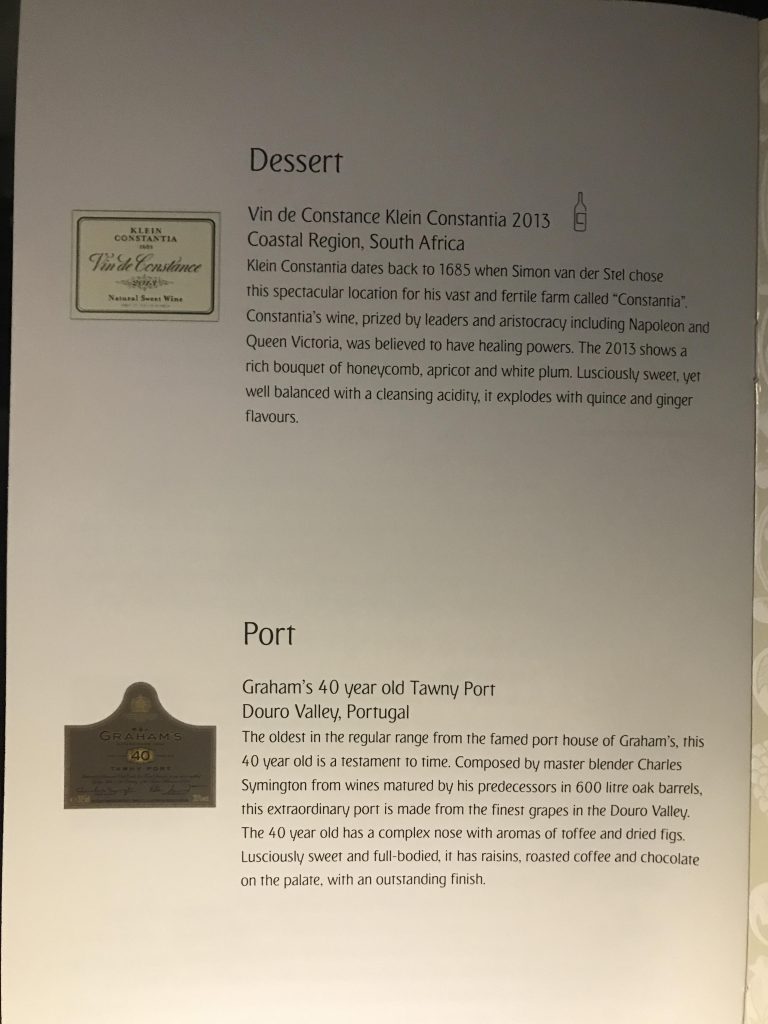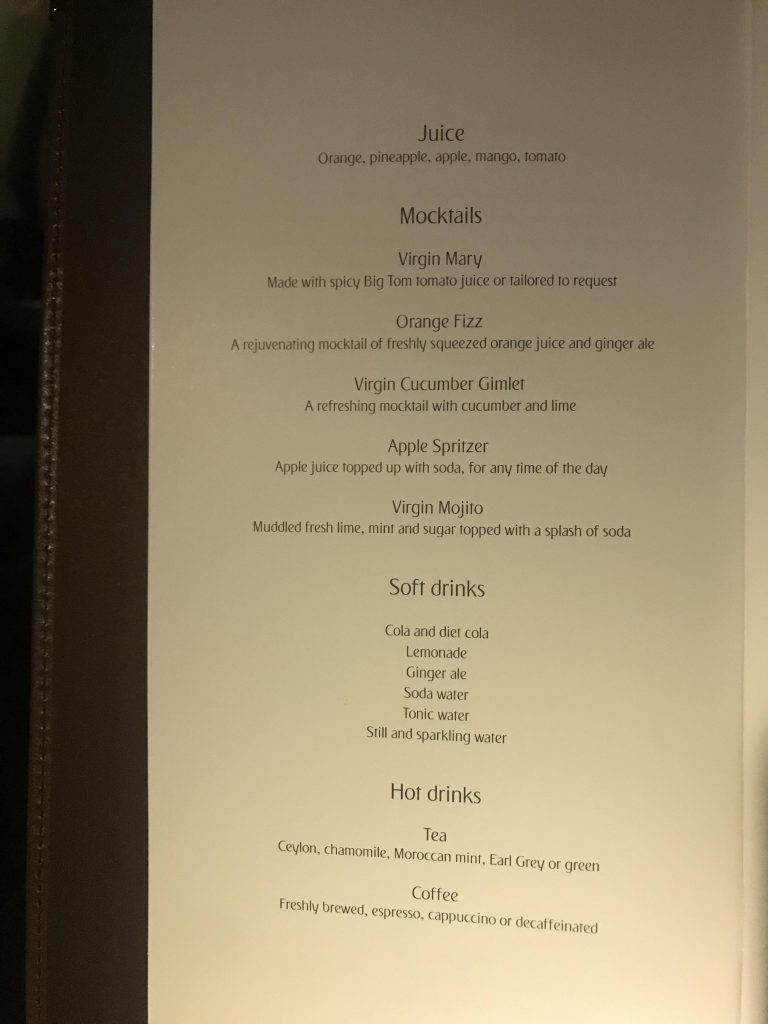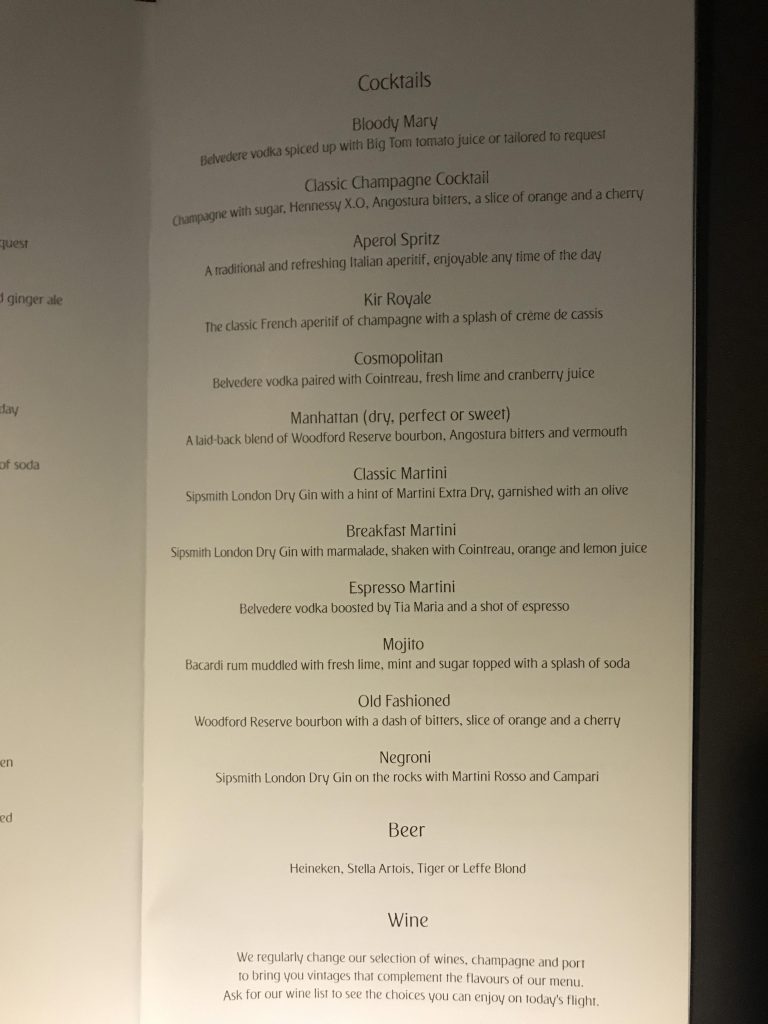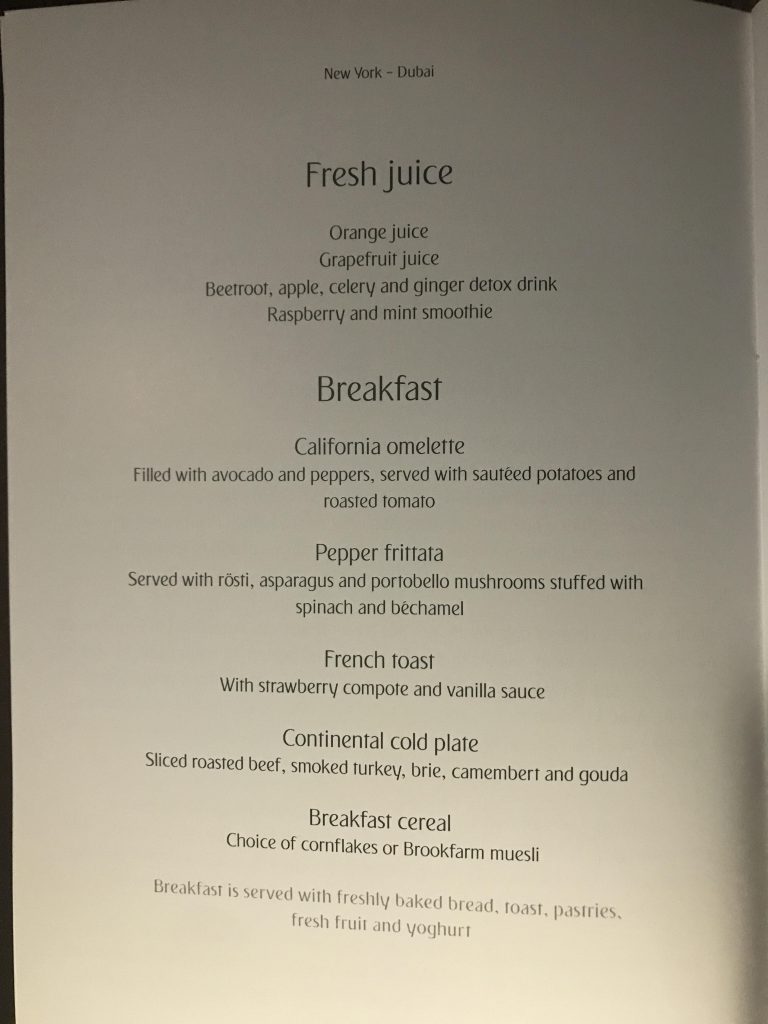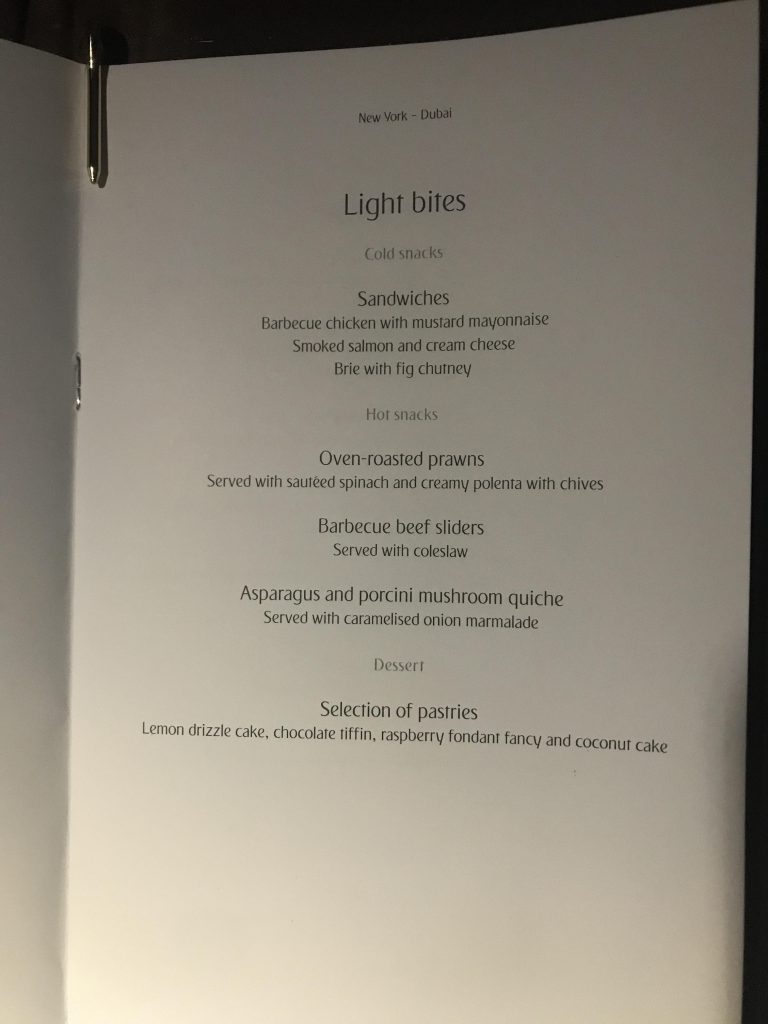 My Meal
Of course, it started with more champagne….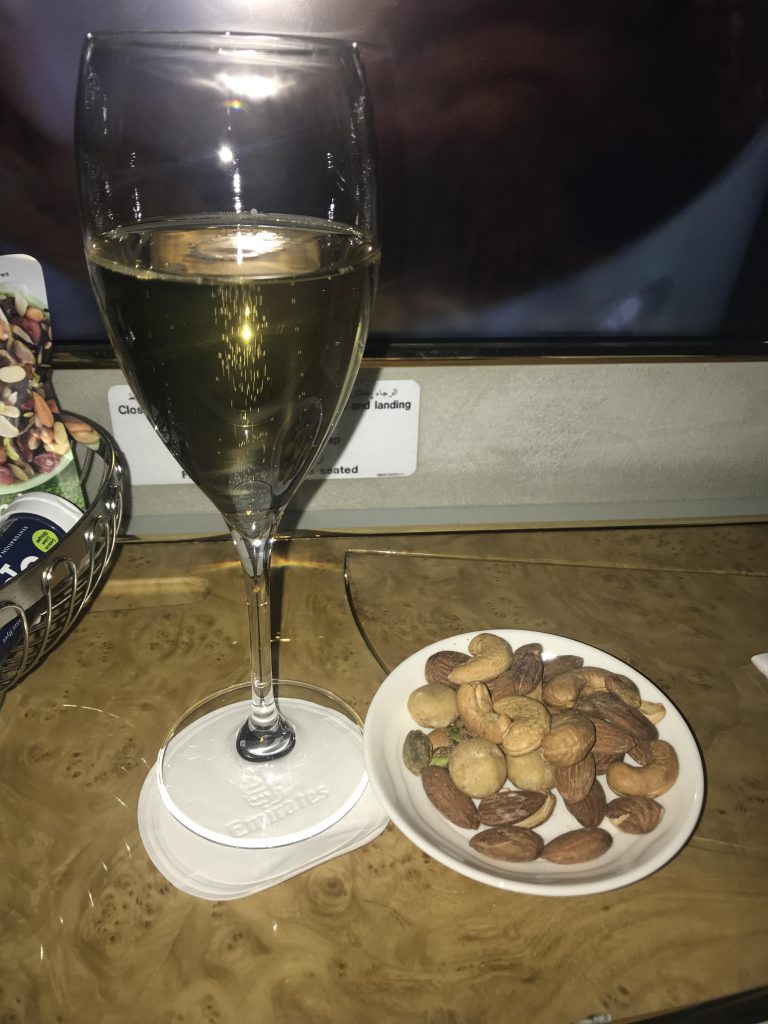 I started with the truffle arancini. Sounded amazing. They tasted microwaved, though.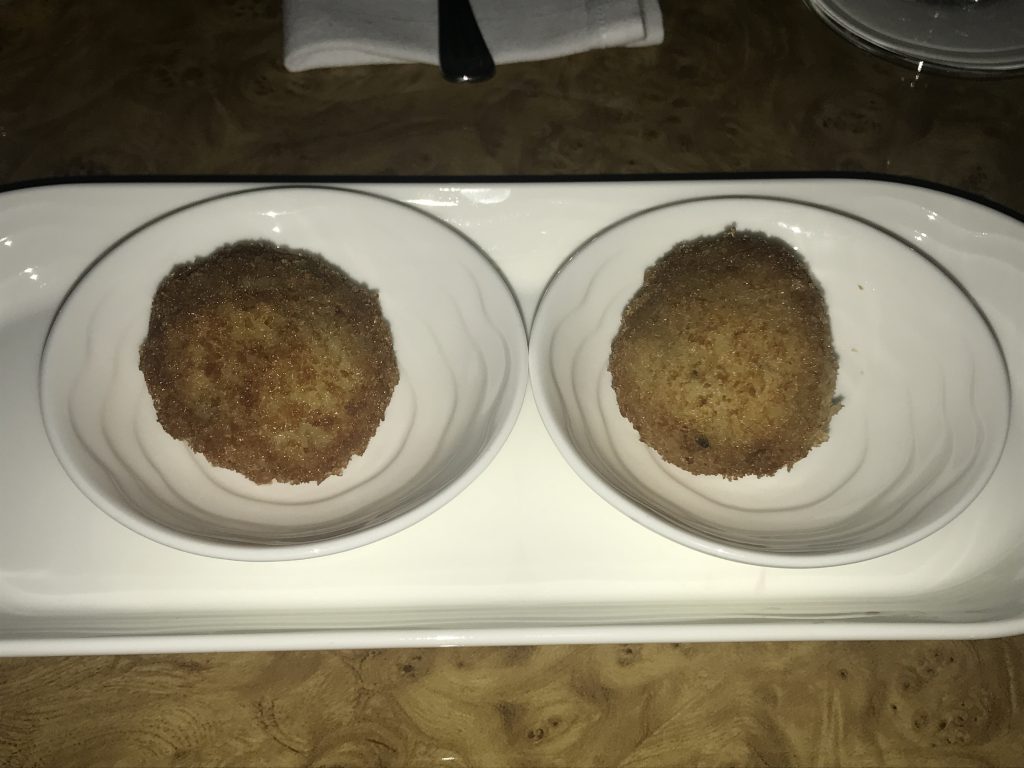 And then the Cream of Spinach Soup. It was tasty.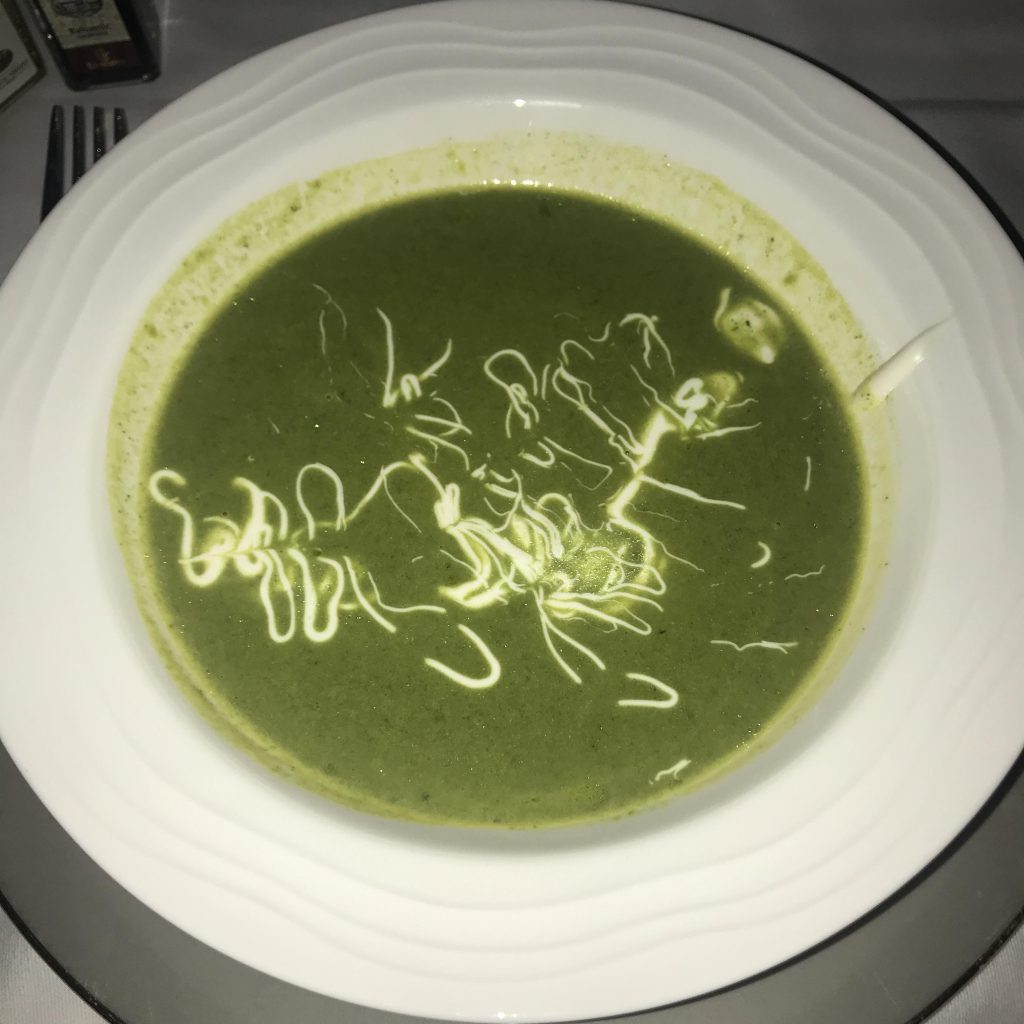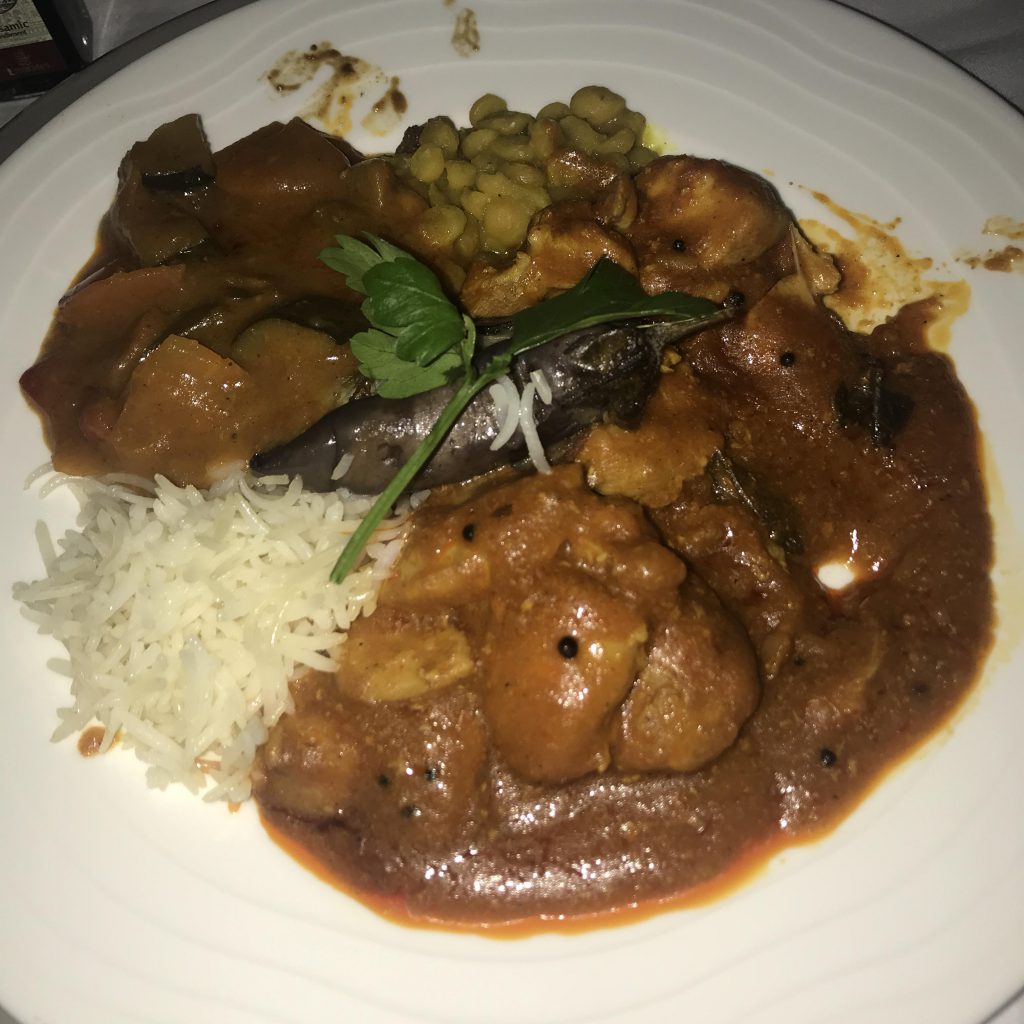 The chicken madras was tasty even if not super special. I'd order it again.
I skipped dessert since I was planning a second meal and wanted to nap early.
For meal number two, I had the lamb chops, followed by some French Toast like thing and then a dessert.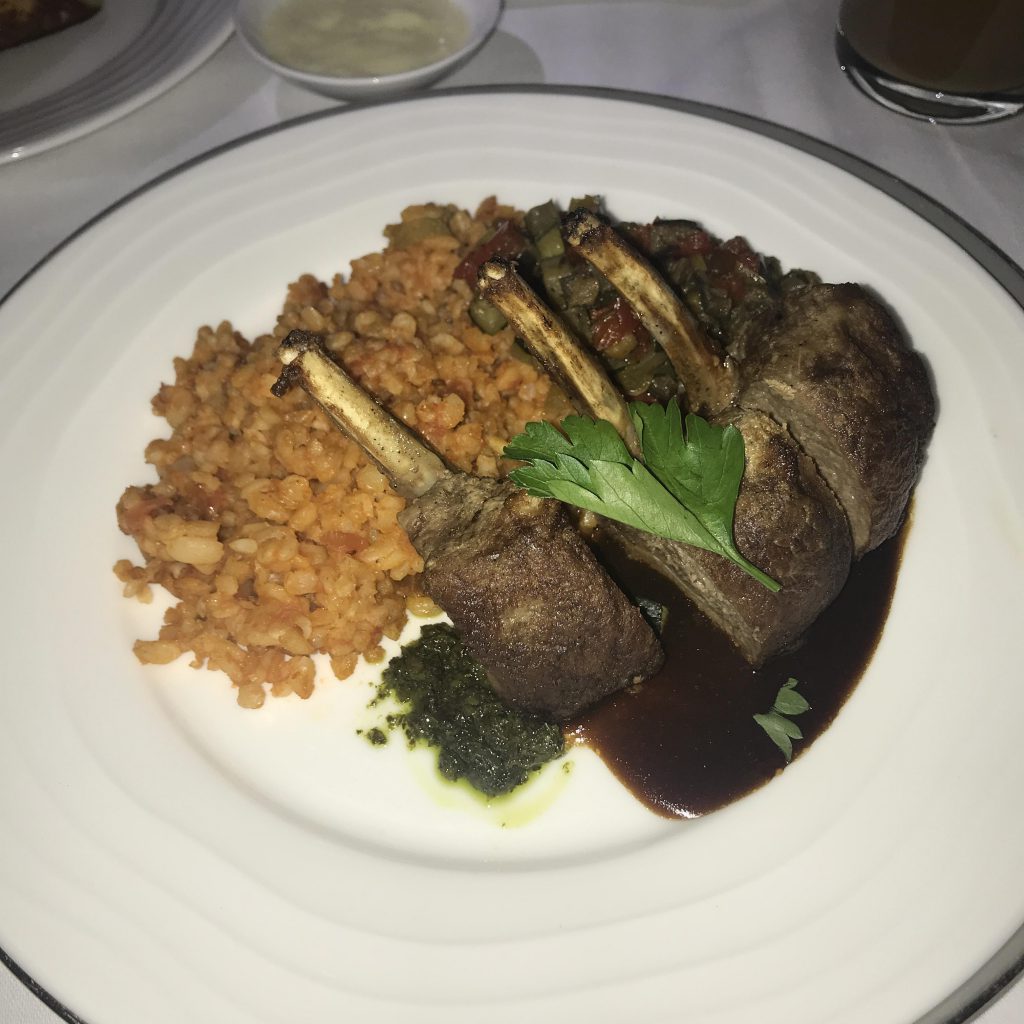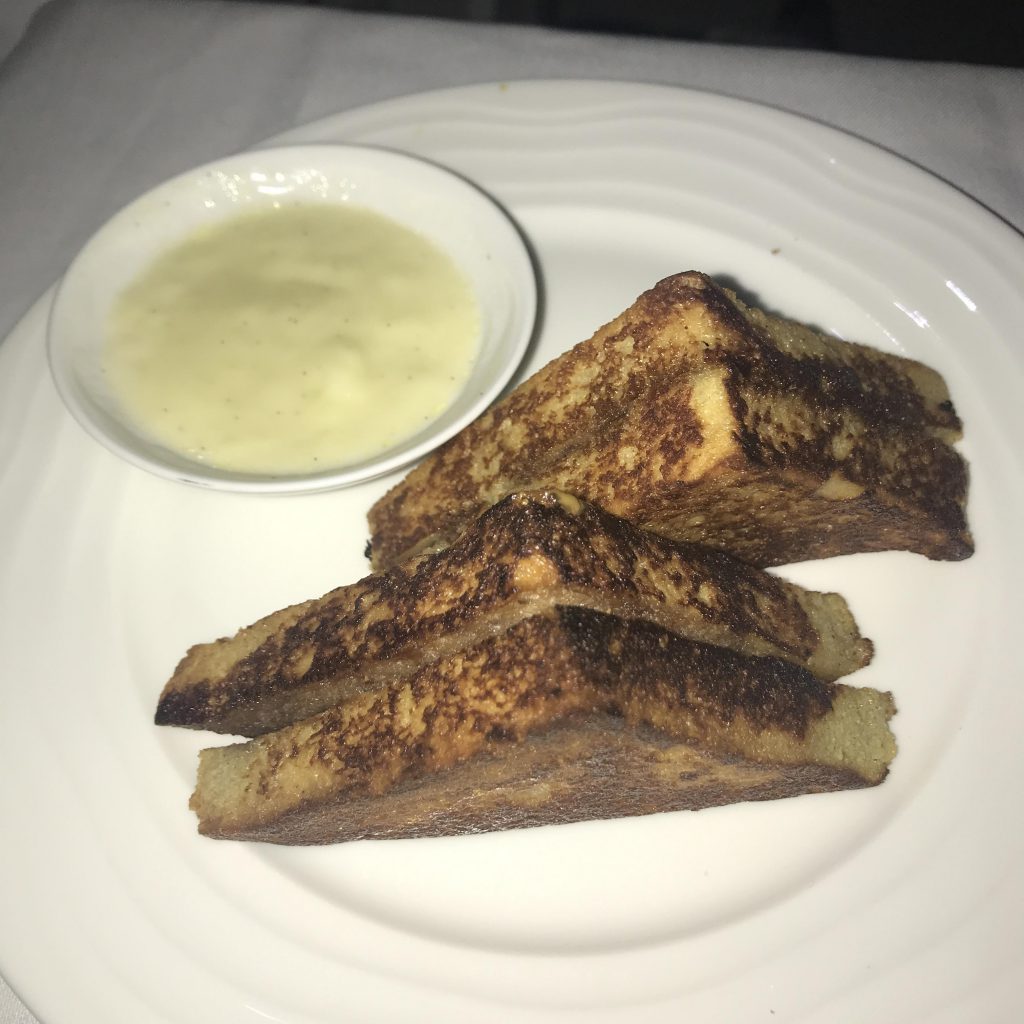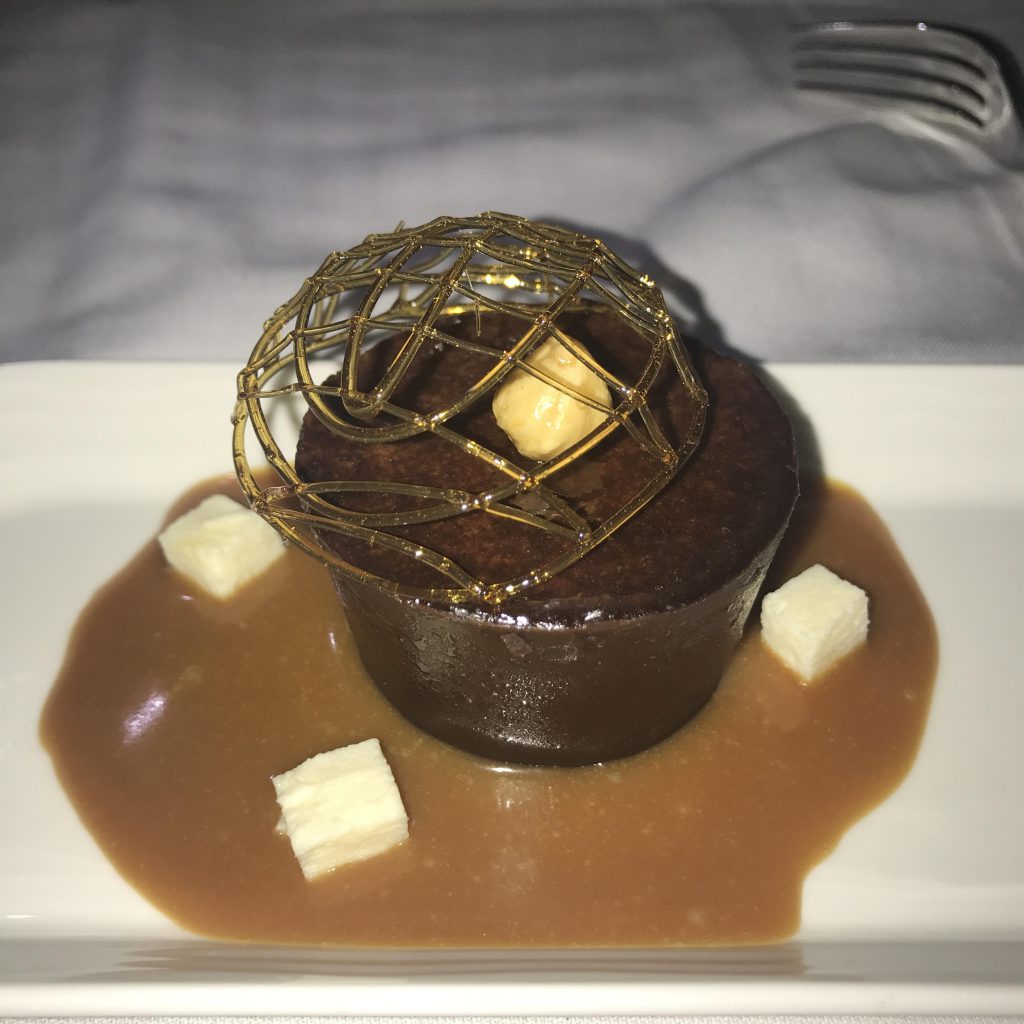 The lamb chops had potential but were cooked past well done. Like I said, you have no choice there.  They push a button.
The French Toast was awful. There was some sort of something (jam? I really don't know) stuck between the pieces and one bite was all I could do.
The chocolate drum was fantastic. That was a good call.
Pajamas
These were great. Super soft and comfortable. Slippers, too. Very easy to walk to the massive bathroom / shower to change.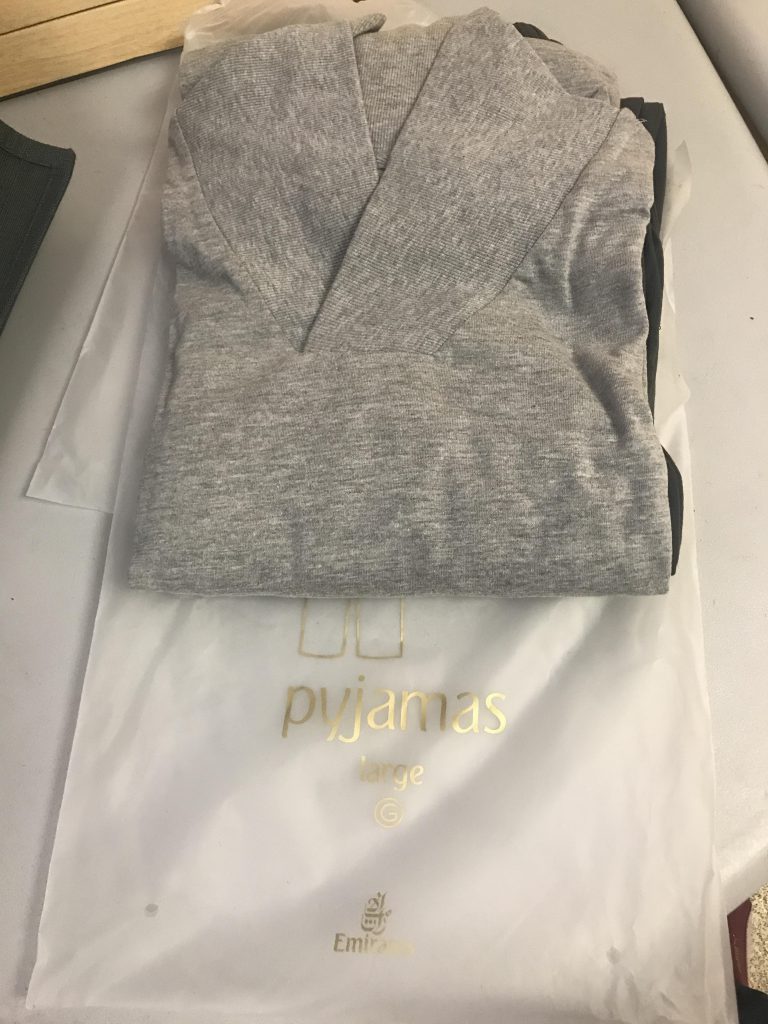 The Shower
Yes, you can shower in the air, and it's awesome. While some say this treat is overrated, on a flight this long it's quite possible to break a sweat even just while sleeping. Having the shower allows you to feel good on arrival and ready to hit the ground running.
You get 30 minutes in the shower facilities (just one of the same two giant bathrooms available to First Class the whole trip) and 5 minutes of running water. The dial shows your remaining water time so you can plan accordingly.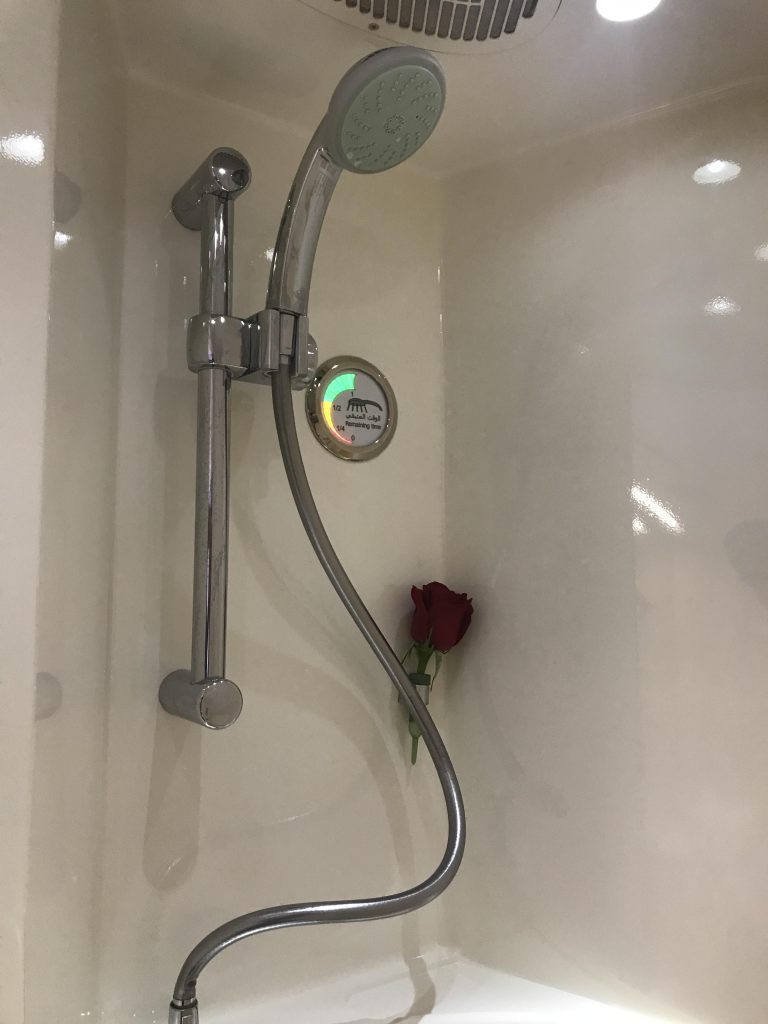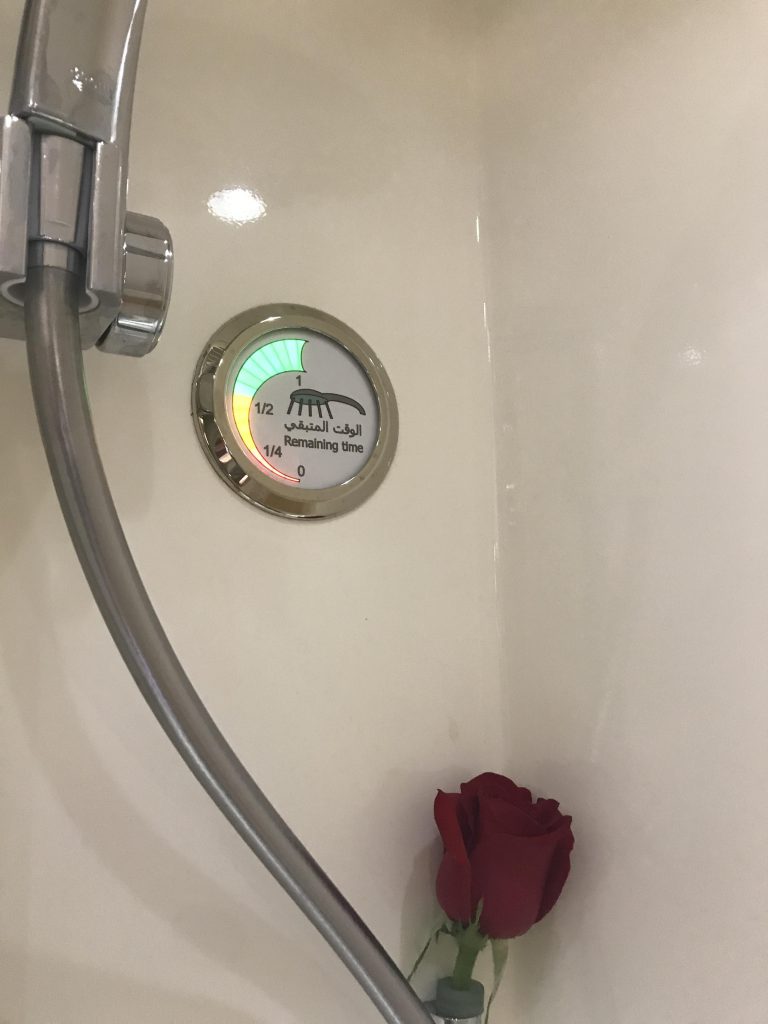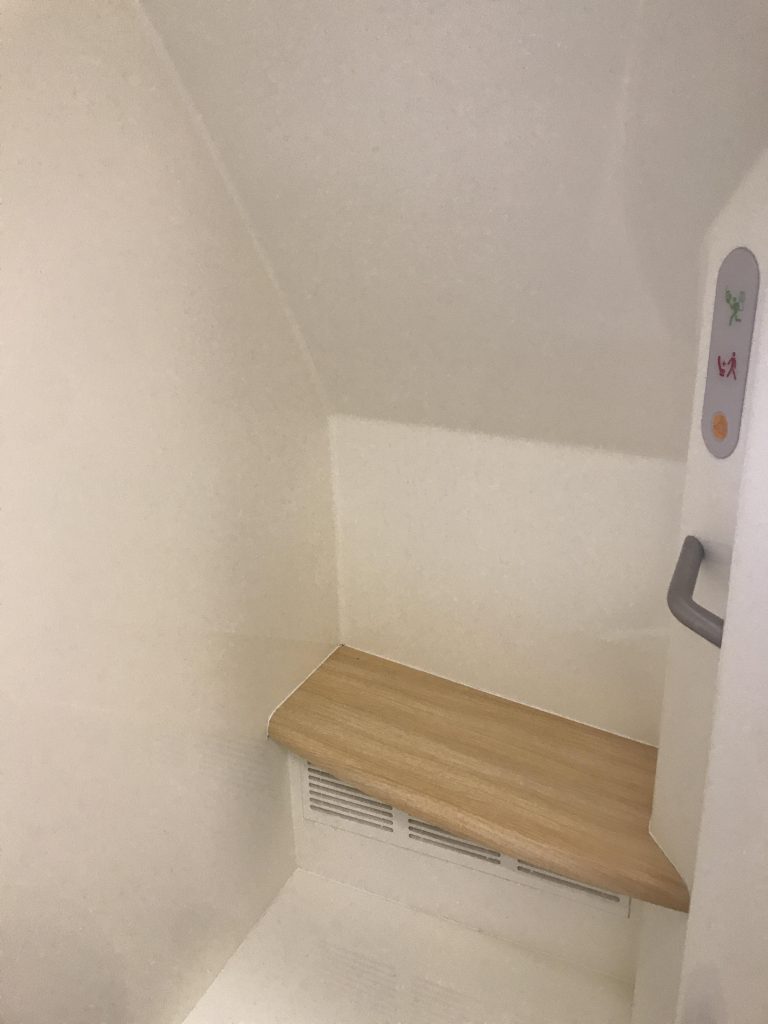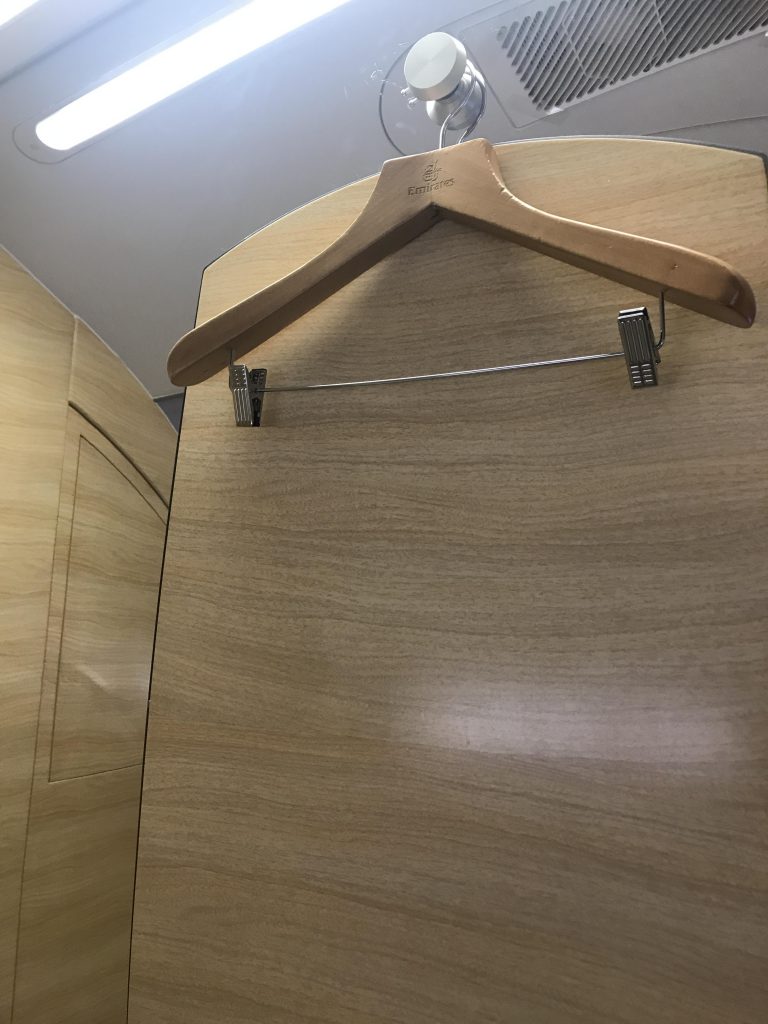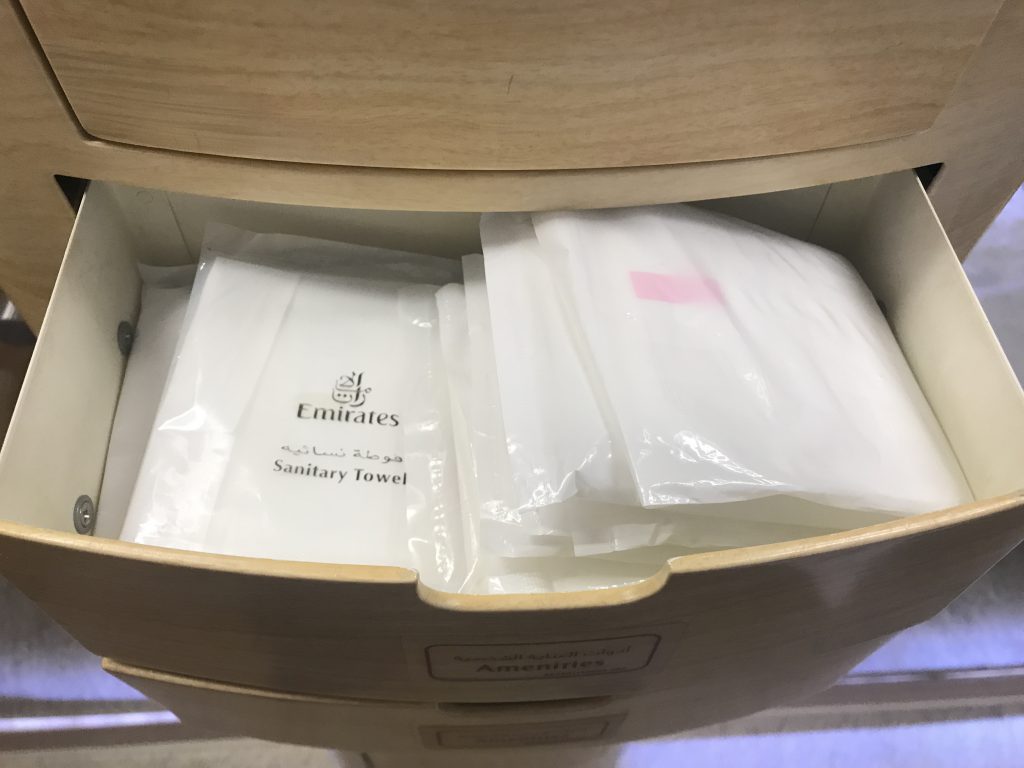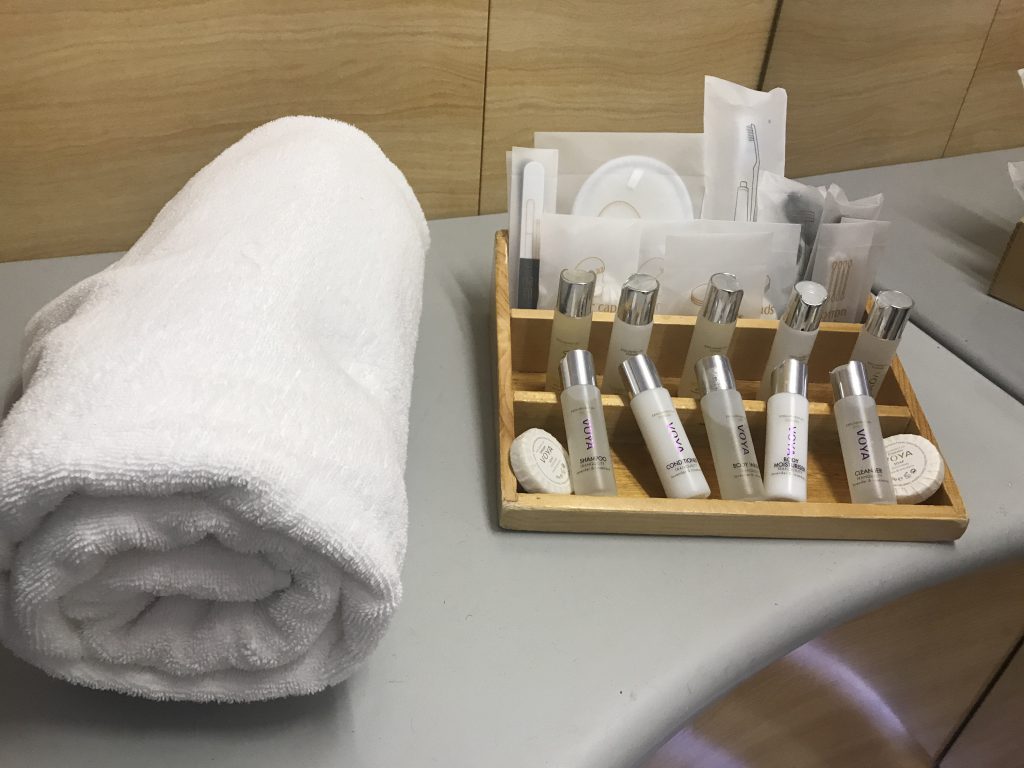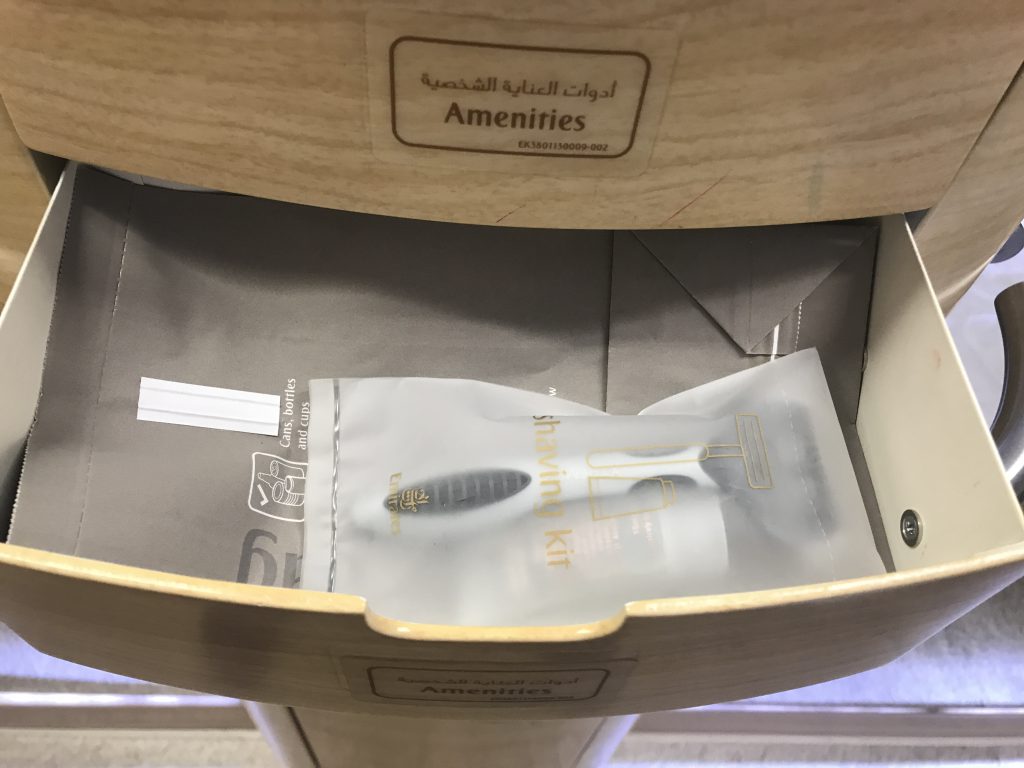 The Service
I was a bit surprised that the service, for all the talk about Emirates First Class, wasn't more over the top. It was perfectly fine, but there were certainly times it took me much longer than I'd have expected to get the attention of a flight attendant and I was never quite clear which one was the one I was supposed to try to flag down. My girlfriend and I *seemed* to have different FA's focused on us, and as hers was a bit more attentive, I found myself flagging him down whenever he tended to her.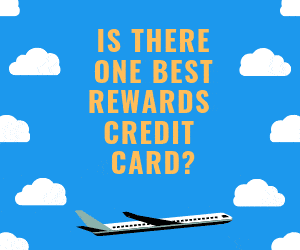 The Bar / Lounge
I think the Business Class passengers are more likely to use this area, to stretch and get drinks quicker than via the call button.
With the Suite in First, and a much more premium First Class selection than here at the bar, there's not too much reason for First Class to venture back here other than the novelty or an excuse to take a walk and stretch.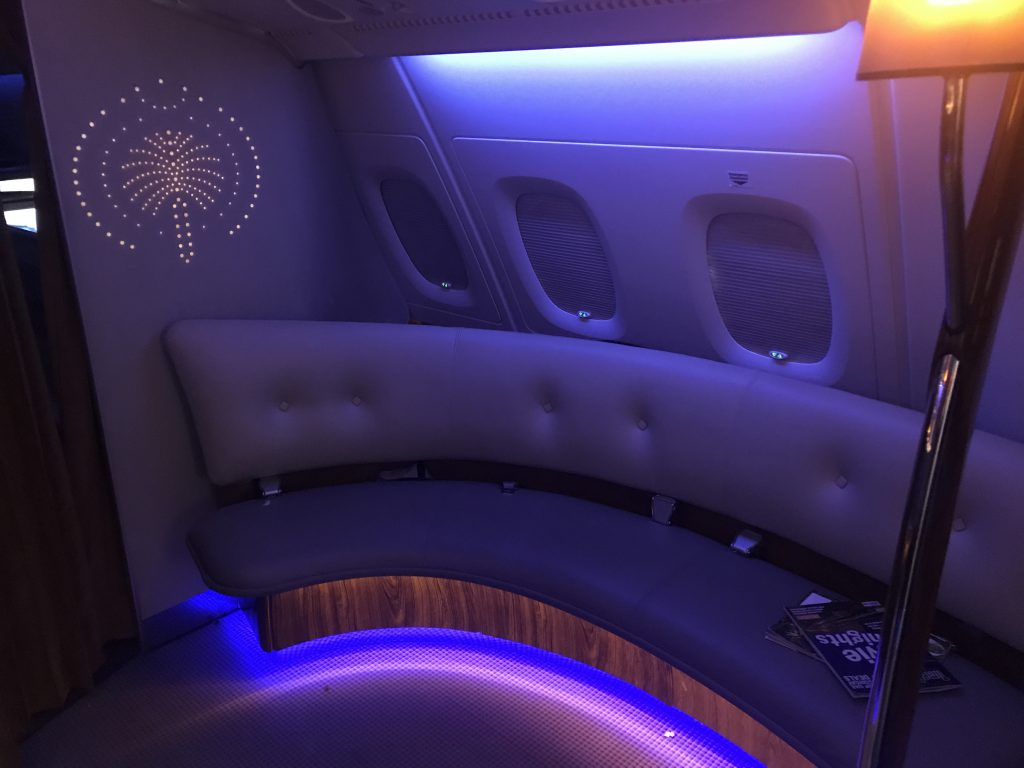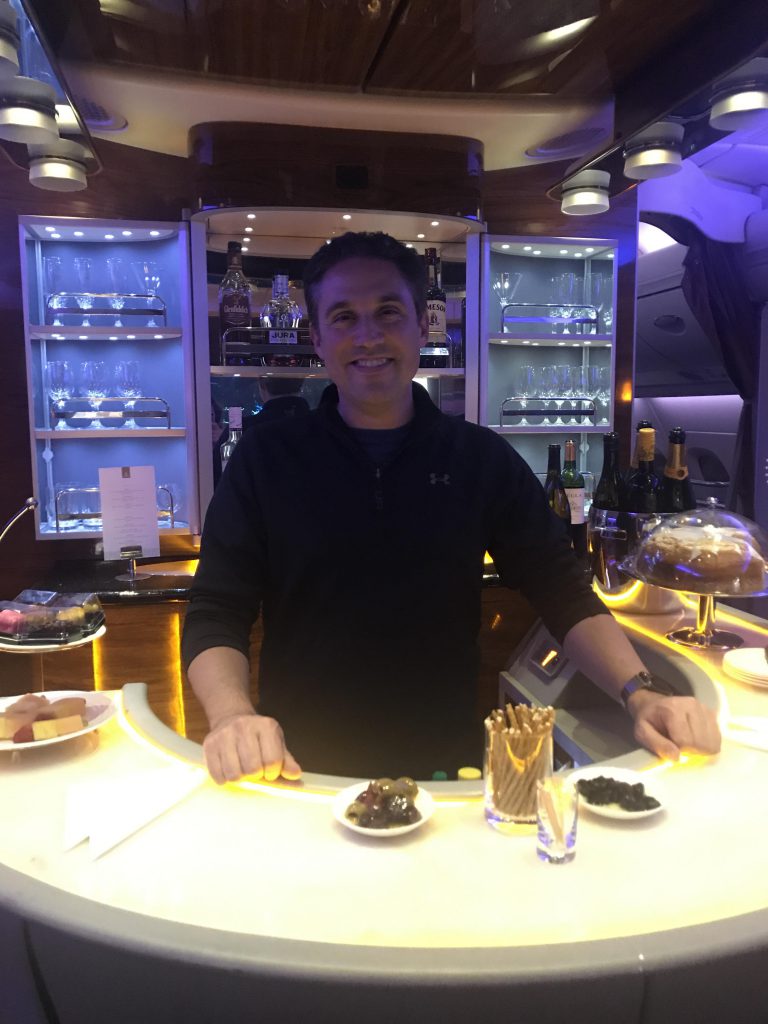 The In-Flight Entertainment
The system, which they call ICE, has a tremendous amount of programming to watch on your giant screen. Most people would have quite a hard time running out of programming they'd enjoy to keep them occupied for the whole trip.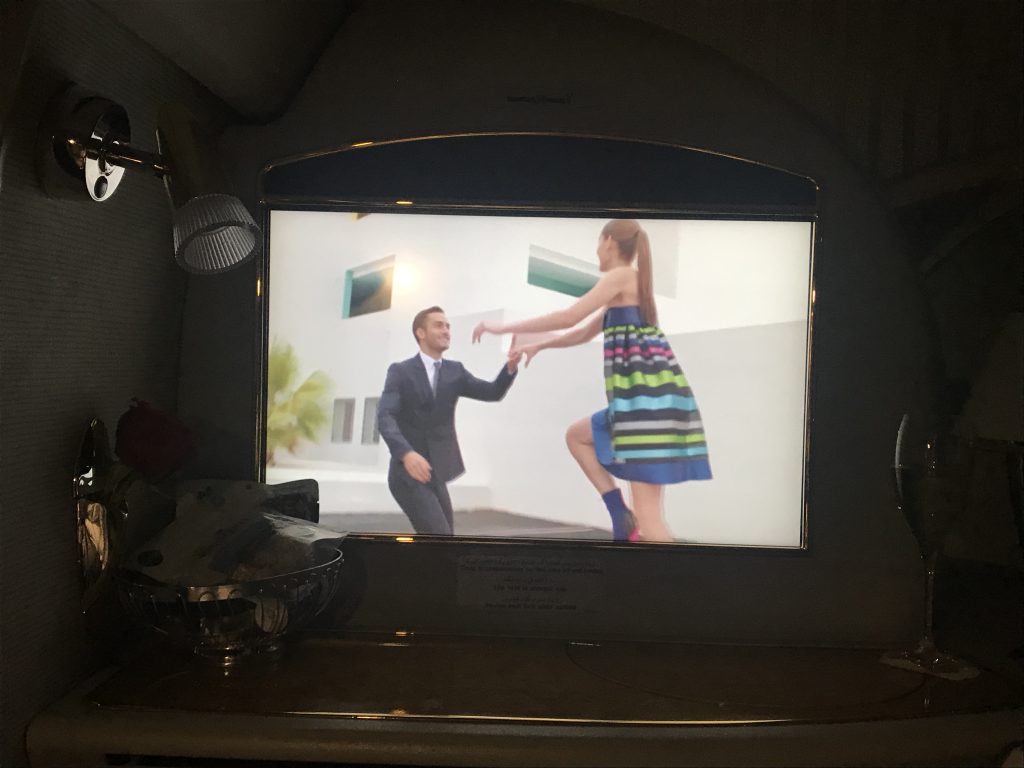 The Wi-Fi
It was included for free for First Class passengers as long as you have the reservation linked to your Emirates Skywards account, otherwise I believe there may have been a limit. The speed was pretty slow and I wasn't able to get a ton of work done, but at least it was free. I really appreciate the touch of free Wi-Fi in the premium cabin. We did lose service altogether for a few hours as we approached the Middle East.
Arrival to Dubai
Once we collected our bags, we headed over to the Emirates Chauffeur Drive area (it felt like a small terminal) and then to the seller First Class desk. We presented our tickets and received a paper that we could use outside for the driver. There are different queues and cars for First Class and Business Class passengers, with First getting noticeably nicer cars. We got a Mercedes S450 like this one. It wasn't bad….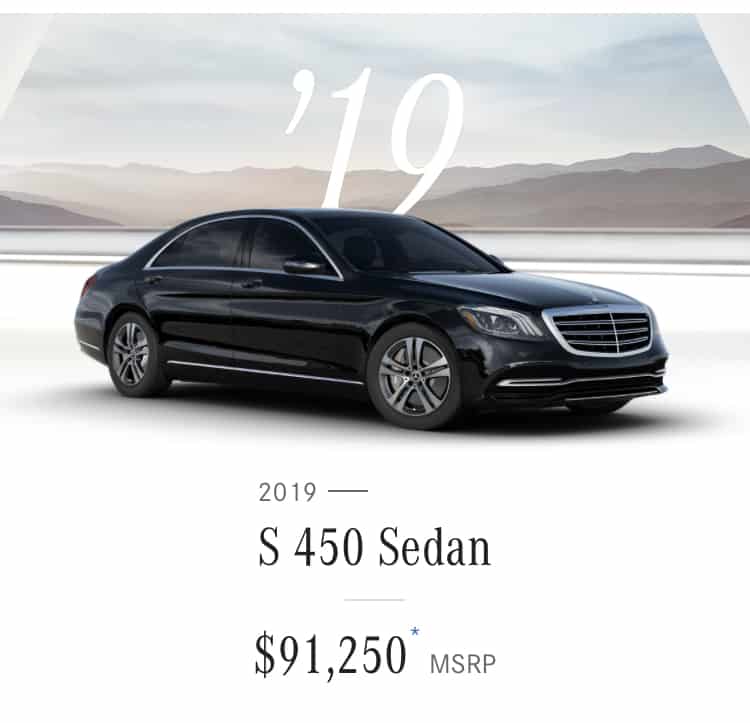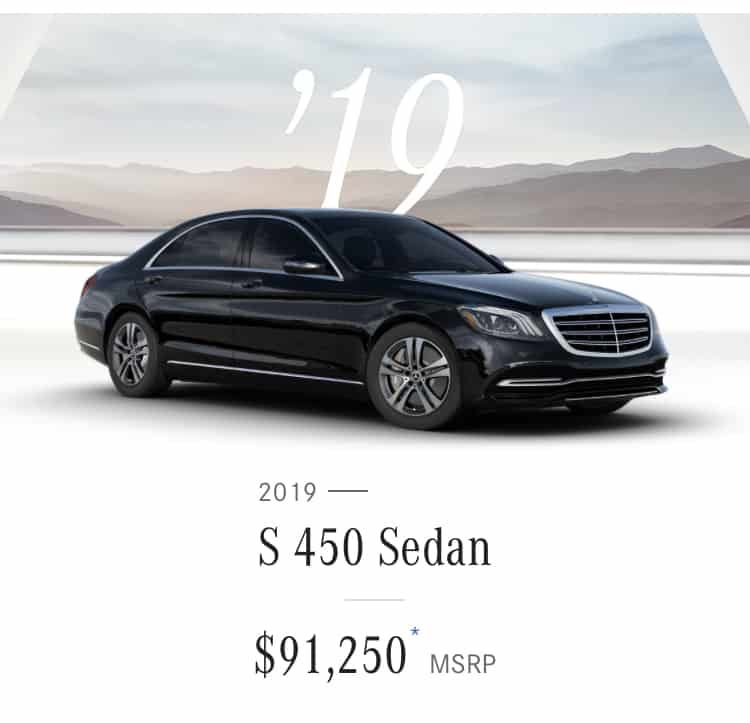 Overall Impression
I think you already get the idea of how I felt. It was magnificent compared to any business class, no question, but compared to other First Class products I've been on, it wasn't at the top. I'd give it a 8/10 overall.
I have heard other people that swear it's the best product in the sky. It might be for you. If it has been on your radar, I'm happy to help you figure out the best way to redeem miles for it. If you find yourself in the position of only being able to try this or another First Class, perhaps this helps you choose.
My goal, as always, is to share my experiences for two reasons: 1) To inspire you to put in the work needed to earn the miles so you can have your own experiences, and 2) To provide a bit of a less-polished, less-gilittery style of review. I know that sounds odd, but when a major publication does a review, with all its polish, I think sometimes you get sold on something that won't live up to the hype. Just sitting there with a perfect picture of me in bed with champagne sells a dream. I'm giving you my experience so you can decide for yourself. And when I'm truly blown away, as I was in my review of the W Maldives, I'll tell you that too.
In a parting shot, since we have an inside joke over in the MilesTalk Facebook group that the below pose is "The MilesTalk," here you go…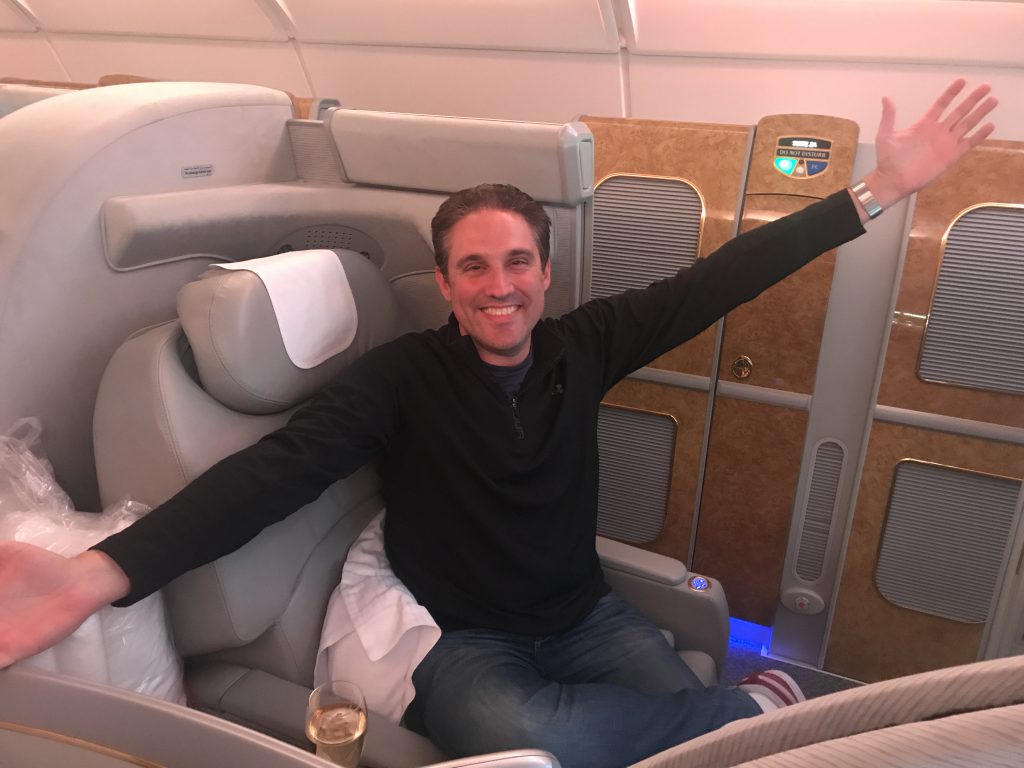 Ethics Disclaimer: As stated at the outset, we each paid 161,500 miles, transferred from my American Express Membership Rewards account, + a $874.50 cash surcharge for the one way First Class flight from New York to Dubai and a connecting flight following a stopover in Dubai to Male in Business Class. No goods or services were gifted to me by Emirates for my review.
Have you flown the Emirates A380 in First Class? Did you have a different experience?  Let me know here, on Twitter, or in the private MilesTalk Facebook group.
New to all of this? My "introduction to miles and points" book, MilesTalk: Live Your Wildest Travel Dreams Using Miles and Points is available now.