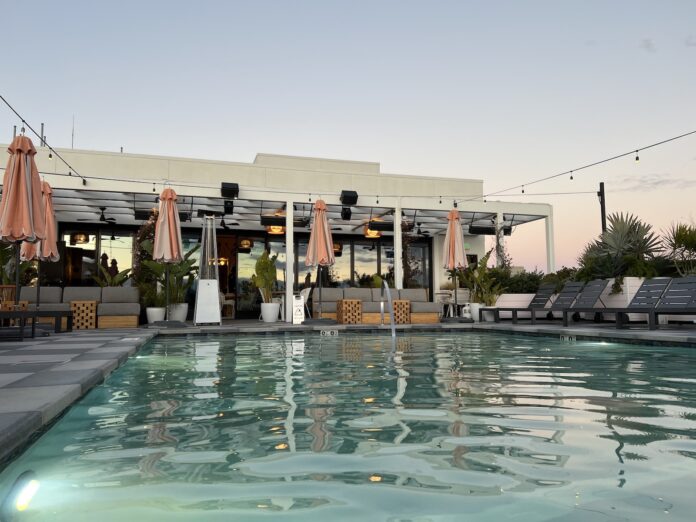 My normal go-to areas of the LA area have been Santa Monica and Westwood, but I wanted to branch out so that I could get some Hyatt nights in (I'm determined to re-qualify for Globalist!) and I'd heard good things about the Shay. And I figured, worst case, it's not that far from anywhere I want to go.
Location and Check-In
The location turned out to be absolutely perfect. Culver City has gentrified in a huge way since the first time I came here 7-8 years ago. Culver Blvd and Washington Blvd are both full of new condos, new bars and restaurants, and new stores. (Venice Blvd is, well, unchanged.)
The Shay sits directly next door to the Culver City stop on the Metro line and so you can get to the ocean in about 15 minutes for $1.75 without having to worry about parking.
Speaking of parking, while the Shay charges $50 + tax for valet (and does not offer self parking), the Metro lot next door allows long term parking (3 days at a time) at $3 a day. Worth the 5 minute walk to me!
The agent that checked me in, Brittany, was also an absolute pleasure to chat with. She not only made me feel welcome and valued as a Globalist, but genuinely made me feel like this would be a nice, friendly spot to spend the next 6 days.
The Room
The hotel is new and beautiful and right from check-in I felt very welcome. I had used a Suite Upgrade Award to move from a standard room to a 1 Bedroom Suite and they further upgraded me to one with a balcony which was a very nice touch. The room is about 700-800 sq ft. Here's a video tour.
Breakfast and Dining
Globalist breakfast includes an entree, juice and coffee. It's not the most elaborate menu but it's also not bad at all. I forget the name of the dish below, but it would have been around $28 so it at least felt like a good value with the Globalist benefit. It was sunny-side up eggs over crispy kale with breakfast potatoes and bacon.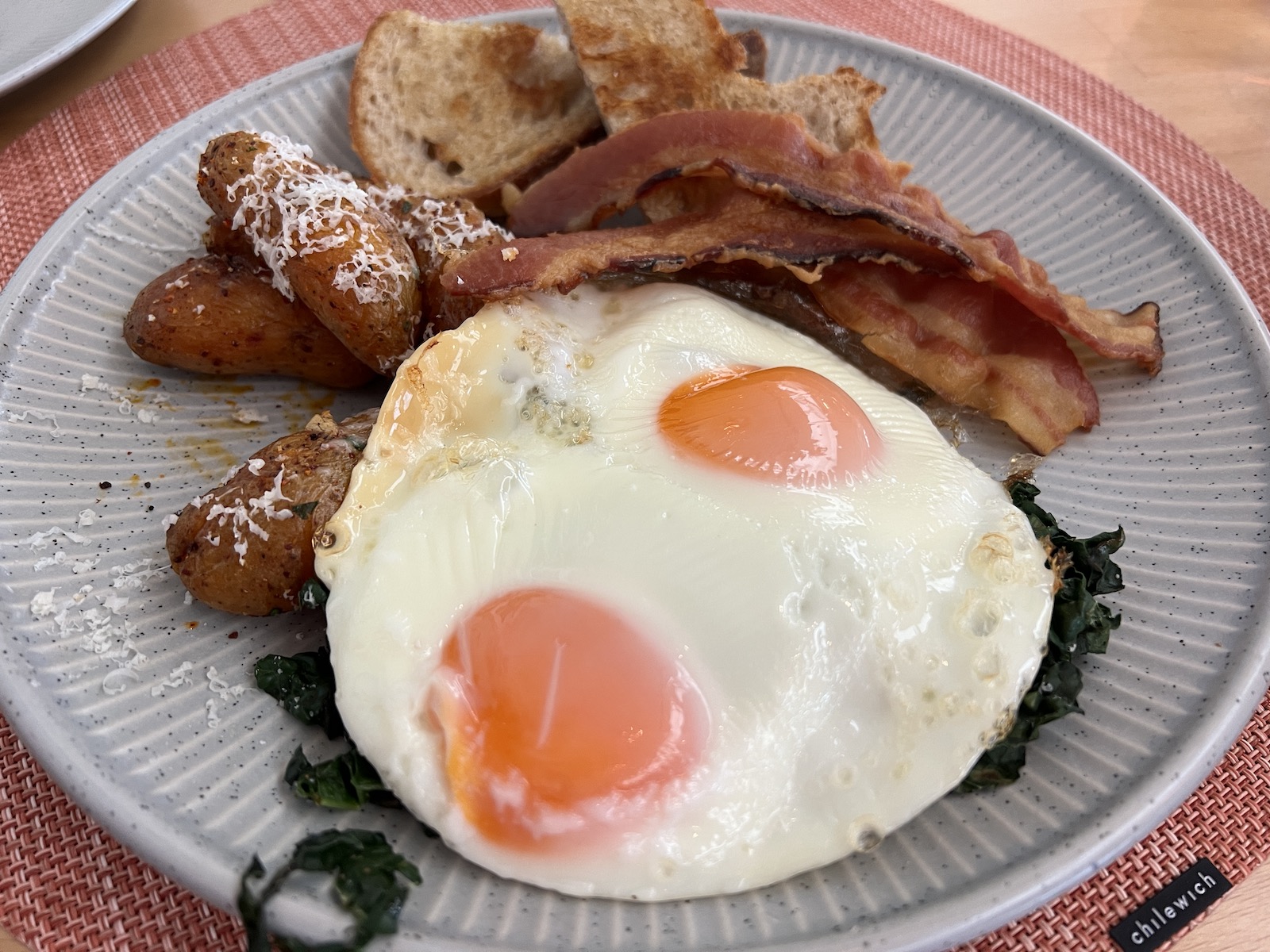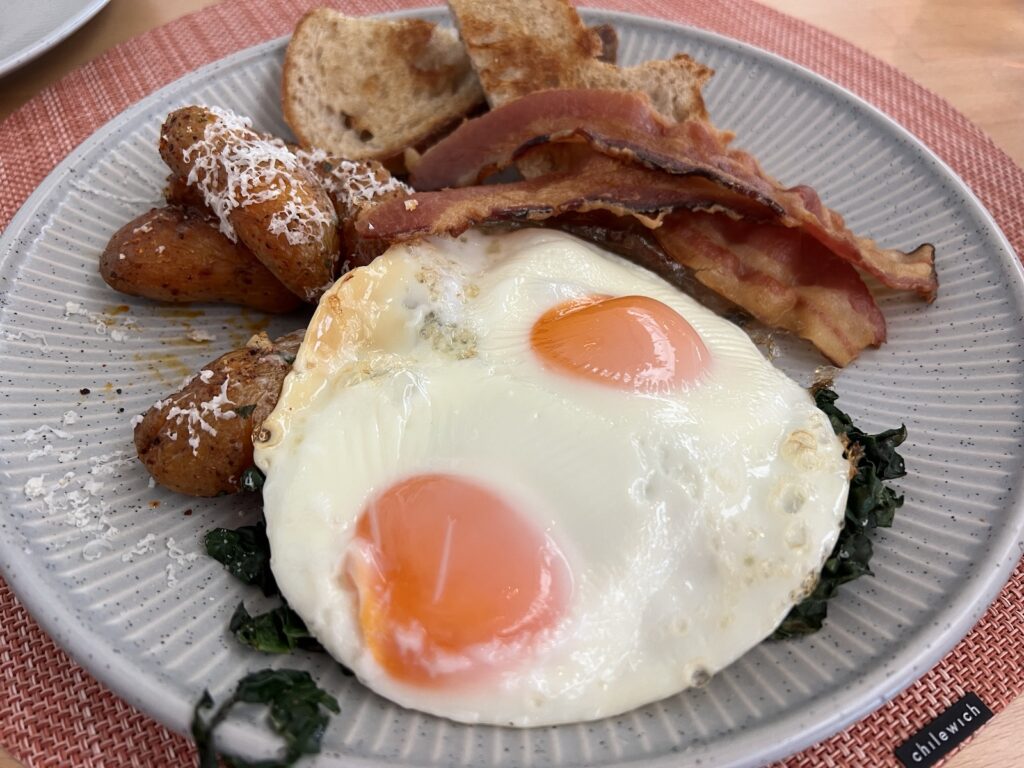 If you are lucky enough to be at the Shay as a Globalist on the weekend, you're in for even more of a treat as they have a special brunch menu which is a bit pricier but still included.
The steak and eggs was so tender and flavorful I indulged both weekend days 😉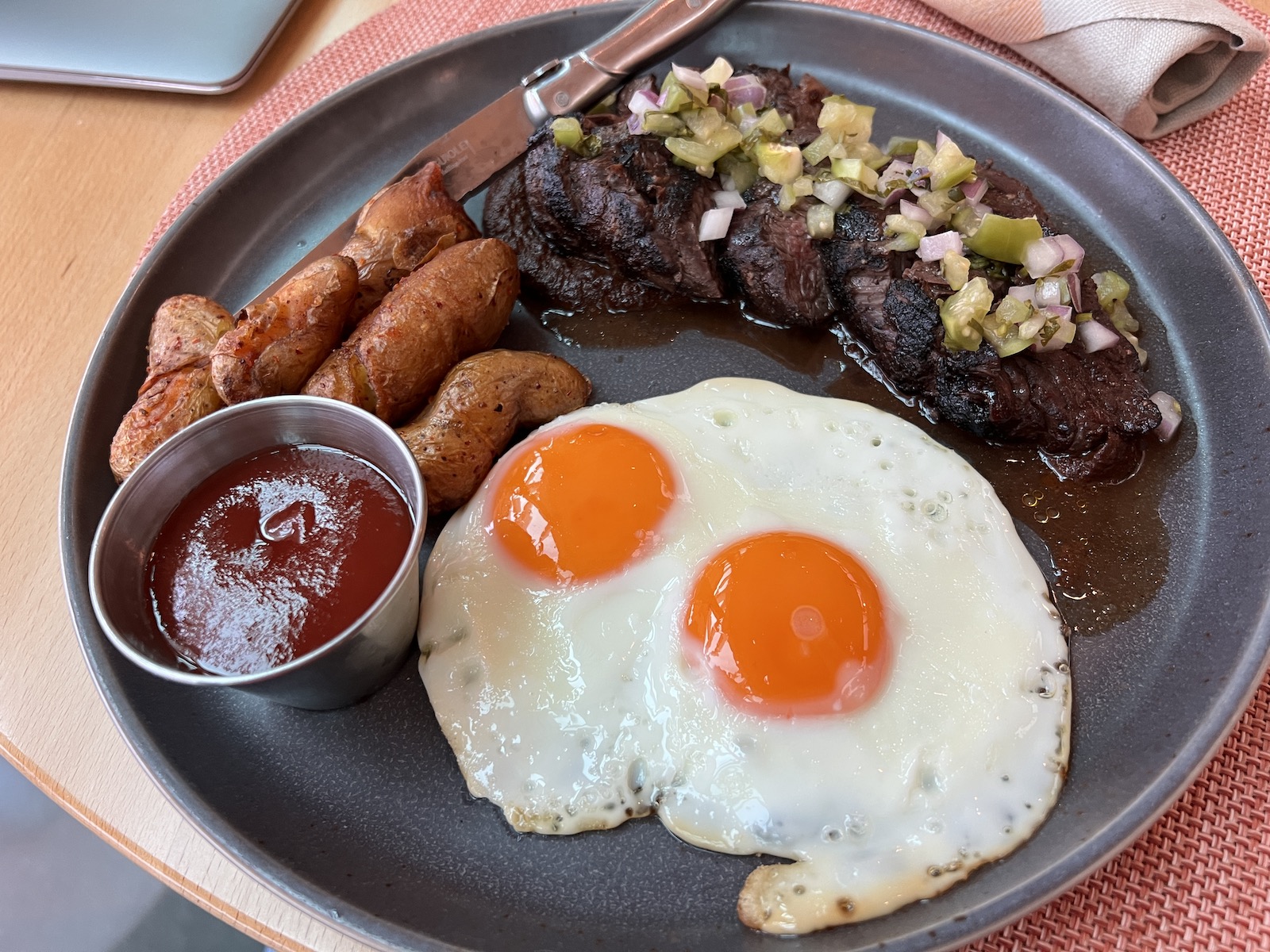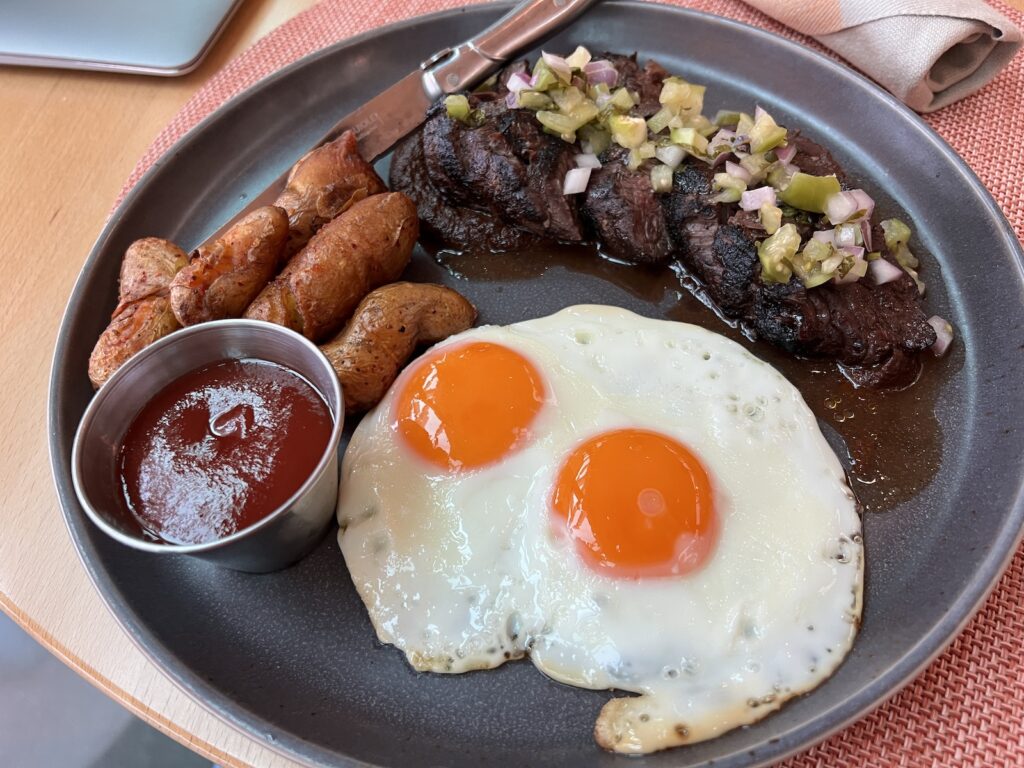 Breakfast is served on the top floor (6) at the Canopy Club.
This is also where the pool is and I'm told it's heated at something like 80-85 degrees.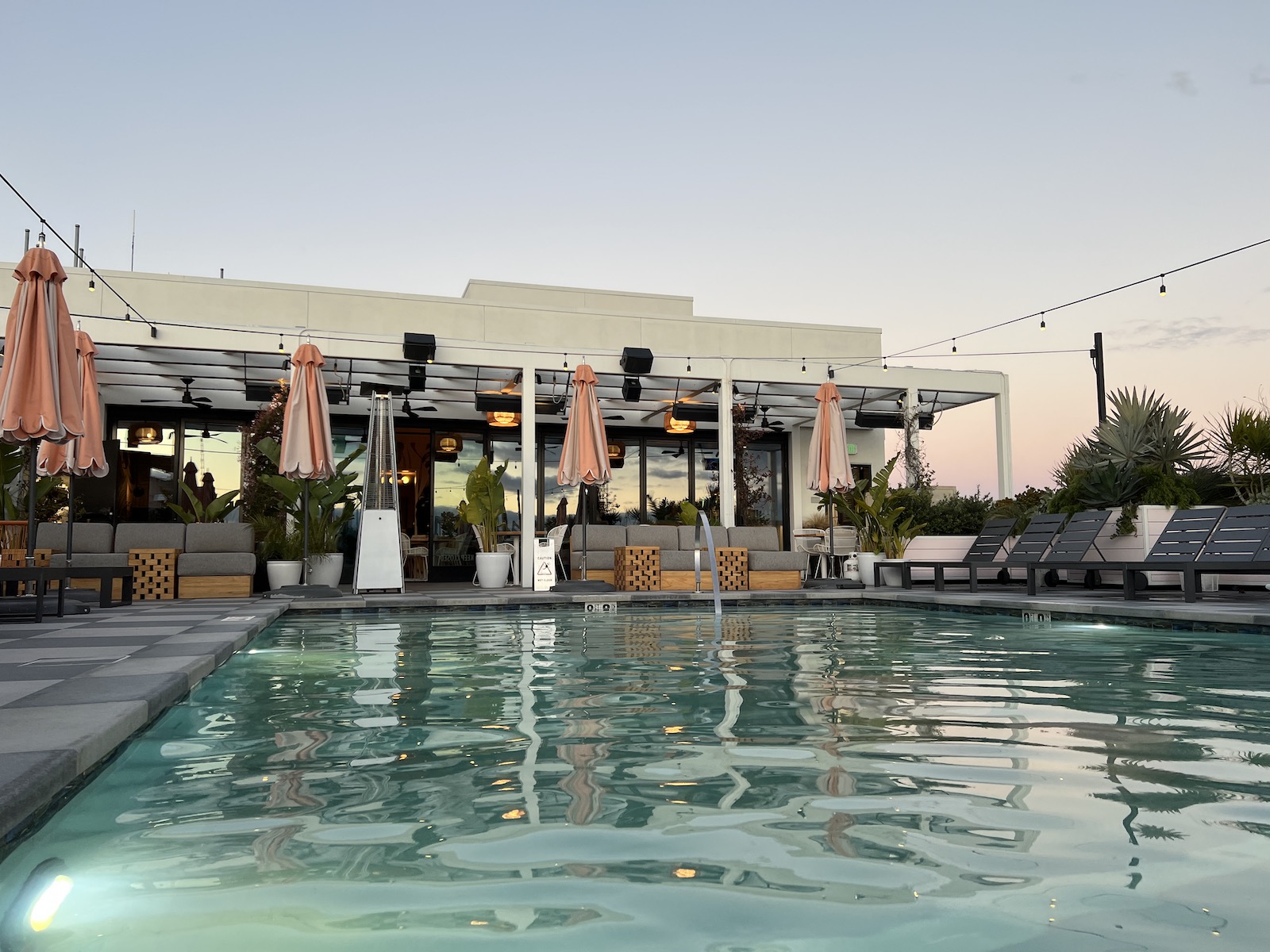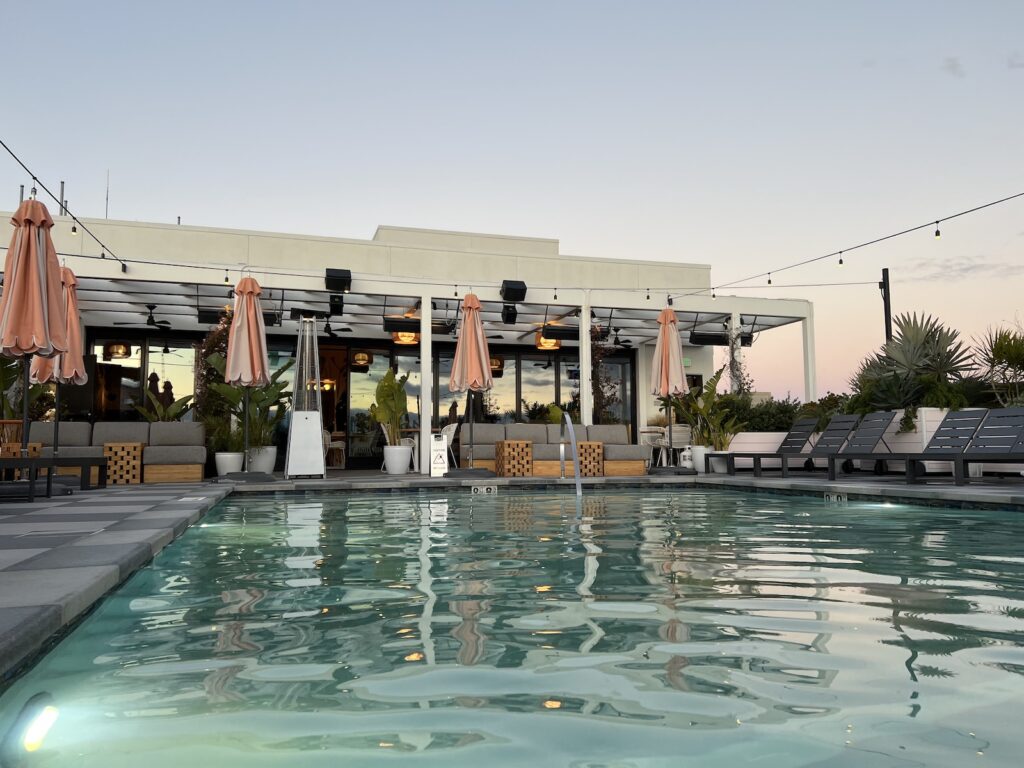 Unfortunately, it rained for 6 straight days and on my one day without rain, it was still only about 49 degrees. I tried it out then anyway, for the love of the article! It was tolerable, but really, in 49 degrees you need a jacuzzi. I think that 95% of the year, this would be a great place to hang out. I got *incredibly* unlucky with the LA weather.
The main restaurant is called Etta and it's delicious. I had lunch there one day when the monsoon was so bad I couldn't leave the hotel all day. They have a solid burger only served at lunch Mon-Fri but everything on the menu looks solid and gets rave reviews. Sorry, I forgot a picture!
Unrelated LA Food Stories
I love to food adventure when traveling. I have no advice on Culver City dining, but if you want to experience a couple of special things and have no aversions to bad neighborhoods, I'd suggest:
Cole's
This is where the French Dip sandwich was invented. Maybe. There's a battle for that distinction between Cole's, which is right downtown, and Philippe The Original in Chinatown.
I've eaten at both several times and it's now crystal clear to me that Cole's is vastly superior. Cole's is a full on bar, whereas Philippe's is more of a deli.
If you go, Cole's is on 118 E 6th St. in downtown LA. Parking would be street parking on the next street (i.e. past Cole's and turn right) or you can Uber if you want to play it very safe.
This is about 20 mins from Culver City, driving, unless it's rush hour in which case it would be an hour or longer.
Sheng Jian Bao – Kang Kang Food Court
I *love* Sheng jian bao, sometimes called pan-fried pork bun in America, is a popular street food from Shanghai that also happens to be the staple Chinese treat in Yokohama, Japan. It's like a Xiao Long Bao (soup dumpling) except totally different because the bottom 1/8th or so is pan fried. How's that for random MilesTalk trivia??
If you are unfamiliar, that's with good reason. There are literally almost zero places in the US to get real Sheng Jian Bao. Absolutely none that I've ever found in NY's Chinatown. When places in NYC even mention pan-fried pork buns, there is never any soup in them – which is the whole point!
You'll strike out in LA proper here as well, but interestingly there is an area east of downtown with a cluster of places that all make Sheng Jian Bao. This area is Monterey Park and Alhambra. I don't know anything about the area, so I don't know if it's safe or not. I drove there on a super rainy night and things were pretty deserted.
Anyway, I spent some time tying to find the best Sheng Jian Bao regardless of what kind of place it was, and I was led to Kang Kang Food Court, which is a super dumpy looking Chinese restaurant (fast food style) in a small shopping center. It's not a food court like you think – it's just the name of one single restaurant. You can see what it looks like in this video of… me eating Sheng Jian Bao 🙂
Summary
Overall, I've really enjoyed my stay at the Shay and would absolutely stay here again – especially as Globalist.
Note that it's not exactly a budget hotel. I never saw rates drop below $300 in the weeks I was stalking a better rate and actually got the best possible rate of around $310+tax using my own company's Hyatt Leverage program rate. Without that, rates were around $330+ for AAA and a bit higher for the Hyatt Member rate. It's a Category 5 through March 28, 2023, so it will set you back 17,000 – 23,000 points. After that, it jumps to a Category 6 hotel, averaging 21,000-29,000 points a night.
If you wanted the valet and were Globalist, that $50 and tax for the parking on top of the room rate and tax could get you better than 2 cents a point on the redemption, else its borderline wether cash or points is a better deal.
The vibe was awesome, the location was central and in a nice area, and the Metro was next door. Overall, A+.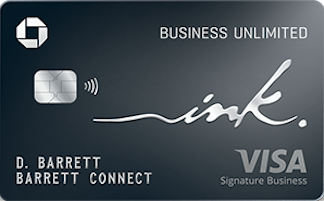 Thoughts?
Let me know below in the comments, on Twitter, or in the private MilesTalk Facebook group. And don't forget to follow me on Instagram for all sorts of tips on miles, points, credit cards, and travel.
If this post helped you, please consider sharing it!
You can find credit cards that best match your spending habits and bonus categories at Your Best Credit Cards. 
New to all of this? My "introduction to miles and points" book, MilesTalk: Live Your Wildest Travel Dreams Using Miles and Points is available on Amazon and at major booksellers.