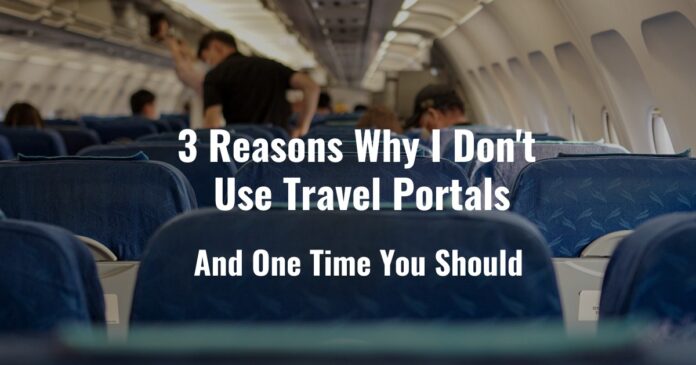 Ah, the "portal" discussion. It's actually two fold. We are talking about all "OTAs," shorthand for Online Travel Agency (sidebar: if you ever booked through an OTA called HotelMagician.com in the late 2000's, that was mine 😉 ).
All the credit card issuer portals, Amex, Citi, Chase, and Capital One (and Bilt, too) where you can spend your points at a fixed "cents per point" are OTAs.
So are sites like Expedia, Hotels.com, Travelocity, Hopper, etc. In fact, when you book via an issuer portal, you ARE booking on one of the major OTAs… It's just white labeled for the issuer.
It can be tempting to book in a portal – especially if you hold a Chase Sapphire Reserve where you can spend your points at a very decent 1.5 cents per point. And it's by far the "easiest" way to spend your points on travel, as compared with learning how frequent flyer programs work and figuring out how to book with actual miles (although once you put in that time to learn, that is where the real value is!).
So why do I, personally, never book through portals? Let's see why…
(If you want to just watch instead of read, I also made a reel on my Instagram – which you should course be following to not miss any tips 😉 )
View this post on Instagram
Reason One: Third Party Hotel Booking
When you book a hotel via portal, it's treated as a third party booking. That's bad if you have any elite status at the hotel chain you are staying with. Hotel chains want you to book direct with them and penalize you for not doing so.
Here's what you will not get when you book through a portal: elite status benefits, elite night credits (towards achieving or renewing status), credit for any promotions that hotel chain is running, and, last but not least, you won't earn any hotel points either.
This is fine if the hotel is a boutique hotel, not part of any chain, and that would be the only time a portal booking is just fine.
You may not care even at a chain hotel, but many do, so beware. Also make sure the booking is not completely unchangeable / non-refundable, since many portal bookings are.
Exception: FHR (Fine Hotels and Resorts) and Hotel Collection bookings through your American Express Platinum Card and Business Platinum cards are treated as direct bookings.
Reason 2: Flights – When You Want to Make Changes
Booked a flight during a portal and want to make a change?
Not only will you have to deal with calling the portal customer service team – generally far less knowledgable about fare rules than than the airline's staff. You also have a second disadvantage… if you cancel, you may only get credit that you have to use through the portal again, rather than directly to your airline account.
And, insult to injury, there may be change fees with the portal that you wouldn't have had to pay the airline!
Reason 3: Flights – When the Airline Makes Changes
So you get an email that your flight has been changed and the new times don't work for you.
If you were calling the airline directly, like Delta or American, their agents have a LOT of leeway to put you on another flight that works well for you, often being able to go around fare rules, sometimes even changing you from a connecting flight to a non-stop.
That portal / OTA? Not so much. Yes, they have access to change your flights, but they won't be able to override anything. And again, they tend to not know what's possible or not possible as well as an airline agent.
Can you do anything to get the airline to take over? Nope!
The only exception is generally within 24 hours of the flight. At that point, it's airport controlled and the airline can step in regardless of how you purchased it. But before that, prepare for a headache.
When You WANT To Use Portals
Let's say you "need" to use a portal. One example that comes to mind is your $300 annual travel credit on the Capital One Venture X.
You'll have to use Capital One Travel to book this. In my opinion, you have just two safe ways to use it. One is on a boutique / non-chain hotel.
Another other is a car rental. A car rental is pretty cut and dry, but make sure you book a fully refundable rate and that you were able to use any available coupon / discount or company affiliation code. (Like, for instance, the American Express Platinum code that gives you 4 extra hours leeway on a 24 hour rental at Hertz (where you have top tier President's Circle status, right?).
One more? If you have an Amex Platinum or Business Platinum and want to use the FHR benefits which include upgrades, breakfast and late checkouts, often for the same price as a regular room direct. As I mentioned above, those qualify for benefits and points.
Lastly, again, if you are choosing a boutique hotel, using a travel portal can net you up to 10X points from that bank for booking through them – and that can be a darn good reason to use one.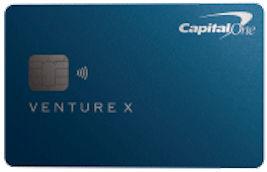 Capital One Venture X:
Earn 75,000 bonus miles when you spend $4,000 within your first 3 months.
Get This Offer
Questions?
Let me know below in the comments, on Twitter, or in the private MilesTalk Facebook group. And don't forget to follow me on Instagram for all sorts of tips on miles, points, credit cards, and travel.
If this post helped you, please consider sharing it!
You can find credit cards that best match your spending habits and bonus categories at Your Best Credit Cards. 
New to all of this? My "introduction to miles and points" book, MilesTalk: Live Your Wildest Travel Dreams Using Miles and Points is available on Amazon and at major booksellers.