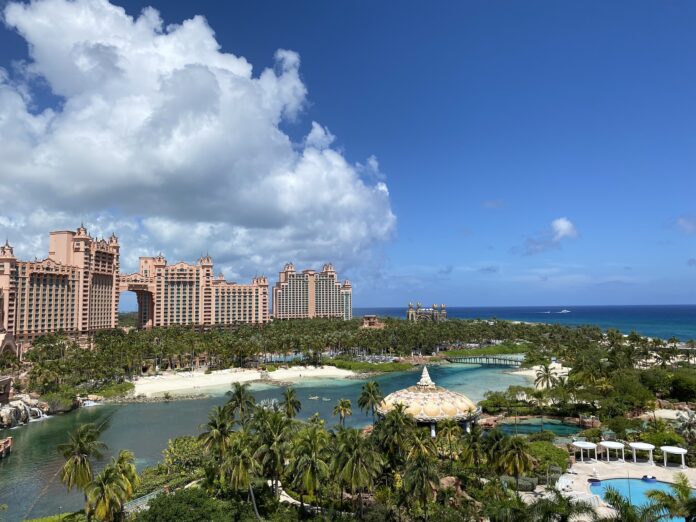 Updated: July 2021
What is the Free Stay At Atlantis in the Bahamas with Caesars Diamond Status?
I've seen many bloggers write about how you can get a free stay at Atlantis in the Bahamas if you are Caesars Rewards Diamond or above. And while I've seen bits and pieces of what to expect on various message boards and blog comments, I've yet to see a comprehensive review of the Atlantis experience when using this "comp." So I flew down for 4 nights to find out…. (actually, I've now gone twice and this post is a combination of both stays).
For the uninitiated, Caesars Rewards is a casino chain loyalty program and Diamond is a high tier status within the program, which has Gold, Platinum, Diamond, Diamond Plus, Diamond Elite, and 7 Stars as its program levels.
You can get a free stay at Atlantis in the Bahamas if you are Caesars Rewards Diamond or above. And while I've seen bits and pieces of what to expect on various message boards and blog comments, I've yet to see a comprehensive review of the Atlantis experience when using this "comp." So I flew down for 4 nights to find out…. levels with varying benefits.
The reason why many MilesTalk readers care about this and have access to this free stay is because of the various status matches that have been able to confer Diamond status – the genesis of the Status Match Merry-Go-Round.
Wyndham Rewards has reciprocal status matching with Caesars meaning that Diamond status with Wyndham gets you Diamond status with Caesars.  And recently that has been as easy as matching many mid-tier hotel programs to Wyndham, including Hilton's Gold level which you can get just by signing up for the Hilton Surpass credit card or the Hilton Business credit card. (In 2020, this was match to Wyndham was paused.)
But many people ask questions like "How much are the fees on top of the free nights?" and "How much will I spend on meals?" as well as "What are the rooms like?" And, of course, "Will my Marriott Bonvoy Elite benefits apply?"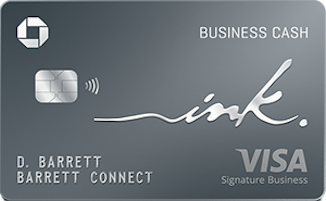 What Can You Expect with this "Free" Atlantis Bahamas Stay?
The first thing to know is that if you have Diamond via status match, you will have access to only the lowest level of redemption for Diamonds (marked as 15,000 Tier Credits on the Caesars Atlantis page).  In fact, even if you are only Caesars Platinum, you have access to this offer, however you're limited to 3 nights off-peak and 2 during peak times.
For Diamond, even matched base level Diamond, you get 4 nights in the Royal or Coral. It used to be the lowest category Beach Tower, but that tower is closed for the time being. Here's the complete details from the Caesars website:

I'm going to focus on this tier because it's what people that matched to Diamond are eligible for.
Booking the Stay
To book, you'll call 1-888-877-7592. Note that not all days will be available. Be prepared to be flexible. State clearly that you are calling to book a Caesars Diamond (or your level) complimentary package.
Peak vs Off Peak Dates at Atlantis
Off Peak months are May, June, September, October, January and February. Additional Peak days may occur during these months. 
April, September, October, November, or January would be my picks…. February can be chilly.
I used to say to book off-peak because the tower you could book was better. They are now the same. You just get $25 more in casino credit at the off-peak time.
The Beach Tower – Now Closed 
The Beach Tower, in which I stayed in 2018, turned out to be the forgotten stepchild of Atlantis. It was due for a refresh in 2019, but closed entirely instead.
Should it reopen, I'm leaving my original experience at the Beach Tower as I wrote at the time below:
You are a 10 minute walk (at a reasonable NYC pace) from the action of the Marina or the Casino. Even farther from the waterpark or spa.
The Beach Tower is old and, I'm not exaggerating, a bit decrepit. The idea is that you're headed to the beach and you know this is the lowest level accommodation at Atlantis, but so much was falling apart. In fact, in our initial room (we had to move) the balcony door couldn't be opened and we discovered the lock to the entire room was faulty (no key card needed to enter!).
The decor reminds you how old the building is. To make things worse, they have literally closed road access to the Beach Tower. So while it's removed from everything else and contains a check-in area and driveway, the check-in area doesn't function and the driveway is blocked. It adds an extra "haunted" vibe to the stay -as if you are staying in a closed down hotel.
There is ONE outlet in the room. It's not by the bed. I got into the ritual of charging my laptop while I was out so I could put that on my nightstand to charge my phone overnight.
As you can see, the room by itself just looks "fine" but in context of the things broken in the rooms and building (in our second room, the lights didn't work until we got maintenance in and the Wi-Fi was incredibly slow, one of three elevators was usually out of service, etc) it made it less tolerable and a bit of an intrusion, if you will, on the relaxation aspect.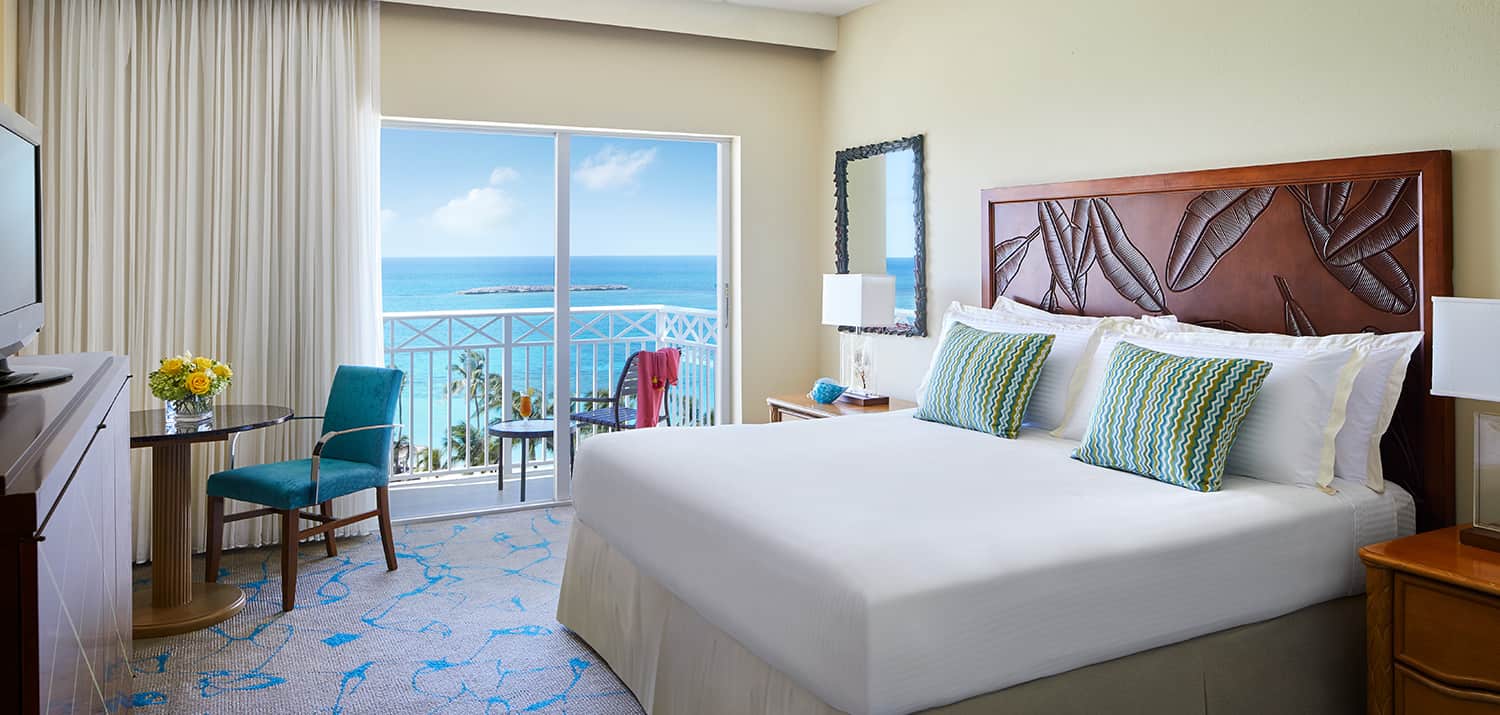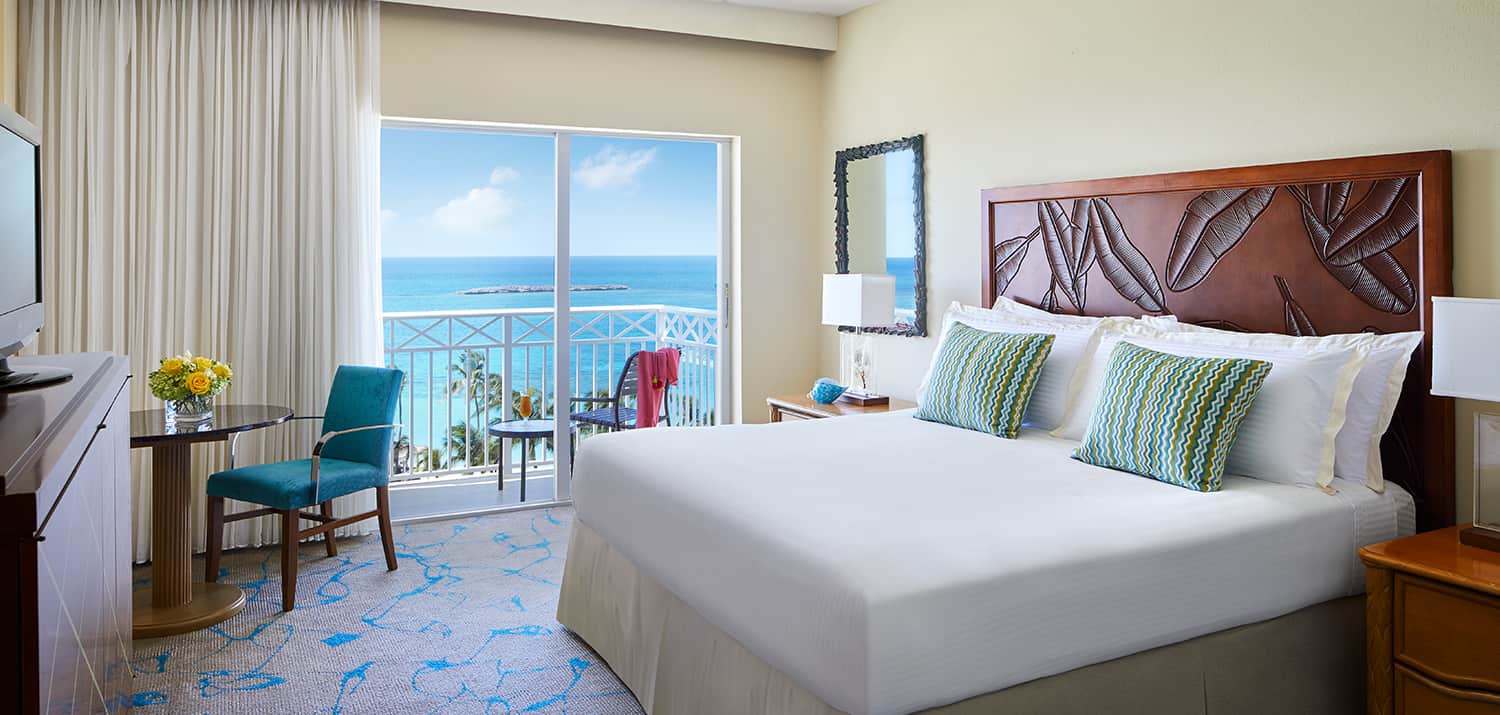 And here are some supporting pictures of the Beach Tower: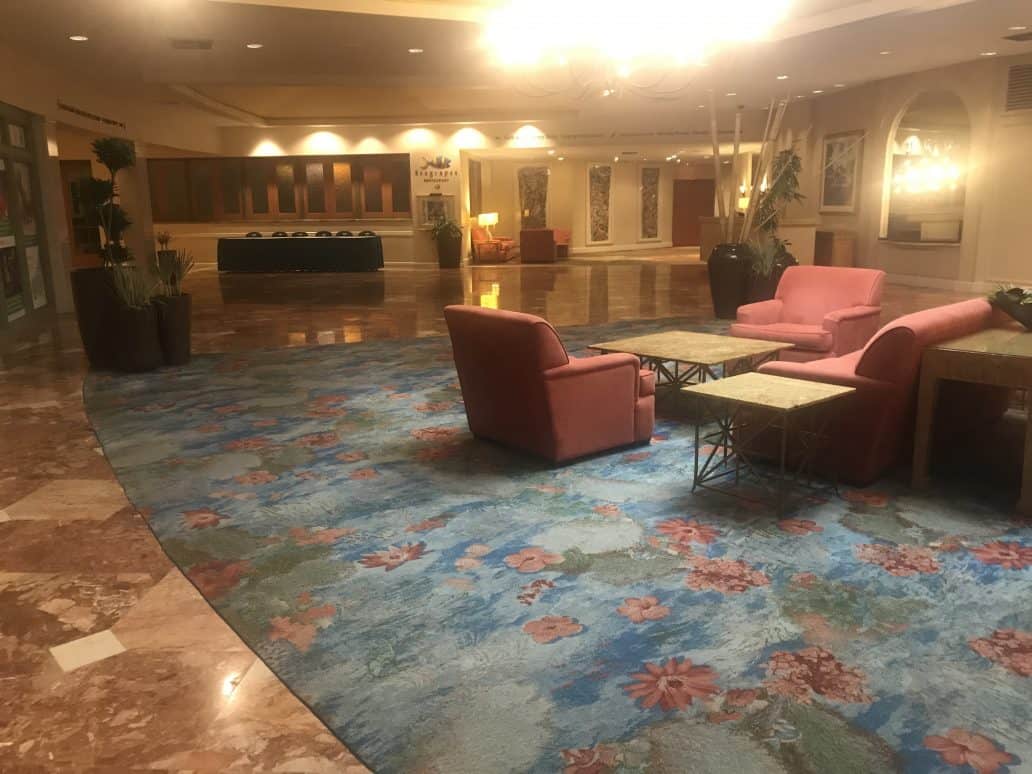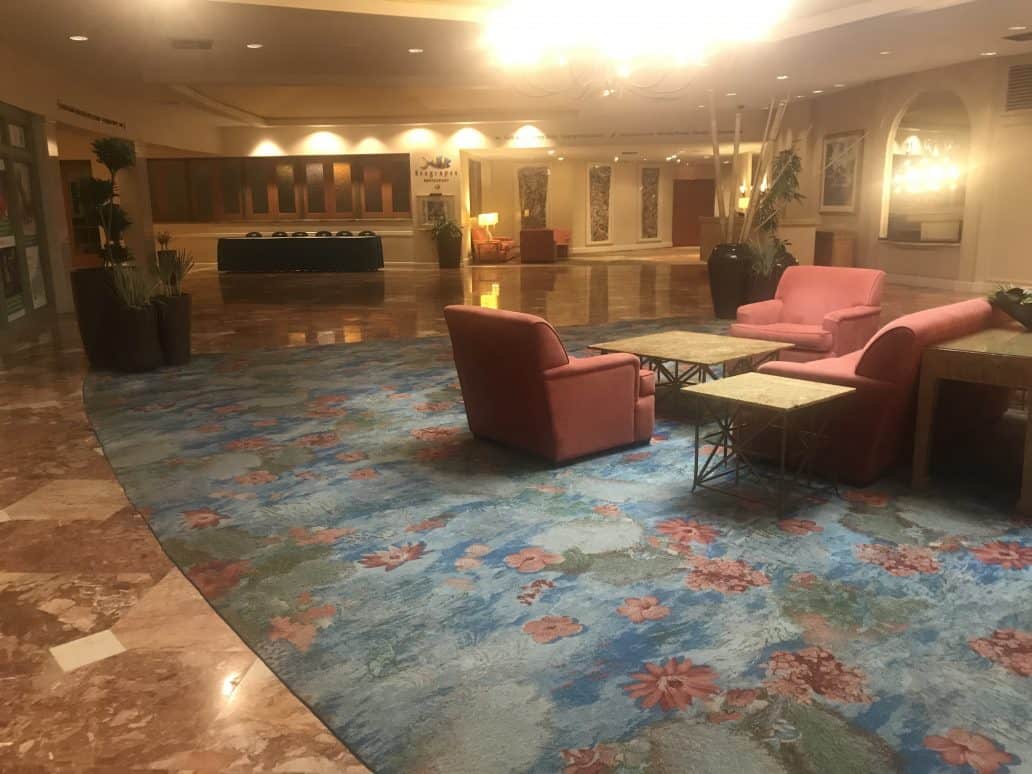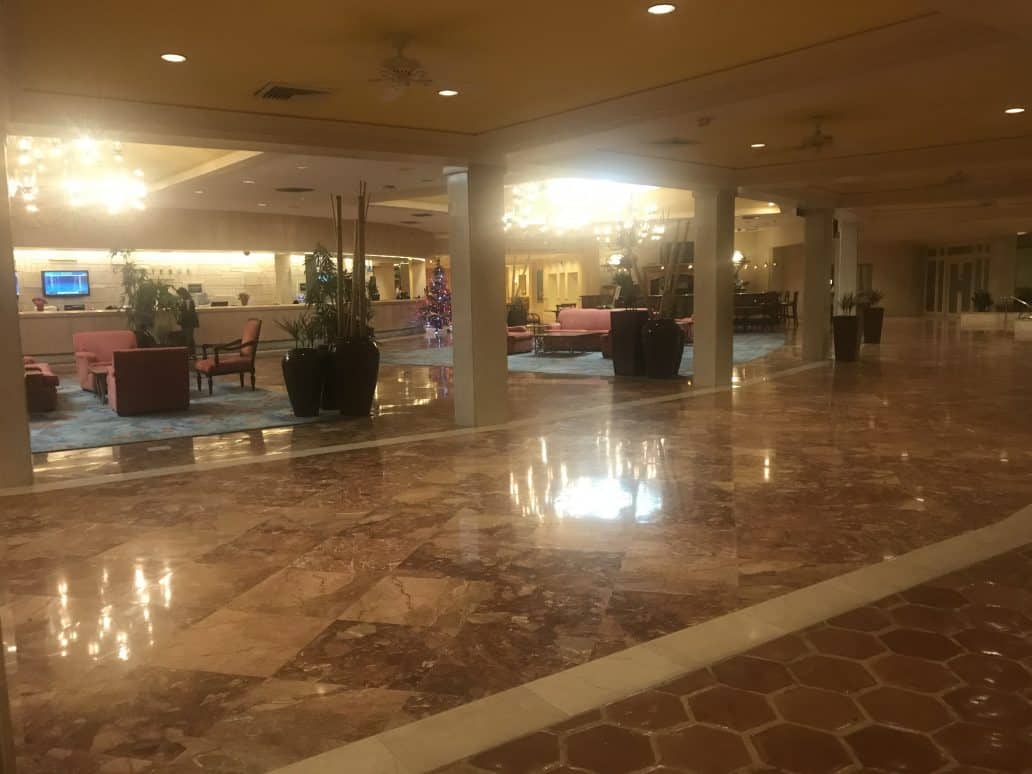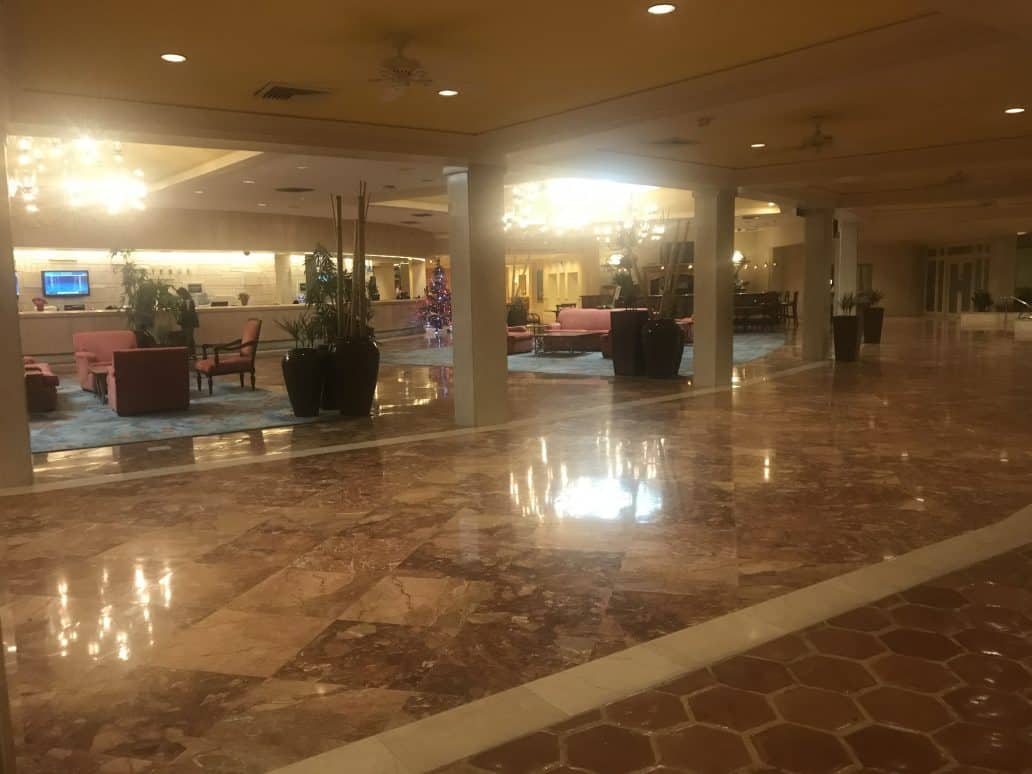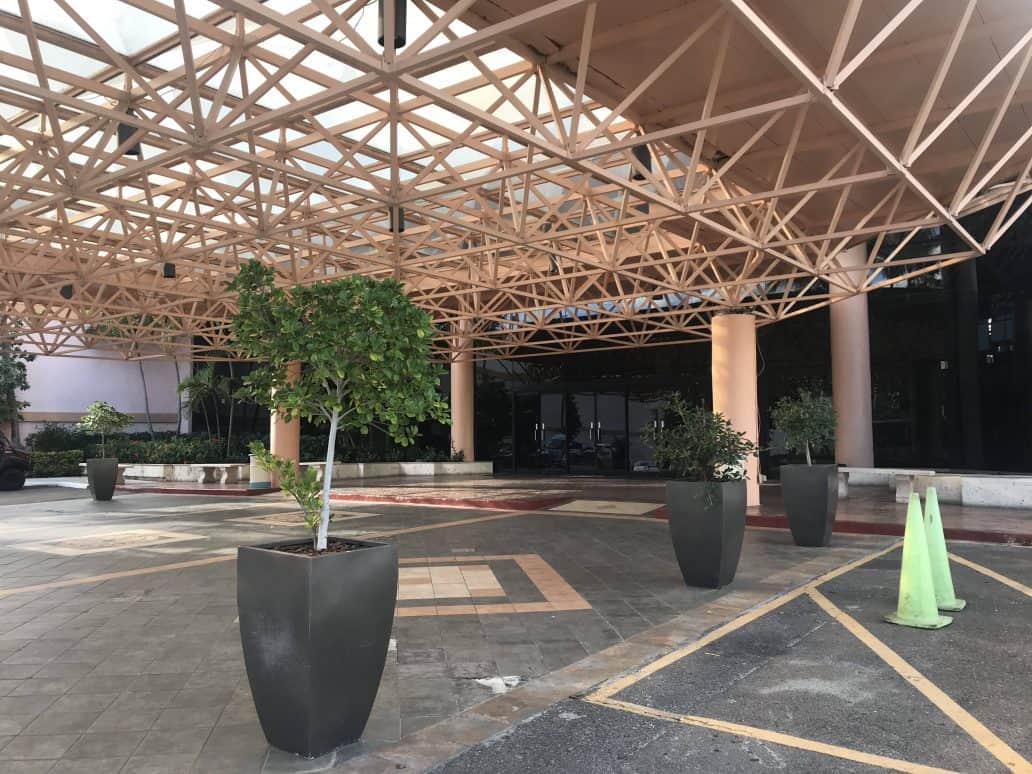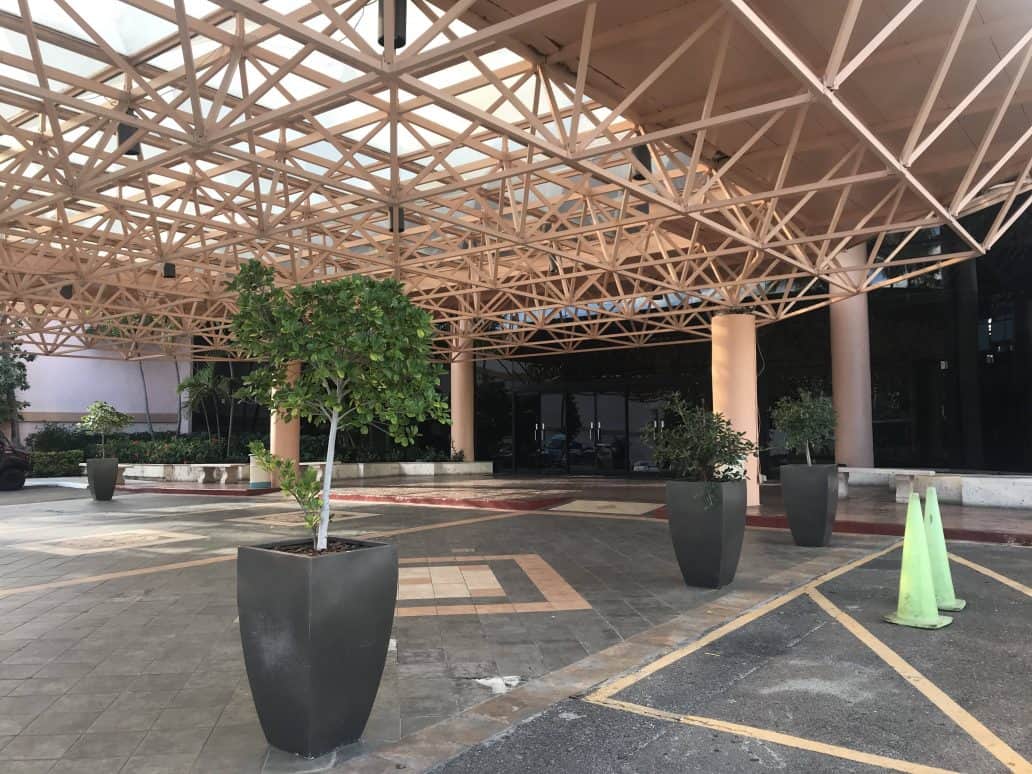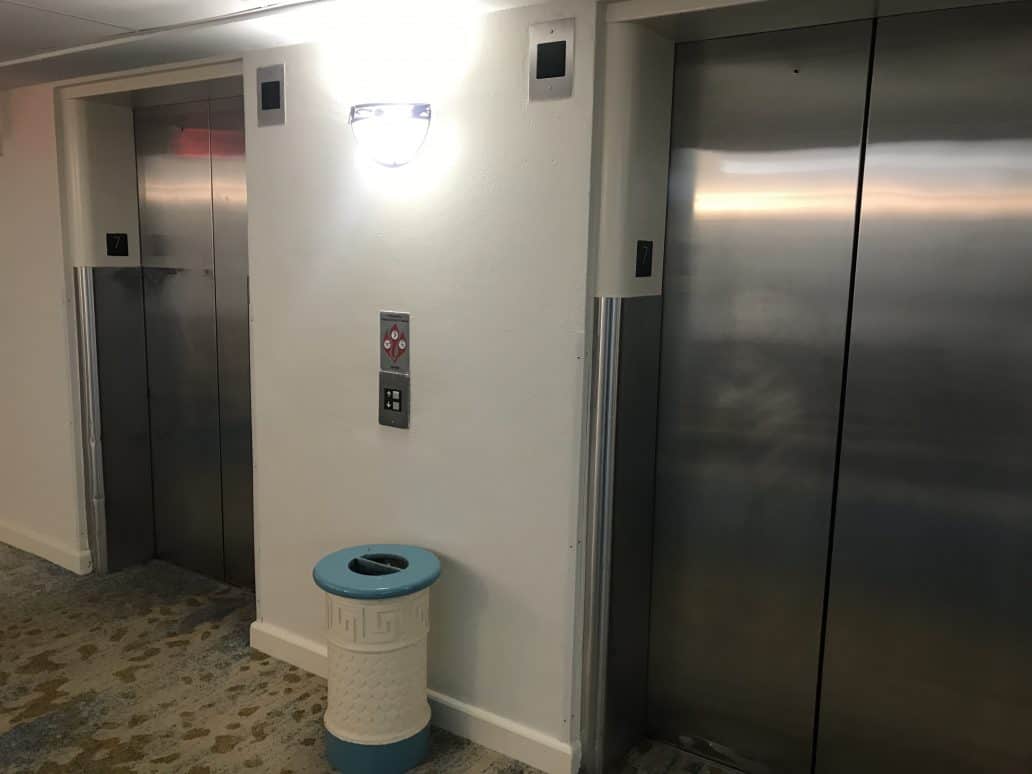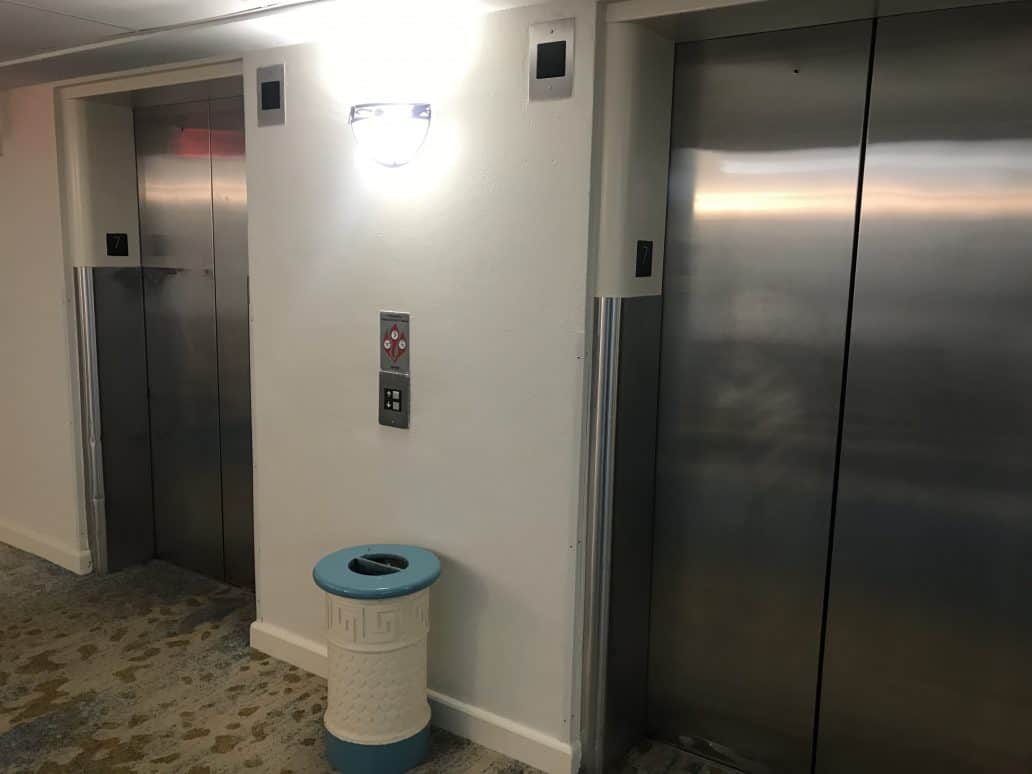 Now, it's not all bad. We did have an *incredible* view: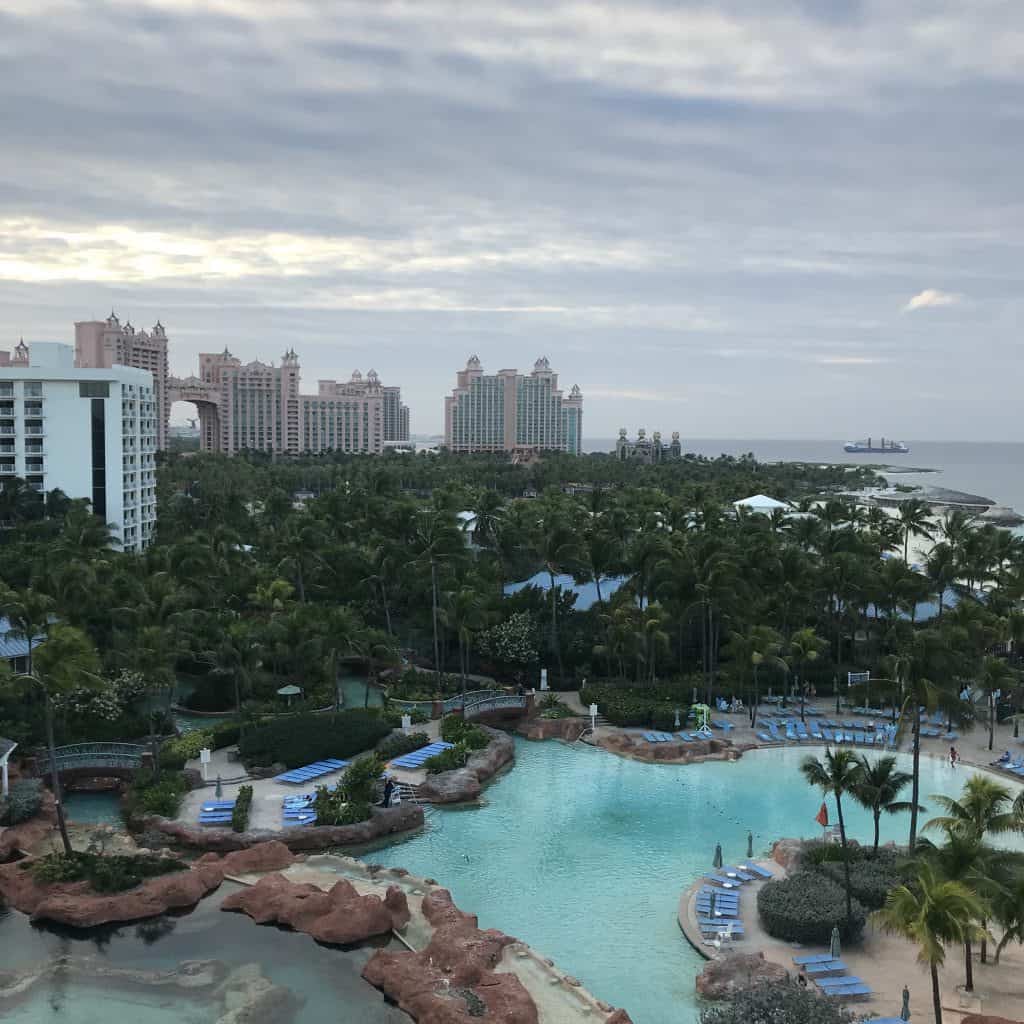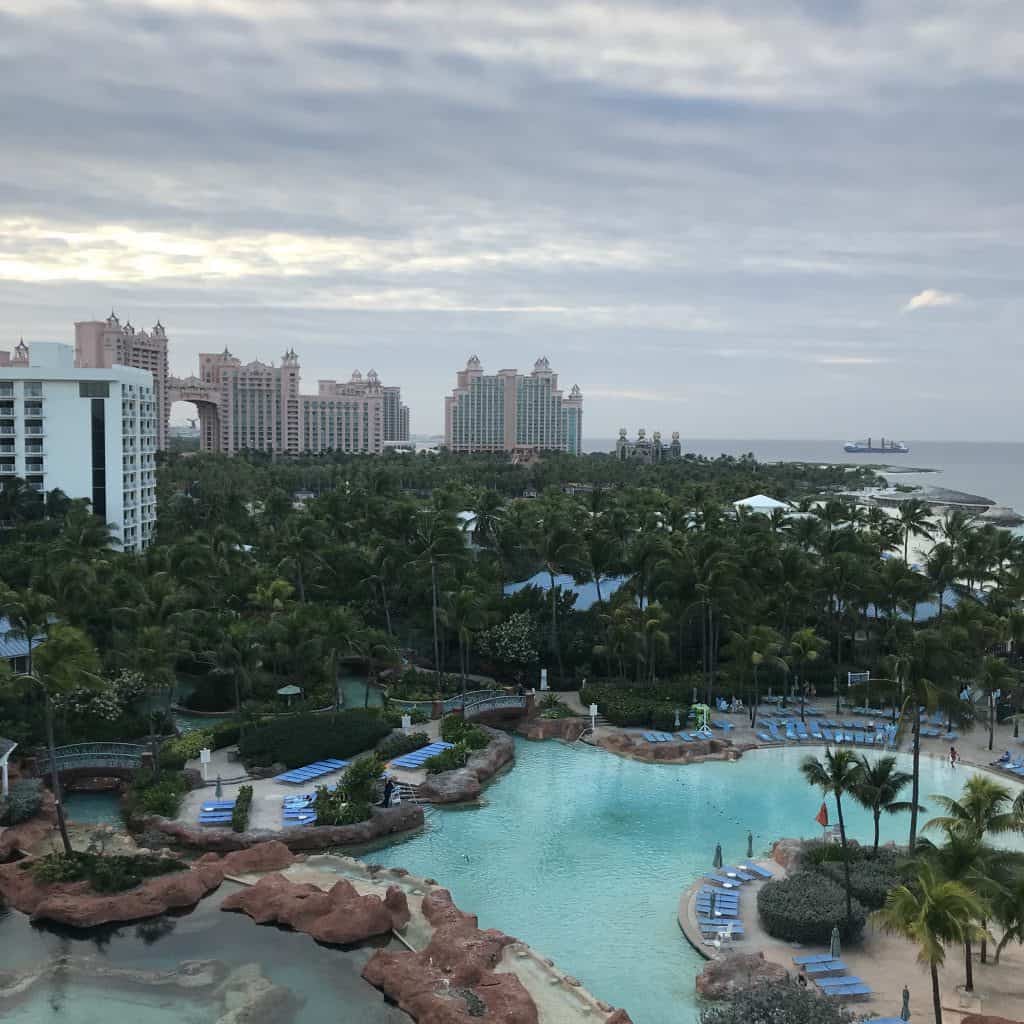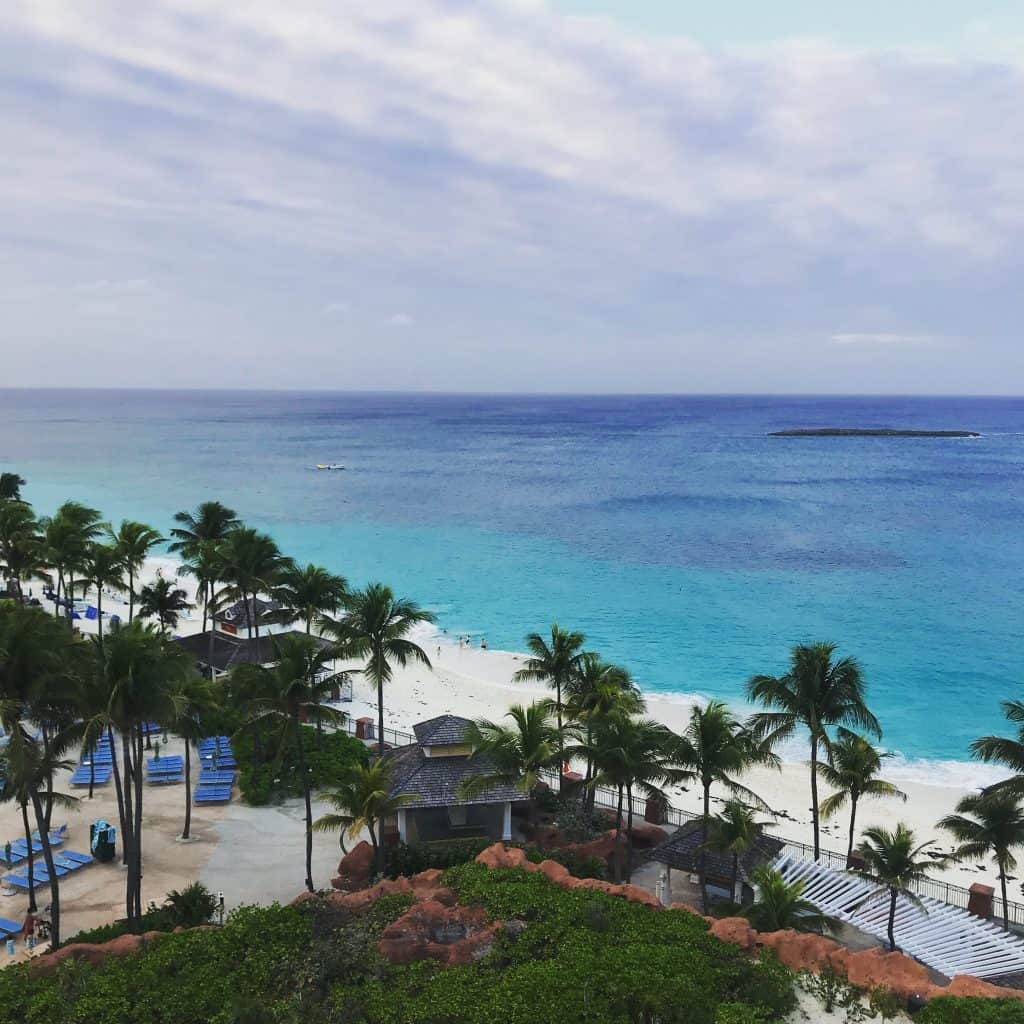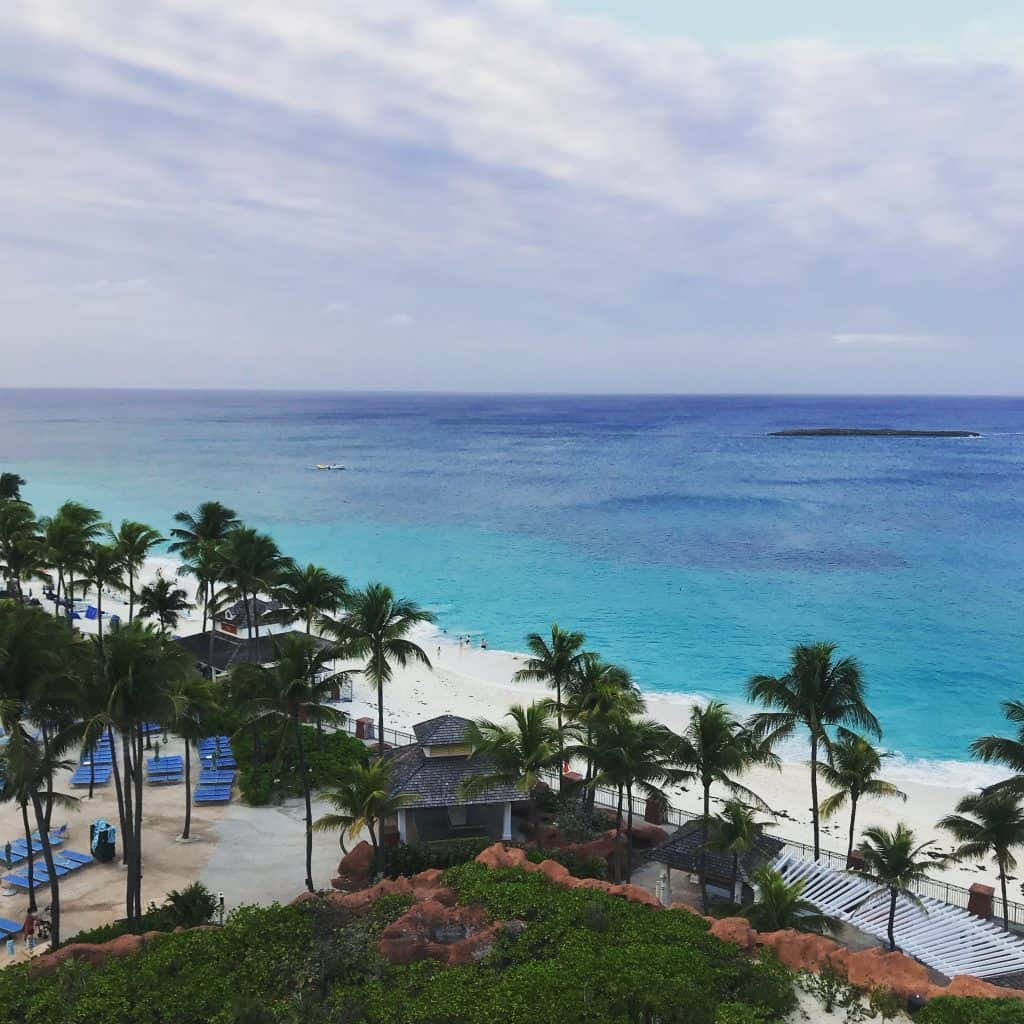 And as we were told, if you are staying IN the Royal Tower, you can't SEE the Royal Tower from your room. True enough….
No matter which tower you are in, you do have included and unlimited access to the Aquaventure Waterpark. Bear in mind that if you want a locker while at Aquaventure, it runs $17 and up.
2021 Atlantis Stay: The Coral
We returned in June 2021. This time, we we booked the Coral Tower. We had the choice at booking at Coral or Royal and I chose Coral for just one reason: Coral Tower rooms have small balconies with chairs. The Royal Tower rooms only have a Juliette balcony. We were going to be "Working from Beach" on this trip and I wanted to be able to do that on the balcony. In hindsight that probably wasn't enough of a reason.
But I also learned that the casino rate books into the un-renovated portion of the Royal.
While the room rates for Royal run about ~$120 more per night and are typically more desirable, it's not cut and dry. I would say this: if you will spend a lot of time at the waterpark (i.e. with kids), book the Royal to be closer.
If you want to have easy access to the Marina (where many of the restaurants are), and/or the Dunkin' Donuts that is "in town" (two blocks away), the Coral is much closer. Both are equidistant from the casino.
Now the rooms are indeed renovated at Coral, so they are nothing like the Beach Tower we experienced in 2019. For example, outlets abound on each night stand 🙂
Here was our first room at Coral: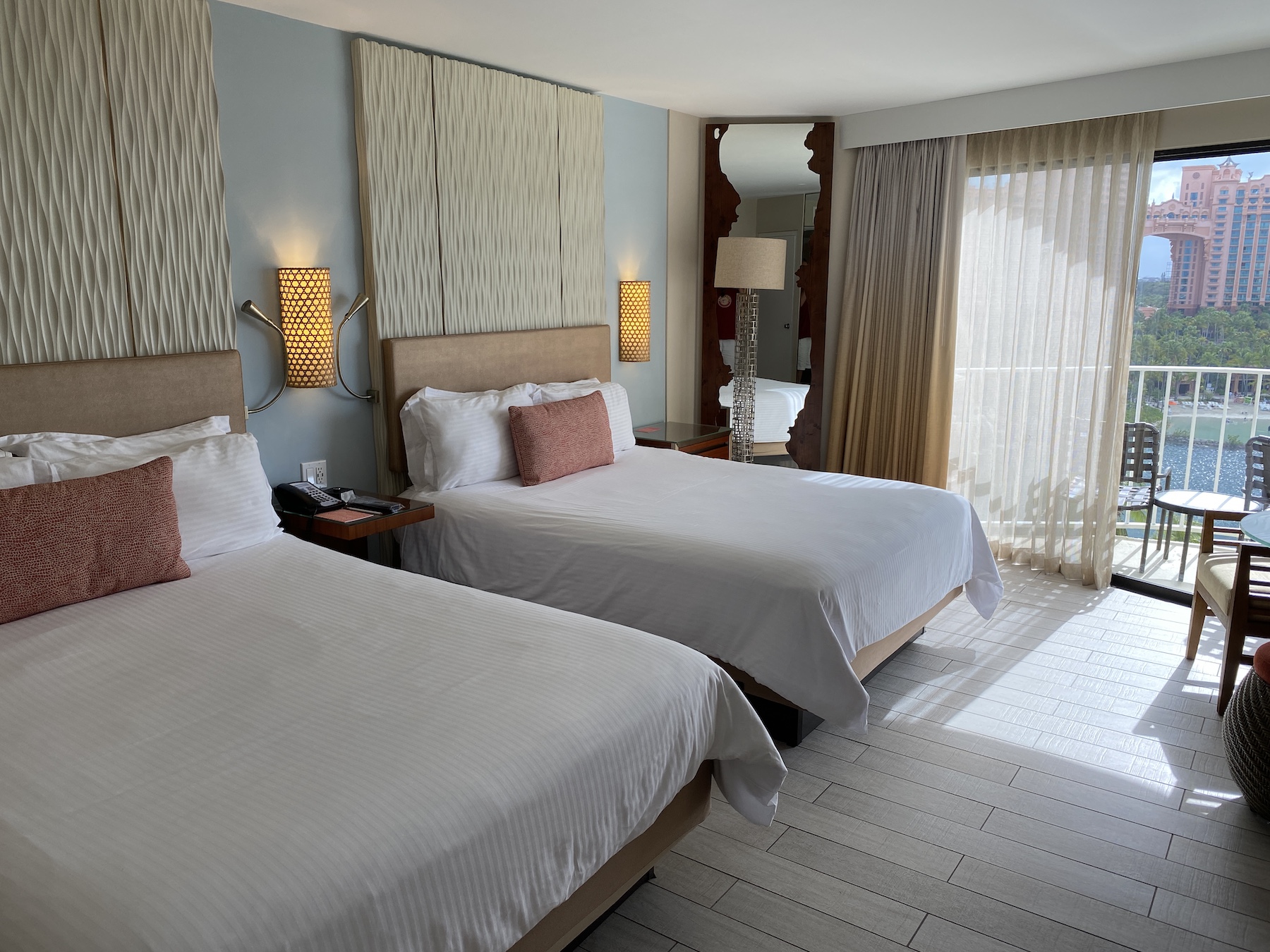 That view!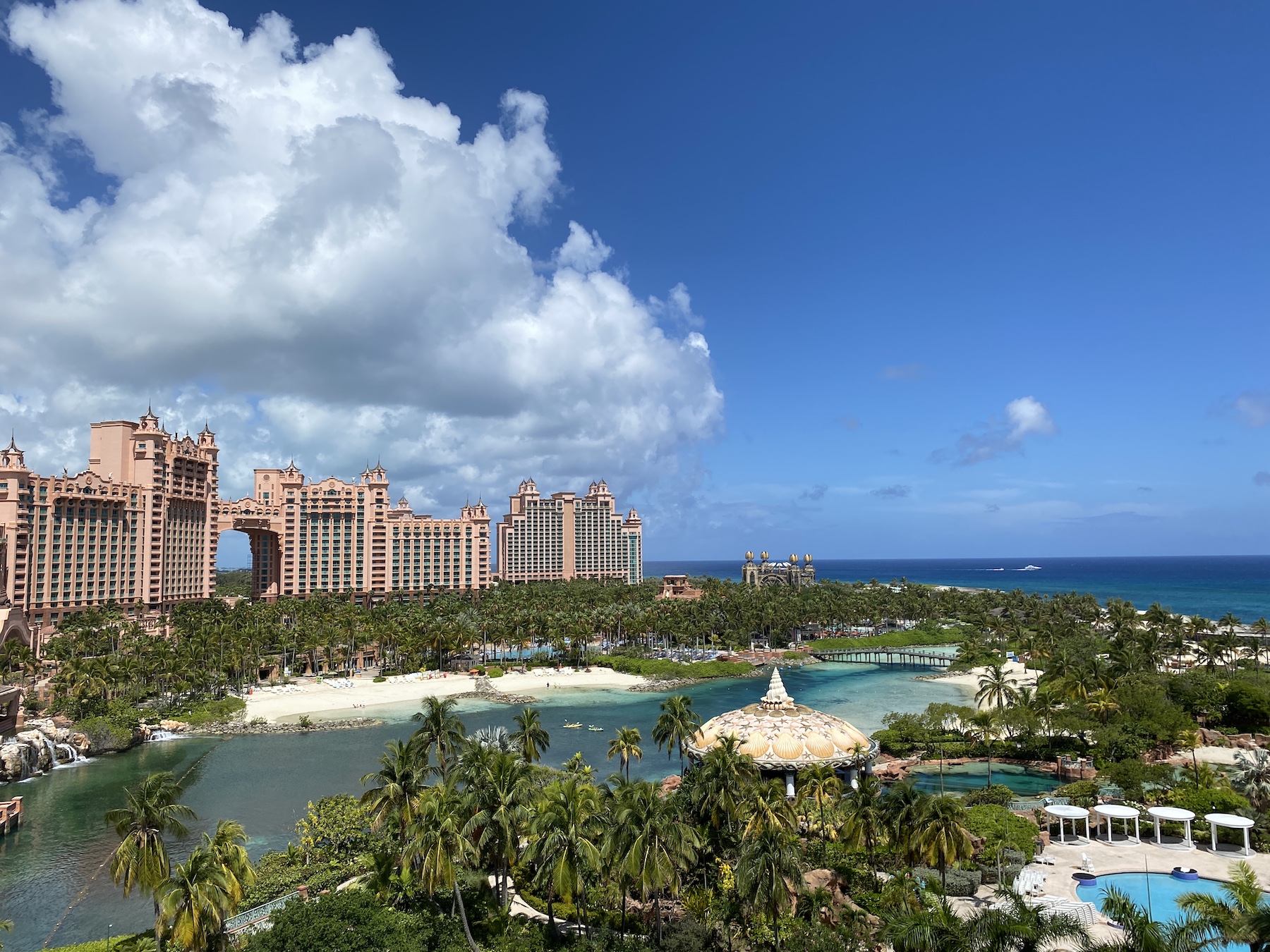 But then, in a struck of good fortune, I wound up in contact with Sherrese, the lovely front office manager at Coral and someone who was aware of the extreme issues I encountered last time.
As a one-time courtesy to make up for that last stay, she graciously bumped us to a suite on the top floor and in the "Owner's Wing."
To say that this room was gorgeous would be an understatement. It felt like we were transported to a room in the Cove.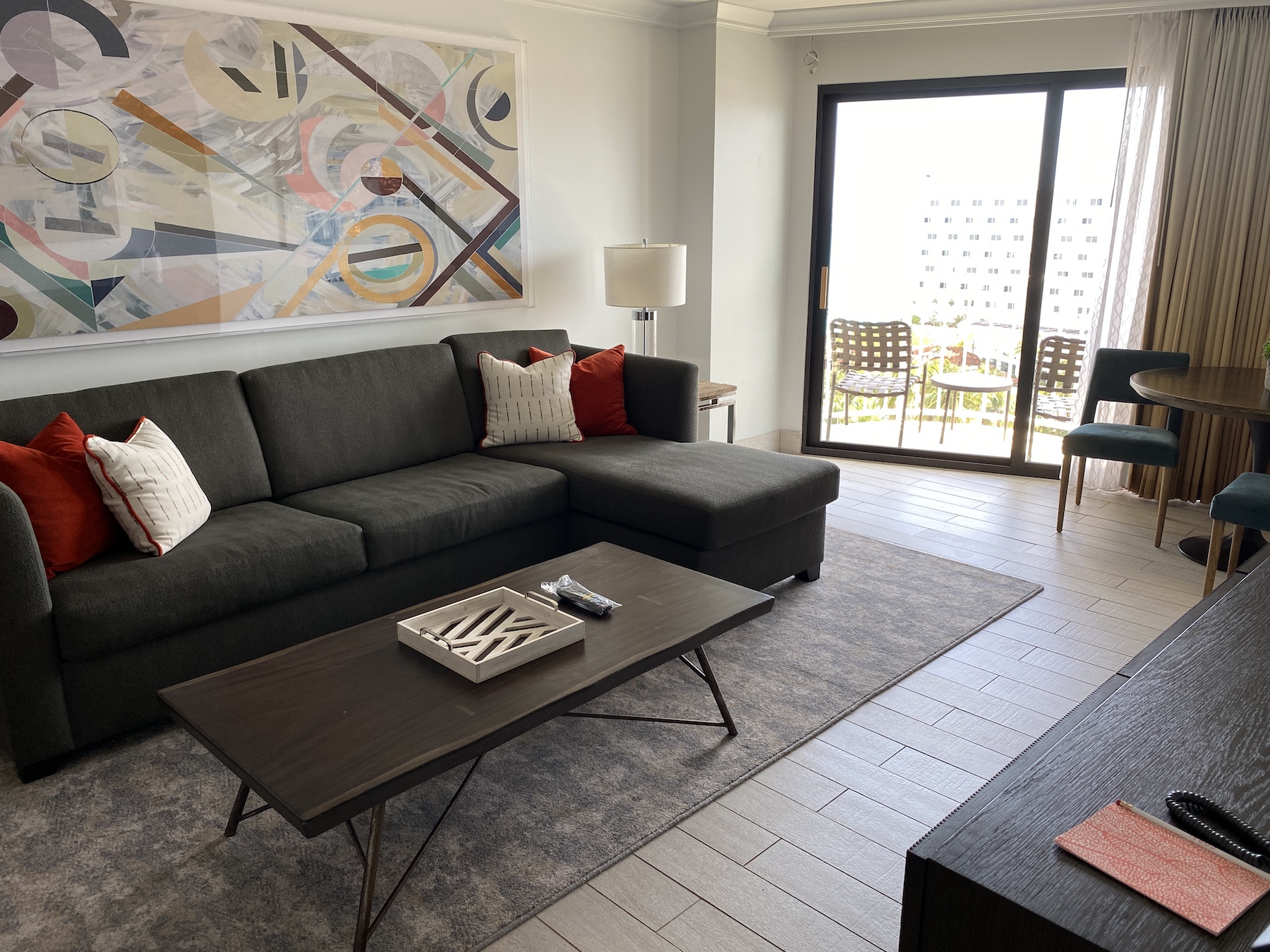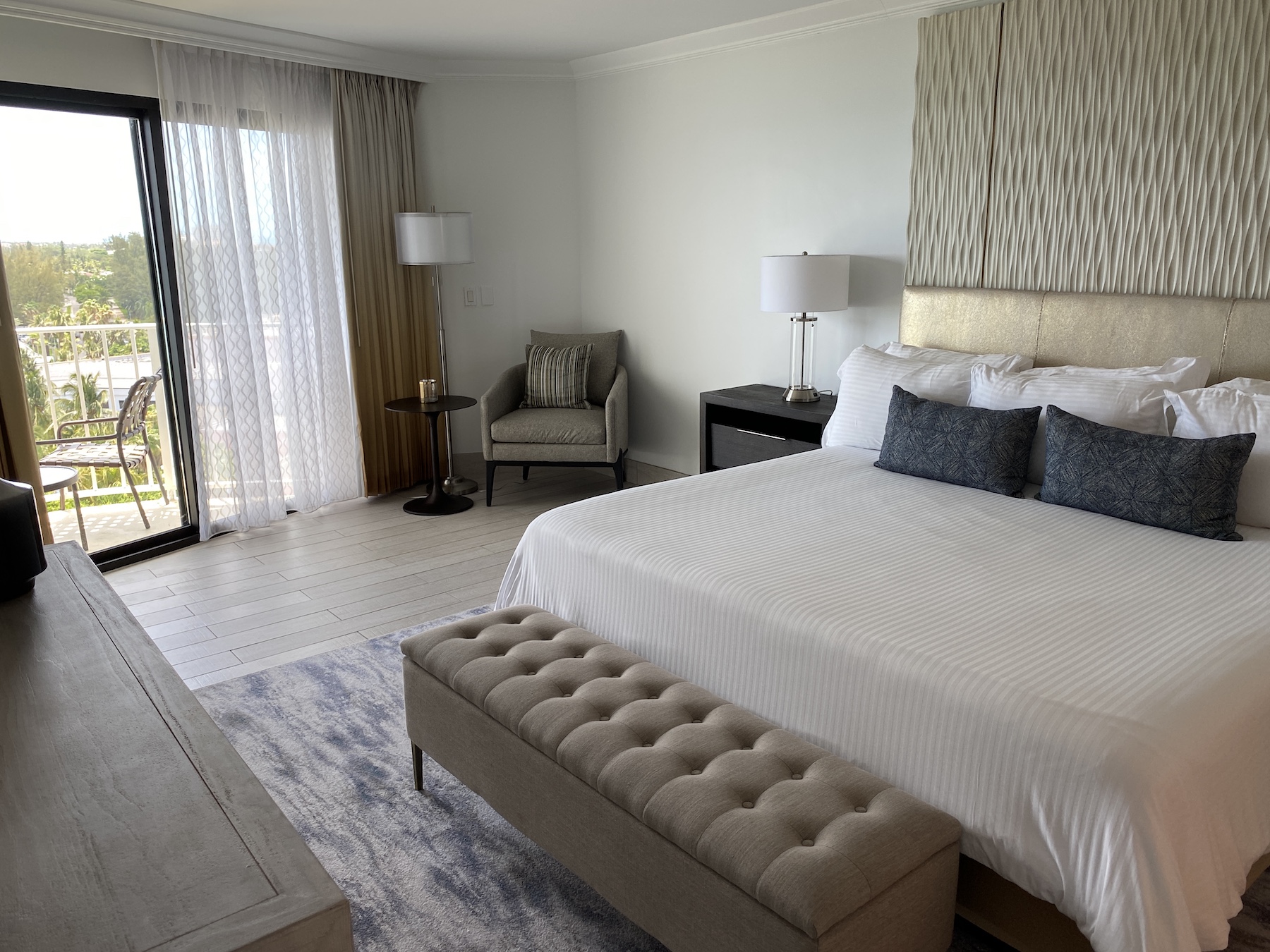 This definitely set the tone for a nice trip!
COVID-19 Reopening: 2021
I'm sure this will be a rapidly evolving situation, but if you are traveling in 2021, you should be aware that at least as of now, many things are still closed.
For example, the downstairs Starbucks at Coral was closed, the Starbucks in the Marina was only open in the morning, Virgil's BBQ is currently closed and being used as a COVID testing center, the Marina Pizza (which I used as quick lunch last time) was only open for dinner, the Lagoon Bar and Grill is closed, and Café Martinique is closed.
Still, plenty was open and the Aquaventure waterpark is fully open!
If you are on the Caesars Diamond Casino rate, what is the "real" cost of the room?
The total cost per night will be $66. That is the resort fee of 55.94 + a $10 gratuity. The resort fee includes wifi for four computers, 2 waters per day, towels, local phone calls, etc. Is it egregious at $66 per day? Yes. So just think of it like a $66 per day room.
I'm Marriott Bonvoy Platinum / Titanium / Ambassador: Will I get upgraded? Will I get points? Will I get on-property benefits?
Great question and, as Titanium I can tell you – somewhat! My stay hasn't yet posted to my Bonvoy account but I believe they said there is a 1,000 point welcome amenity. You won't be upgraded due to status but they did check us in early and implied that was a favor based on my status. As for late check out, that is subject to availability but they did mention it as a benefit.
They no longer appear to offer the Welcome Amenity of a beverage (wine split, etc) or snack like we got in 2018.
Free breakfast is not an included benefit. Marriott grants the Atlantis an exemption from the on-property breakfast benefit. Suffice it to say, there is no executive lounge.
Will I earn Marriott Bonvoy points from the stay?
In 2018, I made sure they had my Marriott number again at checkout. The points did not post automatically as I suspected they might not, but I submitted a missing stay request online 2 weeks later and I was credited a few days later.
For my 2021 stay, I filled out a missing stay request and was told that casino rates are not qualifying rates for elite nights or points on incidentals. That said, my wife submitted a missing stay request the same time as me on the identically booked casino rate and got all her nights and points, so this seems to very much be a "luck of the draw" thing regarding who you get processing the missing stay request.
Note: Only the Coral, Royal, and Cove Towers are Bonvoy-participating parts of Atlantis. 
How much will food cost me at Atlantis Bahamas?
The answer is ALL OF YOUR MONEY.
Seriously, it's really expensive. A breakfast sandwich at Starbucks was about $9. A slice of pizza at the slice joint at the Marina was $7 (even a cheese slice).  The buffet in the Royal Tower was around $45 at lunch and $70 at dinner.  Then there are name brand restaurants you'l recognize from the States. Carmines, Virgils BBQ, Nobu, and Todd English's Olives – to name a few.  We ate at the latter 3 of those and only Nobu was up to snuff quality-wise.
All food is base cost + 12% VAT + 15% auto gratuity. The $7 pizza slice is $8.89 all-in.
Think about what you'd be paying in a high end NYC restaurant (but for average food) or, perhaps more appropriately, what you'd pay at an island at an exclusive resort in the Maldives.  Beers around $10 and drinks around $12-$20. Entrees were all over the map. You could manage a burger or a flatbread for a hair under $20. From there it was + + +.
We were going to have dinner at Virgil's but switched to lunch after I got a gander at the dinner menu prices (not shown online). You'll see below why lunch is the move there…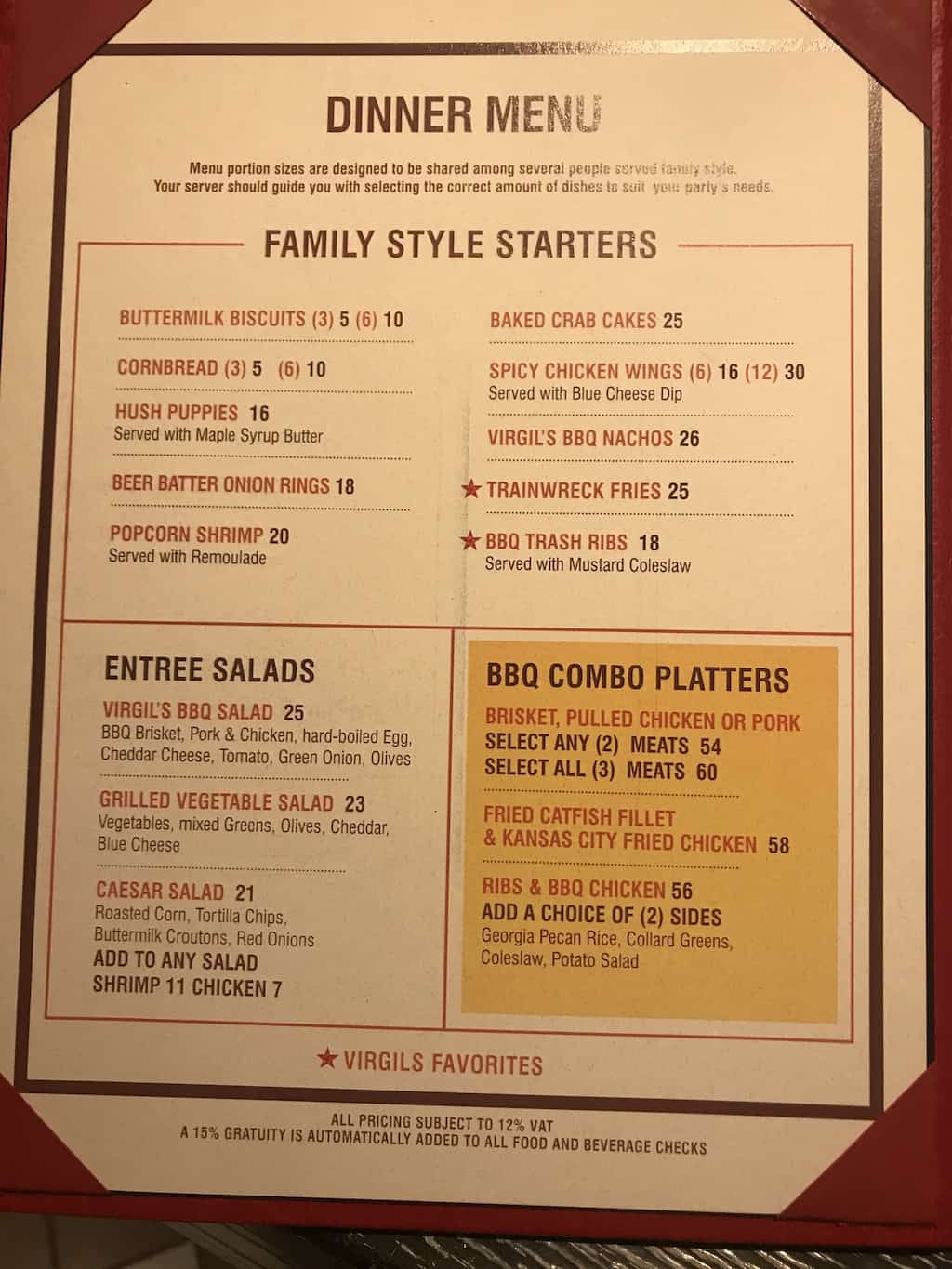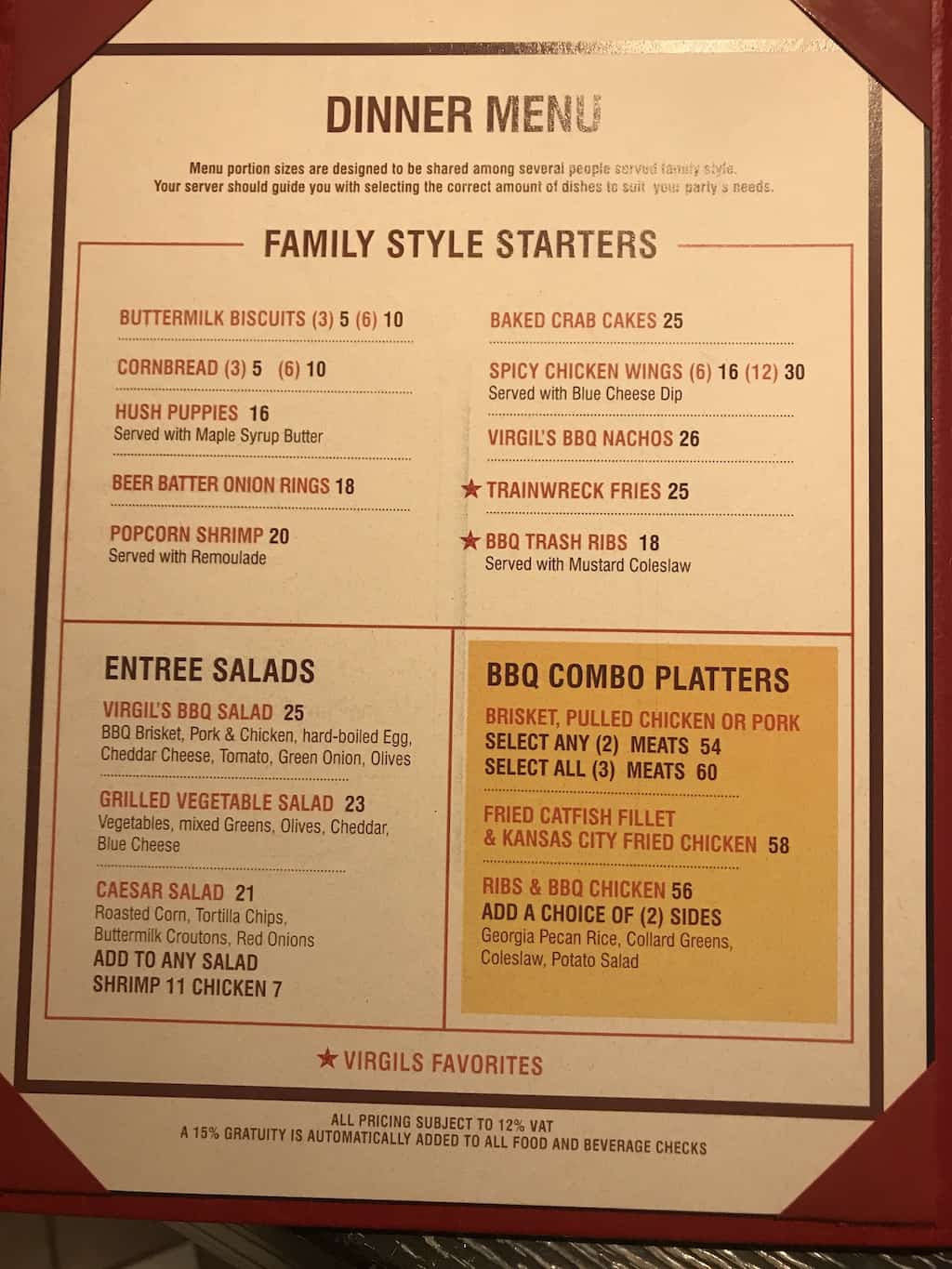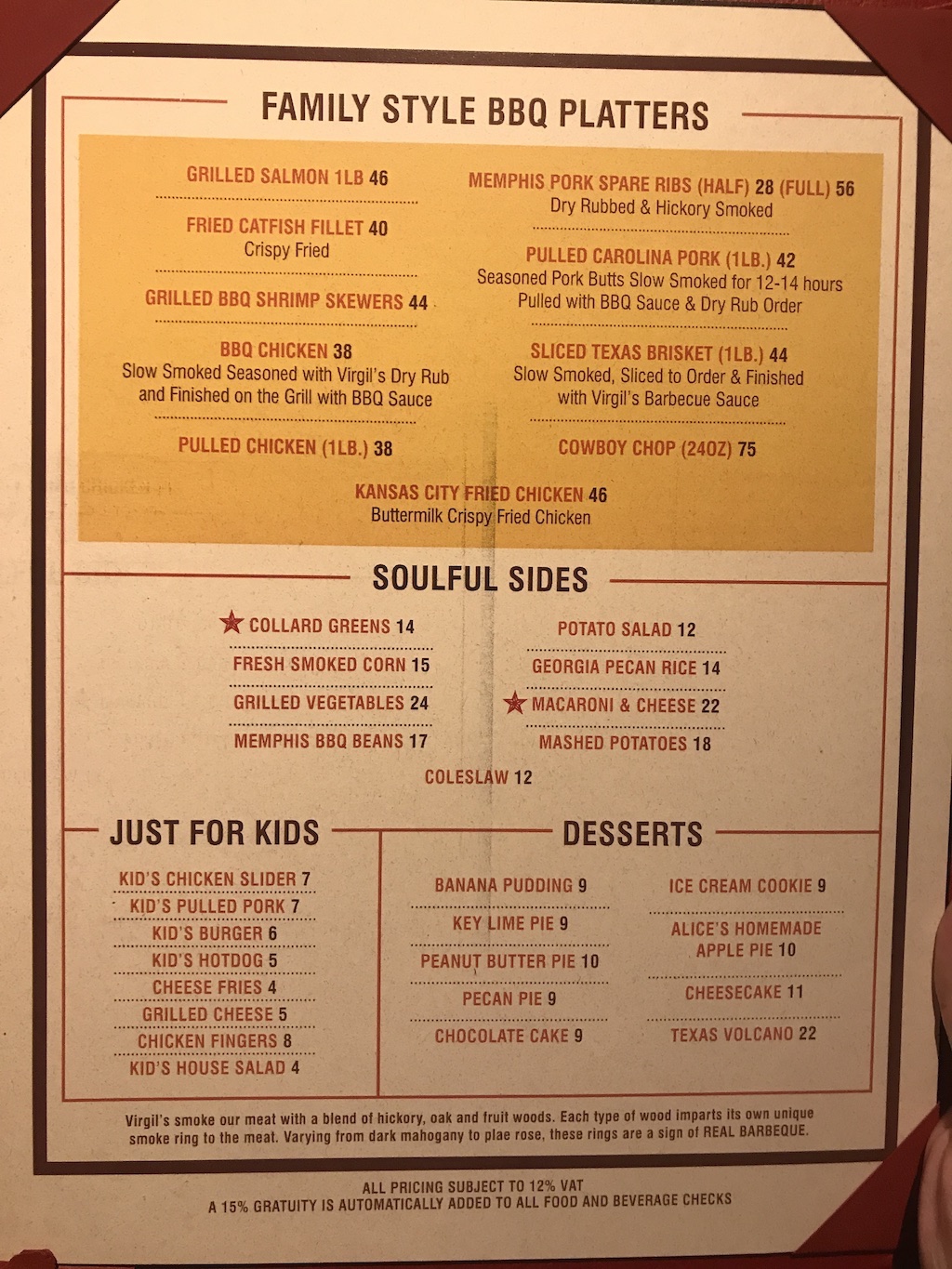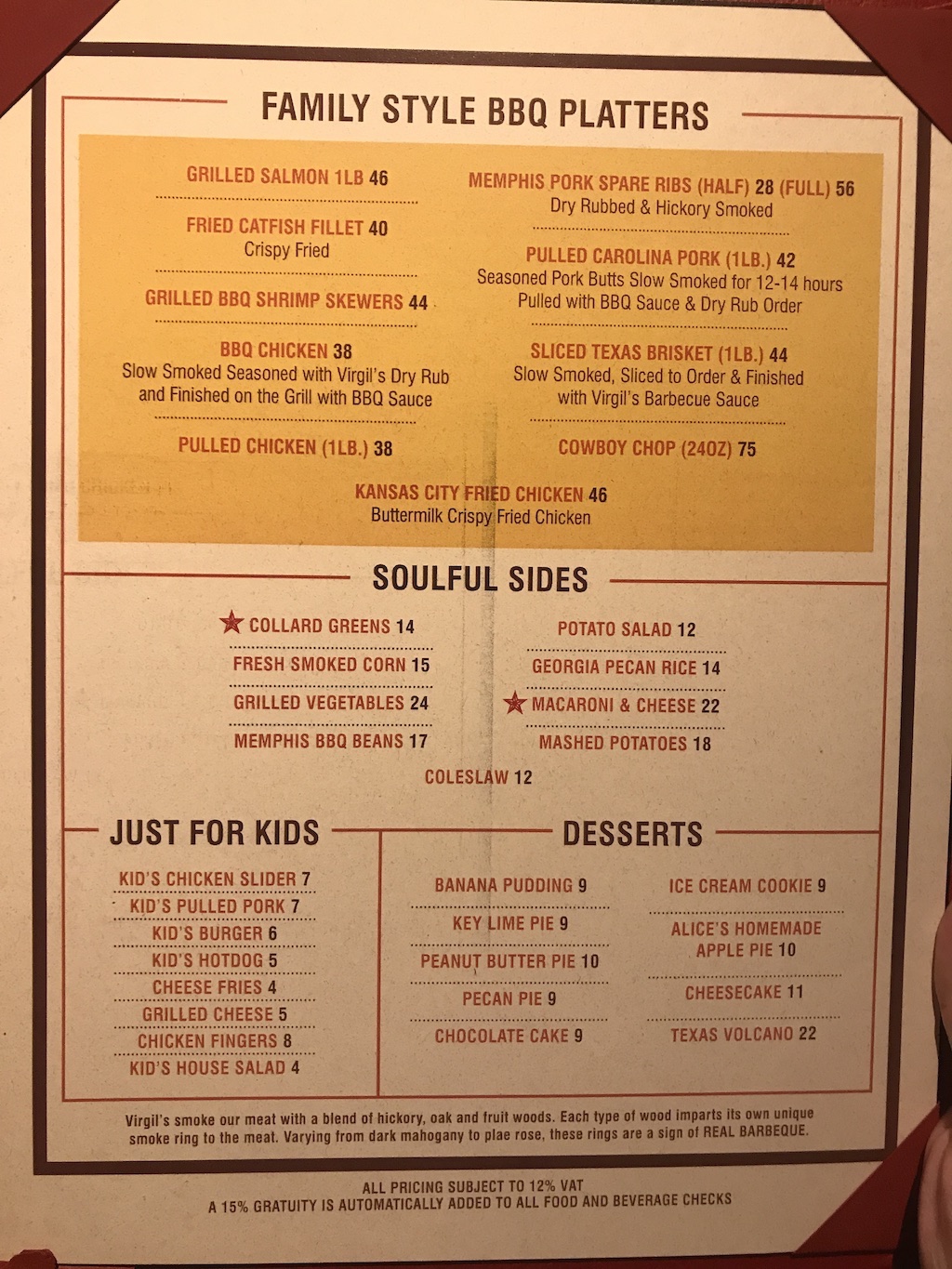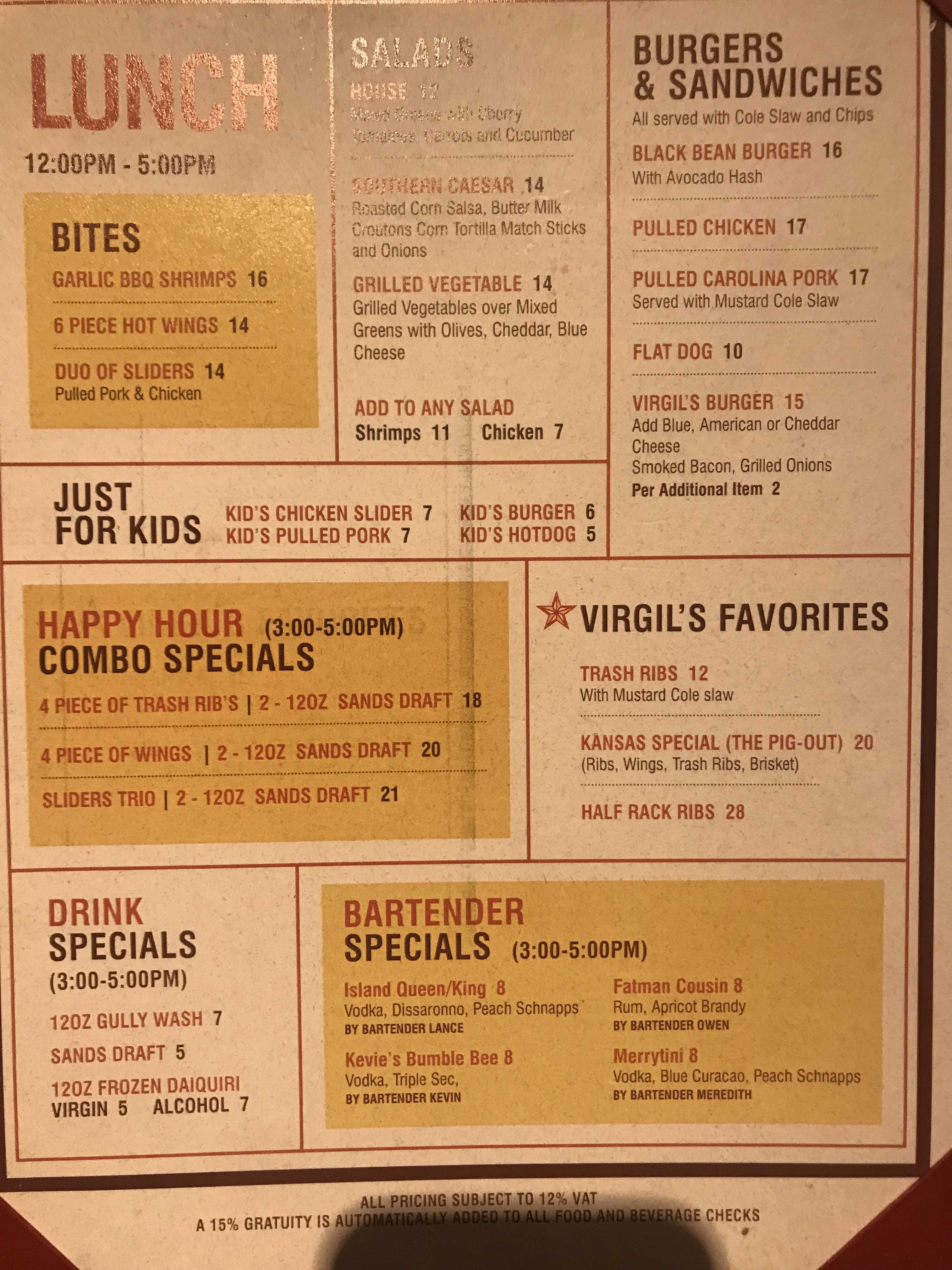 Pro Tip About Food Just Outside the Atlantis Resort
Just outside the resort, off the Marina, is a Dunkin' Donuts (with normal prices) and a restaurant with normal prices – standard fare like chicken and ribs and burgers. We didn't eat there, but would have if we discovered it sooner.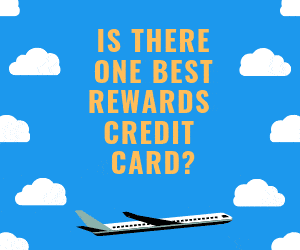 You can also take a ferry for $16 round trip to "town" though I've been there before and it's basically "any cruise port tourist area."  If you really want to be adventurous, you could use TripAdvisor to find a truly local restaurant in Nassau where prices will be cheap, but the cab fare will make up for much of that.
(2021 note: The ferry is still closed due to COVID)
Service at the Atlantis Resort
You might be a bit shocked at how bad the service is at the restaurants….  The tip of 15% is automatically added to all bills (including that $7 pizza slice) and across the board, we generally felt the servers were interested in anything but our meals.
In general, expect "standard island" service. This is not the Four Seasons…
The Casino Experience Pass
[NOTE: As of January 2019, the Casino Experience Pass is no longer offered.]
You will still get $75 – $100 (peak / off-peak) in slot dollars and access to Aquaventure.
Electricity in the Bahamas
The outlets in Atlantis are US 110 Volt ones, so no adapters are needed.
Currency in the Bahamas
There is a Bahamian Dollar that is pegged 1 to 1 to the US dollar. Everyone and everywhere at Atlantic accepts and gives change in US dollars. I did note on checkout though that the bill is charged in Bahamian Dollars, so be sure to use a card with no foreign transaction fees like the Chase Sapphire Reserve or the Chase Sapphire Preferred.
The only time you ever *might* get back a Bahamian dollar as change is if you went somewhere really local off the beaten path, like the Fish Fry.
Weather in the Bahamas
Generally around 70-90 degrees F year round, but in mid-winter it can occasionally be upper 60s, low 70s. I find that the shoulder seasons are generally be fine, but early February, for example, may not be as warm as expected.
Taxis to and from Atlantis
From the airport in Nassau (NAS), it's about a 30-40 minute ride.
The taxi charge is complex and most drivers seem to try to rip you off. The fee should be $40 from NAS to Atlantis for two passengers with one normal bag and one personal item sized bag each. That is $38 for the base fare + $2 for the toll on the bridge to Atlantis. Before entering a taxi, get the info sheet from the attendant that goes over this so you have it for reference. Additional people or bags will add to the fare, as will a large suitcase (add $2). Importantly, reconfirm the price with the taxi driver before getting in and confirm also that their car or van has Taxi license plates. I say to reconfirm so there is no dispute at the end. Basically everyone I talked to acknowledged that taxi drivers love to pad the fares and rip off unsuspecting tourists. A 15% tip is customary.
On the trip back, it should be just $38 as there is no bridge toll on the way back. Additional bags or passengers over 2 will still be extra.
Tipping at Atlantis
When you drink or dine on property, 15% is included on all bills. This is the expected amount. Yes, there is a line for additional tips, however nobody seemed to expect it and given the level of service, I doubt you'll feel inclined to add more, but of course that is at your discretion. Island-wide, 15% tips are the expectation. Of course, if someone helps with your bag or with beach chairs, etc, a few bucks is always welcome.
You'd tip in US dollars. No need whatsoever to ever get any Bahamian dollars.
Customs in the Bahamas
Bear in mind the Bahamas is not part of the US! It's an independent country and you will pass through customs on entry. On the way back to the US, you will pre-clear customs in Nassau.
Priority Pass Lounge at Nassau Airport on Departure
Not remotely worth arriving early for. Not super comfortable and rather than having food and drinks out, you get a $20 credit per person (including VAT and 10% tip) to use on food and drink. They were done with food for the day by 5pm, though, so it was drinks and cookies for us.
Cell Service and Wi-Fi at Atlantis
If you have T-Mobile like me with their unlimited international roaming, you'll get signal on their BTC network. I initially was having issues, but I manually selected the network and then it stuck. Note that it was 3G speed and very slow, so I connected to the hotel Wi-fi whenever possible. The Wi-Fi, while free, varied greatly in speed from perfect to a crawl. And they don't have it setup to flawlessly transfer you from connection point to connection point, so you often have to reconnect if you've moved around. Notably, in the Coral I would lose service often on the balcony and in the hallways. By the pool/beach it is in and out.
Don't forget to explore Atlantis!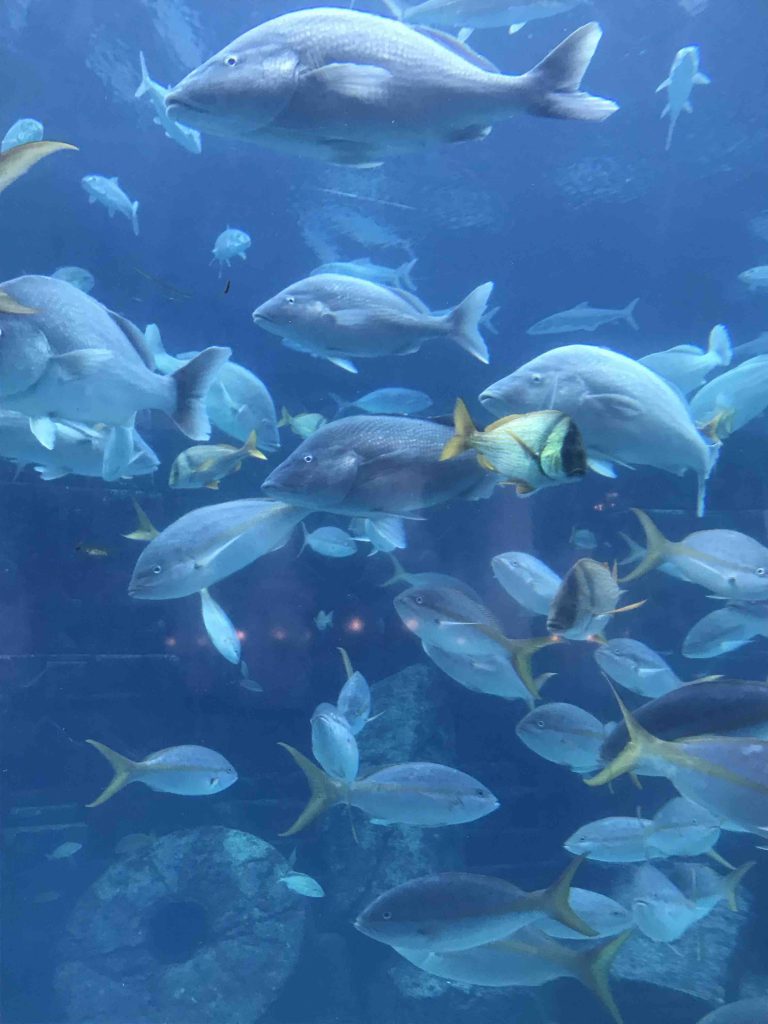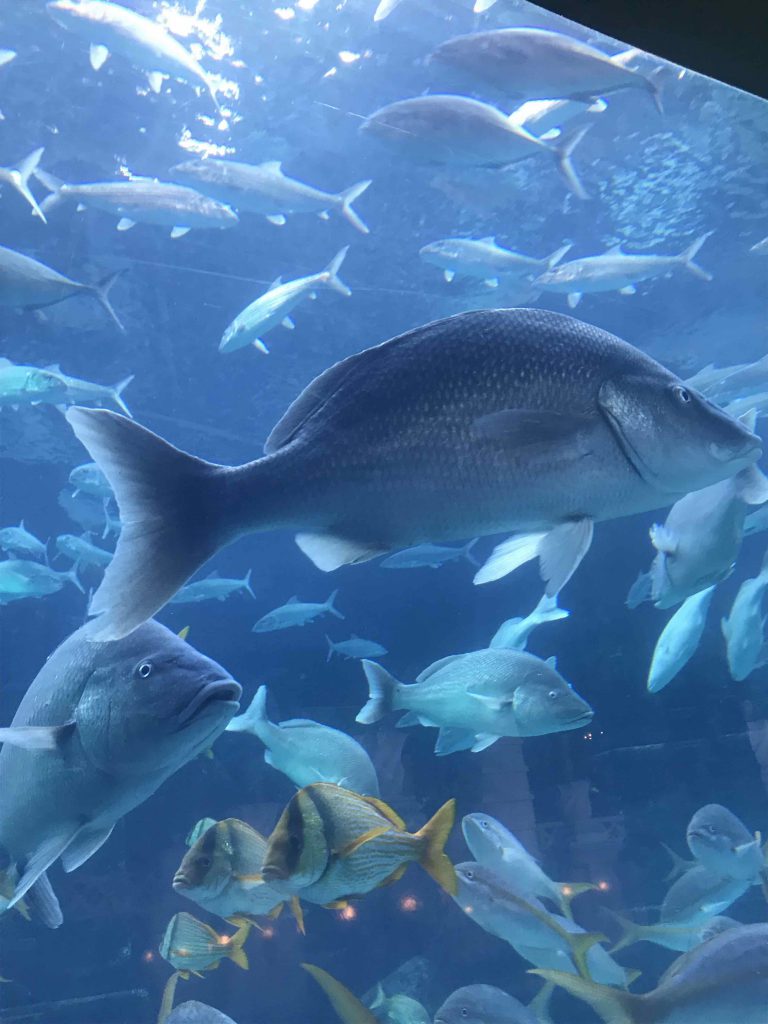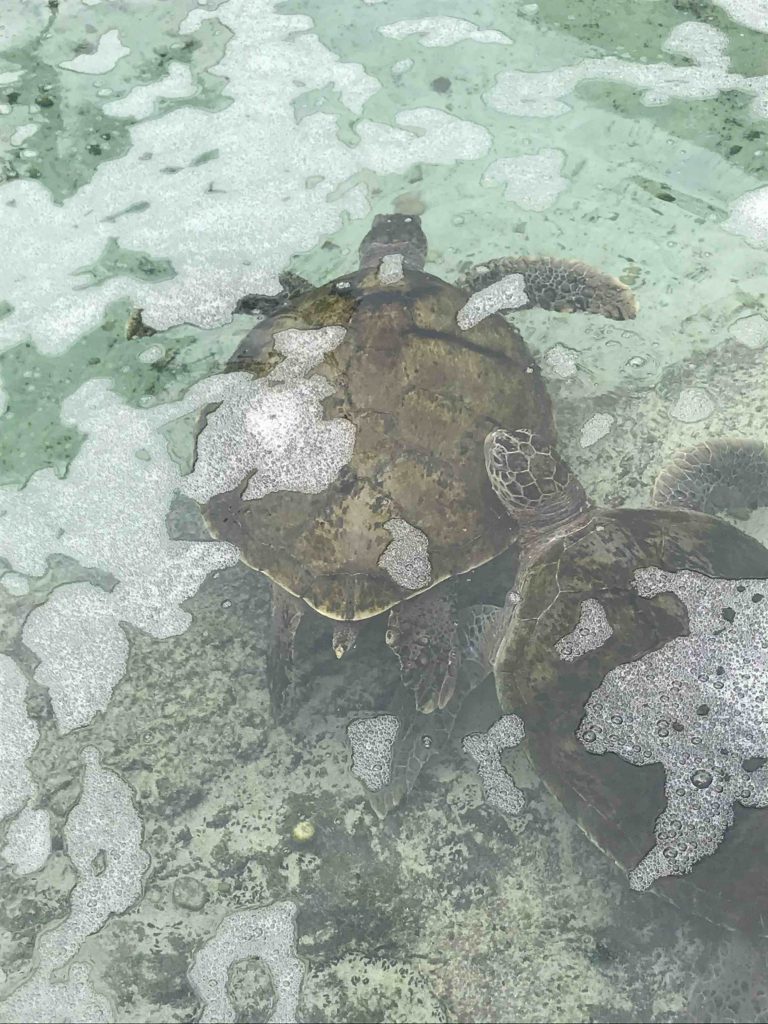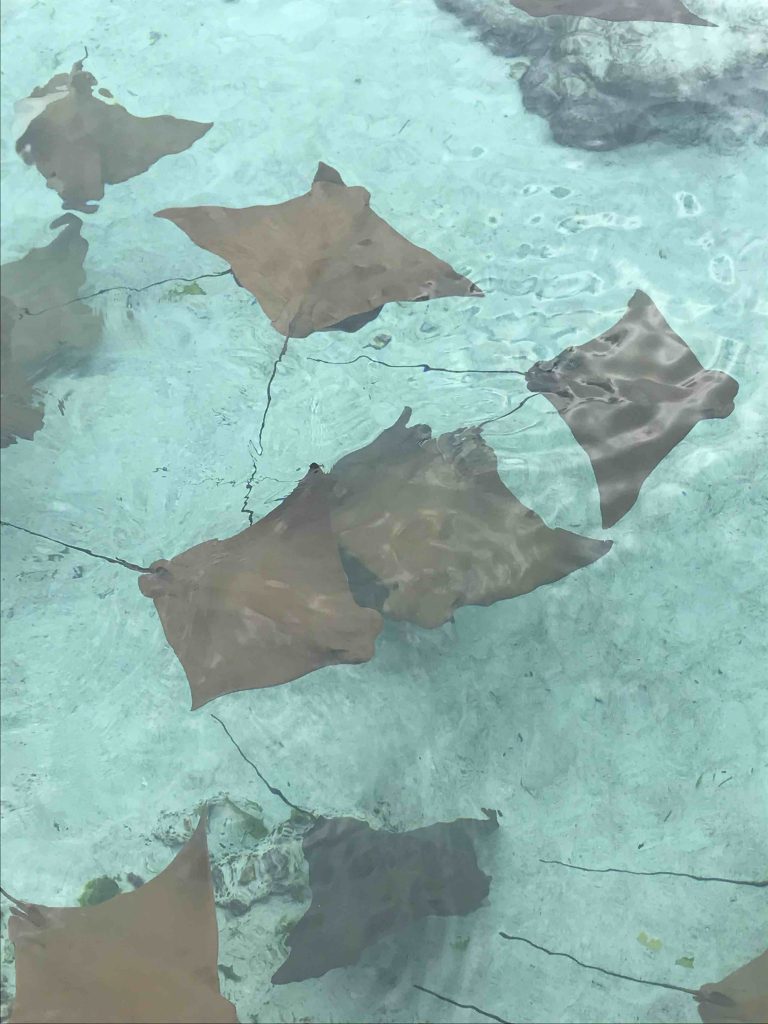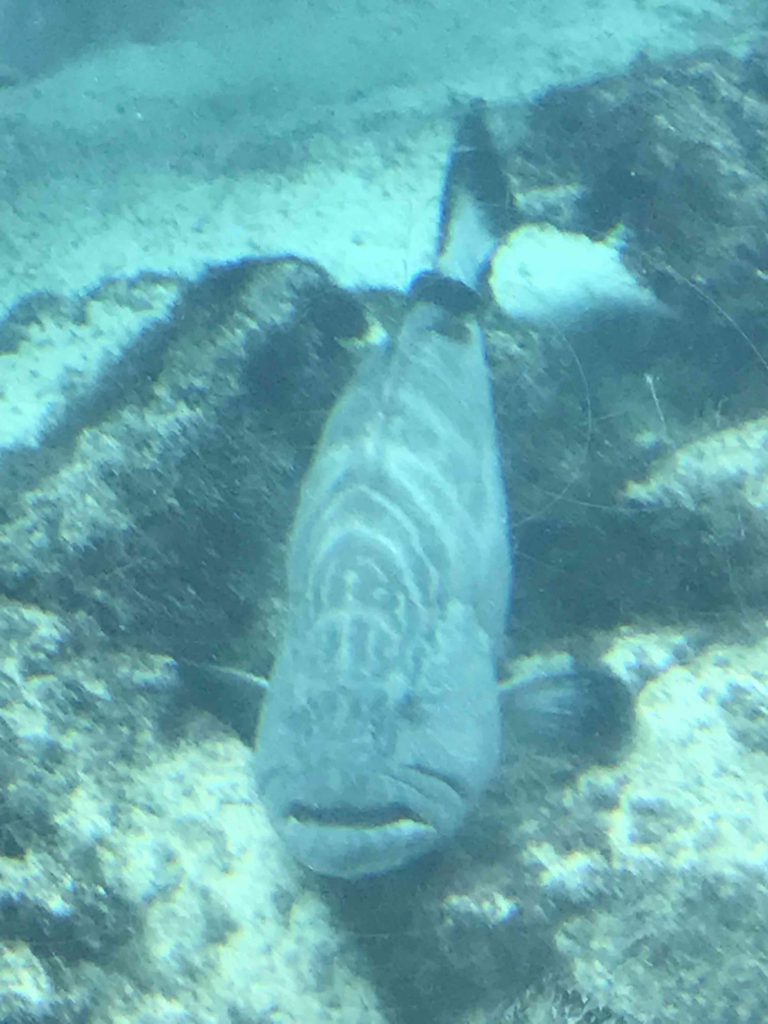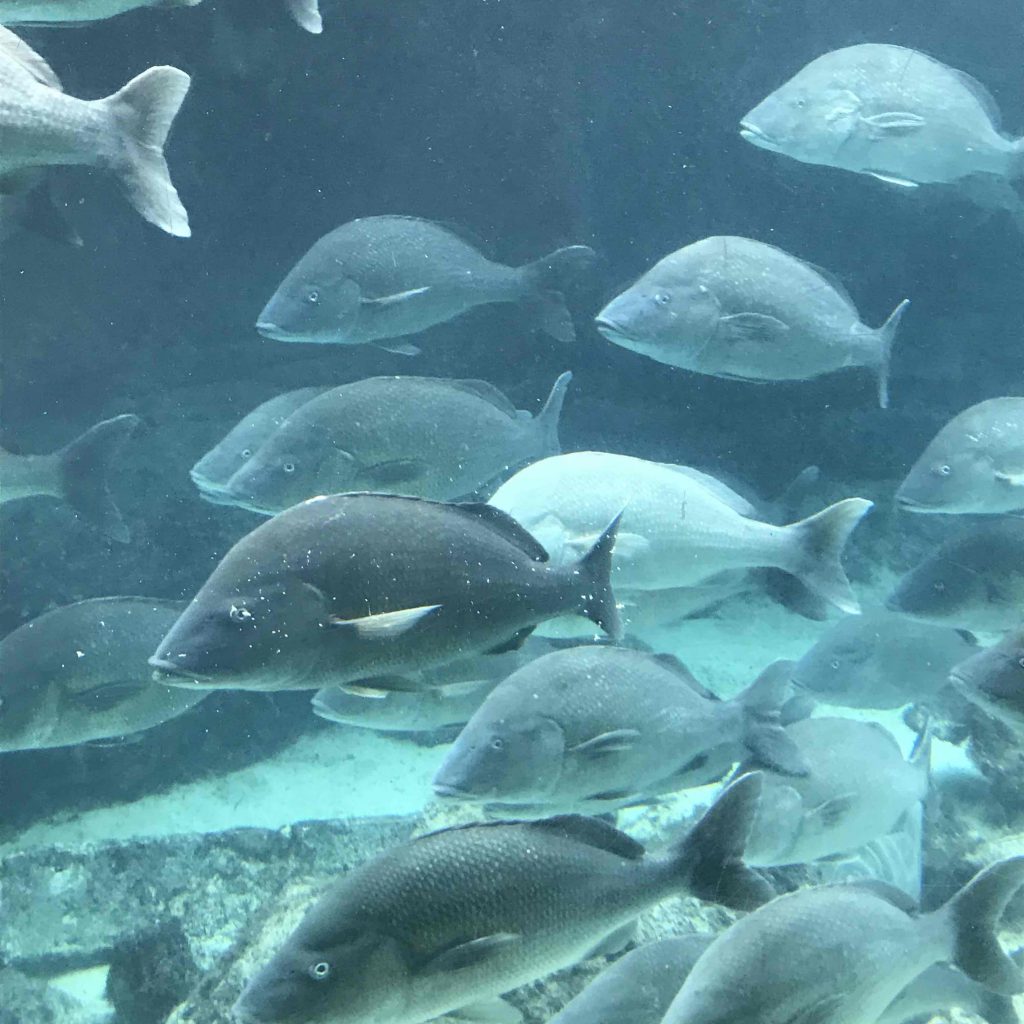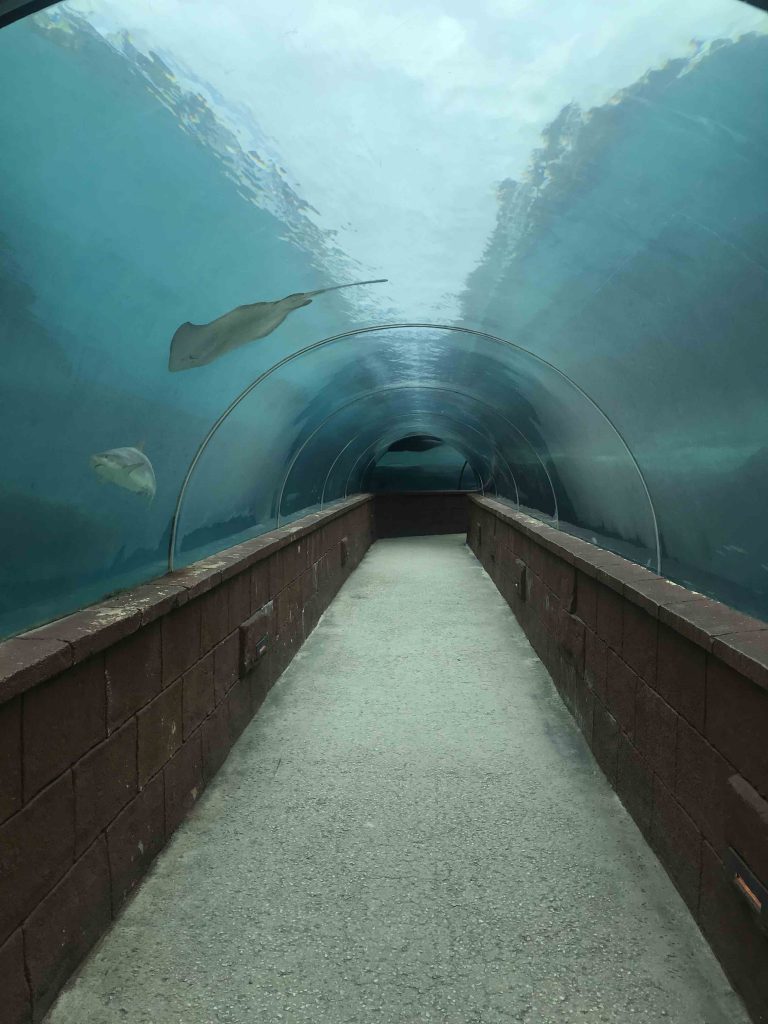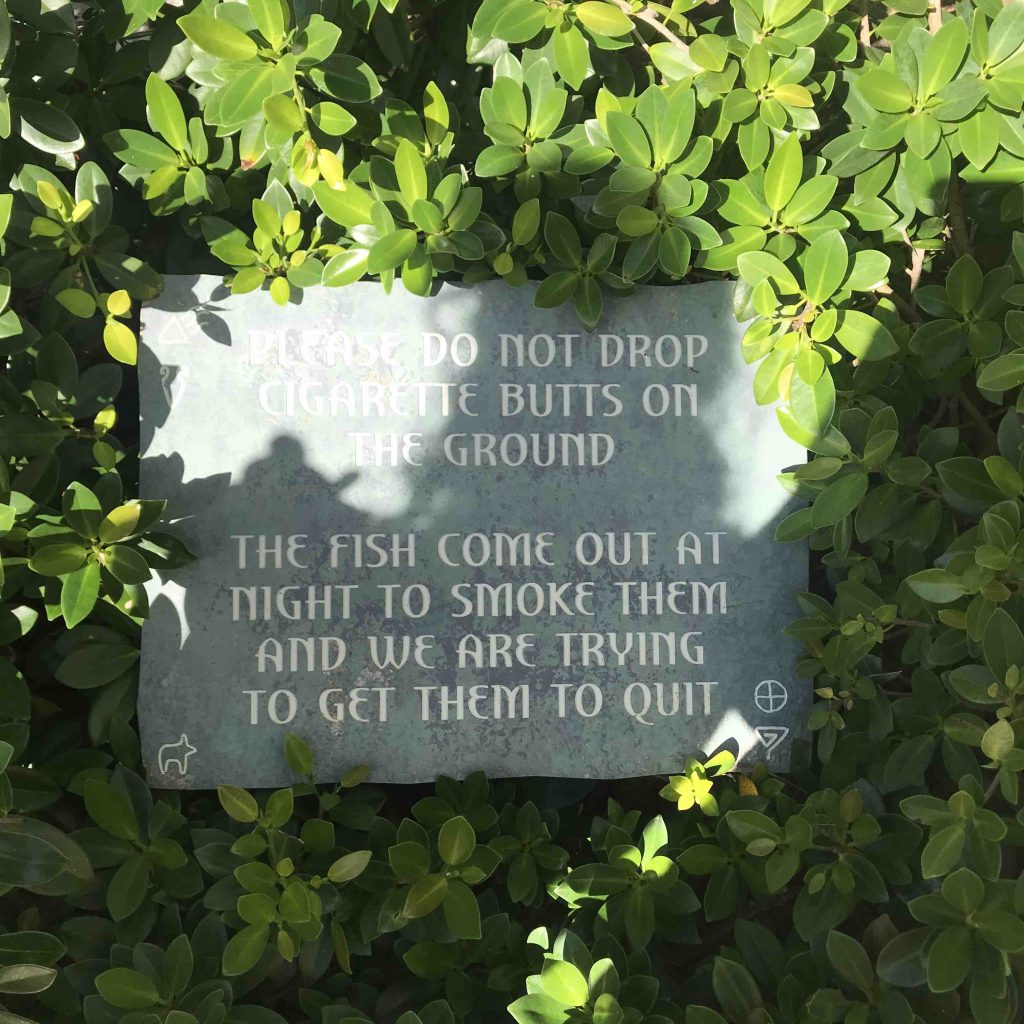 Additional Note:
As of January 2019, those booking this offer are being told:
"If you redeem this complimentary offer you are expected to play to the same level of casino play or greater. If you do not play or show reduced casino play you may be charged for some or all of your upfront complimentaries including rooms, food & beverage, limos, etc. If you need additional clarification, please contact Casino VIP Services or your Player Development Executive.
Customers receiving room reservations at a special casino rate must record 4 hours of rated play over the duration of their stay. If 4 hours of play is not generated, the special casino rate will be changed to the Casino promotional rate. The nightly promotional rates are: The Beach/The Coral $200, The Royal $300 and The Cove/The Reef $450. Additional room taxes and fees apply."
My understanding is that this is because they have received an unintended number of people from Caesars who aren't gambling and that isn't their intent of the offer. I would expect the above to be truly stated and you should be prepared to put in 4 hours at the casino.
We made sure to log 4 hours of play.
Atlantis Casino vs. Baha Mar Casino
I'm adding this in after my 2021 stay.
While the Baha Mar bills itself as the largest casino in the Bahamas, the one at Atlantis still feels much bigger, much better, and with better table minimums. It was unquestionably more crowded. (I spent 4 nights at Baha Mar before heading to Atlantis for 4 more nights.)
The Baha Mar is seemingly more interested in high rollers. One night I saw 12 dealers standing at empty $25 tables while there were none at lower denominations. I mostly played slots there because I won't personally be baited into gambling above my comfort level.
At Atlantis, I spent many hours at the tables: $15 BlackJack, $10 Ultimate Hold 'Em and $10 Let it Ride.
Note that both casinos say that they "want to see 4-6 hours of play a night at $50 = $100 average bet" to send you their own comps. Crazy in my book but clearly not in the books of other players!
Chase Sapphire Preferred® Card Earn 60,000 bonus Ultimate Rewards points (worth up to $750 or more!) when you spend $4,000 in 3 months. How to apply for this offer.
Summary
Despite what seems like a lot of dissatisfaction in my post, we had a great time.
We didn't go out of our way to save every dollar, but we did actively try to keep costs reasonable. That includes the $65 a night resort fee, food, and two massages at the Mandara spa ($100 + tax each for 50 minutes was surprisingly reasonable there). We didn't do any other activities.
All in all, though, Atlantis really is a great place to get away from winter weather and this deal did save us $880 off of what the rate would have been for the same room online ($220 / night avg rate).
You have the beach, lots of pools, the waterpark, the casino, and the relaxation of an island. Atlantis is beautiful.
And at $65 a night, with the right expectations going in, you'll have a fantastic time.
Questions?
Let me know below in the comments, on Twitter, or in the private MilesTalk Facebook group. And don't forget to follow me on Instagram for all sorts of tips on miles, points, credit cards, and travel.
If this post helped you, please consider sharing it!
You can find credit cards that best match your spending habits and bonus categories at Your Best Credit Cards. 
New to all of this? My "introduction to miles and points" book, MilesTalk: Live Your Wildest Travel Dreams Using Miles and Points is available on Amazon and at major booksellers.