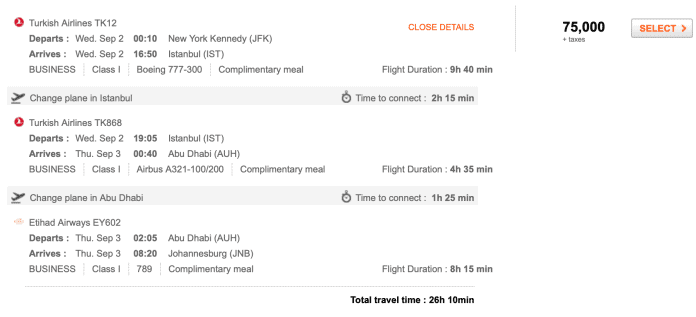 Some amazing news broke today announcing a new partnership between Air Canada (and their Aeroplan program) and Etihad Guest.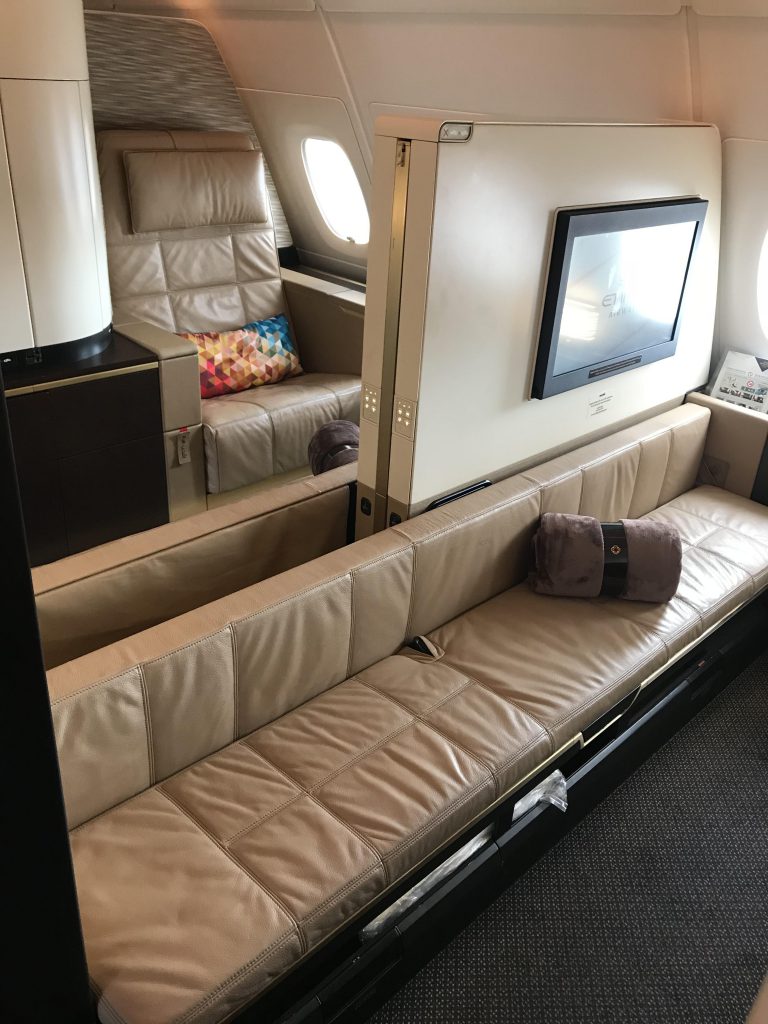 You know Etihad as the home of the famous First Class Apartment
The Apartment itself has been in MilesTalk a bunch recently, with rumors that the Etihad A380's, which are the only aircraft with the Apartments, might never fly again, followed by claims from Etihad management that they most certainly will fly again.
The Etihad 1st Class Apartment is one of the best experiences in the sky.
Etihad is Now Bookable With Aeroplan (and Online, too!)
Whereas there can be a rather convoluted system to book Etihad flights using American Airlines AAdvantage miles, Aeroplan allows booking online with no fuss. It's subject to the standard Aeroplan booking rules and award rates. You can combine with other partner and Star Alliance airlines and you can mix classes or service (i.e. First connecting to Business or Coach).
Which brings me to….
The Top 5 Reasons to book Etihad with Aeroplan Miles
There are few easy ways to book Etihad using transferable miles. When it looked like American Airlines and AAdvantage might end their partnership (for the second time – it still hasn't happened) I wrote this piece explaining how few good other options there are for booking Etihad flights. Which leads me to my top five reasons that being able to book Etihad with Aeroplan is such a coup.
1) You can transfer from both American Express Membership Rewards and from Capital One miles. 
I also hear they may be getting a third transfer partner. That makes it easier to accumulate enough for an award vs. American Airlines which has no transfer partners except for Marriott Bonvoy.
2) You can book mixed class awards and mixed airline awards.
I'm not seeing enough made about how big this is. Only AAdvantage currently allows mixed-cabin awards in terms of a major mileage program that can book Etihad.
Crazily (and again, not widely discussed), Etihad's own Etihad Guest program cannot do this! That means that if you want to fly the First Class Apartment from JFK-AUH and continue on anywhere that only has two class aircraft, you have to book two separate awards! That makes an already expensive points ticket even more expensive. Same if you needed Business connecting to a Coach seat.
Let me excerpt from my previous article on the topic:
Let's say you wanted to go from Abu Dhabi to New York in the Etihad First Class Apartment.  It would be 115,000 AAdvantage miles plus around $100 give or take on taxes and fees. Using Etihad Guest miles, you'd pay 136,460 miles plus about $275.
On the face, that's not a big deal. The rub lies in the routing rules of Etihad Guest. If you want to connect from *anywhere* that doesn't have a First Class, you cannot book it as one award using Etihad Guest miles. Using AAdvantage's generous routing rules, you could book a connection in Business (or Economy). Not so with Etihad. If there's no First you're booking two awards. Want to tack on Male to Abu Dhabi in Business?  That will be 63,000 additional miles + USD $301.40.
Now that same First award that AA charges 115,000 miles and ~$100 for is going to run you approximately 200,000 Etihad Guest miles plus about $600.
Another one of the great AAdvantage routing rules lets you fly Etihad to South Africa as one award. On Etihad Guest? Two awards. JFK-AUH and AUH-JNB/CPT. Business class to SA from AUH will add about 66,000 miles and ~$160 in Business Class. I couldn't find a First spot open to check that.
Surely there are other options for booking the Etihad First Class Apartment!?
Not really! You can use Korean SkyPASS miles – and a reasonable 105,000 in First (no connections, though). However, with Korean no longer a Chase Ultimate Rewards partner, nothing but Bonvoy will transfer there, making it an option for very few people.
3) No surcharges!
In the award scenario I gave you above from JFK to JNB or CPT, the award surcharges would be less than $100CAD as Aeroplan is not passing on the YQ surcharges. Here's a routing that takes you from NYC via IST and AUH to JNB for just 75,000 miles (105,000 in First) and $30 CAD in fees (less than $23 USD). Middle East / Sri Lanka / Maldives would be 85,000 Biz / 115,000 in First.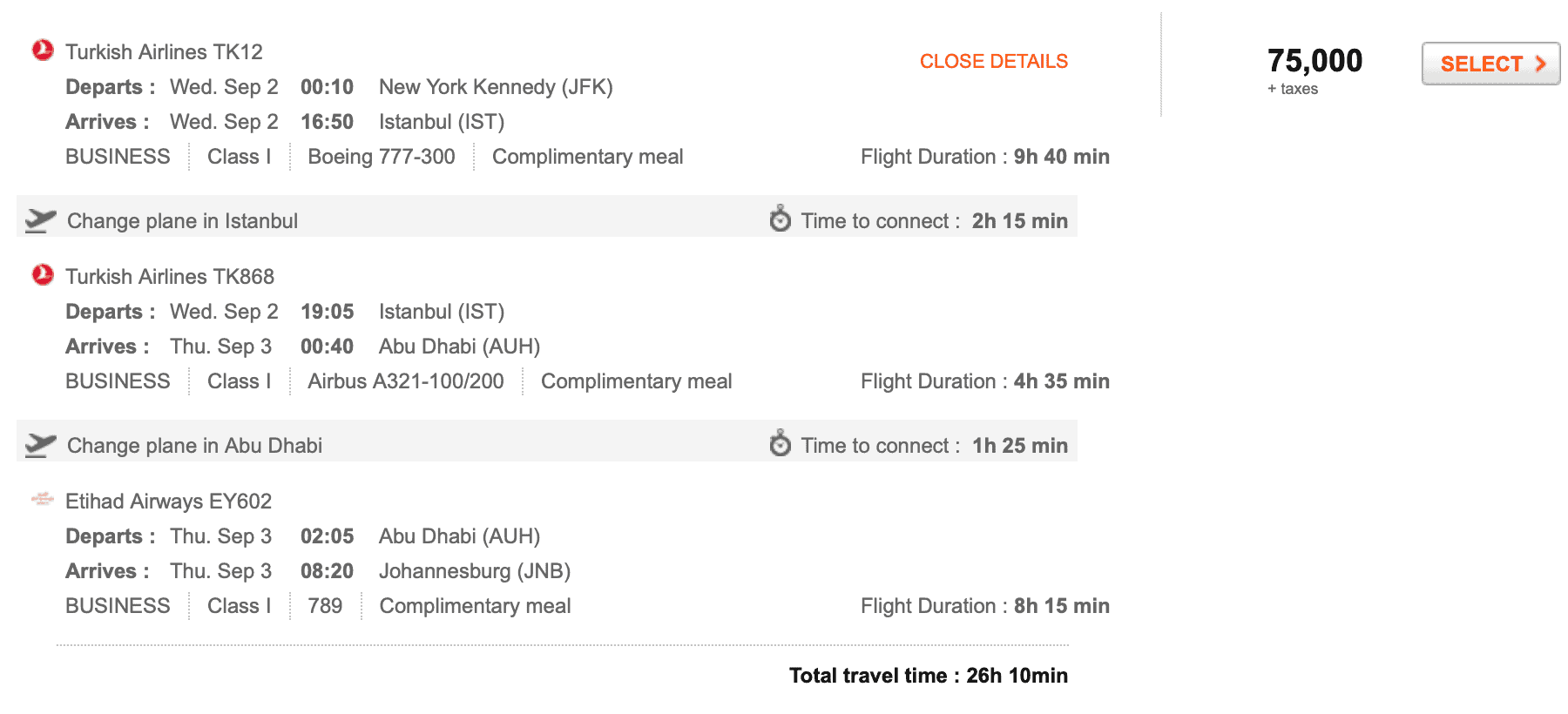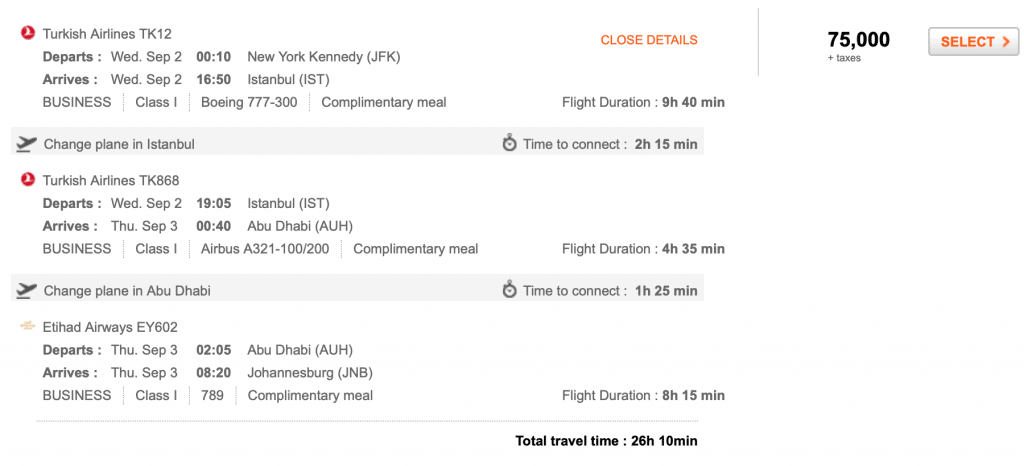 The Aeroplan award chart overall is very reasonable for Aeroplan. For example, 75,000 miles would get you one way to South Africa or the Maldives and 105,000 – 110,000 would buy first class. That's on par with American Airlines AAdvantage chart with the added bonus of having bank point transfer partners.
4) Infant fees 
One of the best options for traveling with infants is Aeroplan. From their website:
Redeem your miles or pay a flat fee for an infant flight reward. Whatever you choose, your mileage redemption or flat fee will be the same across infant ticket travel zones:
Economy Class – $50 or 5,000 Aeroplan Miles
Premium Economy Class – $75 or 7,500 Aeroplan Miles
Business Class – $100 or 10,000 Aeroplan Miles
First Class – $125 or 12,500 Aeroplan Miles
To book your infant flight reward or get more information, please call the Aeroplan Contact Centre: 1-800-361-5373
5) Aeroplan's Routing Rules
You can have 1 stopover or 1 open-jaw on a round trip Aeroplan award.
This allows a ton of flexibility you won't even get on an AAdvantage award. For example you could fly NYC to the Maldives, then fly back connecting in AUH but landing in Geneva, spending as much time as you want there, and flying home from Geneva on Swiss and that should be just 150,000 miles in Business Class all the way through.
(Note: an earlier version of this article said you could have two stopover. You used to be able to – but I'd forgotten they changed that last year.)
Is Aeroplan Now the Very Best Way to Book Etihad?
I'd argue that for all of the above reasons, yes, Aeroplan is now the best way to book Etihad awards. And certainly, if you are one of the many thousands that no longer have an AAdvantage account after their mass account terminations last year, this new option is a lifeline for booking Etihad.
HT: View from the Wing for braking the news of the partnership
Does this increase Aeroplan's value to you?
Let me know here, on Twitter, or in the private MilesTalk Facebook group.
You can find credit cards that best match your spending habits and bonus categories at Your Best Credit Cards. 
New to all of this? My "introduction to miles and points" book, MilesTalk: Live Your Wildest Travel Dreams Using Miles and Points is available on Amazon and at major booksellers.