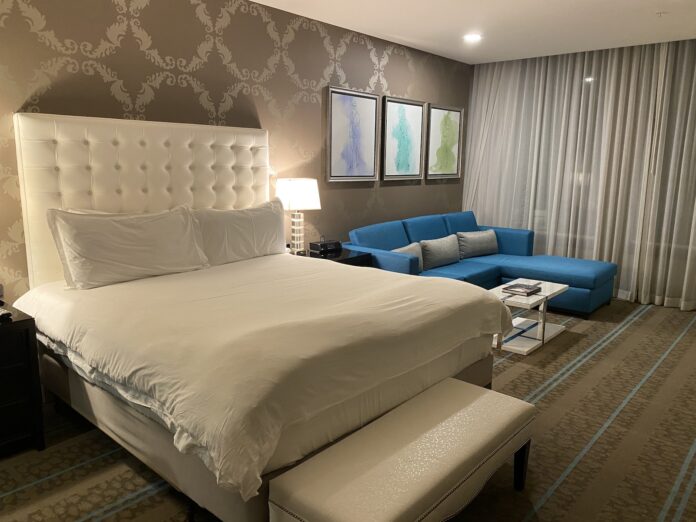 I'd never been to Portland, OR before. I'd never even been to Oregon… But it had been on my list for a long time and it didn't disappoint!
72 Hours in Portland, Oregon
A lot of people offered some advice on Portland, including flat out "don't go" due to a large homeless population and the aftermath of last summer's riots. I'm glad I didn't listen and went to explore for myself because, while downtown Portland is indeed looking pretty grimy, that's just a tiny section of this great city and state. Sure, if you are going to have a miserable time just because you walk by some homeless encampments, maybe don't go. But I personally never felt unsafe roaming solo. The only area I would avoid is in the Old Town / Chinatown area (near Voodoo Donuts) that has a very high proportion of closed stores and encampments.
If you are similarly considering a visit, I'll tell you what I'd do on my next visit – although I never felt unsafe walking around the downtown location of the two hotels I tried – the Nines (A Marriott Luxury Collection hotel) and the Kimpton Vintage. I'd stay up in the Pearl District.
Day One: Exploring Downtown Portland, The Pearl District, and East Portland
I checked into The Nines late on Wednesday night. It's never ideal coming into a new city after dark, because I have to admit when I got dropped off at 11pm in this part of downtown, I felt like I'd made a huge mistake. In the morning, though, in daylight….  it was much better. More on The Nines later on….
I started my Thursday two blocks from The Nines at a WeWork getting some work done. It was the Community Manager there that gave me a couple of amazing tips, namely to avoid the Old Town area near the water and to try a certain food pod in East Portland….
After I finished work, I dropped off my bag and grabbed an ebike across the street in front of the Nike store. Nike operates the ebikes here (like Citi does in NYC) but you can book via the Lyft app which makes it so much easier as a tourist need not download yet another app.
I rode the ebike over one of the bridges dividing downtown from East Portland, riding about 1.5 miles to a "food pod" (like a food truck lot…. but they call them Pods) called Hawthorne Asylum.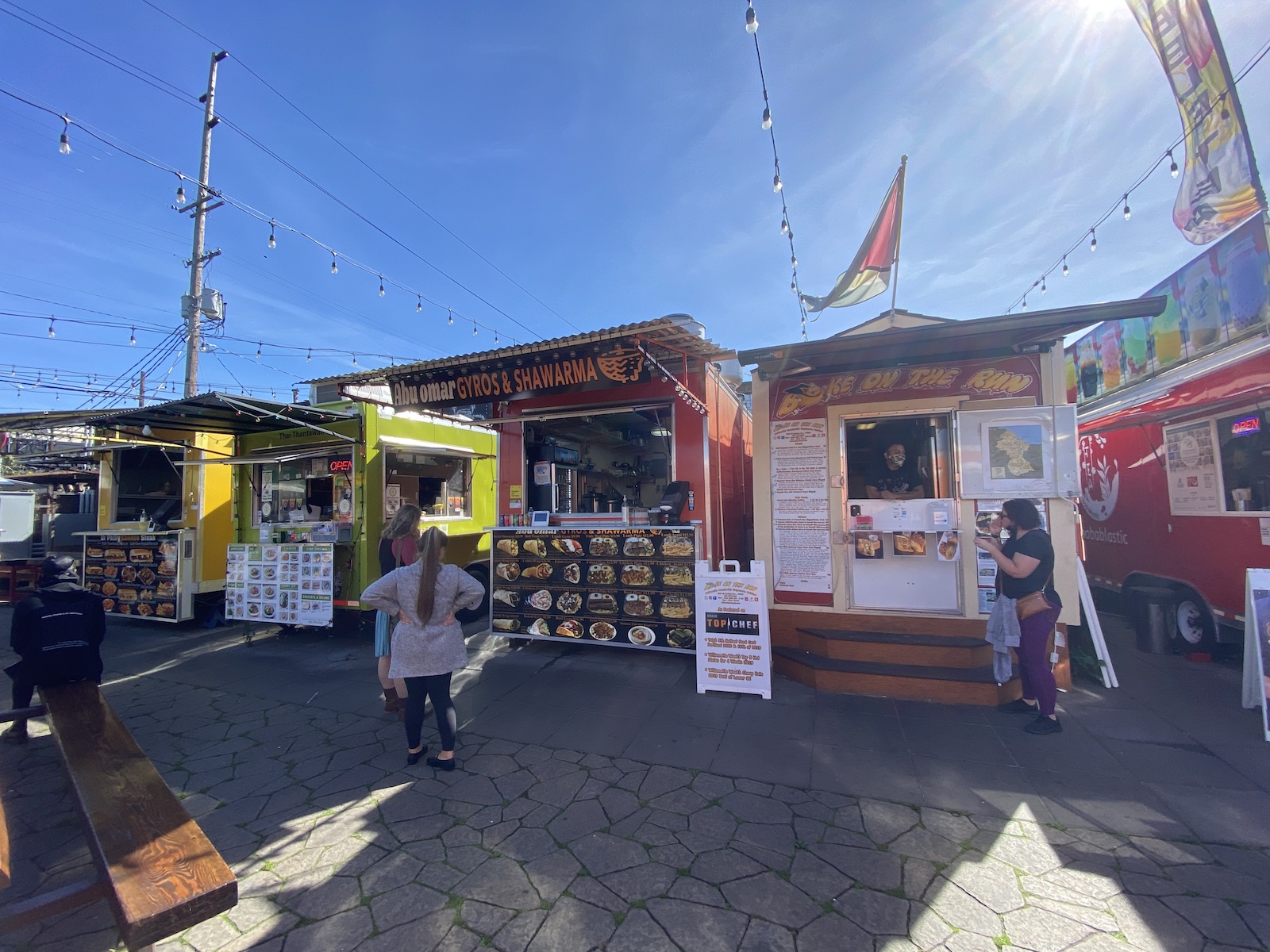 You shouldn't miss this if you are a food lover like me. They had a huge range of food carts, including Mexican, Burmese, and Guyanese. I wish I'd had time to visit a second time on my trip. I ate a chicken and potato curry from the Guyanese cart (the owner was on Top Chef and makes some great food!).
Once I finished there, I biked back to downtown (over a different bridge for variety) and then walked up to the Pearl District.
In the heart of the Pearl District, about a 10 minute walk from the Nines or Hotel Vintage, it felt like I was walking around a nice part of Austin or maybe Toronto. The Moxy, Canopy by Hilton Pearl District, or the Hampton Inn Pearl District would probably be my top choices next time purely based on location. The tan area on this map is the heart of the Pearl District and I spent most of my first day in town exploring downtown first, then all of the Pearl District on foot, by scooter, and by eBike.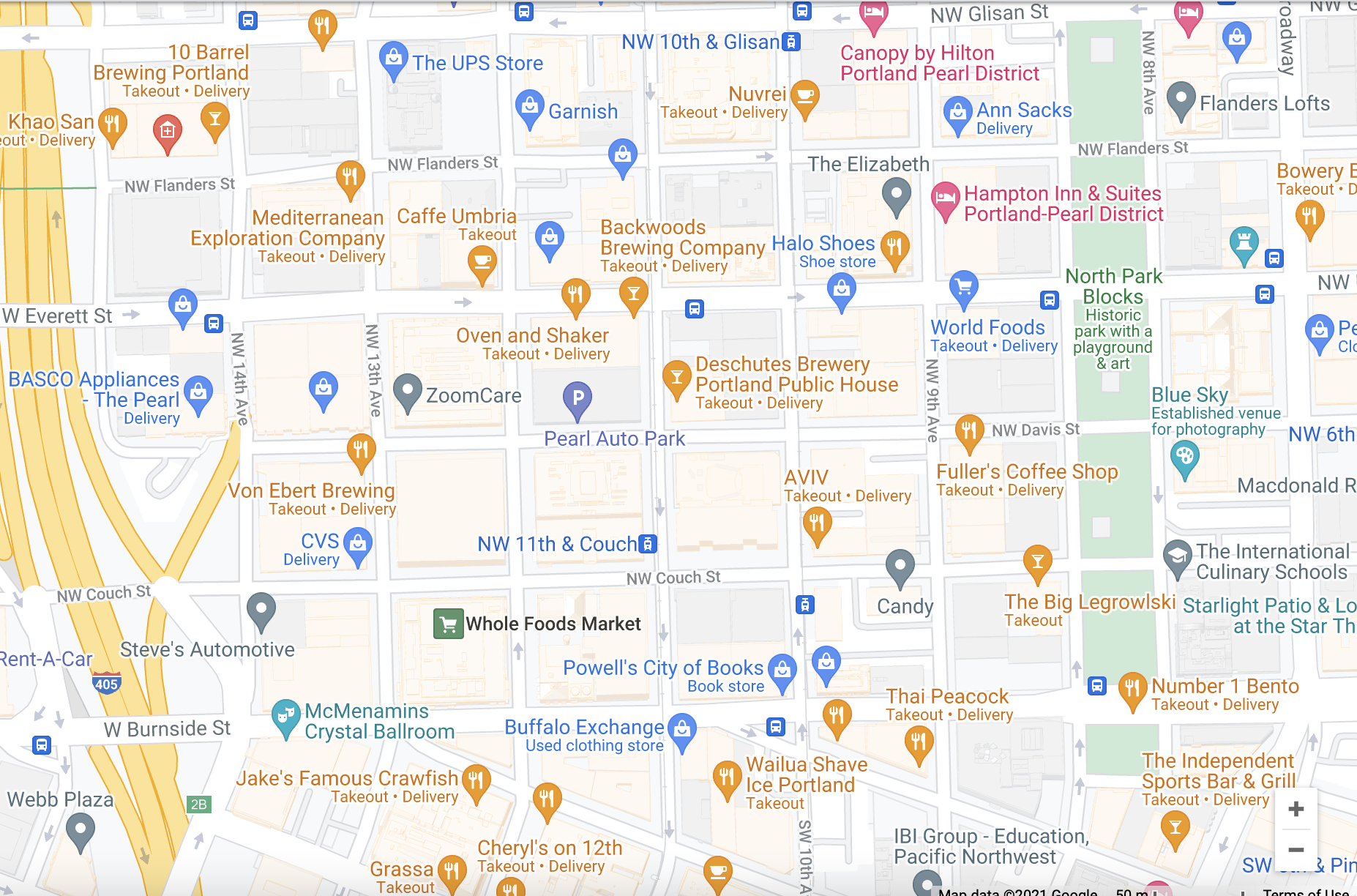 The area is full of restaurants, breweries, coffeehouses, and upscale shops.
I wandered around until sundown and then biked back to The Nines. It was a very full first day. In the end, I wish I had more time to explore Portland proper, but with 72 hours, you have to move fast….
Day Two: Tillamook and the Oregon Coast (And Trying a Car Share Called Free2Move)
I love cheese. I mean, I lovvvvveeee cheese. And Tillamook makes some of the best cheese domestically. When I found out that the Tillamook factory was in driving distance, even if not that close at 1.5 hour each way), I had to check it out. Self-guided tours had been suspended during COVID, but they are up and running again.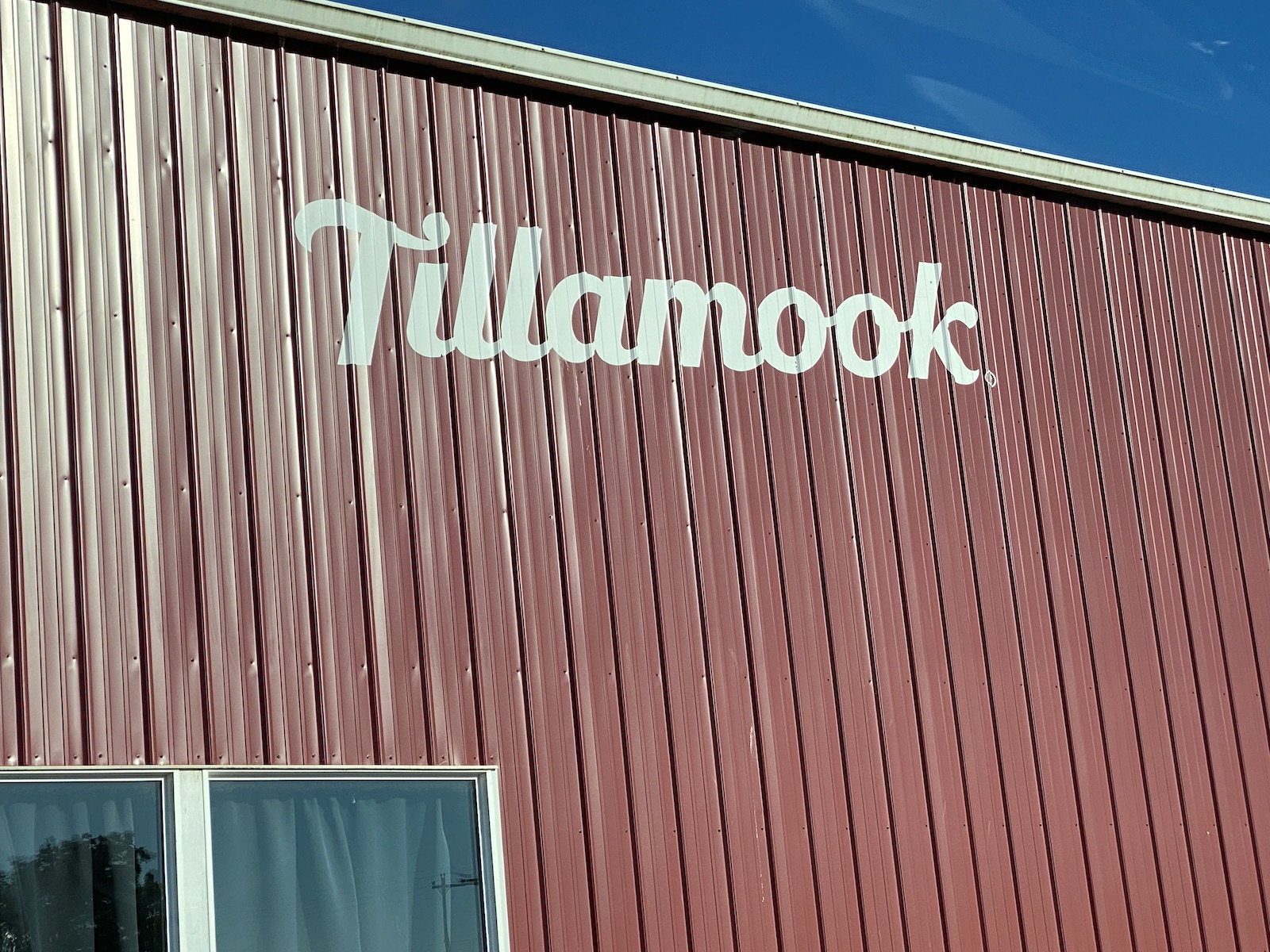 Before I get into that, though, I needed a car. Can't exactly Uber 75 miles away! I didn't get one for the whole trip because I truly didn't have a plan until I was already in the hotel. Now, I needed a downtown car rental, but they were all sold out. All!
The concierge at the Nines suggested a car share service like Zipcar called Free2Move. They are based in Europe but have car shares in Portland, OR and Washington DC. It wasn't super fast or smooth to get an account setup, but soon enough I had an account (note that after you register it can take up to 24 hours to validate you, though mind only took an hour). You can rent by the hour or for multiple days. I took it for two full days at a cost of around $174. Though that's not cheap, consider that a) you can park it at any meter in Portland as long as it's a space zoned for 2 hours or longer for free (including overnight) and b) you don't have to fill the tank. I used nearly a full tank of gas which would have run me $60 in a rental. So all told, it was a deal.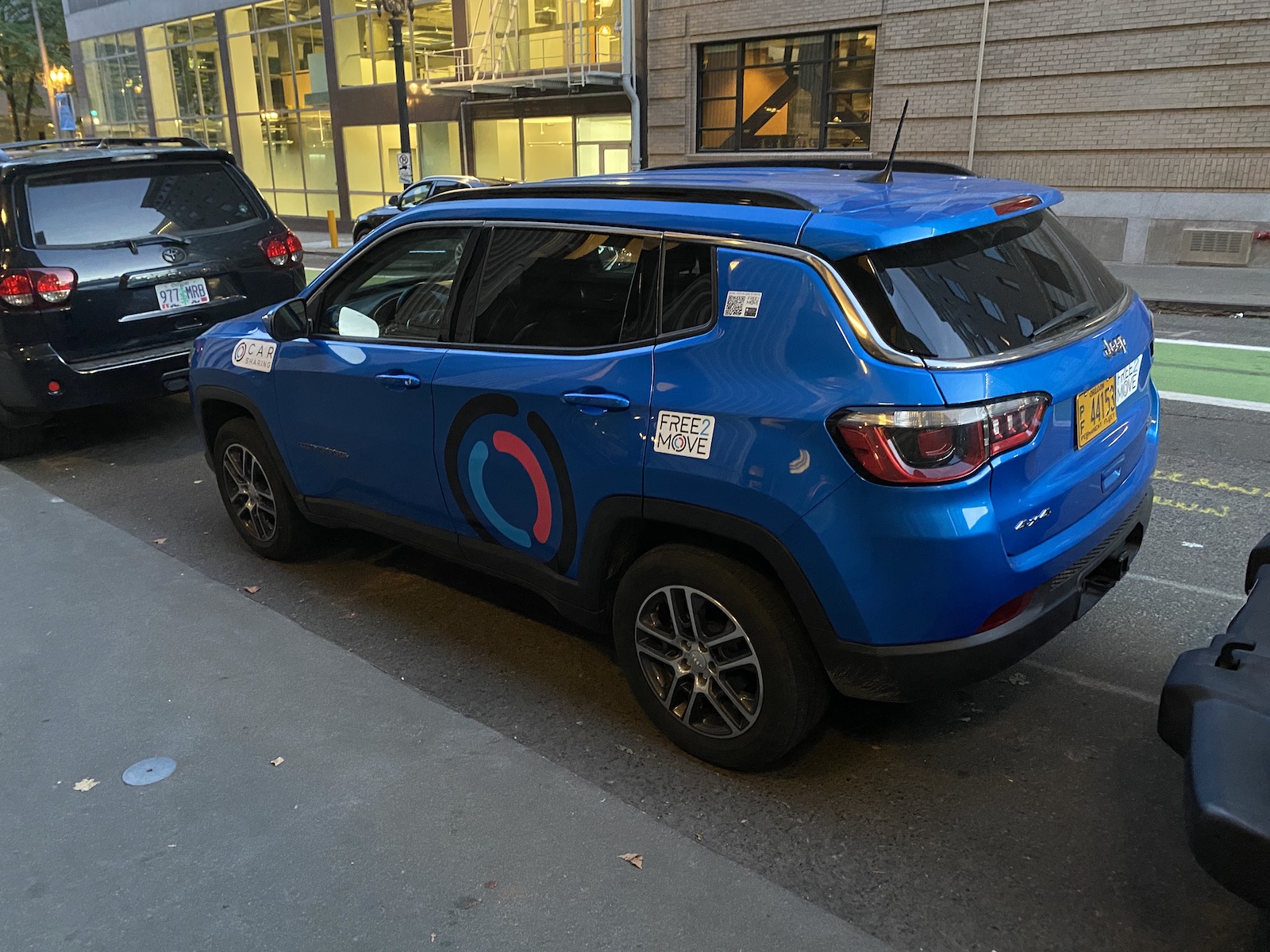 One super odd thing about Free2Move (which uses only Jeep brand vehicles) is that the car can only be locked or unlocked in the app. You don't get a key. The app uses bluetooth to communicate with the car. But I'm still not sure if you can get stranded should you need to unlock and not have data service. It did work for me multiple times without signal, however I'm not sure if there is the risk that the app tries to "refresh" itself, locking you out from the "resume" screen. I should note, by the way, that when you leave the vehicle you either press "Stop and Come Back" (if you are returning to the car) or "End Ride" and that part is intuitive.
Anyway… Tillamook. I got in my Jeep and hit the road. It's about 90 minutes each way to Tillamook which is about 15 minutes inland from the coast. Note that you will lose cell signal for about a full hour as you drive through the Tillamook forest.
The factory was fun… You can do a self-guided tour which looks down onto the production line and eat at the cafe which has things like grilled cheese and cheese curds (I had a cheese burger with cheese curds). Outside is the creamery, where you can have some of Tillamook's amazing ice cream.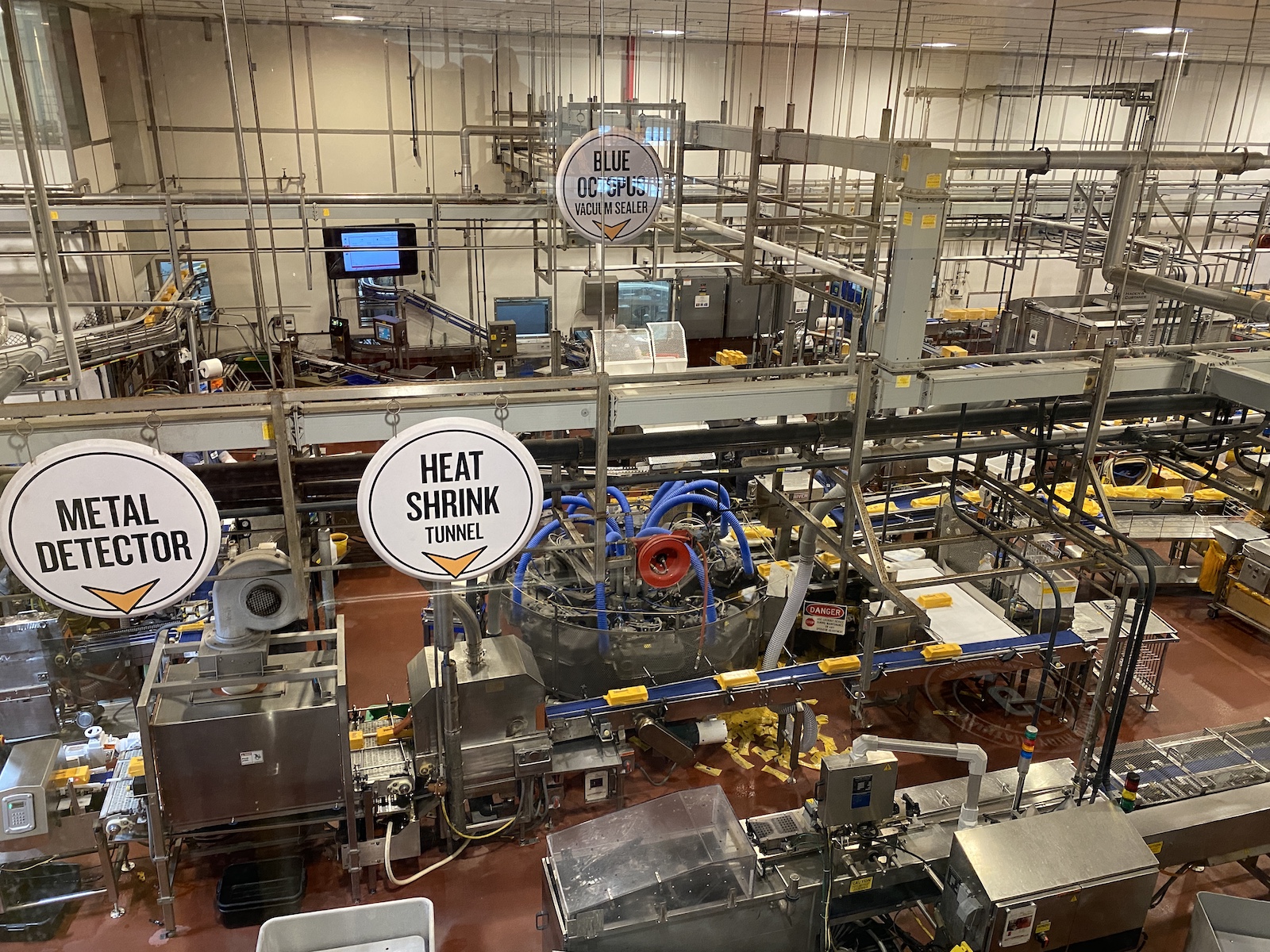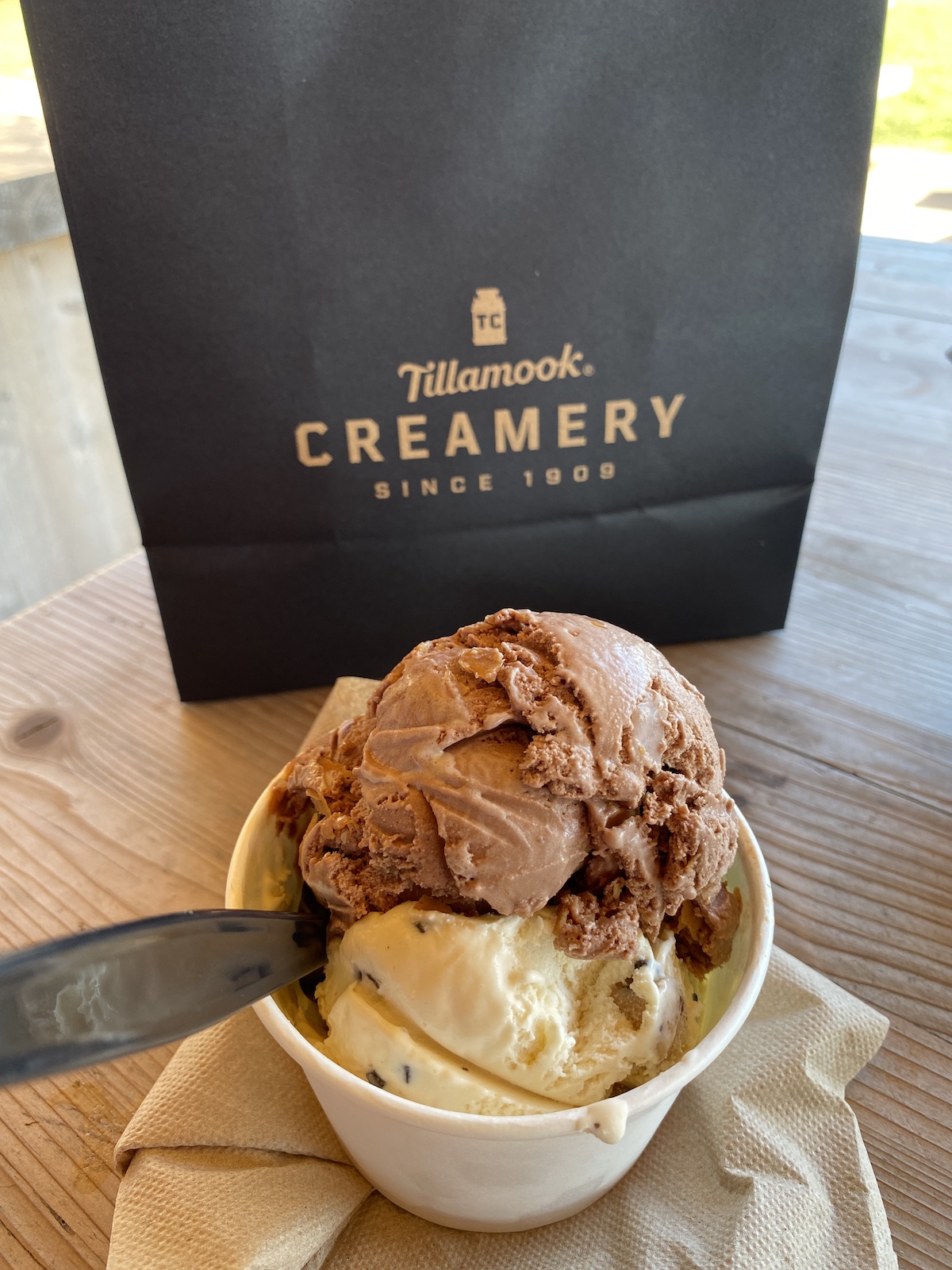 Notably, though, although you are allowed to buy food at the cafe and eat indoors, they removed all cheese samples "due to COVID." I found that super disappointing as they have SO many kinds of cheese and I really wanted to try them all. Instead they handed out one sample at the exit. It reeked of cost-cutting and was a bit of a blight on the otherwise fun experience. I still recommend the visit, just know the deal….
After that, I took a drive over to a town called Oceanside on the coast. You'll find Tunnel Beach here, a pretty fun way to walk through a giant rock from one beach to a more secluded beach. There are no lights in the tunnel and the floor is uneven rocks, do have a flashlight handy.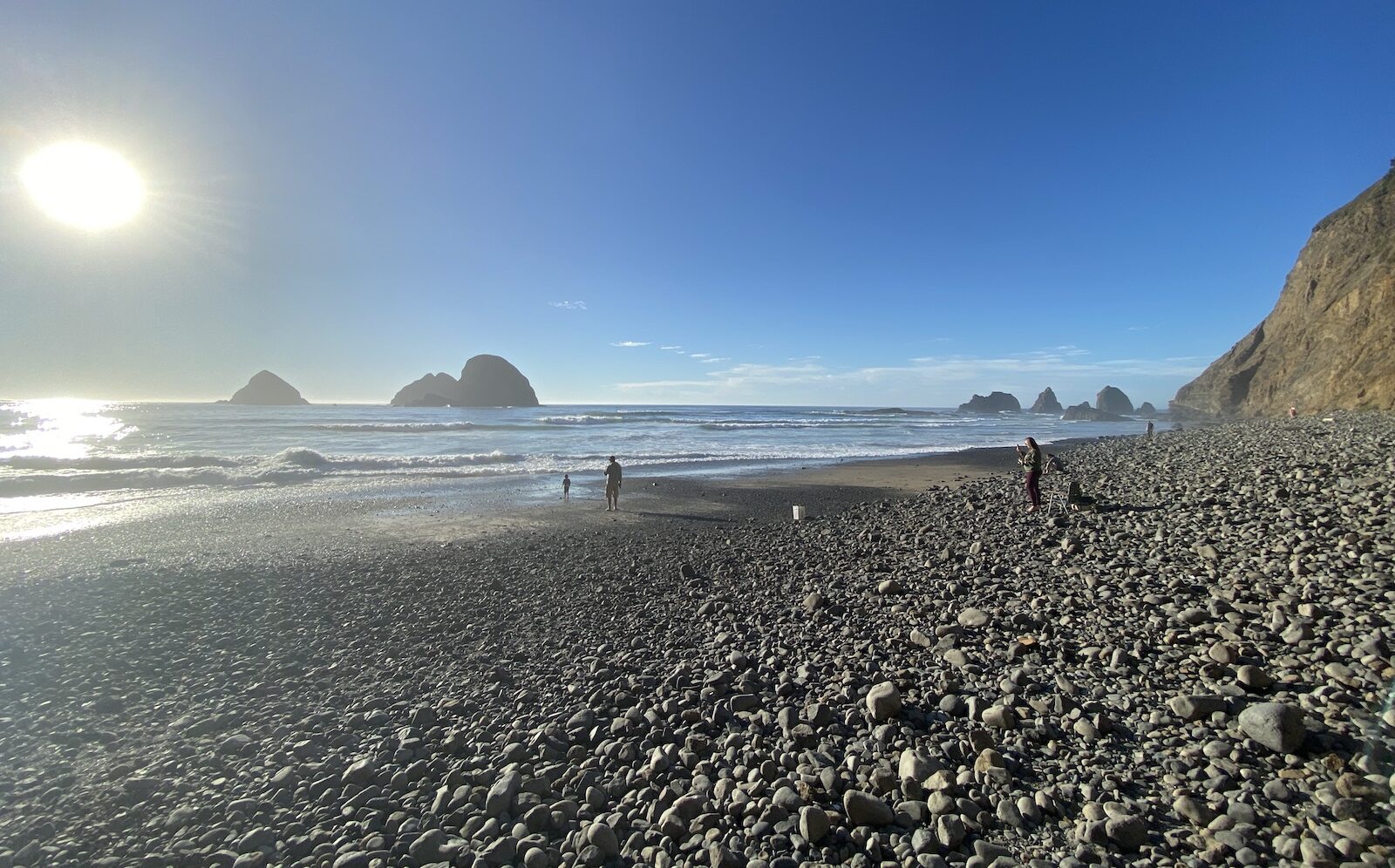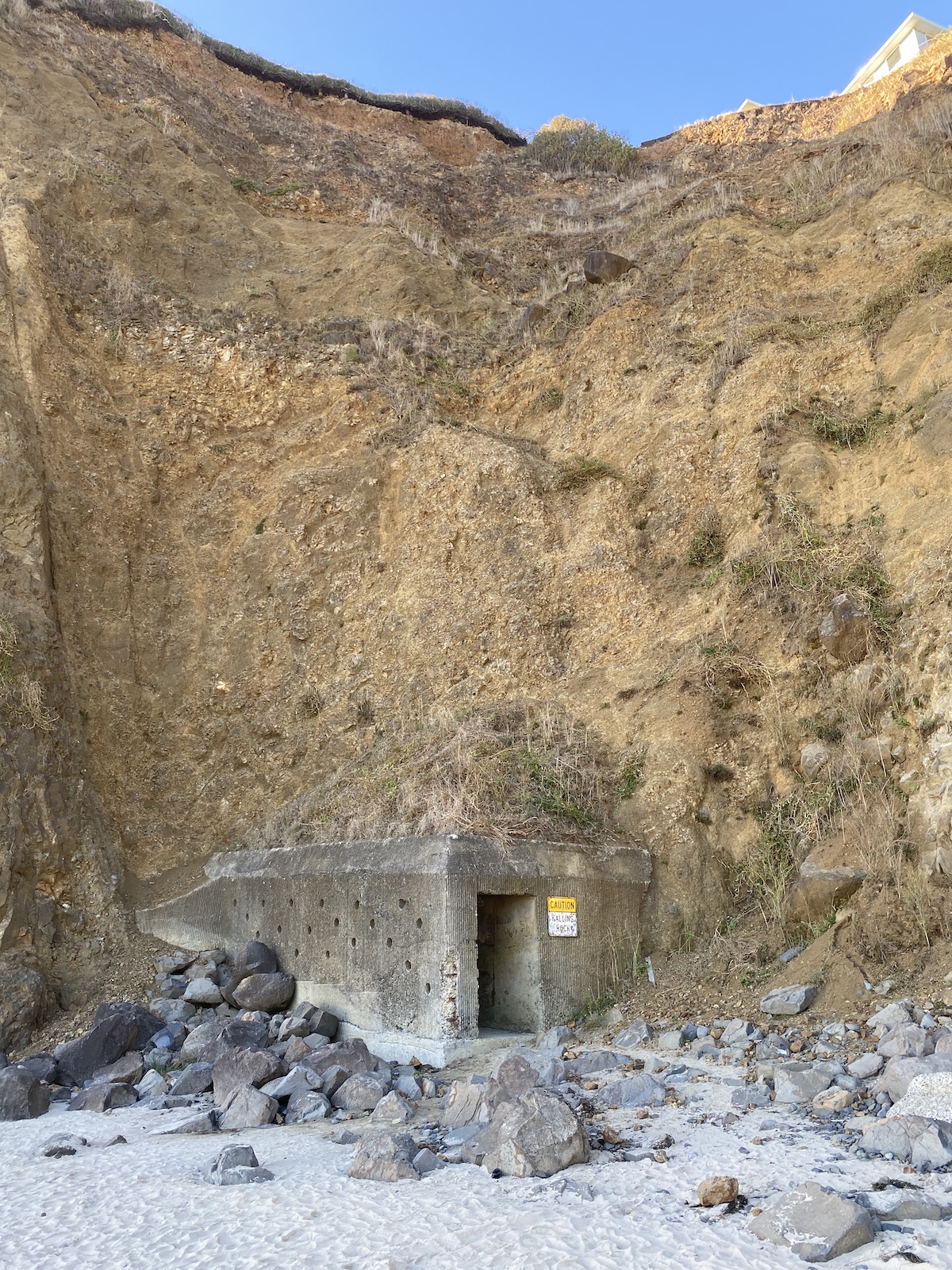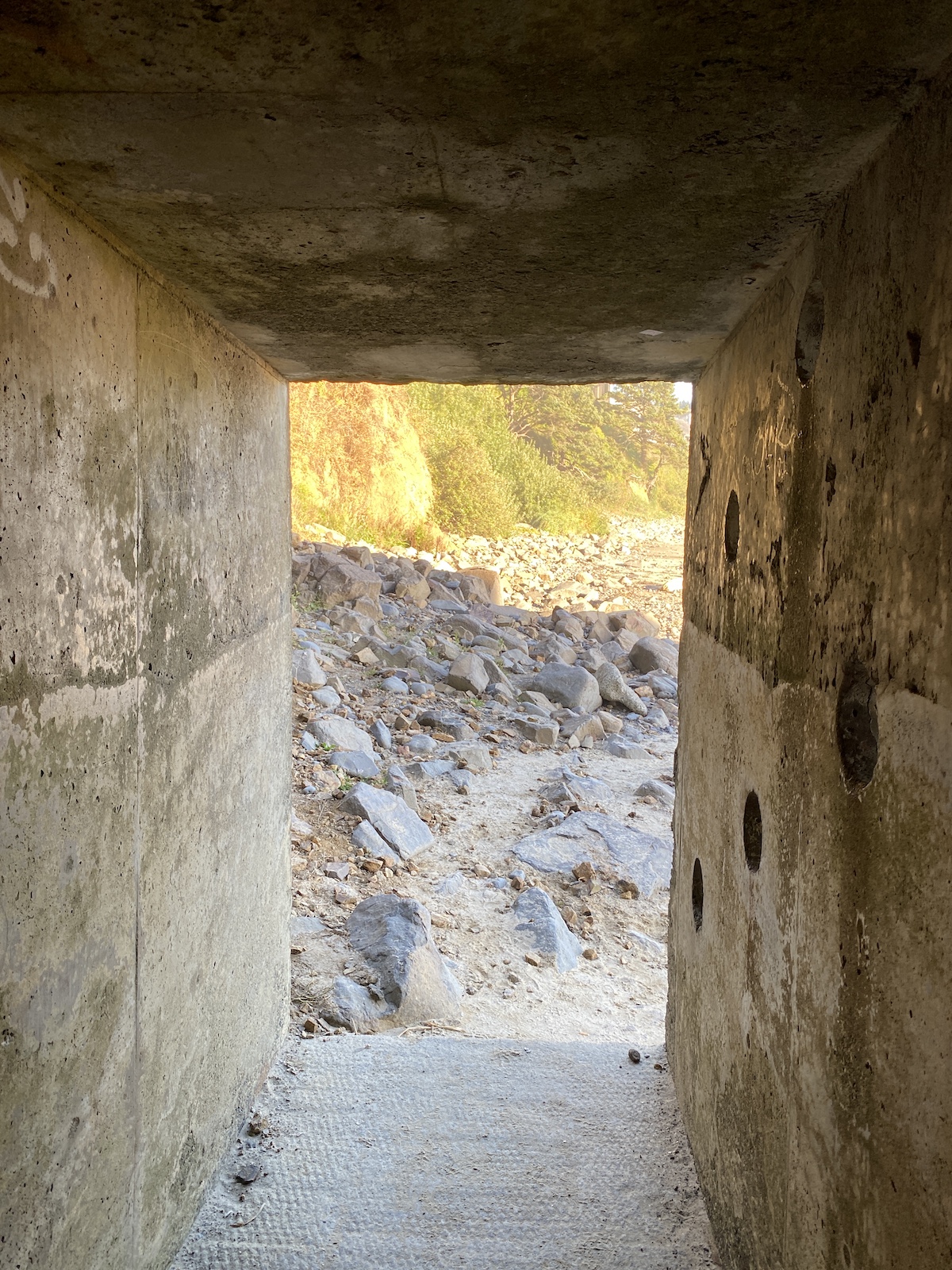 I headed back to the Nines after this…. It was a very full day.
Day 3: Silver Falls
Overall, I had two waterfall related goals for this trip. Multnomah Falls, about an hour to the East of Portland, is the most famous one with the big bridge in everyone's photos. It's a driving thing…. park and take the pictures.
But MilesTalk Facebook group moderator Tim clued me in to a waterfall hike – and I love to hike! – called Silver Falls. This park is an hour and change south of Portland. While I contemplated doing both in one day, it was just going to be too much driving and, in the end, I made the wise move to skip Multnomah in favor of Silver Falls.
I hiked 10.5 miles and saw 10 waterfalls. It was an amazing hike – one of my all time favorites. While there's definitely some elevation gain, it's not overly hilly and your energy is more on the endurance of hiking 10+ miles.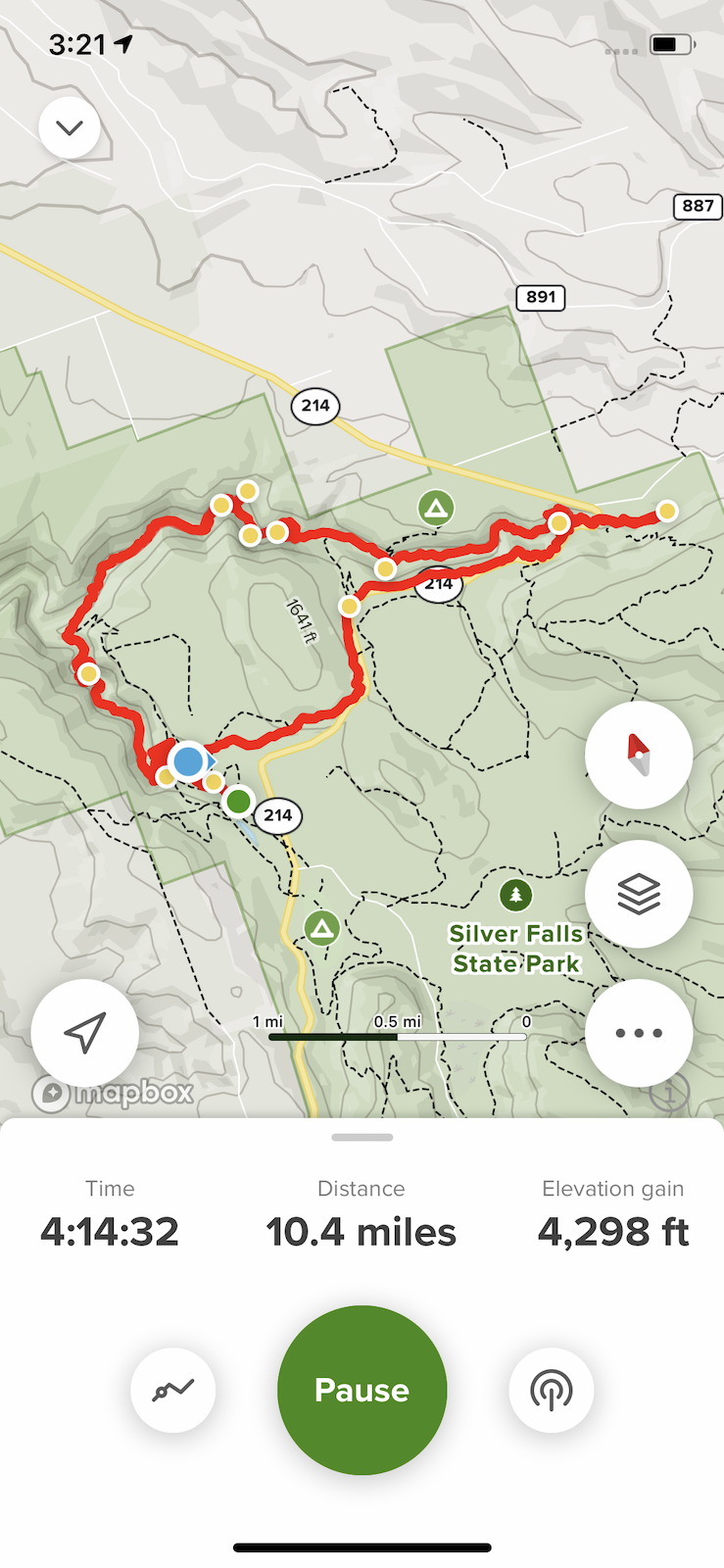 Take a look at some of the waterfalls I saw!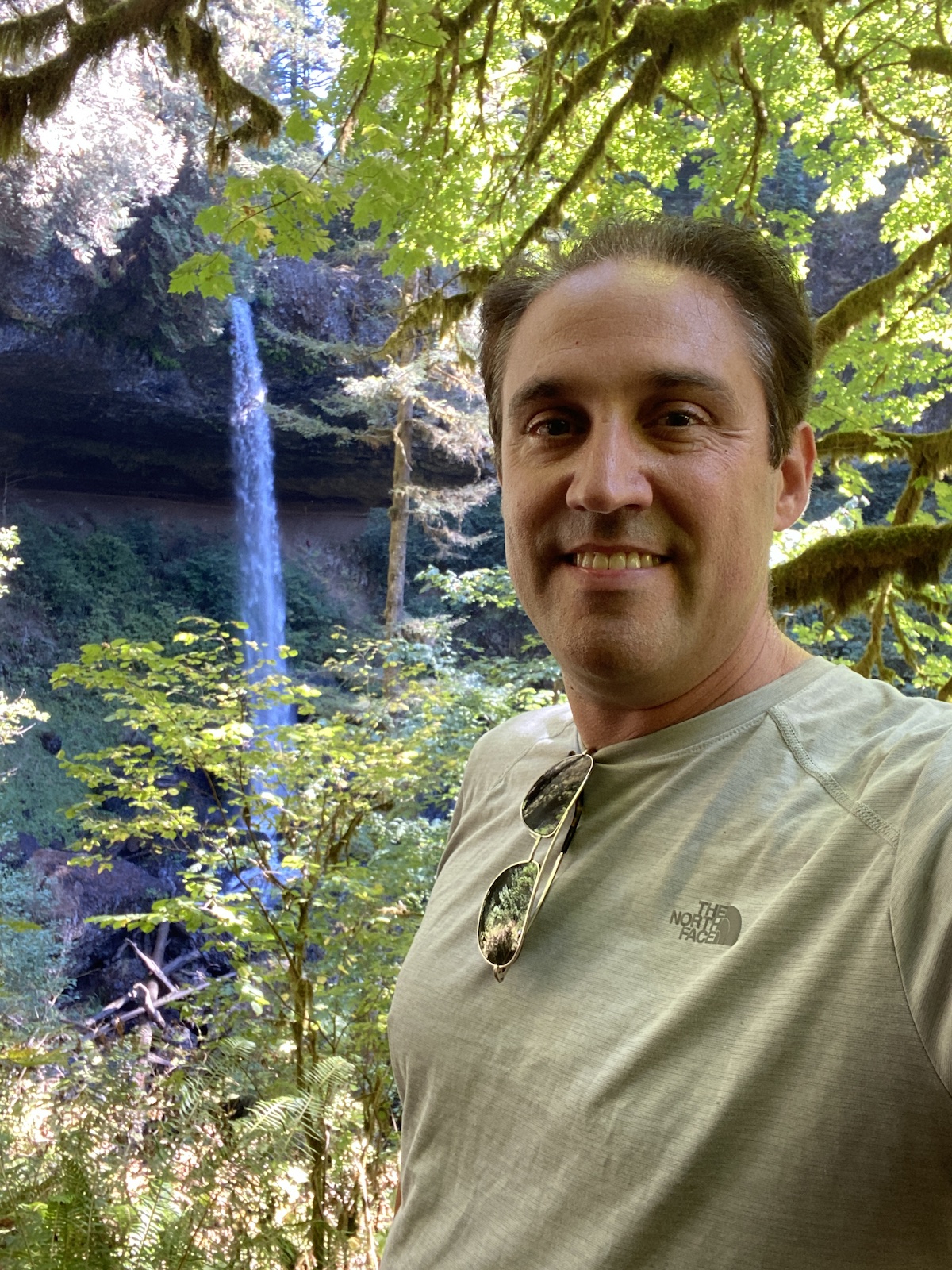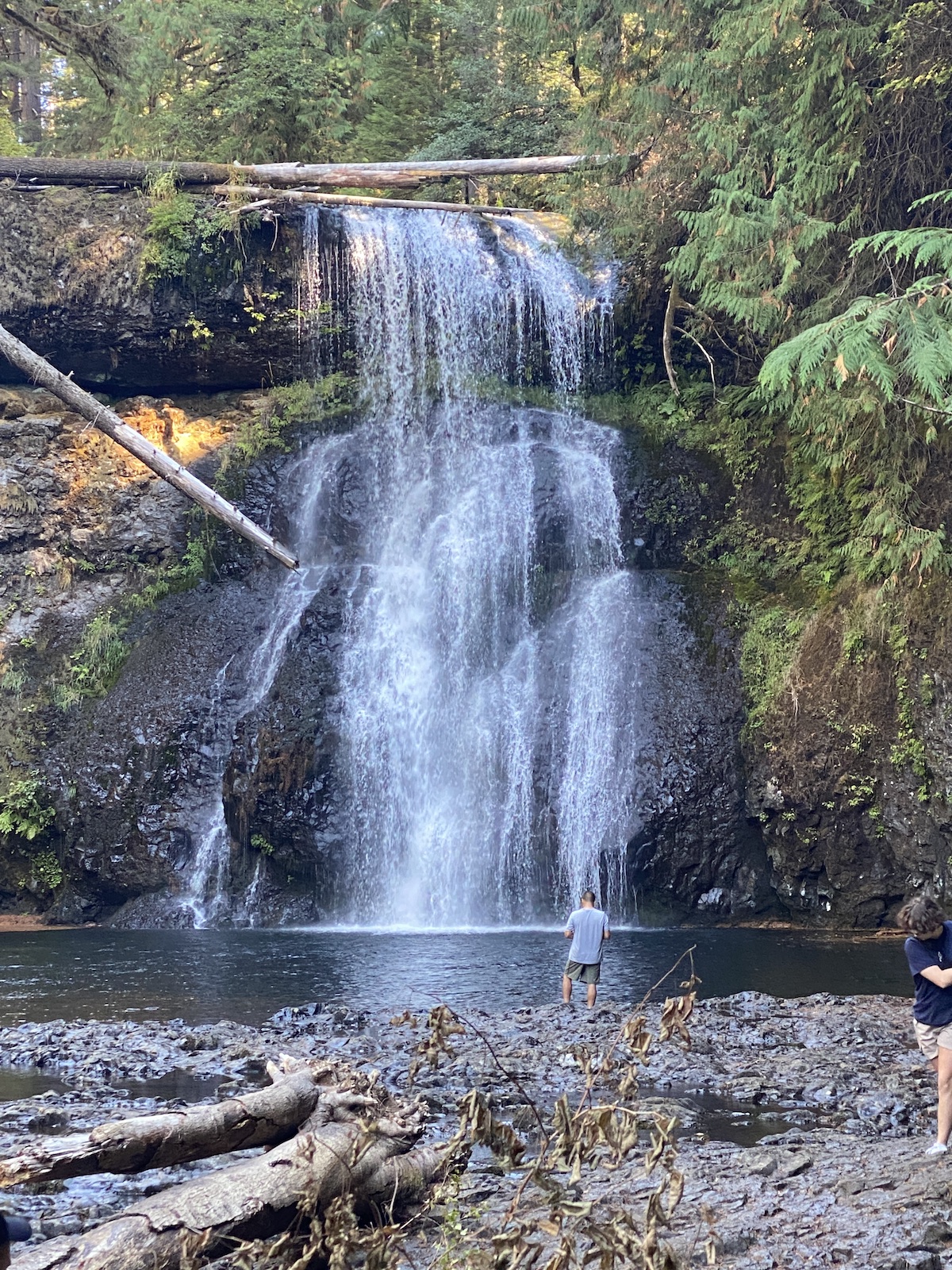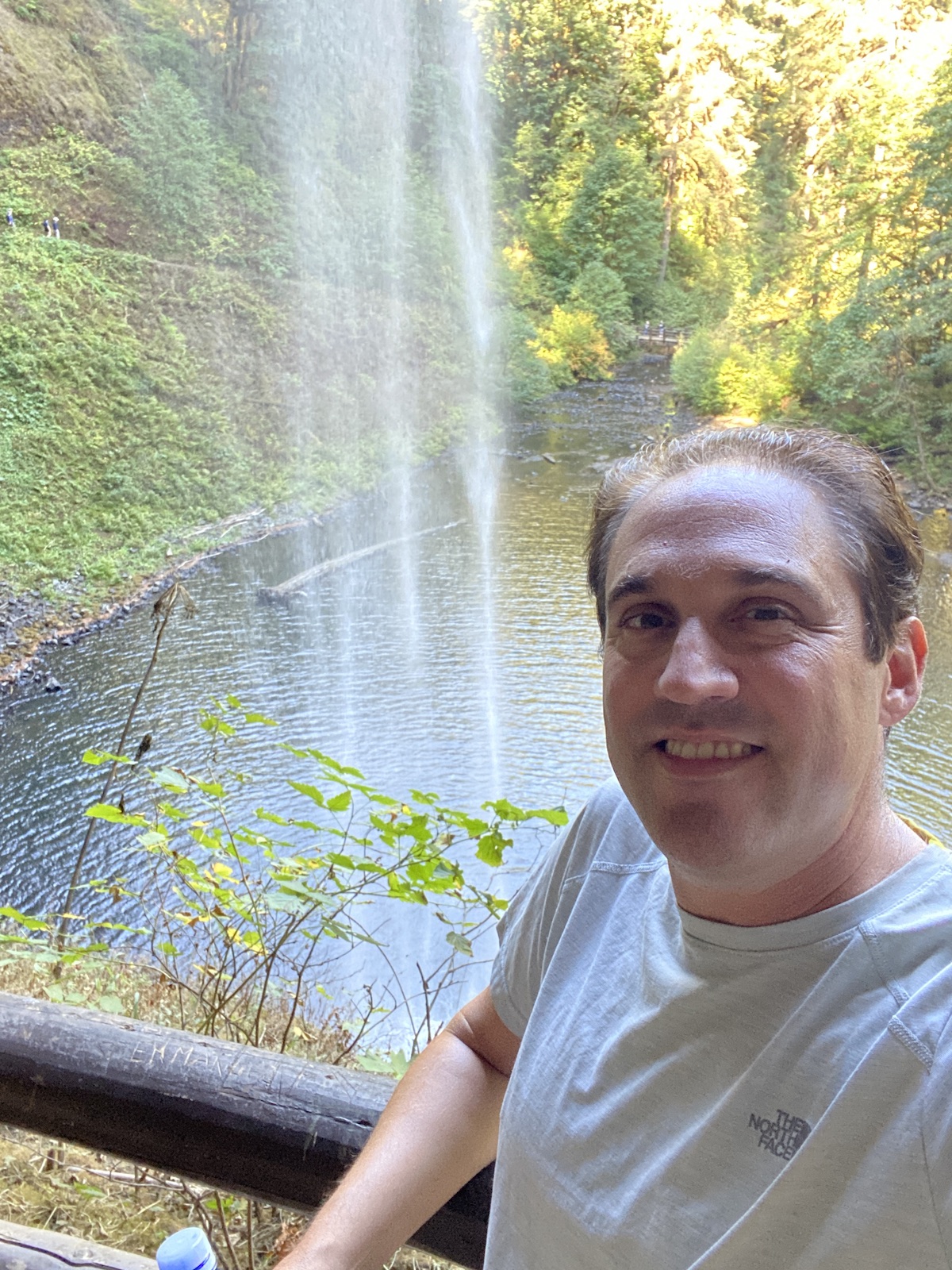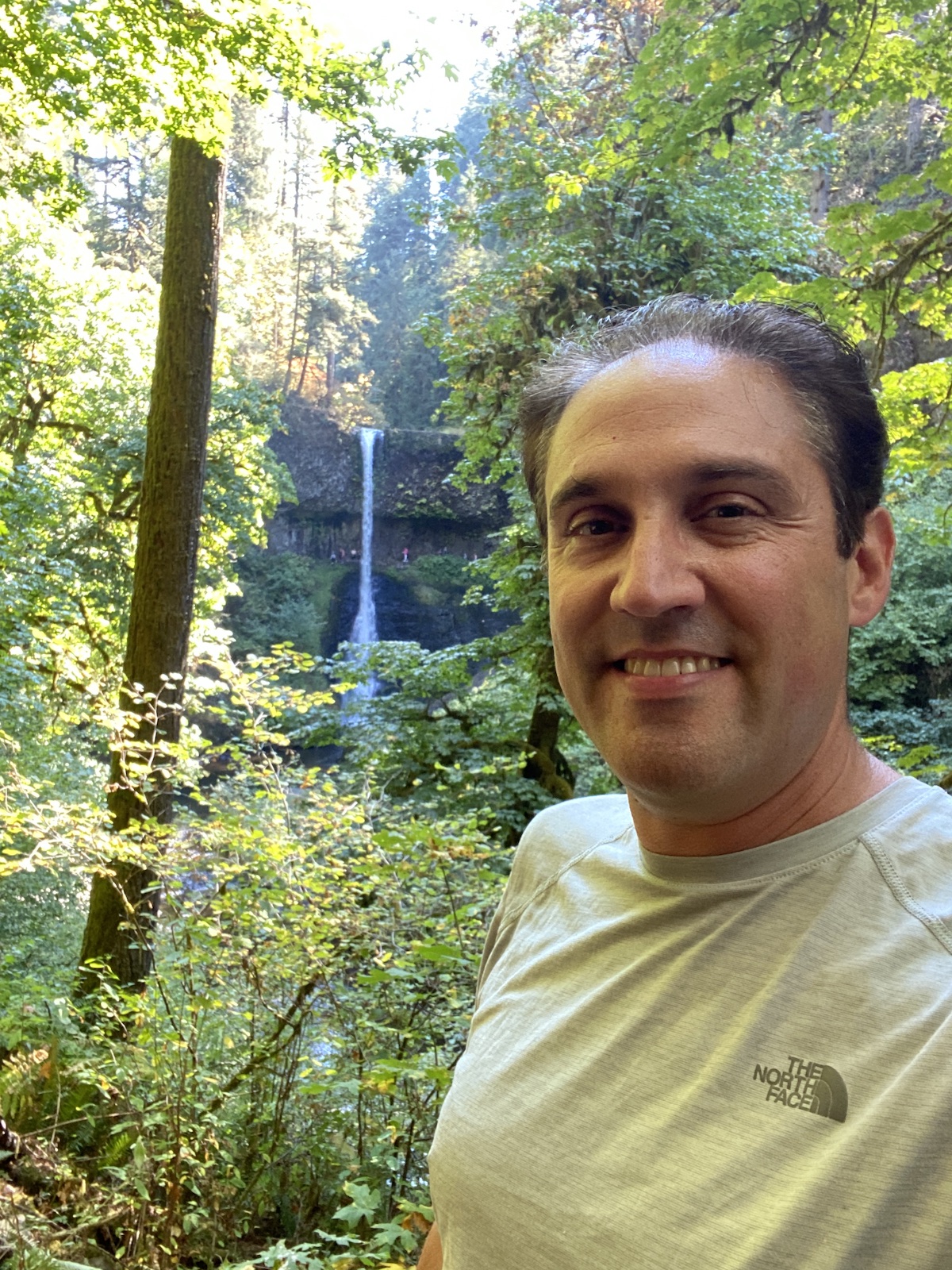 On the way back to Portland, I stopped at a German town (an old Bavarian Village) called Mount Angel. The Mt Angel Sausage Co. has been featured on the Food Network and didn't disappoint for a hearty post-hike meal.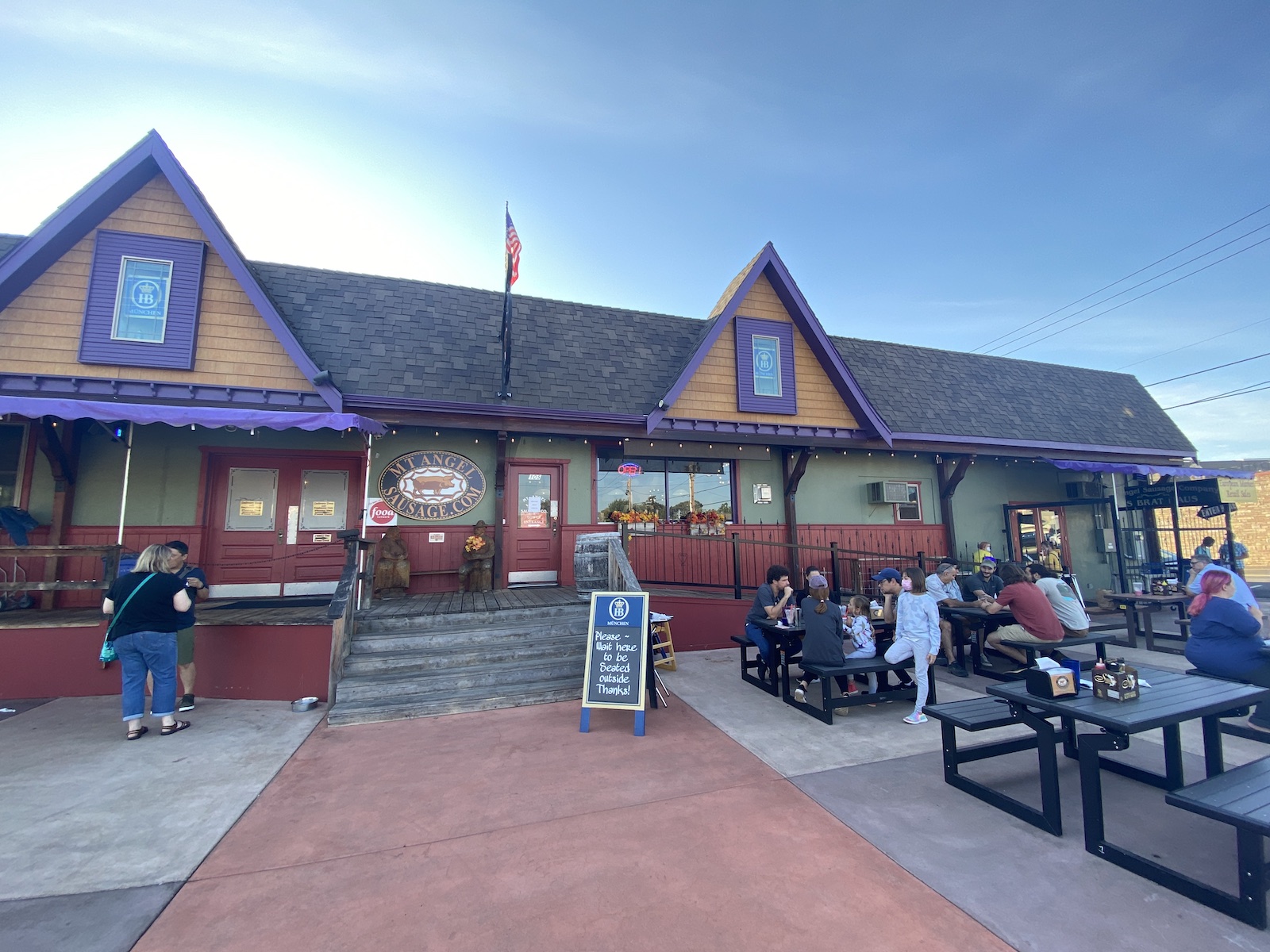 For my last day in Portland, i was determined to save enough energy for a night at a brewery. Many would tell you to go to Deschutes, which I'm sure would be a great move…. but I headed back to East Portland for a few beers at Rogue.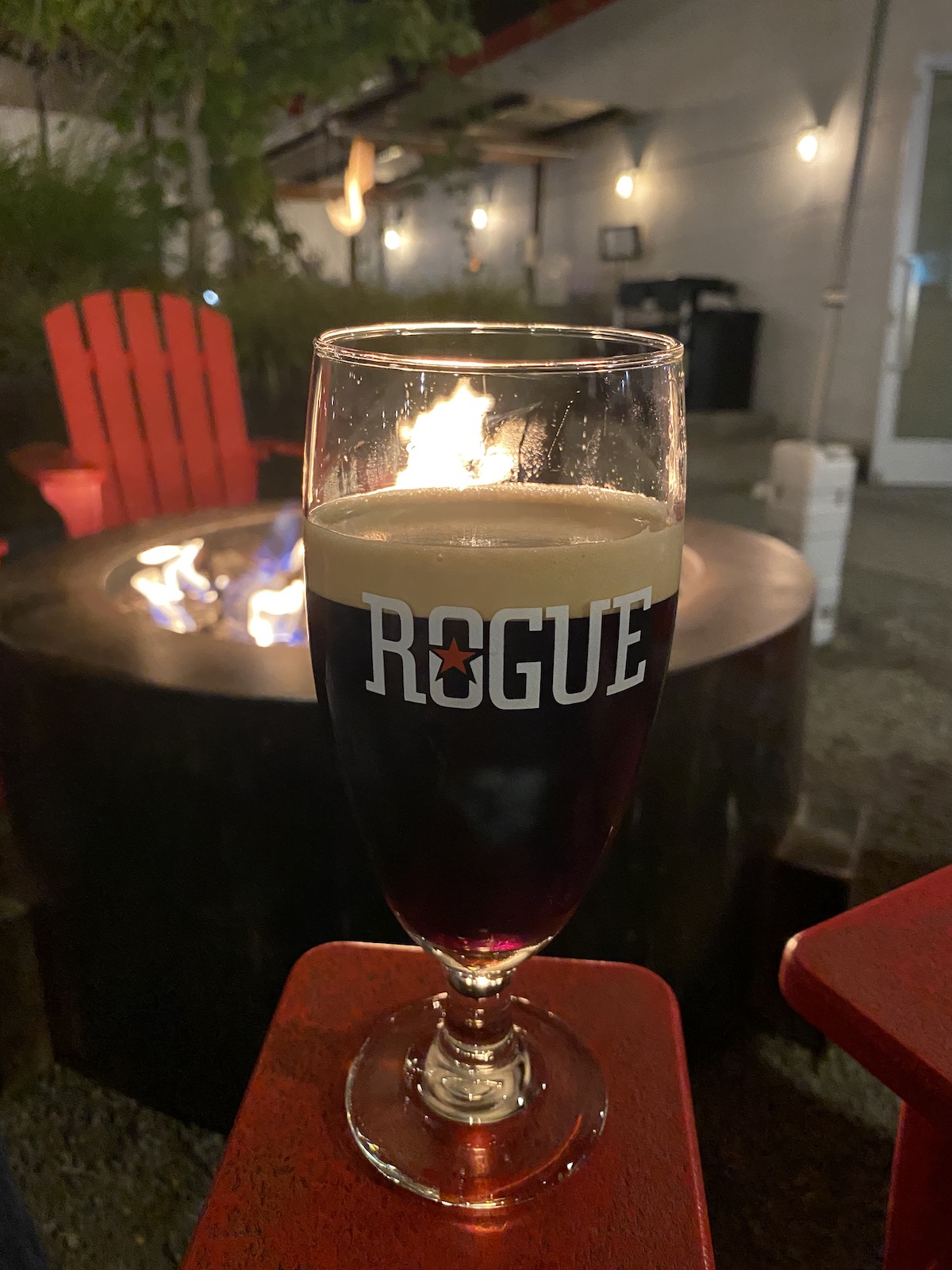 They have an awesome patio including Adirondack chairs around a fire pit, picnic tables, and corn hole. Oh, and great beer.
And that's it…. that's the trip! I really loved it and hope to visit again soon.
But….. I also promised lightning reviews of the two hotels I stayed at.
The Nines: A Luxury Collection Hotel
I'd wanted to try The Nines since its days as part of SPG. I've only ever heard good things. Of course, the price is commensurate but I got a AAA rate that was reasonable (around $255) plus I had a $50 Amex Offer to spend….
By booking direct, I knew I'd be entitled to my Titanium elite benefits including an upgrade, late checkout, and breakfast.
Checkin was a bit messy. Apparently when you book on Marriott.com, it's not instant. And I booked about 2 hours before landing in Portland. The agent managed to get Marriott to "push it through" but it cost me about 20 minutes when I was already exhausted. She then didn't initially offer an upgrade, but I noted that I saw several suites for sale online and she then checked again and found me a suite. It was a very nice suite…. I definitely enjoyed this room. Also a good reminder to always check what is available (for your entire stay) when you are about to check in so you at least have an idea if there are any standard suites being sold.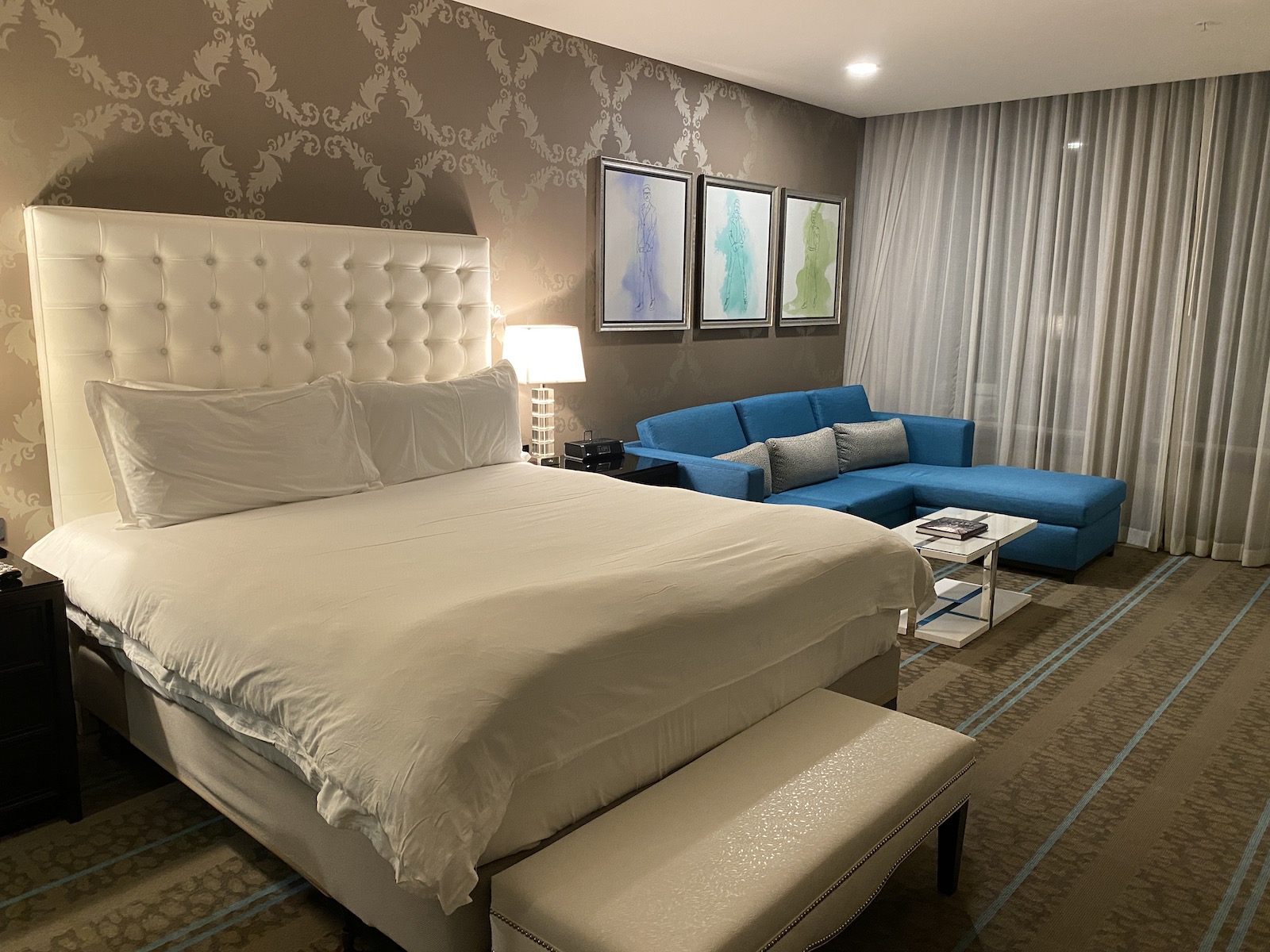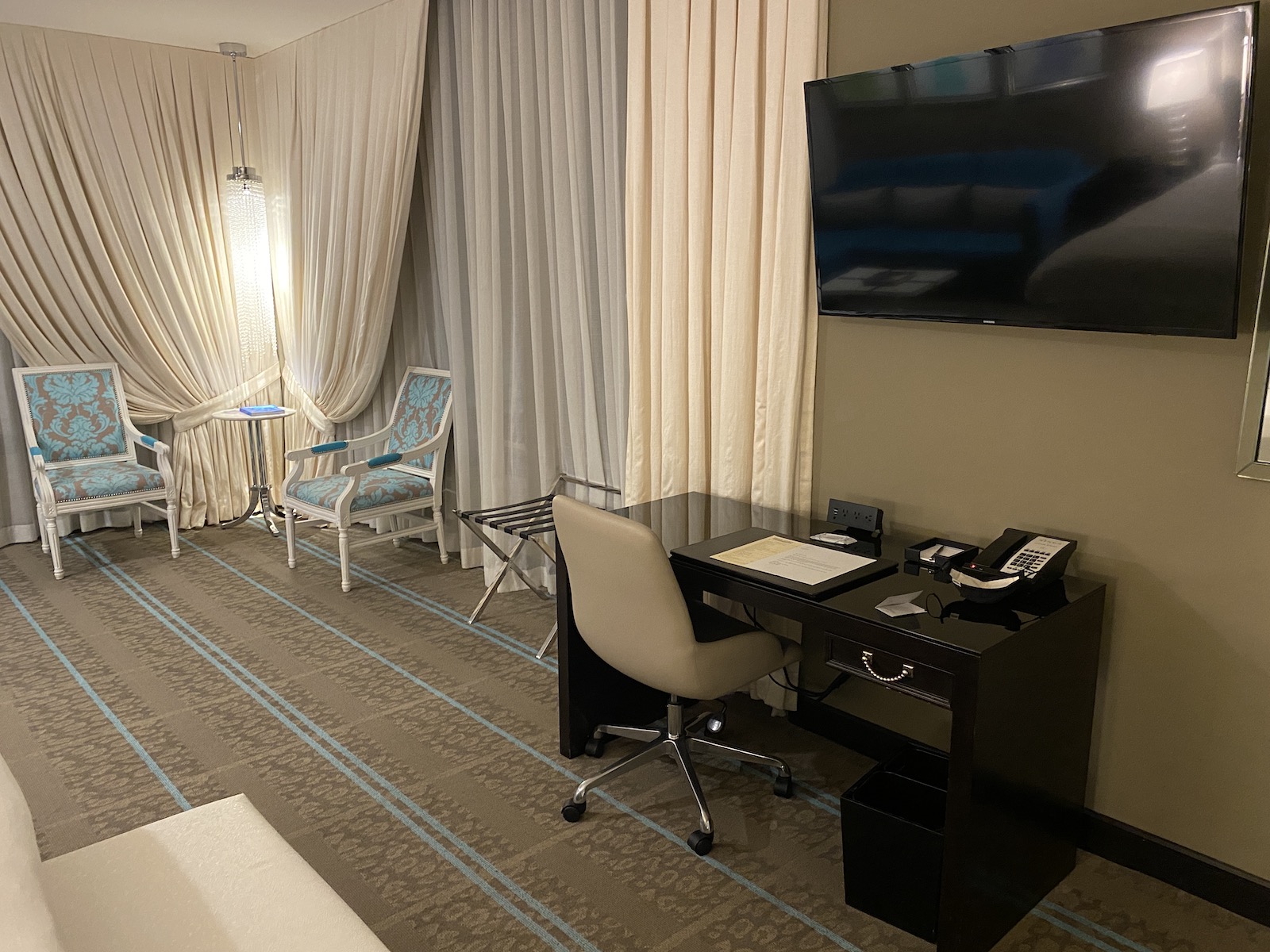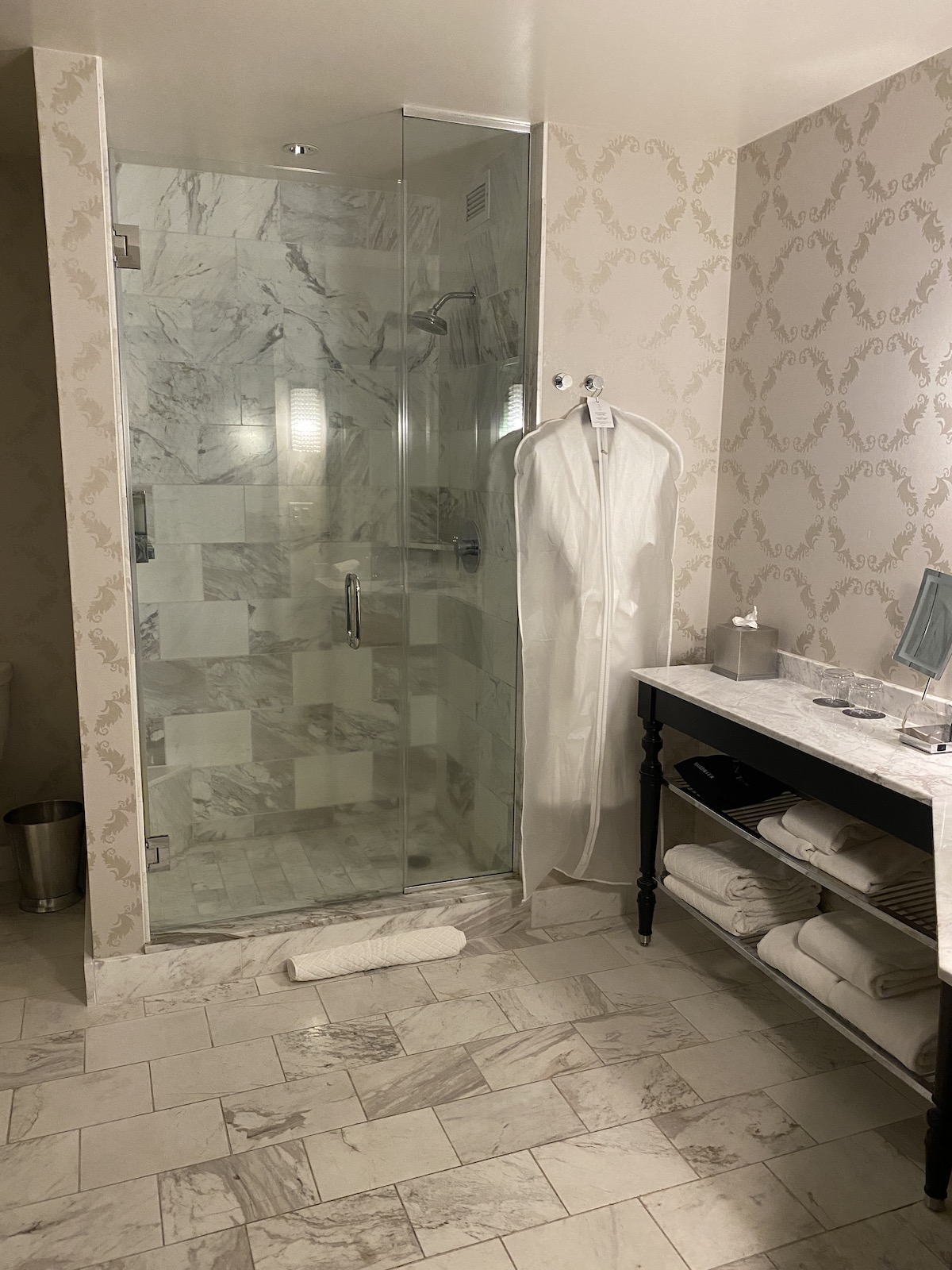 Breakfast was included as Titanium with a $40 per day allowance. The restaurant was reasonably priced for a Luxury Collection property and the $40 covered things nicely. My favorite item was their "rosti" – a homemade hash brown. Of course, hash browns are my favorite breakfast food 🙂 All of the breakfast I ordered was outstanding.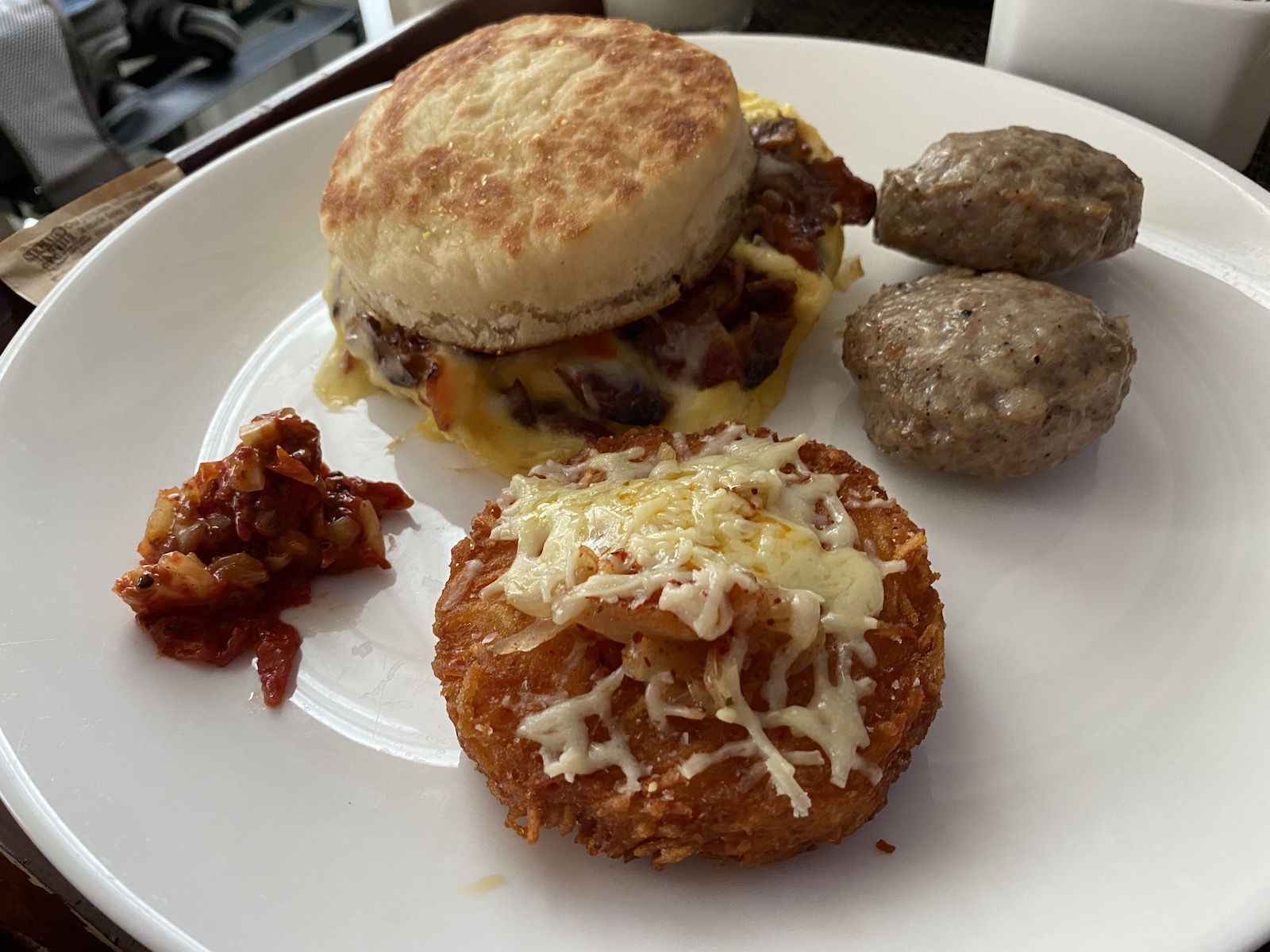 And while I spent $33 one day and $47 another day (expecting to owe $7), they credited off a full $80. That was a nice and unexpected gesture.
The staff overall was quite friendly. Not 100%, but let's say 90% of the staff was kind and helpful.
The room was beautifully furnished with a nice L shaped sofa and a very large layout.
There's a rooftop restaurant here as well. It has a casual area for drinks on one side and more formal dining patio on the other. You definitely need reservations at peak times. Unfortunately, while the website makes it appear like there is an outdoor space to lounge around or work in, there isn't. It's all for the restaurant and only open after 4pm. There's also no pool or spa.
The area around the hotel is the only real negative. As I mentioned above, downtown Portland is notably grimy and, while not unsafe, it wasn't the ideal location to drop out of the hotel at. I suspect (but don't know) that this downtown area used to have a lot less blight and that The Nines used to be perfectly located.
Location aside, I would stay here again.
Kimpton Hotel Vintage
How did I wind up at the Kimpton Hotel Vintage Portland? Well, it was because while I was looking at hotels on the plane I discovered that the Kimpton Vintage has rooms called "Urban Spa Suites" with 4-person jacuzzis on the patio. I wanted one. No, I needed one. I called up to find out how to get one and was told that they are in demand and sold out my dates, but if anyone cancelled, it would be mine.
Based on that, I booked a room here for two nights using my IHG Rewards points. While I didn't get crazy value for my points, I got a respectable $0.058 per point (vs. the MilesTalk valuation of IHG Rewards at $0.04.  And, trying to keep this trip on a budget, decided that given I hadn't found a good way to spend my IHG points in a few years now, this would do…
I also thought that this hotel was "much" closer to the Pearl District. In reality (I should have checked a map!) it was only 2 blocks from the Nines… but still, two blocks closer!
Everyone – and I mean everyone – that works at this hotel was super friendly. Marjorie, the manager, laughed when I said that I knew my Spire Elite didn't mean much for upgrades and told me not to worry… she'd upgrade my standard room into a Grand Reserve Spa Suite.
This room was gigantic (the only flaws were that it got almost no natural light from just one half window on one end of the room and the shower was a bit small to move around in) and the bathroom had a giant soaking tub. Marjorie knew I really wanted the Urban Spa Suite, but felt this was a "next best" if that didn't come available (and it didn't).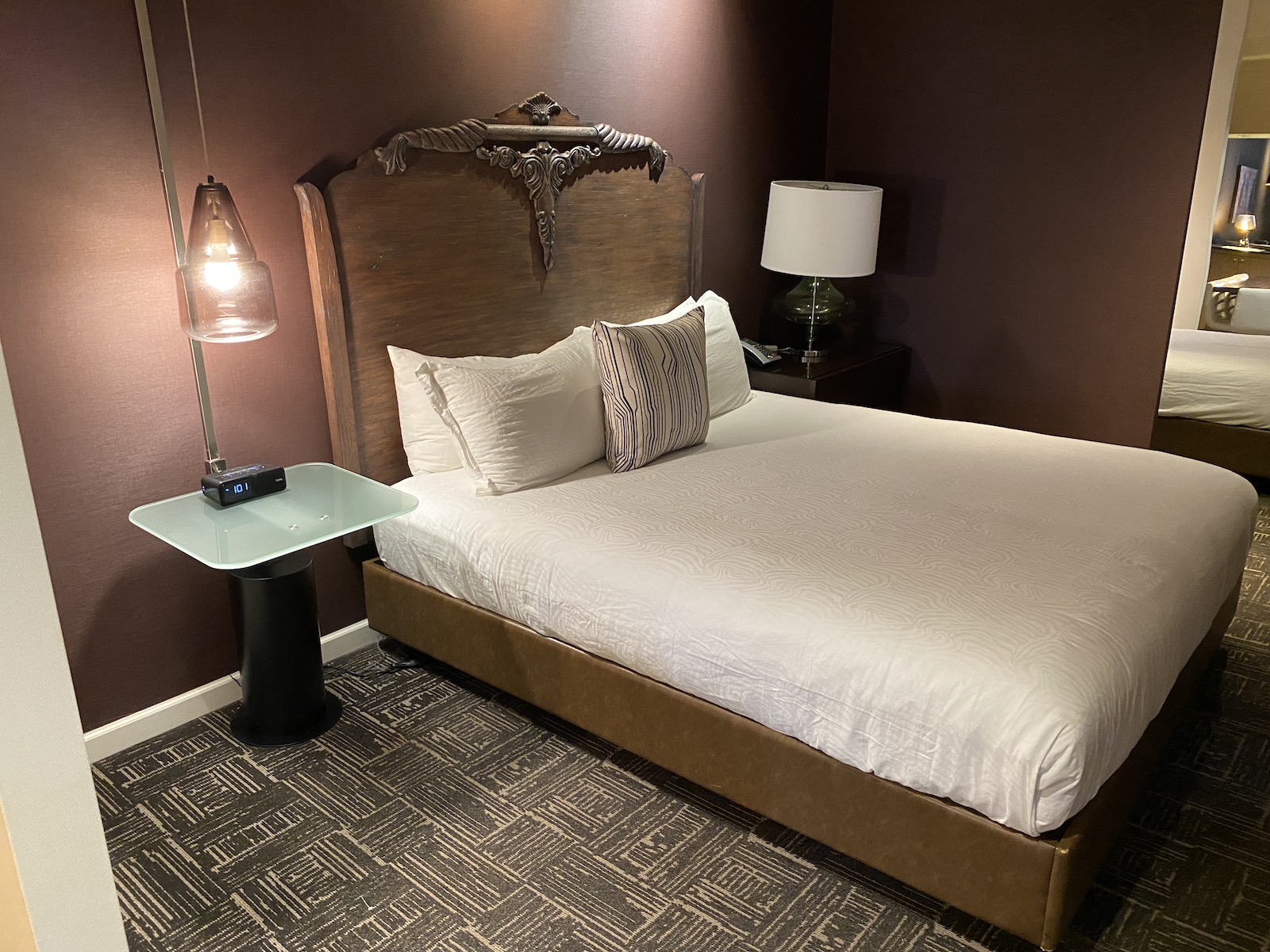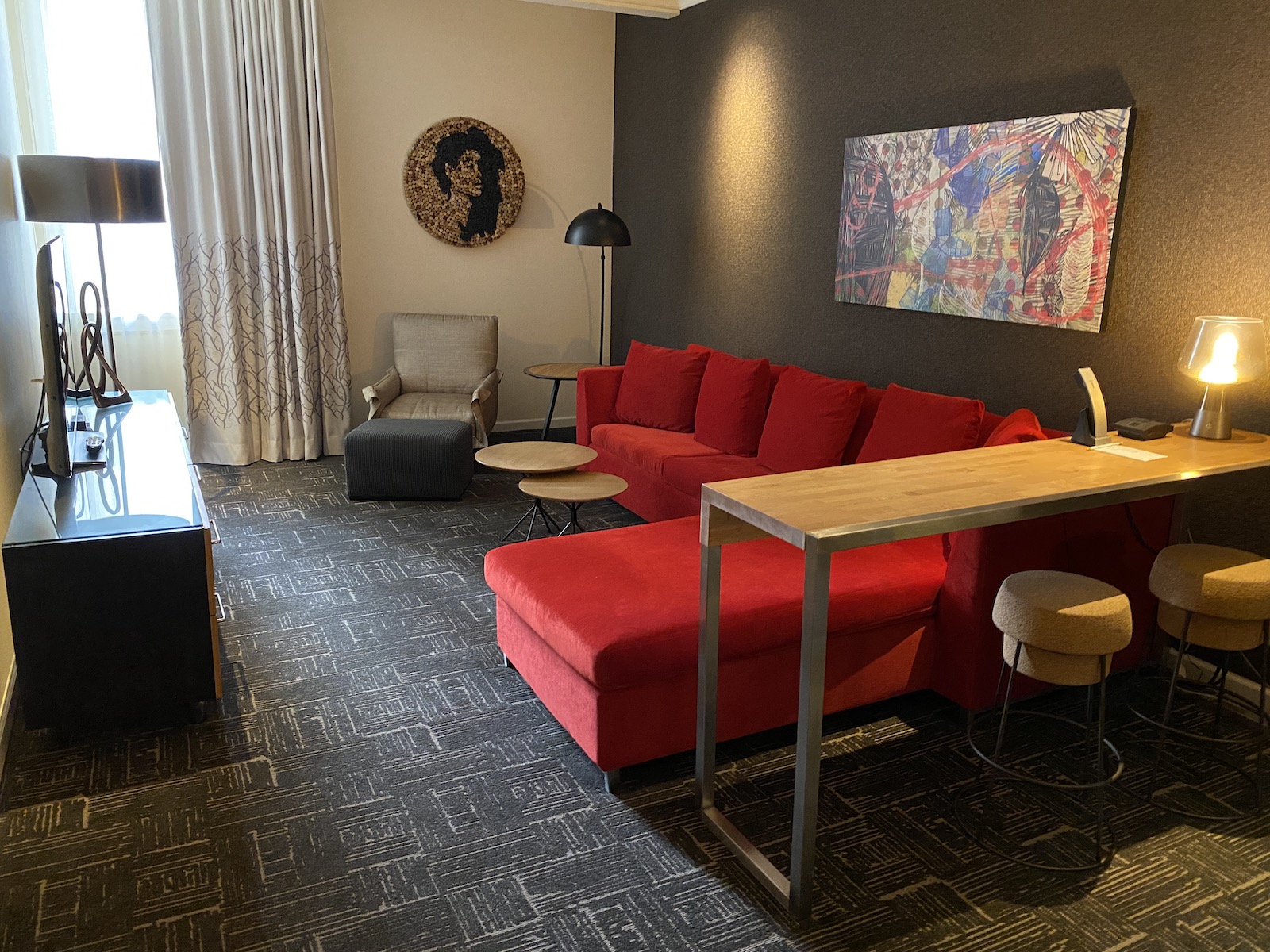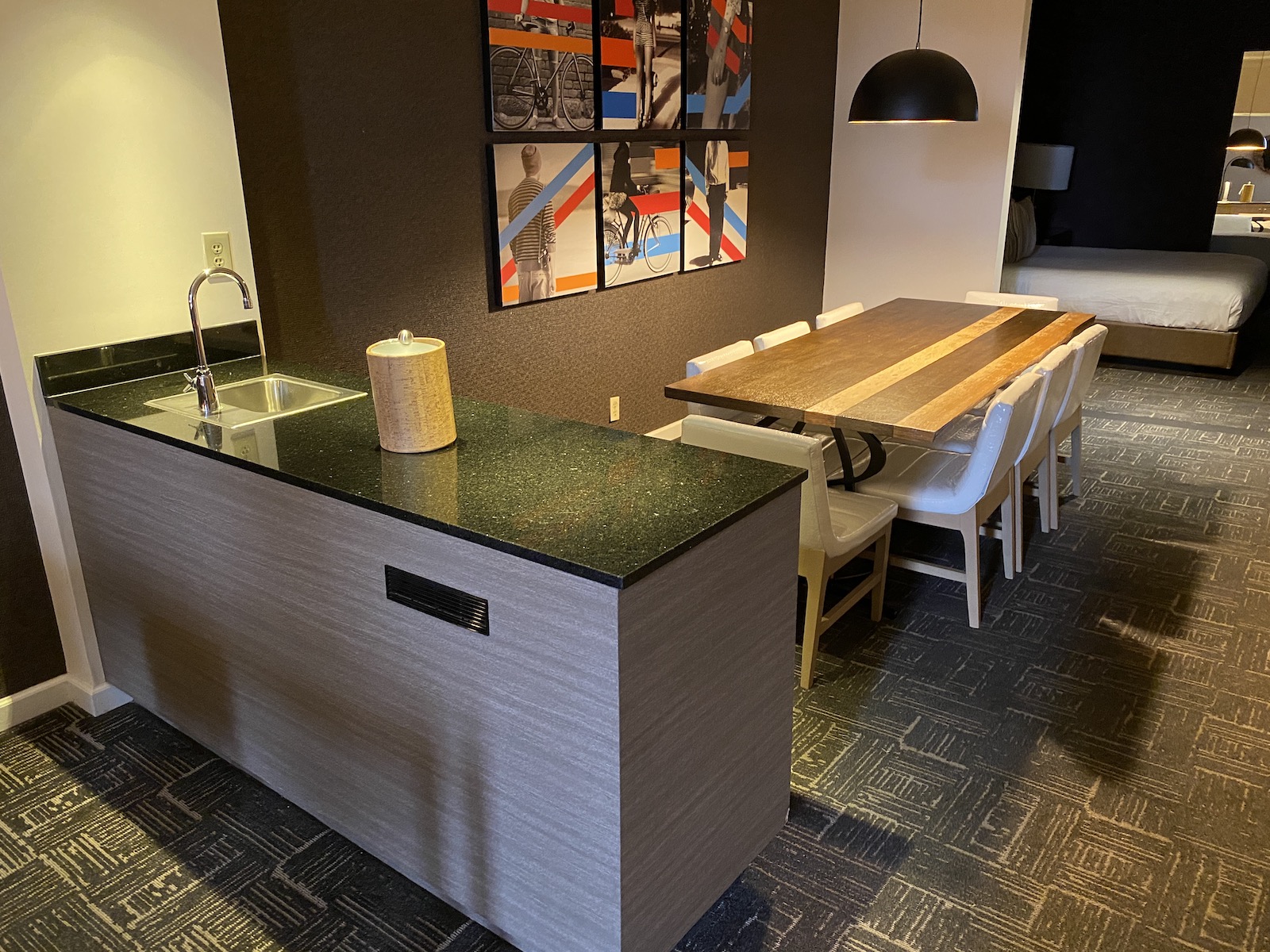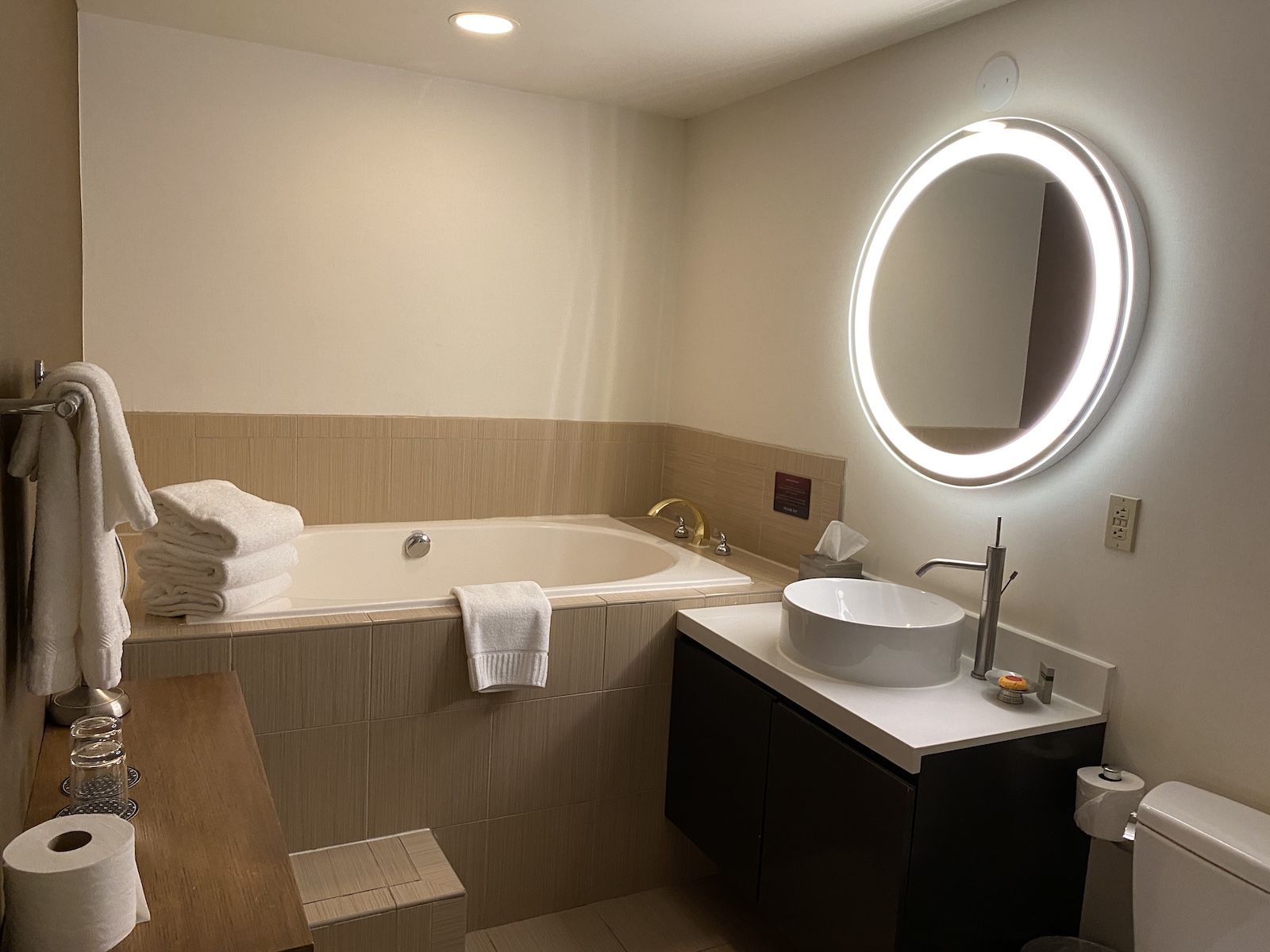 The hotel itself has a very fun Portland vibe to it, with a cool vibe, a gameroom, and a large lobby with plenty of comfortable seats to lounge around in.
The hotel has a $25 amenity fee daily, though you get it back in the form of a $10 minibar credit and a $15 breakfast voucher. However, the on-property restaurant was closed due to COVID and that meant that breakfast was served at its sister hotel, the Kimpton RiverPlace. Valet parking was included, but I personally found the menu underwhelming and I instead opted for my Day 3 breakfast at Fried Egg I'm in Love in Pioneer Courthouse Square, which was on par with the delicious Eggslut in LA. I recommend the Yolko Ono with Havarti and Aardvark aioli.
Now, if you are like me and don't go to breakfast, you can use that $15 credit at the minibar (which is in the hotel lobby). For two mights that meant I had a total of $50 to spend. That was no easy task and my wife might question the 16 Reeses cups I'm bringing home… though I got a free travel charger pack as well!
Lastly, I have to note that in the end my amenity fee was waived. I'm not 100% sure why – it doesn't seem to be a benefit of IHG Spire elite nor of an award stay (only Hilton and Hyatt waived these on all award stays), but at checkout they advised I wasn't subject to it. OK! (But I still don't know why…)
While the Kimpton wasn't quite as "luxurious" as The Nines, the extra friendliness of the staff and the varied funky room configurations (see the website for all the fun rooms, like the Sky Loft and the suites with two levels as well as those Urban Spa Suites) would still make the hotel worth a return visit. And it's two blocks closer to the Pearl District.
Basically, both the Nines and the Kimpton Hotel Vintage were great choices and, while it's not ideal packing up and moving mid-trip, I was glad to have tried them both.
Overall: 72 Hours in Portland, Oregon
I hope that, if you are looking at a short ~3 day trip to the Portland, OR area, you found this useful. I didn't make it to any of the famous donut shops (I know, for shame!) and also didn't get nearly enough famous Portland coffee, so if you have tips on either, please drop in the comments.
All said and done I feel like I crammed a week into 3 days and got a great feel for Portland. I didn't do everything I could have wanted to, but in a 3 day trip you have to make tradeoffs.
But I'm glad I finally got to see this fun city and would love to head back sometime.
Chase Sapphire Preferred® Card Earn 60,000 bonus Ultimate Rewards points (worth up to $750 or more!) when you spend $4,000 in 3 months. How to apply for this offer.
Thoughts?
Let me know below in the comments, on Twitter, or in the private MilesTalk Facebook group. And don't forget to follow me on Instagram for all sorts of tips on miles, points, credit cards, and travel.
If this post helped you, please consider sharing it!
You can find credit cards that best match your spending habits and bonus categories at Your Best Credit Cards. 
New to all of this? My "introduction to miles and points" book, MilesTalk: Live Your Wildest Travel Dreams Using Miles and Points is available on Amazon and at major booksellers.