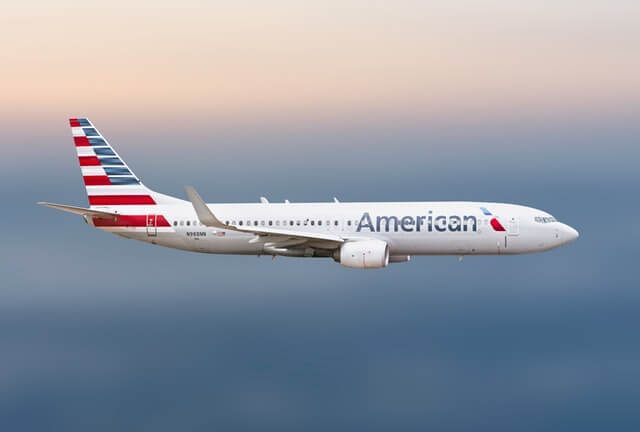 American Airlines is once again revamping their AAdvantage loyalty program.
Where to start…. oh I know…
Fully DynAAmic AA-Metal Award Pricing
According to Gary at View from the Wing who spoke with AA's Heather Samp, award charts will remain, but awards on AA metal will become fully dynamic. My biggest question on this involves partner bookings, for which she has stated that, for now, award charts remain intact.
That question is if there will be any change to either of the following:
The availability of AA flights to partners, which has historically been (and I imagine will continue to be) at the Saver fare bucket (T for Coach, U for Business, and Z for three cabin First).
The availability of award flights in the US to connect to international destinations on partners. Meaning that if you currently were to fly JFK-DOH on Qatar from CLT, you would need either U or T to have availability. Currently that is the identical fare bucket that ties into the partner space mentioned above. Heretofore, there has never been a way to have a domestic connecting flight as part of your partner award itinerary without this space.
It's excellent news that the partner award chart remains (and it seems some form of AA award chart, but with ranges rather than set values), but I suspect that it will become incredibly hard to get outsized value from AA flights. Partner flights already had the better value proposition and this will widen that gap.
On Twitter, AA *implies* that you won't need that fare bucket, but doesn't actually state that nor did they reply to my specific question about it.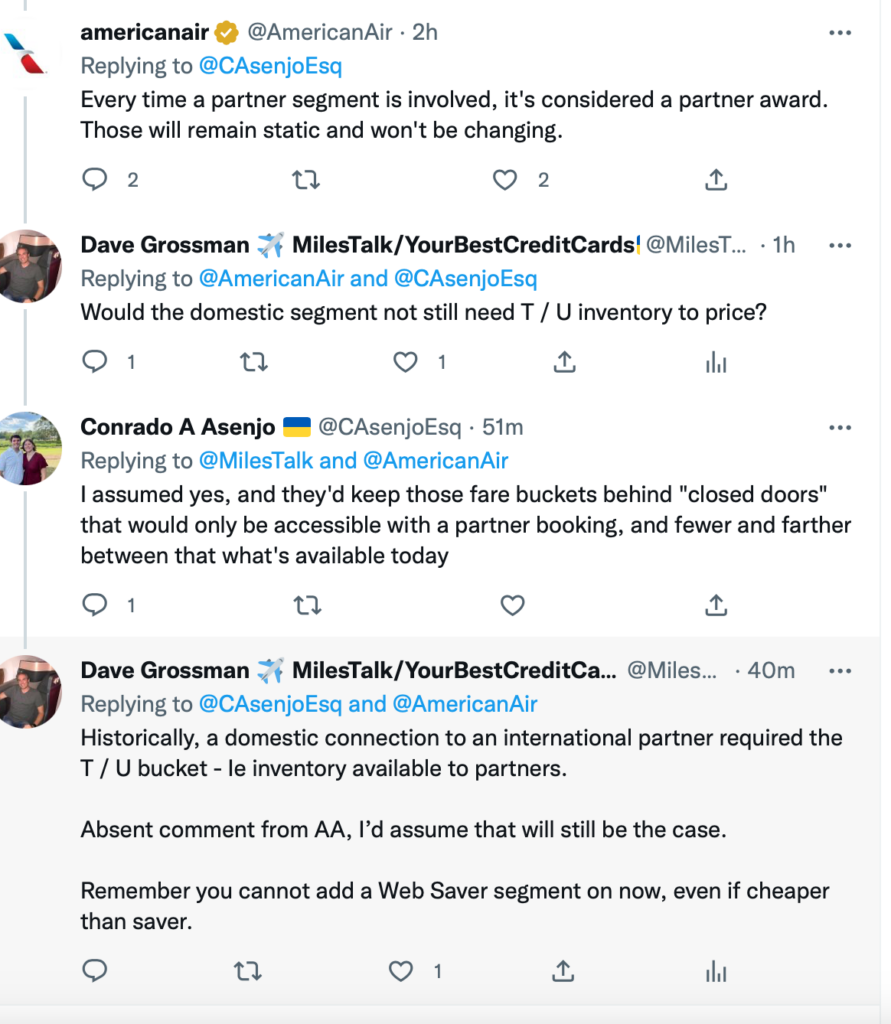 Should AA reply definitively, I'll update this post.
Changes to Earning Status
I long suspected that the introduction of Loyalty Points, where it's easier to earn status without flying than by actually flying, would lead to increased status qualification tiers. And here we are:
| AAdvantage Status | Loyalty Points (2023+) |
| --- | --- |
| Gold | 40,000 |
| Platinum | 75,000 |
| Platinum Pro | 125,000 |
| Executive Platinum | 200,000 |
For now it only impacts Gold at 30,000  –> 40,000. But I suspect more will change sooner rather than later.
Limit on Earn per Flight Removed
One bit of good news: you can now earn unlimited miles on a flight where you previously could not earn more than 75,000 miles on a single flight. Following Delta's lead, this is now uncapped (which makes total sense – why penalize someone spending the most?!)
New Loyalty Point Rewards
There are now rewards levels that are earned before, in between, and after the status level.
On the low end, 15,000 LPs gets you Group 5 boarding for the membership year, Priority Privileges and Group 4 Boarding for one flight, or 5 Preferred Seat coupons (you pick one).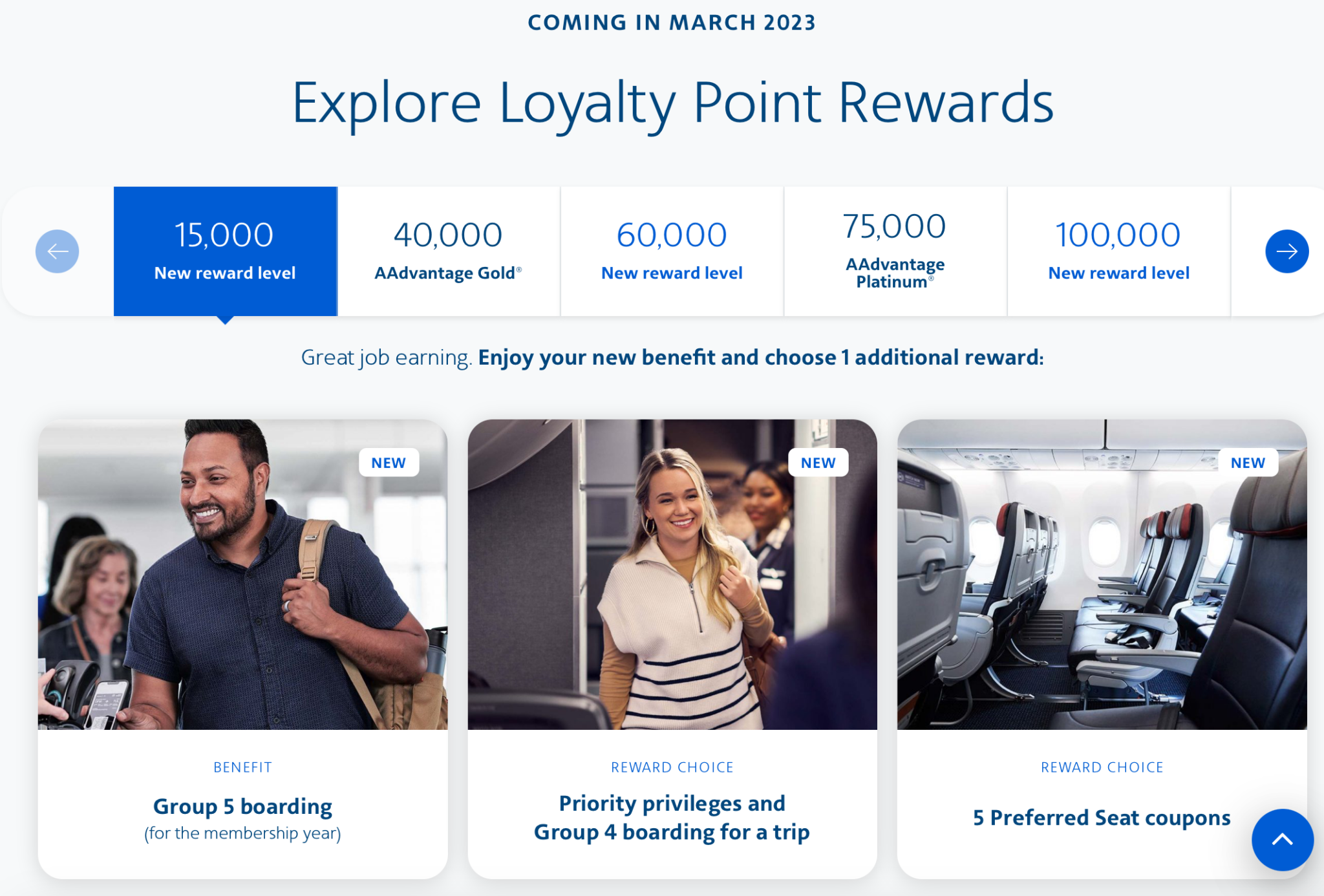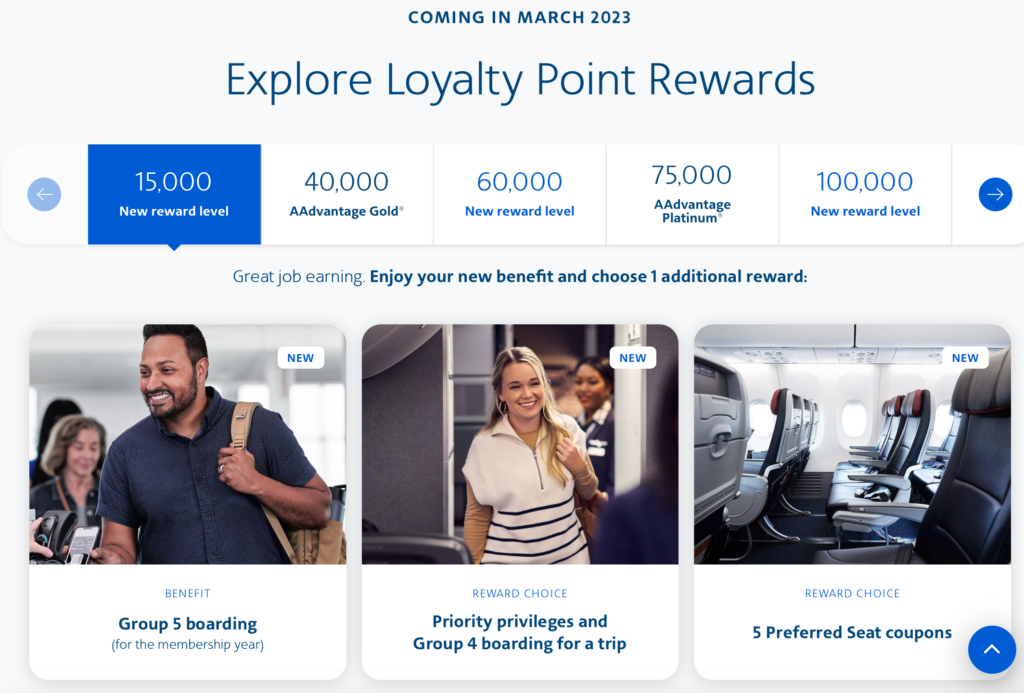 On the high end, earn just 5 Million Loyalty Points in a program year, and choose from things like 10 Systemwide Upgrades, Gift Platinum Status, and up to 500,000 miles back on award redemptions.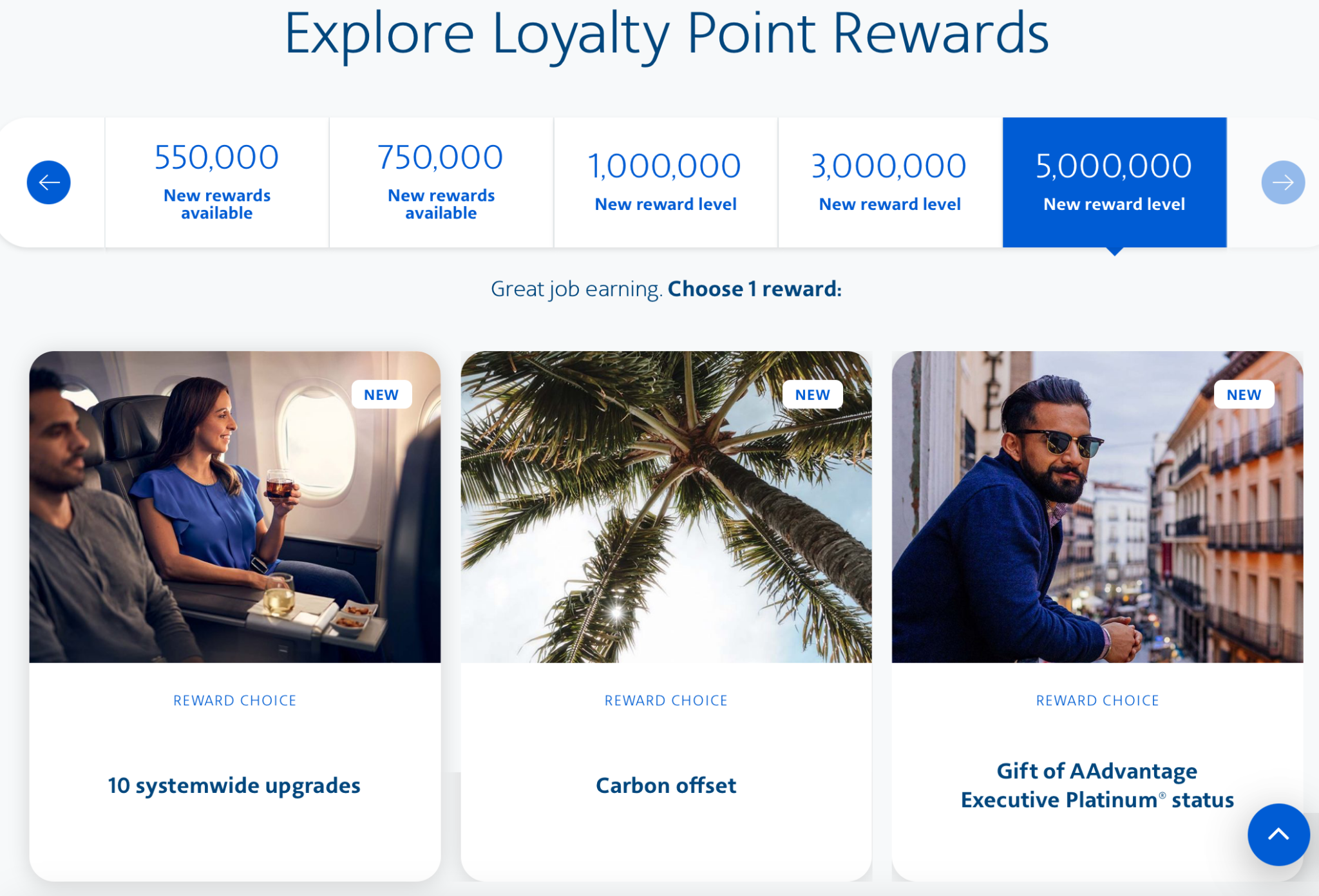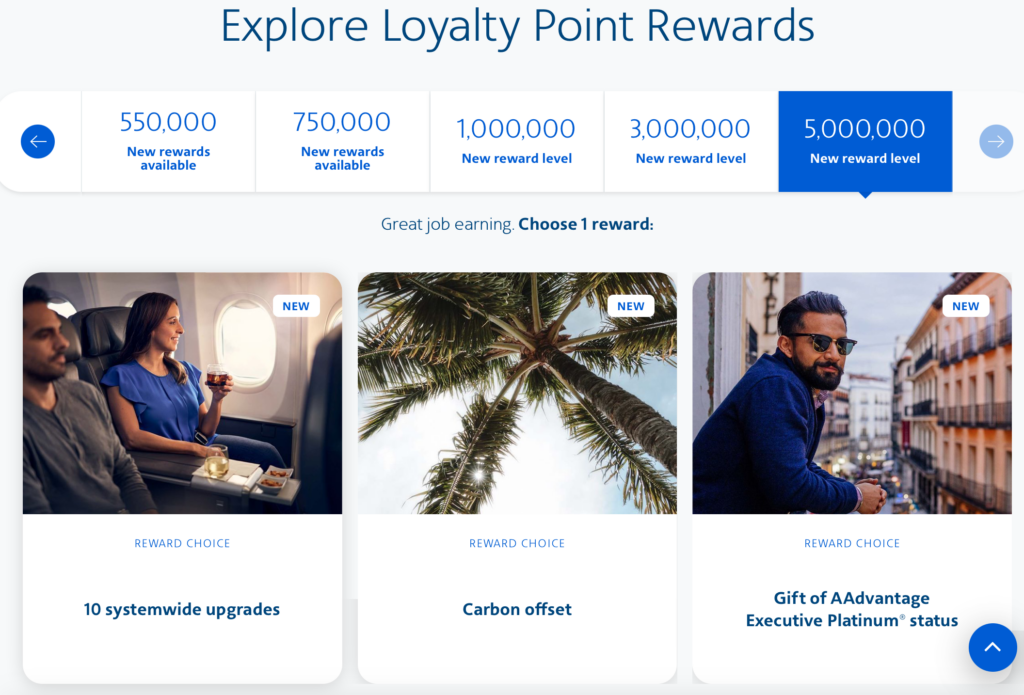 They have also moved the goalpost on when Platinum Pros and Executive Platinum members can choose Systemwide Upgrades (2 and 4 respectively) which are now at 175,000 and 250,000 Loyalty Points, respectively.
You can see all the rewards at AA here.
Overall
It's not a "massive" devaluation, but I certainly see these changes as net negative for AA flyers. I'm loathe to see more dynamic awards than we already had, as they remove all chances for outsized value for your miles.
Certainly, many Gold that just made the 30k tier this year will be sad they need 40k next year.
And the moved goalposts for PP and EP members to get their Systemwide Upgrades is the third negative.
Hopefully they do stick to their word on the international award charts. A dynamic partner chart would ruin the value of AAdvantage miles and move them in the direction of Delta. The thing is, Delta flyers choose Delta in spite of the value of its miles because of a consistently good flight experience. I don't think most would say AA does nearly as well in the air.
Thoughts?
Let me know below in the comments, on Twitter, or in the private MilesTalk Facebook group. And don't forget to follow me on Instagram for all sorts of tips on miles, points, credit cards, and travel.
If this post helped you, please consider sharing it!
You can find credit cards that best match your spending habits and bonus categories at Your Best Credit Cards. 
New to all of this? My "introduction to miles and points" book, MilesTalk: Live Your Wildest Travel Dreams Using Miles and Points is available on Amazon and at major booksellers.