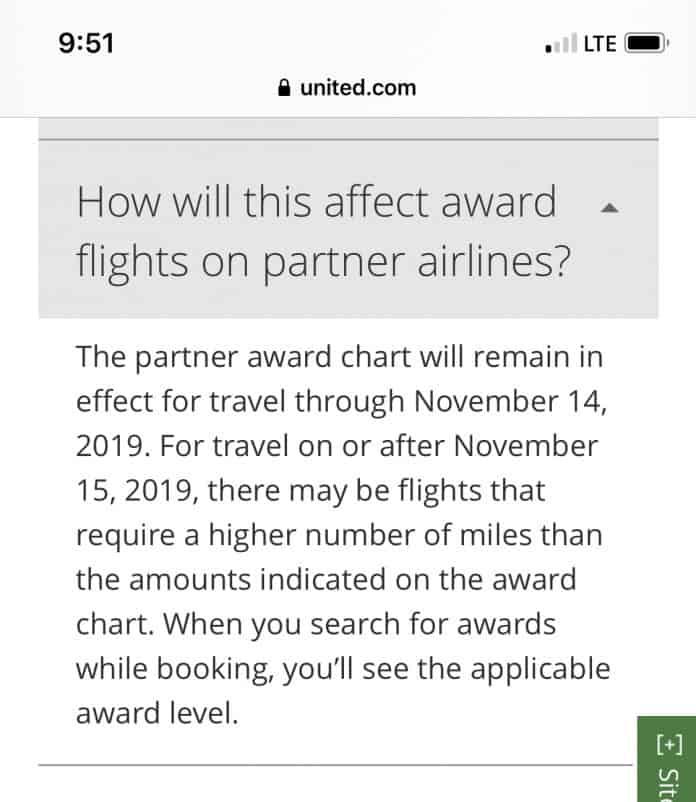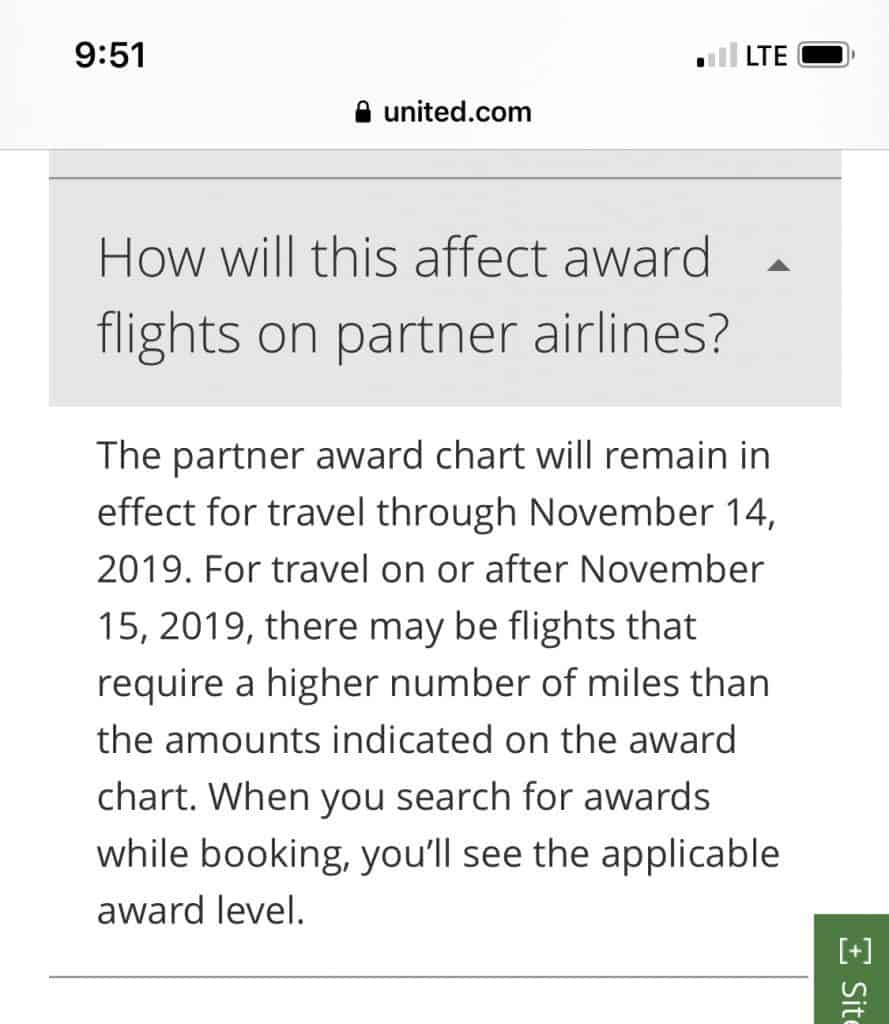 Yesterday, I wrote this post: United Confirms Dynamic PARTNER Award Pricing – What Does This Mean?.
In hindsight, I should have written United's Website Appears to  Confirm Dynamic PARTNER Award Pricing – What Does This Mean?.
See the difference?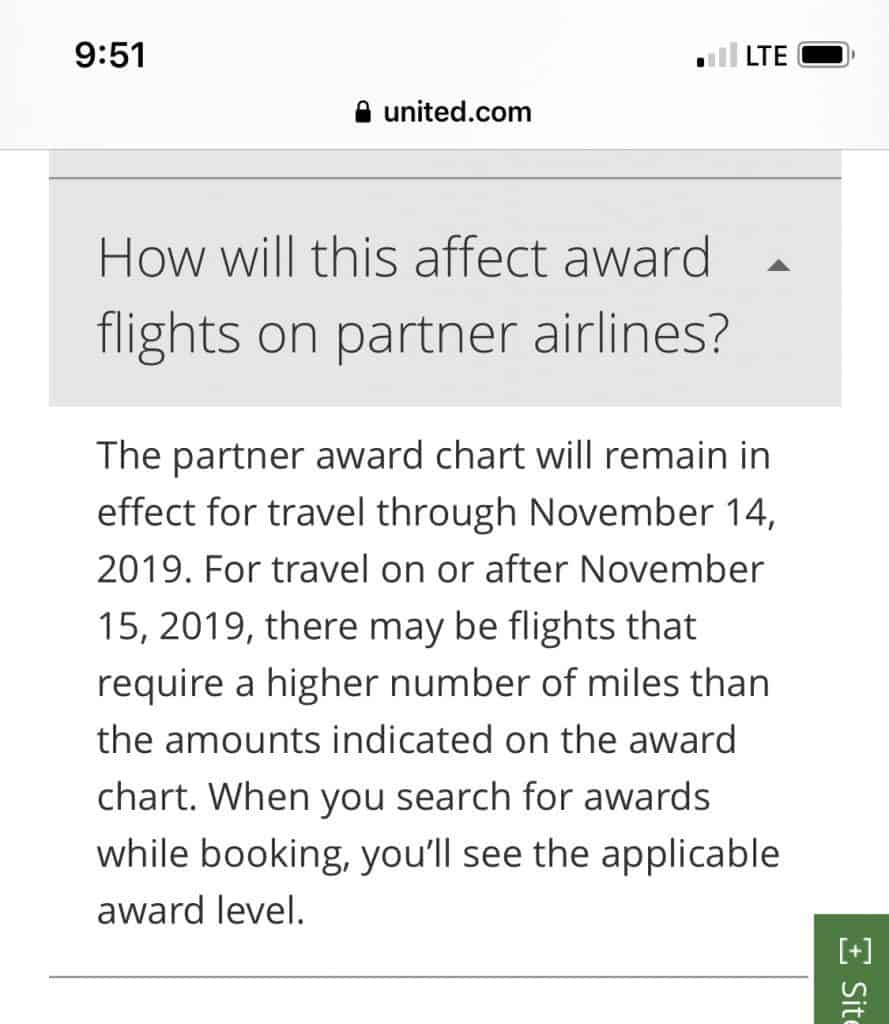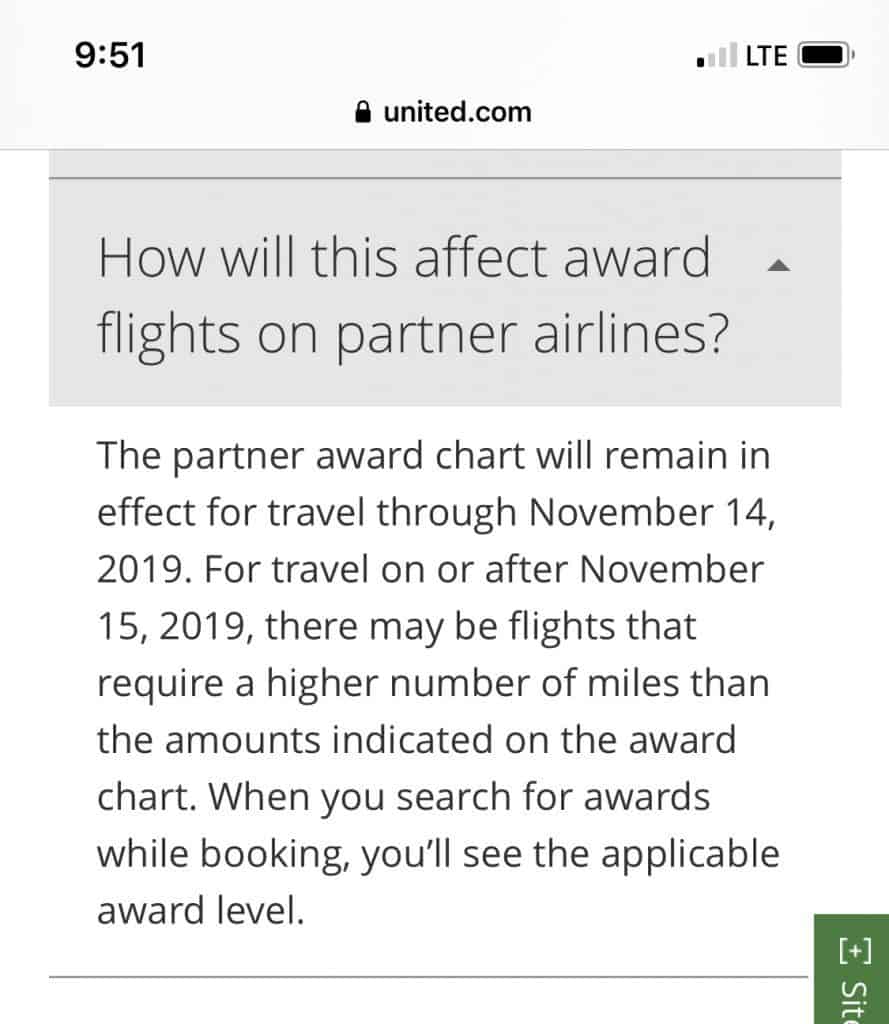 The website, as shown in this screen grab does, in my opinion, unambiguously say what it says. It clearly references the partner award chart and states that "there may be flights that require a higher number f miles than the amounts indicated on the chart."
Well, the venerable Gary Leff at View From the Wing has something I do not – direct access to United's Vice President of Loyalty Luc Bondar. And in this article today, Gary states that this particular language only refers to partner awards that include a United segment domestically. He also notes this language has been in place for a while, though I certainly didn't see it at the time UA announced the dynamic pricing.
If true, this means that, for now, the existing partner award chart can continue to be relied upon and that, for flights after Nov 15th, you may start to notice that the "price is not the price" if you have a UA segment included.
How would this work?
This would likely be very similar to how Delta awards (usually) work, which is that if you find a direct flight on a partner it will, in most cases (but not all, because, Delta) price at the low award level that isn't published but can be attained with some effort a.k.a. online research. If you add in a DL segment, all bets are off. An award on Delta could be 90,000 miles and then you add JFK-LAX on and find it's now 420,000 miles.
In that scenario, you can back out the domestic segment and buy a positioning flight instead. The mechanics of the award pricing seem to default to the award level of the highest segment. I wouldn't be surprised if that is how UA works as well (or similar).
All of this said, I don't think this is a completely false alarm
The language is written in such a way that they COULD move to dynamic pricing on partners later and not be going against what is written.
For now, though, we seem somewhat safe. 
What is your strategy going forward?
Let me know here, on Twitter, or in the private MilesTalk Facebook group.
You can find credit cards that best match your spending habits and bonus categories at Your Best Credit Cards. 
New to all of this? My "introduction to miles and points" book, MilesTalk: Live Your Wildest Travel Dreams Using Miles and Points is available on Amazon and at major booksellers.