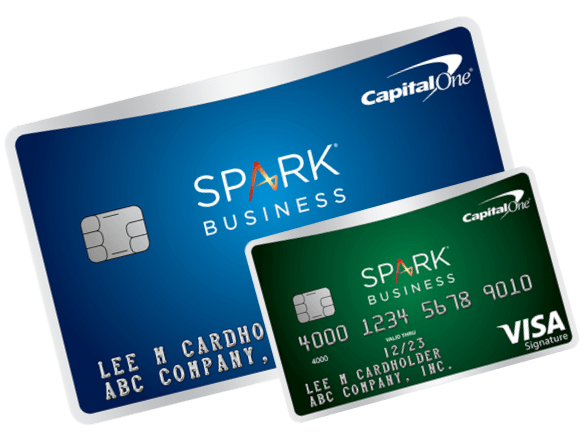 Both the Capital One Spark Business credit cards, the Capital One® Spark® Cash for Business and the Capital One® Spark® Miles for Business, are solid cards.
Capital One® Spark® Cash for Business vs. Capital One® Spark® Miles for Business
The Spark® Cash pays 2% cash back on everything while the Spark® Miles earns 2 miles per dollar spent. Those miles can be redeemed for travel at a penny a point (essentially the same cash back as the Spark Cash, but only for travel spend) or transferred out to a list of airline partners:
Aeromexico (2:1.5 ratio)
Aeroplan (2:1.5 ratio)
Alitalia (2:1.5 ratio)
Avianca (2:1.5 ratio)
Cathay Pacific (2:1.5 ratio)
Etihad Airways (2:1.5 ratio)
EVA Air (2:1.5 ratio)
Finnair (2:1.5 ratio)
Flying Blue (Air France / KLM) (2:1.5 ratio)
Hainan Airlines (2:1.5 ratio)
Qantas (2:1.5 ratio)
Qatar Airways (2:1.5 ratio)
Singapore Airlines (2:1 ratio)
Emirates (2:1 ratio)
JetBlue (2:1 ratio)
If you have a Spark Cash, you can move that cash back over to a Spark Miles card you also have, so if you have both, you can earn on the Spark Cash and preserve your flexibility in cashing out for straight cash (no travel purchase needed) or you can transfer to the Spark Miles if you want to trade for airline miles.
The Spark Business Annual Fees
While both Spark cards have no-annual fee versions that earn just 1.5% in cash back or 1.5X in miles, it's obviously better to earn 2 per dollar. However, both of the 2X cards carry $95 annual fees.
Can you get a waiver on the Capital One Spark Annual Fees?
I've had the Spark® Cash for years. I first got it in 2011 and I think it was during a great promotion called "Match My Miles" for a $1,000 bonus.
It's long been in the back of my head that I had called in to cancel that card when the annual fee hit, only to have the agent proactively offer to convert my card to a no-fee version of the same card. I'd originally thought he meant a downgrade, but he clarified that it would be the exact same cash back card earning 2%, just with no annual fee. This isn't a one time fee waiver. It's a permanent fee waiver.
Score.
This past year I got a Spark® Miles with a bonus offer of 200,000 bonus miles for spending $50,000 in 6 months. It just came up for renewal and I couldn't help but wonder…. When I got the waiver on the Spark® Cash, was that an anomaly?
In this call, I asked for exactly what I was hoping for. I explained I'd gotten a permanent fee waiver on my Spark® Cash and might that be available on the Spark® Miles card?
It didn't take long, but he did clarify for me that this was a standard offer for qualifying customers, but far from all customers. So, you need to know you may not be eligible. You won't know if you don't call, however!
The criteria seems to be a combination of a decent level of spend (not a few thousand your first month and nothing else, for example) and a great on-time payment history. I can't say if there are any other hidden factors. Clearly a computer formula determines if they want to keep you enough to waive the fee based on expected long-term profitability (and low risk).
The regular front line agent can help with this, no beating around the bush about cancelling or speaking to a retention department is required.
Current Offers:
Although I can't currently earn any affiliate revenue from referring you to either card, I do have personal referral links for both the Spark® Cash and Spark® Miles. If you spend $4,500 within three months on the Spark® Cash, you'll get $500 in cash, while the same spend on the Spark® Miles will get you 50,000 bonus Capital One miles.
Have you been granted a permanent annual fee waiver on your Spark® Cash or Spark® Miles cards?
Let me know here, on Twitter, or in the private MilesTalk Facebook group.
You can find credit cards that best match your spending habits and bonus categories at Your Best Credit Cards. 
New to all of this? The MilesTalk "introduction to miles and points" book, MilesTalk: Live Your Wildest Travel Dreams Using Miles and Points is available on Amazon and at major booksellers.