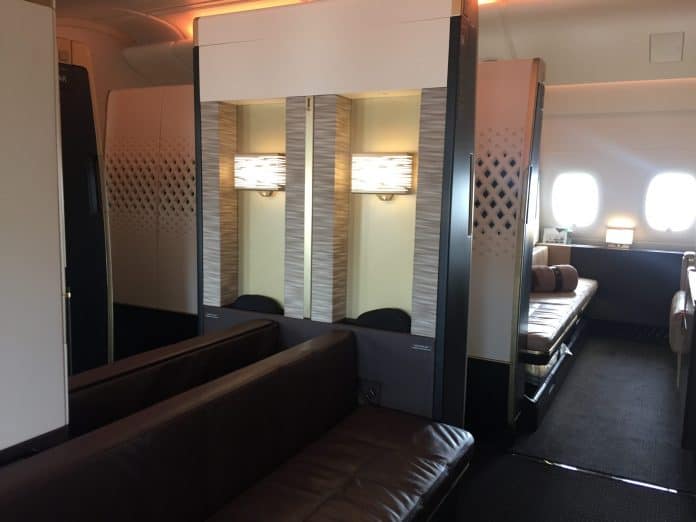 Emirates First Class Suites vs. Etihad First Class Apartments
Having flown the two products just over a year apart, Etihad's First Class from AUH-JFK last January and Emirates First Class from JFK-DXB just this March, I thought it would be interesting to write a pure comparison post. While you most likely would choose based on route and what points/miles you have, I'm sure some can only do one or the other and this may help you decide.
If you'd like the full review of each experience rather than the comparison, you can read them here:
I'll rate each of the following six categories for each experience, assigning points to both airlines, with a final score at the end: Seat, Service, Food, Onboard Bar / Lounge, Shower, and Wi-Fi Connectivity.
The Seat
In the Etihad Apartment, you get a fairly gigantic space, with a recliner chair on one side and a bench on the other that becomes the bed. It's super comfortable to sit on the bench, so I think of it only as a bed that is hidden out of the way and not part of your seat. Unfortunately there isn't *quite* enough space to have the bed made up and recline in your seat, so you can't really use both going back and forth. I mean you *could* but not really. The bed itself was quite comfortable and it felt like a bed in a room rather than a flat seat.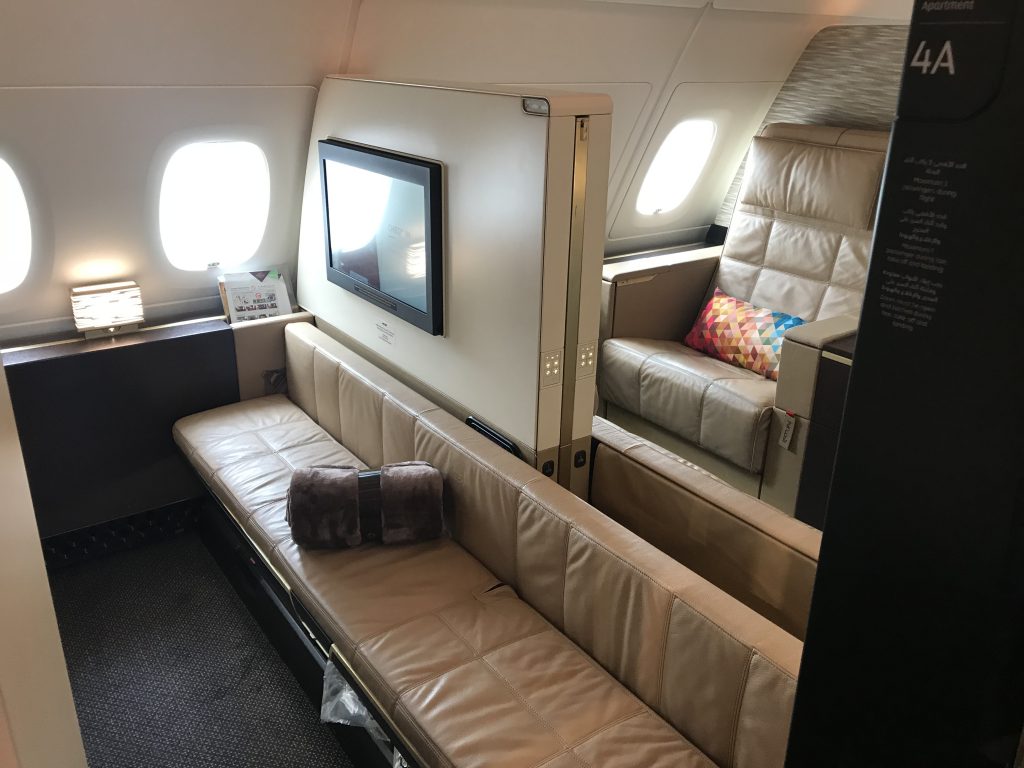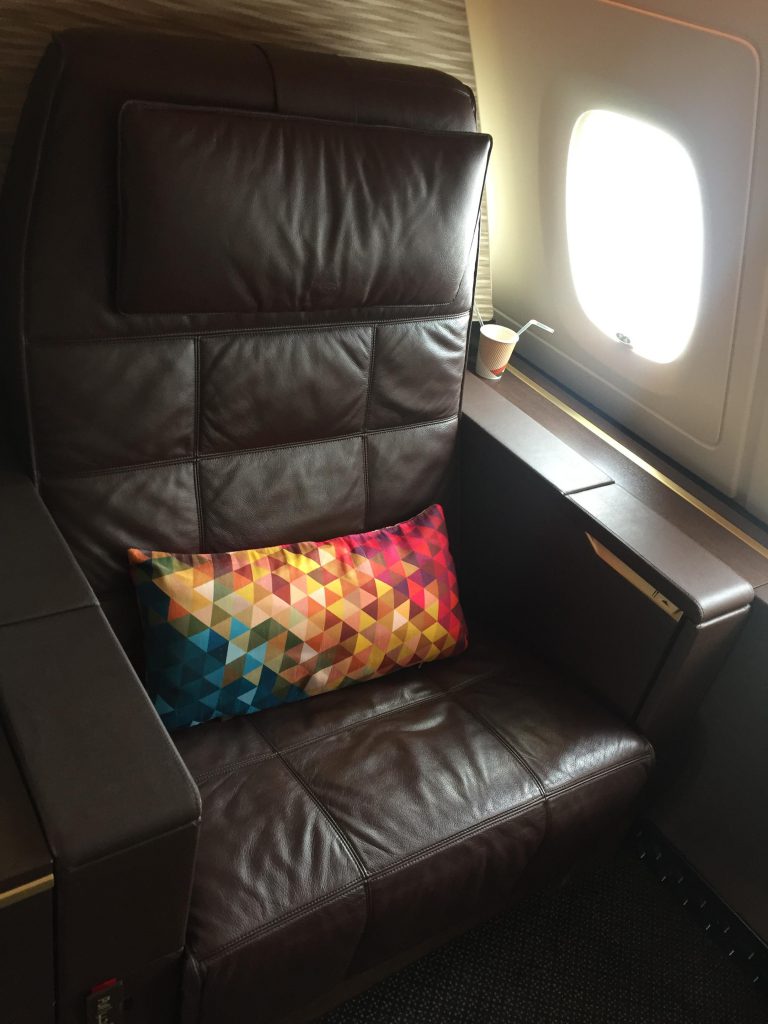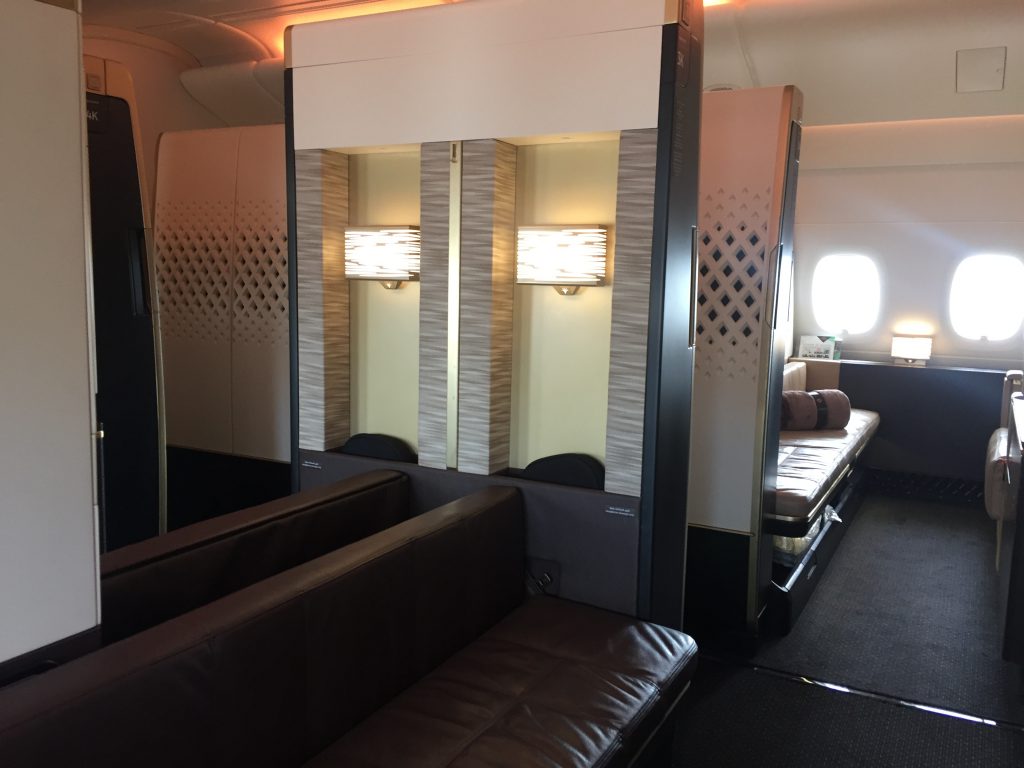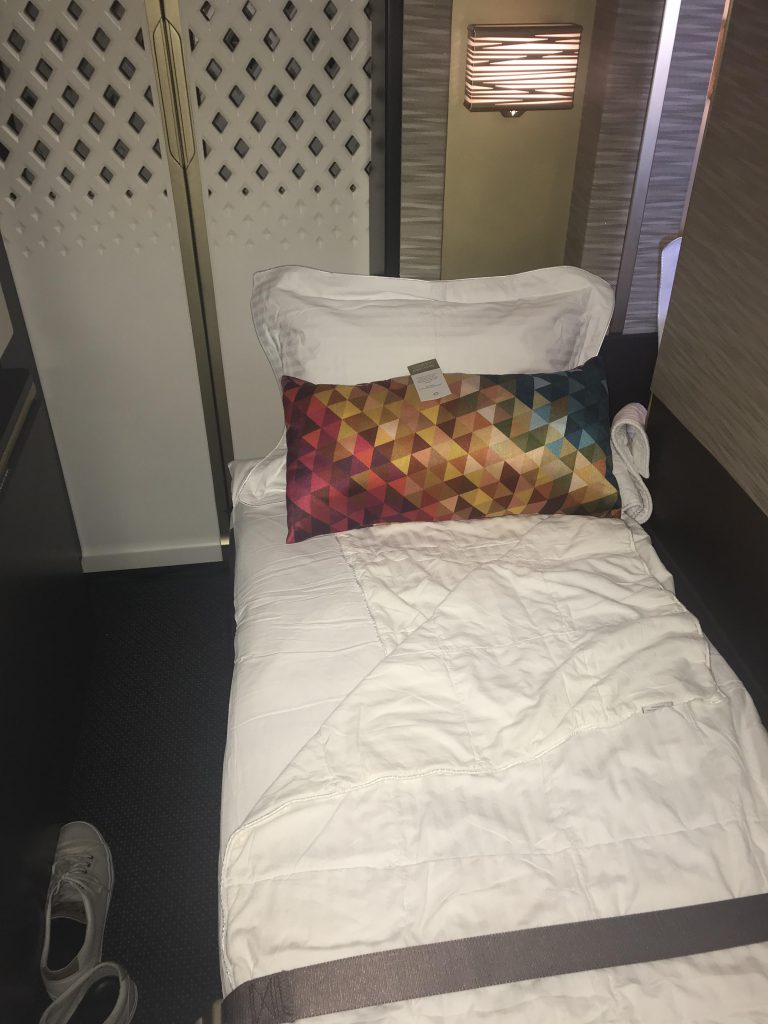 The Emirates First Class seat was also comfortable, but it's…. a seat. You don't have an entire suite that you can stand walk from one side to the other in. When you want to sleep, the flight attendant will come and convert the seat into a bed for you.
It was spacious, but more like a large business class suite spacious – not 1st class extravagance spacious.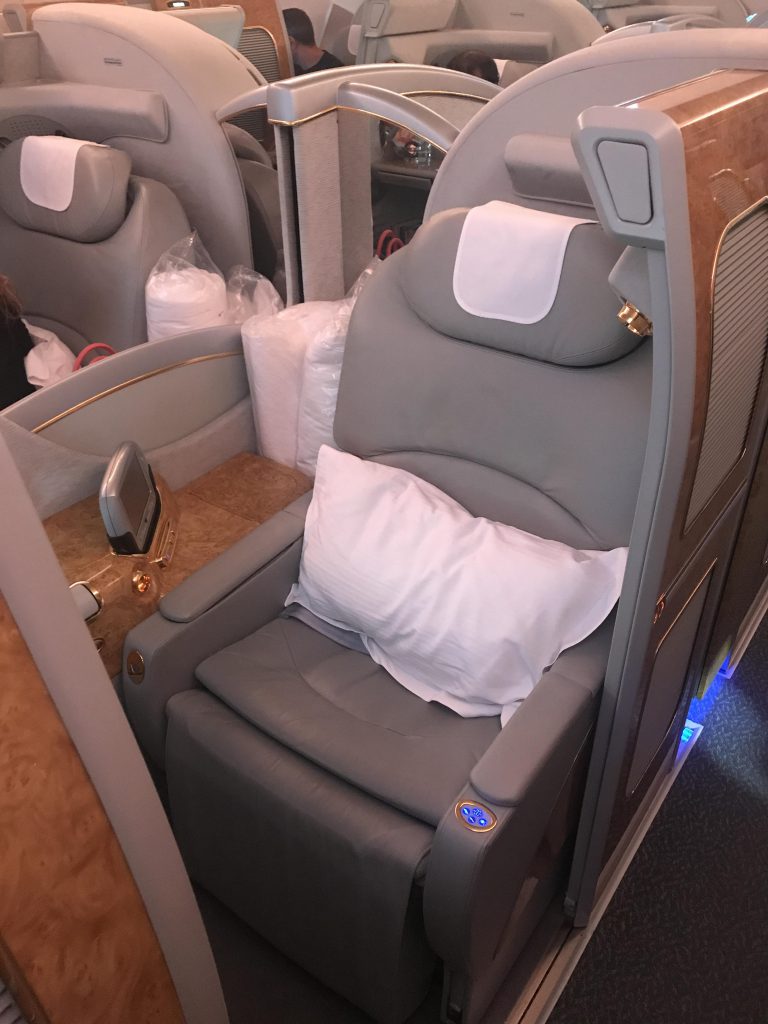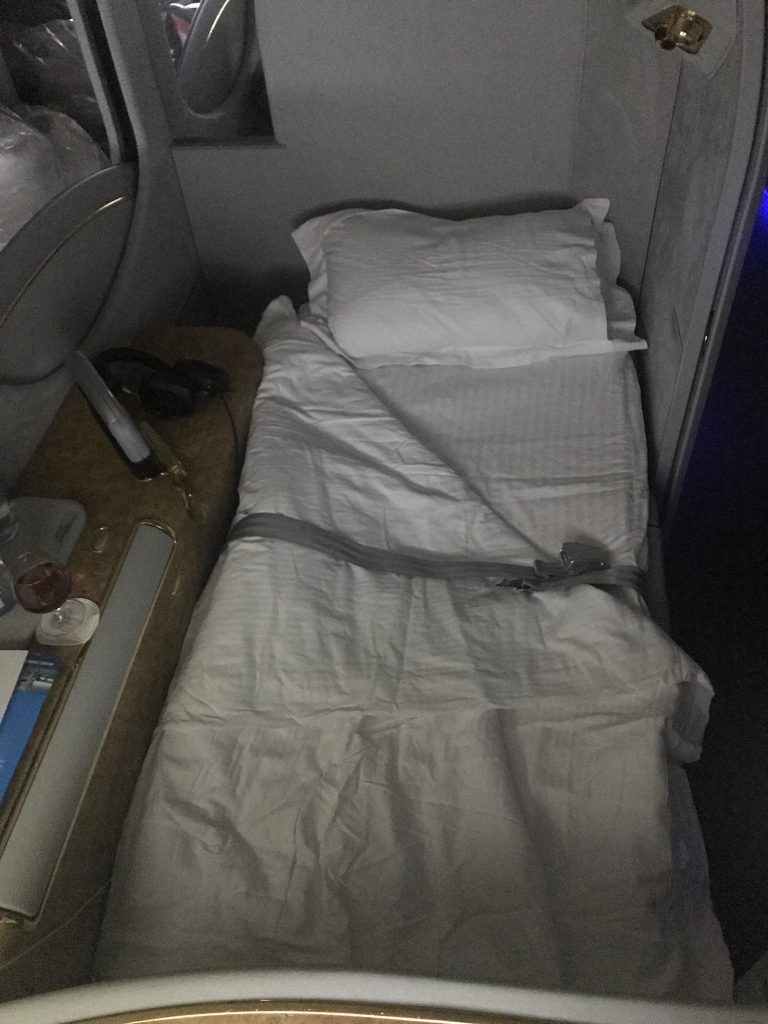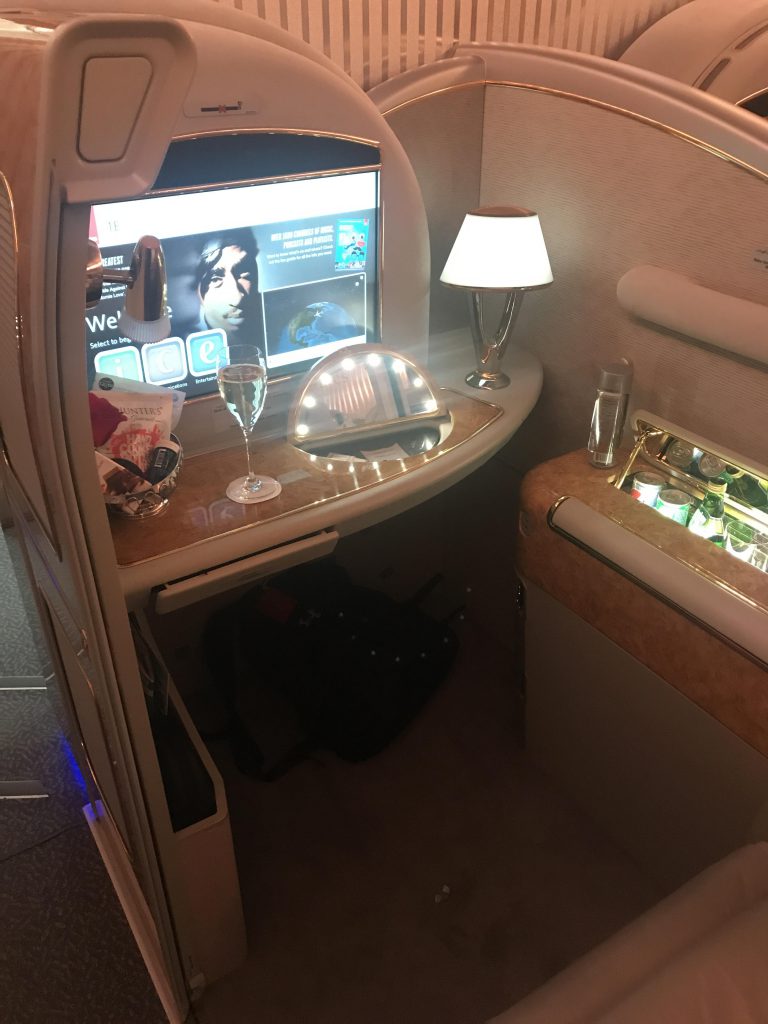 Certainly both are excellent seats, but the Etihad seat wins for me based purely on total space allocated per passenger.
Etihad First Class Apartment vs Emirates First Class Seat Rating
Etihad: 9/10
Emirates: 7.5/10
The Service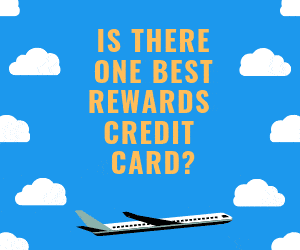 Onboard, the service on Etihad was absolutely stellar. Our cabin attendant was absolutely determined to be at our beck and call the entire time and the onboard chef did the same. Granted, with only 1 other First Class apartment occupied during our flight, it was easy enough for them to do so. But in my experience it still very much comes down to work ethic.
Throughout what turned into close to 24 hours onboard (due to the diversion and flight resumption the next day), we always felt like the crew was not only available, but wanted to be at our service.
With Emirates, and a full F cabin, we each had a different flight attendant. Nicole's seemed very attentive and I found myself flagging him down from time to time – because I had a heck of a time getting the attention of mine. Mine was nice enough, just not very attentive. And on an international First Class flight, the personalized attention of the crew is key.
Although one out of the two of us had an attentive crew member,  Emirates crew appears to have trouble when the cabin is full. That should simply not be the case.
Etihad First Class Apartment vs Emirates First Class Service Rating
Etihad: 10/10
Emirates: 6/10
The Food
Once again, Etihad steals the show here, although they won't walk away with a perfect 10.
On Etihad, there is an onboard chef serving the First Class Apartments. While limited by the ingredients on board, the chef can prepare the meals as you want them. Leave something off? Add something on? All possible.  And I really enjoyed the quality of the food and the preparation of the meals.  Where Etihad fell down here was that they ran out of our choices multiple times. Sure, we were hungry and ordered plenty, but it was also nearly a 15 hour flight time as blocked (forget the delay that extended our time on board). Menu item by menu item, we were told "I'm sorry, we have run out of that."  I can accept that in business class, but First should over-cater. Running out of a menu item should be exceedingly rare in true international First.  They also had one weird mishap where they heated up a soup but it was under-heated. Upon request for more heat, they threw out the soup entirely and then let us know they had no more soup. That was a #fail.
Minus one point for running out of food but the rest was great. The only better onboard food experience I've had was JAL / Japan Airlines' First Class, and it was only marginally better. Perhaps the grade A4/A5 Wagyu was what won me over on that flight…
Here's an assortment of the food we enjoyed in the Etihad First Class Apartment: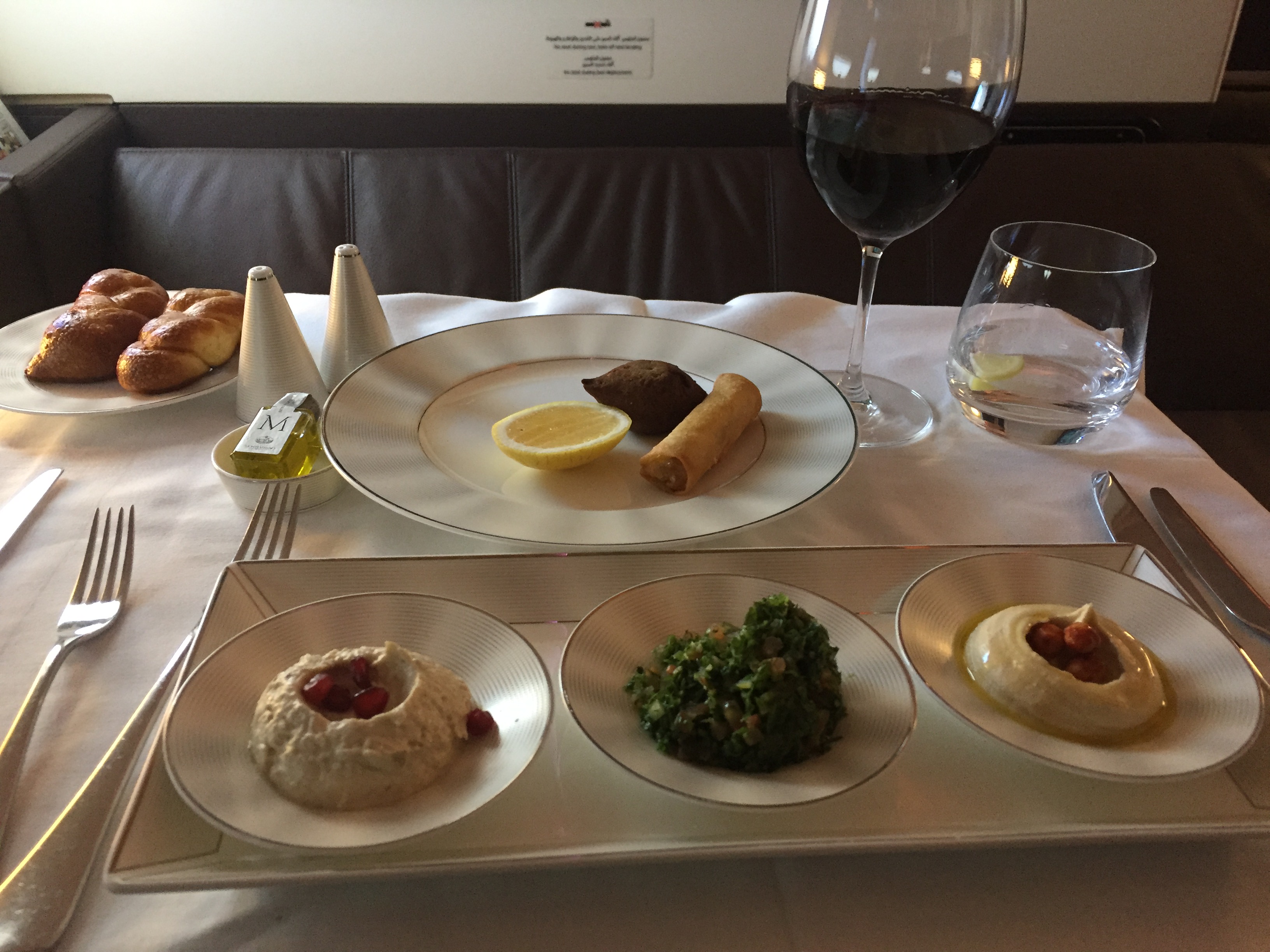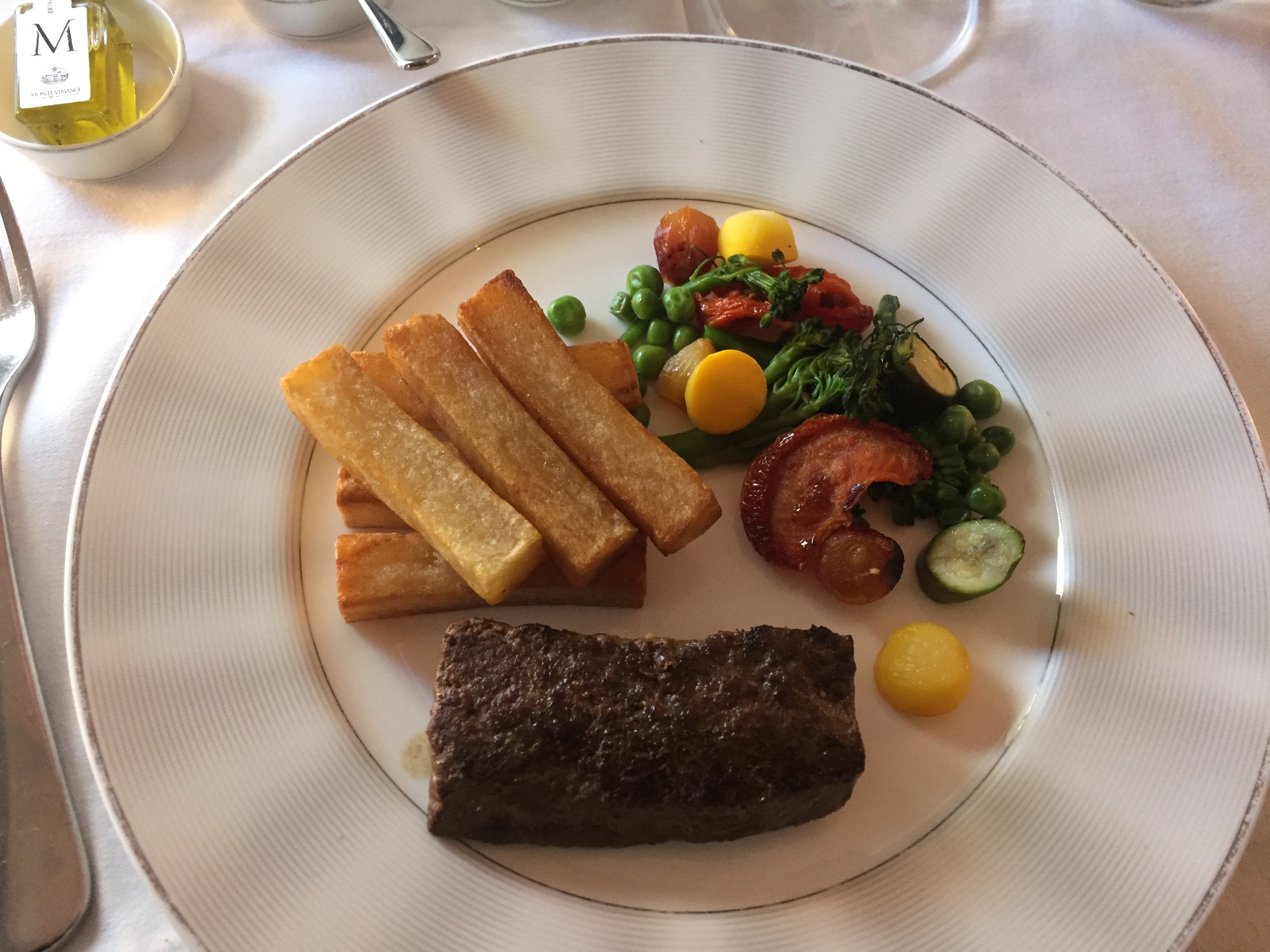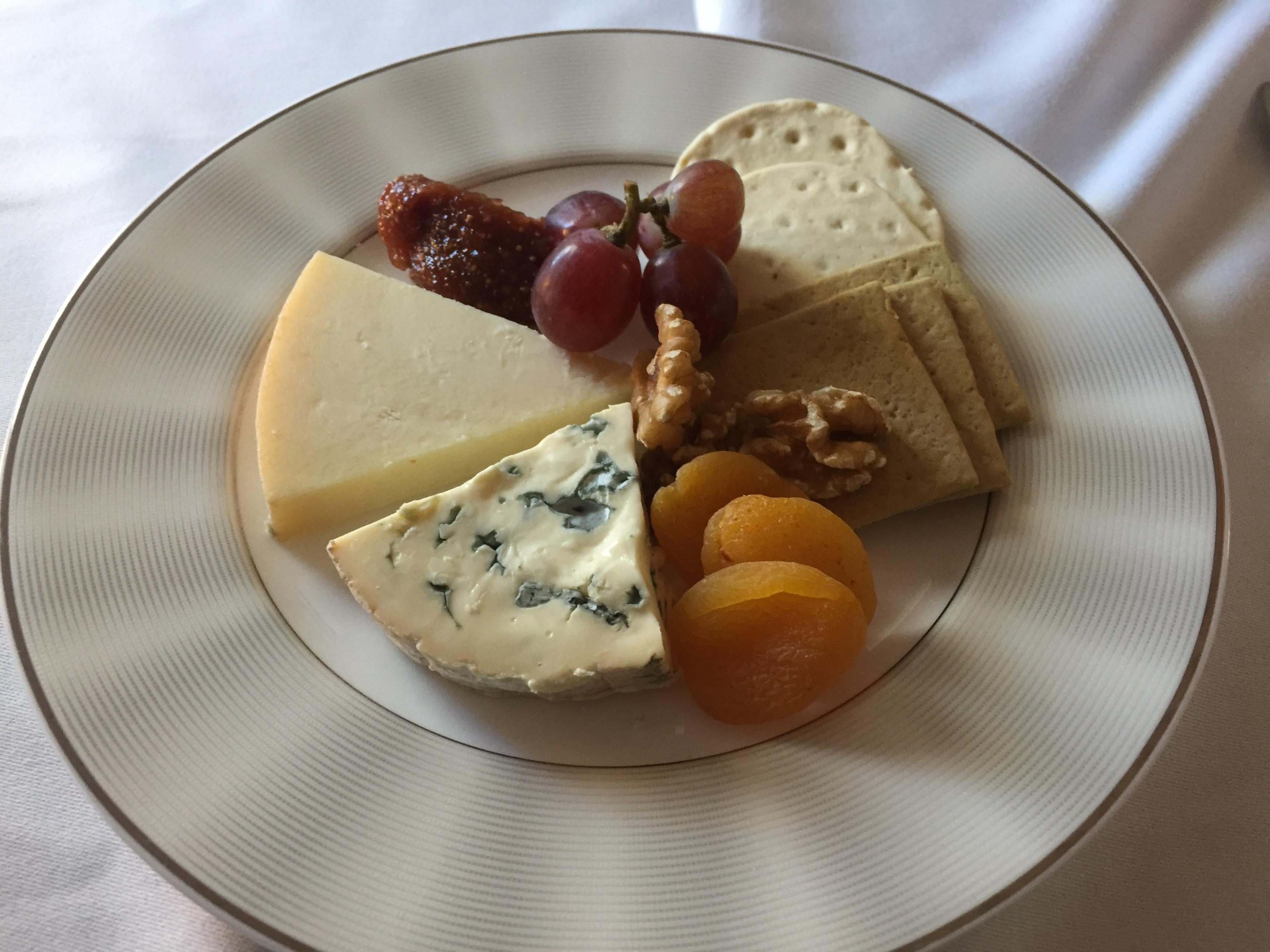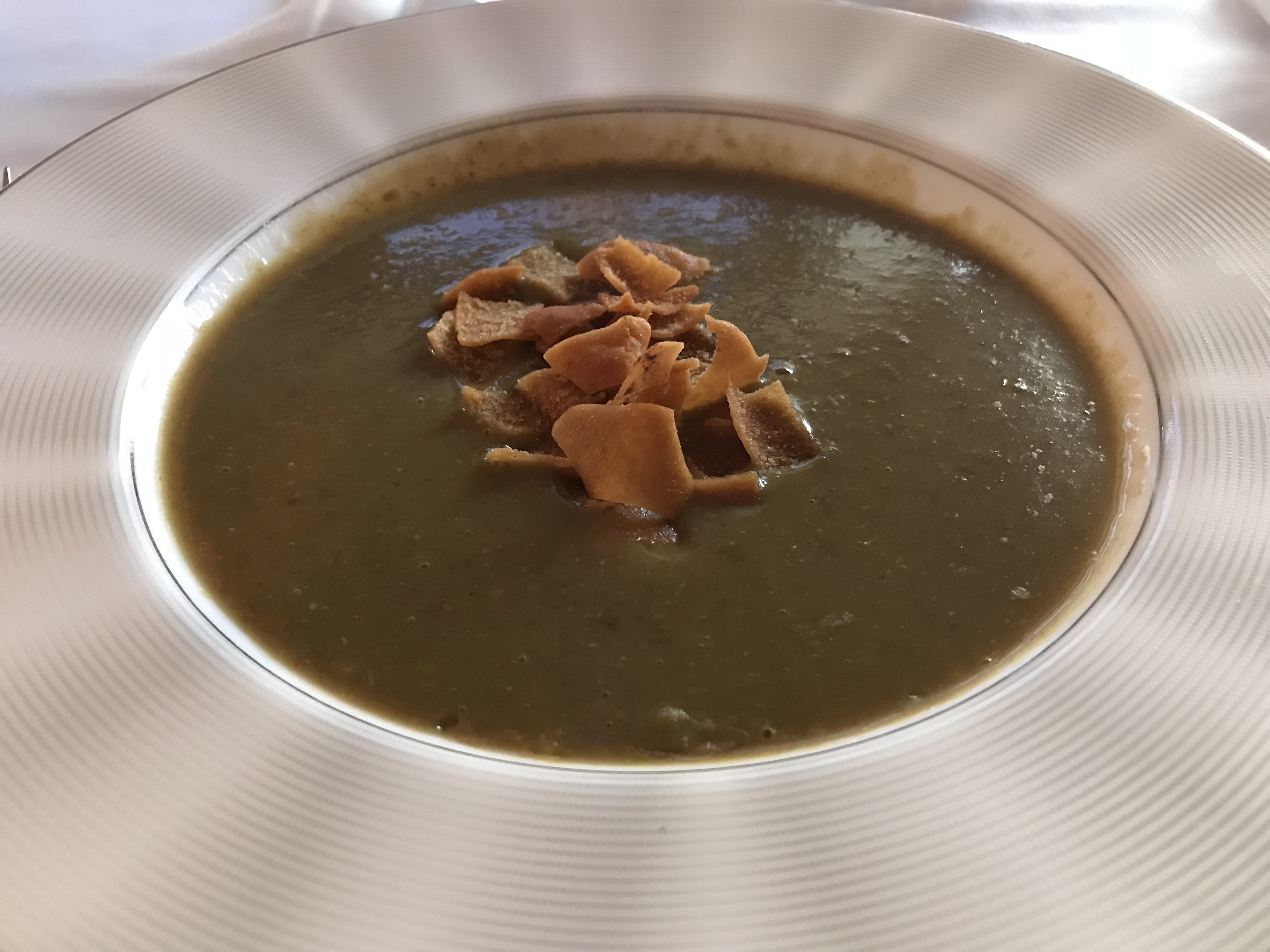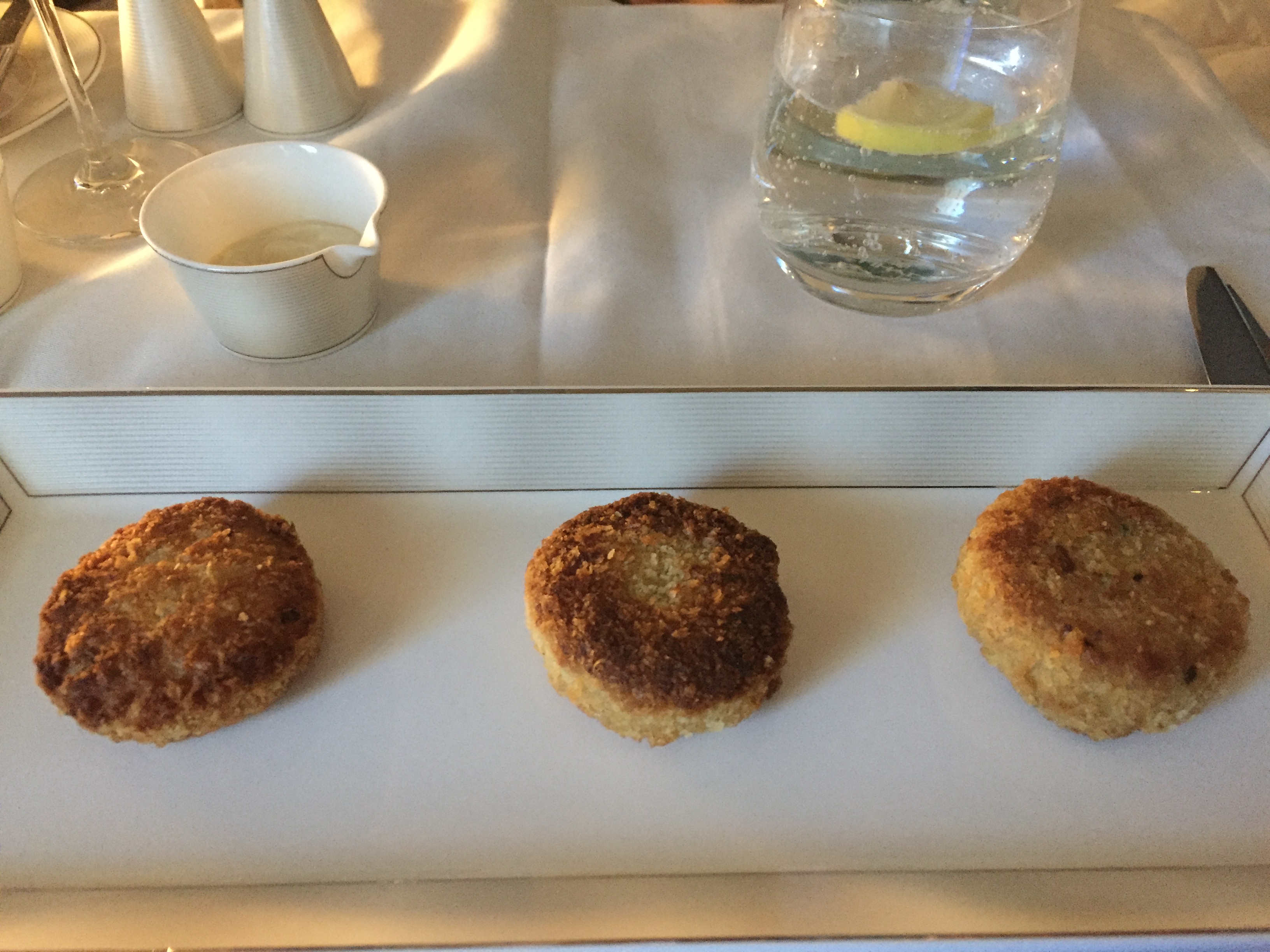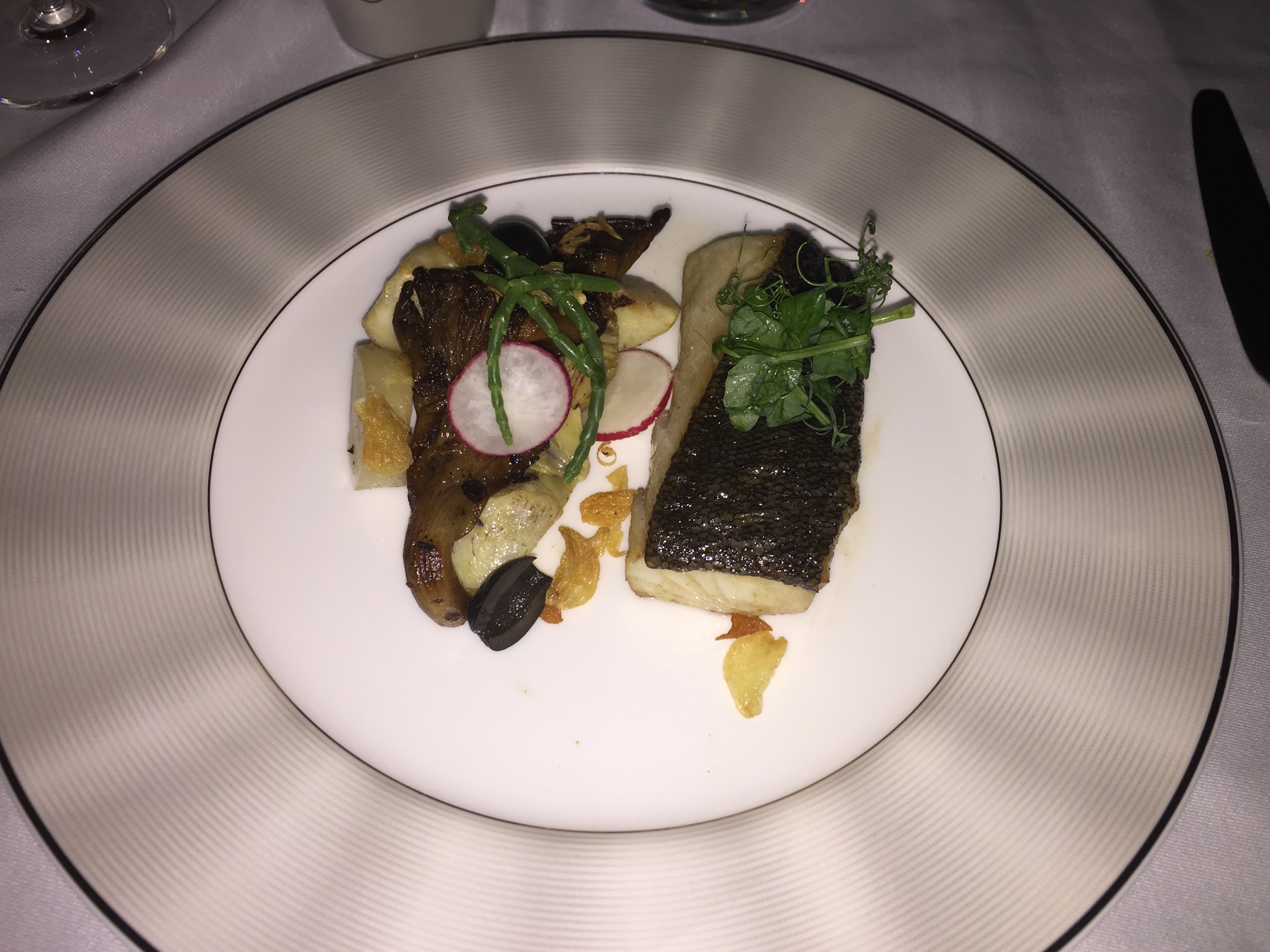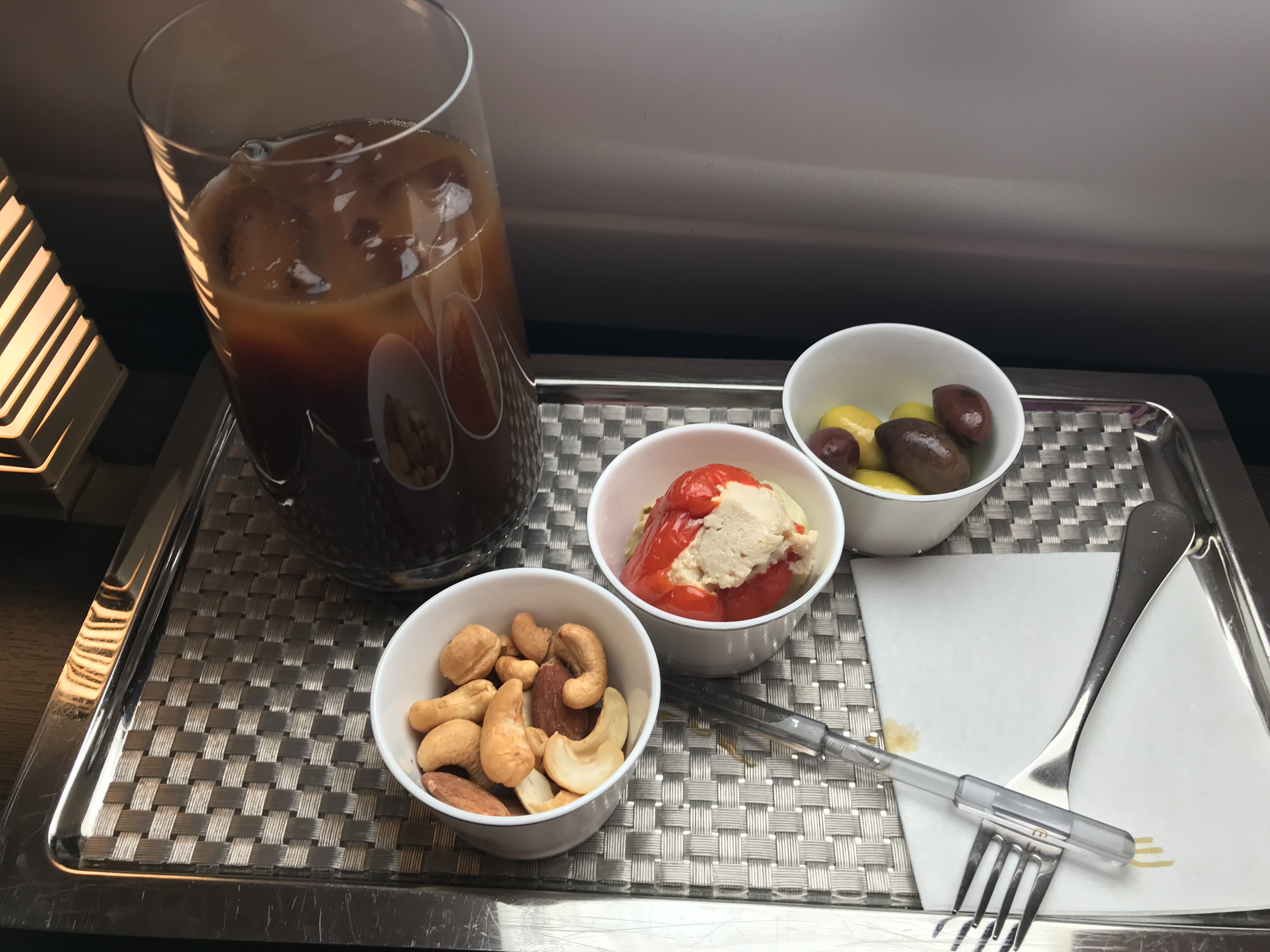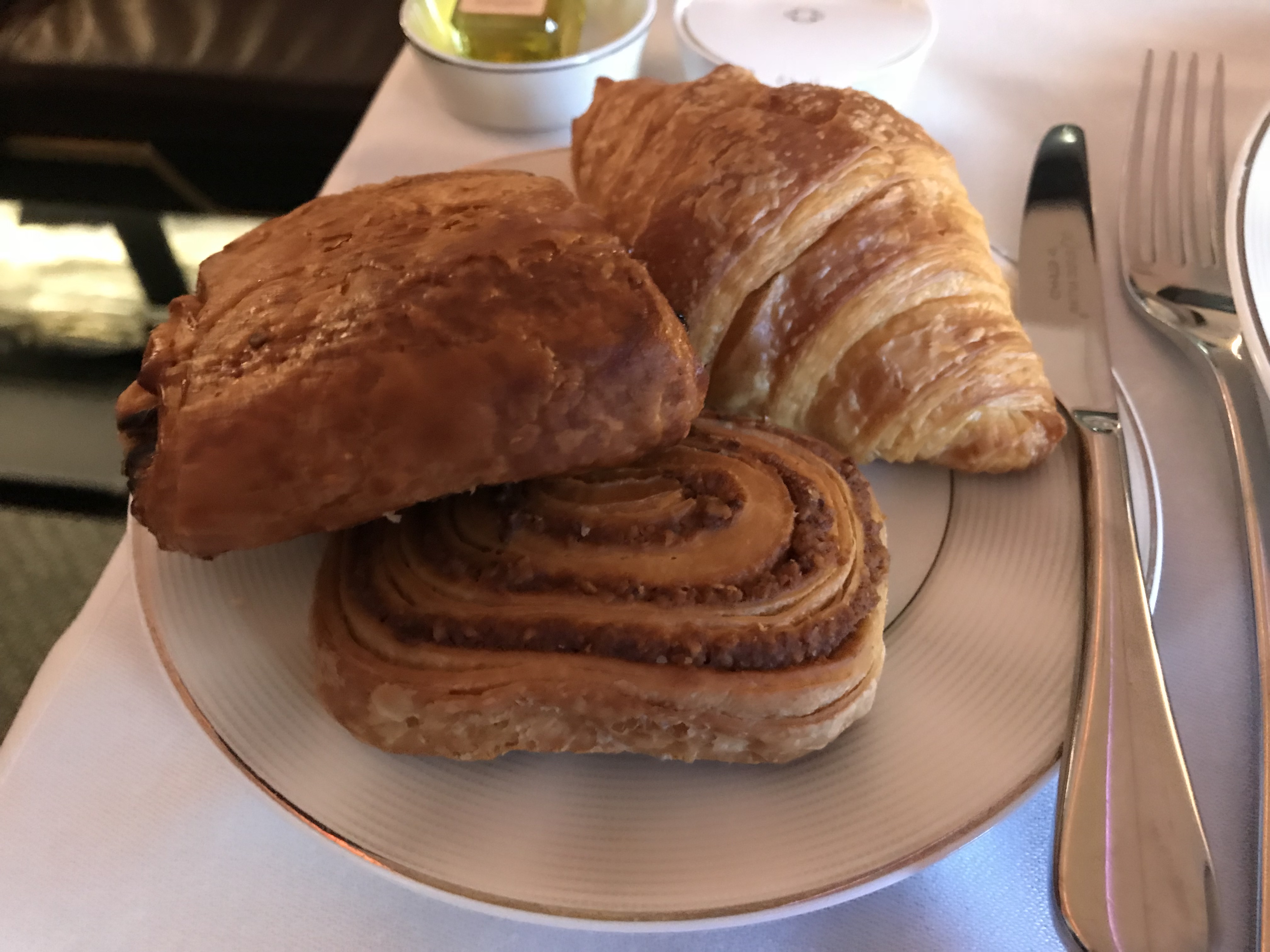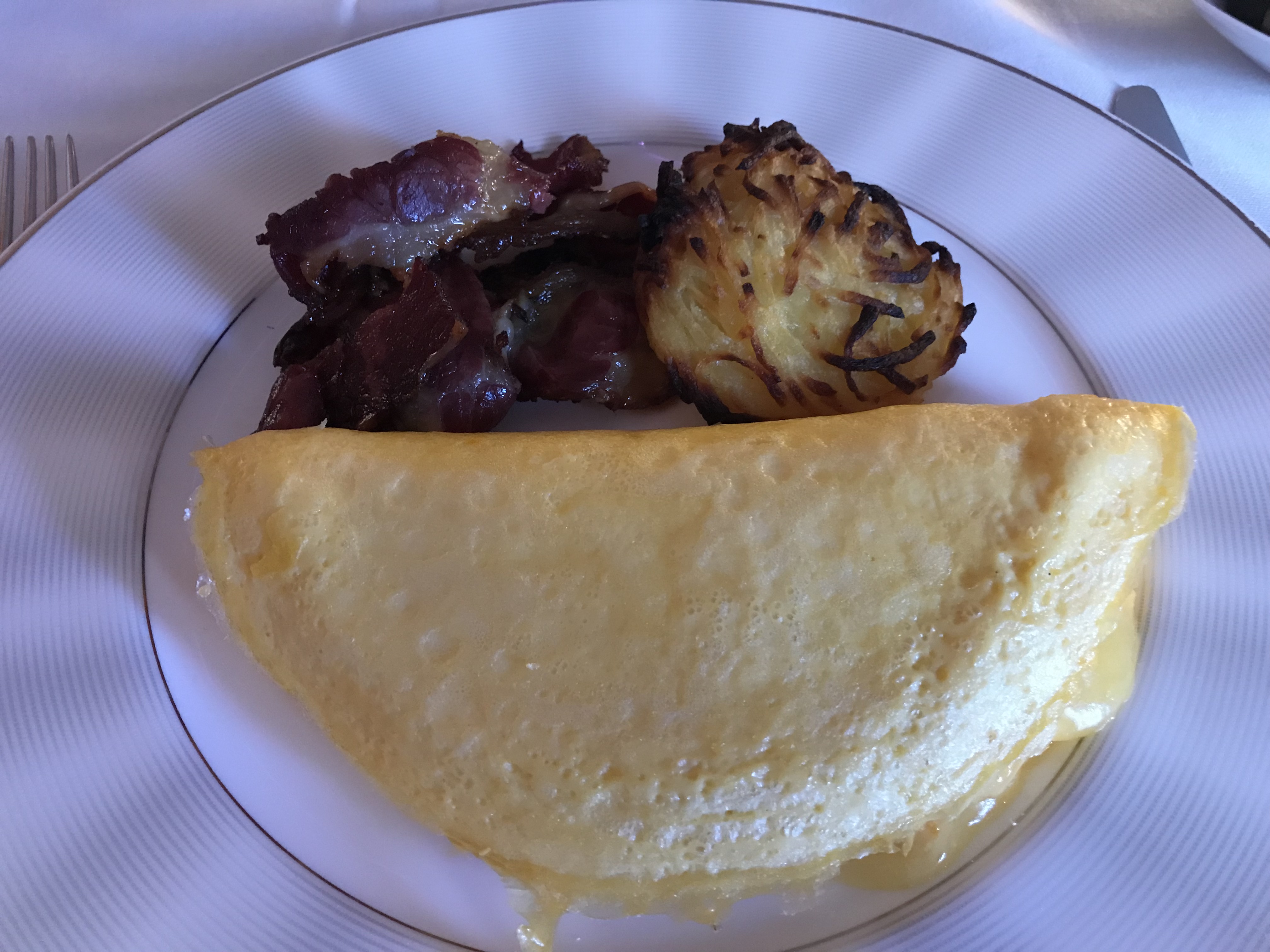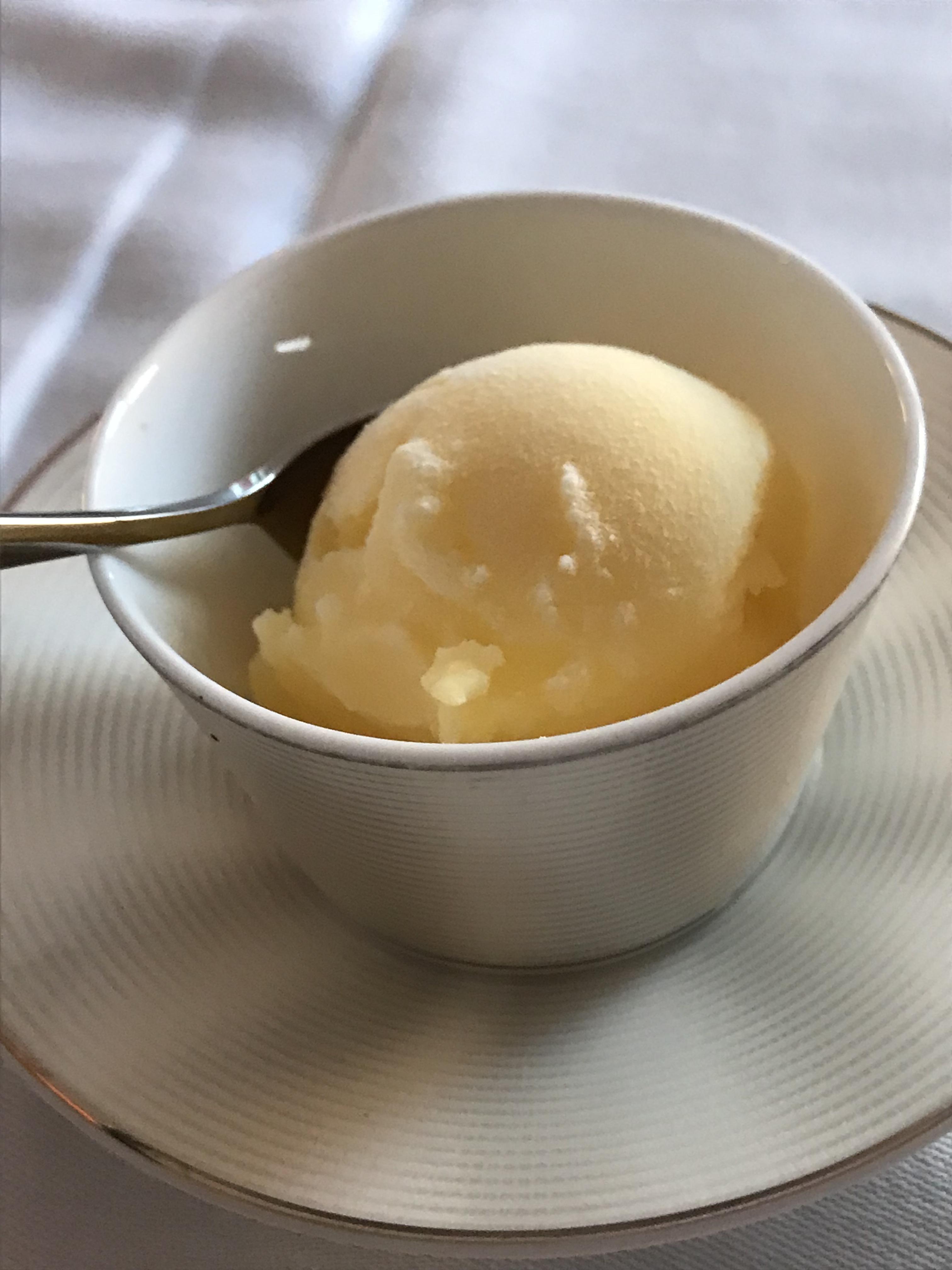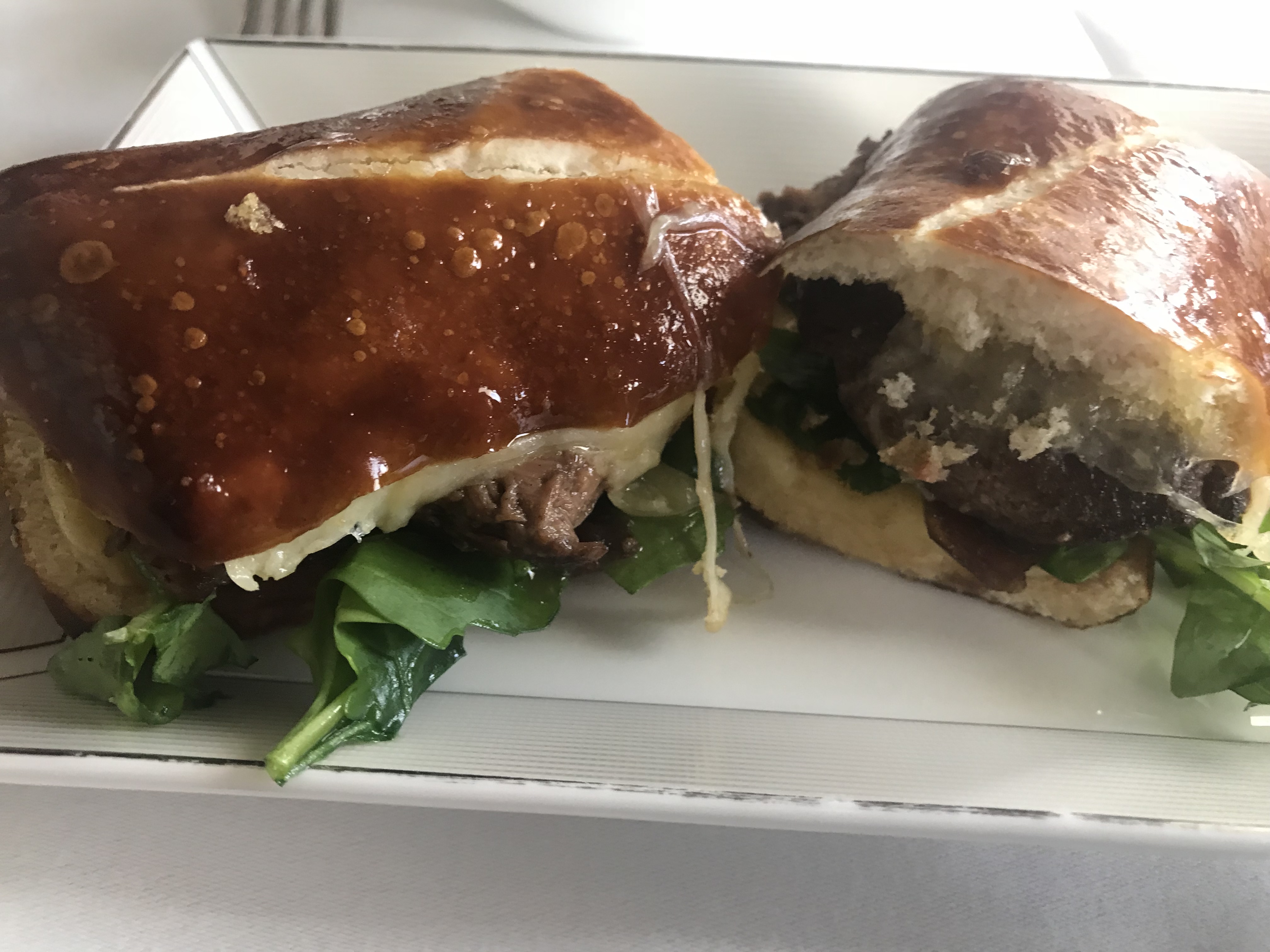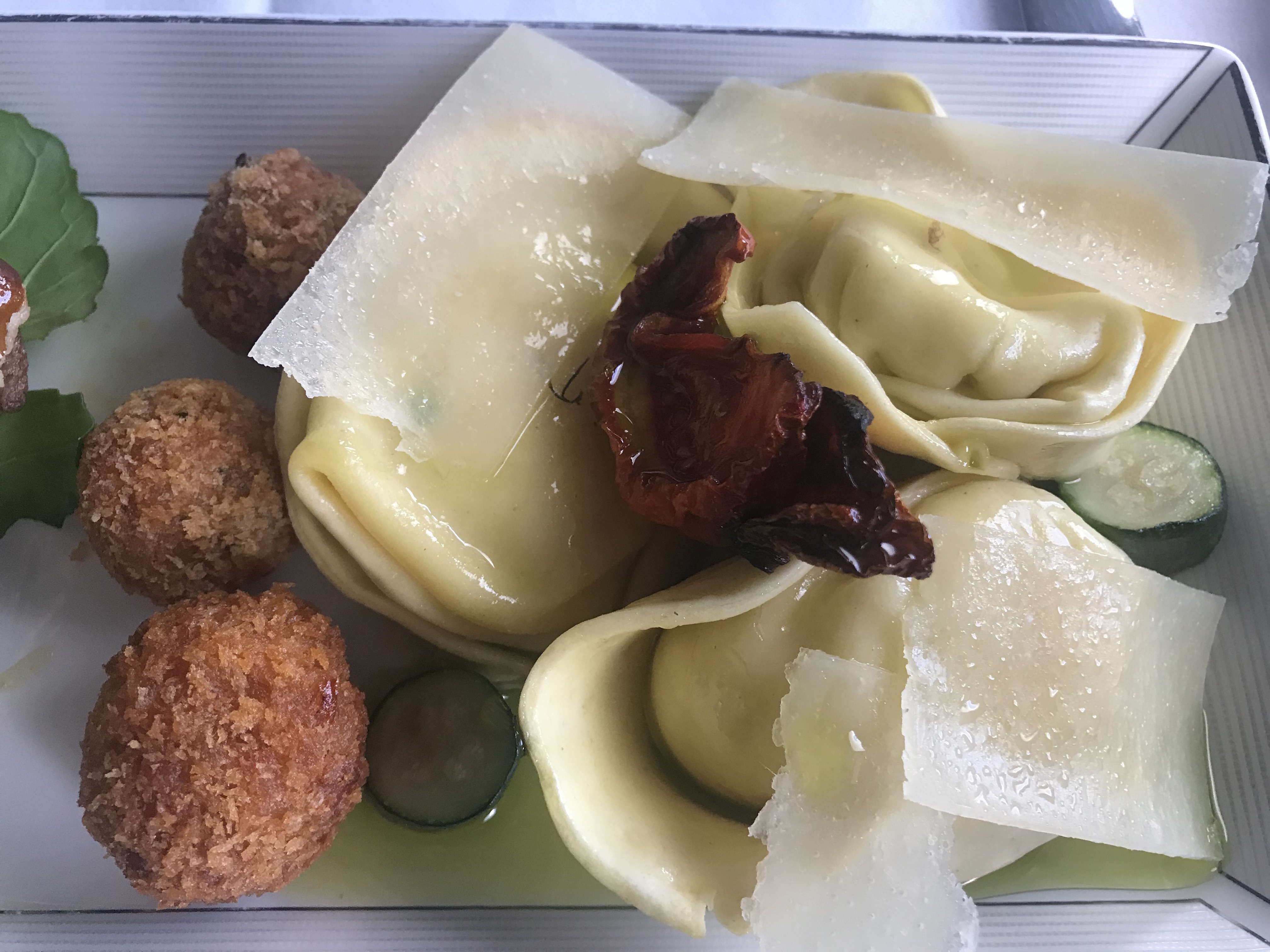 On Emirates, the food was actually not just mediocre, it was pre-made and mediocre. I did appreciate their enhanced beverage selection, though – I enjoyed my espresso martini quite a bit.
On Emirates the chef does not curate meals from ingredients at all. The first reason? There's no onboard chef.
Beyond that, the meals are pre-plated, for the most part, and not very customizable to taste. When it came to asking for the lamb chops medium rare, that was impossible because there is a button they apparently press for lamb chops that will cook it to the perfect amount of overdone-ness.
The meals are what stood out to me more than anything flying Emirates. I really 1,000% expected better food onboard.
Here is a sample of the food we had on Emirates in First Class:
I started with the truffle arancini. Sounded amazing. They tasted microwaved.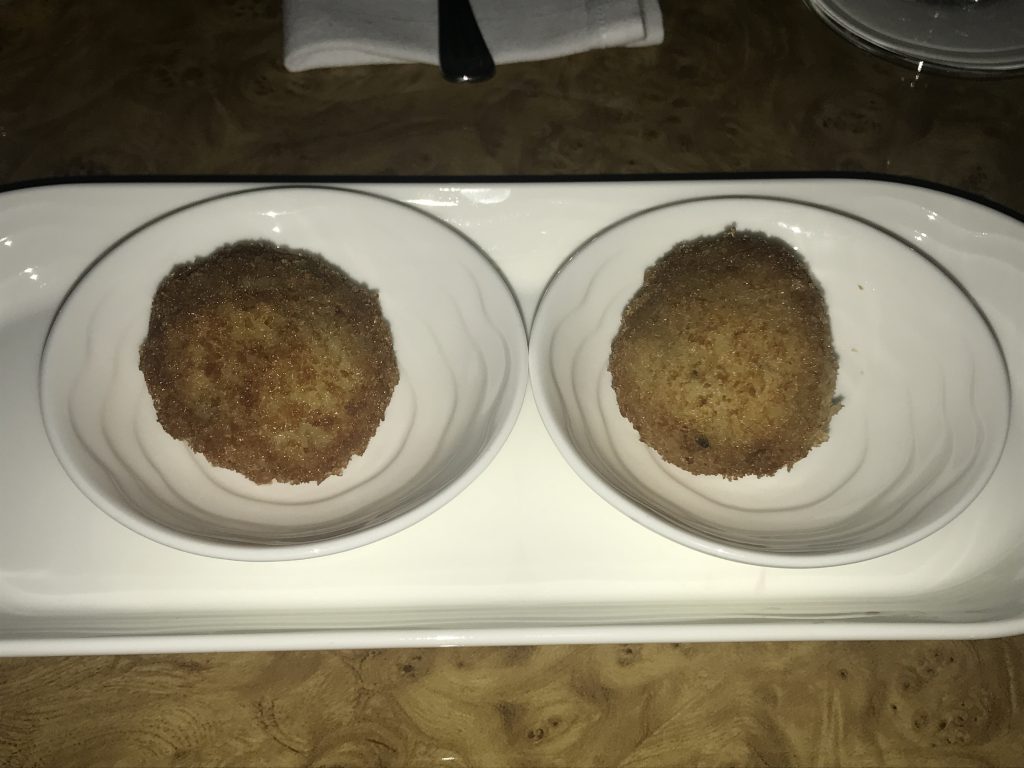 Then the Cream of Spinach Soup. Tasty.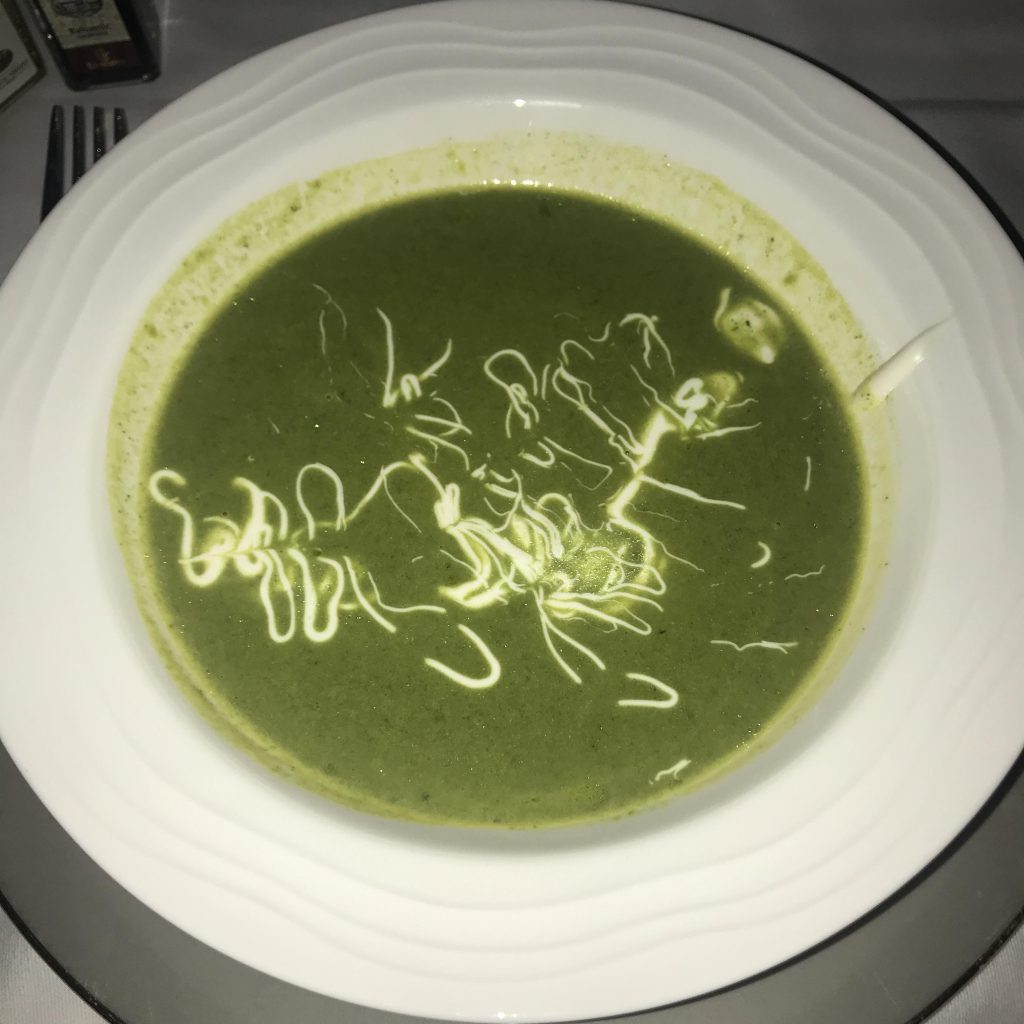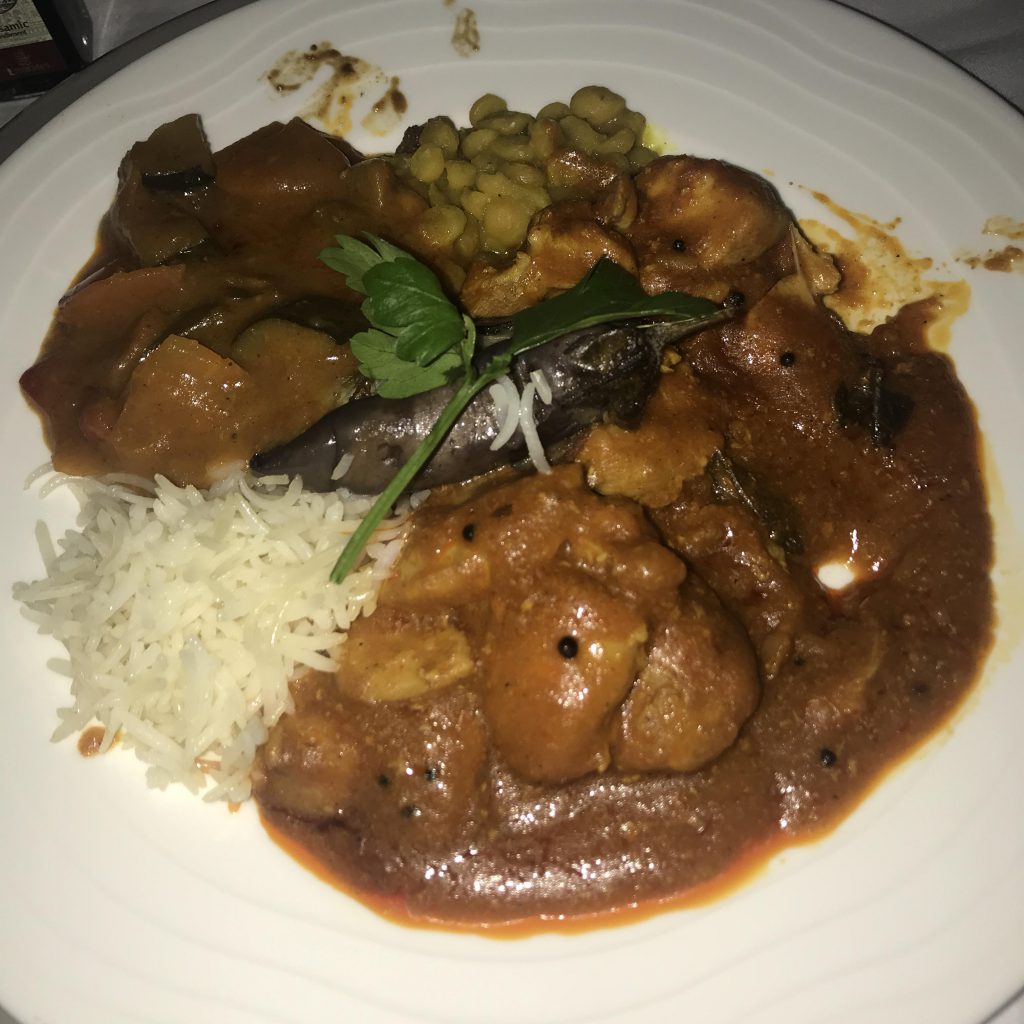 The chicken madras, above, was tasty even if not super special. I'd order it again.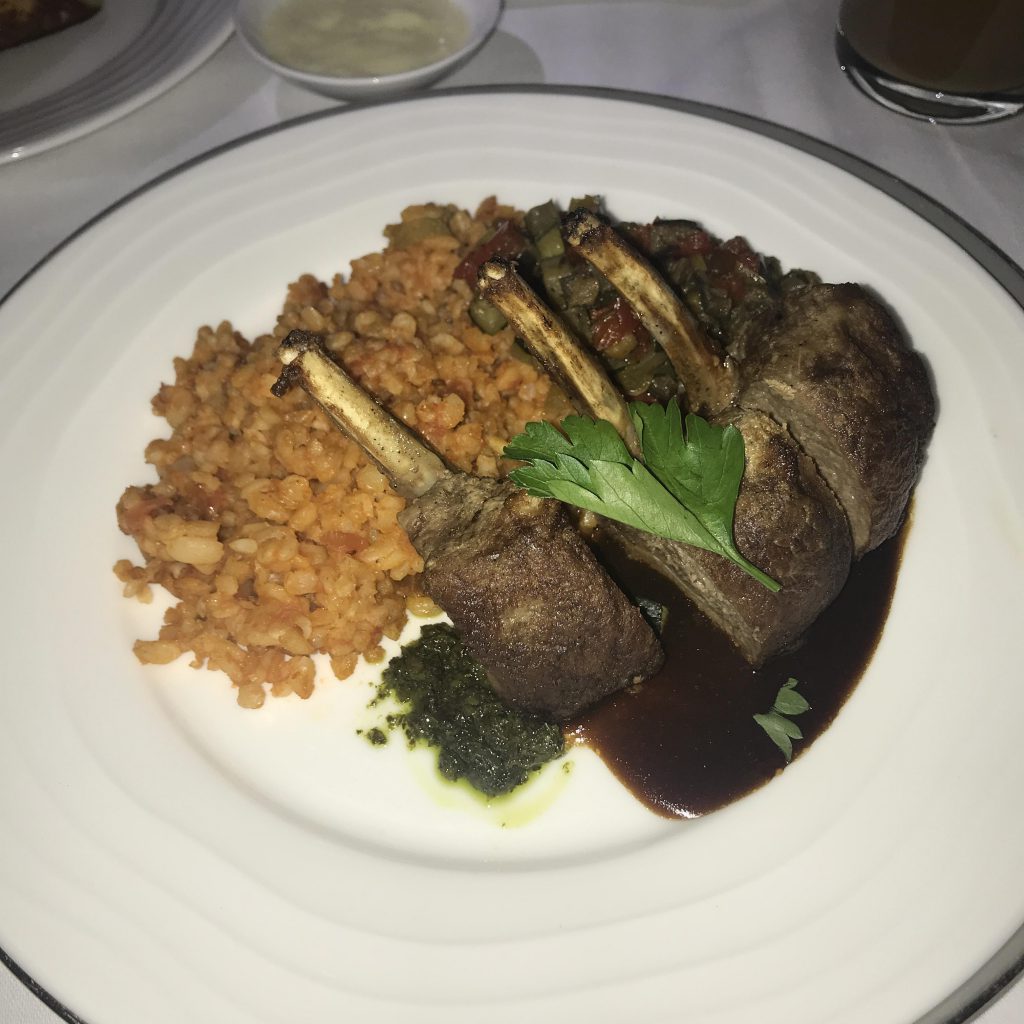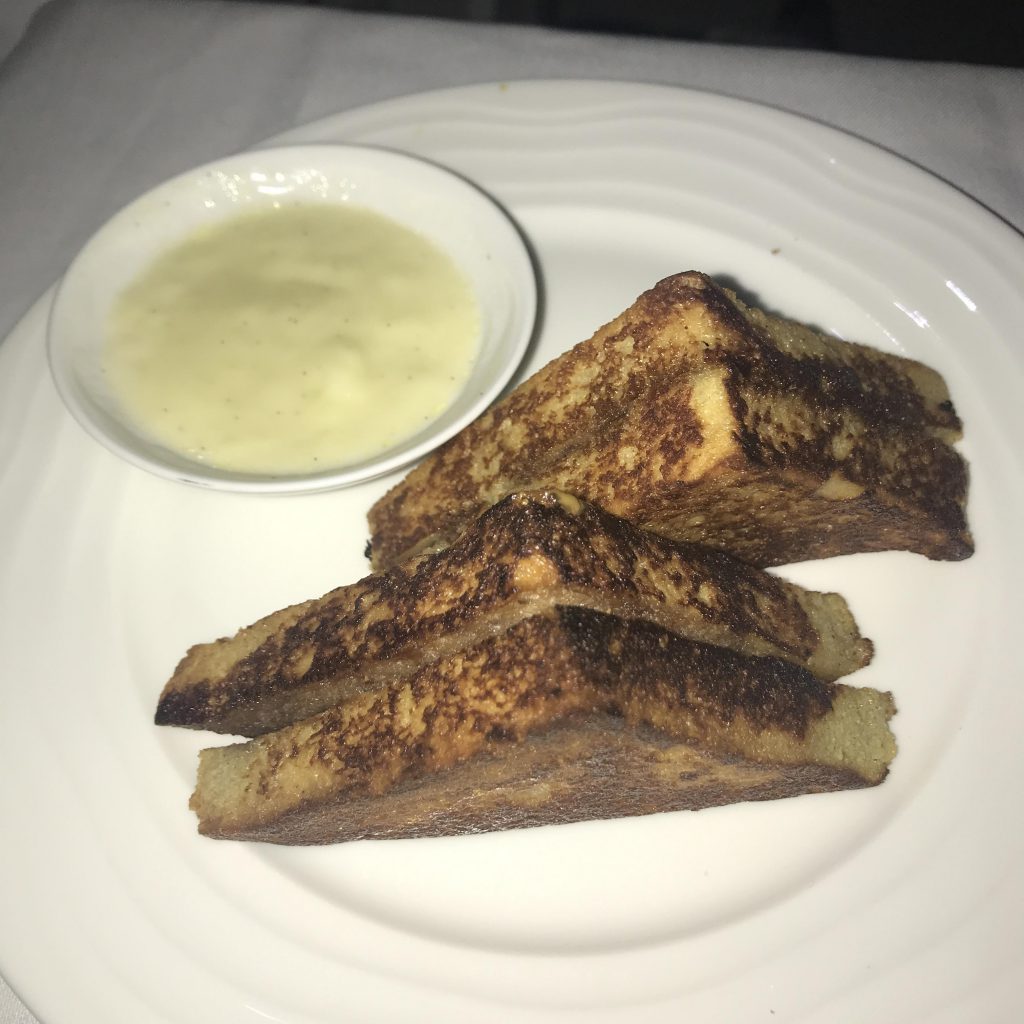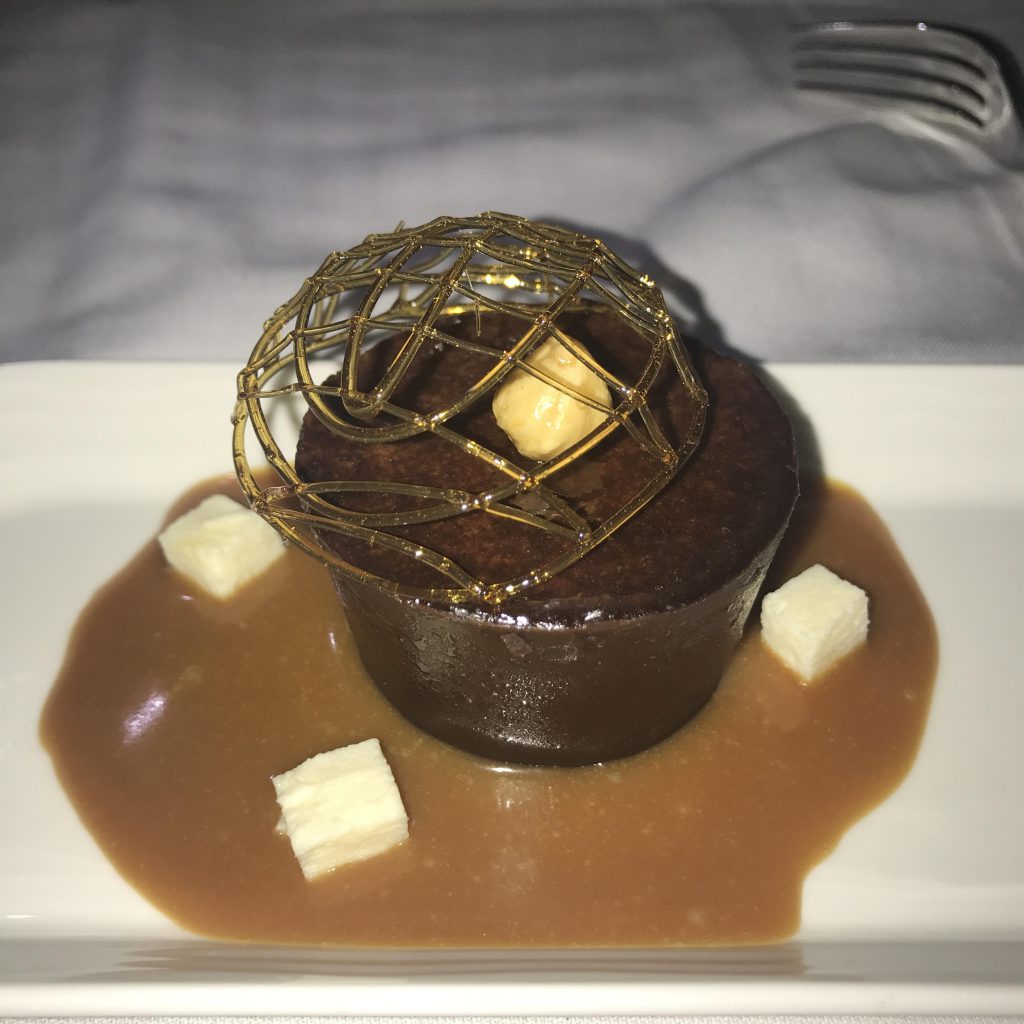 The chocolate drum above was delicious.
Etihad First Class Apartment vs Emirates First Class Food Rating
Etihad: 9/10
Emirates: 5/10
The Onboard Bar / Lounge
In both the Etihad A380 and the Emirates A380, there is an onboard bar / lounge area where both First and Business Class passengers can hang out together and take a break from being in their seats.
In both cases, they are well suited to groups traveling split between the the cabins or for those in Business class. If your whole party is in First, there isn't a huge reason to go to the bar / lounge unless you are really yearning for a change of scenery.
Here's the Etihad A380 bar / lounge: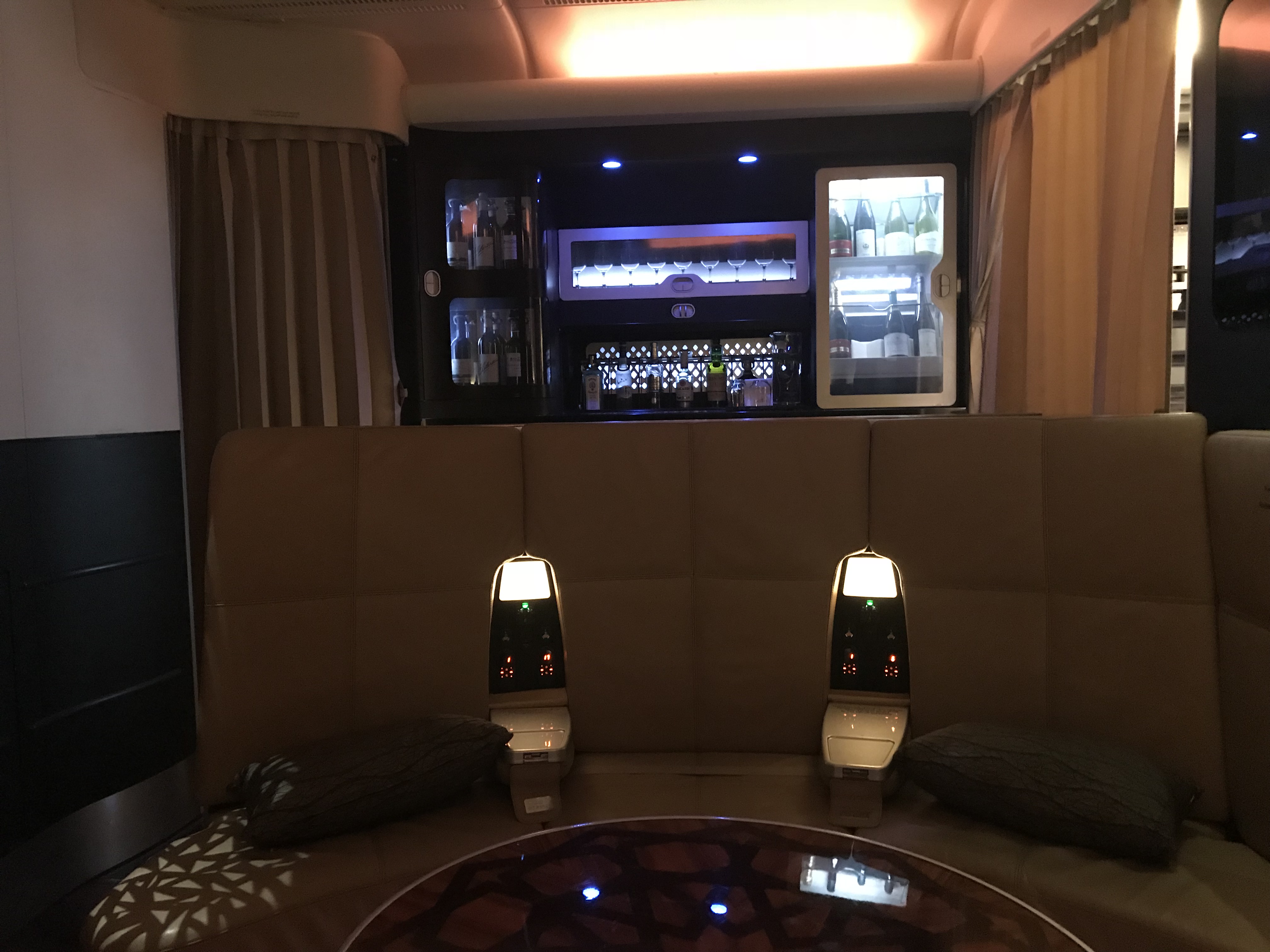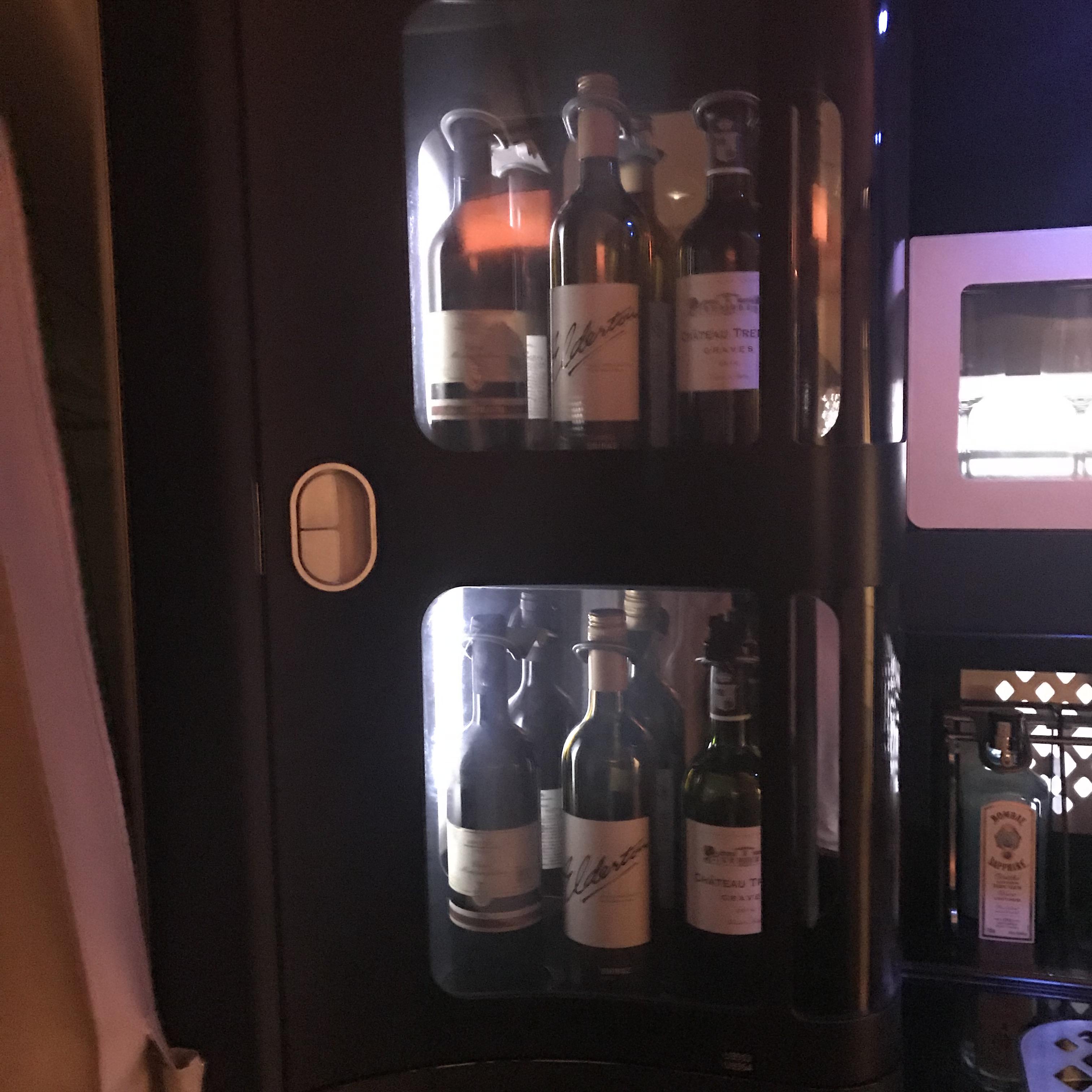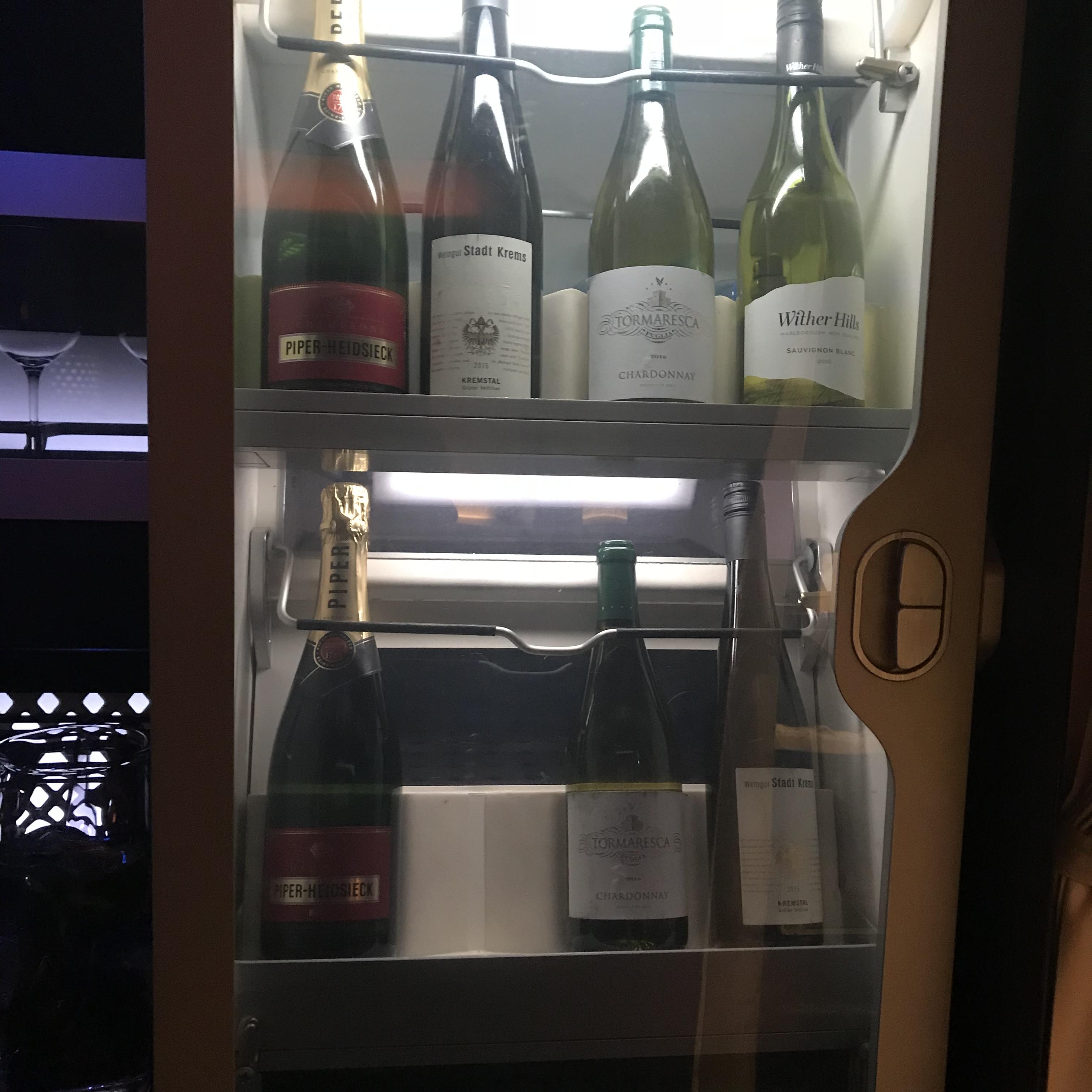 The attendant can open any of the cases and bring you alcohol or snacks.
Check out this video I made of the Etihad lounge…
And here is the Emirates A380 onboard bar / lounge: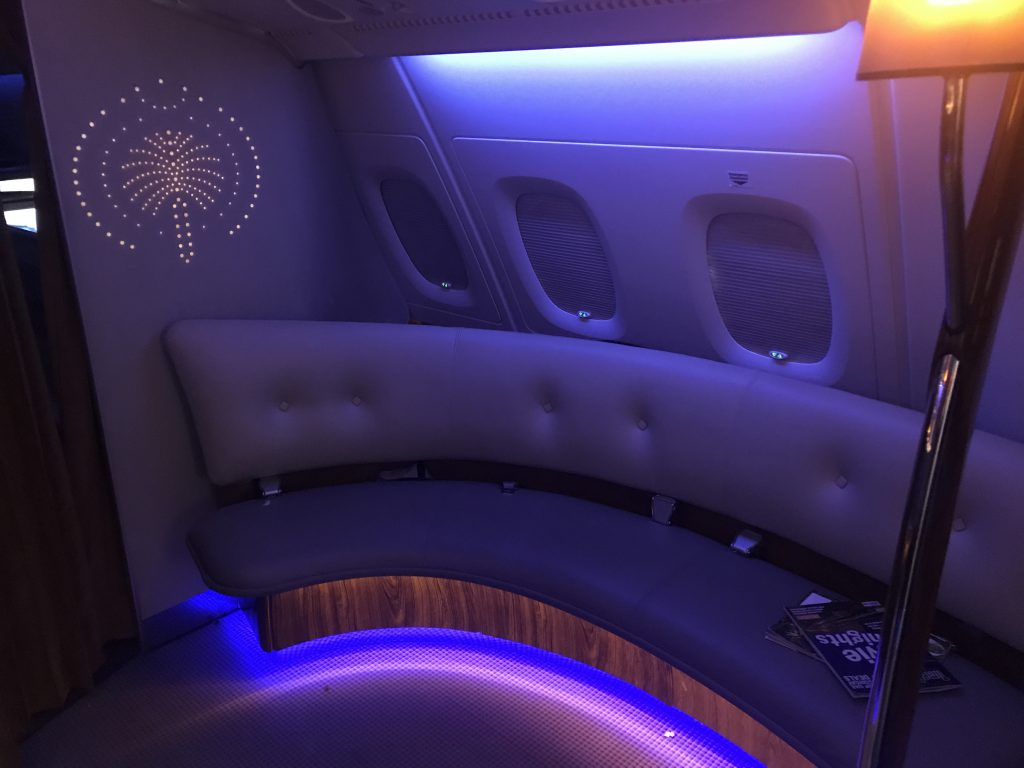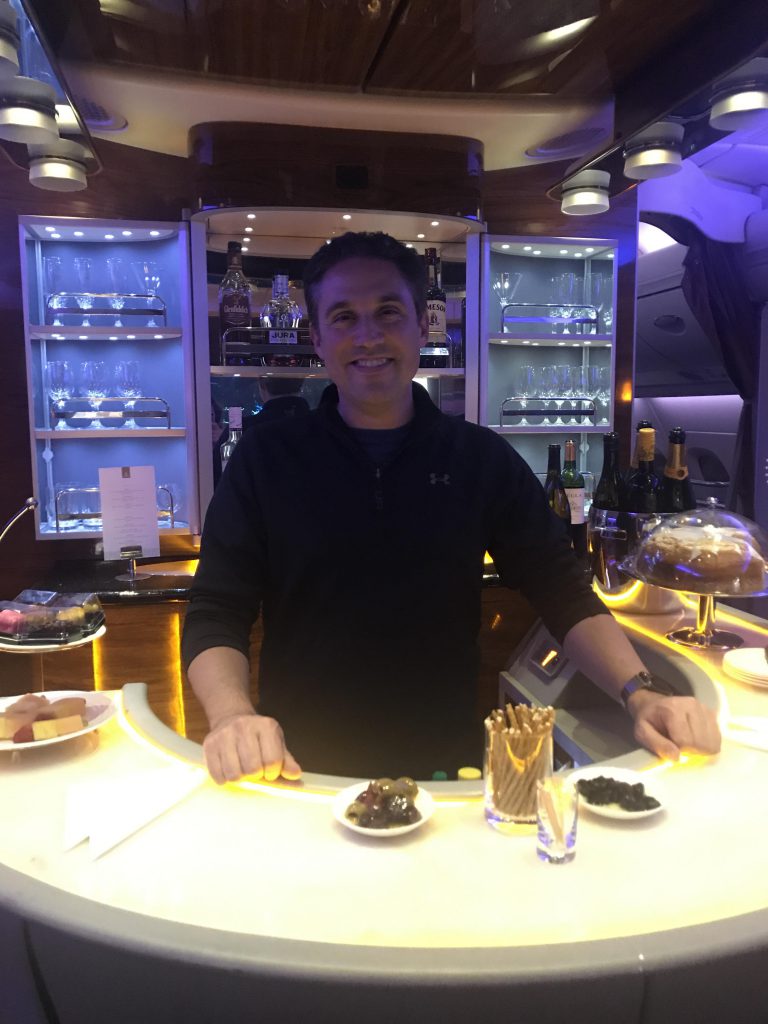 So which wins?
Emirates actually wins this battle. Located at the back of the Business Class cabin, the lounge actually felt more like a nice place to relax for a bit and look out the windows at the clouds below. Having the attendant actually behind a bar enhances the experience vs Etihad where someone needed to come by and bring you your drinks/snacks.
I will note that the "quality" of liquor served at the Emirates bar is at the Business Class level (probably the same on Etihad – though I didn't ask), so it was recommended that we take drinks at our seats if we wanted any of the ultra-premium beverages.
That said, for First Class passengers, as I noted above, I don't think you'll spend much time here and while Emirates wins, I don't think either of the lounges are the kind of "fantastic" that one envisions when they've never experienced an on-board bar/lounge.
Etihad First Class Apartment vs Emirates First Class Onboard Bar / Lounge Rating
Etihad: 6/10
Emirates: 7/10
The Shower
The actual "shower in the sky"mechanisms on both Etihad's and Emirates' A380 aircraft are almost the same. You get 5 minutes of actual water and It's timed to shut off at the mark. There's no extending that as they need enough water for all passengers, calculated definitively.
But the experience varies greatly between the two carriers beyond that.
On Etihad, you are simply told you get 5 minutes and the shower is inside one of the two forward lavatories. The bathroom is just slightly larger than a normal one.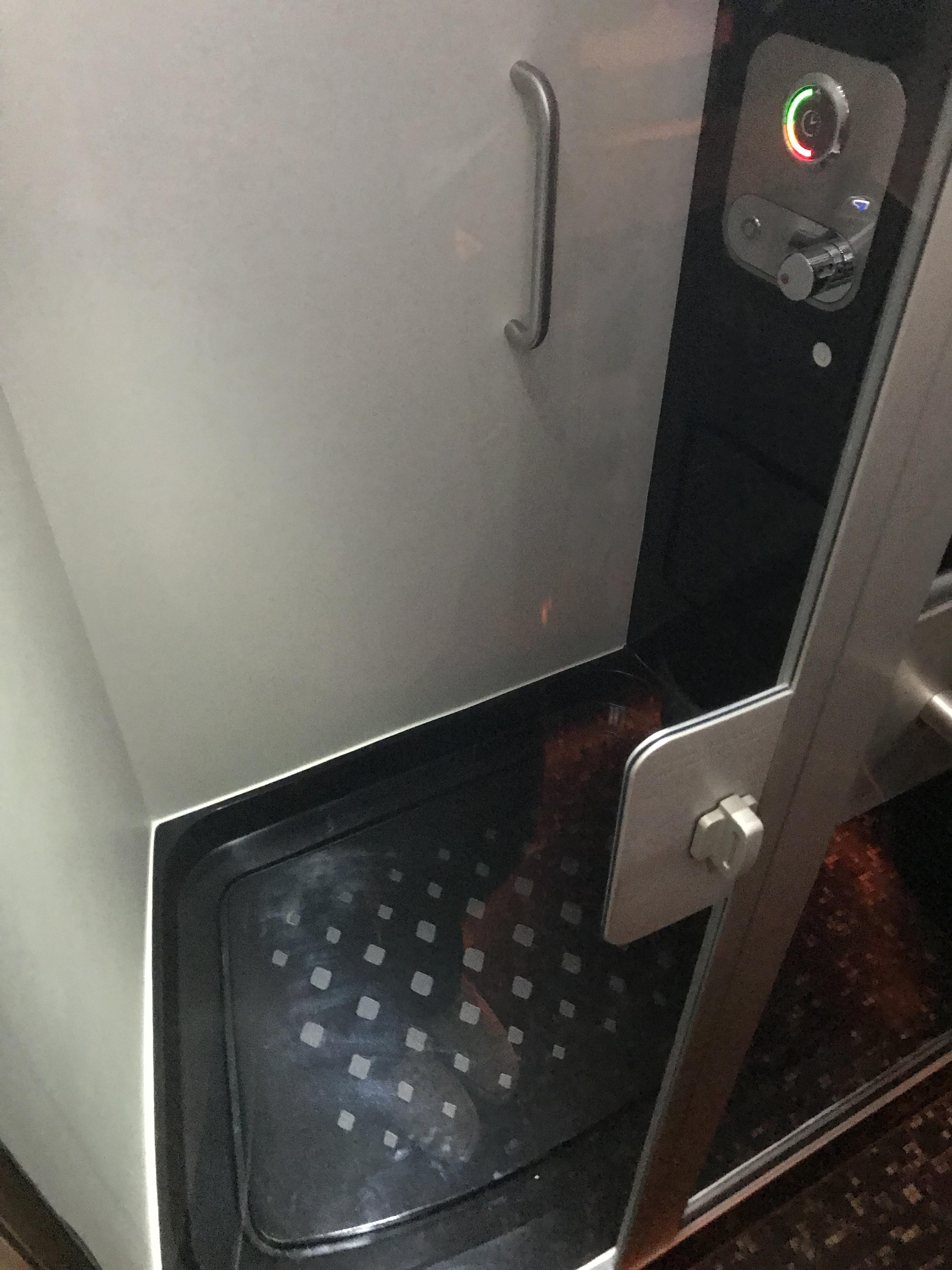 On Emirates, they make it a whole experience.
You get 30 minutes in the shower facilities (just one of the same two giant bathrooms available to First Class the whole trip) and 5 minutes of running water. The dial shows your remaining water time so you can plan accordingly. They add a rose as a nice touch as well.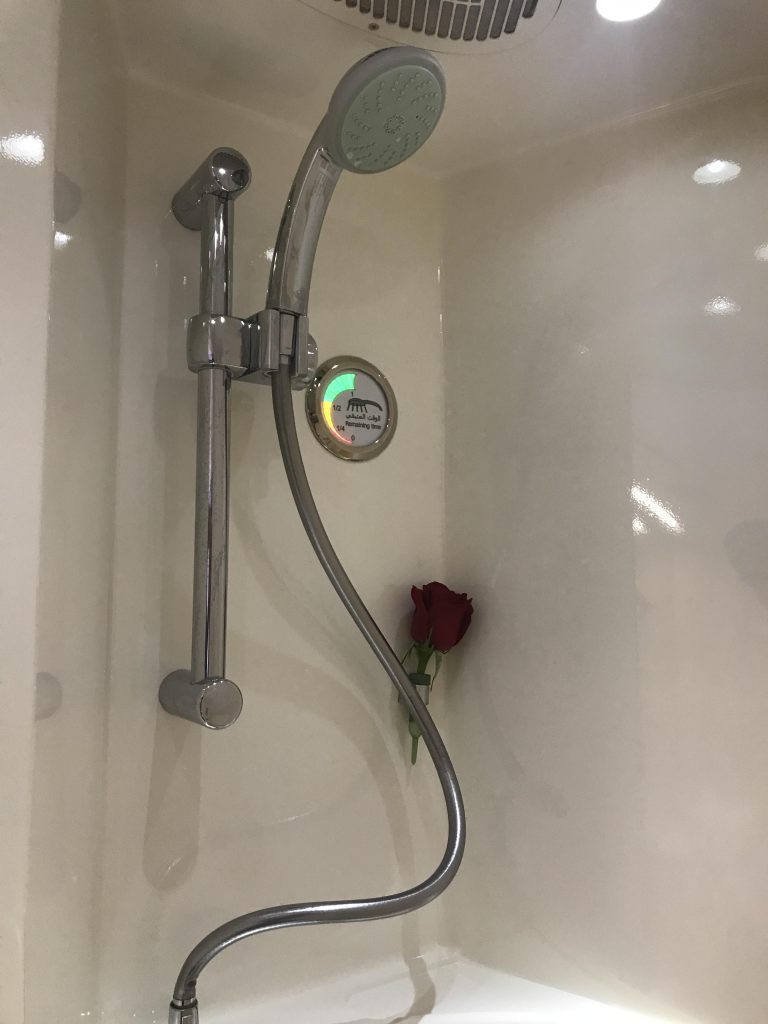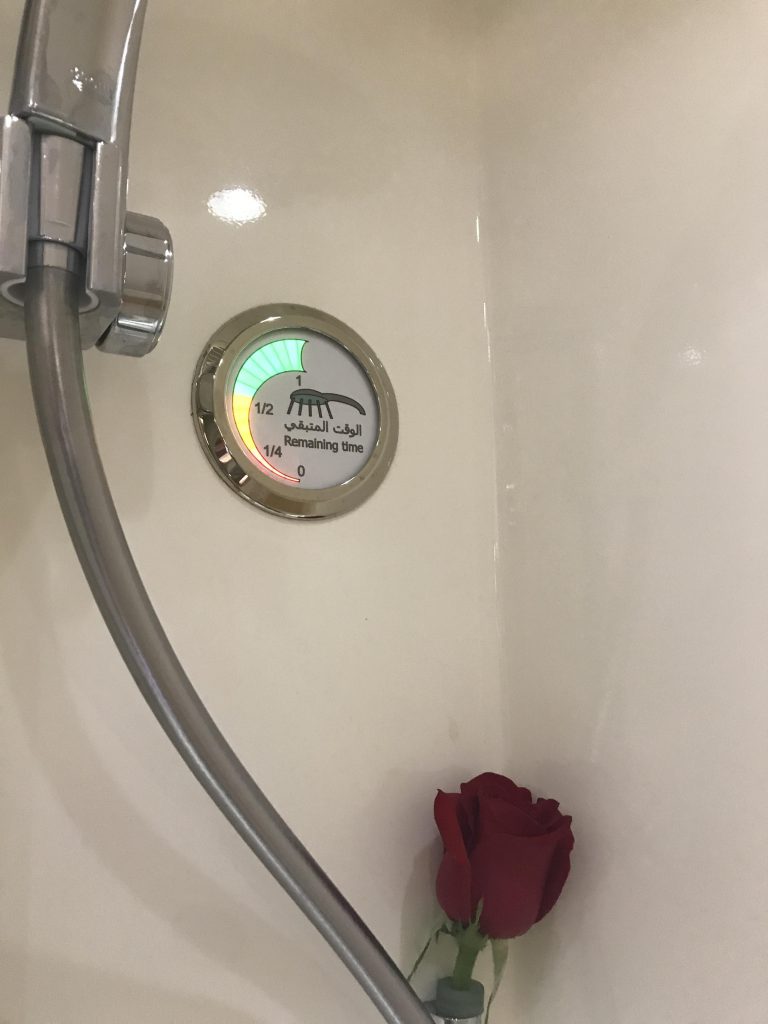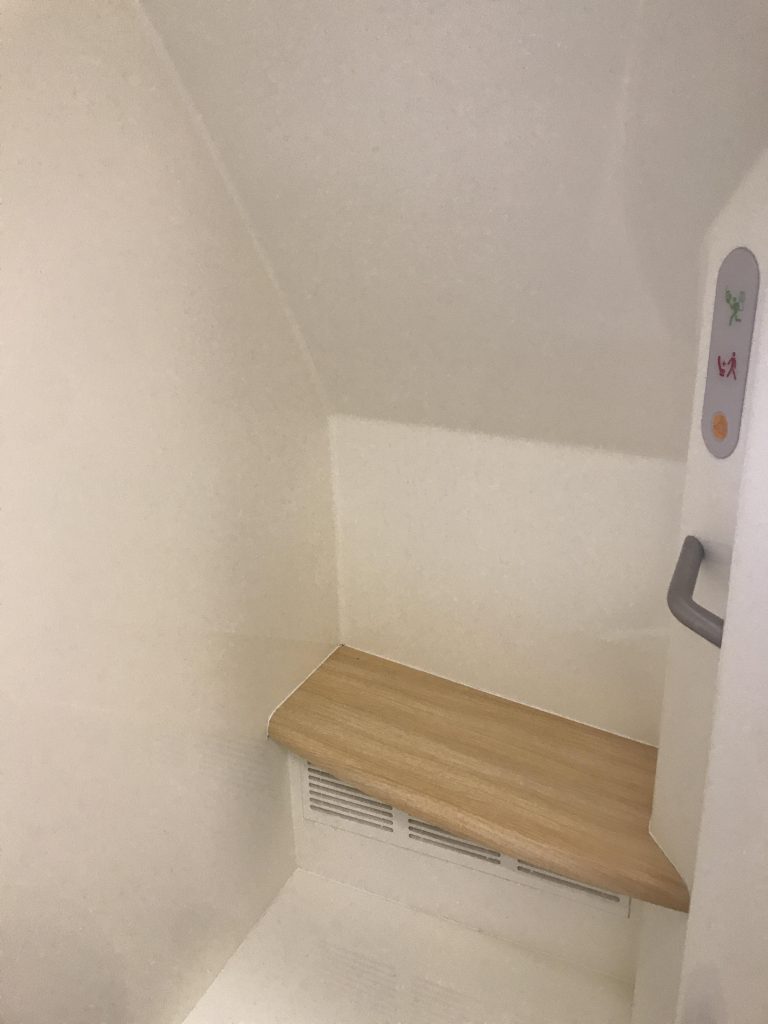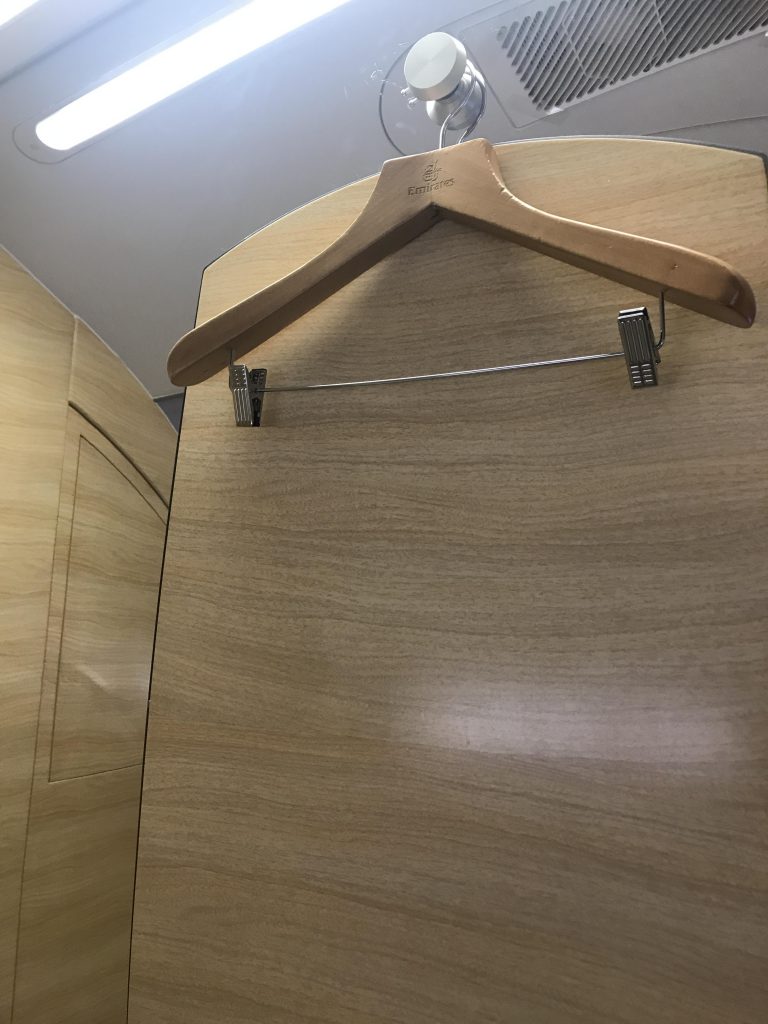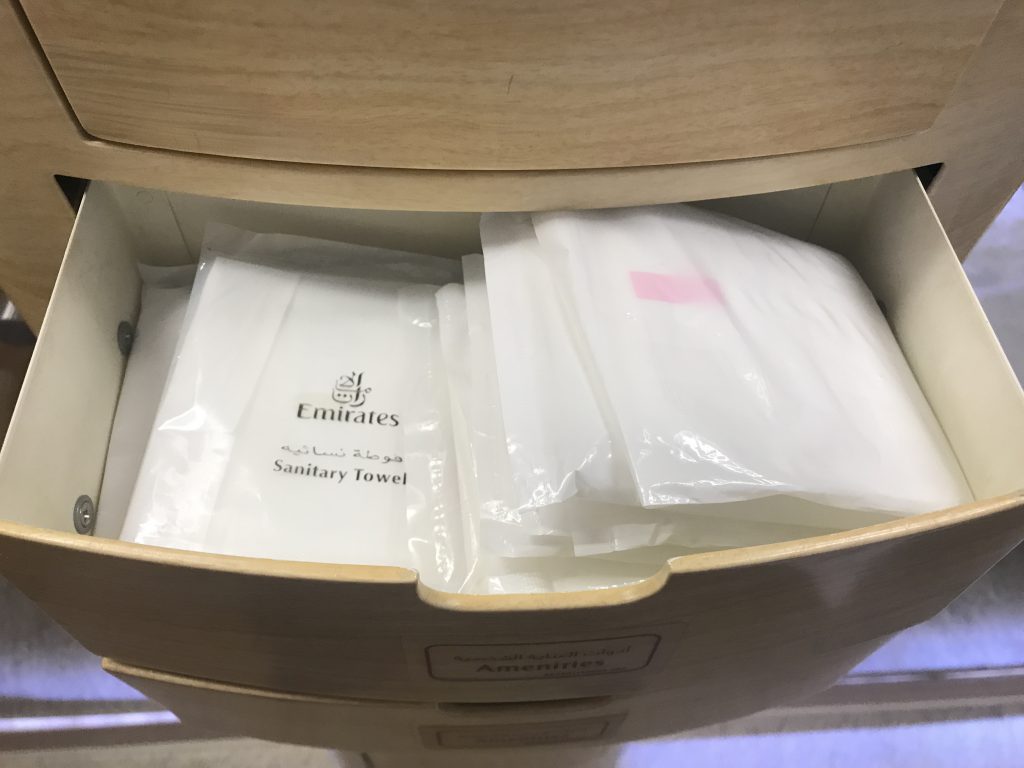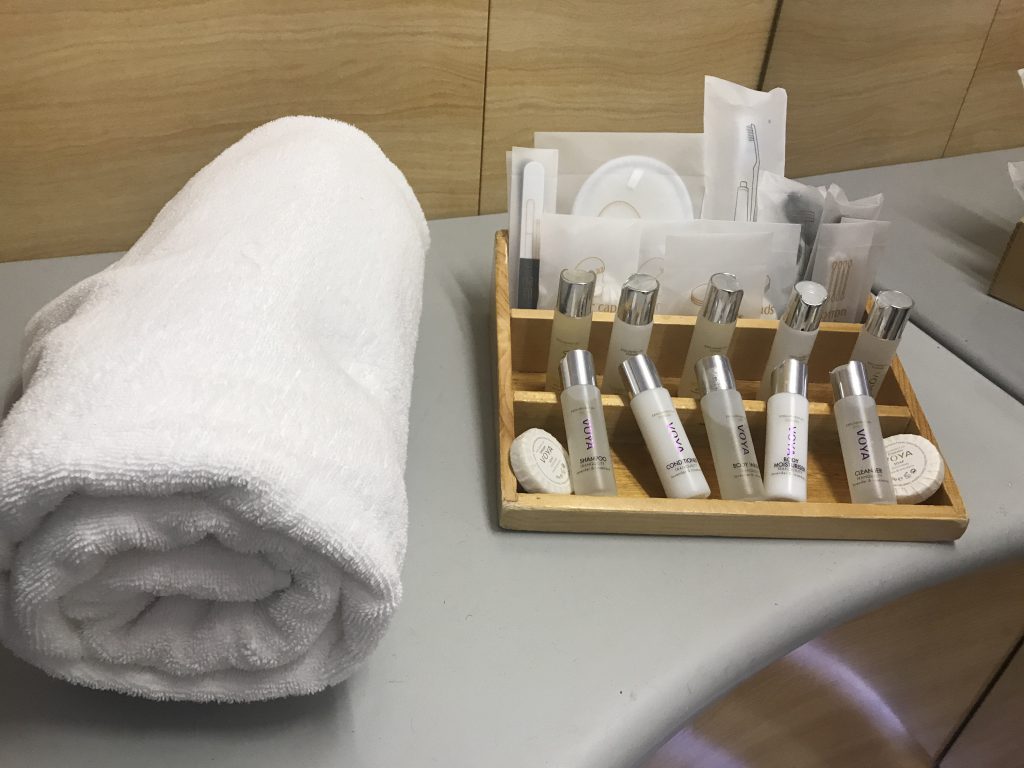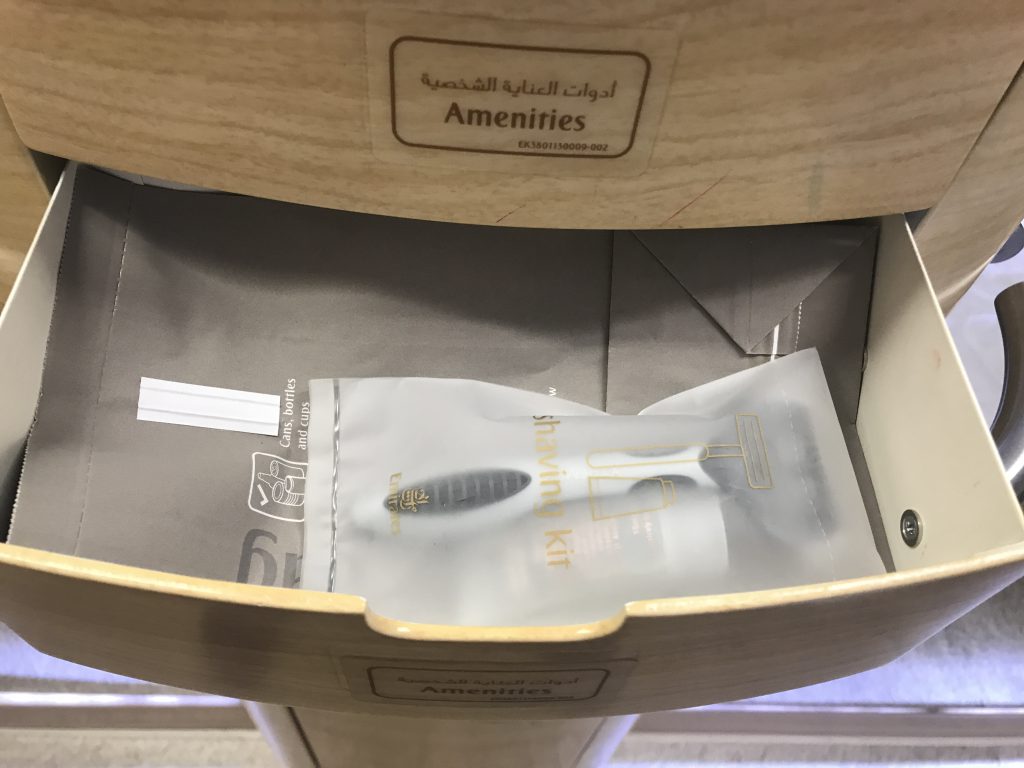 Etihad First Class Apartment vs Emirates First Class Shower Rating
Etihad: 8/10
Emirates: 10/10
Wi-Fi Connectivity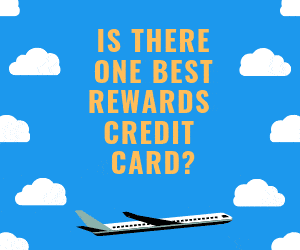 Etihad uses Panasonic for its Wi-Fi. I have rarely had luck when Panasonic is operating the Wi-Fi on a flight and this was no different. I paid $19.95 for 180 MB of Wi-Fi and ate through it during the spoaradic times I could actually get it to work. Then, with it finally working well at one point I ran out and bought a second pass. I didn't get through more than 10 MB of that pass because I could barely connect. I kept getting a "Retry" on my connection screen and was notably frustrated by the situation. I noted at the time that not only is Wi-Fi essential on long-haul aircraft in this day and age, but that for First Class, it should be free and unmetered. Etihad now offers First Class 90 MB of complimentary WI-Fi.
Emirates agrees with my stance and does offer free Wi-Fi for its Skywards members. Rather than passing out free voucher codes, like they did on JAL, it's linked to your Emirates account. Nicely, you can switch devices easily since it is tied to your account and not the device. The speeds were also not great, and I lost connectivity often, but since it was free I didn't get nearly as worked up about it. Now, I did book the award via Skywards (transferred from Amex) and I'm not sure if that works just as well if you booked via another airlines mileage program.
Etihad First Class Apartment vs Emirates First Class Wi-Fi Rating
Etihad: 3/10
Emirates: 7/10
Overall: Etihad First Class Apartment vs Emirates First Class
While others have said they were more impressed by Emirates (and that should be enough reason to try both yourself, time permitting), I easily gave the nod to Etihad's First Class Apartment. I'd be very excited to fly it again, whereas I wouldn't go out of my way to fly Emirates in First unless I can try their "new" First product that is being slowly rolled out – which I'd still be VERY excited to try. I'd also be interested to know if they have better First Class catering in the new First Class.
But with Etihad being overall much more comfortable with better service and food, it wins for me.
Etihad First Class Apartment vs Emirates First Class Final Rating
Etihad: 9/10
Emirates: 7/10
Booking Etihad First Class Apartments and Emirates First Class with Miles
For now, although it may end at any time, American AAdvantage miles are a great way to book Etihad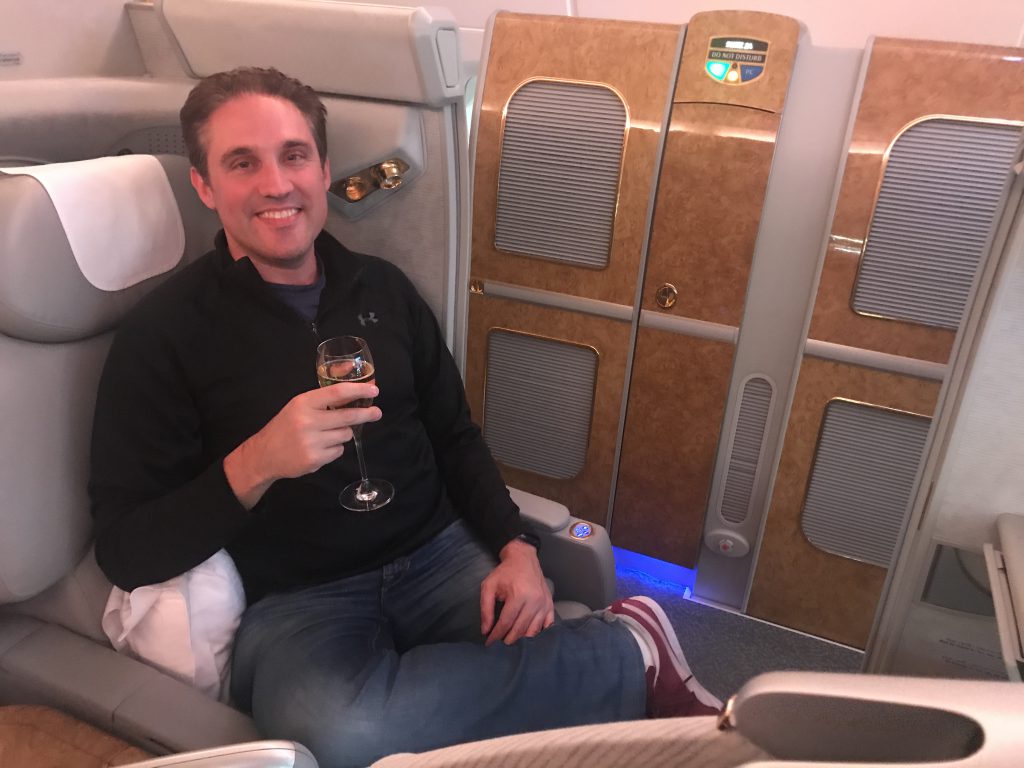 Apartments, costing 115,000 AAdvantage miles each way between the US and Abu Dhabi. If you continue on to the Middle East or Africa, you can do so on one AAdvantage award. You can also book using their own rewards currency, Etihad Guest, transferable from American Express Membership Rewards, Capital One miles or Citi ThankYou Points.
Emirates awards are tougher. You can book via Alaska Mileage Plan, though at extremely high rates (150,000 miles each way to the Middle East or even more to Europe at 180,000 miles), without fuel surcharges. You can book via Emirates Skywards directly (transferring from American Express Membership Rewards or Capital One miles) or via Qantas (American Express Membership Rewards or Citi ThankYou transfer to Qantas). Both Emirates and Qantas levy VERY high fuel surcharges. You can also book via JAL though you'd need to transfer there from Marriott Bonvoy AND they also now levy high surcharges. The only exception is if you depart from Hong Kong. You can still, as of this post date, fly ex-Hong Kong on Emirates using JAL miles surcharge-free.
Have you flown the Etihad Apartment? Have you flown Emirates First Class? What do you think?
Let me know here, on Twitter, or in the private MilesTalk Facebook group.
You can find credit cards that best match your spending habits and bonus categories at Your Best Credit Cards. 
New to all of this? My "introduction to miles and points" book, MilesTalk: Live Your Wildest Travel Dreams Using Miles and Points is available on Amazon and at major booksellers.