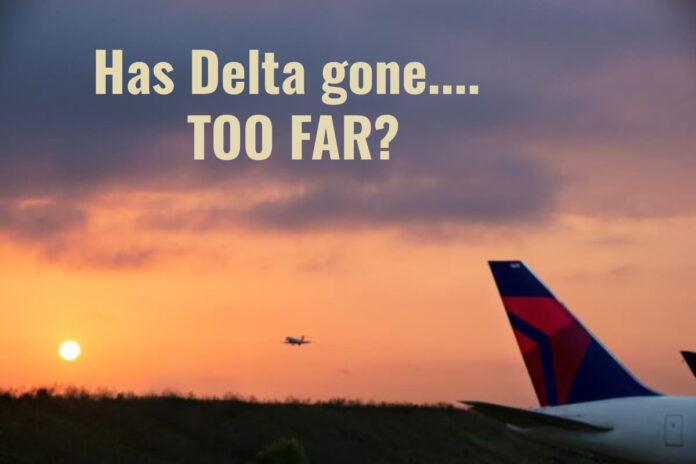 For years, miles and points people have been pounding the table about why Delta sucks because SkyMiles sucks.
And the thing is that Delta knows SkyMiles doesn't provide great redemption opportunities and they don't care (the VP said so!) – they believe you'll fly anyway because of a) the Medallion Program and b) the product.
Now, years ago when Delta removed their award chart and made SkyMiles more and more and more and more useless (those are the multiple stealth devaluations – stealth because with no award chart, can you prove it?) I said it would hurt them. Why would someone want to collect useless miles?
Well, I was proved wrong over and over as I dialogued with MilesTalk Facebook group members and even just plain old regular Delta flyers. When you stepped outside of miles and points land, the refrain was consistent – "I don't fly Delta for the miles. I fly because I get upgraded a lot and the product is consistently good and generally on time. I like Delta in spite of SkyMiles."
I woke up to the fact that it was true…. and that's a good reminder that "we" are not Delta's target customer, for the most part.
However, I do believe this time is different.
After yesterday's announced Delta SkyMiles program changes for 2024, they've managed to not just create a ton of bad will, but they've demolished the Medallion program that was one half of the reason the regulars would fly in spite of SkyMiles as a rewards currency.
All I've been hearing today – on Twitter, over text message, and in person – is that "I'm done."
These are all people that were Delta fanboys to the end. Doctors are a big group I'm hearing from.
Why are they done?
Because while they've been enjoying Platinum or Diamond status (which, I'll say from experience, is where it gets good) for years, the new qualification rules will leave them in the cold. Silver, perhaps Gold at best. Neither provide a truly meaningful enhancement to the flying experience aside from seat selection and checkin. Comfort+ isn't until 24 hours out and upgrades are scarce, and neither comes with a single guaranteed upgrade instrument.
On top of that, these elites, nearly all of whom carry Delta Reserve cards for the lounge access, will now be cut off at 10 per year. So a truly frequent flyer that may fly 100 segments and still not get past Gold, also has no lounge access for 90 of 100 flights.
Now, they "could" spend their way to status on the Reserve card, but at what cost? Even with a $550 annual fee Reserve card (which now grants just 10 lounge visits), they will only earn 1 MQD per $10 spent. And Platinum requires $18,000 MQDs! That's $180,000 in card spend minus their flying spend.
Someone I know that flies frequently in sales showed me his status indicators for this year. He's Diamond and has spent about $9,000 this year. He has an Amex Platinum but not a Delta card. I mentioned he could spend $550 for a Reserve card and charge just $90,000 and he could stay Platinum.
He laughed.
Hard.
Here's the truth:
At a certain point the game is too hard.
Delta went way too far with this, hitting loyal flyers from every angle.
Like our new SkyClubs? Cool, watch from outside.
Enjoy upgrades? Buy a Ferrari on your premium credit card and we can talk.
What they should have done is taken a cue from American Airlines AAdvantage's Loyalty Points and created a truly holistic way to stay in the Medallion Qualifying ecosystem. If they were going to raise the thresholds so high, they needed to make actually qualifying manageable for those not at the VP+ level of a Fortune 500 company.
They needed to allow SkyMiles Shopping and Dining count. They needed to have Lyft rides count. They needed to have Starbucks purchases count.
That is how you engage the customer where they are.
Limiting it to flights, card spend at an absurd rate, and Delta-booked hotels/cars/vacation rentals just doesn't give enough rope. Who knows, maybe they'll realize this on their own and expand what earns. In my opinion, they have to realize this at some point when they cut their elite rolls too thin. And yes, there is such a thing because as much as those who will make the cut now anyway will enjoy less competition for upgrades, it won't be enough for an entire airline to thrive. This is their entire mid-tier of customer they are pushing away.
In my opinion, Delta could have gotten away with some of this "because the product" but when you cut this deep, is there meat left on the bone for enough people to care?
Oh, and I keep getting asked what airline to move to.
That depends on what airline is most convenient for you. As of this second, AAdvantage is most compelling, but their actual flight product is far inferior to Delta. So there is no one answer.
Consider just buying First Class and being done with it. It won't get you SkyClub lounge access, but a zillion credit cards come with Priority Pass lounge access which may work for many. And then you don't have to worry about upgrades. These days, a domestic upgrade to first can be just a few hundred dollars – and just think how much you'd be spending to chase status. But now that you are paying, shop every airline on your route and pick the lowest First Class fare. Now, you don't even have to think about it anymore….
I'm resigned to 2024 as my last year as Delta Platinum, and probably as a Delta elite. It makes me sad, to be honest, but these are the cards on the table.
Thoughts?
Let me know below in the comments, on Twitter, or in the private MilesTalk Facebook group. And don't forget to follow me on Instagram for all sorts of tips on miles, points, credit cards, and travel.
If this post helped you, please consider sharing it!
You can find credit cards that best match your spending habits and bonus categories at Your Best Credit Cards. 
New to all of this? My "introduction to miles and points" book, MilesTalk: Live Your Wildest Travel Dreams Using Miles and Points is available on Amazon and at major booksellers.