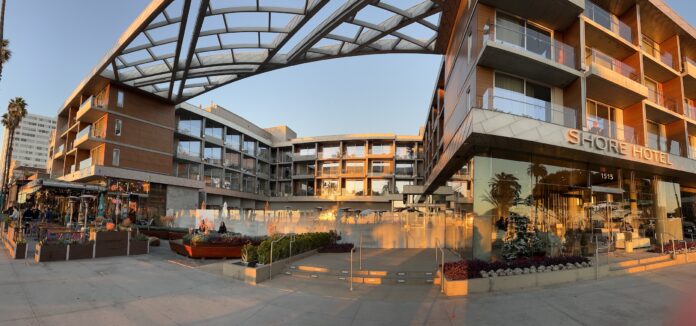 Santa Monica, California is definitely not a place for bargain hotel rates, and that includes booking with points. Even the Courtyard and the Hampton Inn are going to give you both cringeworthy cash rates and points rates.
If you are willing to stay at a hotel that's not a chain hotel (sorry, no elite benefits!) and you know where to look, there is one bargain to be had.
The Shore Hotel sits directly across the street from the Santa Monica Pier on Ocean Ave, in between Broadway and Colorado. If you were to find this hotel on any online booking channel other than the Shore Hotel's website, you'd be quoted around $400 a night. After all, the hotel occupies prime real estate and features a nice pool and jacuzzi (side note: it's one of three hotels in Santa Monica with a jacuzzi).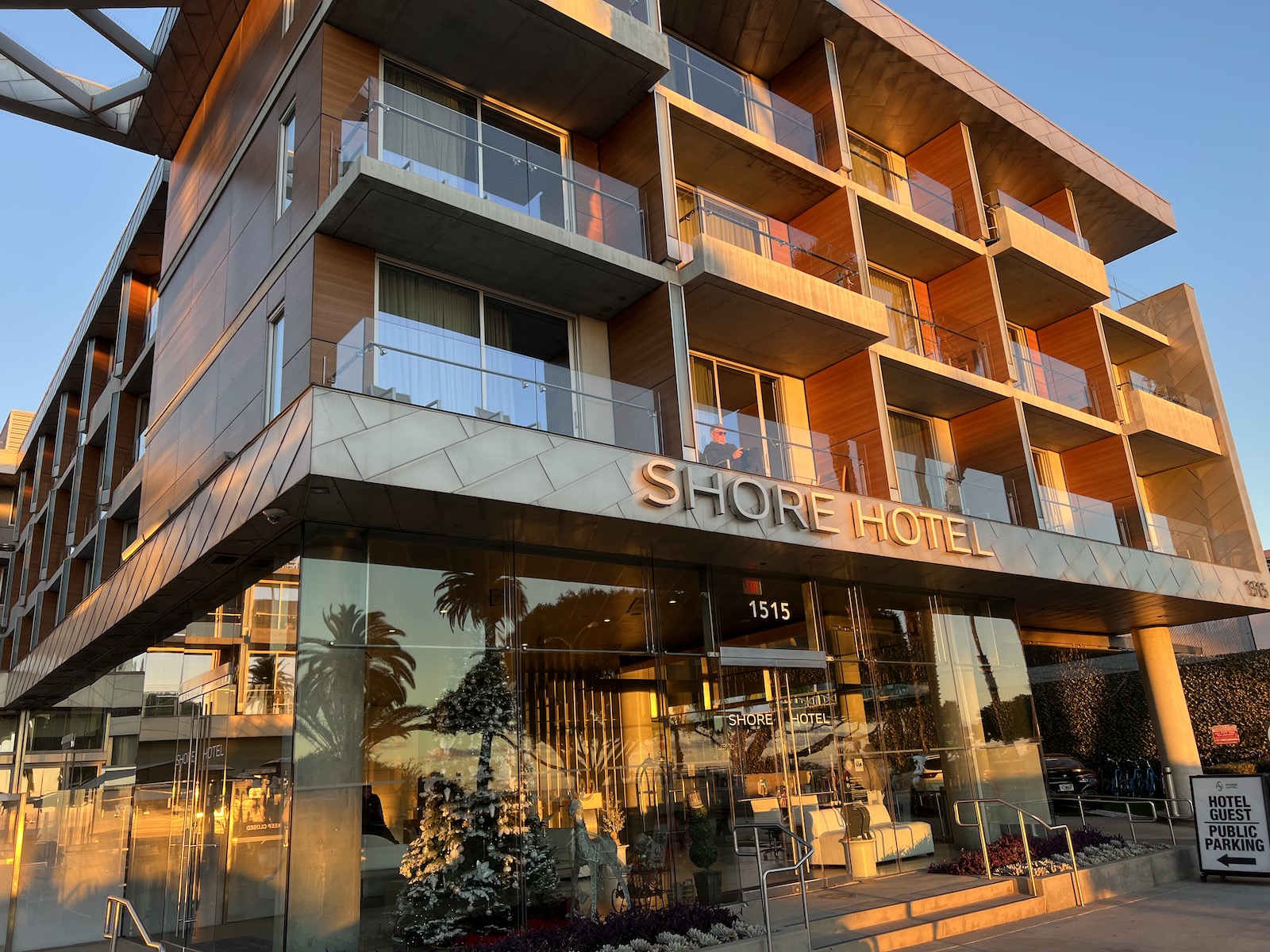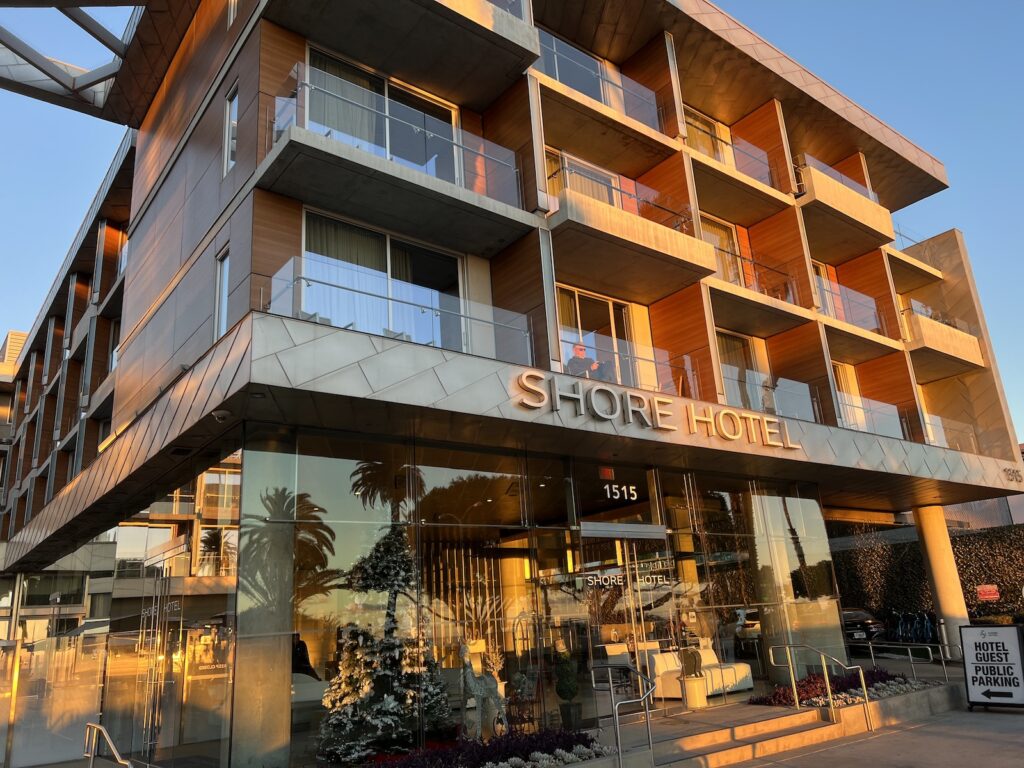 But if you go on the Shore Hotel's website and look for the "Coastal Escape" rate, the rate drops all the way down to $199 ($210 beginning January 1, 2023). In addition, they waive the $32 "Destination Fee" and offer discounted parking.
Now, I do want you to know that it's not simply a discount for no reason. In fact, there's quite a fun story around these discounted rooms. They are the result of a settlement of a 2019 lawsuit by the city of Santa Monica against the Shore Hotel. In short, the hotel had received a permit to build a hotel with "moderate priced lodgings." But they didn't….
So the lawsuit settlement provided they would set aside 72 rooms a night at an affordable rate ($199 until now, $210 starting in 2023).
And it's easily the best value for money in Santa Monica.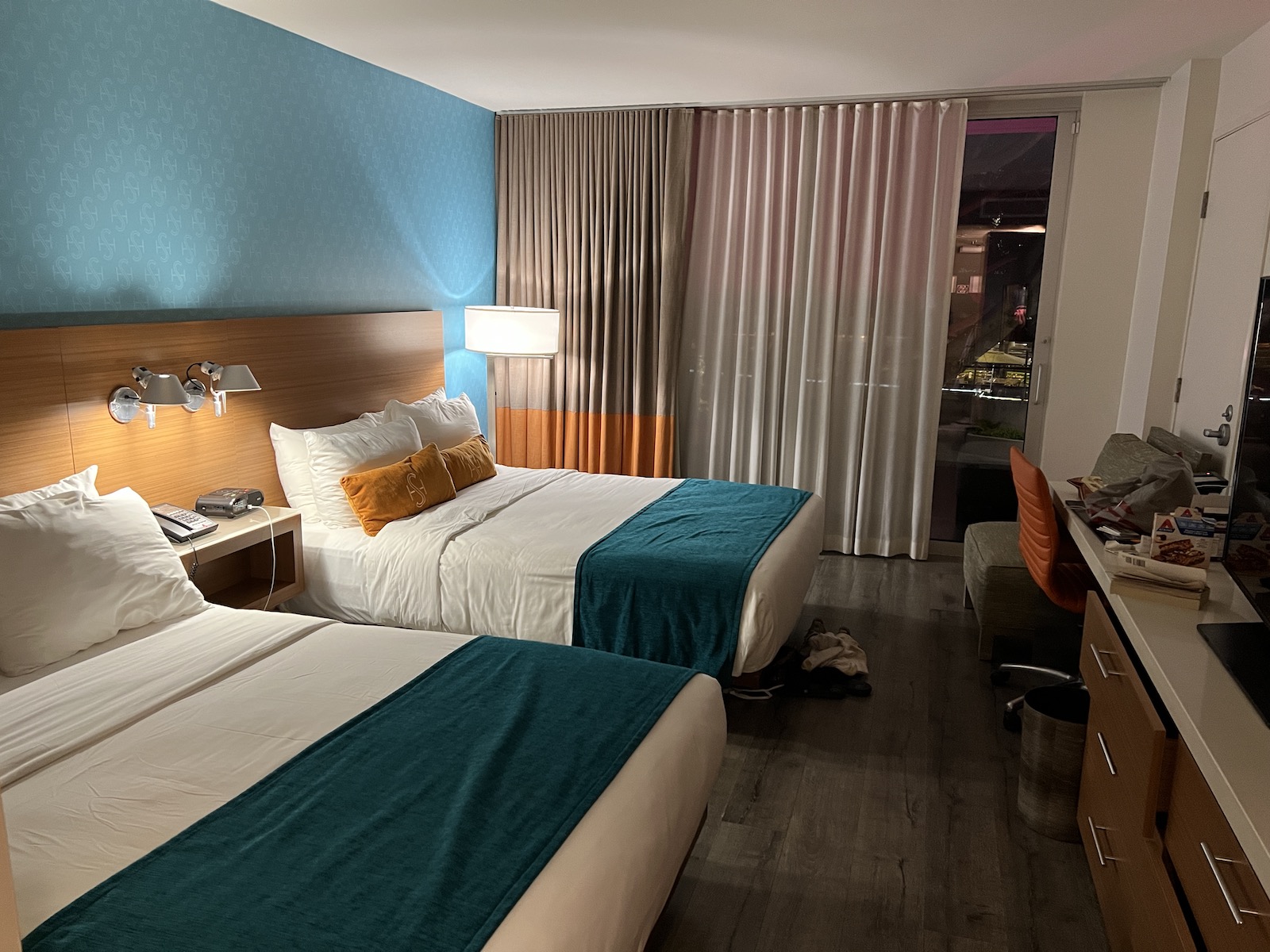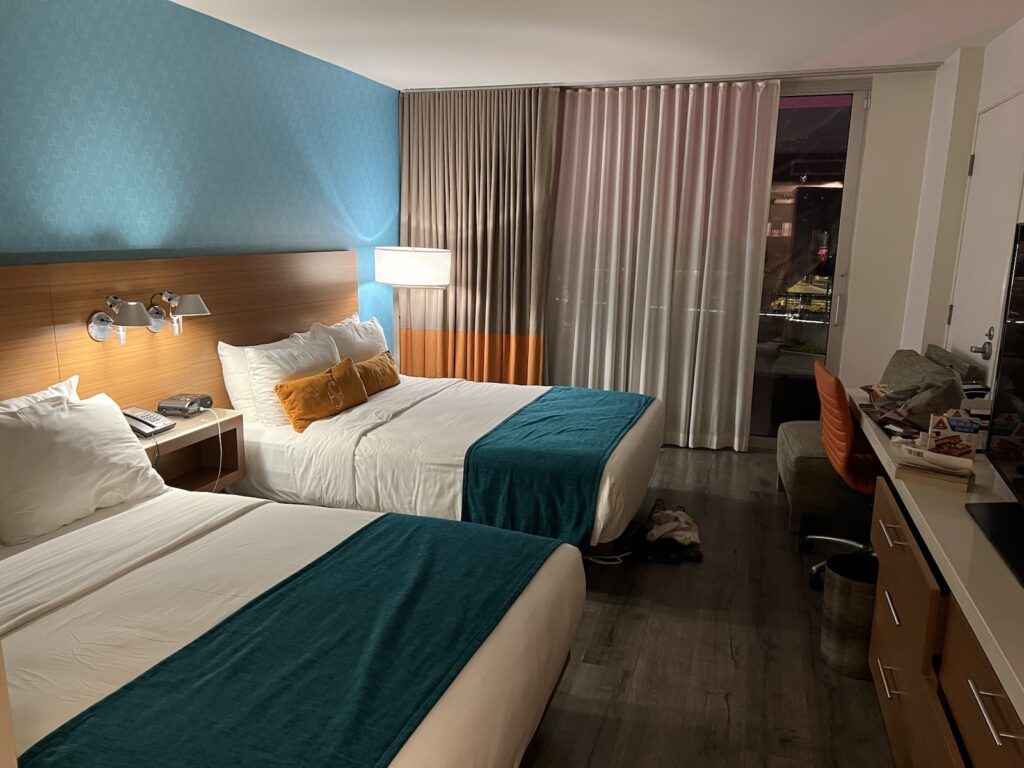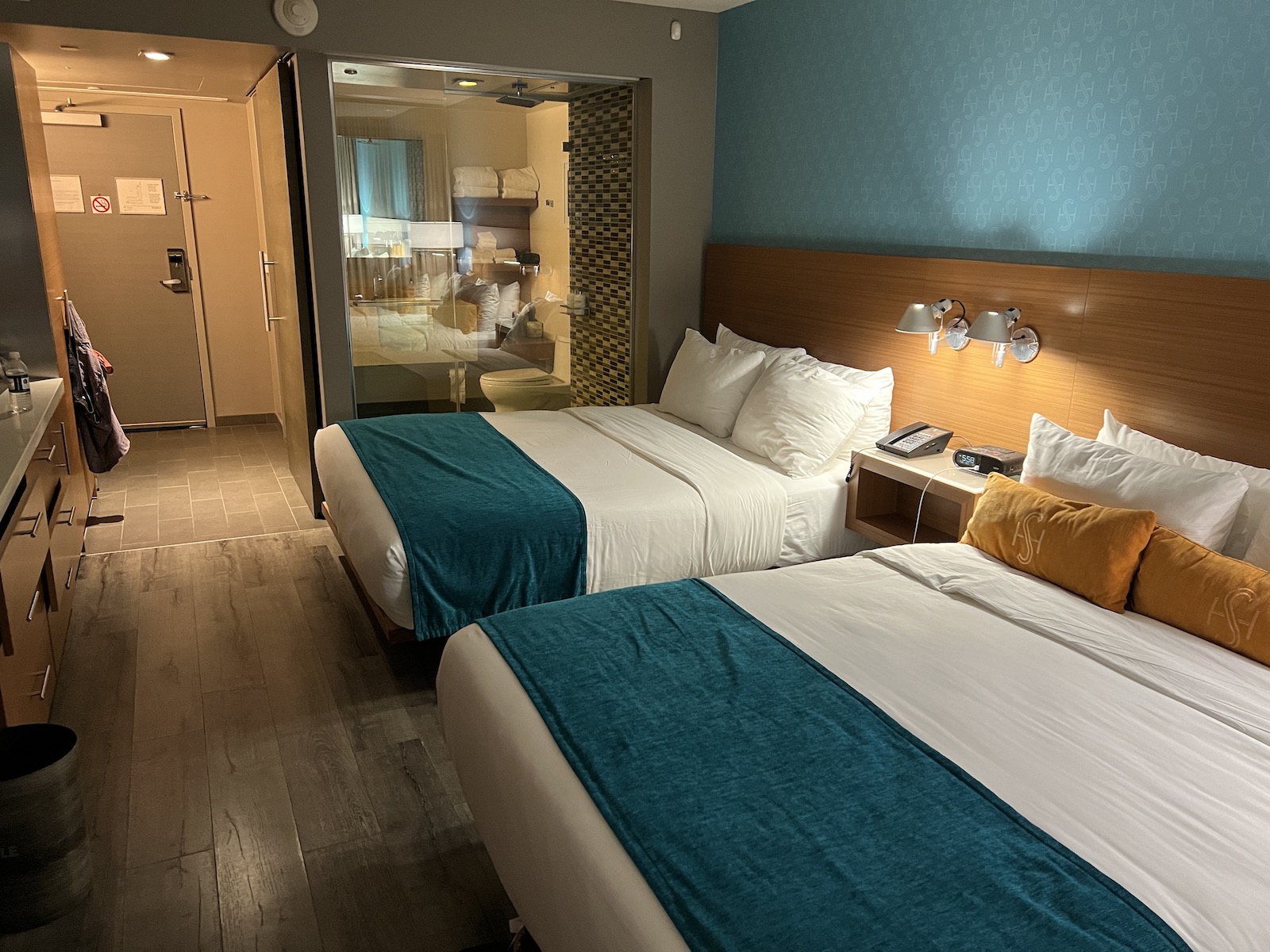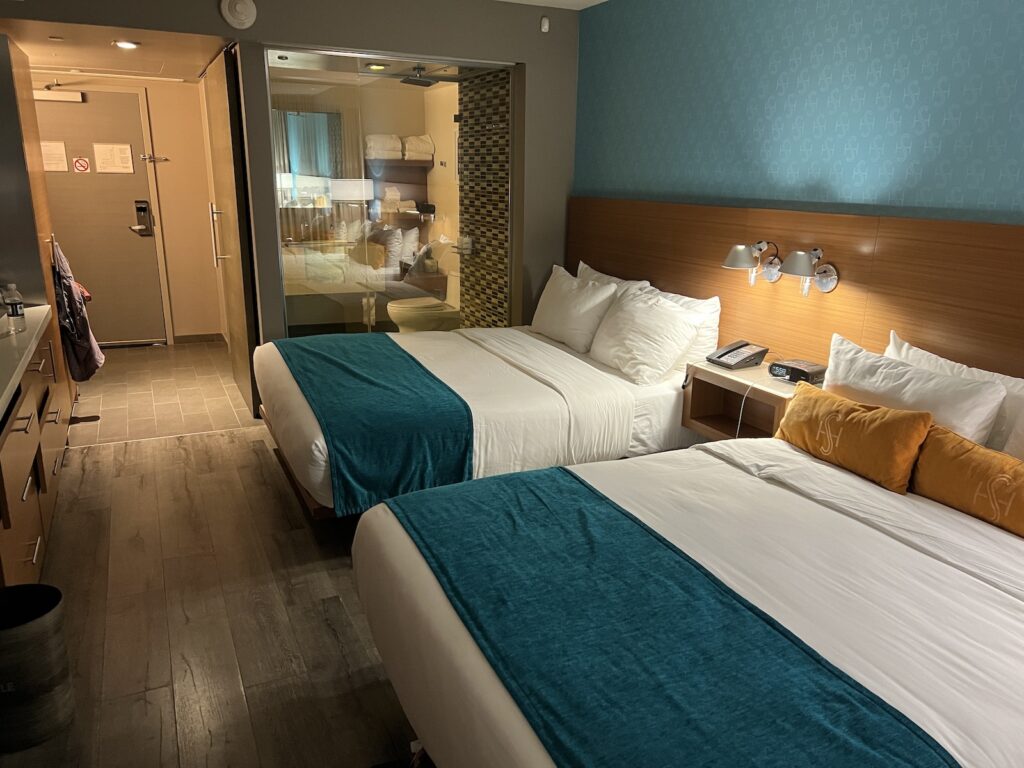 However, you need to know what you are getting – and it's NOT exactly what you would get if you were paying full price.
The rooms allocated for this offer are, by far, the worst rooms in the house. The interiors are fine, but, as an example, my room this week had a disco light outside that changed colors all night long and even got through the fully closed curtain.
The rooms have what appears to be no sound proofing. My neighbors changed several times during my 7 night stay, but the noise was always the same. LOUD.
You will not be moved from the exact 72 room pool of rooms unless you pay the difference in rate to the full price rooms. If you have a two queen bed room booked and ask for a king, there will need to be an available King room within that 72 room block. A room outside of the "affordable rate" block is off limits.
Upgrades aren't happening: I asked about upgrading to a Grand Room which was on the website (day of check-in) for about $475. I was quoted $275 plus tax additional to upgrade, meaning the full difference in price. I was a bit surprised they didn't want an extra $100 or so a night ($700) guaranteed, but they did not 😉 I stuck to the $199 room.
The Destination Fee is waived, but so is whatever it includes. That means wifi is $10 a night for one device or $15 a night for multiple devices.
Parking: They discount your parking from $50 to between $20 and $45 depending on the night and if you want in/out privileges. It's $20 during the week and $25 on weekends plus $20 more if you want access to your car. Now I guess some guests are somewhat local and don't need their car during their stay, but if you rented a car, you certainly want to be able to use it at least once during the trip, no? You'll pay $20/$25 until the first time you use your card mid stay and then it automatically jumps to $40/$45 for the rest of your trip. There is no street parking anywhere near by. There's some on 6th and 7th Streets and some on Ocean, north of Idaho, but those are about a half mile and a full mile away, respectively. City lots look great until you realize the $20 max is not per 24 hours but per calendar day, so overnight is tough.
Non refundable rates: Be aware these are non-changeable / non-cancellable.
And while I don't think this is limited to the affordable rate rooms, this is the first "nice" hotel I've been at in ages that doesn't provide bottled water daily. They gave me one at check in and let me know I could refill it in the 1st floor hallway from a refill station. Not a big deal, but FYI.
Note: They are not part of a chain but do use a loyalty program called The Guestbook where 15% of your stay is credited towards future stays at participating hotels.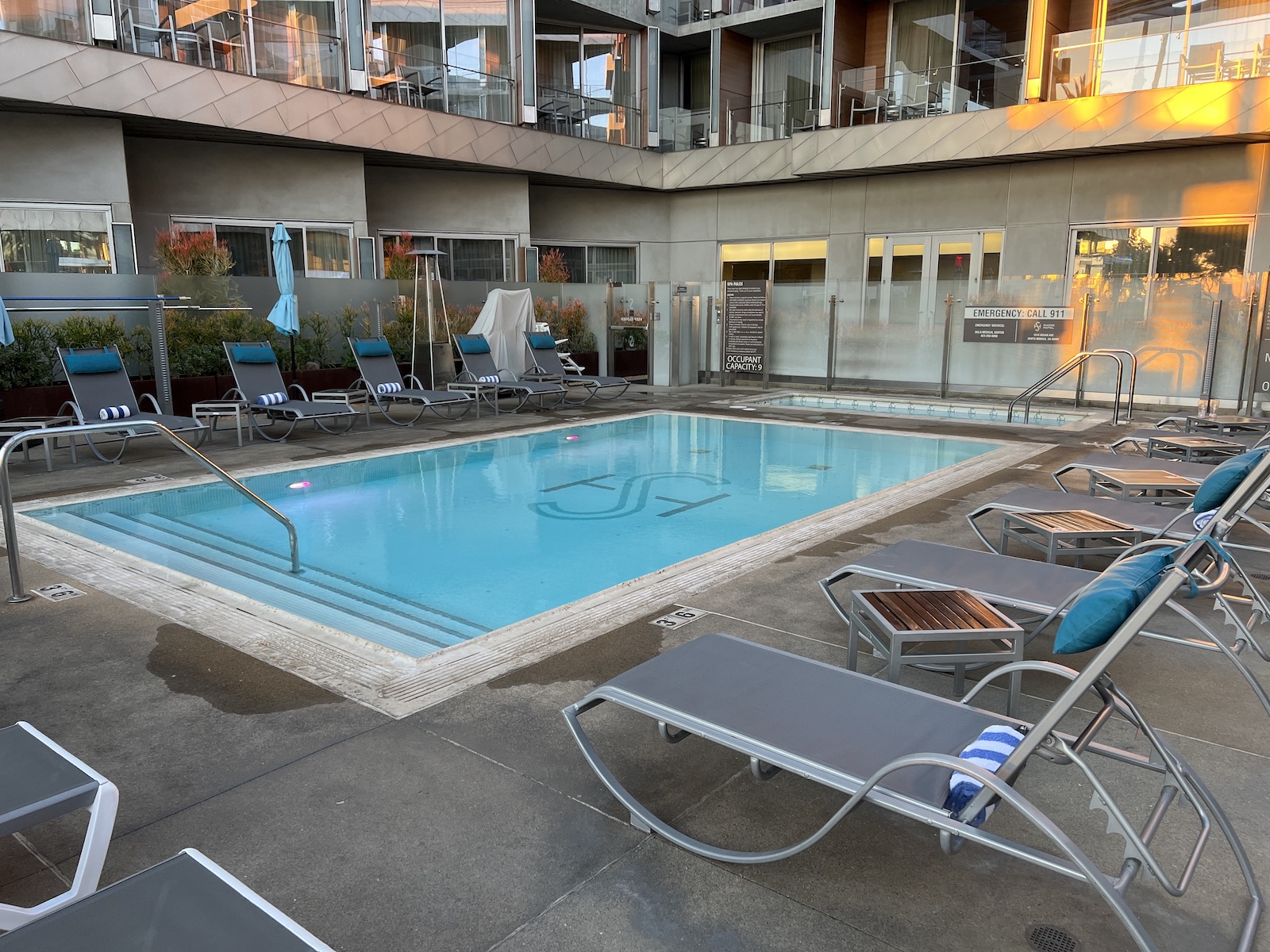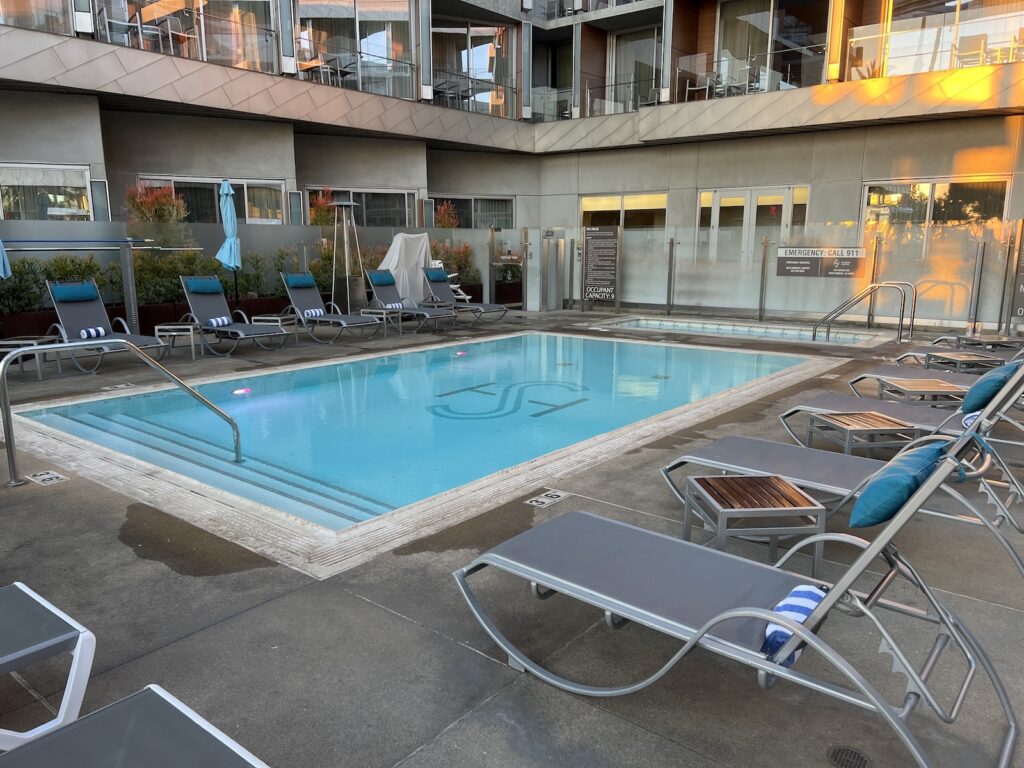 In short, it's a great rate – easily the best for a nice hotel on the beach in Santa Monica – but you are also treated very much as a guest that booked a lower rate (which, you did!). It reminds me of the "poor door" common in NYC within condos that created affordable 80/20 housing – although at the Shore Hotel, you are welcome to use the main door 😉
Questions?
Let me know below in the comments, on Twitter, or in the private MilesTalk Facebook group. And don't forget to follow me on Instagram for all sorts of tips on miles, points, credit cards, and travel.
If this post helped you, please consider sharing it!
You can find credit cards that best match your spending habits and bonus categories at Your Best Credit Cards. 
New to all of this? My "introduction to miles and points" book, MilesTalk: Live Your Wildest Travel Dreams Using Miles and Points is available on Amazon and at major booksellers.